Smooth and creamy chocolate chip cookie dough ice cream is a perfect summer dessert. This no-churn recipe is easy to make and requires minimal effort, but the sweet and indulgent flavors are so impressive!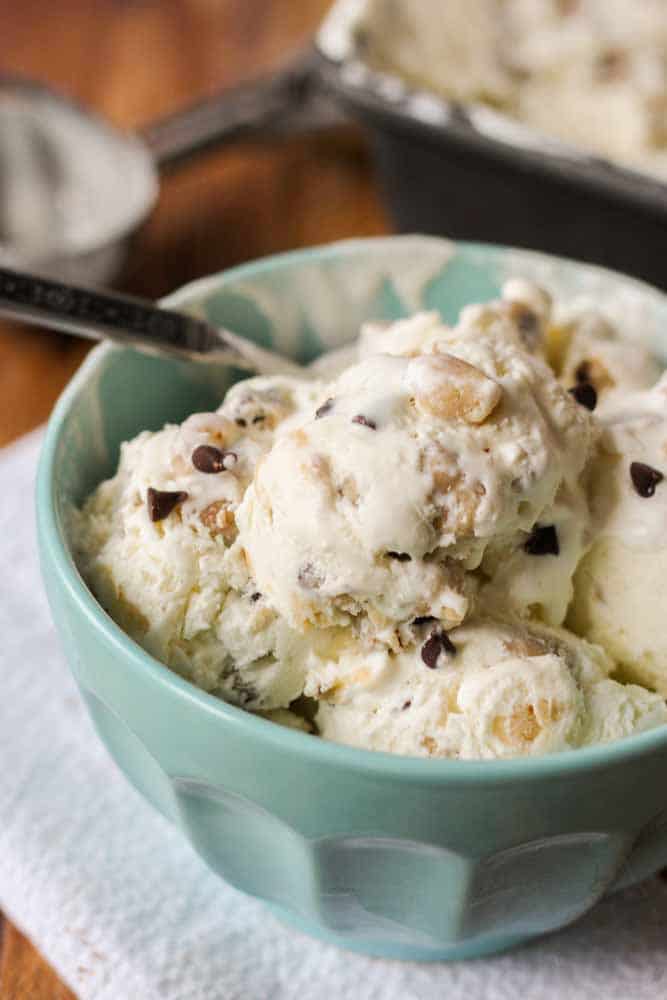 Raise your hand if your favorite ice cream flavor is chocolate chip cookie dough! ??
If I had one million hands I would raise them all. It's creamy vanilla ice cream with giant chunks of edible cookie dough. And it's sweet and just everything I ever dream of on a hot summer night.
Chocolate chip cookie dough has been my all time favorite ice cream flavor since I can remember. When my dad would take us to Baskin Robins there's no question that would be my choice. And when he'd make grocery store requests it was always on the list.
I'm the kind of person that eats all the chocolate chip cookie dough chunks out of the ice cream (which is why I created cookie dough ice cream bars). We're the worst kind of people, I know. But how can I resist?!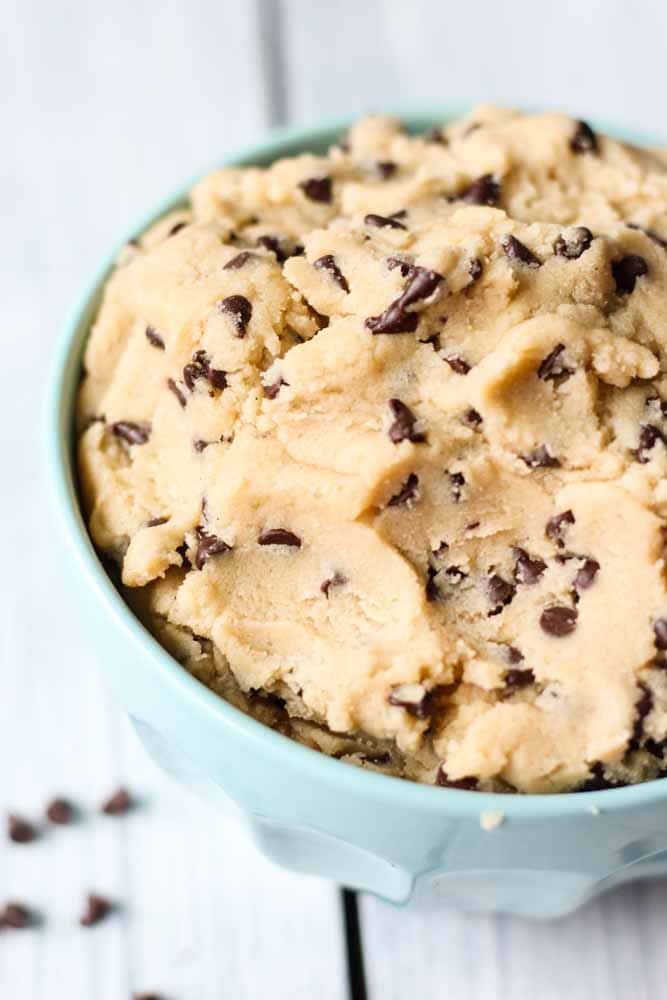 That's why in my recipe I made SURE there was enough chocolate chip cookie dough in this recipe that you get a minimum of two chunks in every bite.
This ice cream is swimming with sweet and chunky cookie dough. And I'm fairly certain that by the end of "testing" this recipe I'd eaten a solid 11 cookies if I were to combine all the cookie dough I ate.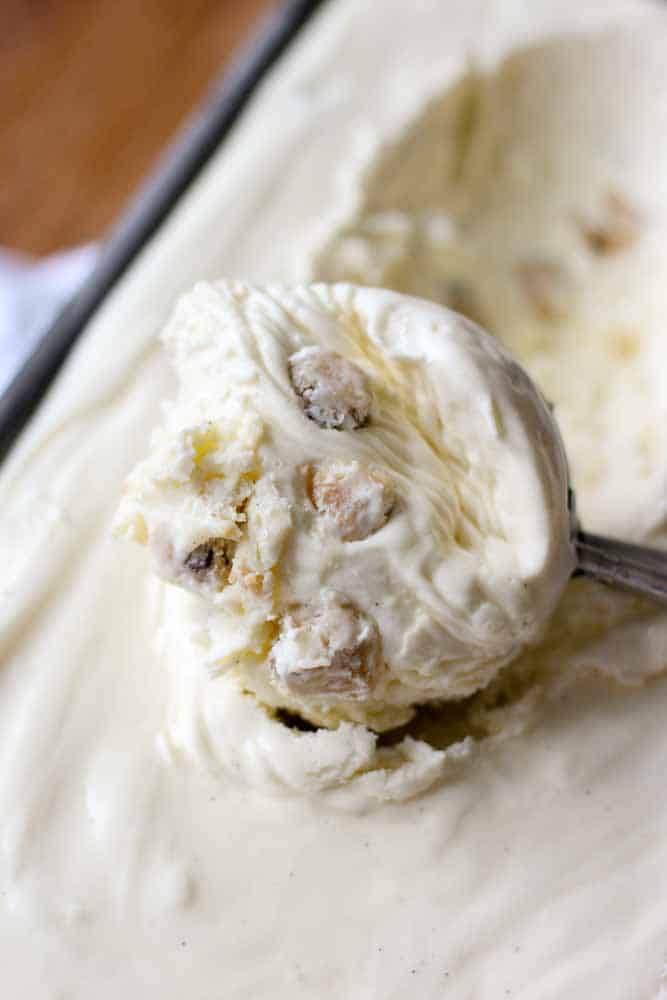 I can't be alone in my love for this ice cream flavor, and last night it proved to be true. I went to an Indians game with 6 of my friends and around the 8th inning we decided we needed some ice cream. Side note: it was the first really hot day in Ohio!!! It was like 85 degreed at 9 at night. Ice cream is a requirement at that point.
Clearly everyone in the entire stadium agreed. We decided to commit to the outrageously long line and by the time we got to the front a friend of mine ordered chocolate chip cookie dough and they had JUST sold their last scoop.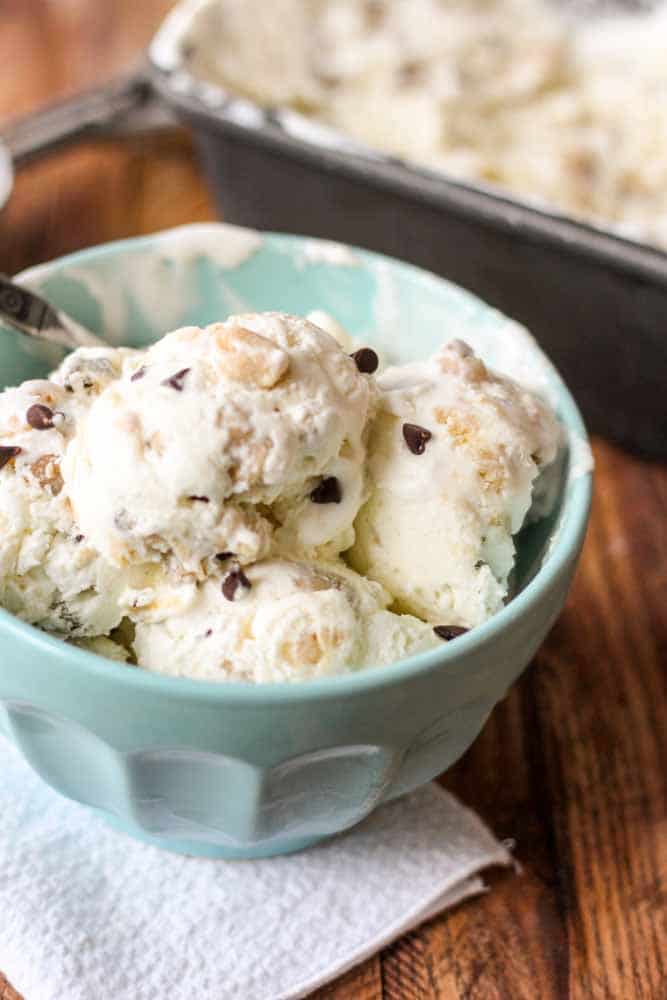 Could there be anything more sad? We even asked if they could scrape the very bottom to get even a little bit. Desperate times call for desperate measures.
She went with chocolate instead, but lesson learned, get in the ice cream line early and often.
More recipes: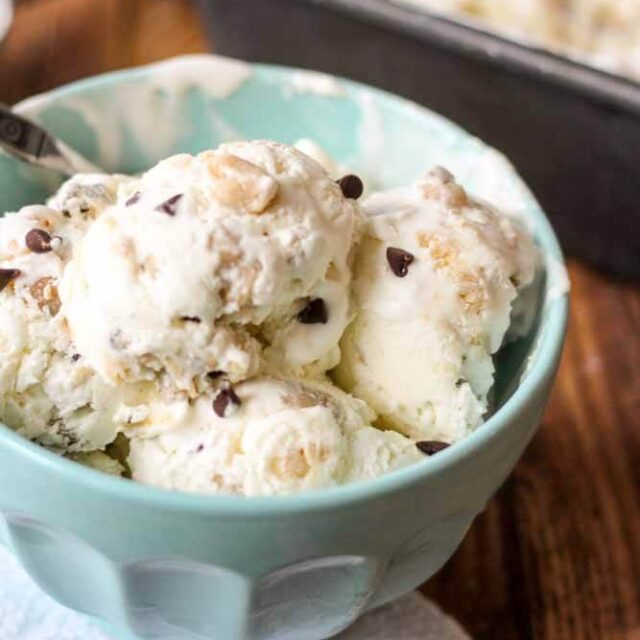 Ingredients
3

cups

heavy whipping cream

cold

1-14

ounce

can sweetened condensed milk

2

teaspoons

vanilla bean paste

1

batch edible cookie dough
Instructions
Make one batch of edible cookie dough and roll the cookie dough into tiny balls or separate into little chunks. Set aside.

In a medium bowl, stir together the sweetened condensed milk and vanilla. Set aside.

In the bowl of a stand mixer or a large bowl with a hand mixer, beat cream on high until stiff peaks form, about 4 minutes. With a rubber spatula, gently fold condensed milk mixture into whipped cream. Stir in chocolate chip cookie dough chunks.

Pour ice cream mixture into a 9x9 loaf pan. Cover with plastic wrap or foil and place in the freezer until firm, about 6 hours.

Scoop into bowls and enjoy!