Soft tortillas are truly the key ingredient for making perfect enchiladas, especially if you're making our Shredded Beef Enchiladas or Healthy Chicken Enchiladas!
Keep reading if you are curious on the best method of how to soften tortillas for enchiladas for your enchilada recipes!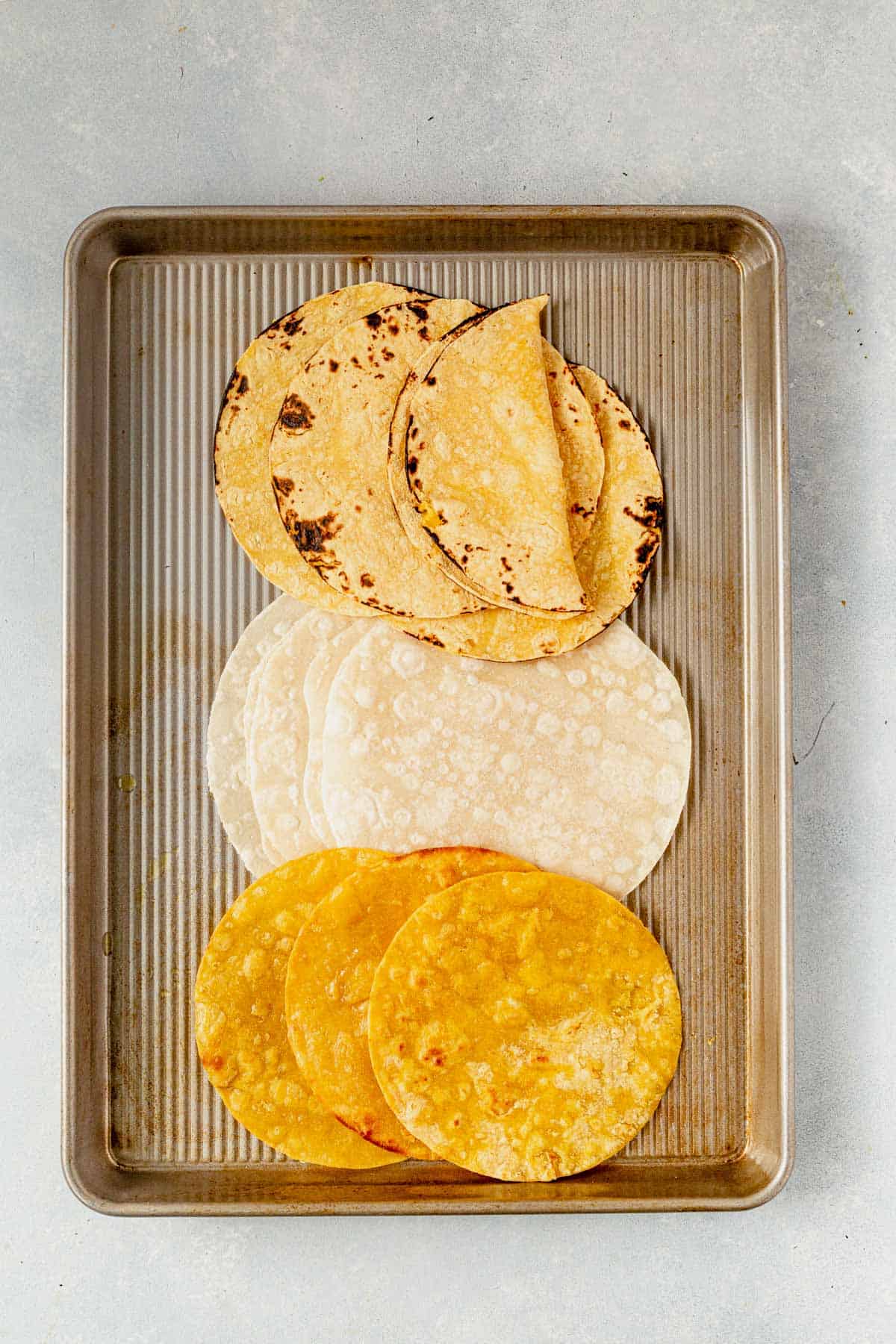 What is a Tortilla?
A tortilla is a thin, flat pancake made of cornmeal or flour that is typically filled with a savory filling. Mexican food uses tortillas very regularly. Enchiladas will be filled with a savory filling. Taco fillings are common to use inside enchiladas.
Difference Between Corn and Flour Tortillas
When making enchiladas, you can use either corn or flour tortillas. However it's important to know that there are differences between the two.
Yellow or white corn tortillas are often smaller than flour tortillas.
You can find corn tortillas in more authentic Mexican dishes and are a little more complex. They're made from Masa Harina, which is a mixture of finely ground corn flour (also known as maize), and lime. Flour tortillas are simply made from flour, a pinch of salt, and water.
The texture of corn tortillas is also slightly different than flour tortillas.
Corn tortillas are a little healthier than flour tortillas because they deliver fiber, whole grains, and possess other nutrients while being lower in fat, carbs and calories than flour tortillas. Corn tortillas are ideal with Celiacs disease as 100% corn tortillas are gluten-free.
Which Are Best for Enchiladas?
You can use either corn tortillas or flour tortillas to make enchiladas! However, it's important to note a few things. Corn tortillas are less sturdy than flour tortillas and often much smaller. Flour tortillas stretch and bend better than even soft corn tortillas.
Flour tortillas also come in larger sizes than corn tortillas, making them easier to roll after filling them with your enchilada filling.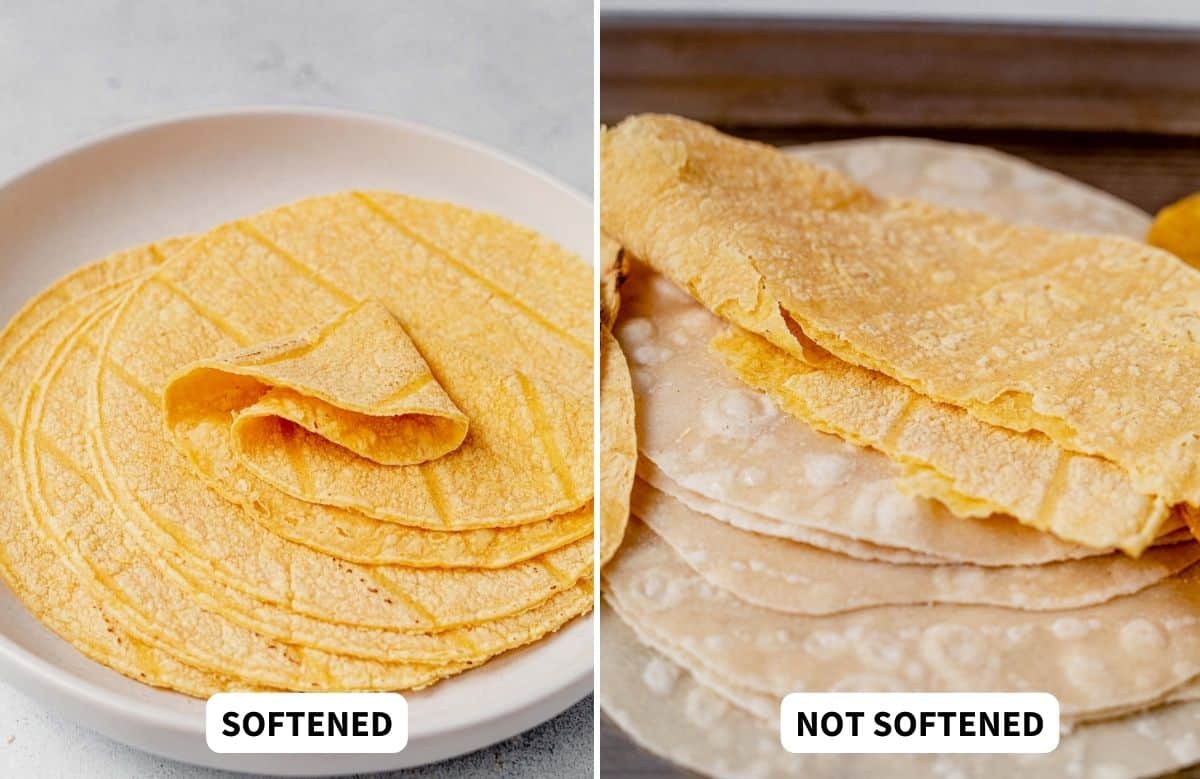 How to Soften Tortillas for Enchiladas (5 Ways)
There are several popular methods and many different ways to soften tortillas for enchiladas, but here are some of the simplest ways to soften them!
Method 1: Gas Burner
If you have a gas range, you can soften your tortillas directly on your gas burner.
Place your tortilla on the gas burner directly over the open flame. Heat the tortillas over medium heat to medium-high heat for 20-30 seconds or until the edges start to char. Using tongs, flip the tortillas and cook for an additional 20-30 seconds. You will repeat the process until all tortillas are soft.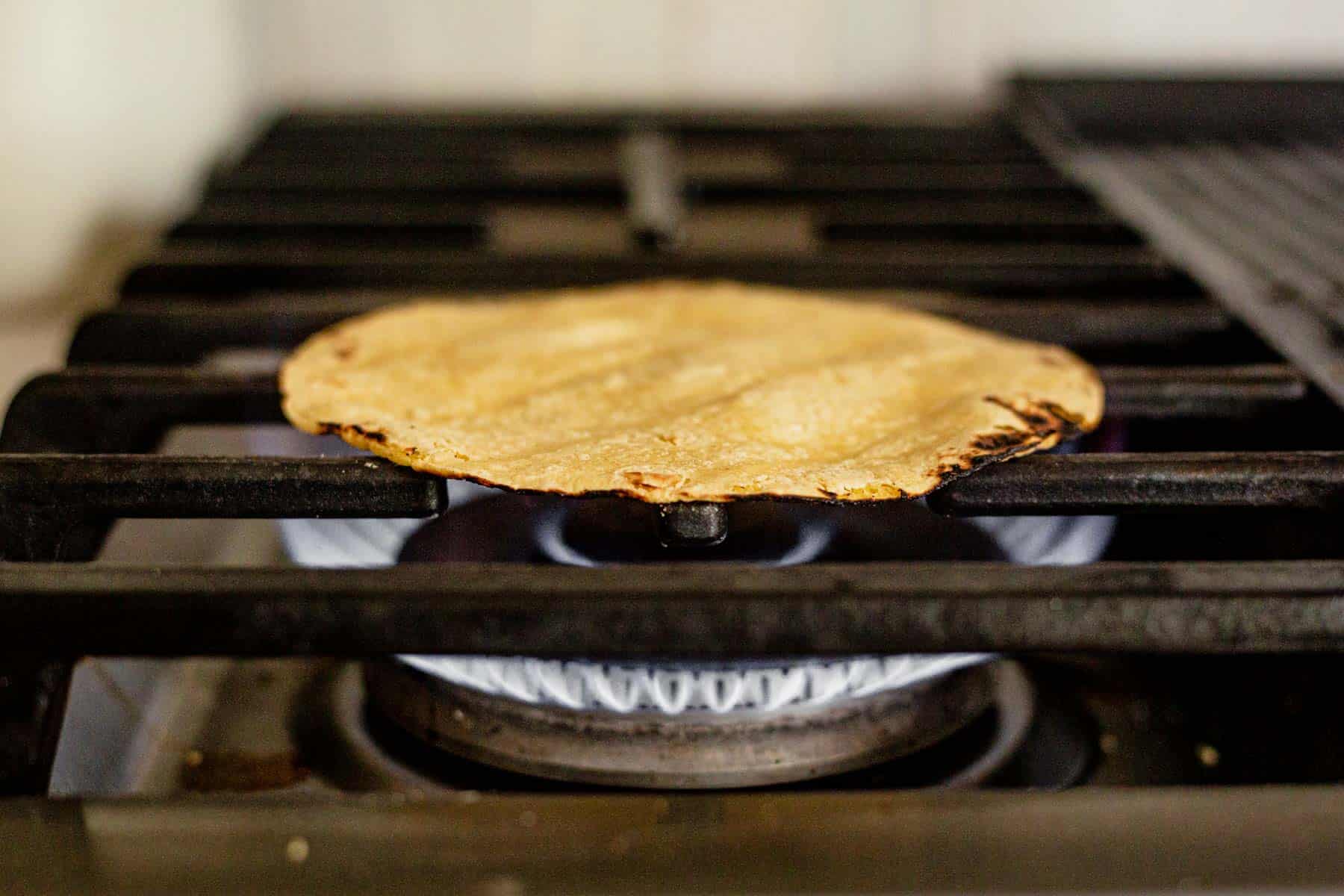 Method 2: Stovetop
You can also use a frying pan or Mexican Comal to soften enchiladas. Using a comal is the most traditional method to soften tortillas on the stovetop. We prefer to use a cast-iron skillet because it's the closest to a traditional Comal.
Over medium-high heat, put a little oil in a dry skillet. Once you have hot oil, add the tortillas into frying pan one at a time, cooking for roughly 10-15 seconds on each side or until they are soft and pliable.
Remove the tortillas from the frying pan and drain excess oil on to paper towels. You will repeat the process until all tortillas are soft.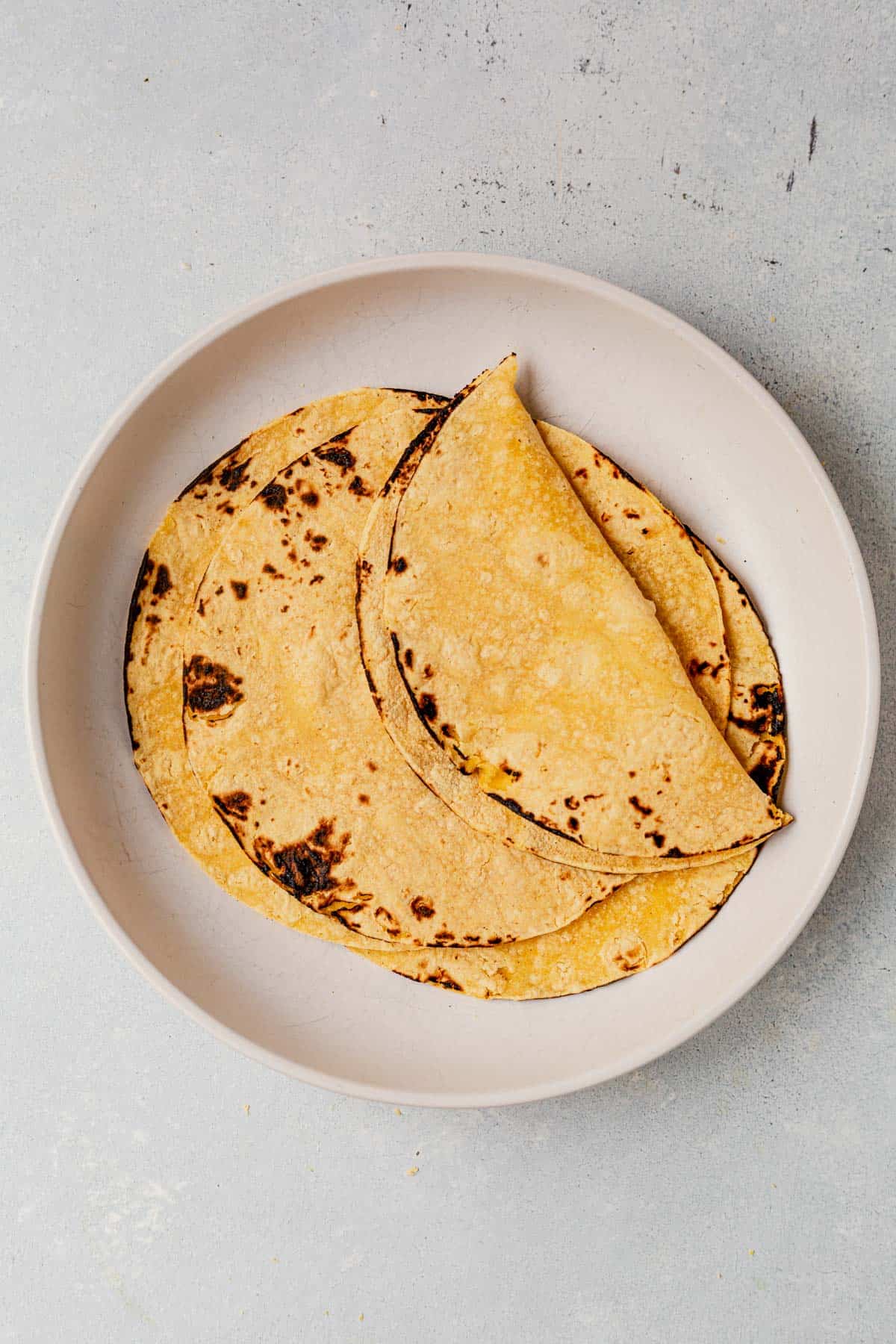 Method 3: Fried
Frying your tortillas in a hot skillet is another great way to soften your tortillas.
Add enough oil, like avocado oil or olive oil, to cover the bottom of your skillet. Add tortillas when the oil starts to bubble and cook each side of the tortilla for 10-20 seconds. Use a paper towel to remove excess oil. The tortillas should smell toasty with a few browned or darkened spots.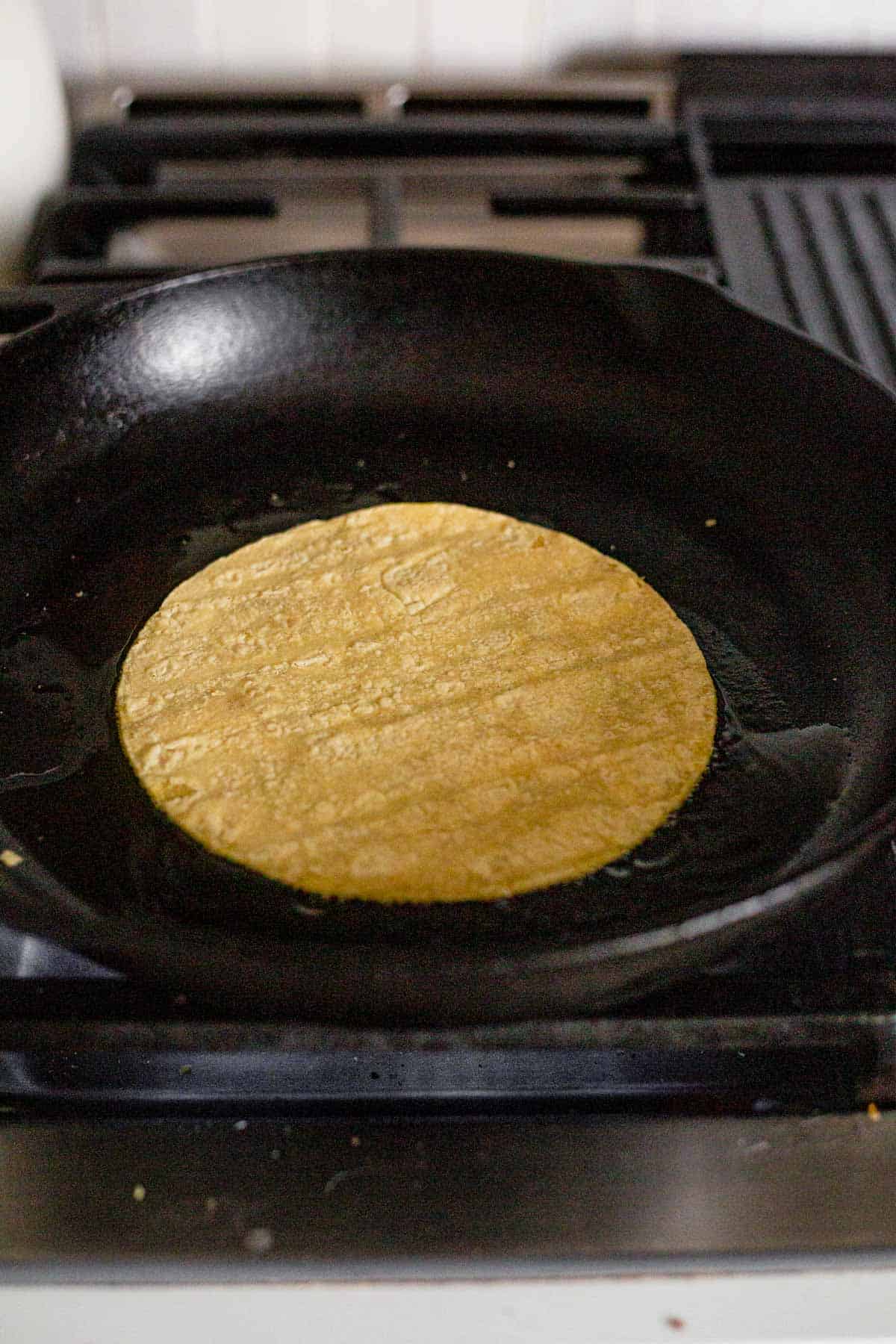 Method 4: Microwave
To soften tortillas in the microwave, wrap your stack of tortillas in a damp paper towel, a damp towel, or a damp dish towel. Once wrapped in your damp paper towel, wrap in either plastic wrap or a microwave-safe resealable plastic bag.
Place the wrapped tortillas on a microwave safe plate and microwave for 12-30 seconds. After microwaving, if you are using fresh tortillas, they should be soft enough for use. If they are not, you may have stale corn tortillas or stale flour tortillas so you will need to fry them or use one of the other different ways to soften them.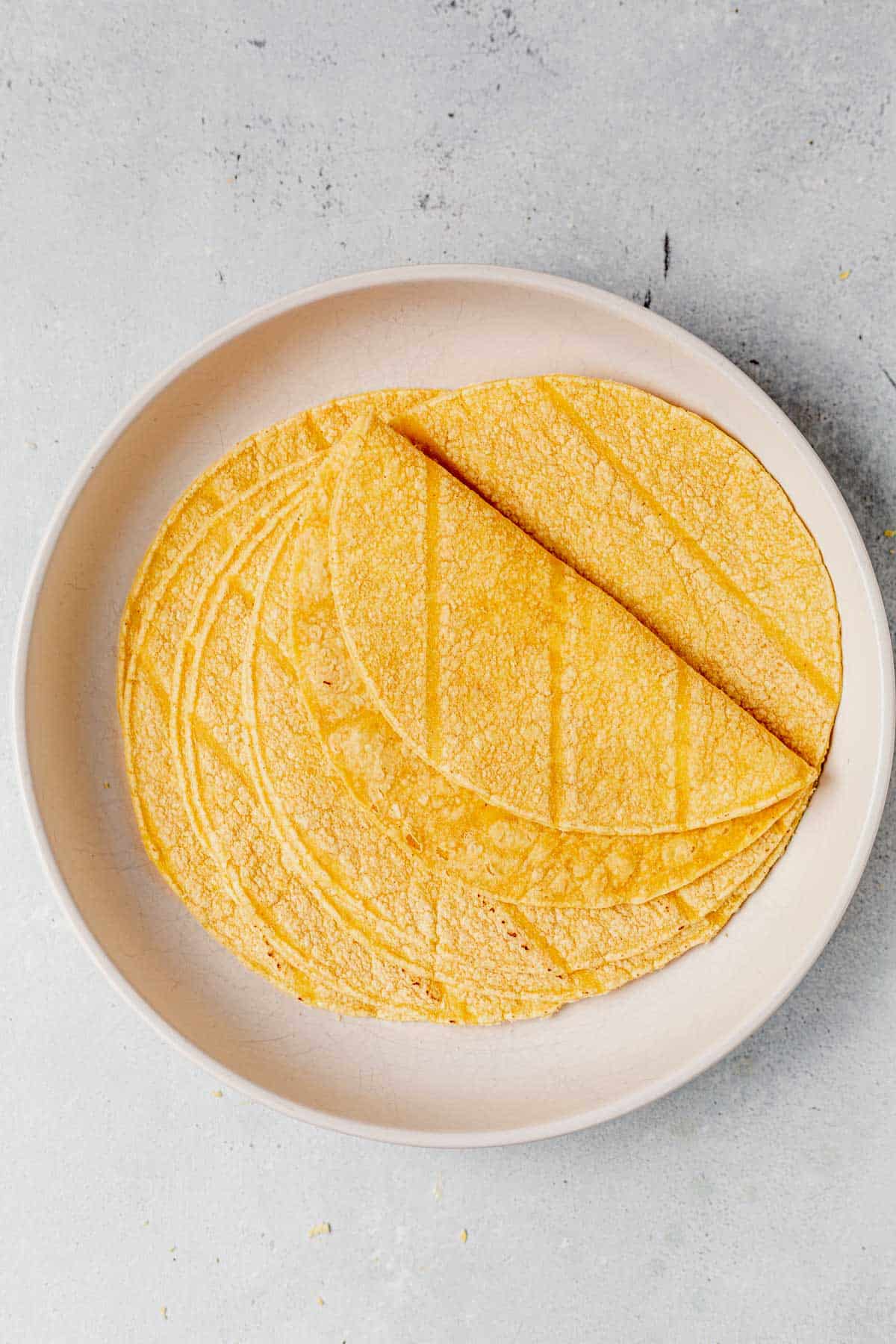 Method 5: Oven
While using the oven is one of the simplest ways to soften tortillas, it does take the most time.
To use the oven to soften your tortillas, preheat your oven to 350°F (175°C). Once heated, wrap the tortillas in aluminum foil and place them in the oven for 10-15 minutes or until they are warm and pliable enough to roll.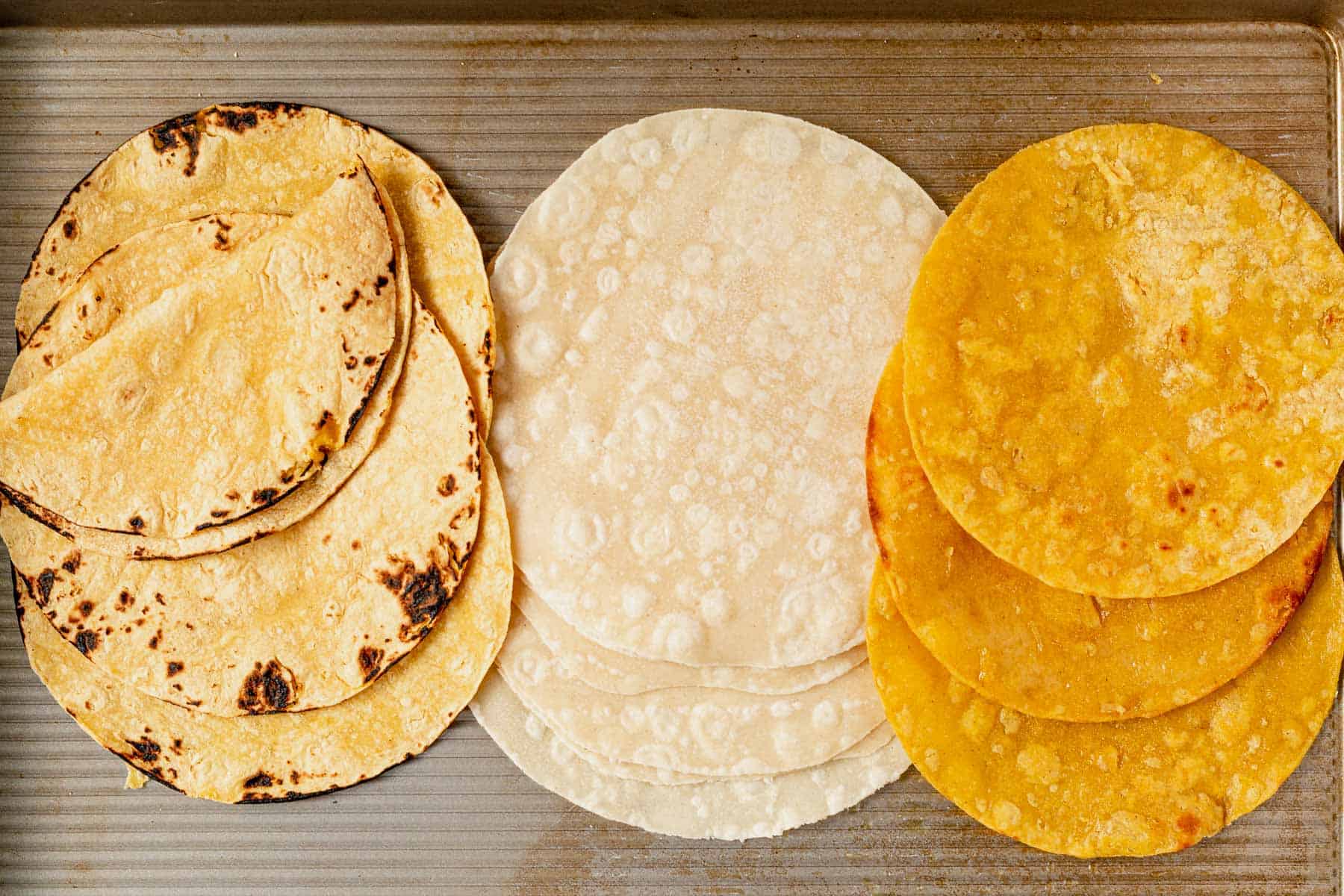 Storing Softened Tortillas
Store your softened tortillas in an airtight container in your refrigerator. You do not have to refrigerate tortillas but it helps extend their shelf life.
To reheat your tortillas, wrap them in aluminum foil and place in the oven at 350°F (175°C) until they are soft enough.
Frequently Asked Questions
How do I stop my enchiladas from getting soggy?
The easiest way to prevent soggy enchiladas is to fry your tortillas in hot oil before you fill and roll them. You can also remove excess moisture from the filling.
How do you warm tortillas for enchiladas?
To warm tortillas, you can use the microwave, stove or gas range top, your oven, or a frying pan.
Do you have to soften tortillas for enchiladas?
We recommend that you always soften your tortillas when making enchiladas to make them pliable and easy to roll without breaking. You may find that fresh flour tortillas are already soft and may not need softened. However, corn tortillas should always be softened when used for enchiladas. If not, they will break when you try to roll them.
How do you keep the bottom of enchiladas from getting hard?
To keep your enchiladas from getting hard, spread a little of whatever sauce you are using (about ½ cup) on the bottom of the pan before adding enchiladas. This keeps the tortillas from getting tough on the bottom.
How do you keep the bottom of enchiladas from sticking to the bottom of your baking dish?
To keep your enchiladas from sticking to the bottom of your baking dish, spread a little sauce (about ½ cup) on the bottom of the pan before adding enchiladas.
What sauce can I use with my enchilada recipes?
You can use homemade or store-bought red or green enchilada sauce in most recipes. We love this quick Gluten-Free Enchilada Sauce, but you can also use a red sauce, green chile sauce, or brown sauce. If you like spicy or hot food, there are several store-bought spicy sauces available. Look for store-bought sauces in the aisle with other Mexican food, like taco shells and taco sauce.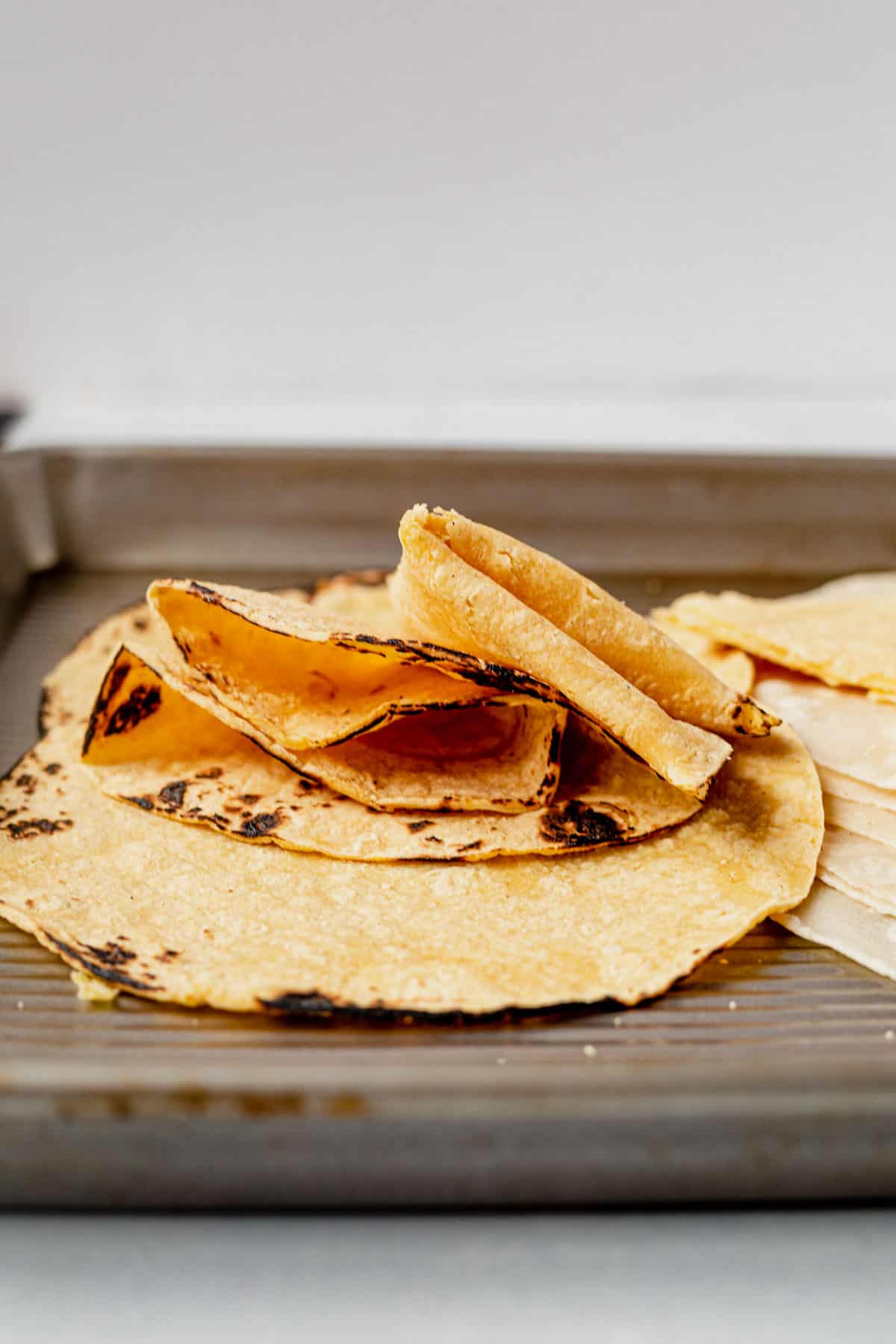 Enchilada Recipes for Softened Tortillas
We love Mexican food, especially enchilada recipes! Enchiladas are common in Mexican cuisine. Homemade enchiladas are relatively easy to make. They usually require minimal clean-up because enchilada recipes are usually contained to one baking dish or casserole dish.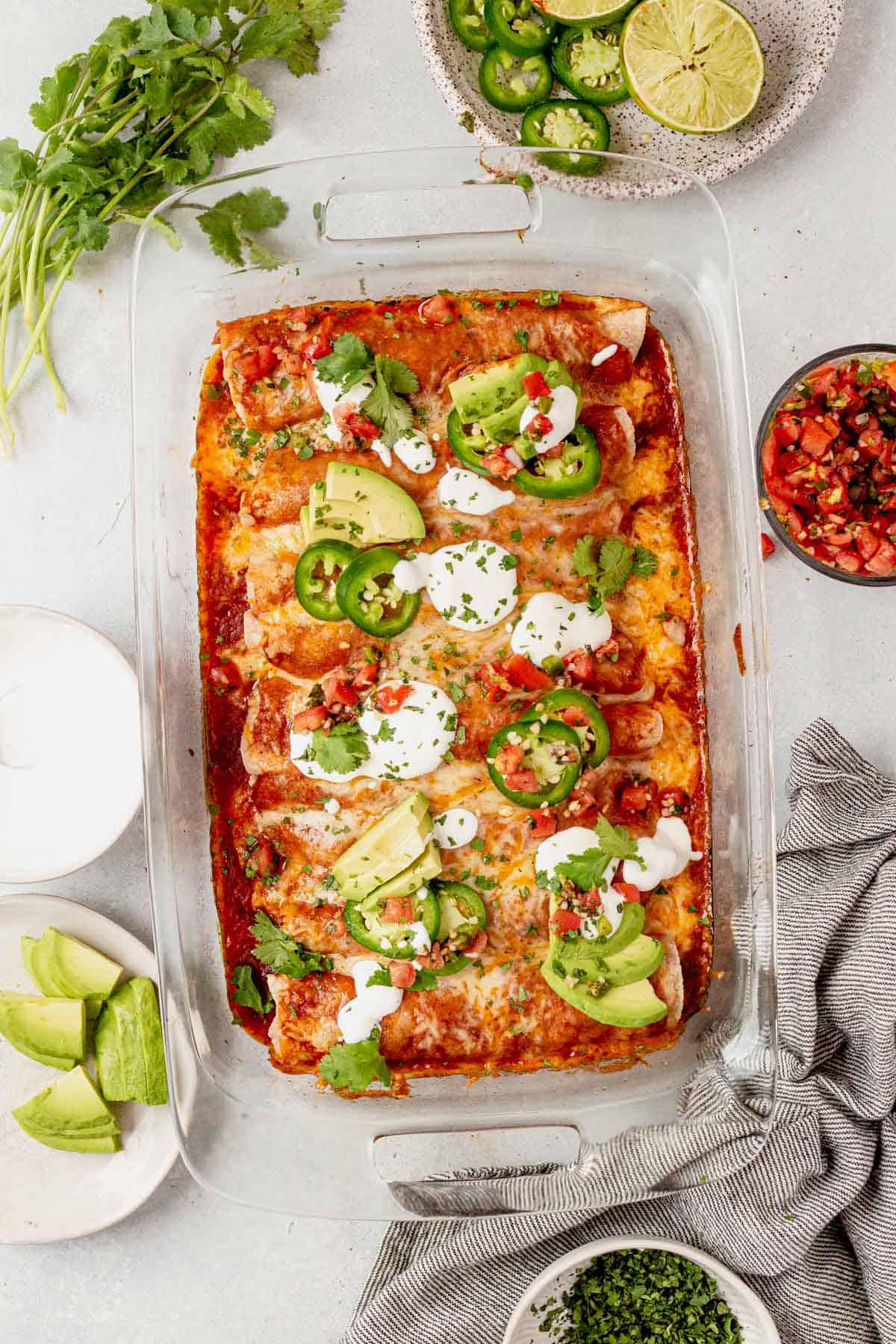 Dietary Modifications for Enchiladas
All of our enchilada recipes are gluten-free if you use corn tortillas.
They are dairy-free by not topping with sour cream. If you are dairy-free, we highly recommend making our creamy cashew queso!
Our enchiladas are easily vegetarian if you leave out the meat portion of the recipe. Cheese enchiladas and bean enchiladas make a great meal!
Enchilada Tips
Serve with a side of tortilla chips to add an additional texture to your meal. Enchiladas and their fillings are usually soft, so tortilla chips add a nice crunch to balance that!
Top with whatever you want! While we love topping with sour cream, the opportunities are endless. If you love avocado, try our Creamy Avocado Dip or our Easy Avocado Lime Crema! If you want to add a touch of spice to top your enchiladas, we can't recommend our Creamy Jalapeño Ranch enough!
You an also top your enchiladas with fresh vegetables, like jalapeños, green chiles, or bell peppers, to add in some additional nutrients. If you are adding bell peppers, check out our How to Cut a Bell Pepper tutorial to find the best way to add them to your enchilada recipes.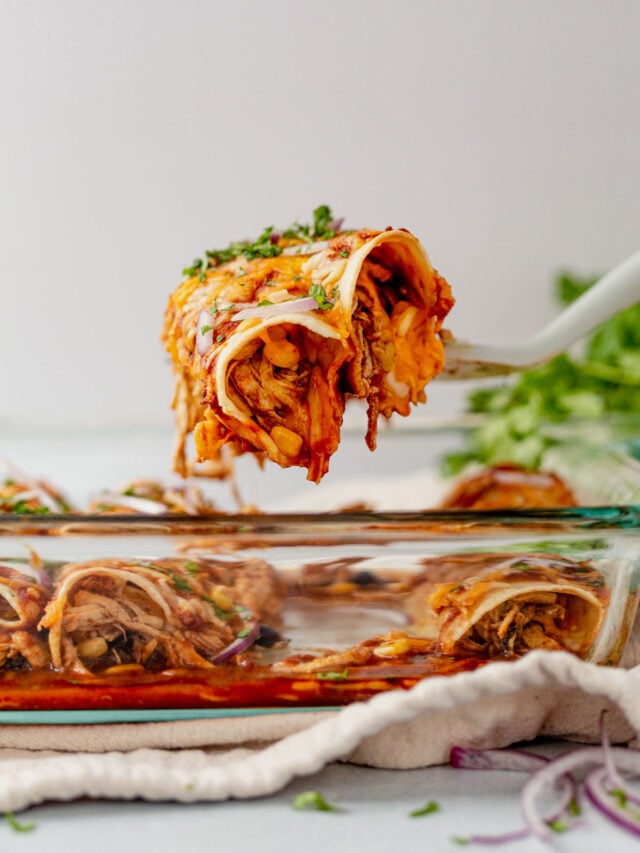 If you try one of these methods or make a recipe, I'd love for you to give it a star rating ★. You can also tag me on Instagram so I can see it!