If you're determined to learn how long it takes to grill a hamburger, we've got you covered. We cover cook times, grill times, and level of doneness, and discuss each type of grill to use for the best results in grilling a juicy burger!
Whether you are looking for an easy way to grill a hamburger or want to become a grill master, we've compiled the best tips to wow your family with your new grill skills! Keep reading for the best way to grill a hamburger.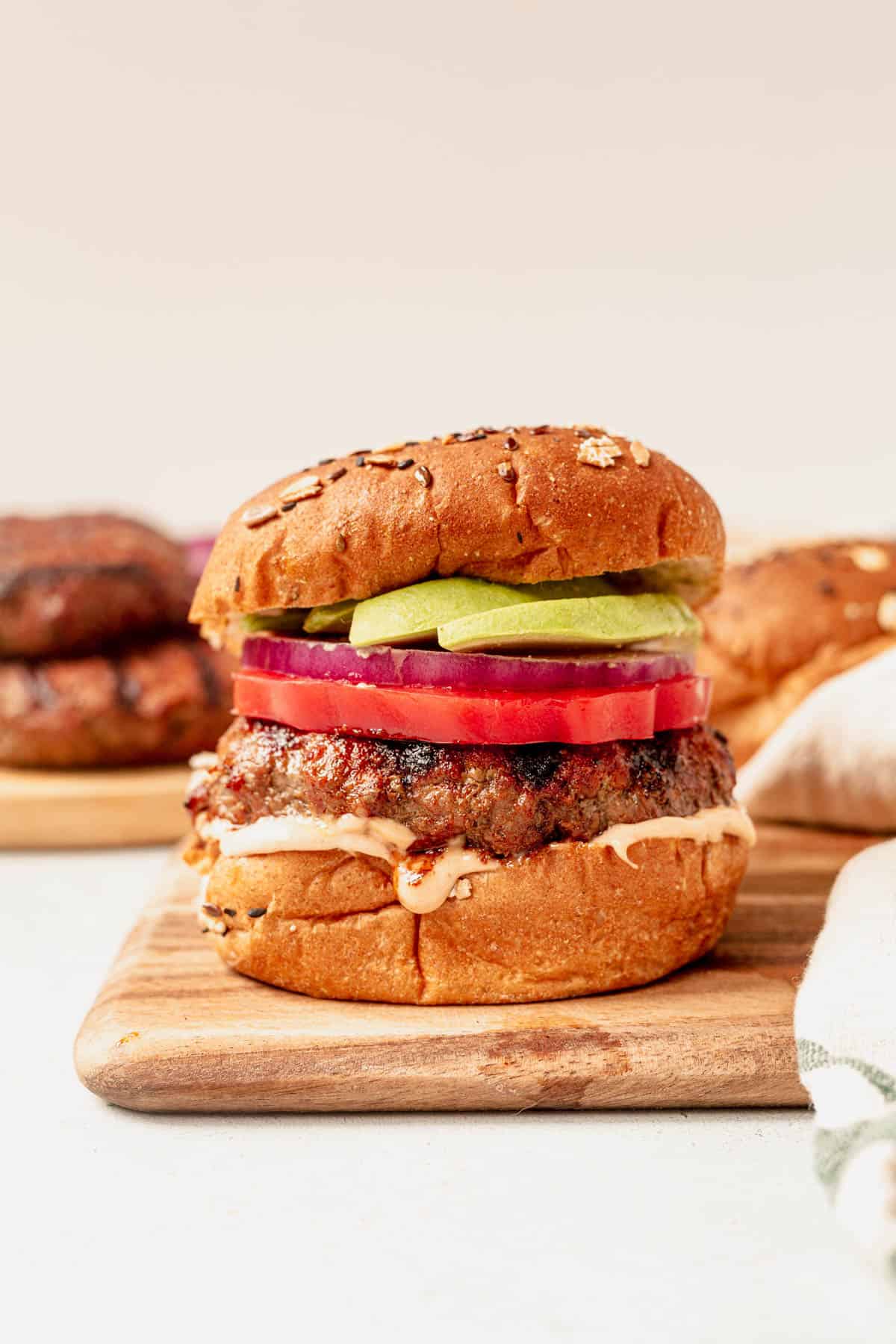 Want to learn more about cooking times? Learn how long to grill chicken breast, how long to grill pork tenderloin, how long to grill pork chops, and how long to bake chicken wings.
If you need inspiration for a hamburger recipe to become your family's new home chef then try our Grilled Hawaiian Teriyaki Burger! The combination of sweet pineapple, spicy mayonnaise, and the perfect hamburger is sure to up your burger game!
Jump to:
Grilled Hamburgers
Grilled hamburgers are so popular because they are an easy family meal. Classic hamburgers are perfect for cookouts and parties because once you know how to make the perfect burger, the rest is easy!
Every one can customize it with their favorite toppings and enjoy their own cooked-to-perfection delicious burger.
The simplicity of classic hamburgers is endless which makes them a family favorite for us! You can cook them on a gas grill or charcoal grill and are able to use many varieties of ground meat, including ground chuck, ground turkey, or ground chicken.
While we are only going to cover how long to grill the perfect beef patties, ground chicken burgers, and ground turkey burgers are always options to consider.
Types of Ground Meat
When you are shopping at your grocery store, there are several types of ground meat to consider for your grilling pleasure!
Look for a ratio of 80/20 meaning there is 80% lean ground beef and 20 percent fat. This is the most common ratio that burger chefs use.
Stay away from beef that is too lean, like a 90/10 lean-to-fat content ratio. This meat is often too lean and yields a dry burger.
You can also make turkey burgers from ground turkey or chicken burgers from ground chicken! Cook times with these ground meats will vary than compared to fresh ground beef.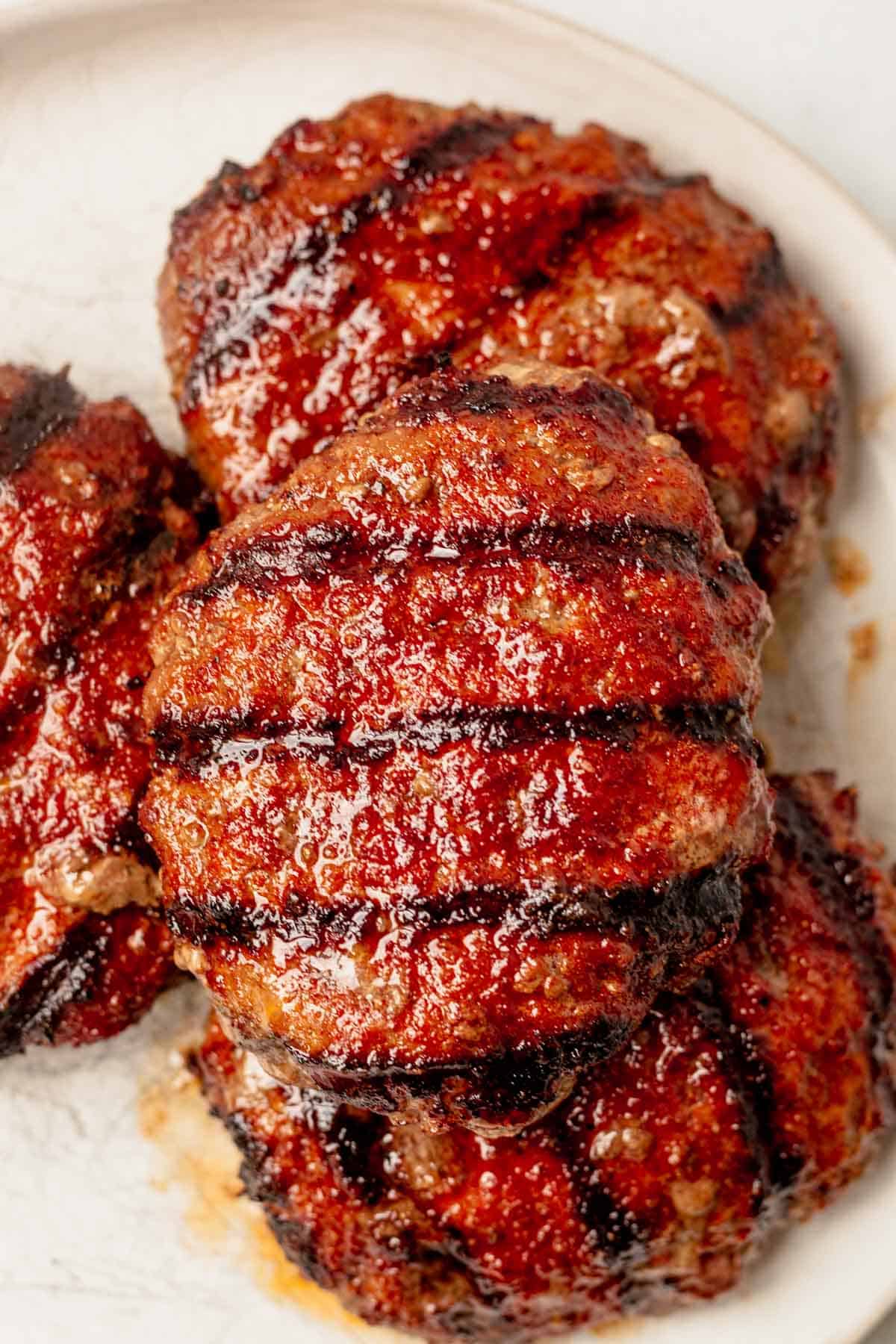 #1 Tip for Perfectly Cooked Burgers
Always use an instant-read thermometer or digital meat thermometer to determine the level of doneness! The size of the wings can vary and so can everyone's oven temperature, so using a thermometer is ideal.
Tip: For an accurate reading, insert the meat thermometer into the center of the burger. Be careful not to poke the thermometer out the other side!
How Long to Grill Hamburger?
The cooking time for grilling a hamburger depends on several factors. This includes variables such as the thickness of the patty, the type of grill, and the desired level of doneness.
As a general rule, a hamburger patty that is ½ to ¾ inch thick should be cooked for about 3-4 minutes per side on a preheated grill over medium-high heat.
It's important to keep in mind that cooking time may vary based on the specific grill you are using, the heat of your grill, and the size and thickness of your patty.
What Internal Temperature is Best for the Perfect Burger?
There are several factors to consider when determining what internal temperature will achieve your desired level of doneness.
Medium-rare burger: 135-145°F (54-57°C) and for a
Medium burger: 145-150°F (60-63°C), and for a
Well-done burger: 160°F (71°C) or higher.
Note: For optimal food safety when it comes to cooking burgers, the FDA recommends that you should always cook your burgers to a minimum internal temperature of 160 degrees Fahrenheit.
How to Grill the Best Burger
Preheat the grill to medium-high heat (400-425 degrees Fahrenheit). Clean the grates and brush the grill grates with oil.
Form thawed ground chuck into hamburger patties. A 6-ounce portion of beef should give you a 4 ½-inch wide burger that's about ¾ inch thick. The burger will shrink in diameter as it cooks so keep that in mind. You want the burger to be the right size for the buns!
Season the burgers with your desired seasoning. We recommend seasoning the formed burger patties right before grilling so the salt doesn't draw out too much moisture.
However, you can mix in chopped herbs and other flavors, like chopped shallots, before forming the patties. If you do this, be careful not to over mix the meat.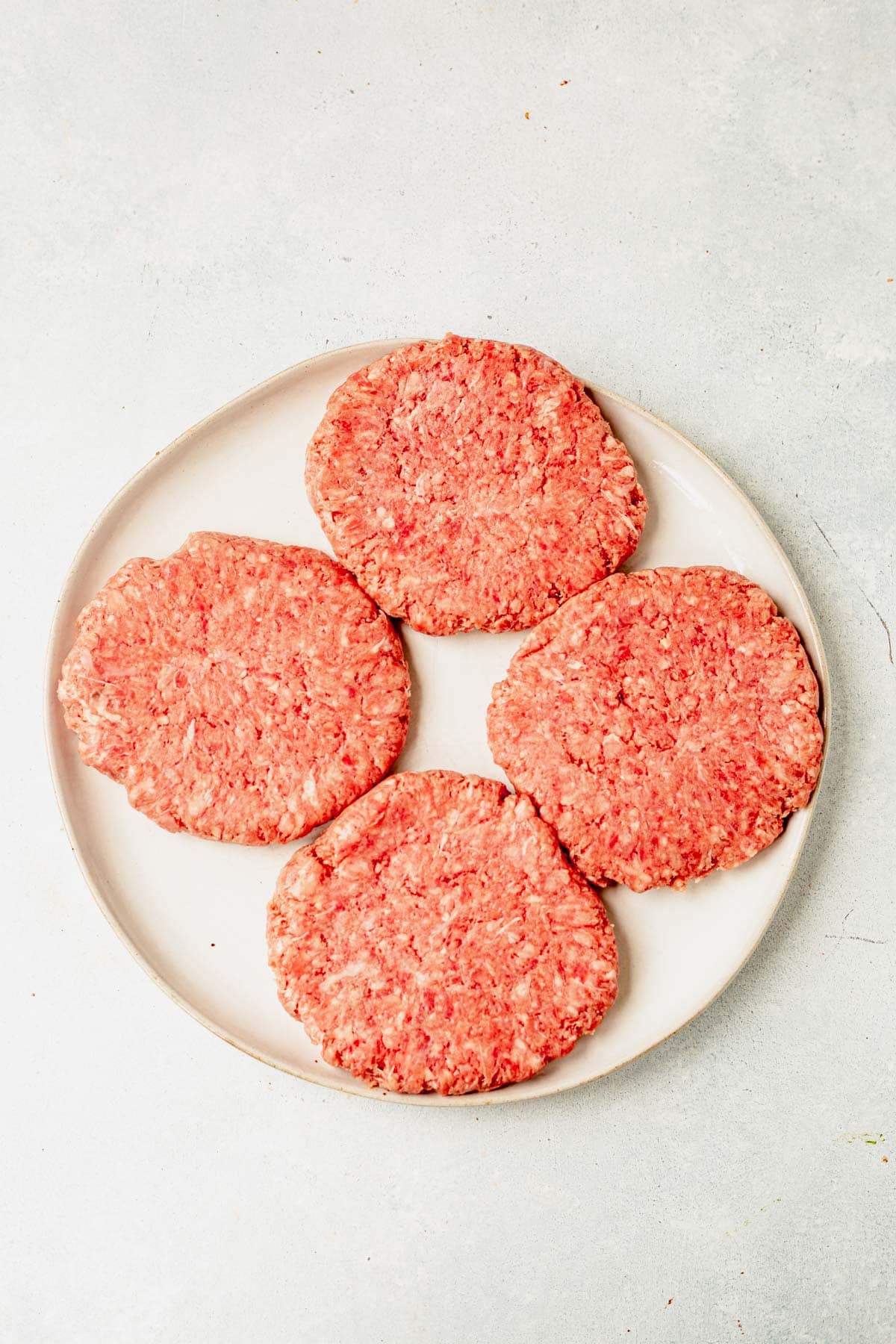 Place patties on direct heat or open flame. With a closed lid, grill anywhere from 3-7 minutes per side. How long to grill a hamburger? This depends on your desired doneness. As a general rule, cook them for about 4 minutes on each side for medium to medium-well burgers.
Do your best not to open the lid or move the burgers, and flip only once. This will give you the best grill marks!
Note: Time will vary depending on the thickness of your burgers and your preferred level of doneness.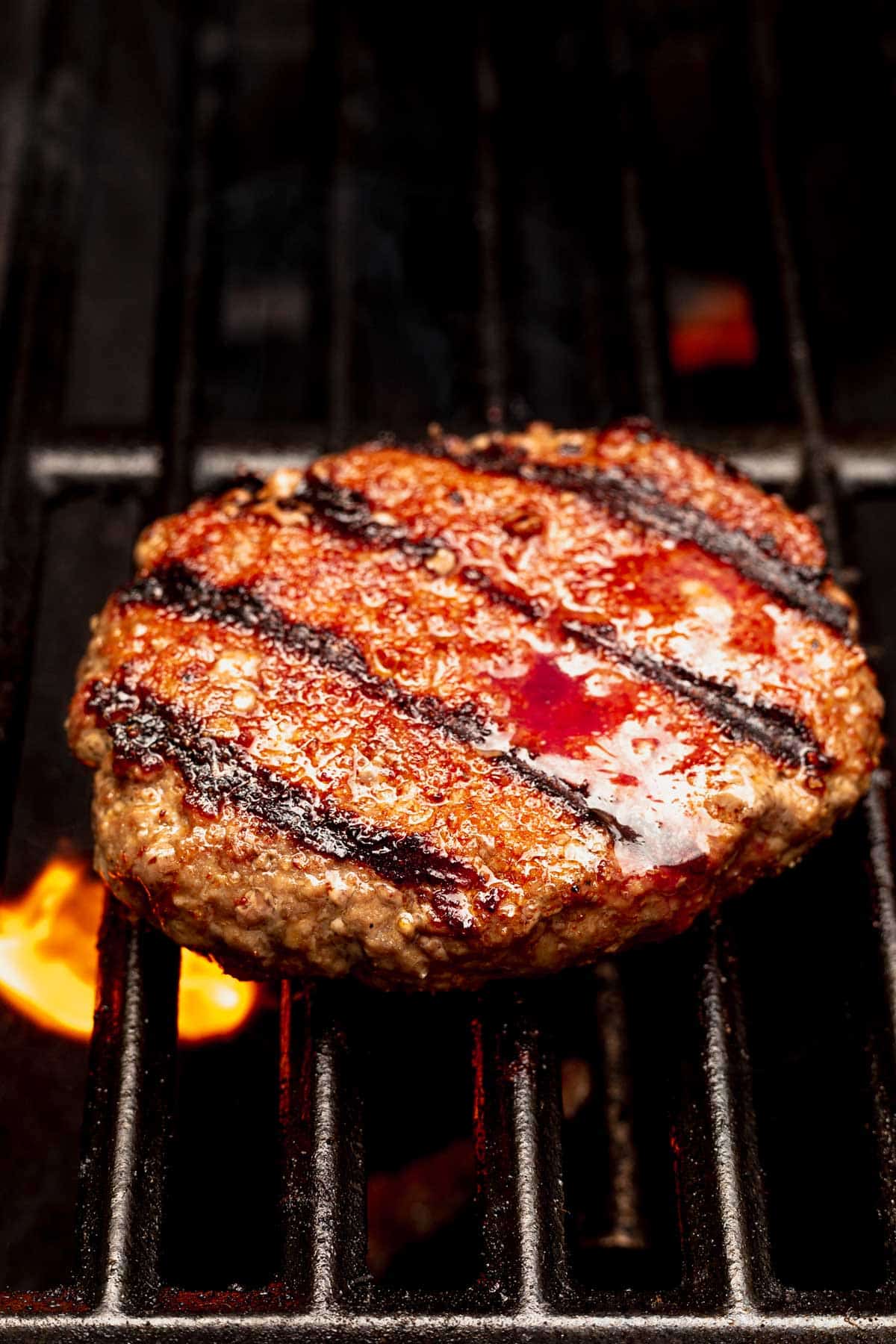 Recommended Cook Times for Burgers
When you are cooking burgers, it's important to note that you should only flip them once! Once you lay the burger to cook on it's first side, flip it once to the second side, and then your burger will be done!
Here is a list of how long to grill burgers based on your desired level of doneness.
Rare: 5-6 minutes total (roughly 2-3 minutes per side)
Medium Rare: 6–7 minutes total (roughly 3 minutes per side)
Medium: 7–8 minutes total (roughly 3-4 minutes per side)
Medium-well: 9 minutes total (roughly 4-5 minutes per side)
Well-done: 10 minutes total (roughly 5 minutes per side)
Charcoal Grill vs Gas Grill
There is always a lot of debate on which type of grill cooks the perfect burger but the truth is, both charcoal grills and gas grills are great! However, there are a few important differences to note.
Charcoal Grill
Charcoal grills are superior for slow cooking. If you want to take time cooking your burgers, charcoal grills are the way to go.
Searing is faster on a charcoal grill. If searing your burgers or other grilled meats is important to you, then charcoal grills are better than gas grills.
They are superior to smoking. If you enjoy a smoky flavor for your burger, then a charcoal grill is a better option.
Their temperature zones are larger meaning you can use your charcoal grill at a lower temperature than a gas grill. They also get hotter, often going up to 1200 degrees Fahrenheit!
Maintaining the temperature of the grill is not an easy task. A charcoal grill requires a lot more practice and attention to maintain temperature than a gas grill will.
Charcoal grills take longer to warm up and cool down, taking roughly 30 minutes.
They require more time to clean. A charcoal grill creates a lot of ash and needs cleaned more frequently.
Gas Grill
Gas grills are great for fast cooking. If your family is impatient for their grilled food, a gas grill might be a better option/
Smoke can be difficult to trap, even if the grill lid is closed.
The temperature of the grill is very easy to maintain. Whether you want your grill at medium heat or medium-high heat, once you set your gas grill, the temperature is consistent.
A gas grill warms up and cools down very quickly. This process usually takes 5-10 minutes.
Clean-up is very easy! A gas grill only requires occasionally emptying the grease trap and cleaning the grill bars.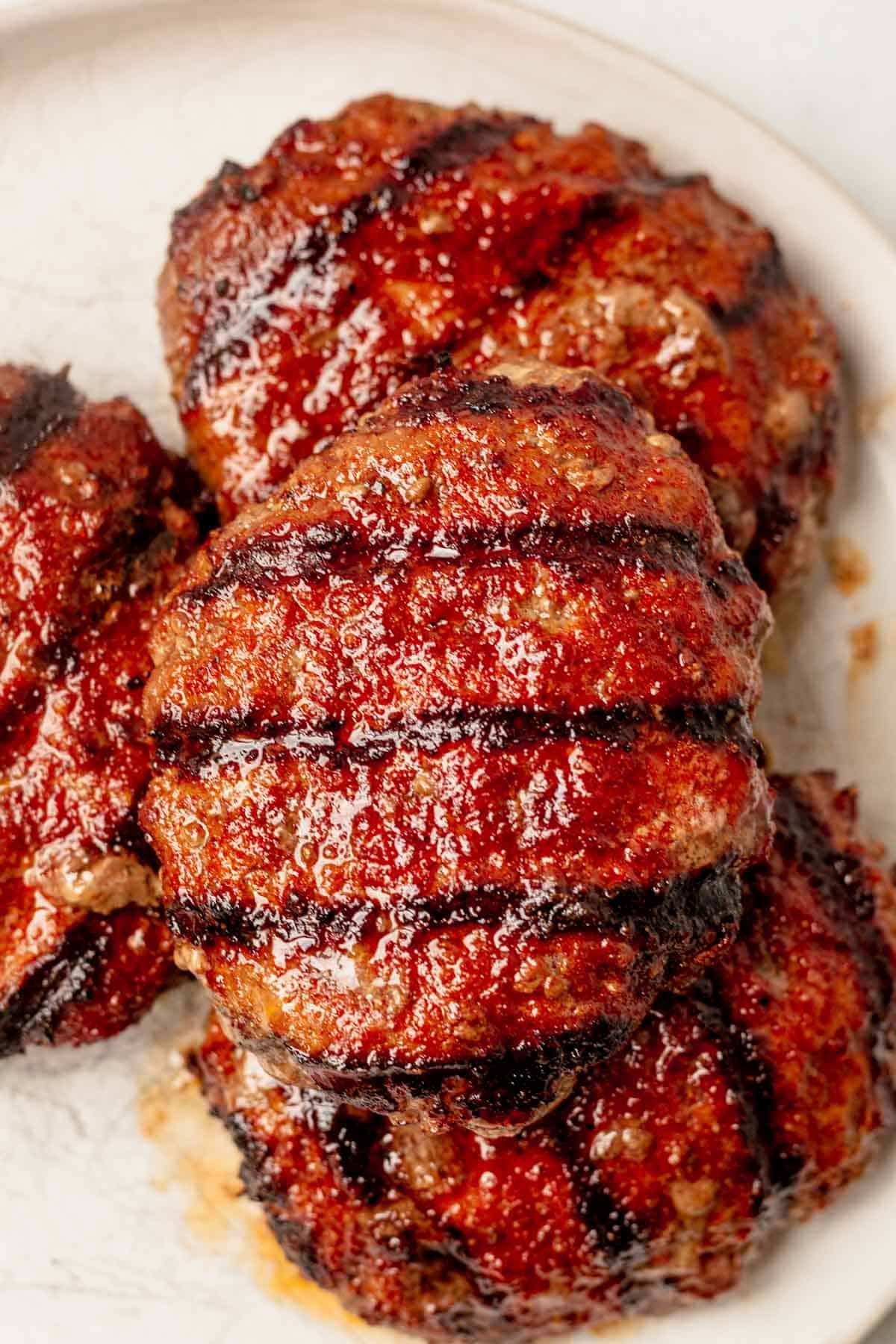 Frequently Asked Questions
What's the best beef ratio for grilling hamburgers?
The best ratio for grilling hamburgers is 80/20, meaning there is 80% lean ground beef and 20% fat content. If your beef has more fat, the burger will be too moist and fall apart. If you have less fat, you will have dry burgers.
What ground meat is best for grilling hamburgers?
Ground chuck is the best ground meat to use for grilling hamburgers. It is ground from the cow's shoulder and possesses the ideal 80/20 ratio for a super flavorful, juicy burger. Ground round and ground sirloin are both a bit too lean to use, especially if a juicy hamburger is your goal!

If you would like to read more about different cuts of beef, check out our Guide to Different Cuts of Beef. It will help you decide what type of beef is best for any recipe you are cooking or grilling!
Is a Charcoal Grill or Gas Grill better for grilling hamburgers?
Good news: both work great! Gas grills take less time to warm up than charcoal grills and it's easier to maintain the temperature of a gas grill than a charcoal grill. However, both grills will make you perfectly juicy hamburgers!
What are the best toppings for burgers?
All of them! Kidding. In all seriousness, one reason we love burgers is because you can top them with your favorite toppings and as long as you love the combination, then it's the perfect burger for you!

Bonus: If you are looking to add bell peppers to your burgers, check out our guide on How to Cut a Bell Pepper to find the best way to add bell peppers to your list of favorite toppings for burgers!
How to Keep Your Burgers Warm & Juicy
Have you ever wondered how people keep their burgers so warm and juicy, even after grilling? A little extra moisture helps even well-done burgers stay juicy.
Mix in ¼ cup water per pound of ground beef before forming your hamburger patties to reap the tenderizing benefit of water. You can also grate cold butter into your burgers.
After grilling, set the hamburger patties on a tray covered in aluminum foil as soon as they are done.
Note: It's important to know how to keep hamburgers warm properly, and not just because the quality will deteriorate if they're allowed to cool off. If the meat remains at room temperature for too long, it can also pose a food safety risk and grow harmful bacteria.
Expert Tips
There are so many variations to making the best burgers but we've compiled our best tips to ensure you make juicy hamburgers every time!
Buy good ground beef from your grocery store. For flavorful burgers, you will use a ratio of 80/20. This means there is 80% lean ground beef and the remaining 20% is fat content. This is the most common ratio that burger chef's use.
Season your beef. It is important to use some burger seasoning, black pepper, garlic powder, or other combination of seasonings to get the best flavor for your burger.
Use a meat thermometer. Whether you use an instant read thermometer or digital meat thermometer does not matter. What is important is that you use one! This will help to achieve the ideal temperature and level of doneness for your burgers.
Don't overwork the beef. Overworking the beef can cause the beef to become tough and make it less enjoyable to eat.
Try to flip the burgers only once. Similar to overworking, you don't want to flip your burgers too many times.
Storage Instructions
Once you cook the burgers, they last 3-4 in the refrigerator in an airtight container. Be aware that once you reheat the burgers, no matter your method, they will be drier than when you first cooked them.
Raw ground beef does not have a long shelf life and should be refrigerated no more than two days. Freeze any hamburger patties that are not cooked (assuming they are stored in the refrigerator and not left out by the side of the grill).
Frozen, uncooked hamburger patties can be separated by a piece of parchment and stored in an airtight container for up to four months.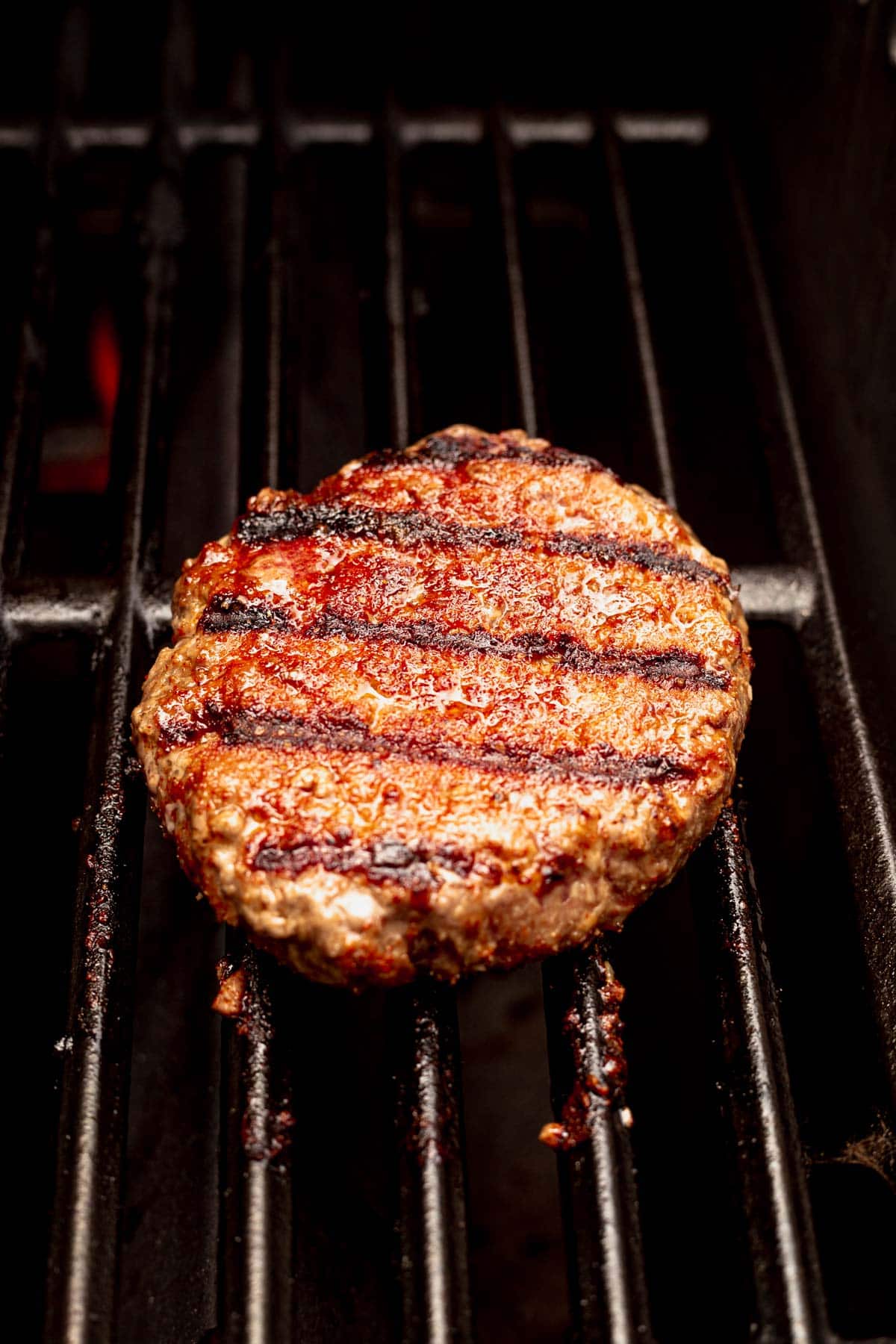 Best Side Dishes for Burgers
While this is a topic that will always be up for debate, we have some thoughts on what make the best side dishes for burgers!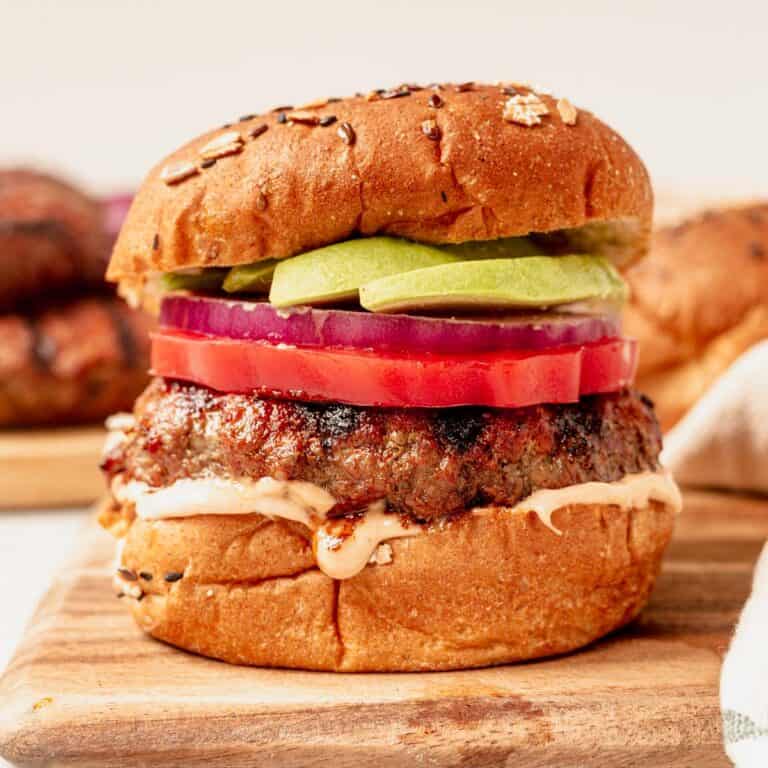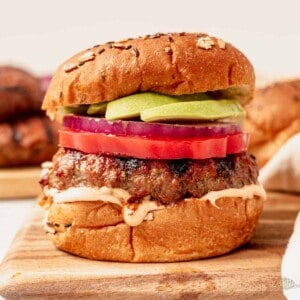 Best Grilled Hamburger Recipe
Make a simple, but delicious, juicy grilled burger! The seasoning and cooking method makes sure your burgers turn out perfectly every time you fire up the grill.
Print
Pin
Rate
Save
Saved!
Servings:
4
6-ounce burgers
Ingredients
1 ½

pounds

ground chuck

80% lean (Note 1)

2

teaspoons

kosher salt

1 ½

teaspoons

garlic powder

1

teaspoon

onion powder

2

teaspoons

smoked paprika

½

teaspoon

fresh cracked black pepper

4

burger buns of choice

Toppings: lettuce, tomato, red onion, avocado, ketchup, mustard, etc.
Instructions
Form the ground beef into 4 (6-ounce) burger patties about 4 ½ inches in diameter and ¾ to 1 inch thick. Press your thumb into the center of each burger patty to form a small indent.

Brush the grill grates clean and wipe them down with a lightly oiled paper towel.

Preheat the grill to medium-high heat (400-425°F).

While it's preheating, mix the seasonings together in a small bowl. Sprinkle both sides of the burger patties generously with seasoning.

Place the burgers on the hot grill grill with the lid closed for 3-5 minutes per side, depending on the thickness of the burgers and your preferred doneness. It takes about 4 minutes on each side (8 minutes total) to grill a ¾ inch burger to medium (140-145°F). See note 2 for other grill times and internal temperatures.

Serve the burgers with your choice of bun and toppings.
Notes
Note 1. Ground Meat. Choose a burger that is at least 20% fat for a tender, juicy burger. Lean hamburger is prone to drying out. We like to use ground chuck, but any type of ground beef will work.
Note 2. Grill Temps and Times.
Rare (130-135°F): 5-6 minutes total (roughly 2-3 minutes per side)
Medium Rare (135-145°F): 6–7 minutes total (roughly 3 minutes per side)
Medium (145-150°F): 7–8 minutes total (roughly 3-4 minutes per side)
Medium-well (150-160°F): 9 minutes total (roughly 4-5 minutes per side)
Well-done (160°F and above): 10 minutes total (roughly 5 minutes per side)
*The USDA recommends all ground beef be cooked to 160°F.
**Nutrition information is for the beef patty only. It does not include the bun or any toppings.
Nutrition
Serving:
1
burger patty
|
Calories:
440
kcal
|
Carbohydrates:
2.1
g
|
Protein:
29.6
g
|
Fat:
34.1
g
|
Cholesterol:
120.3
mg
|
Sodium:
733.8
mg
|
Fiber:
0.7
g
|
Sugar:
0.2
g
|
Vitamin A:
35.2
IU
|
Vitamin C:
0.2
mg