This summer corn salad recipe is a refreshing, easy, and healthy salad recipe for summertime. It's made with fresh sweet corn, crisp tomatoes, lots of feta, and a handful of basil. Mix it with an easy salad dressing and you've got yourself the best summer corn salad!
Love a fresh summer salad without lettuce? You'll drool over this cucumber tomato avocado salad and this grilled zucchini salad.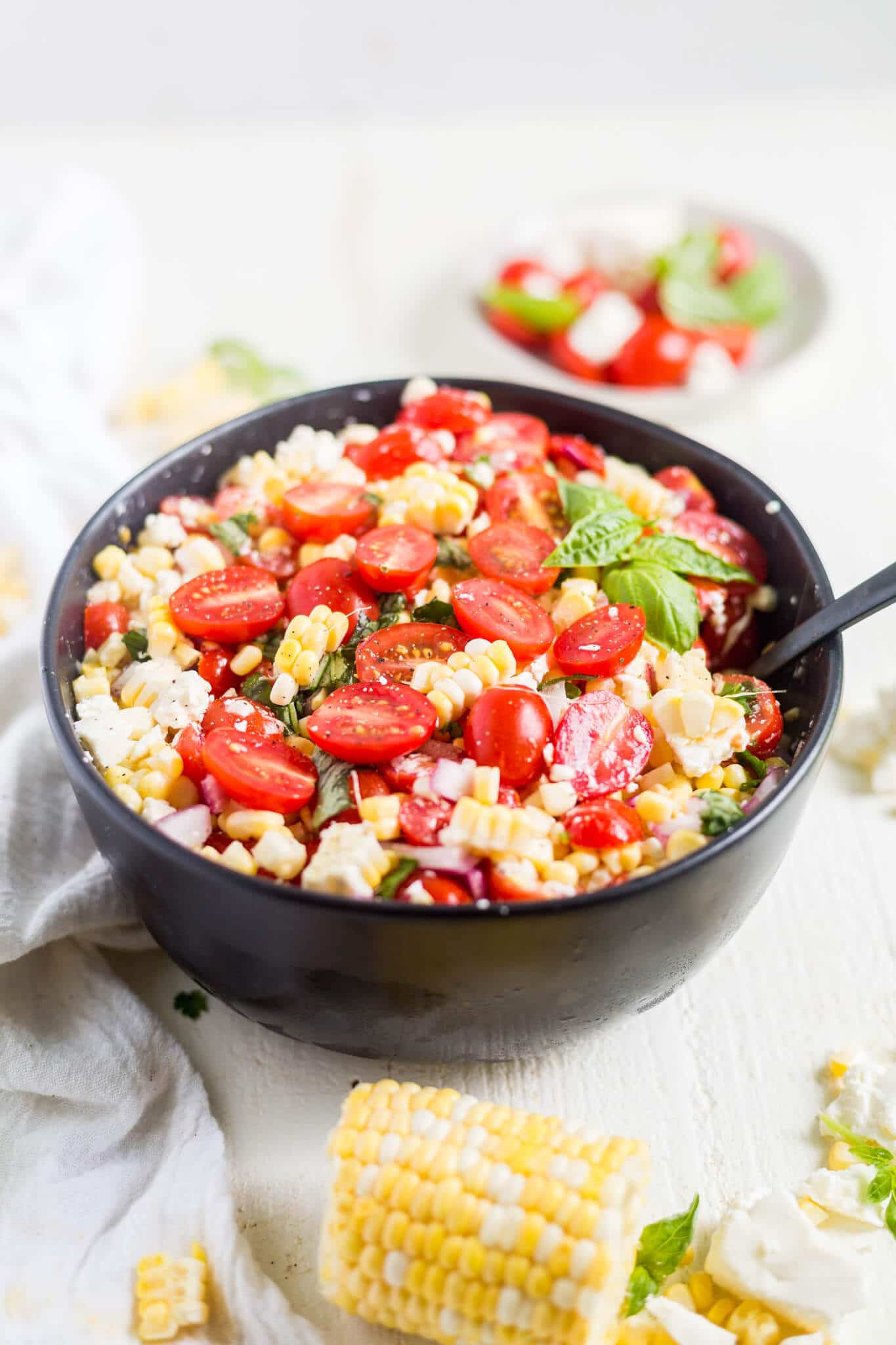 When we're about to hit August I always start craving all things corn! My husband is from Iowa so he's born and raised on the best corn there is. I'm dedicating this post to him!
When corn starts to be in season I like to bust out all my favorite sweet summer corn recipes like this one. I also love to grill corn on the cob and put it over a bed of kale and fresh veggies for another salad.
Reasons to Love This Fresh Corn Salad
Packed with summer flavor: Fresh herbs and fresh vegetables just taste like summer! And this salad is full of them.
Versatile: Makes an easy side dish for summer cookouts, a salsa to throw some lime juice over and dip into with tortilla chips, or a main dish by adding grilled chicken.
Easy: The first time you make this, you won't believe how quick and simple it is to throw together. You only need 5 ingredients and a large bowl to complete this recipe. If you're having guests over this is the perfect, simple recipe!
Ingredients You Need
Here are the simple ingredients for this easy corn salad. Most are pantry staples and easy (and affordable ingredients) to find in the grocery store. Jump down to the recipe card for exact measurements.
Corn: Fresh corn off the cob is best, but you can use frozen corn or canned corn if needed.
Cherry tomatoes: Fresh tomatoes are another summer staple that make a great addition to this fresh salad.
Red onion: Adds crunch, color, and flavor!
Feta cheese: The crumbled feta cheese adds a creaminess and a slightly tangy flavor.
Basil: Find fresh basil in the produce section of the grocery store, your local farmers market, or your own garden!
Olive oil: Use avocado oil as a substitute if needed.
Apple cider vinegar: Adds acidity to the olive oil base of this dressing.
Salt: Kosher salt is best for cooking.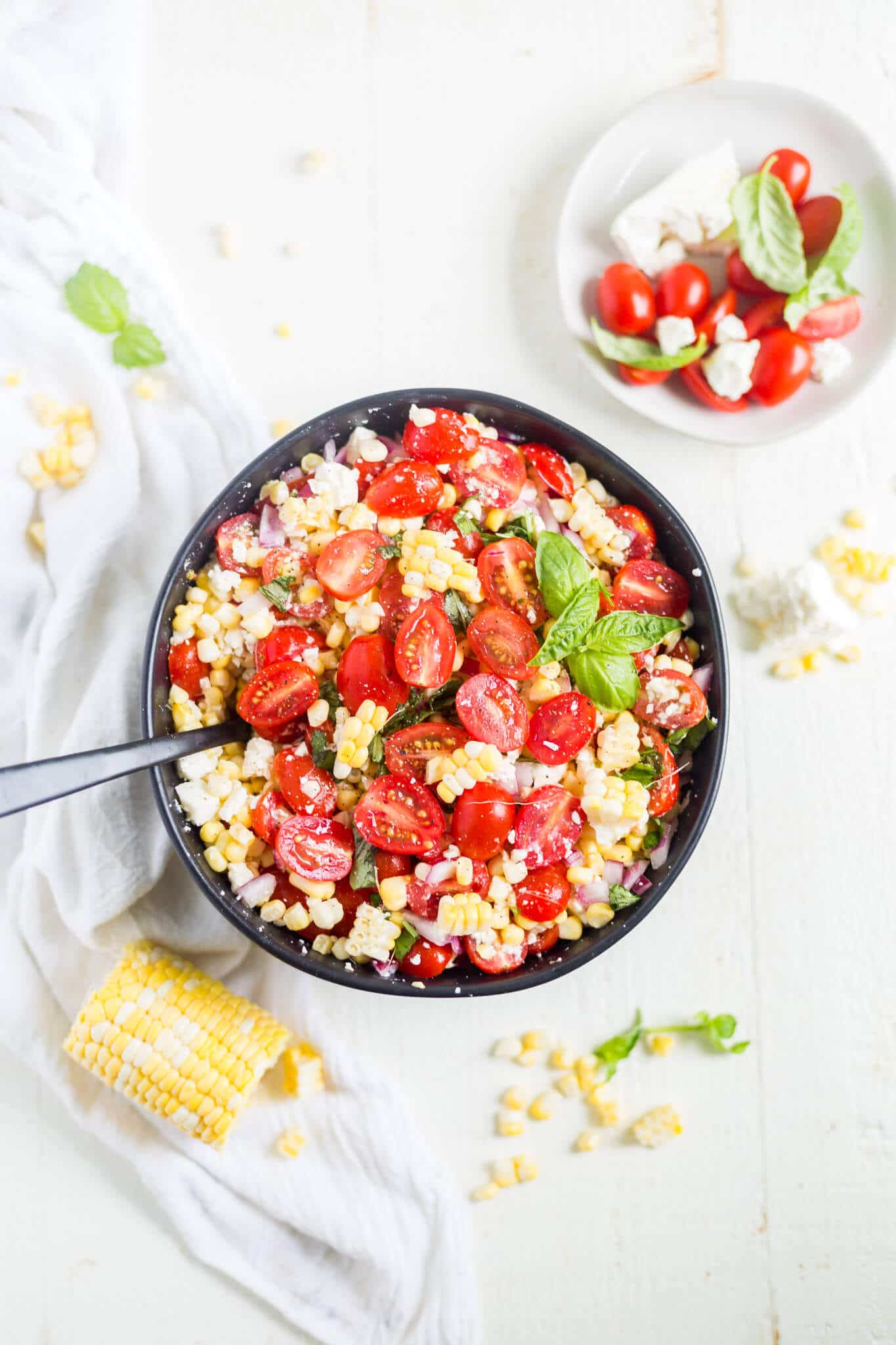 How to Make Fresh Summer Corn Salad
The full printable recipe is below, but let's walk through the steps with some photos and a video so you have a clear idea of what to expect. This fresh summer corn salad recipe is really easy and these step-by-step instructions will make sure they turn out every time.
To make summer corn salad, start by getting all of your corn off the cob. (See instructions in the FAQ section below!)
Once you have that, you'll chop the onions and cut the grape tomatoes into halves on a cutting board, crumble the feta, and toss it all into a large bowl.
Mix the dressing ingredients together in a small bowl and pour it over top of the salad. Top everything with the shredded basil and stir well! That's it!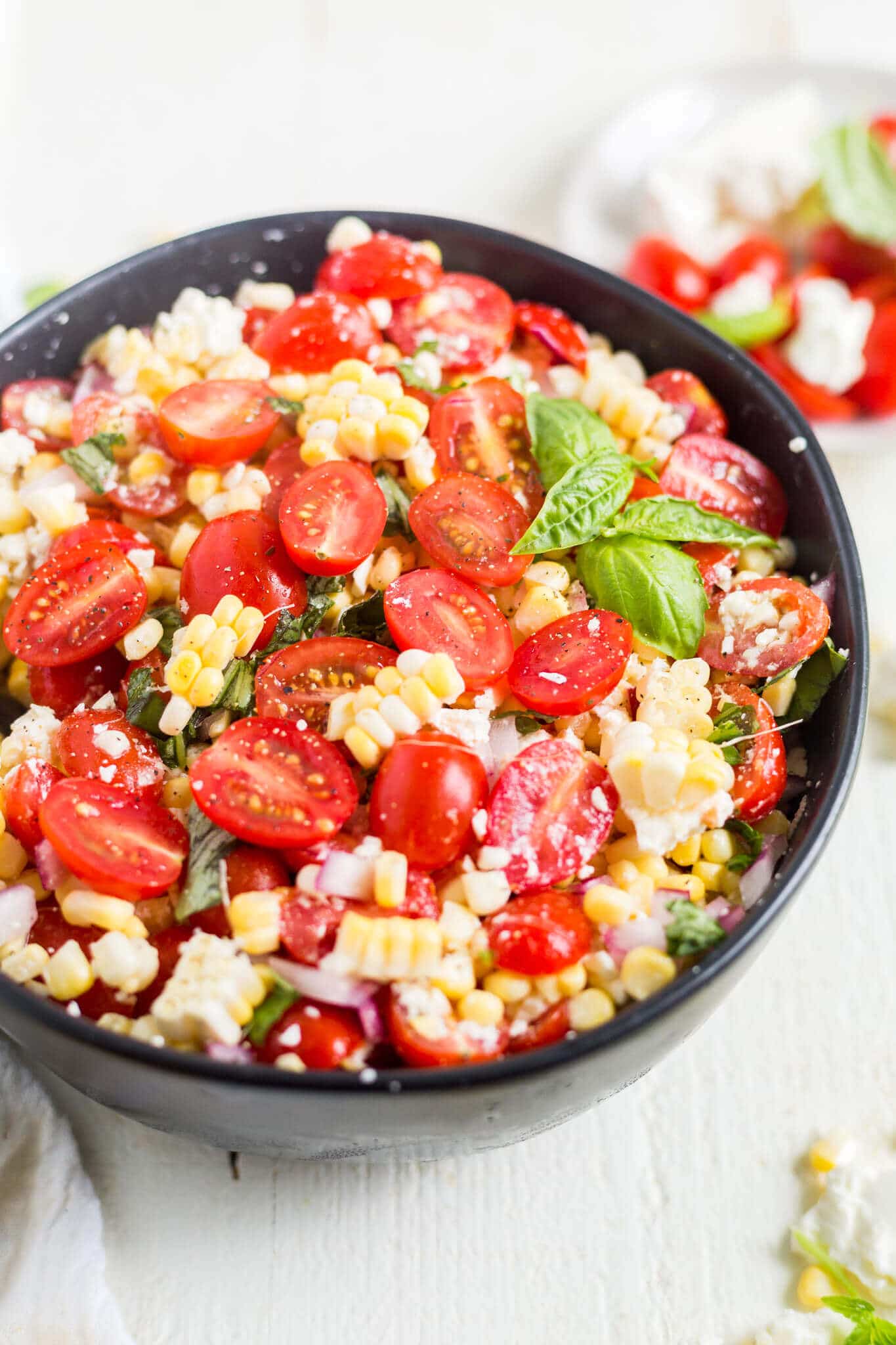 FAQs
When is corn in season?
Corn starts to really be in season starting in July and hits its peak in August and September and even into October. I love this ingredient because it lasts a solid 3 months, which means summer corn salad even into the fall months!
Do you have to cook corn on the cob?
No, you don't have to cook corn on the cob. This recipe for summer corn salad with feta is a perfect example! You'll want to use fresh ears of corn for this recipe and all you have to do is cut it off the cob and mix it with the rest of the salad ingredients. No cooking required!
How do you get corn off the cob?
To get corn off the cob, make sure you husk and clean the corn well. Once you do that, place the large end down so the corn stands vertically. I recommend placing it in the middle of a low-sided bowl or plate with higher sides.
Starting from the top, use a sharp knife to cut down the cob, removing the corn kernels. The corn will fall off the corn cobs into the bowl or dish you've placed it in. Go all the way around the cob until all of the corn is removed.
How to Customize This Summer Corn Salad Recipe:
If you don't like feta and want to replace it with mozzarella or cojita cheese, you can!
You can also swap out the basil for fresh cilantro.
You can even add some fresh avocado too!
A great way to spice it up a little bit is by adding a little black pepper or chili powder.
Sneak in extra veggies and fiber by adding black beans or bell peppers.
What to Serve With a Corn Summer Salad?
This salad is made for summertime cookouts! If you need to take a dish to a party this is perfect. Make it to eat with grilled hamburgers, ribeye, or chicken thighs, or even top some tasty tacos with it. The options are endless!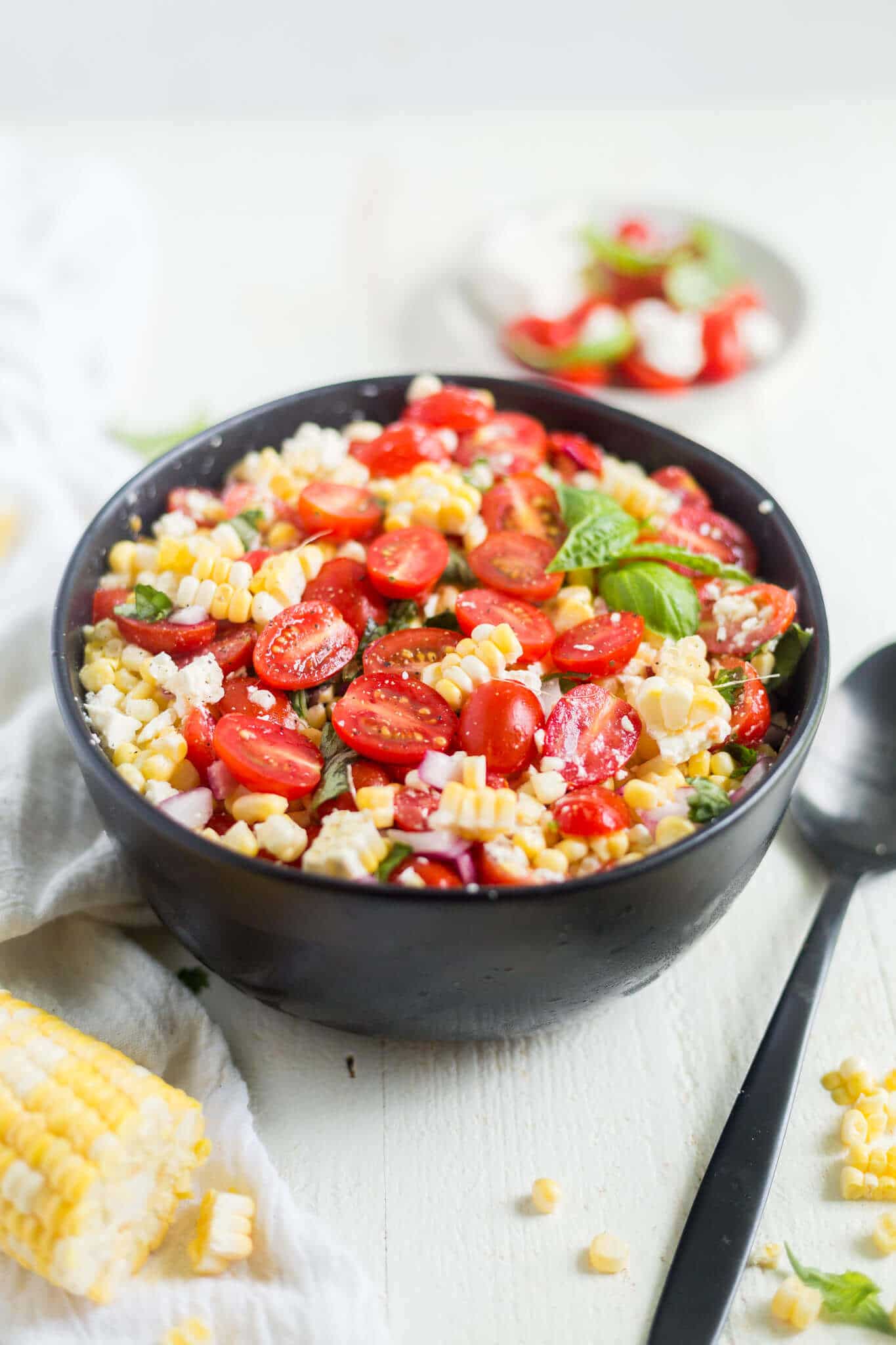 I made this recipe last week and ate it with potato salad, a brat, and grilled veggies!
Storage Tips
Store this salad in an airtight container in the fridge for up to 4 days.
If you make this delicious salad, I'd love for you to give it a star rating ★ below. You can also tag me on Instagram so I can see it!
Other Summer Side Dish Recipes
The summer months always have us craving fresh ingredients. Next time you're at the farmer's market, get some inspiration to try a new recipe with your fresh produce finds. We have plenty of ideas for you!
If you enjoy the sweetness of the corn from this recipe, give our roasted corn and goat cheese guacamole a try. It has sweet and smoky flavor thanks to roasted corn blended with all of your favorite guacamole ingredients and fresh cilantro on top. A touch of creamy goat cheese makes a dreamy dip you'll seriously consider eating with a spoon.
Another perfect summer salad the whole family will love is this cucumber avocado tomato salad. It's made with crisp cucumbers, creamy avocado, juicy tomatoes, and fresh herbs. Squirt some fresh lime juice or lemon juice overtop to keep it fresh longer. Slice the veggies, add everything to a bowl, and serve it with a quick dinner or take it to your next BBQ or cookout.
Speaking of avocado, this easy, healthy guacamole is the perfect thing to dip into on a hot day! One of our favorite ways to dip into it is with fresh veggies like red bell pepper or English cucumber. These Siete Chips are Whole30 and Paleo approved and also taste great with this guacamole.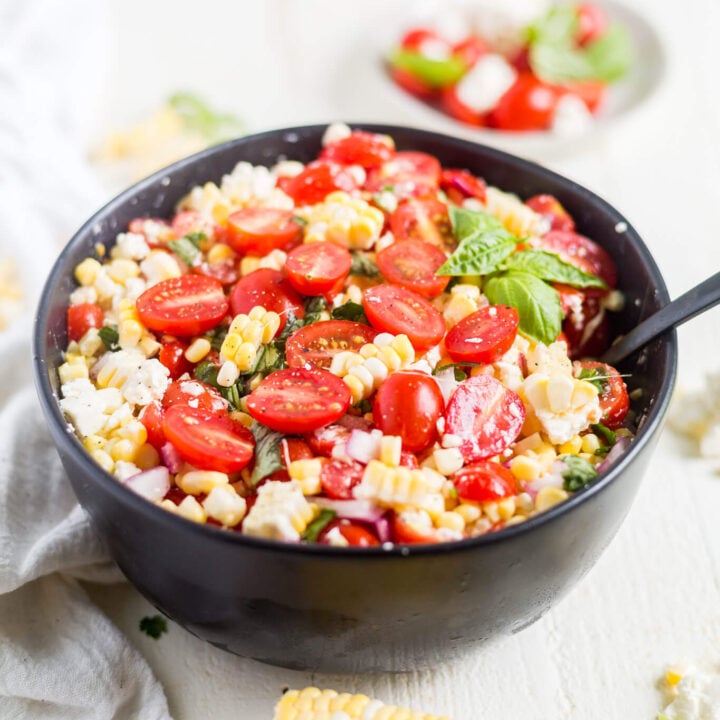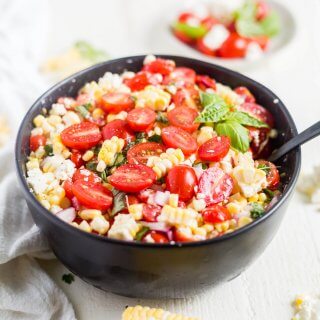 Summer corn salad
This summer corn salad recipe is a fresh, easy and healthy salad recipe for summertime. It's made with crunchy corn, crisp tomatoes, lots of feta and a handful of basil. Mix it with an easy dressing and you've got yourself the best summer corn salad!
Print
Pin
Rate
Save
Saved!
Ingredients
2

cups

fresh corn

6 ears , cleaned and washed

6

oz

cherry tomatoes

halved

½

small red onion

diced

6

ounces

crumbled feta cheese

2

tablespoons

fresh basil

chopped

3

tablespoons

olive oil

2

tablespoons

apple cider vinegar

¼

teaspoon

salt
Instructions
Shave the corn off the cob and place in a bowl. Add the cherry tomatoes, red onion and feta and mix well. Top with chopped basil, olive oil, apple cider vinegar and sea salt and mix well again. Top with a pinch more of salt and pepper.
Nutrition