This tomato peach burrata salad features all of the best summer produce in a delicious sweet and savory side dish. There's no cooking required, which means this summery salad can be on your table in less than 15 minutes.
Looking for more recipes with burrata? Try burrata pasta or burrata caprese.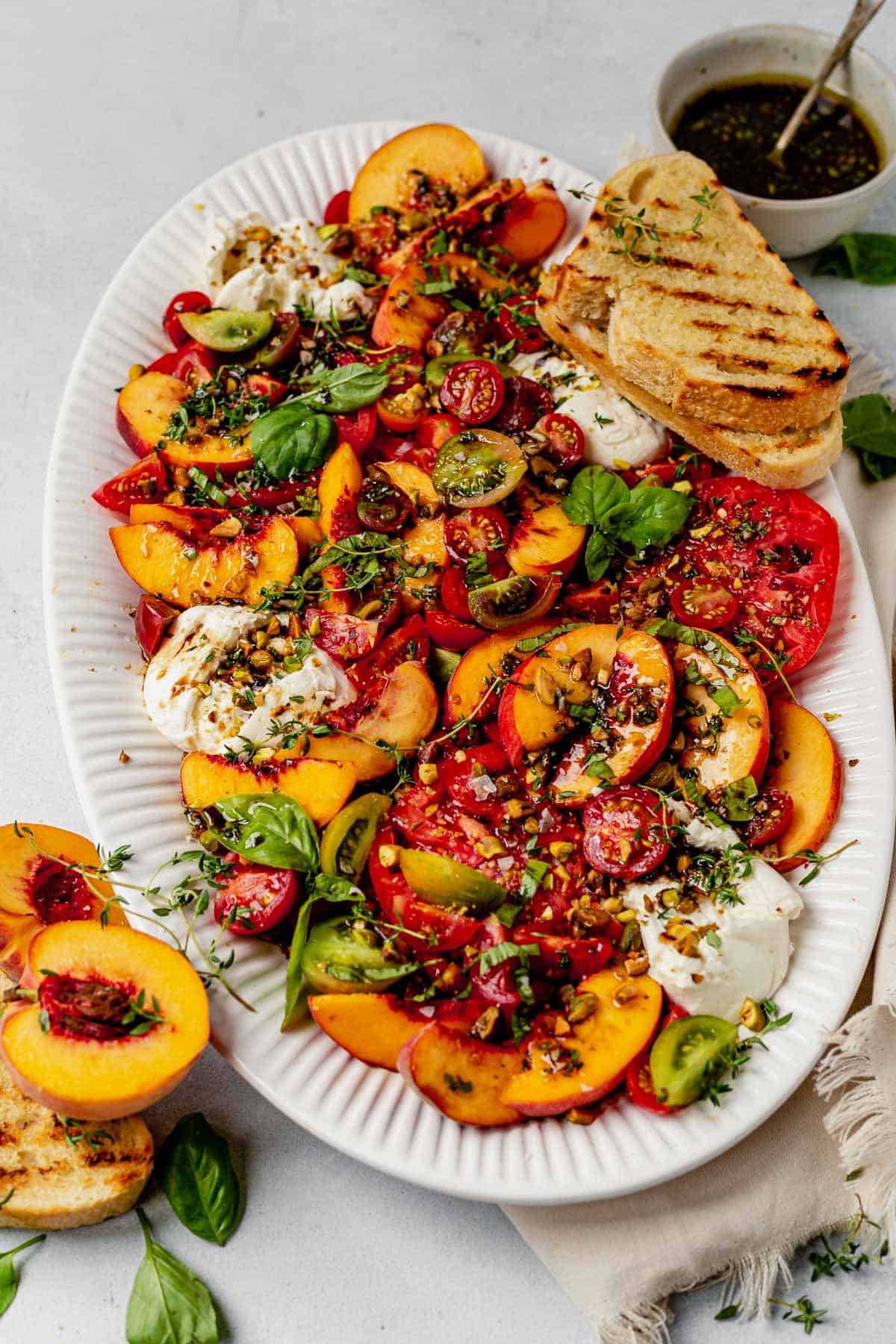 There's nothing better than cooking with seasonal ingredients. The best way to get plenty of sweet summer fruits and vegetables into your dishes is through a good salad. This recipe is the epitome of a summer salad because it features main ingredients like sweet peaches, juicy tomatoes, and fresh basil.
We're also loving our other summer salads like our grilled zucchini salad, grilled peach salad, and the always popular cucumber, tomato avocado salad. Need another summer side? This Caesar Pasta Salad is an easy twist on the classic salad.
Why You'll Love this Peach Burrata Salad
We stopped by a farm stand last weekend and I was so inspired by all the juicy fruits and fresh tomatoes. I knew I had to make this peach burrata salad recipe. It's the fancier, more sophisticated cousin of the classic Caprese salad, without the extra work.
We're using creamy burrata cheese and ripe peaches for a little sweetness. And the homemade basil balsamic honey vinaigrette? Out of this world. Make a double batch and save it for your next kale and goat cheese salad or chicken marinade.

While it's an easy salad that comes together in a couple of minutes, it is such an impressive salad on the serving platter.
What is Burrata?
Burrata cheese is a fresh Italian cheese made from cow's milk with a soft, but solid, outer shell and an ultra creamy center.
The outside is very similar to fresh mozzarella, but what makes this ingredient stand out is that luscious center made of soft curds and cream.
To make the most of it, serve it at room temperature with ingredients that contrast the creamy consistency, like this peach burrata salad with fresh, crisp tomatoes.
Love Burrata? Try a classic Burrata Caprese. Pick up some extra tomatoes for the sauce in this Burrata Pasta.
Grab These Ingredients
For the Tomato Peach Burrata Salad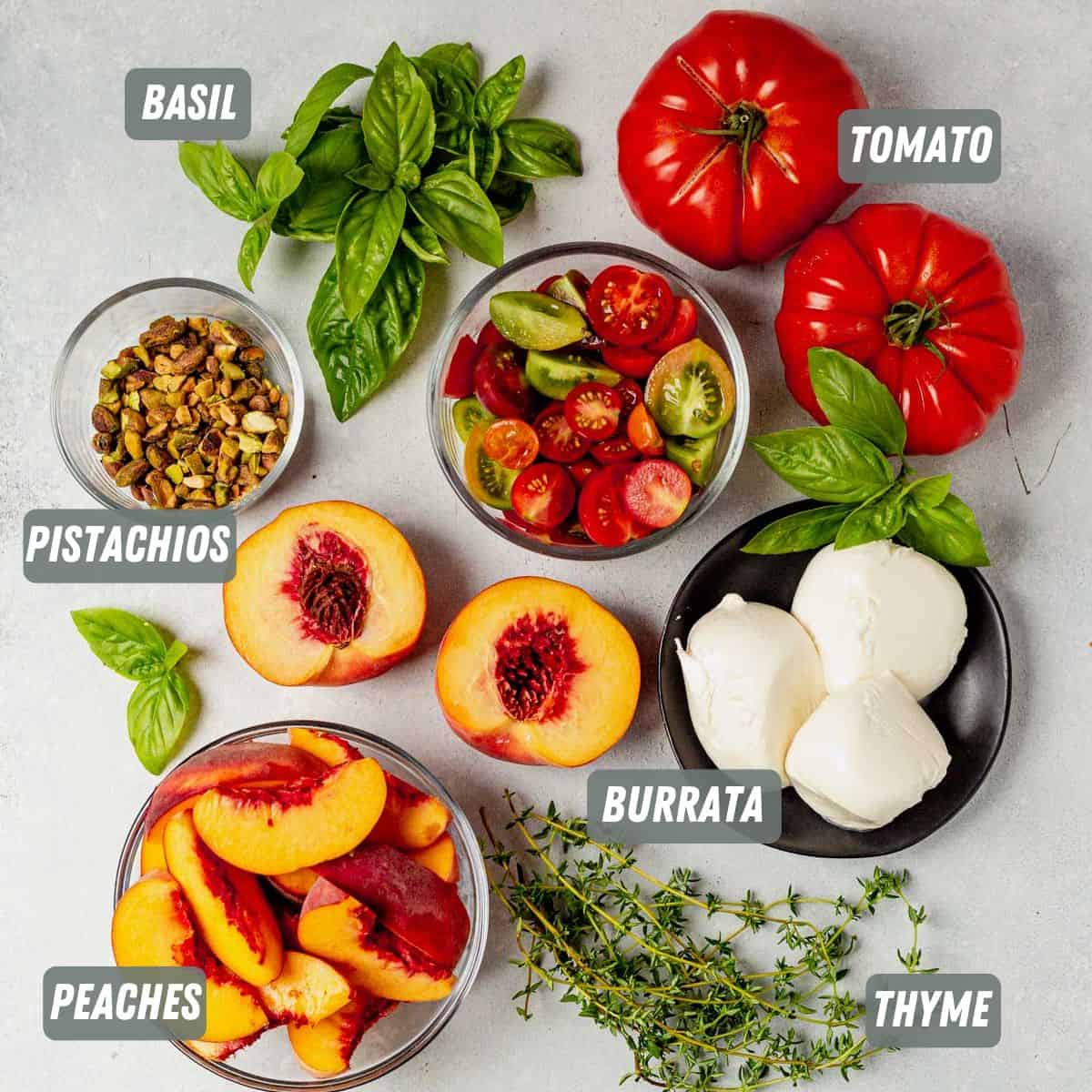 Burrata cheese: This is a cow's milk cheese very similar to mozzarella cheese, but with a creamy center. It's usually in the fine cheese section near other soft cheese.
Fresh peaches: They should be just soft to touch and leave a little indent when you press in.
Cherry tomatoes: If you can get a variety of colors and shapes it will make your salad look even prettier! Grape tomatoes are a good substitute.
Heirloom tomatoes: Fresh slicing tomatoes add more flavor and texture to the overall finished look of the salad, but any tomatoes will work.
Pistachios: The color and texture they add to this peach salad recipe makes such a difference. Pistachios go so well with peaches and they add a nice crunch on top of the salad. You can substitute with pine nuts if you don't have pistachios at home.
Fresh herbs: We're using a mixture of thyme and basil.
For the Herb Balsamic Vinaigrette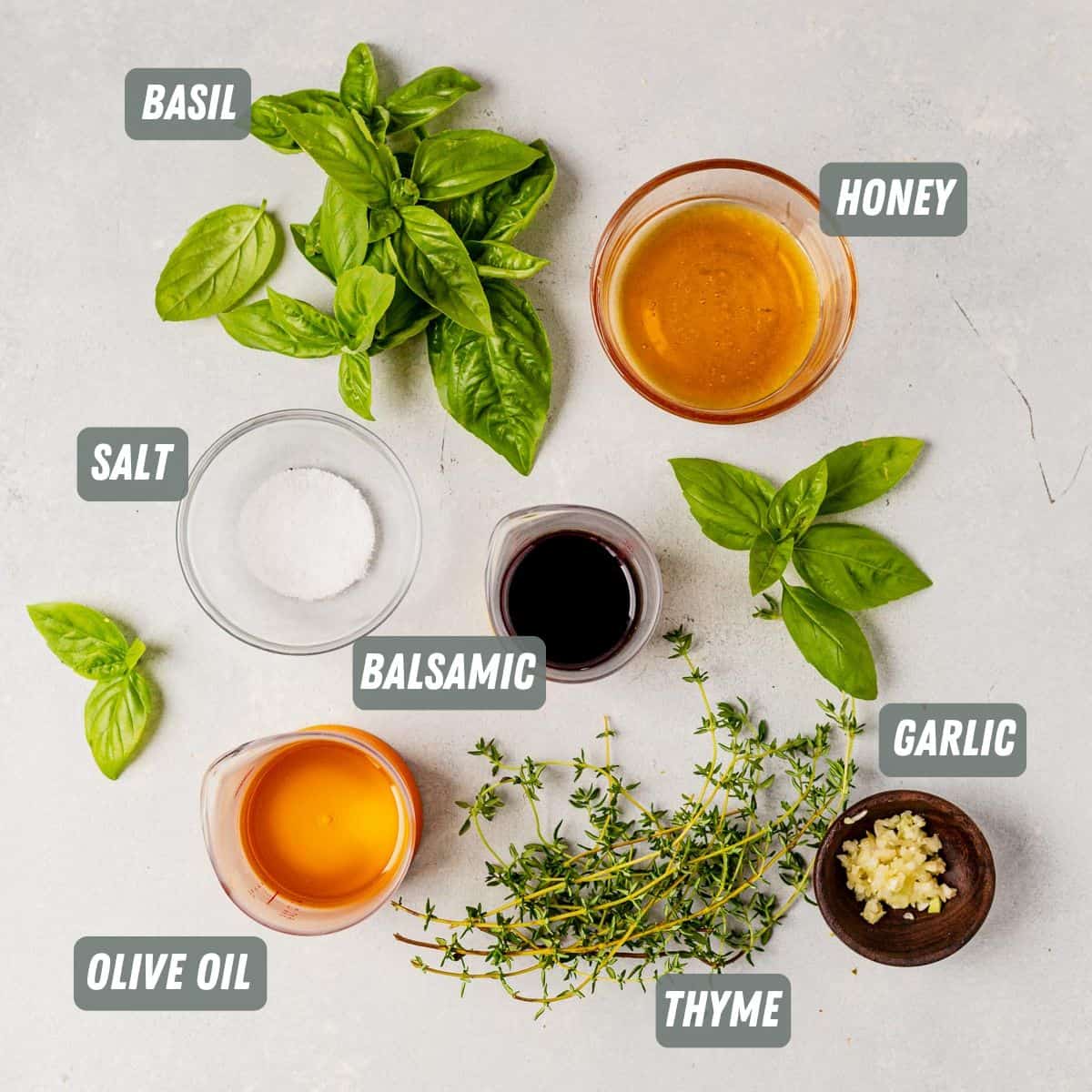 Extra virgin olive oil: Grab a good quality one if you can. We also tested this with avocado oil and it was delicious.
Balsamic vinegar: Always good to have on hand!
Honey: This balances the acid out and thickens the dressing.
Fresh herbs: More basil and thyme.
Garlic: We love to use fresh minced garlic, but garlic powder will do the trick too.
Salt: Kosher salt is ideal! A little bit of salt goes a long way.
---
How to Make Peach Burrata Salad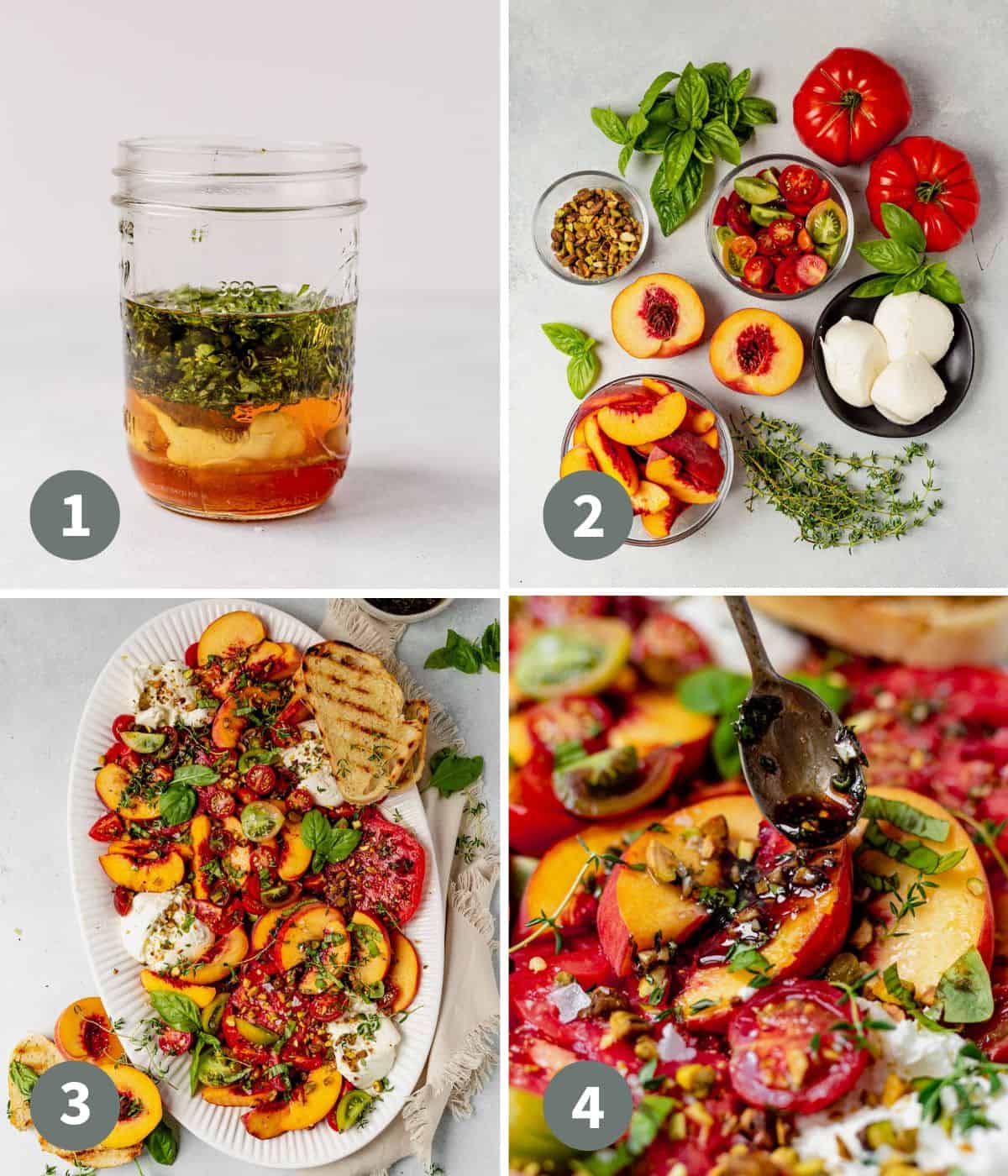 Balsamic vinaigrette: Add the olive oil, balsamic vinegar, honey, garlic, salt, thyme, and basil to a jar or small bowl. Stir it well with a spoon until combined.
Prep the ingredients: Slice the heirloom tomatoes into rounds, the cherry tomatoes into halves or quarters, and the peaches into eighths. Then chop up the pistachios with a sharp knife.
Assemble: Arrange the thin slices of tomatoes, cherry tomatoes, and peach wedges all on a large platter. Break open each piece of burrata into smaller pieces and place the burrata on the platter with the tomatoes and peaches. Sprinkle everything with the chopped pistachios then fresh basil leaves and thyme.
Serve: Drizzle the balsamic dressing over the salad when you're ready to serve. We love to serve this with grilled crusty bread. (Sourdough bread is our favorite!)
Video: Watch How to Make It
What to Serve with Tomato Peach Burrata Salad
A bite of creamy cheese, juicy peaches, crunchy tomatoes and pistachios is the perfect A bite of creamy cheese, juicy peaches, fresh tomatoes, and crunchy pistachios is the perfect bite. Here are a few ways to serve it as a great addition to other seasonal dishes:
Serve it on crusty toasted bread (one of my favorite ways to have it). Spread some homemade pesto or salty prosciutto down on the fresh bread first and top with flaky salt for an extra crunch.
Top this delicious cottage cheese toast with it and drizzle the hot honey and some chili flakes over top.
Lay it underneath this delicious herb grilled salmon. This copycat Olive Garden herb grilled salmon will blow your socks off with flavor.
It makes the perfect summer side dish for this spinach and mushroom stuffed flank steak.
Recipe Variations
Balsamic glaze: save on time and drizzle everything with homemade balsamic glaze (if you have to).
Grilled peaches: Just like this grilled peach salad, place sliced peaches on hot grill grates for 2-3 minutes on each side. It's a great way to add a little smokiness to the recipe next time.
Add greens: Burrata and peaches are especially good with arugula. Throw some of it on the bottom of the plate before adding the rest of the salad ingredients.
Include protein: Proscuitto and serrano ham are delicious options to tuck into the salad before serving.
More stone fruit: Other seasonal and sweet stone fruits like nectarines, plums or cherries would be a nice touch.
FAQs
What Is Good with Burrata?
Similar to mozzarella, burrata pairs well with tomatoes and basil. Beyond that, a few other ingredients that complement burrata include fava beans, bread, peaches, pesto, and plums. All of these ingredients would make for great substitutions! For a heartier pairing, try prosciutto, parma ham, grilled vegetables, or pasta.
What cheese is closest to burrata?
While there is no exact substitute for the unique texture and flavor of burrata, there are a few cheeses that come close in terms of creaminess and richness including fresh mozzarella, Stracciatella, and creamy ricotta.
How do you eat burrata mozzarella?
Enjoy Burrata by spooning it by tearing it open or cutting it into smaller pieces. You can scoop it onto crusty bread or use your fork to cut into it when it's on salads, antipasti, or pasta.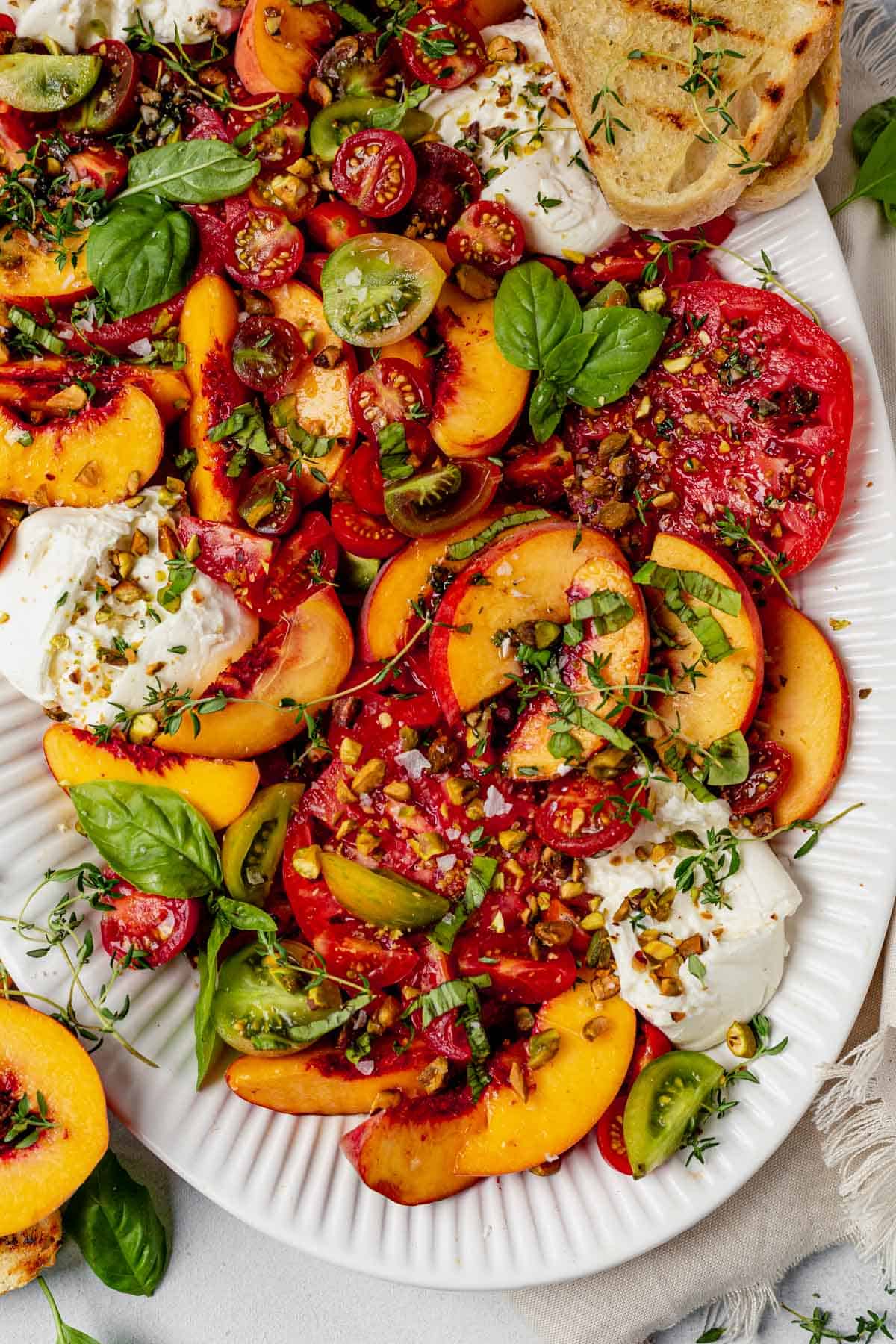 Storage Tips
Store leftover peach burrata caprese in an airtight container for up to 2 days. It will be ok with the dressing left on it, but I recommend storing the dressing separately if possible. Burrata is best served at room temperature so allow it to sit out for 10-15 minutes prior to serving again.
If you make this recipe, I'd love for you to give it a star rating ★ below. I'd love to hear from you! You can also tag me on Instagram so I can see it!
More Delicious Salad Recipes
If you like peach recipes, we have plenty more to suggest. This grilled peach salad is the perfect best fresh summer salad recipe to make with ripe peaches for a weeknight side or summer BBQ.
Our grilled zucchini salad is a delicious mixture of so much fresh summer produce like grilled zucchini, grilled charred corn, fresh tomatoes, onion, and goat cheese.
And speaking of salads with the freshest produce, this cucumber tomato avocado salad is a must-have side dish this summer.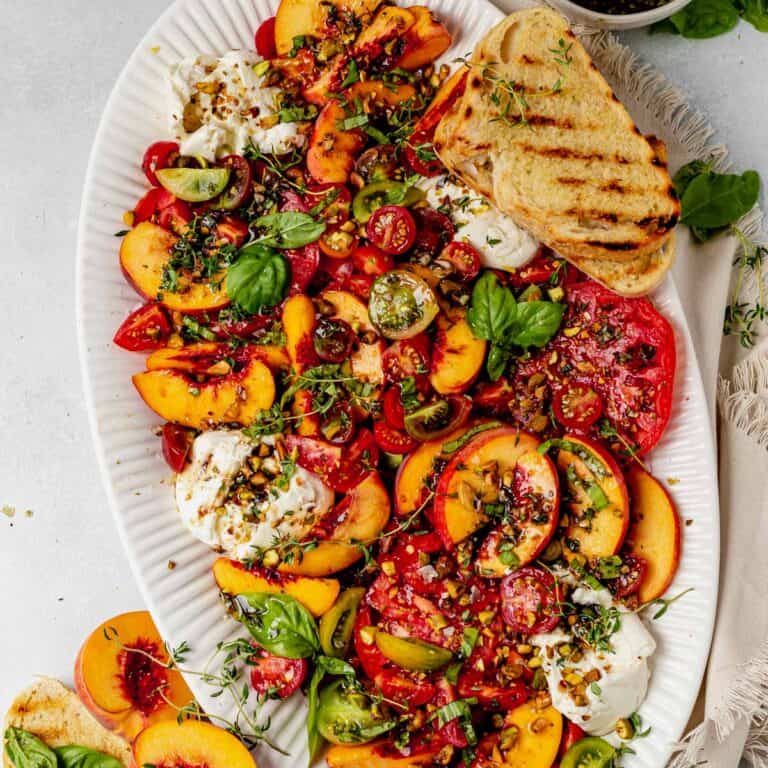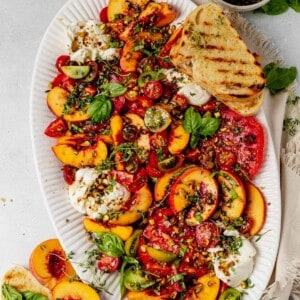 Peach Burrata Salad
This tomato peach burrata salad features all of the best seasonal produce in the best sweet and savory side dish.
Print
Pin
Rate
Save
Saved!
Ingredients
Fresh herb vinaigrette:
⅓

cup

olive oil

¼

cup

balsamic vinegar

2

tablespoon

raw honey

3

tablespoons

fresh chopped basil

2

tablespoons

fresh thyme

2

cloves

minced garlic

1

teaspoon

salt
Salad
3-4

ripe peaches

sliced

2

large heirloom tomatoes

sliced

1

pint

cherry tomatoes

sliced in half

8

ounces

fresh burrata

⅓

cup

raw unsalted pistachios

could also use pine nuts

Fresh basil

roughly chopped, plus more basil leaves to garnish

1

teaspoon

kosher salt

2-3

sprigs fresh thyme leaves
Instructions
Start by making the balsamic vinaigrette. Add the olive oil, balsamic vinegar, honey, garlic, salt, thyme and basil to a jar and stir it well with a spoon until combined.

Slice the heirloom tomatoes into rounds and the cherry tomatoes in half. Slice the peaches into eighths then arrange them all on a large platter. Break open each piece of burrata and place them on the platter with the tomatoes and peaches. Sprinkle everything with chopped pistachios then fresh basil and time.

Drizzle the balsamic dressing over the salad when you're ready to serve. We love to serve this with grilled crusty sourdough bread.
Notes
Storage: I don't recommend storing any leftovers of this recipe, especially if it's already dressed with the balsamic vinaigrette. However, if you know you'll have leftovers, dress the salad individually and store the remaining salad in an air tight container for up to one day.
Nutrition
Serving:
1
serving
|
Calories:
298
kcal
|
Carbohydrates:
25
g
|
Protein:
15.7
g
|
Fat:
16.9
g
|
Cholesterol:
6.8
mg
|
Sodium:
883
mg
|
Fiber:
4.6
g
|
Sugar:
19.6
g
|
Vitamin A:
113
IU
|
Vitamin C:
23.4
mg