I spy a big bowl of edible monster cookie dough waiting to be gobbled up and loved by y-o-u ❤️.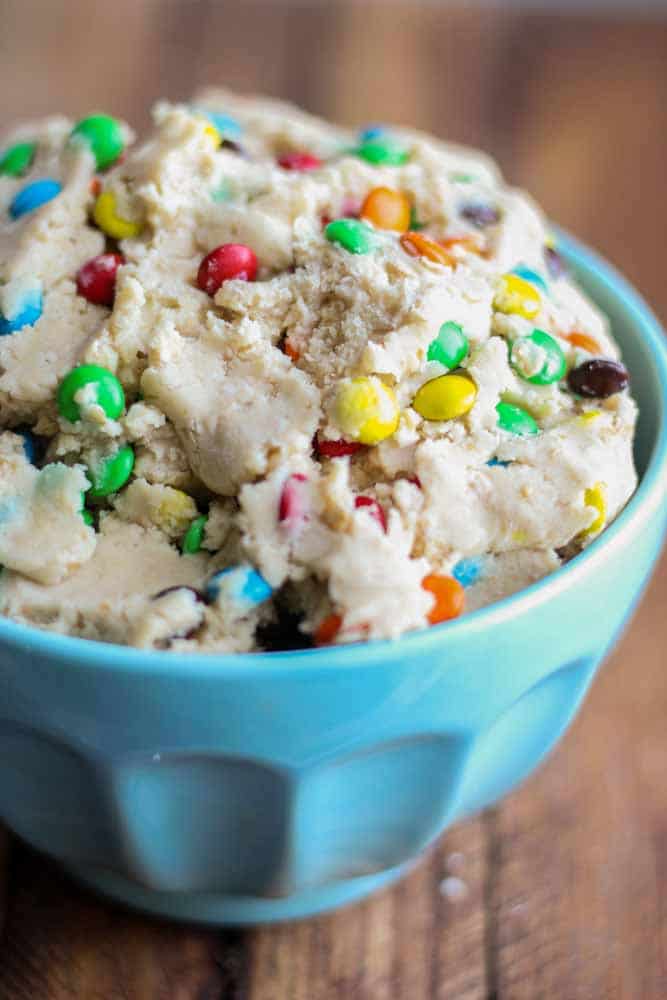 Hi! I know I should be sharing all the Thanksgiving leftover recipes and hacks with you but I really just couldn't because there was too much space in my heart being taken over by this edible cookie dough.
Also, I never actually make recipes with my leftovers. It's more of a "how many recipes can I fit in to one bowl and mix together" type of leftovers. Very similar to the giant bowl of turkey/sweet potatoes/cornbread stuffing/ brussels sprouts I just downed in about .5 seconds.
Who else had an amazing holiday?! I celebrated at my parent's house with 18 of our family members and a few friends and I left Friday morning with my love tank so full. As the years go on Thanksgiving is becoming one of my favorite holidays. A day spent with delicious food and quality family time is a day I cherish.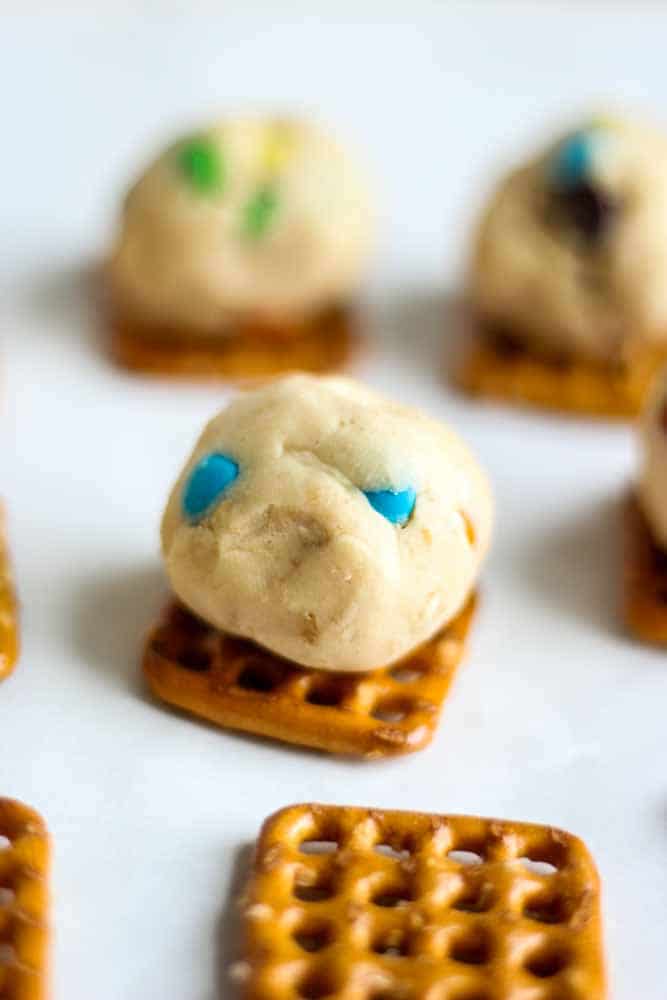 Along with my love tank being full, so was were my shopping bags. Zach and I headed out around 8 am to shop Friday morning because he'd never experienced a black friday. We were somewhat disappointed because he was ready to throw bows and fight over the last sweater, but it was pleasantly (in my opinion) not busy. We went to 5 stores in 2 hours, including Hobby Lobby. Because Christmas decor made an appearance that night and my bare tree needed some festive ornaments. Fifty percent off Christmas decor for the win!
The moment Thanksgiving is over is the moment I turn full on Christmas elf mode. Shopping, decorating, Hallmark move watching and of course, cookie making.
Though this recipe isn't technically a Christmas cookie it does involve cookie dough. Edible cookie dough to be exact. And who doesn't lovely the chocolatey-oat flavor that is monster cookies? I was inspired to create this recipe because my edible cookie dough is one of the most popular recipes on my blog. Also because I made these monster cookie cups and monster cookie bites last year and they're also a huge hit.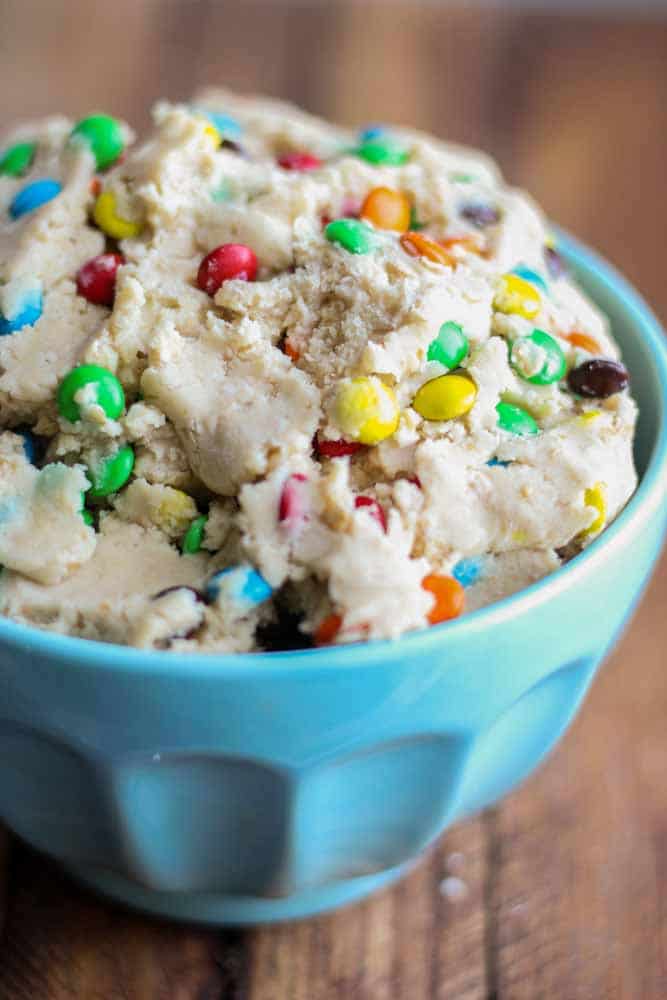 You can whip it up in minutes and you're left with a tasty dough you can throw in the freezer at any point and pull out to snack on.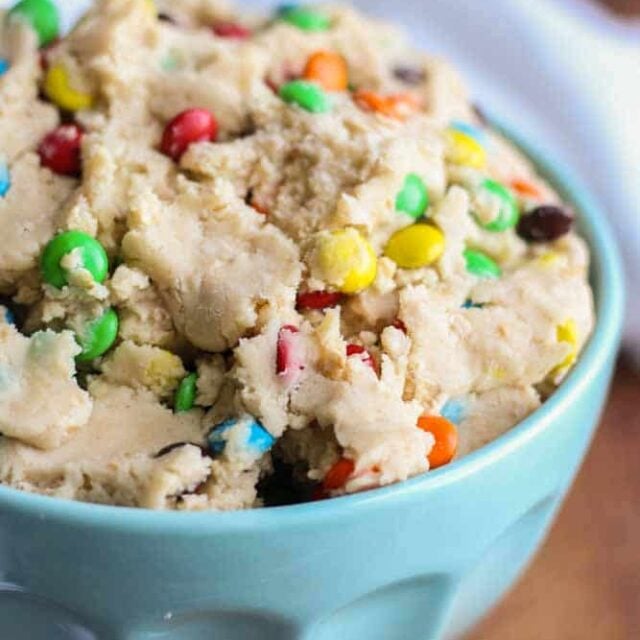 Ingredients
1

cup

butter

softened

½

cup

creamy peanut butter

3

tablespoons

brown sugar

3

tablespoons

all purpose flour

1

teaspoon

vanilla

1

cup

quick oats

3½

cups

powdered sugar

1

bag mini M&Ms

10.8 ounces
Instructions
In a large bowl, cream together the butter and peanut butter until smooth, about 3 minutes. Add the brown sugar, flour, vanilla and quick oats and beat until combined, about 1 minute. Scrape down the sides of the bowl and add 1 cup of the powdered sugar. Beat well and gradually add in the recipe until well combined. Add more powdered sugar if necessary to reach the desired consistency. Pouw in the M&Ms and stir together using a rubber spatula. Eat immediately or store covered in the freezer for up to 3 months.