Easy, healthy guacamole is an appetizer or snack recipe good for any occasion! From tailgate parties to afternoon snacks, this healthy guacamole recipe will become your new favorite to whip up. Only takes a few minutes!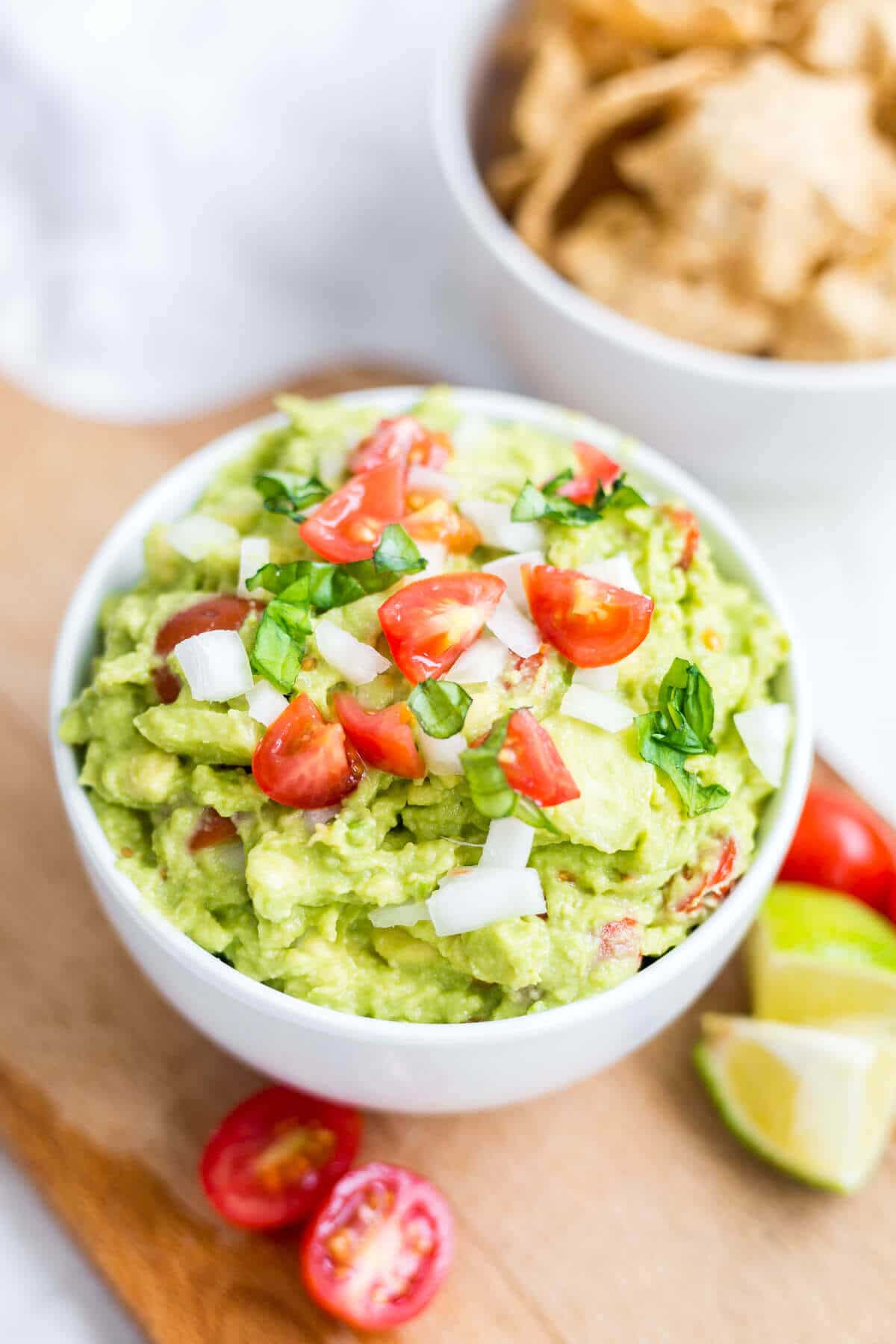 Jump to:
I love guacamole. A great guacamole is always a crowd-pleaser and disappears so fast. But there is nothing worse than a flavorless guac, amiright?
The key to flavorful, healthy guacamole is just he right amount of sea salt, lime juice and cilantro. If you've got all of those flavors right (plus some garlic), you're golden in the flavor department for this healthy guacamole.
My go-to tip for delicious healthy guacamole: use sea salt.
I swear by sea salt in this healthy guacamole and kinda use it all the time. Even in my chocolate chip cookies. It's what makes Chipotle guacamole taste so good. It brings out so many natural flavors of the avocado so if you have it on hand I highly recommend using it.
Like this avocado dip, the lime and salt bring out all the flavor.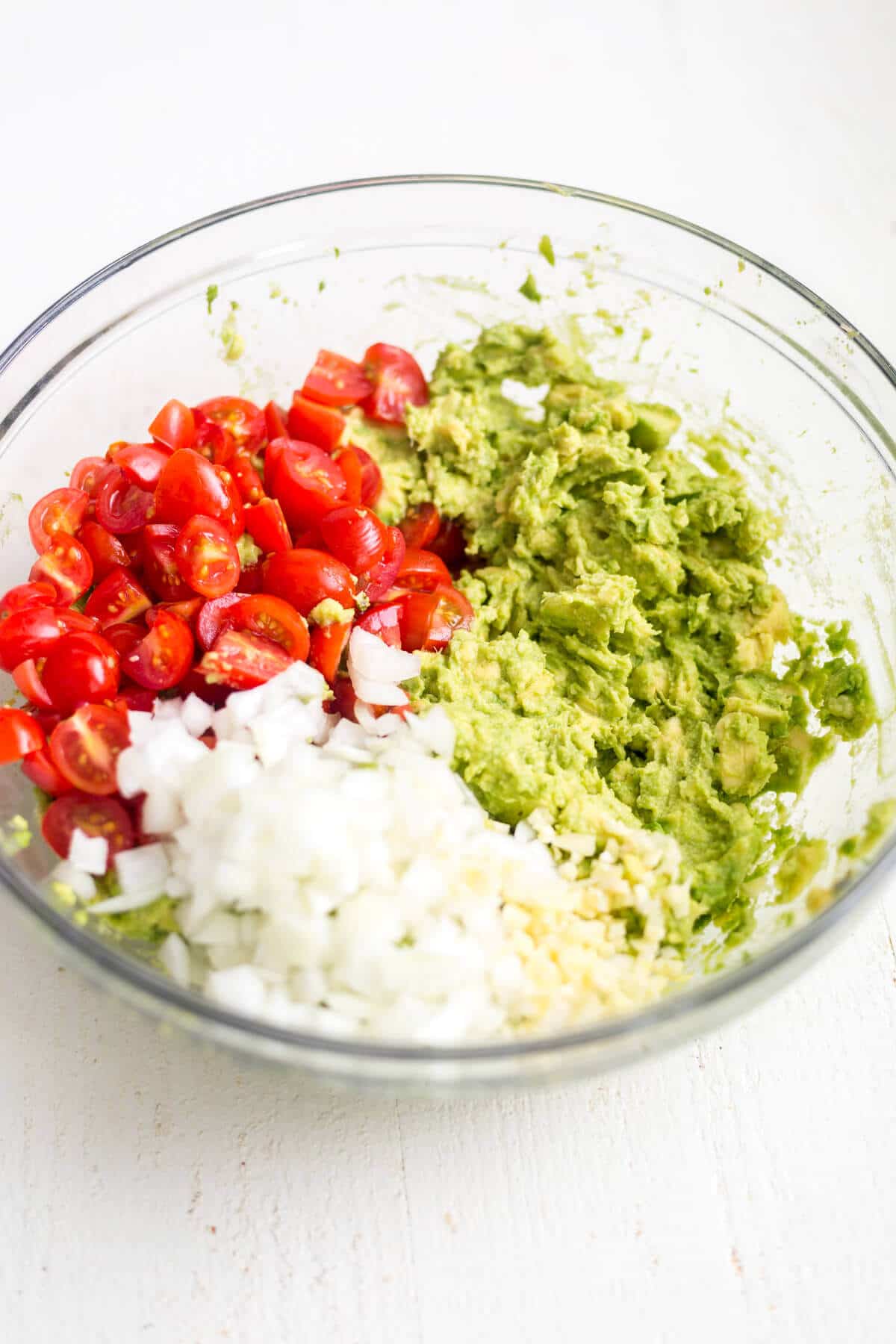 Healthy guacamole recipe
Guacamole is definitely a healthy recipe! It's made with nothing but veggies, spices and healthy fats so you can snack on it and not feel guilty. The key is to make sure you're dipping healthy things into it. The guacamole itself is made with lots of avocados and then mixed with veggies, garlic, tomatoes and cilantro among other healthy things so by itself it's very good for you.
To make it even more healthy make sure you're making good decisions when it comes to what you're dipping into it. Here are some of my favorite foods to dip in guacamole!

Healthy things to dip in guacamole
You can dip so many things in guacamole! The most obvious is a tortilla chip and some of my personal favorites are veggies. Here's a list of my favorite guacamole dippers:
Siete Chips are a gift to earth from heaven. These tortilla chips are GRAIN FREE and made with minimal ingredients, all of which you can pronounce. These chips are free of gluten, grains, dairy, soy, corn, wheat, rice and GMOs. AKA they're whole30 and paleo friendly (because they're made of coconut flour). Note, this post is not sponsored by them, I just love them that much! They come in three flavors: sea salt, salt and lime and nacho.
Celery is a second favorite of mine. It doesn't have a ton of flavor so it really lets the guacamole shine.
Sweet bell peppers are also an awesome veggies option. They're a little bit of a pain to cut and clean but so delicious! If you cut tons at once you're good for the week.
Tomatoes are another great option. There's tomatoes in this recipe but ya can't have too many.
If you want regular tortilla chips my fave are the multigrain scoops. Multigrain and they pick up lots of guac at once!
You really can't go wrong with any of these. They're all delicious, but those chips are out of this world. I ate a whole bag and a whole batch of this in one sitting basically.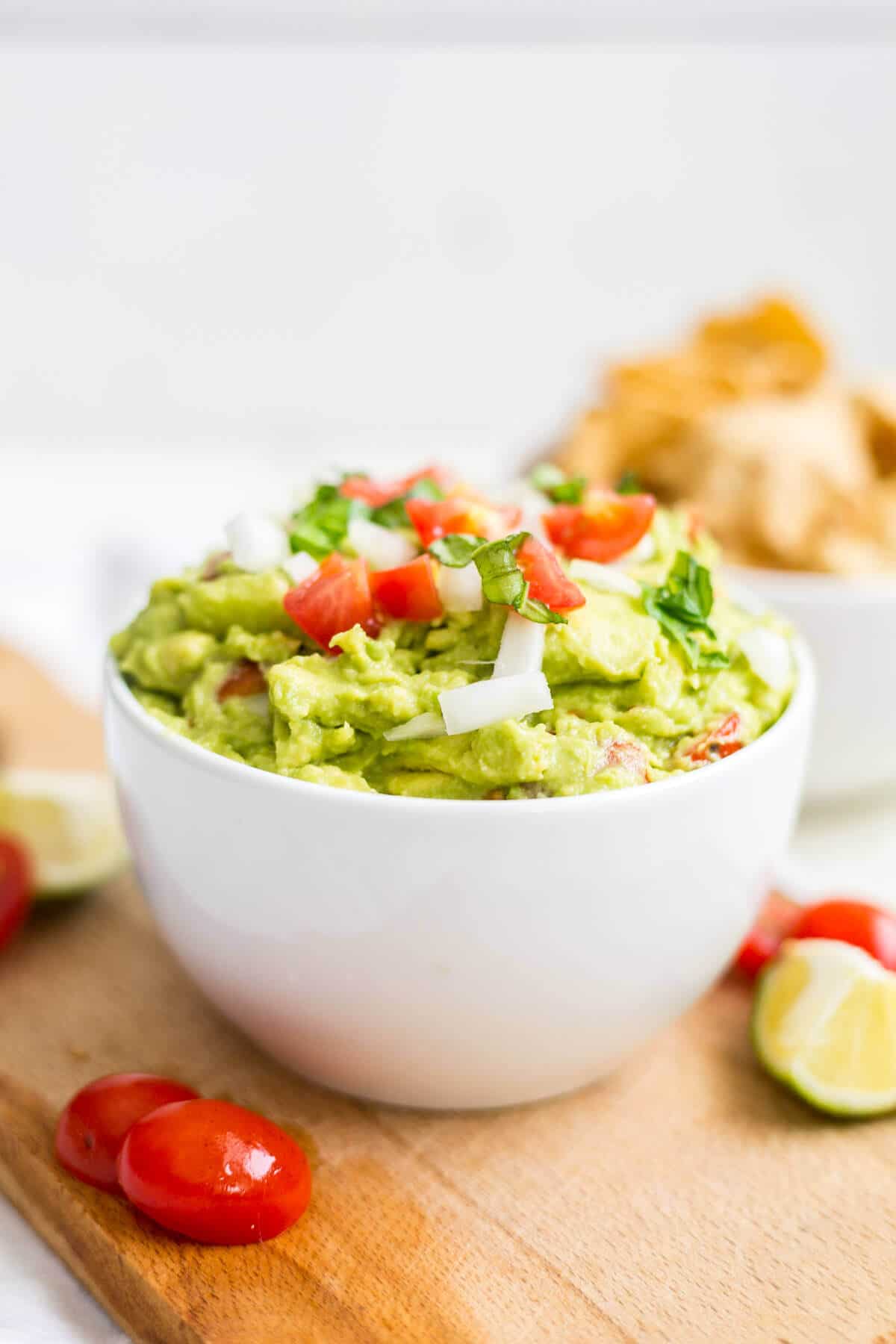 If you aren't like me and want to make this guac last longer than 1 hour I have a few tips for you.
How Do You Keep Guacamole From Turning Brown
There are a few methods you can use to keep guacamole from turning brown. You can keep guacamole in the fridge but there's nothing less appetizing than a big pile of brown, so keep this healthy guacamole vibrant and green is key to making it ahead.
My favorite way to keep guacamole from turning brown: once you've mixed up your healthy guacamole with all of the ingredients, squeeze a little extra lime juice on top then cover the healthy guacamole with plastic wrap, pushing down on the wrap so it's completely touching the surface of the guacamole. Place in the refrigerator for up to a couple of days.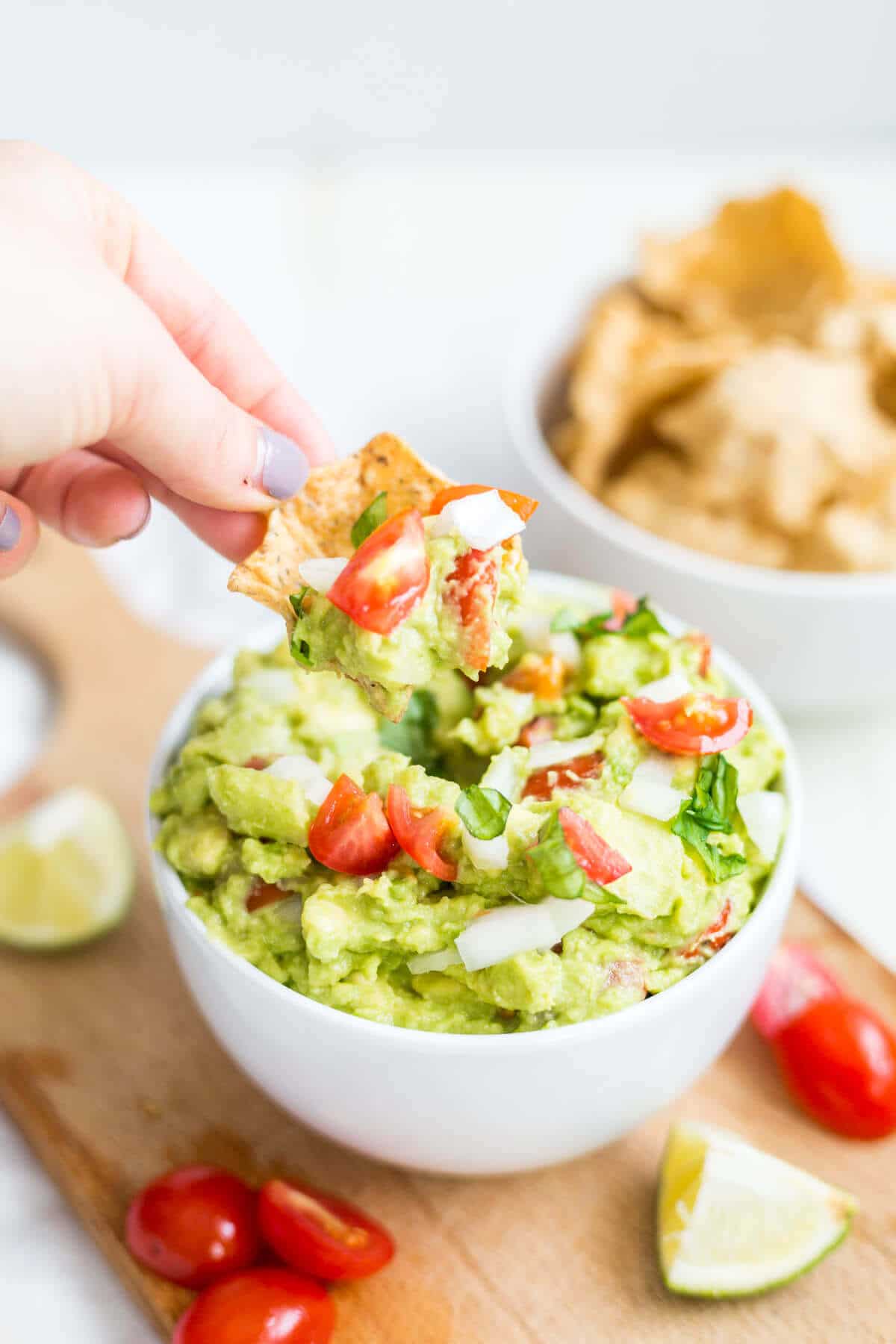 If it lasts that long. And with the super bowl coming up I have a feeling that just won't happen. If you are making this healthy guacamole for a super bowl or tailgate I recommend doubling it, because it will go fast.
If you love this recipe don't forget to give me virtual high-five by following along on Instagram—I hang out there every day! You can also check out our 23 favorite healthy game day recipes.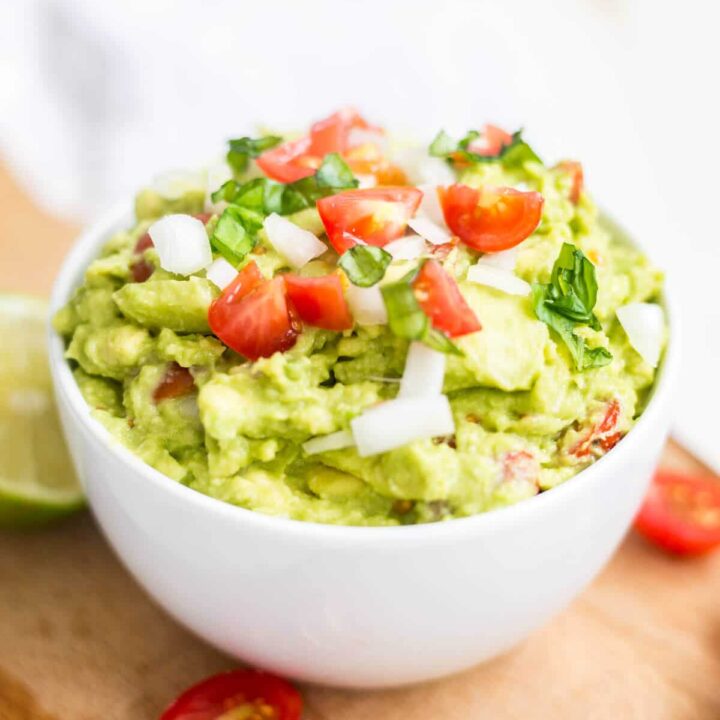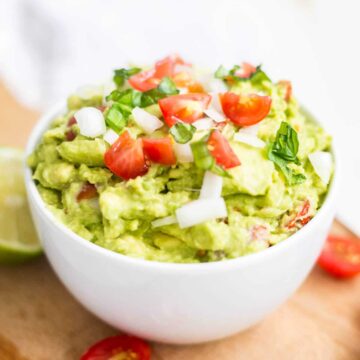 Ingredients
3

ripe avocados

¼

cup

diced yellow onion

¼

cup

tomatoes

chopped

2-3

cloves

garlic

minced

juice from 1 lime

or more to taste

1

teaspoon

sea salt

more or less to taste

1

bunch of cilantro

chopped
Instructions
Start by preparing all of your ingredients. Chop the onion and tomatoes then mince the garlic. Remove cilantro leaves from stems and give them a course chip. Squeeze the juice from the limes in a separate bowl and set aside.

In a medium bowl, remove avocados from the skin. Mash with the back of a fork or pastry blender. Add all of the prepared ingredients and stir well.

To store, squeeze some extra lime juice on top then cover with plastic wrap so the plastic is touching and covering all of the guacamole. Serve with chips or your favorite veggies.
Nutrition
Serving:
1
g
|
Calories:
130
kcal
|
Carbohydrates:
10.6
g
|
Protein:
1.8
g
|
Fat:
10.5
g
|
Sodium:
395
mg
|
Fiber:
5.1
g
|
Sugar:
1.4
g