Thick and chewy turtle cookie bars! The base of this recipe is a chocolate chip cookie. You'll split the dough in half and add some caramel and pecans to the middle for an easy, chewy dessert!
Looking for another bar? Try chai white chocolate brownies, paleo pumpkin bars, or vegan pumpkin cheesecake next.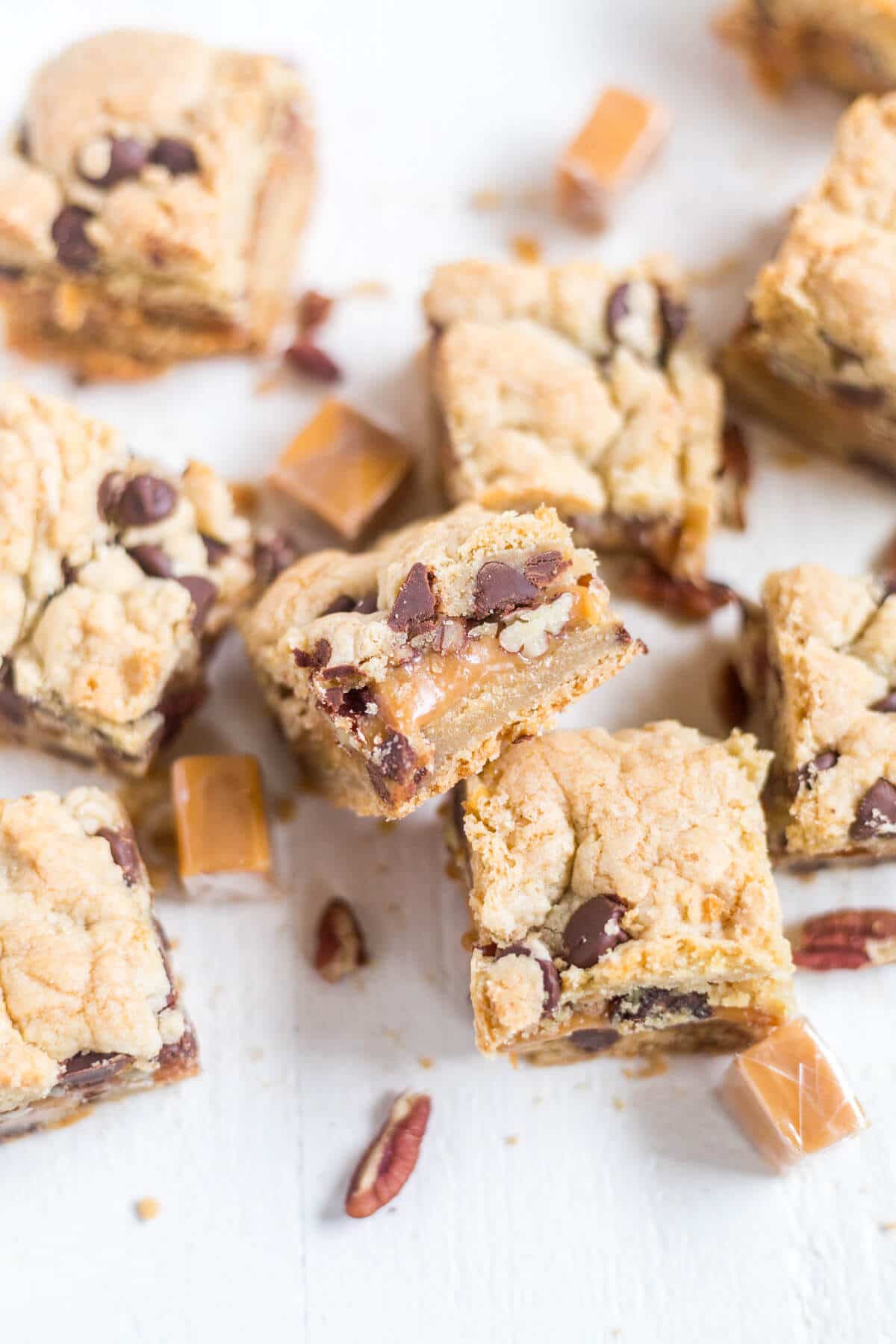 Happy weekend! I can't believe how FAST this week flew by. It's one of my favorite weeks of the year because I get to share a new cookie recipe with you every single day. That's 7 new cookie recipes just in time for Christmas. If you haven't been following along, let's recap the week so far:
All of these have been a huge hit! I've had people message me and comment letting me know how much they love them and that seriously makes my day.
Love cookie bars? You're going to love these s'mores cookie bars and peanut butter bars too.
I love knowing these recipes reach your homes and hearts and you can share something special with friends and family, especially this time of year. I love making all of these recipes hoping it will brighten someone's day!
Making them for all of you certainly brightens my day! I have a full freezer full of all the cookies from this week. I'm planning to head to the dollar store to get some tins then divide them up and give them to co-workers and friends.
We also have Zach's grandparents coming to visit in a couple weeks so I'm going to keep some to share with them. His grandma loves to bake so I'm excited to share these with her!
And of course I'll be saving some for Christmas Eve with my parents. We always eat chili and cornbread, watch a Christmas movie and eat lots of cookies. One of my favorite traditions!
I wanted to switch it up a little bit for cookie week and bring you something that's not like your traditional cookies, but still a cookie. Still made with all the cookie ingredients, just in a different format!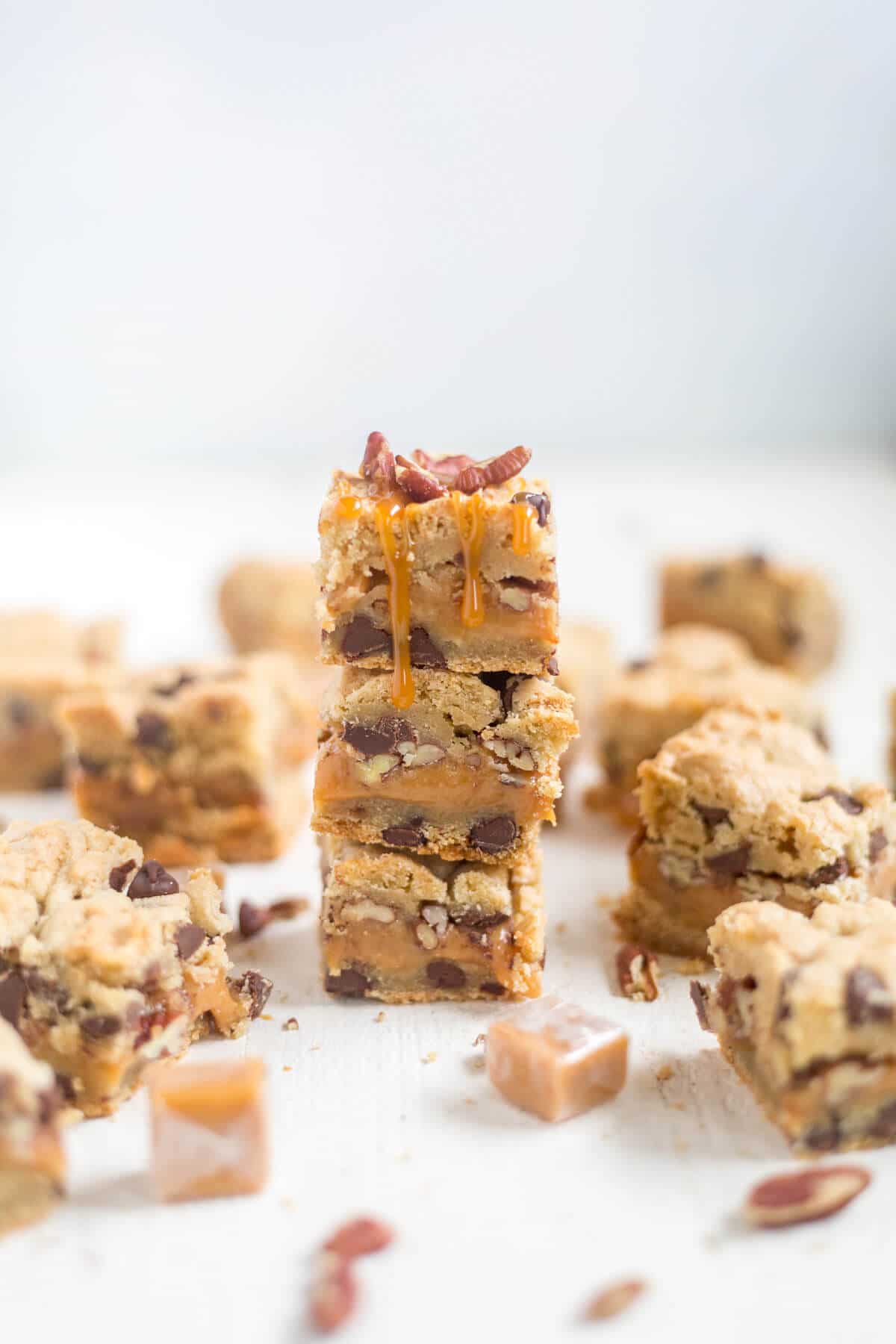 How to make turtle cookie bars extra chewy:
I love cookie bars because you can make them extra chewy without worrying about them spreading too much. There are a number of things in these chewy turtle cookie bars that make them extra chewy:
This recipe calls for melted butter which gives cookies an extra chew, but if you aren't careful in a regular cookie it can spread too much. So using it for bars is ideal!
The recipe also calls for an extra egg yolk. Some extra fat content in there and the removal of the egg white (which makes thing cakey) is the trick here.
Cornstarch is another ingredient that makes baked goods nice and chewy! An extra tender baked good is what you get!
Needless to say, this recipe has a lot of chew! Add in that caramel layer and it's chew to the max.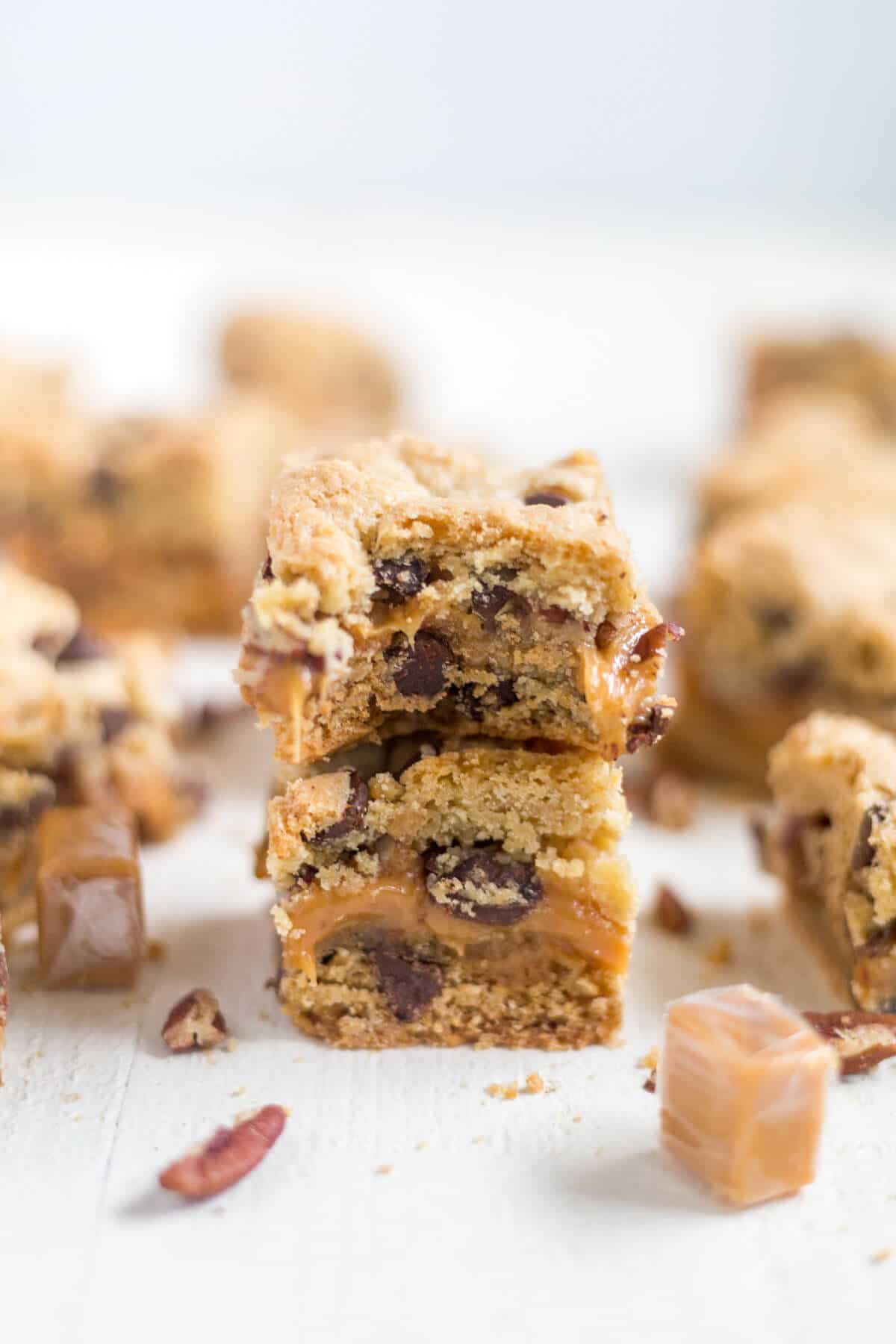 Speaking of that caramel. It's SUPER simple. You're going to melt soft caramels with some sweetened condensed until goeey and drizzle/spread it over half of the cookie dough. Then sprinkle with pecans and cover with the other half of the cookie dough.
The way to get the top part of the cookie dough on is by breaking it up into small bits until it's completely covered. The dough will spread in the oven so don't worry about some of the gaps you leave.
Bake it for 30-ish minutes and you're good! I'd recommend letting this cool completely before you cut it. The caramel and cookie will be really soft and gooey, so letting it cool will make it easier to cut evenly. You can throw it in the fridge for a bit to speed up the process.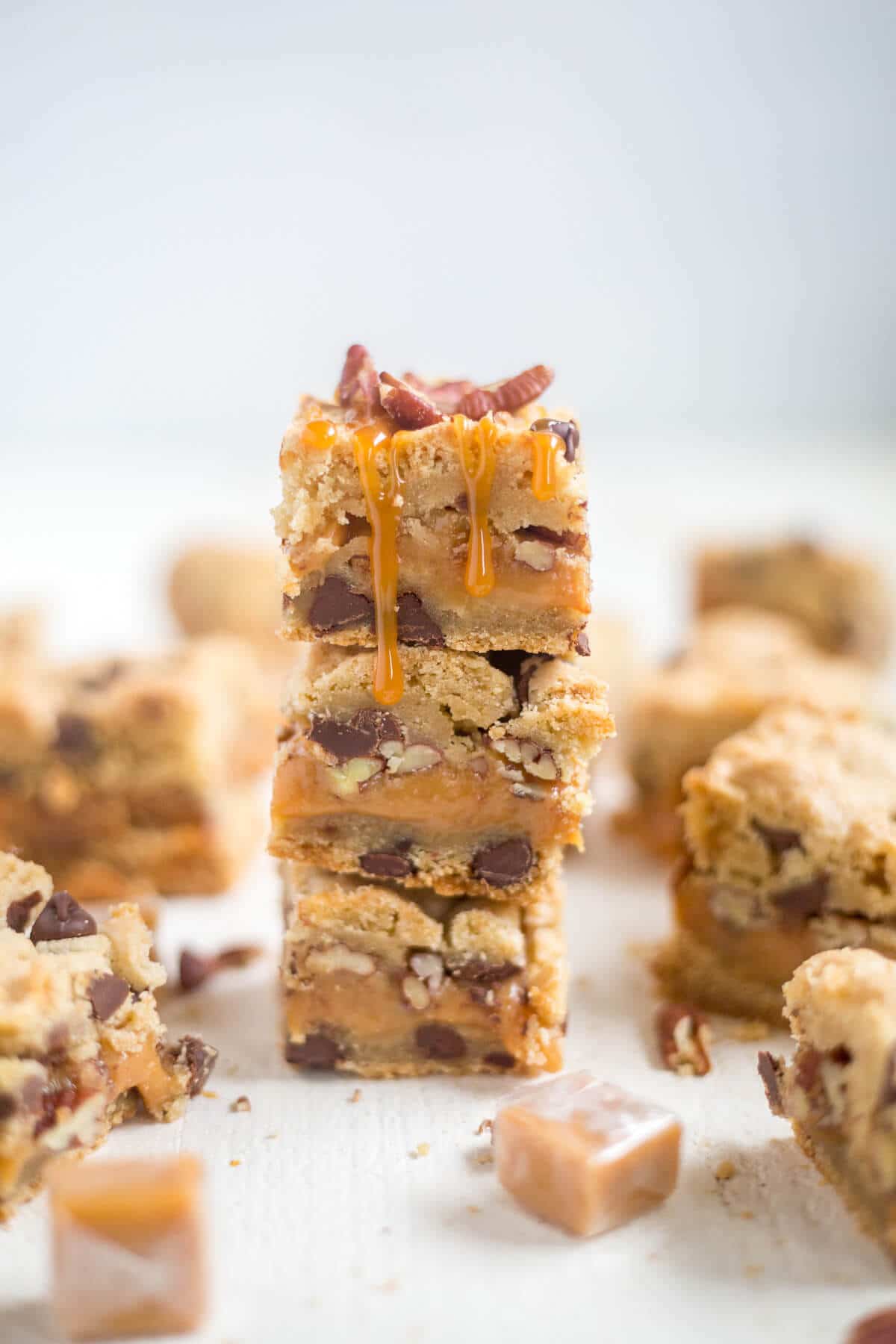 You can freeze these turtle cookie bars for up to 3 months! I just threw some in my freezer today.
Hope you love this recipe! If you do, don't forget to give me a virtual high five and follow on Instagram. I hang out there every day!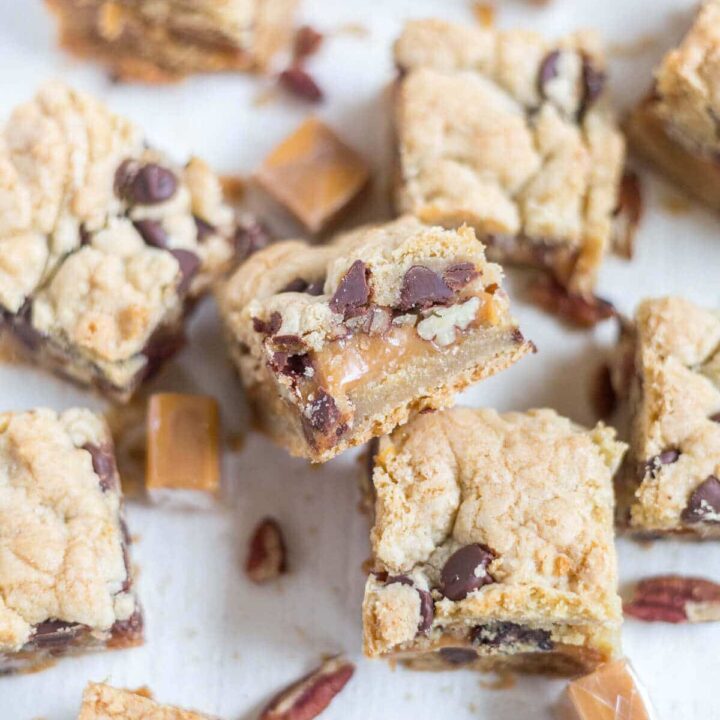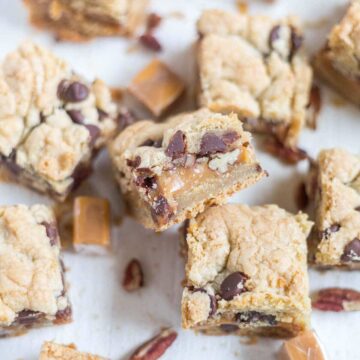 Ingredients
2

and ¼ cups all-purpose flour

1

teaspoon

baking soda

1

and ½ teaspoons cornstarch

½

teaspoon

salt

¾

cup

unsalted butter

melted and slightly cooled

¾

cup

packed light brown sugar

½

cup

granulated sugar

1

large egg plus 1 large egg yolk

at room temperature

2

teaspoons

pure vanilla extract

1

cup

semi-sweet chocolate chips

9

oz

chewy caramels

½

can of 14oz sweeteend condensed milk

¾

cup

pecans

chopped
Instructions
Preheat the oven to 350°F and arrange the rack to the middle position. Line the bottom and sides of an 8 or 9-inch square baking pan parchment paper, leaving an overhang to lift the bars out after baking. Set aside.

In a large bowl, whisk together the flour, baking soda, cornstarch, and salt. Set aside.

In a medium bowl, whisk the melted butter, brown sugar, and granulated sugar together until any clumps are gone. Whisk in the egg and egg yolk then the vanilla extract. Pour the wet ingredients into the dry ingredients and mix together until combined. Fold in the chocolate chips. Transfer half of the dough into the prepared baking pan and press/smooth into an even layer. Set aside to make the caramel filling.

In a medium sauce pan over medium-low heat, combine the sweetened condensed milk and unwrapped caramels frequently until melted and smooth. Pour the filling over the cookie dough base.

Sprinkle the caramel with the chopped pecans. Drop the remaining cookie dough over the caramel and pecan filling in small teaspoon-sized clumps. Bake in preheated oven for 30-35 minutes or until lightly brown on the edges or if a toothpick inserted in the center comes out clean. It's okay if there's caramel on the toothpick.

Allow the bars to cool in the pan on a wire rack for at least 1-2 hours. Lift the chewy turtle cookie bars out of the pan using the parchment overhang and cut into bars when ready to serve.

Store in an ait tight container in at room temperature for up to one week or in the freezer for up to 3 months.