These Andes Mint cookies are a soft and chewy chocolate cookie sprinkled with Andes Mints. Make these cookies for your friends family, or your next holiday party. They're a great Christmas cookie because of the chocolate and mint!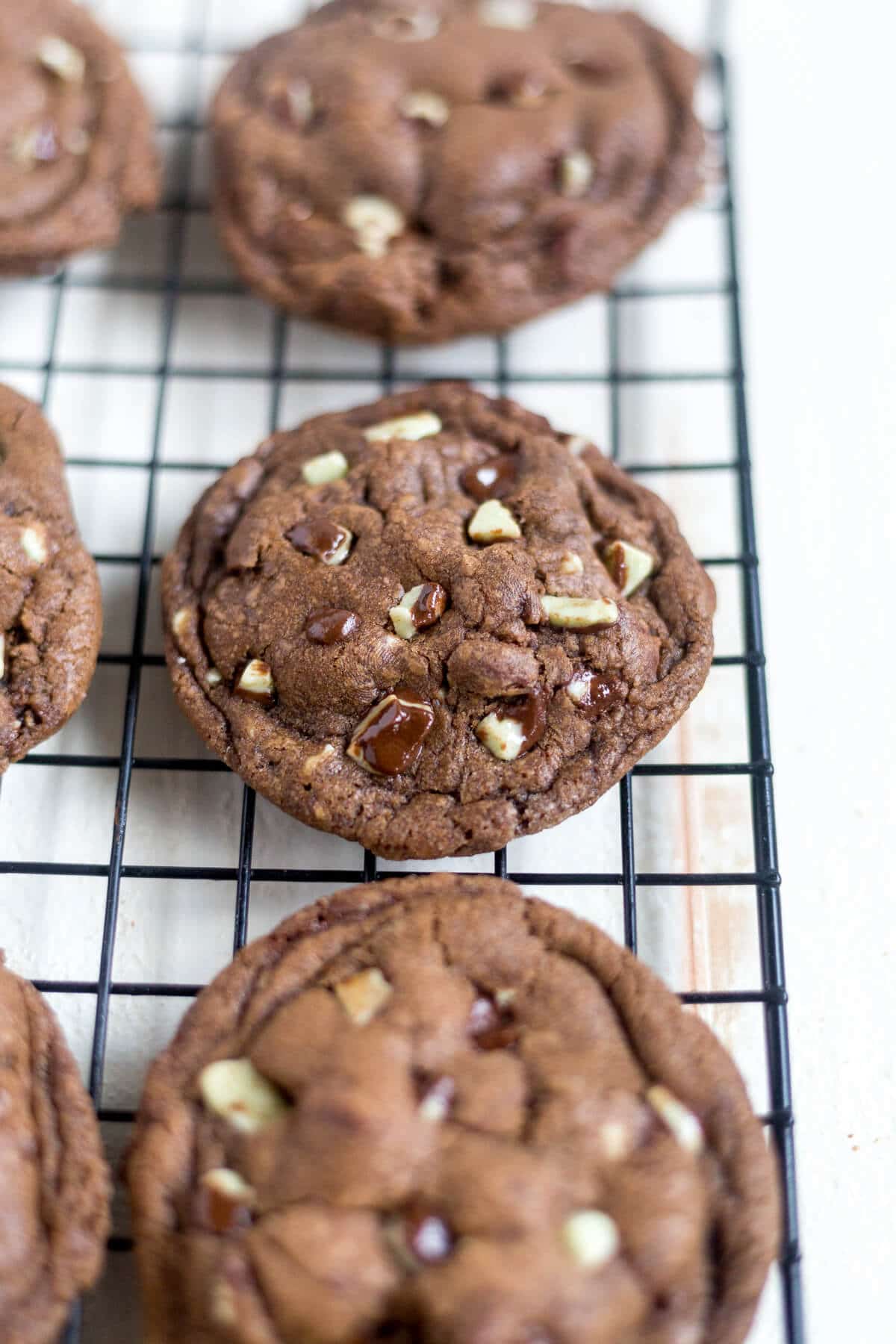 We're in day 4 of Christmas Cookie week! In case you missed the last couple of days here's a quick recap:
And now we're here. Day 4 of Christmas cookies week. How did we get here? How did we get to December actually? That's the real question.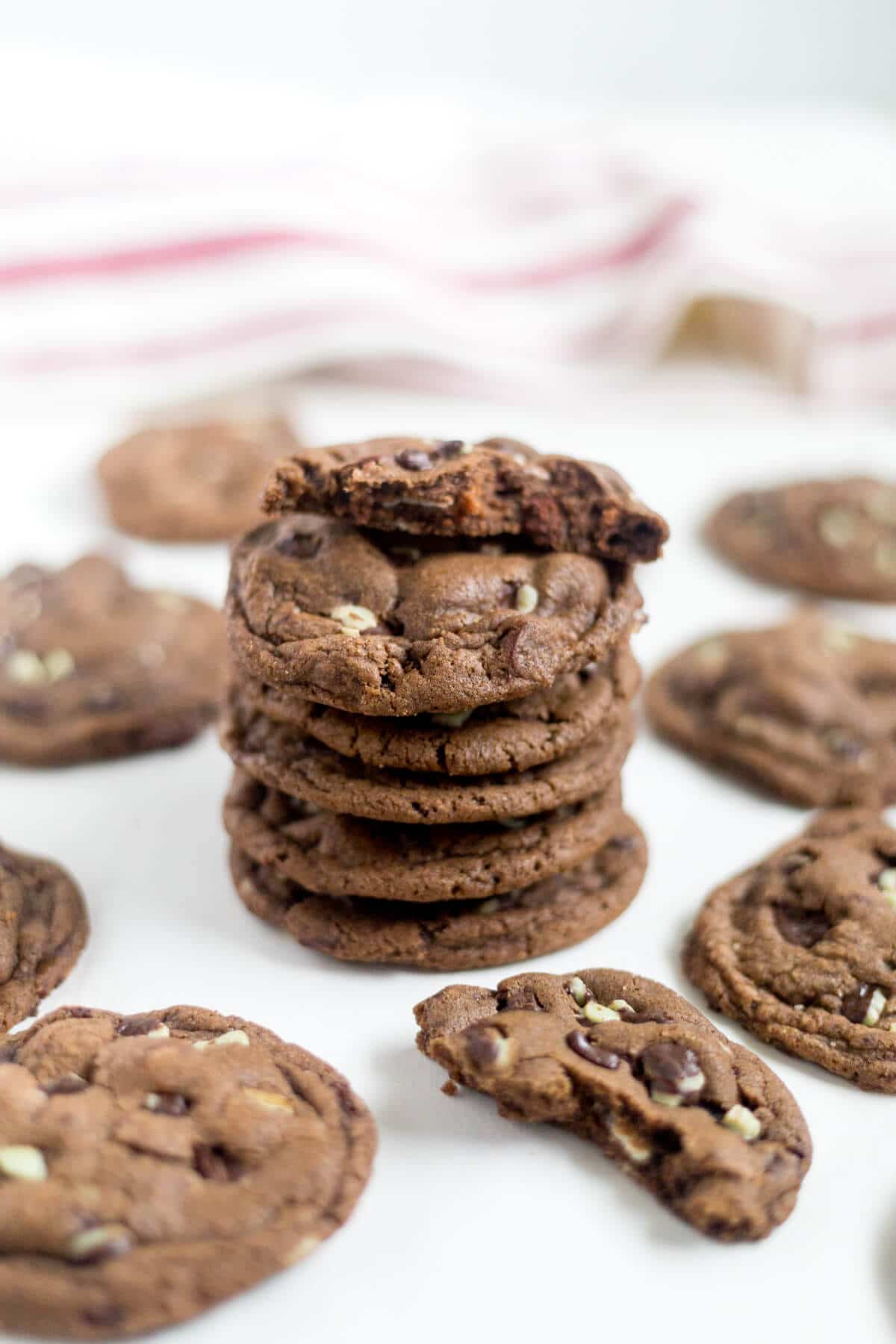 Raise of hands, who has their Christmas shopping done??? First year ever I have mine done early. A few to wrap up, like literally finish, but also wrap with gift paper. Get it?
I have a good chunk of presents under the tree and it's just so fun to look at and enjoy. Makes my heart happy.
Wanna know what else makes my heart happy? Chocolate Andes Mint Cookies. Because they're soft and chewy and delicious, but also because they remind me of my mom.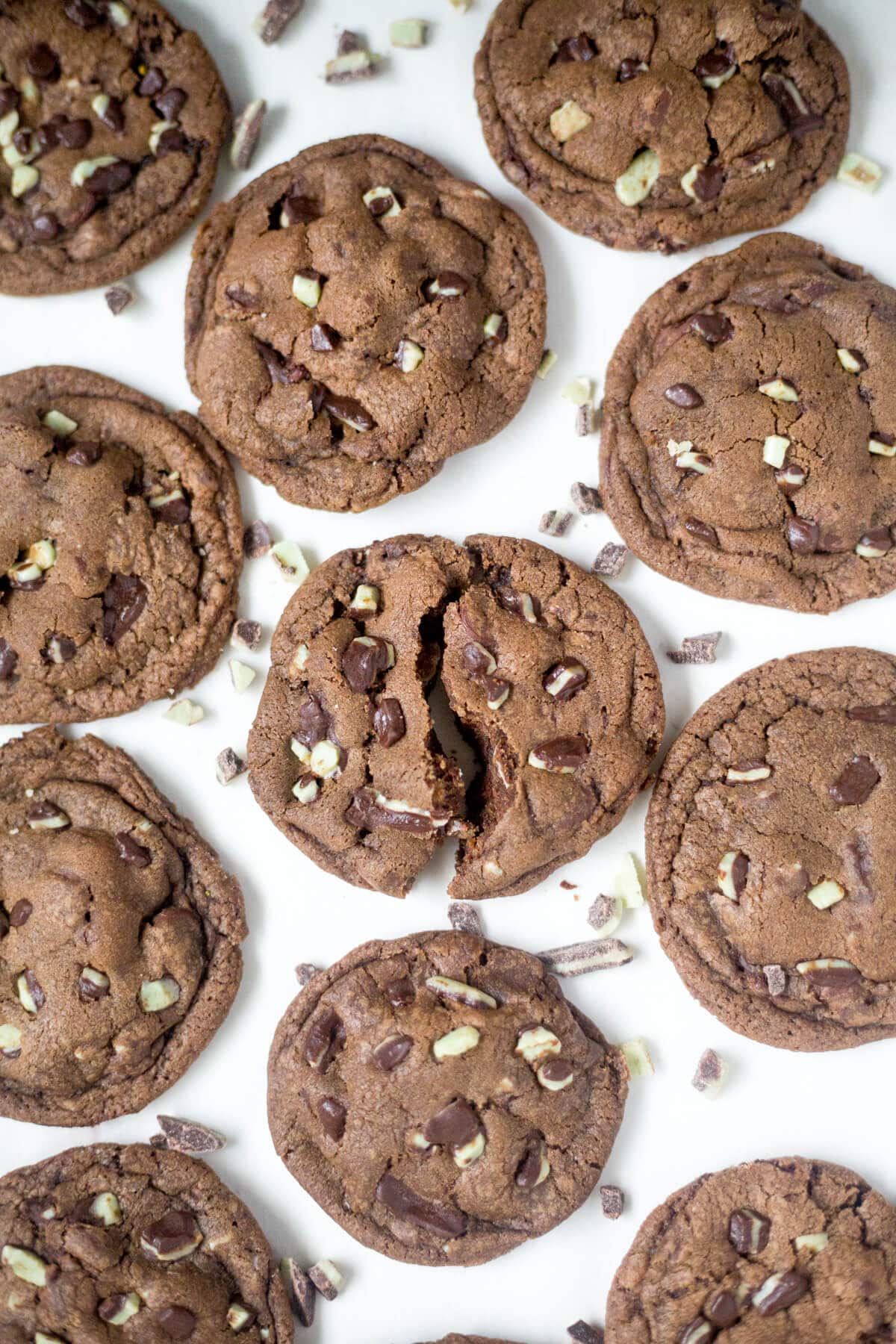 She'll probably read this and have no idea why (hi mom!) and it's because Andes Mints will always remind me of her for this one random memory, that for whatever reason, stuck in my brain:
We went to Olive Garden for dinner one night as a family. Post carb-loading and garlic bread eating they always give you a little Andes Mint. My mom loved them so much she asked our water for a couple extra to take home with her. Our waiter proceeded to bring out AN ENTIRE TO-GO BOX of Andes Mints. Filled to the brim.
Yes, the kind of to-go box you stuff as many bread sticks as you possibly can in. Except this time it wasn't bread, it was ANDES MINTS.
I'm fairly certain we ate Andes Mints for a solid year. Bed time snack jackpot.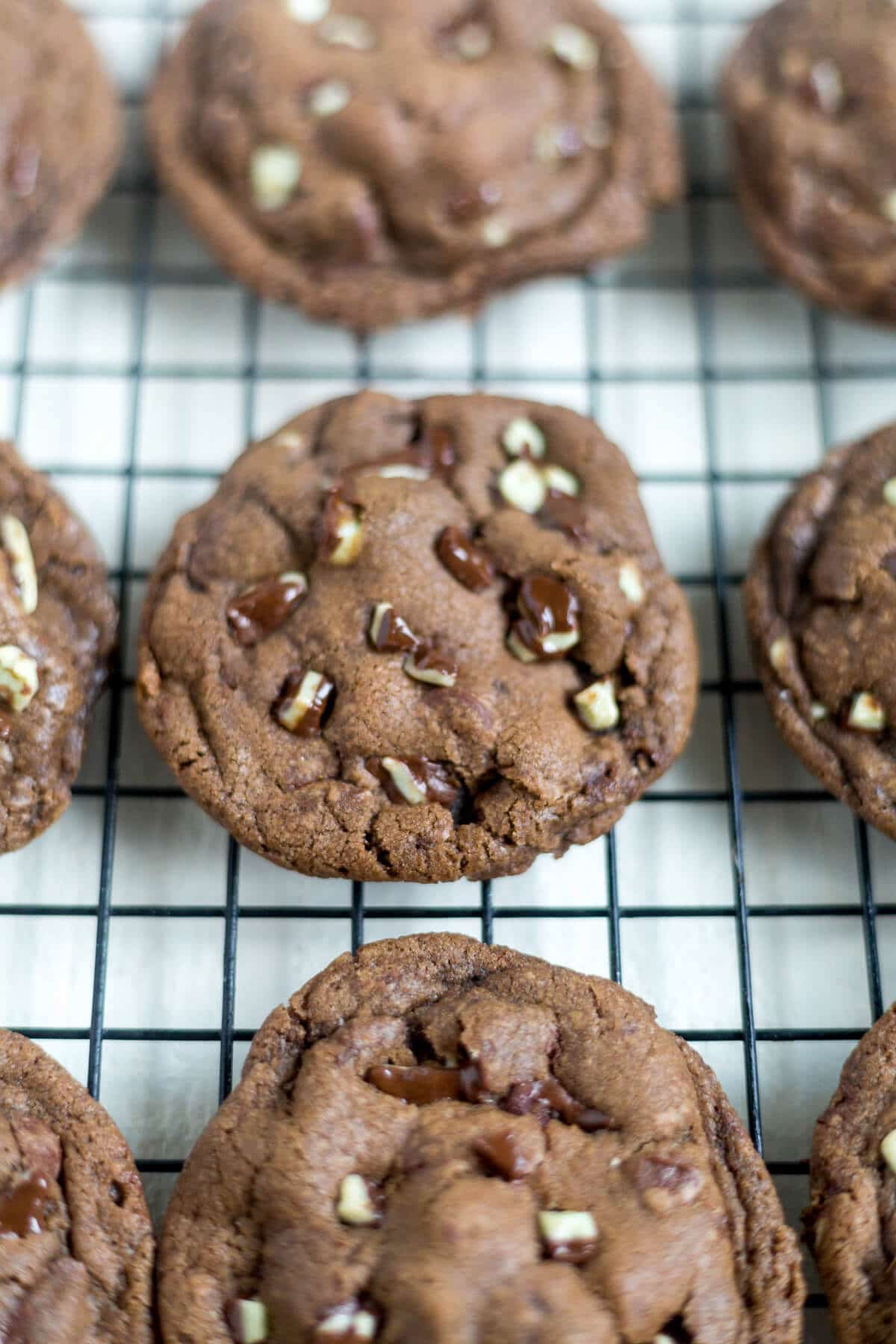 Because I don't eat Andes Mints on a regular basis anymore, any time I have them or see them or go to Olive Garden I will forever be reminded of my mom.
So this recipe is dedicated to my mom this year! Because she loves cookies and she loves Andes Mints, In fact, I have a big batch of these in my freezer right now waiting to take to her on Christmas Eve.
Speaking of the freezer, these cookies freeze really well.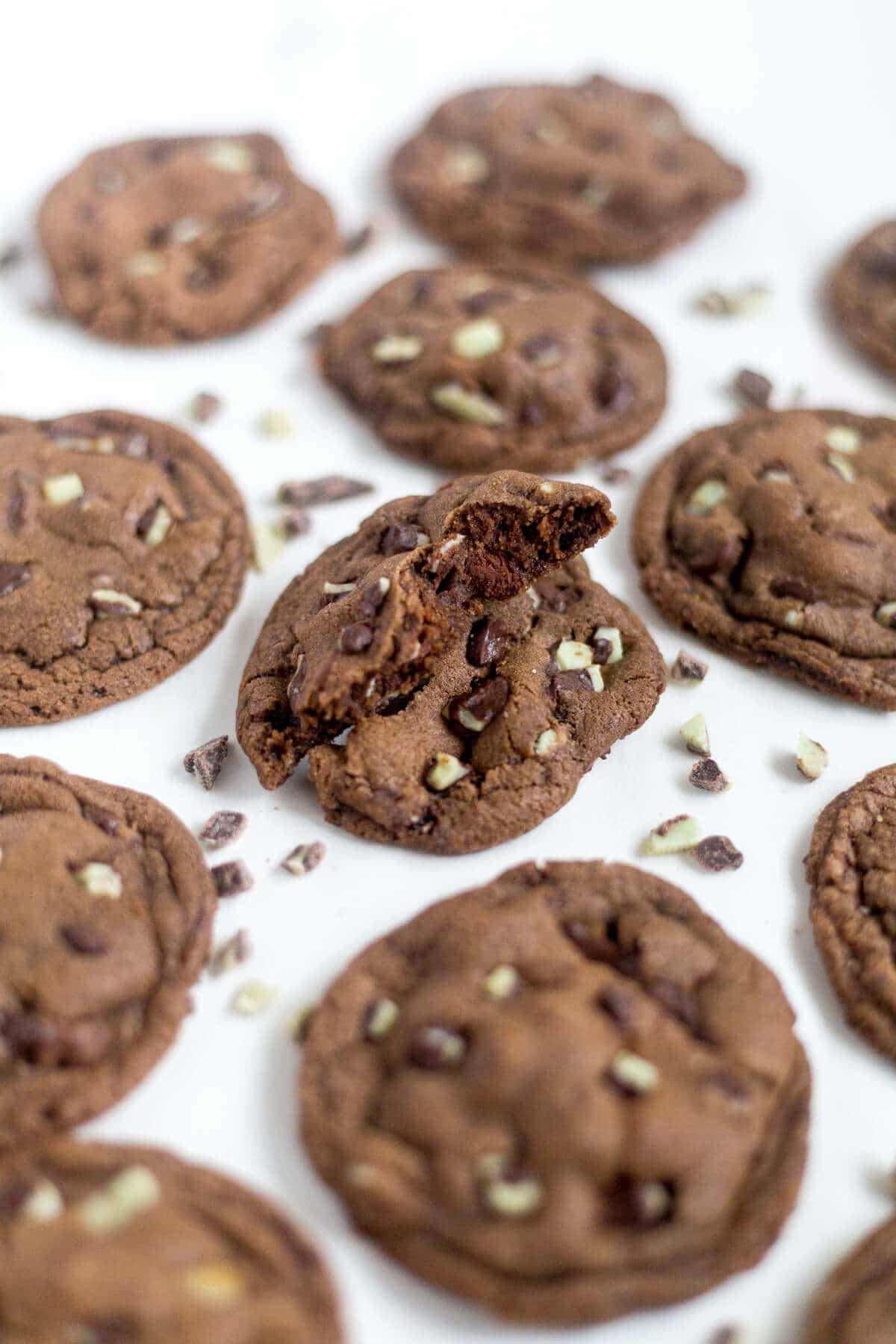 How to Freeze Chocolate Andes Mint Cookies
There are two different opportunities to freeze these chocolate andes mint cookies:
Follow the recipe instructions all the way through baking and allow them to cool on a cooling rack. Once they're cooled, cover them in an air tight container and place them in the freezer. They'll stay good for up to 3 months!
Follow the recipe all the way up until you bake the cookies. Don't preheat your oven. Instead, roll the cookies into balls and place them on a baking sheet then cover with plastic wrap. Place in the freezer for up to 3 months. When you're ready to bake you can put them in the oven straight from the freezer, just bake them for a minute or two longer to bake fully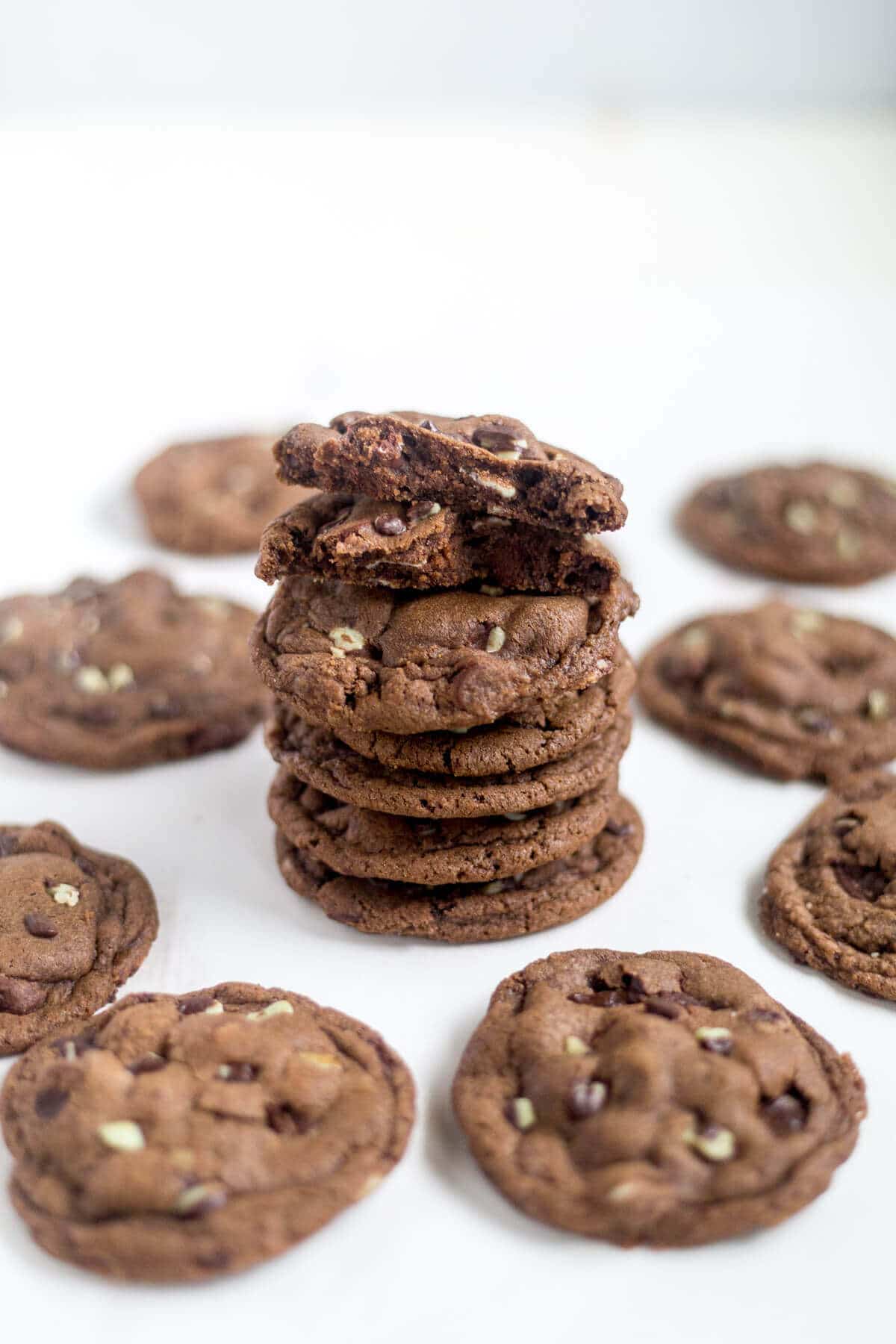 Freezing cookies is one of my many reasons I love them in general. They're so easy and not super easy to screw up so you can pretty much be sure you won't end up with a Pinterest fail. Unless you go downstairs to fold laundry and forget they're in the oven. Speaking from experience.
If you follow recipe directions these andes mint cookies are a guaranteed hit. Take them to parties, take them to family, take them work, just take them.
Stay tuned for the rest of Cookie Week. And don't forget to get my 6 tips for perfect cookies every time.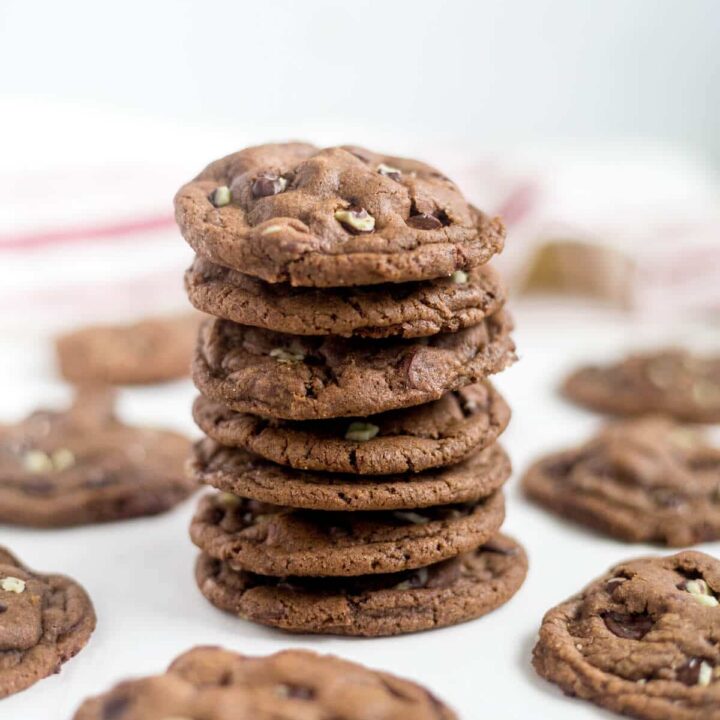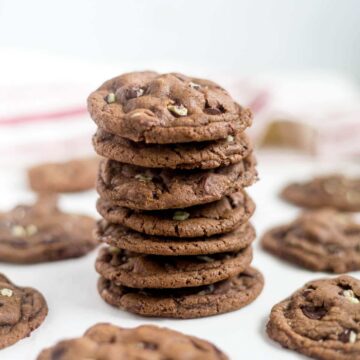 Ingredients
1/2

cup

butter

softened to room temperature

1/2

cup

granulated sugar

1/2

cup

light brown sugar

packed

1

large egg

room temperature

1

teaspoon

vanilla extract

1

cup

all-purpose flour

1/2

cup

unsweetened cocoa powder

1

teaspoon

baking soda

1/4

teaspoon

salt

1

cup

semi sweet morsels

1

cup

andes mints
Instructions
In a medium bowl, whisk together the flour, cocoa powder, baking soda, and salt together. Set aside.

Using a handheld or stand mixer with a paddle attachment, cream the butter and sugars on medium speed for 2-3 full minutes, scraping down the sides of the bowl as needed. Beat in the egg and vanilla.

Slowly add to the dry ingredients to the wet ingredients. Fold in the chocolate chips and andes mint pieces. Cover and refrigerate for at least one hour.

Once chilled, preheat oven to 350°F. Line a large baking sheet with parchment paper or a silpat baking mat and set aside.

Scoop cookies using a large 3 -4 inch cookie scoop and place at least 2 inches apart on a parchment lined baking sheet.

Bake for 9-11 minutes. Cookies will appear undone and very soft. Allow to cool on the cookie sheet for at least 5 minutes before transferring to a wire rack to cool completely.