Melting moments sandwich cookies are a must-make Christmas cookie! They're tiny cookies sandwiched with a thick and creamy frosting dyed red and green. This festive cookie recipe will be a new family favorite.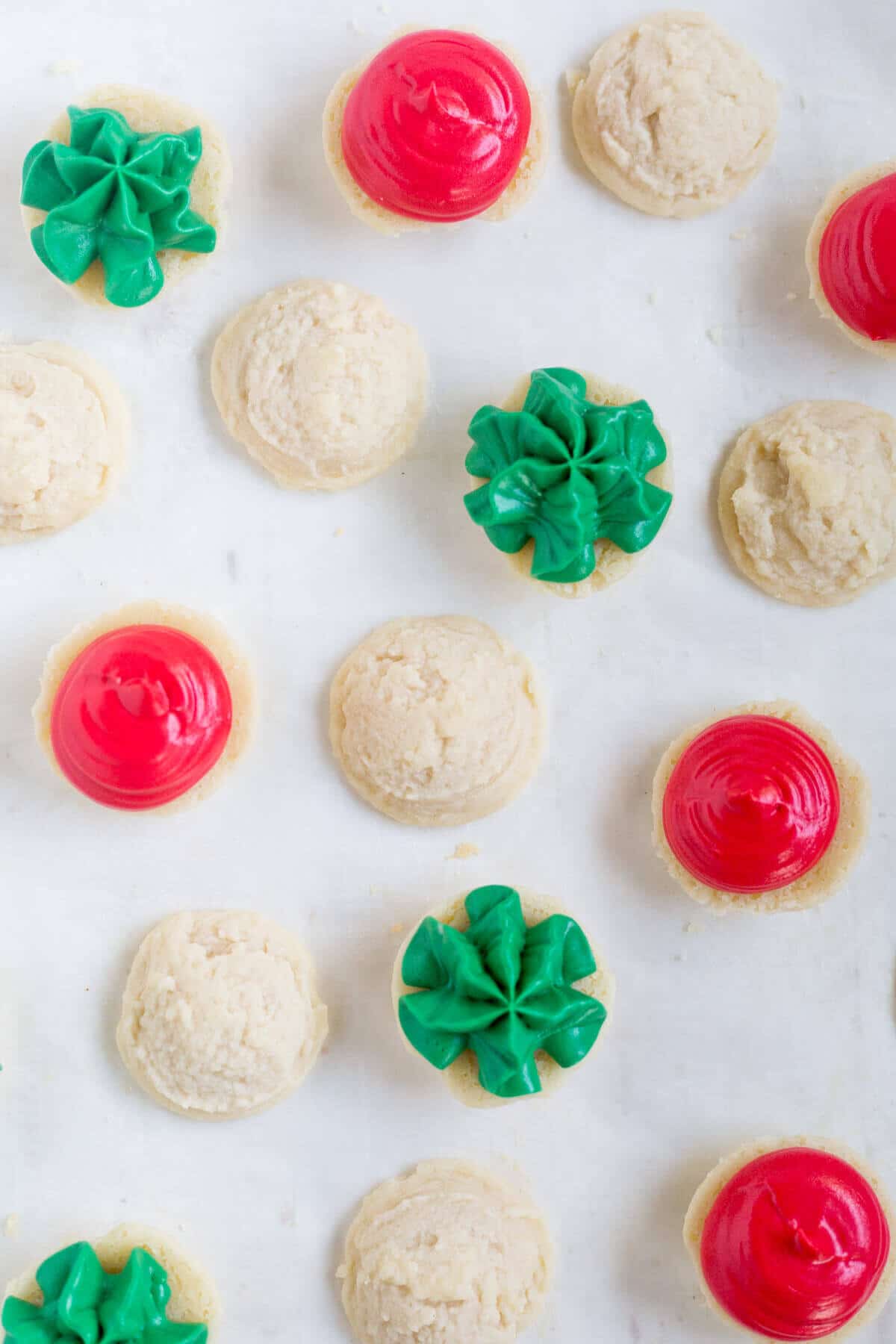 It's here! The official kick off of the 3rd annual What Molly Made Christmas Cookie week. And right on time! Because today just so happens to be NATIONAL COOKIE DAY.
If you know me well you know my all-time favorite dessert to make is a cookie. Chocolate chip pudding cookies are my favorite, but really any cookie will do. They're my favorite to make and eat!
December 4 is national cookie day and this year it kicks us off for all things Christmas cookie.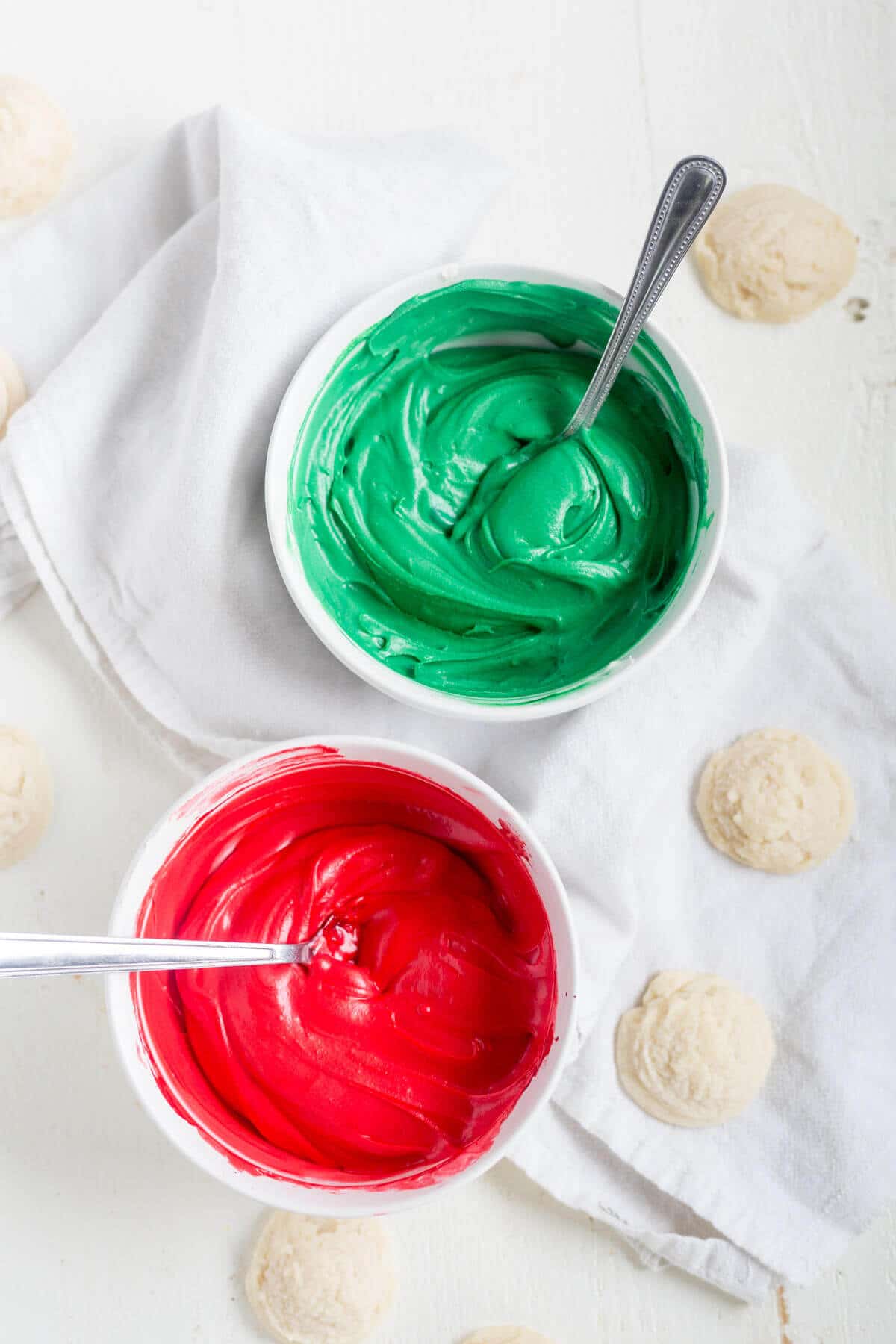 Christmas Cookie Week starts on the first Monday in December and lasts an entire week. It means we all get a new cookie recipe every day. Not just a few this week, but one recipe every single day! That's SEVEN new recipes.
Seven new recipes to inspire you while you're connecting with family over slabs of butter, faces dusted with flour and licking spoons. These are more than just recipes to me, they're a reason to bring family together around the holidays. And a way to express your love this time of year.
Baking Christmas cookies is my very favorite Christmas tradition. I made a ton with my fiance, package them up and share them with coworkers and take them to my family's house in Akron on Christmas even where we watch a Christmas movie.
What's you favorite family Christmas tradition?! Comment below the recipe so I can hear!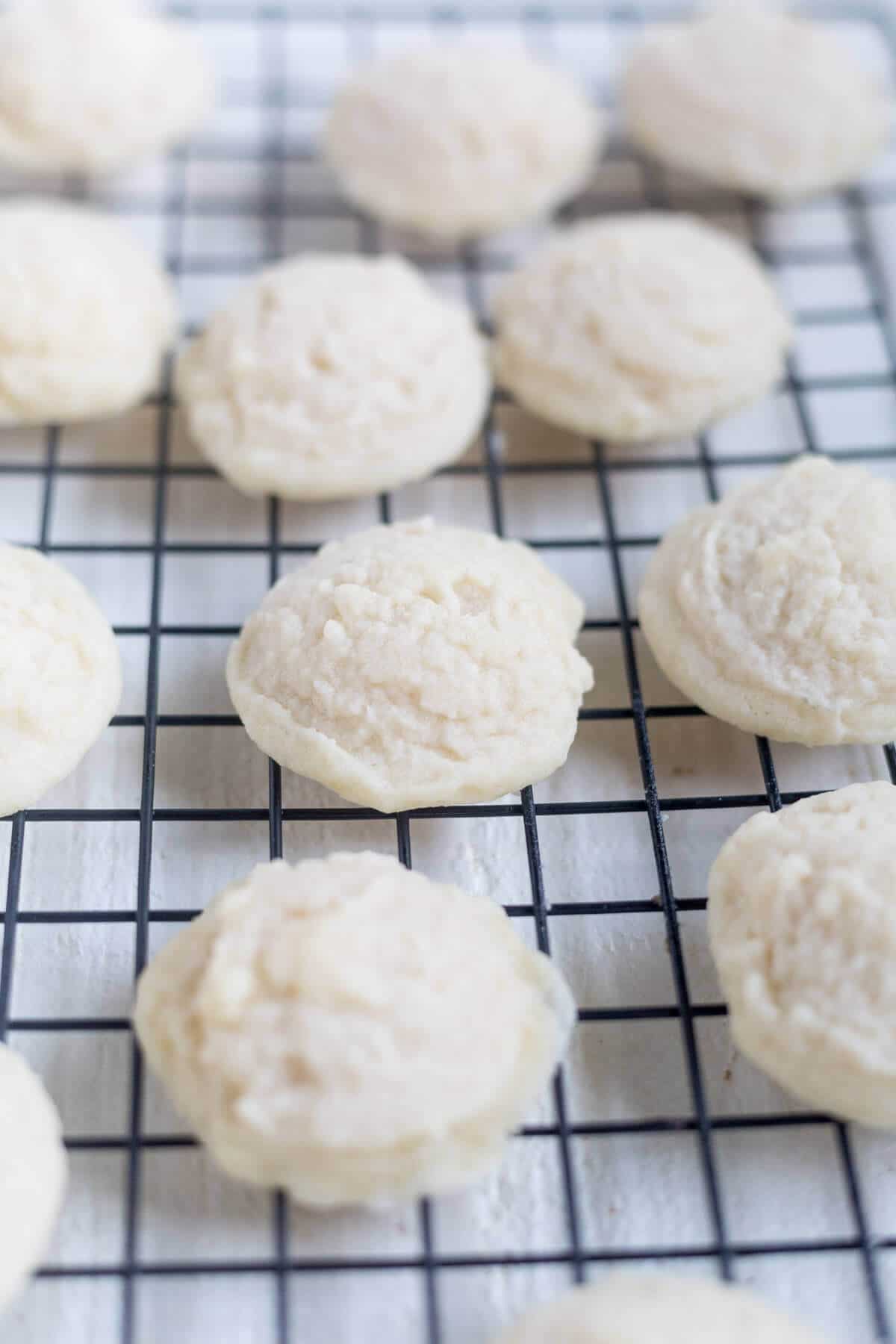 I've got these cookies, along with the other cookies coming in Cookie Week (plus a few extras) in my freezer ready to go.
Without further ado, let's get to day 1 in Christmas Cookie Week.
Have you ever had a melting moment cookie? If you have, you know exactly why they have the name. If you haven't tried them, you will find out very quickly.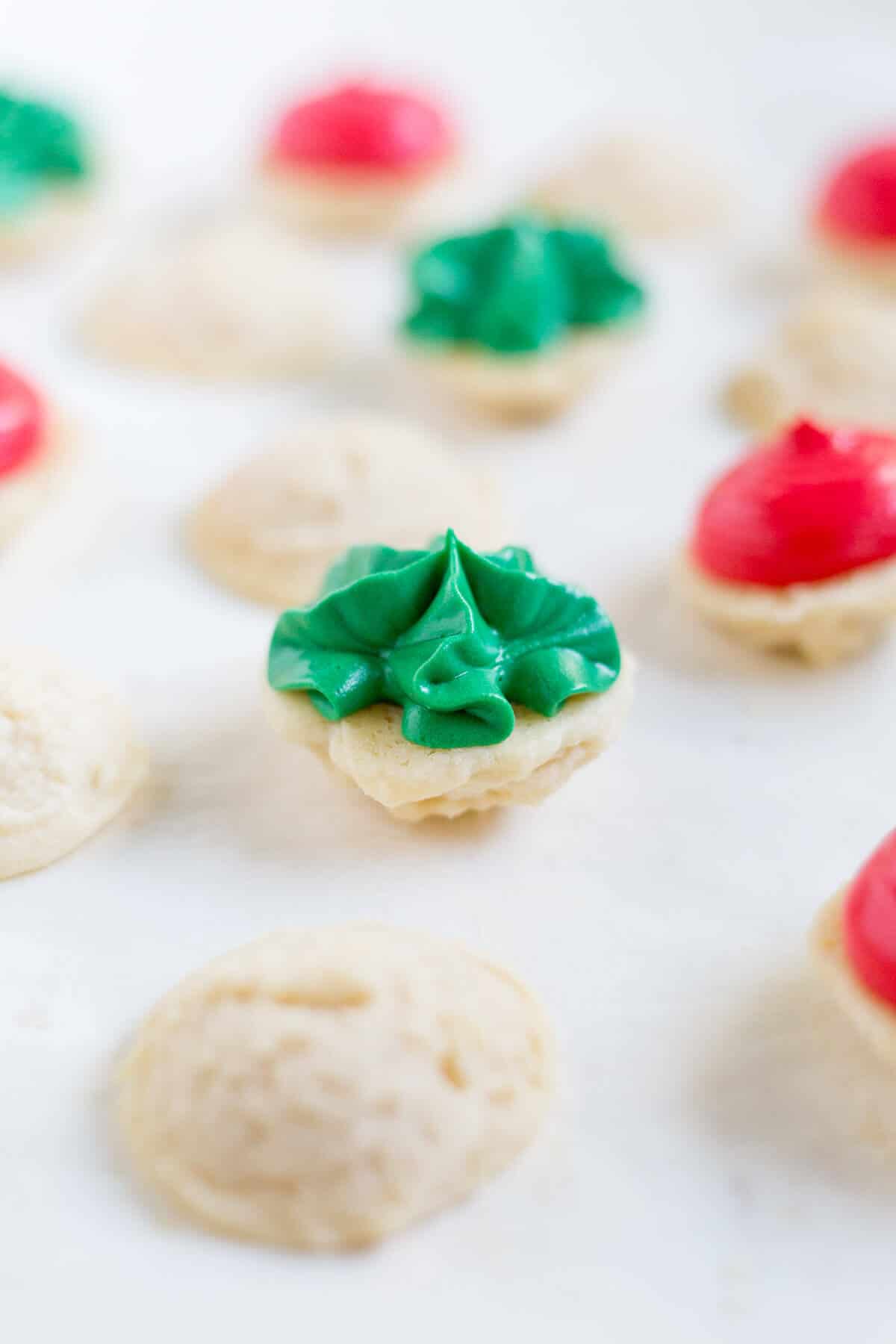 They are soft and light and literally melt in your mouth when you take a bite. It's because of the ingredients in them, which we'll get to in a second! But the texture is out of this world good. You're going to be in love.
A lot of time melting moments are served just by themselves as a single cookie. Sometimes with flavorings like lemon. But these melting moments cookies are going one step further.
Because, Christmas.
We're adding a little almond extra to the cookie. Mostly because I'm OBSESSED with anything almond and it wouldn't be Christmas Cookie Week without an almond cookie (almond shortbread cookies).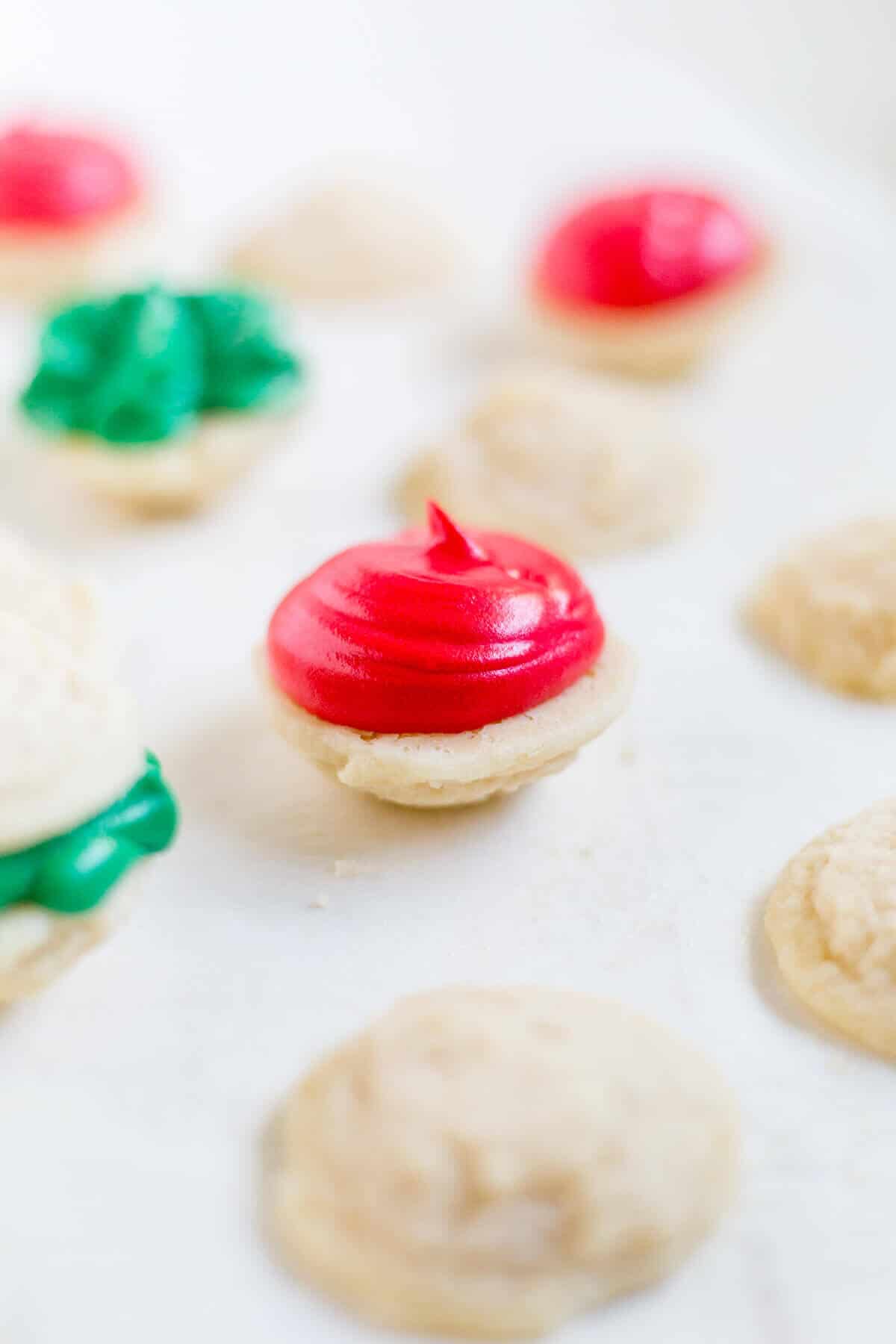 There's also a little almond extract in the frosting too. No such thing as too much almond (amarretto) at Christmastime, people.
I also jazzed these up with food coloring. The red and green frosting makes these so festive! The combination of almond, melty cookies, fluffy frosting and the Christmasy frosting makes them one of my favorites for Cookie Week.
Which is why they are the debut recipe. Had to go big for the first one of the week.
Now let's break down just how easy they are to make.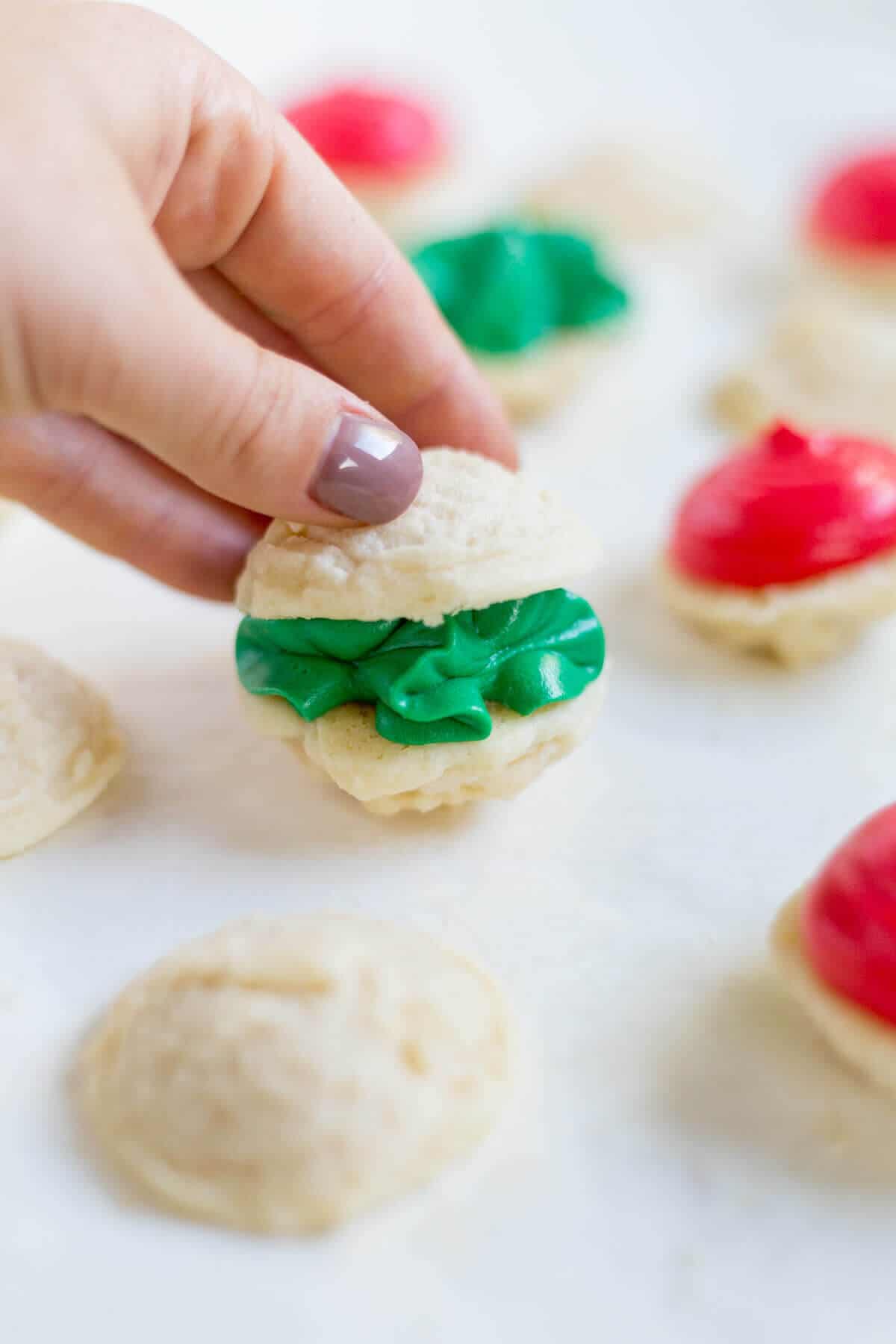 How to Make Christmas Melting Moments Sandwich Cookies
The melting moments start with just 6 ingredients: butter, flour, cornstarch, powdered sugar, vanilla and the bonus ingredients of almond extract.
They get their extra melty texture from two ingredients in this recipe: cornstarch and powdered sugar. You don't usually see powdered sugar in the base of a cookie recipe but that's what makes these melting moments so special.
The other unique ingredient in this recipe is the cornstarch. It's not one tablespoon of cornstarch, it's ½ cup. Yes, you read that and the recipe ingredients right. You need ½ cup of cornstarch to make this recipe.
If that doesn't convince you of the melty-ness in these melting moments cookies I don't know what will.
To make them, you'll cream all of the ingredients in a mixer then scoop them onto a prepared baking sheet into 1 inch scoops. They're going to look tiny when you add them to the sheet. They spread just a bit in the oven, but still keep a lot of they're shape.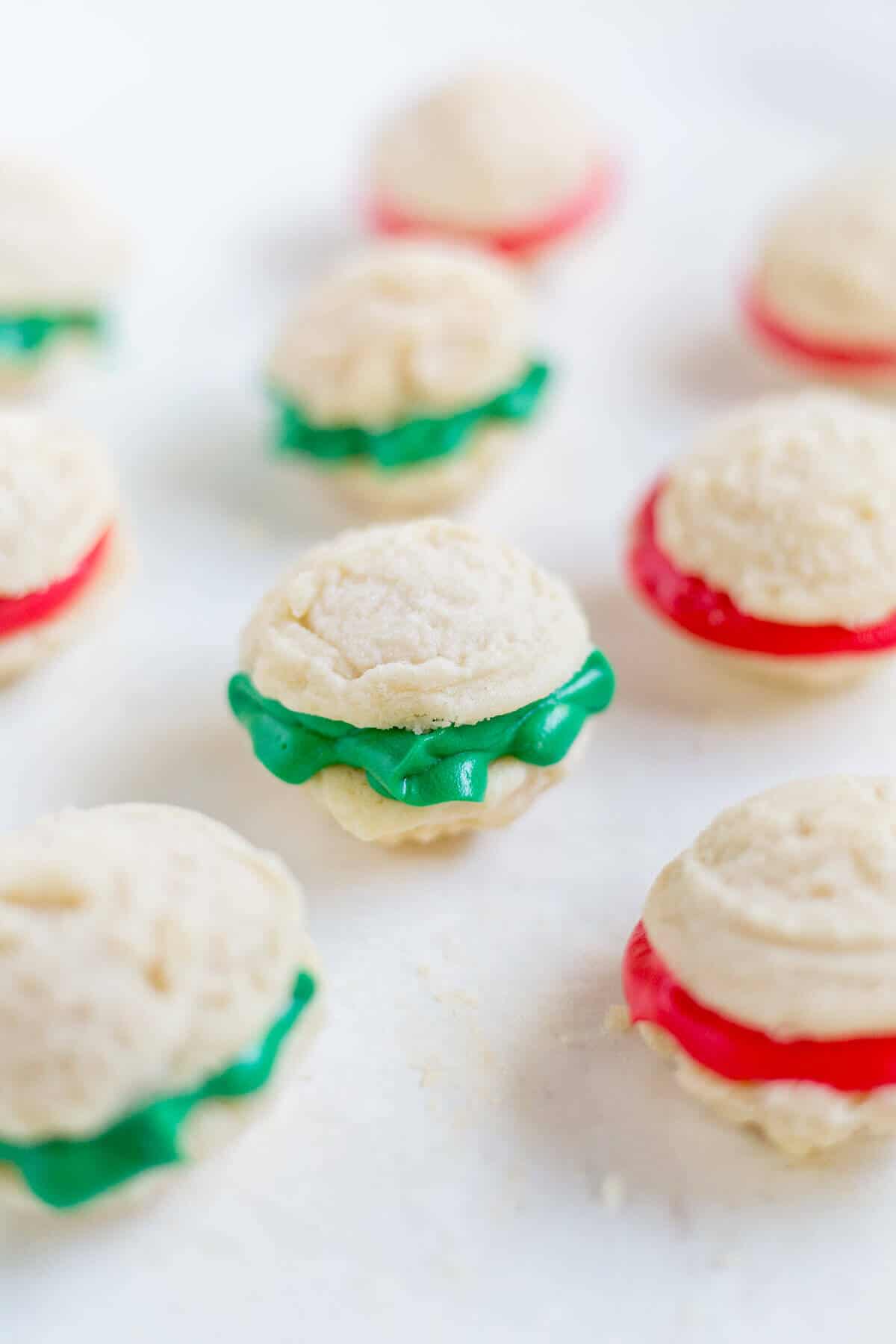 Because we're sandwiching these cookies together I kept them small because 2 cookies are technically one.
I wanted to make sure you had a little extra room for the rest of the cookie week recipes!
I really hope you love this recipe as much as I do! And I hope if brings you and your family so much joy this holiday season.
To help you celebrate the season I also put together 6 of my very best cookie tips to make sure you make them perfect every time. They will not disappoint!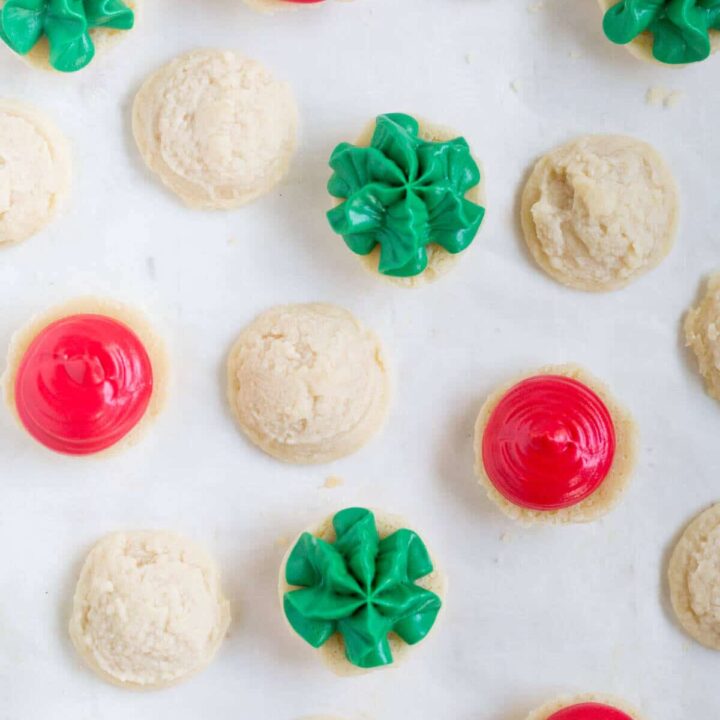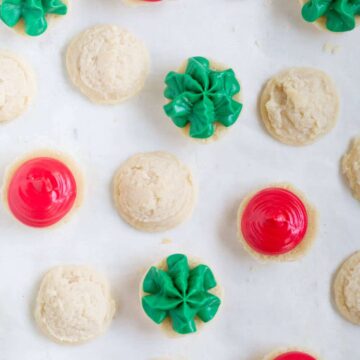 Ingredients
Melting Moments Cookies
¾

cup (1 ½ sticks; 170g)

unsalted butter, softened to room temperature

1

cup (125g)

all-purpose flour

½

cup

cornstarch

½

cup (60g)

confectioners' sugar

1

tablespoon

vanilla extract

¼

teaspoon

salt

½

teaspoon

almond extract
Cream Cheese Frosting
4

ounces

cream cheese

softened to room temperature

¼

cup (½ stick)

unsalted butter

at room temperature

½

teaspoon

vanilla extract

¼

teaspoon

salt

2

cups (240g)

powdered sugar

Red and green food coloring
Instructions
Line a large cookie sheet with parchment paper or a silpat mat and set aside.

To make the cookies, beat the butter on medium high speed in a stand mixer fitted with the paddle attachment or a large bowl with a hand mixer for 3 full minutes. Scrape down the sides of the bowl then add the flour, cornstarch, confectioners' sugar, vanilla, salt and almond extract. Mix on low speed until incorporated, about 2 to 3 minutes. Dough will be soft and slightly sticky.

Using a small 1 inch cookie scoop, form tablespoon mounds, making about 18 cookies (9 sandwiches).

Place mounds on prepared baking sheet 2 inches apart. Cover with plastic wrap and refrigerate for at least 3 hours, or up to 4 days, before baking. You can also free dough for up to 3 months at this time. You must refrigerate the dough, do not skip this step or cookies will spread too much.

Once cookies are chilled, preheat oven to 350°F and bake for 8-9 minutes, or until edges have set and tops are just barely set. Cookies will firm up and set as they cool. Be careful not to overbake.

Allow cookies to cool on the baking sheet for about 10-15 minutes before transferring to a wire rack to finish cooling completely.

While cooling, make the cream cheese frosting. In a large bowl with an electric mixer, beat together the butter and cream cheese until smooth, about 1 minute. Add the vanilla, salt and powdered sugar and beat on medium speed until smooth and combined, at least 3 minutes. Separate frosting into 2 equal parts and mix one with red food coloring and one with green food coloring until desired hue.

When cookies are completely cooled, pipe green or red food coloring on the bottom of one cookie and sandiwch together with another cookie to make a mini sandwich. Repeat, alternating red and green frosting, until complete.