Bakery style triple chocolate muffins made with cocoa, chocolate chunks and dark chocolate chips. The perfect muffin for all the chocolate lovers out there!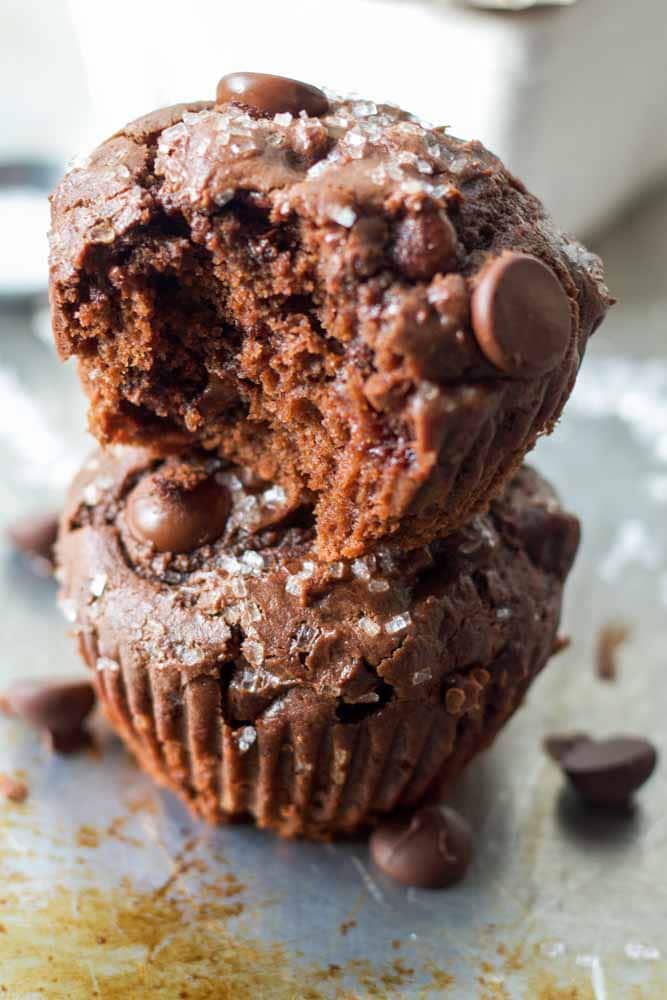 Chocolate on chocolate on chocolate. Literally.
This muffin recipe is chocolate x3 and it's really just the most awesome thing I've had in a while.
These muffs mean business. No joking around-wear your best suit-business. The bizz. The nuss. The business. Okay, I'm done.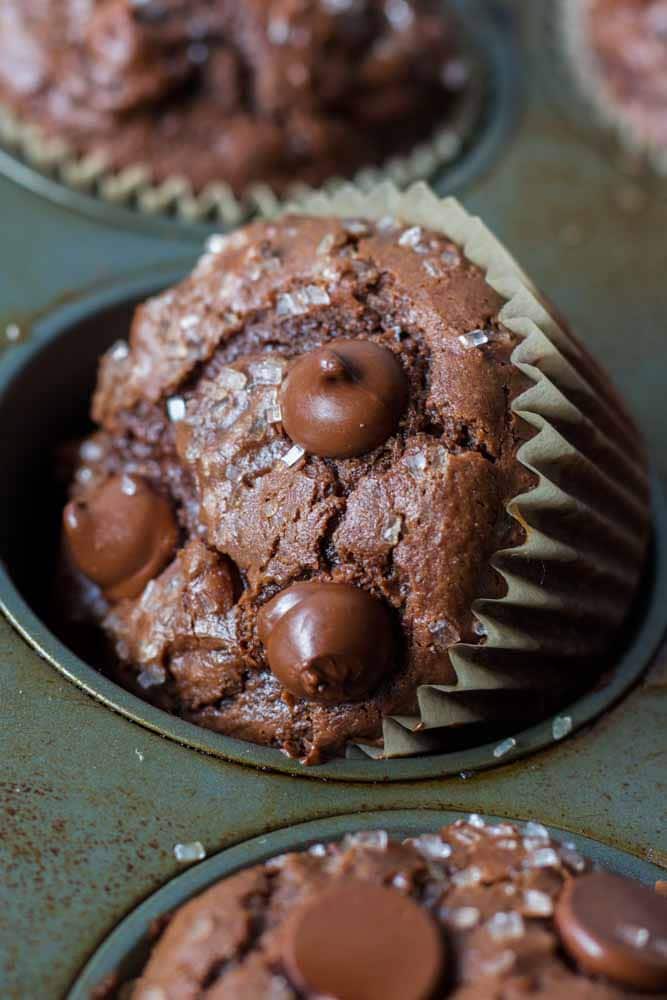 Serious question: has everyone heard of sparkling sugar? After I made these my boyfriend and cousins thought it was sea salt. Which would actually be a really good idea. Sea salt and a caramel drizzle? That's going to be Triple Chocolate Muffins 2.0. Stay tuned.
Back to my original point: they've never heard of sparkling sugar. Which just blew my mind.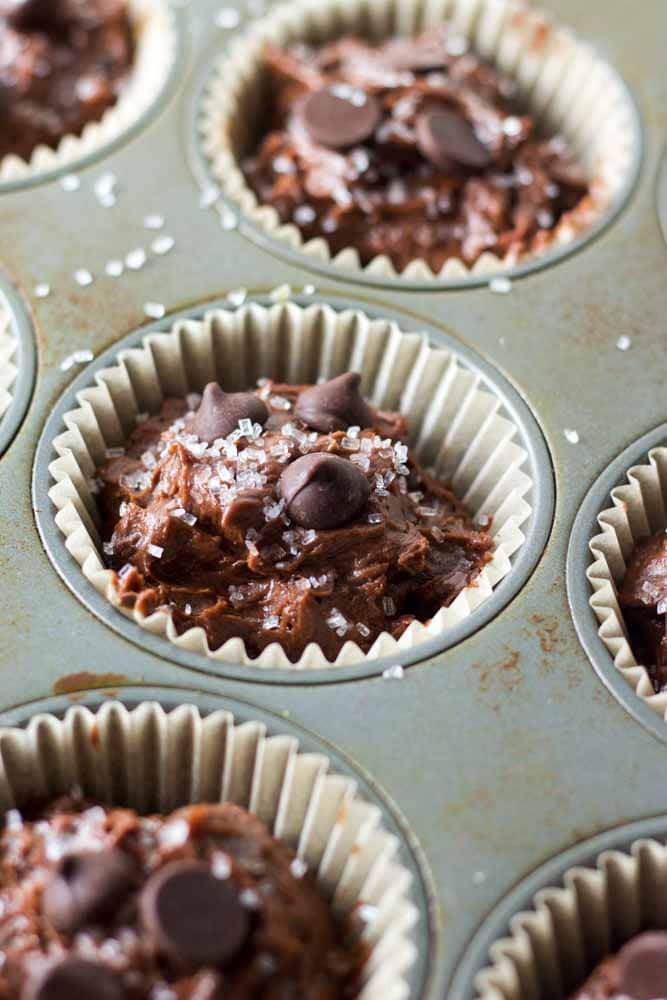 When I was little, my dad would go to the grocery store on Sundays and come home with giant bakery muffins with practically a layer of sugar crystalized on the top. Naturally I had the tops off and left the bottoms for the rest of the fam.
But I SO looked forward to that. It's what makes a bakery style muffin and bakery style muffin. How could you not know what it is?!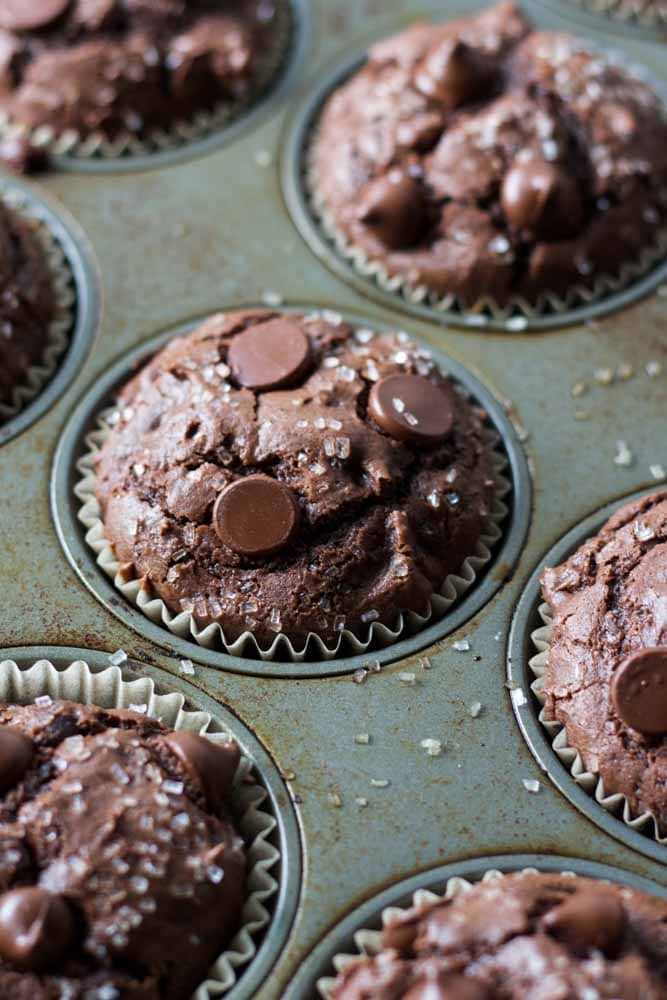 All I have to say is they will never forget it again. Especially on top of these triple chocolate muffins. They're moist and tender and oozing with chocolate when you sink your teeth in. The top is sweet and flavorful and the bottom is equally as heavenly.
Want to know the secret to making these so tall and gorgeous? It's a trick I use any time I make muffins! You have to crank the heat in the oven high and throw your muffins in and let them puff up quickly. Then you turn the heat down and let the insides cook to perfection.
Works like a charm.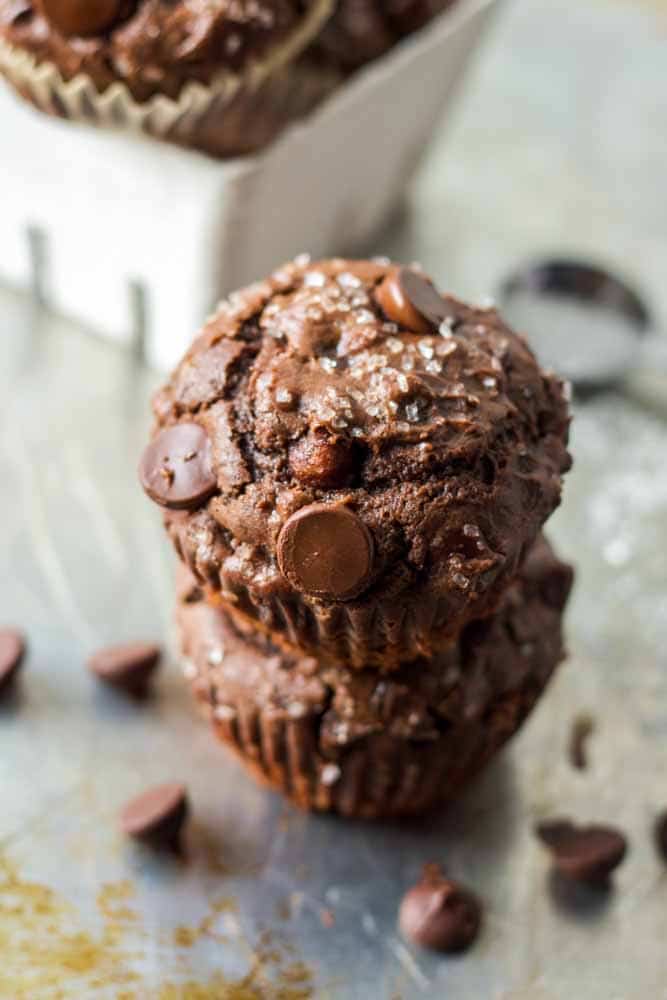 Another fun fact: you can fill muffin tins all the way up so they puff up and get a gorgeous muffin top we all love. Cupcakes tins should only be filled about ¾ of the way. They rise a lot and you don't want them to overflow!
And let's be real, you now have an excuse to eat pure chocolate for breakfast. Doesn't get much better in my book! Hopefully we're reading the same book??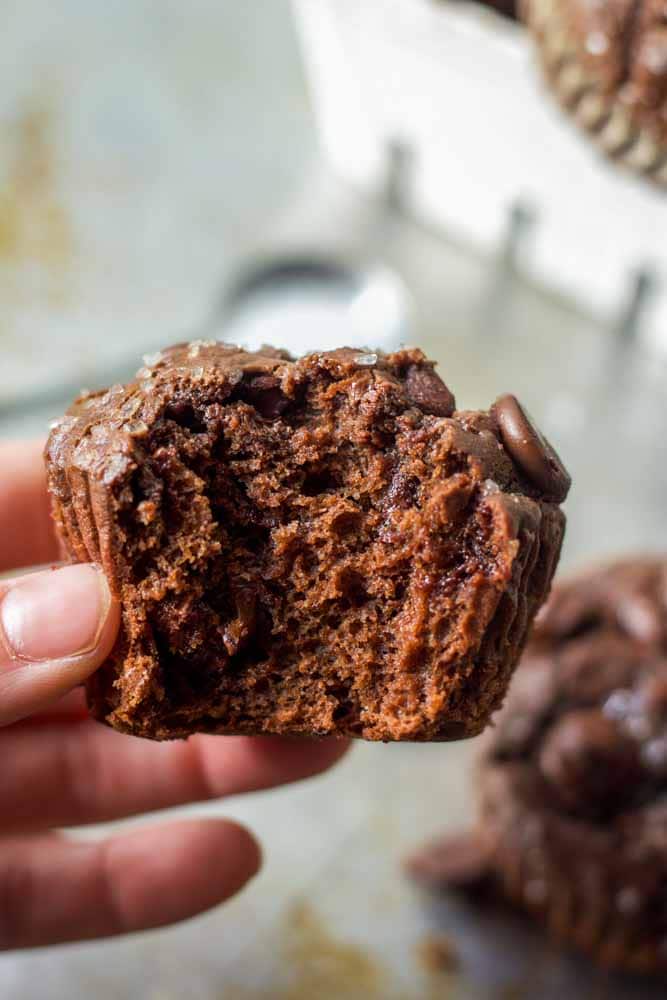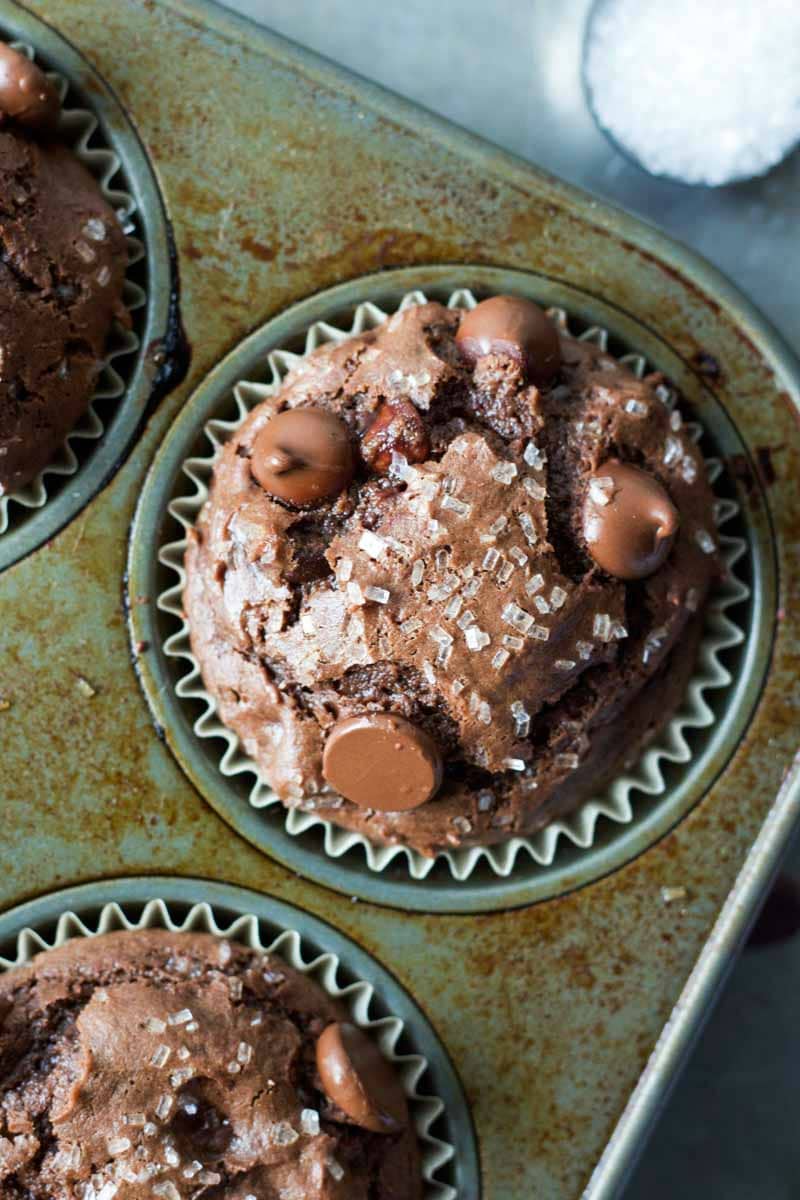 I have to give this recipe credit to the amazing Bright Eyed Baker ? I've searched high and low, made my own recipes numerous times and they never compare to how awesome this recipe is! I tweaked it a bit to add more chocolate (duh!), but the muffin base is very similar!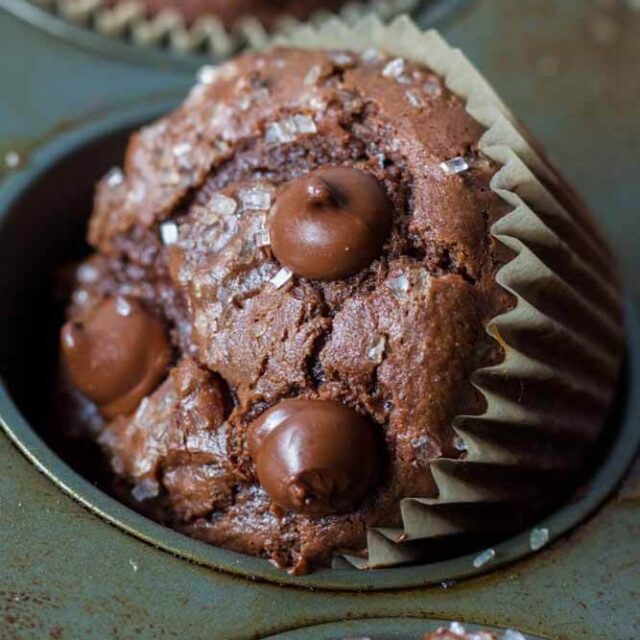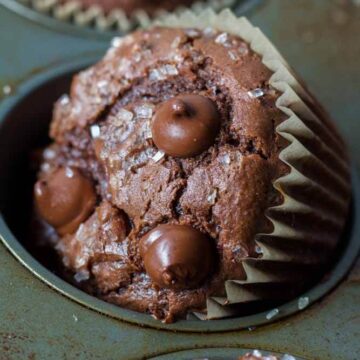 Ingredients
2

cups

all purpose flour

1

cup

unsweetened cocoa powder

2 ½

teaspoons

baking powder

½

teaspoon

baking soda

½

teaspoon

salt

2

eggs and 1 egg yolk

1 ¼

cups

granulated sugar

½

cup

vegetable oil

1 ½

cups

sour cream

1

tablespoon

vanilla extract

5

ounces

semi sweet chocolate

chopped

5

ounces

dark chocolate chips

divided

sparkling sugar

optional (but not really!)
Instructions
Preheat oven to 375 degrees and line muffin tins with liners or spray with non-stick spray. Set aside.

In a medium bowl, whisk together the flour, cocoa powder, baking powder, baking soda and salt.. Set aside.

In a large bowl with the stand mixer or hand mixer, beat the eggs on medium speed. Slowly add the sugar while continuing to beat until the mixture turns a thick, white pale color. Beat in the oil until combined. Wipe down the bowl and add the sour cream and vanilla until well-combined. Being careful not to over mix.

Add the dry ingredients to the wet ingredients and gently fold it in using a rubber spatula until everything is just barely mixed. Add the chocolate chunks and almost all of the dark chocolate chips (leaving some to sprinkle on the tops of the muffins) and mix until just combined.

Spoon the batter evenly into the muffin tins, filling them up until they're almost full. Sprinkle with a few chocolate chips and sparkling sugar.

Bake muffins in preheated oven for 10 minutes, then reduce the heat to 350 degrees and bake another 5-10 minutes (I did about 7) until a toothpick inserted in the center comes out clean. Cool muffins in pan for about 10 minutes and transfer to cooling rack to cool completely.

Store muffins in closed air-tight container at room temperature for up to one week or in the freezer for two months.