Light and fluffy, this lemon angel food cake melts in your mouth and packs a powerful citrus punch. Made with fluffy egg whites and lots of lemon zest, this cake recipe will be your new go-to for spring and summer entertaining. Serve it with strawberry compote on top for a bright bite of fruity flavor.
There's just something naturally optimistic about the whole spring season. Flowers are blooming and that means growth. It also means there are months of sunshine and good weather ahead of us and no immediate end in sight of patio sipping and sun tans.
It also means lemon desserts! Like these gluten-free lemon bars, this gluten-free lemon drizzle cake, and this lemon angel food cake. And let me tell you, you need this lemon angel food cake in your life. And you're in luck because this cake is on the lighter side, compared to other cake recipes.
Is It Healthy to Eat Angel Food Cake?
Healthy is a relative term. But in my definition of healthy I would say no it is not healthy, healthy. It still has sugar and refined flour. However, it is definitely healthier than a typical chocolate cake with extra frosting. So in my book go for the whole piece:)
The only thing I'll be sad to see go is all of the citrus the springtime has to offer. I've fallen in love with lemon desserts this year and I still have so many ideas swirling in my head to use all the lemon and lime. Unfortunately I'm running out of springtime to make all of the recipes.
How to Make Lemon Angel Food Cake
The egg whites: There aren't any leavening ingredients in this recipe. Angel food cake relies solely on the steam and air for lifting the cake sky high. That's why it's crucial to whip the egg whites to their full fluffiness. Make sure you only use egg whites. There should be no tiny specs of yellow in your egg whites.
I like to separate my egg yolks from the whites over a separate bowl to make sure the yolks don't get into the larger bowl. I also like to separate the eggs when they're really cold so the yolks won't break as easy.
Whipping the egg whites: You're going to whip the egg whites for a good amount of time. Total it ends up being about 7 or 8 minutes of beating on high speed. The whites will get frothy and thicker over time and eventually turn into soft peaks. Take a look at the picture above to help you know when the egg whites are done. When you lift the whisk out of the egg whites they should form a small peak and the tip should ever so slightly fall to one side.
The Cake Flour: The other key trick to killer lemon angel food cake is the type of flour you use. Cake flour is important here because it's the lightest of all of the flours. If you don't have any at home you can make your own cake flour with all purposed flour and cornstarch by follow the steps here. Using cake flour won't deflate the egg whites when mixing. See batter below!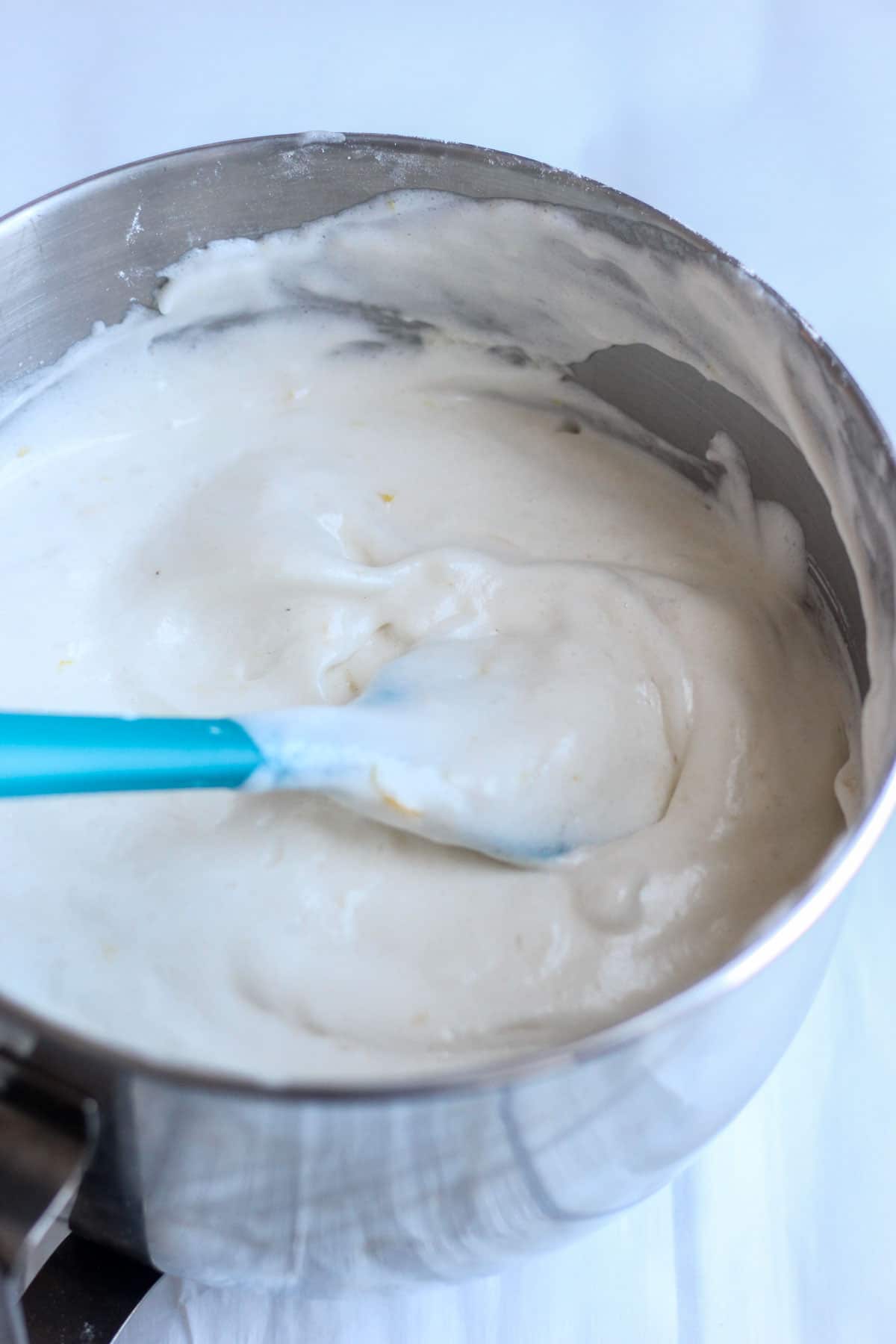 The flavor: There's only a few other ingredients in this cake recipe including sugar, cream of tartar and the star of the show: lemon flavor. Adding actual lemon juice in this recipe was going to flatten out the egg whites so i went with lemon extract and it was perfect. I also added a good amount of lemon zest to this lemon angel food cake. It gives the recipe an extra zing of fresh lemon it needs.
Tips for baking: A few quick notes about the baking process of this lemon angel food cake! Be sure to NOT spray the pan before you put the batter in. The batter clings to the side of the pan when it rises so you won't get as much rise if it's greased. Be sure to also use the special tube pan for angel food cakes with the removable bottom for this reason.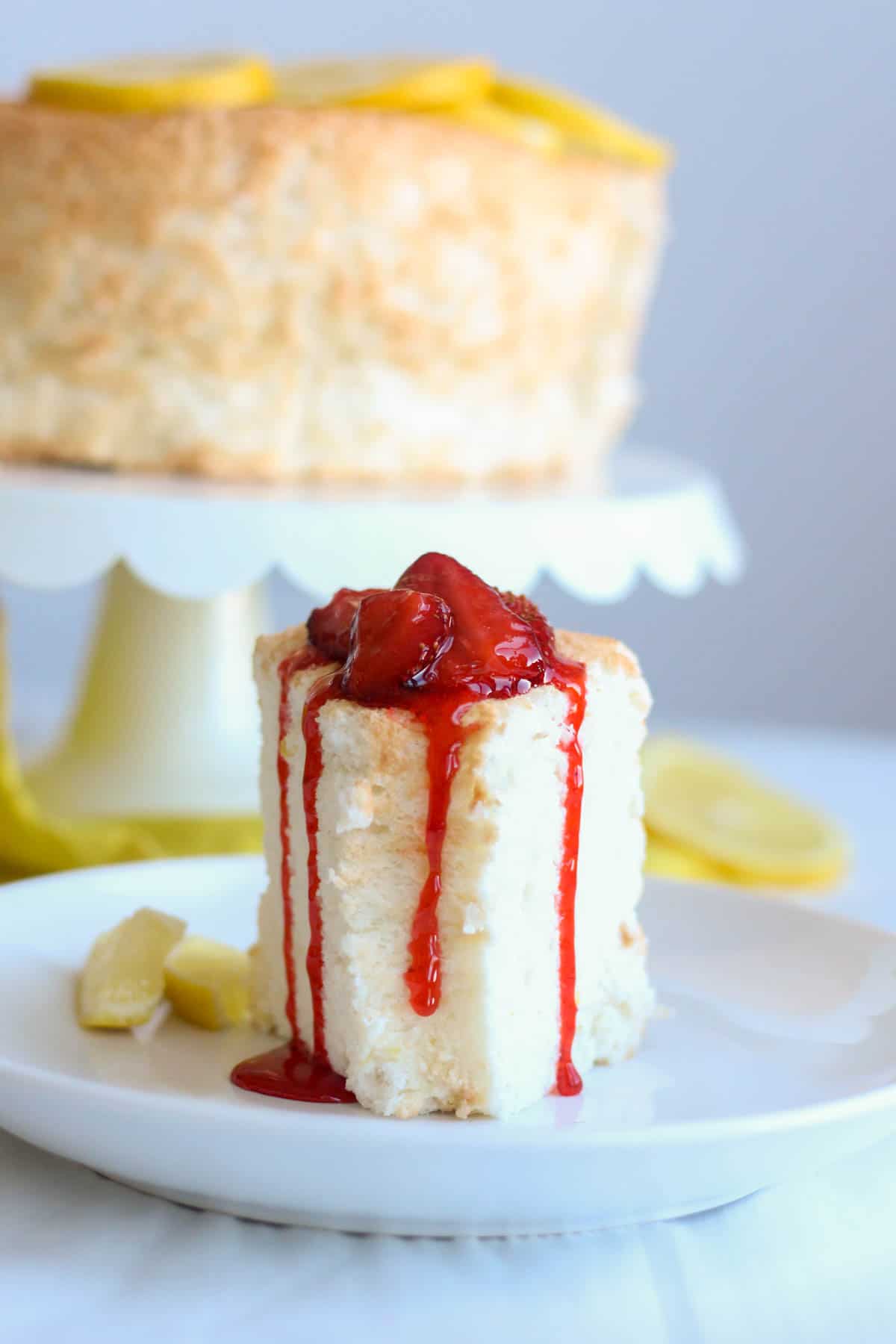 Pro tip: be sure to also cool this cake upside down. Angel food cake is so light that it can be crushed by it's own weight and you could be left with a sunken angel food cake. Take your cooling rack and place it on top of the cake pan and gently flip it over to cool completely. Or if you have one of those special tube pans with the feet on the bottom that works too!
There's just something bright and magical about the combination of lemon and strawberry. The goey and sweet strawberries drizzle down the lemon cake. One bite of strawberry with a zesty bite of lemon angel food cake will have your tastebuds singing.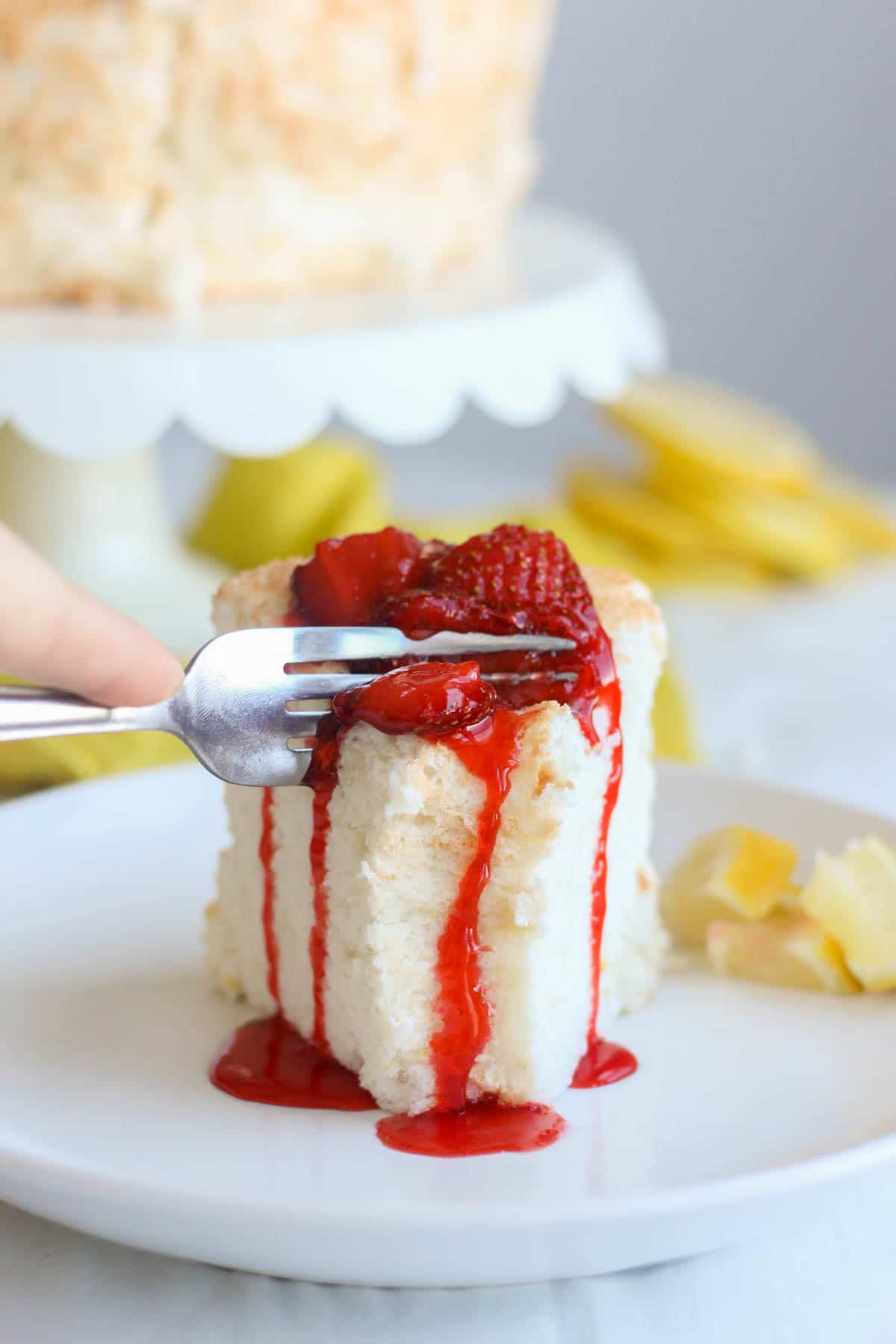 I'm already envisioning making this at all the spring and summer festivities??. If you make this recipe don't forget to tag me on Instagram with #WhatMollyMade so I can feature you on my page!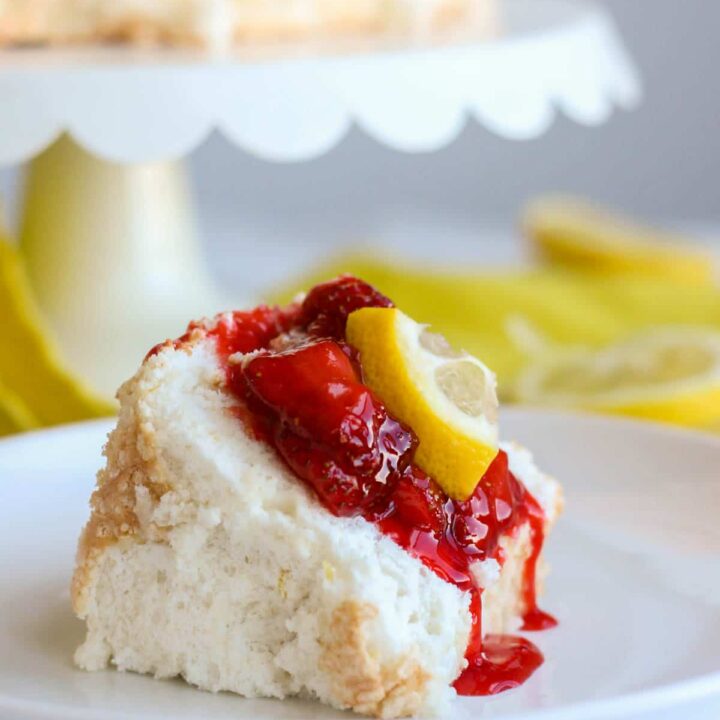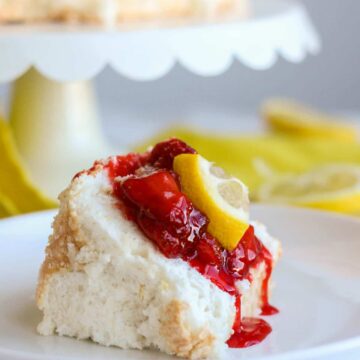 Ingredients
Lemon Angel Food Cake:

1

and ¾ cups granulated sugar

divided

1

cup

cake flour

¼

teaspoon

salt

12

large egg whites

1

and ½ teaspoons cream of tartar

1

and ½ teaspoons vanilla extract

1 ½

teaspoons

lemon extract

zest of 1 lemon

Strawberry Compote:

4

cups

of fresh or frozen

not thawed strawberries

¾

cup

granulated sugar

2

tablespoons

lemon juice

½

teaspoon

vanilla extract
Instructions
Adjust the oven rack to the lower third position and preheat the oven to 325°F.

Make the lemon angel food cake: In a medium bowl, add 1 cup of the granulated sugar, cake flour and salt. Reserve ¾ cup of the sugar for the next step.

Using a handled mixer or stand mixer fitted with the paddle attachment, beat the egg whites and cream of tartar together on medium speed until until foamy, about 1 minute. Add the ¾ cup of reserved sugar and turn the speed to high and whip for 5-6 minutes until soft peaks form.

Add the vanilla extract, lemon extract and lemon zest and beat until just combined.

Sift the flour mixture into the egg white mixture in three separate additions. Gently fold the flour into the egg whites with a rubber spatula after each one.

Scrape the batter into a 10-inch angel food cake pan (tube pan). Do NOT grease the pan.

Bake for 40-45 minutes or until a toothpick inserted in the center comes out clean. Rotate the pan in the oven half way through to ensure even baking.

Cool the cake upside down set on a wire rack for approximately 3 hours. Once cooled, run a knife around the outside of the pan and gently tap the sides until the cake releases.

When the cake is almost done cooling, make the strawberry compote. Combine the strawberries, sugar, lemon juice and vanilla extract in a medium saucepan over medium to high heat. Bring to a boil then lower the heat to low and gently simmer until the strawberries are soft and the mixture is thick and reduced, approximately 12-15 minutes. Stir occasionally.

Serve a spoonfull of strawberry compote on top of a piece of angel food cake. Store both separately in an air tight container. Thin compote by heating in the microwave for a few seconds.
This recipe was adapted from Sally's Baking Addiction.
DID YOU MAKE THIS RECIPE!? SNAP A PIC AND TAG @WHAT_MOLLYMADE AND USE #WHATMOLLYMADE!
Here are a couple of items I used to make today's recipe:
2-Piece Angel Food Pan
, KitchenAid Professional 600 Series Bowl-Lift Stand Mixer
, Silicone Spatula
, Super-Fine Cake Flour
Some of the links above are affiliate links, which pays me a small commission for my referral at no extra cost to you! Thank you for supporting What Molly Made!