Soft maple sugar cookies, a sweet and earthy flavor mixed in a classic Christmas cookie. These cookies take only one bowl to mix them up and they come together quickly and are soft and chewy. The maple flavor is the perfect addition!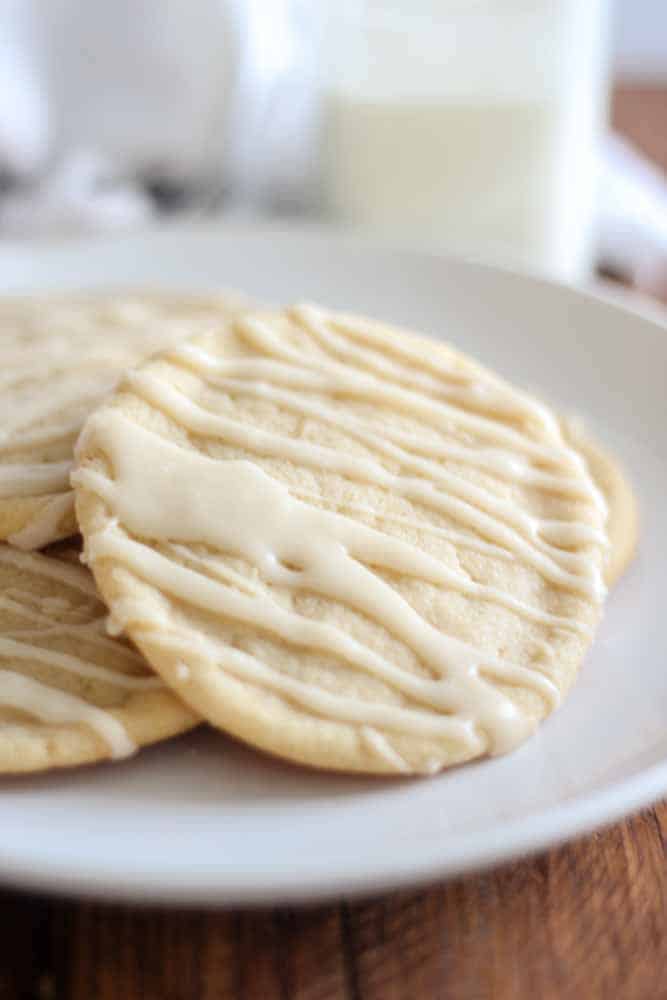 Today is Day 4 of my Christmas cookie week extravaganza! ICYMI: Monday was Giant Ginger cookies, Tuesday was the best sugar cookies and yesterday was triple chocolate cookies.
Christmas time is my favorite time of the year. The Hallmark movies, the tree lights and ornaments, the creative wrapping ideas and of course the cookies! I've got tons stashed in my freezer right now, in fact.
But my absolute favorite reason for the season is being able to give back to others. It's a reminder of all that we have to be grateful for and all of the blessings we're able to give away. I usually adopt a family for Christmas but this year wasn't able to. Instead Zach and I are filling up bags with clothes and food for the needy kids and families in our community through our church.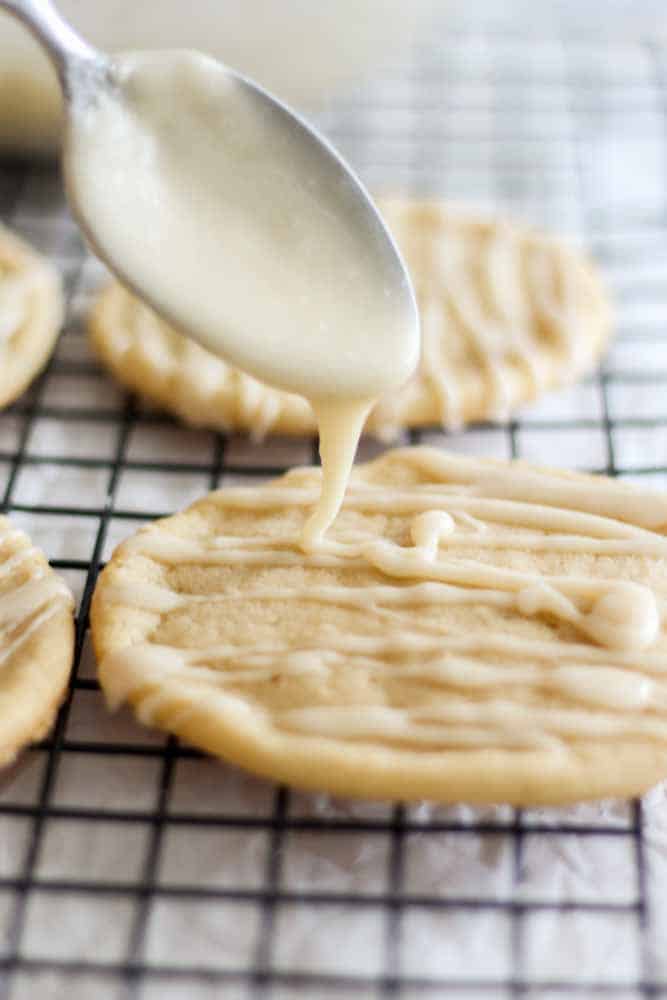 And tomorrow I'm headed to Chicago to help with a habitat for humanity build on Friday! If you're a regular reader around here you know as my full time job I'm a brand/social media strategist for IBM. I've worked on a couple of clients, but my all time favorite is of course Nestle Toll House.
I have the amazing opportunity to work with Toll House and their bakers so help "bake some good" in the Chicago area by baking for those that deserve it or are underappreciated. And tomorrow we're all coming together to build a house for a needy family.
There's a high of 22°F (helloooo 17,000 layers) but it will be a great reminder why what we are doing is so important. I am honored and humbled to be a part of something so amazing.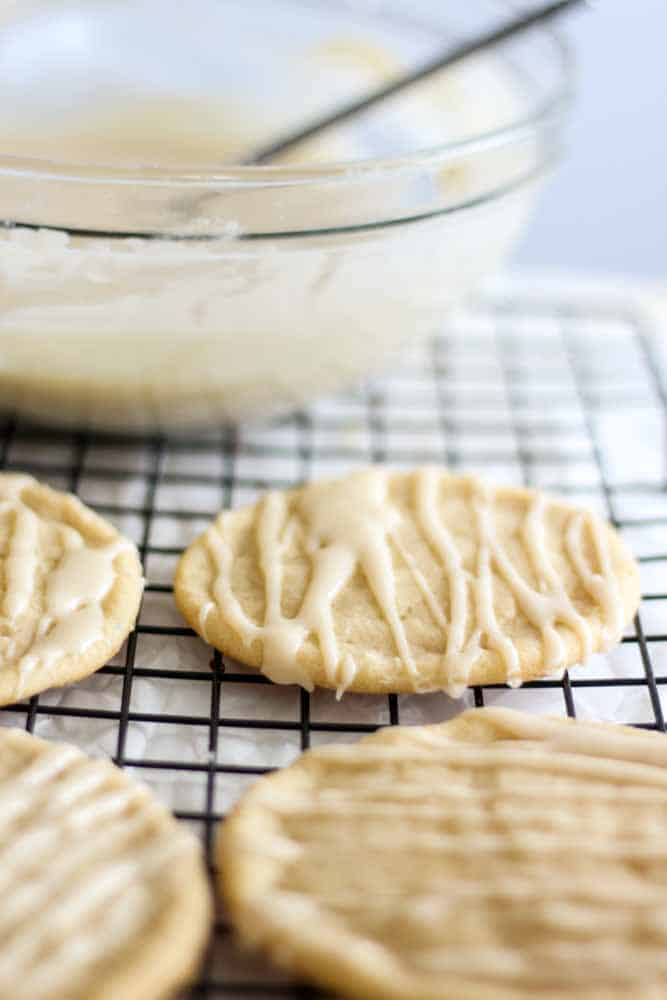 If you have a chance please follow along and find moments to bake some good for the people in your life! It's truly amazing how one small baked good can change someone's day.
It means so much more than a yummy treat. It's a gesture to say you were thinking about them and that you invested your free time and money to show them how much they mean to you. I'm such a strong believe in making baked goods to show someone they matter.
There will be tons of hammering and constructing happening tomorrow but of course there will be lots of hot chocolate and baked goods to keep us happy. I would be sharing some of these soft maple cookies but they didn't last long around my apartment.
These soft maple sugar cookies are such a delicious twist on the classic sugar cookie! I use maple syrup a lot when I'm baking, especially when I'm making paleo baked goods. But it's also adds a deep flavor to any baked good. It's a festive flavor that really reminds you of the holidays.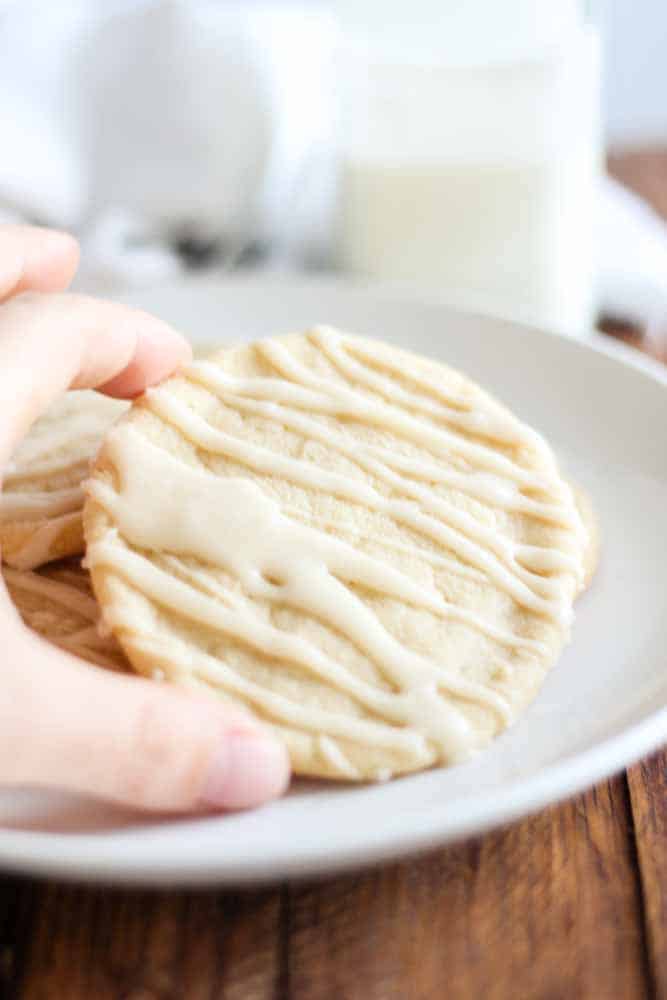 The base of these maple sugar cookies is a simple sugar cookie and requires only one bowl! That's the best part about. So simply to pull together, but so delicious. Because the maple syrup introduces more moisture to the batter it's important to chill the dough before you bake them in the oven.
I like to allow the mix up all of the dough and then throw it in the fridge for about an hour. Once it's chilled roll the dough into balls and place them on the baking sheets. Typically the dough warms up again in your hands while you're rolling them so I'd recommend putting them back in the fridge for about ten minutes once rolled before putting them in the oven. Cold dough is crucial for the perfect texture. If you skip this step you'll end up with a cookie spread all over the cookie sheet.
I promise, add this maple sugar cookie recipe to your Christmas cookie list and you will not be disappointed!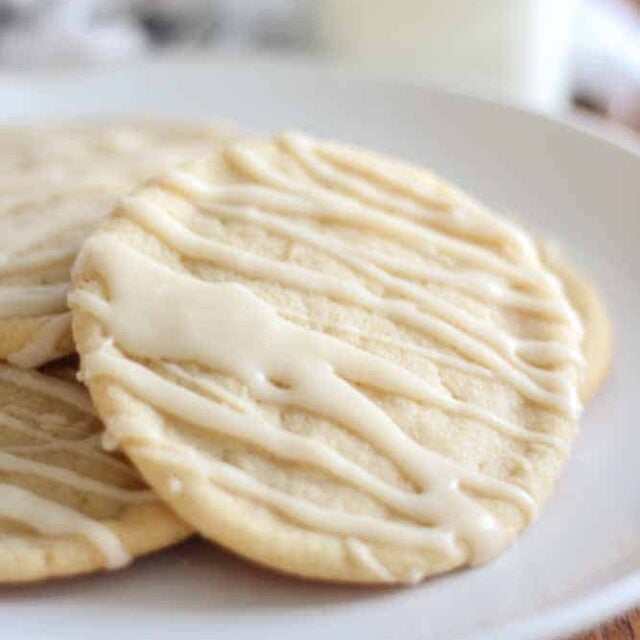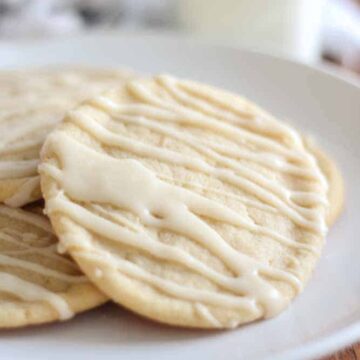 Ingredients
1/2

cup

butter

softened

1/2

cup

shortening

1 1/2

cups

granulated sugar

1/4

cup

brown sugar

1/2

cup

pure maple sugar

1

teaspoon

baking soda

1

teaspoon

cream of tartar

1/4

teaspoon

salt

3

egg yolks

1/2

teaspoon

vanilla

2 1/2

cups

all purpose flour

Maple icing:

1/4

cup

heavy cream

1/4

cup

melted butter

3

tablespoon

maple syrup

3

cups

powdered sugar
Instructions
In a large mixing bowl or in the bowl of a stand mixer beat the butter and shortening on medium to high speed for 30 seconds. Add the granulated sugar, brown sugar, maple syrup, baking soda, cream of tartar and salt. Beat until combined about 3 mintes, scraping down the sides as you go. Add in the egg yolks and vanilla and beat well. Gradually add the flour, mixing well after each addition. Cover the bowl with plastic wrap and place in the refrigerator to chill for at least one hour.

While the dough is chilling, preheat the oven to 300°F and line a large baking sheet with parchment paper. Once chilled shape the balls into one inch balls using a tablespoon and place on the baking sheet. Place back in the fridge for 10 minutes to chill again from when dough warmed in your hands from rolling.

Bake the cookies for 12-13 minutes or until edges are set, being careful not to over bake. Remove from oven and allow to cool on cookie sheet for two minutes then transfer to a wire rack to cool completely.

To make the icing, stir together the heavy cream, melted butter and syrup in a medium bowl. Whisk in powdered sugar until thoroughly combined. Drizzle over cooled cookies and allow to set.

Store in an air tight container for 2 days or in the freezer for up to 3 months.
Did you make these maple sugar cookies!? Snap a pic and tag @what_mollymade and use #whatmollymade!
See all Christmas Cookie Recipes.