Giant ginger cookies and a sprinkling of sugar make the holidays go ground. Soft and chewy and as big as your hand and filled with molasses, ginger and cinnamon. My cookie love affair continues...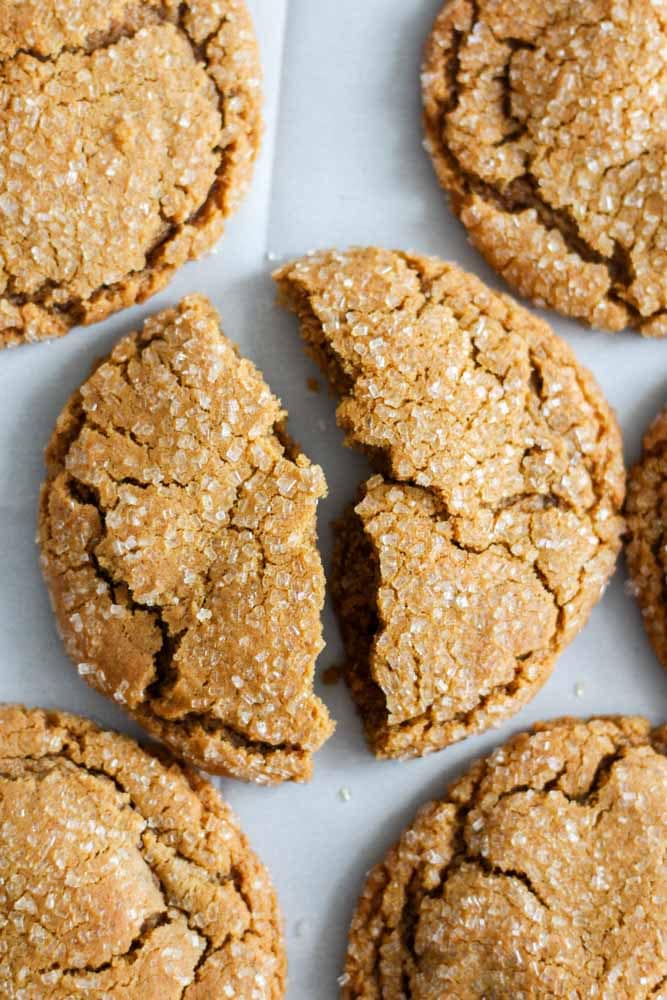 It's the first Monday of December and I feel like I have all the Christmas festivities ahead of me. I bought wrapping paper and bows today and I've done a little (a lot) of online shopping and I started planning for a Christmas party Zach and I are hosting in a couple weeks. Which involves all the Christmas cookies, of course.
I truly believe in my heart that we should get at least a week off work to bake cookies and wrap presents and watch Hallmark movies. If you haven't guessed by now I'm Christmas obsessed. Like when December hits I grow little ears and wear jingle bells and I only eat 4 food groups: candy, candy canes, candy corn and syrup. Some would say I turn in to an elf. Me and Will Farrell would be great friends.
Though I'd have to add a fifth food group which would have to be cookies. Cookies are by far my favorite dessert to make, especially at Christmas time. And especially these giant ginger cookies.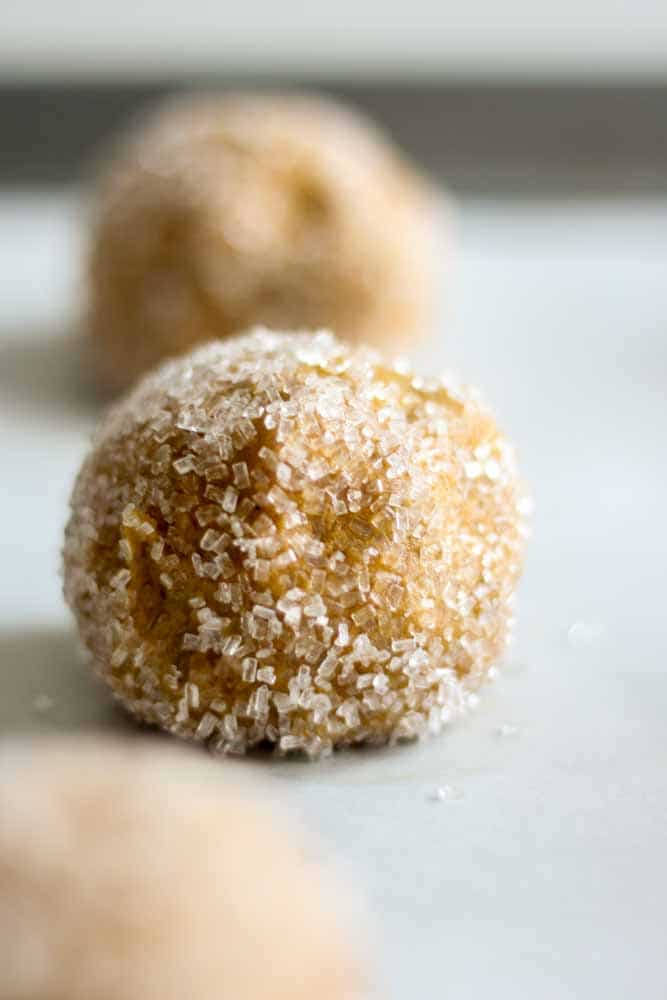 Which is why this week I bring to you a full week of Christmas cookies! Every day a new, festive recipe full of Christmas cheer. The second annual Cookie Extravaganza (keep reading for a recap of last year's!).
These Christmas cookies are made for platters accompanied by milk destined for Santa's belly. Or shipped to family and friends near and far. Or frozen and saved for a late night filled with hot chocolate. Though I have no experience in that department...
And first up are these giant ginger cookies! One of my absolute favorite Christmas cookies are my molasses cookies and friend's mom taught me in high school. These ginger cookies are a twist on that. Same tasty flavors like cinnamon, molasses and ginger, but much (much) larger and very thick and chewy. Both equally delicious in their own right.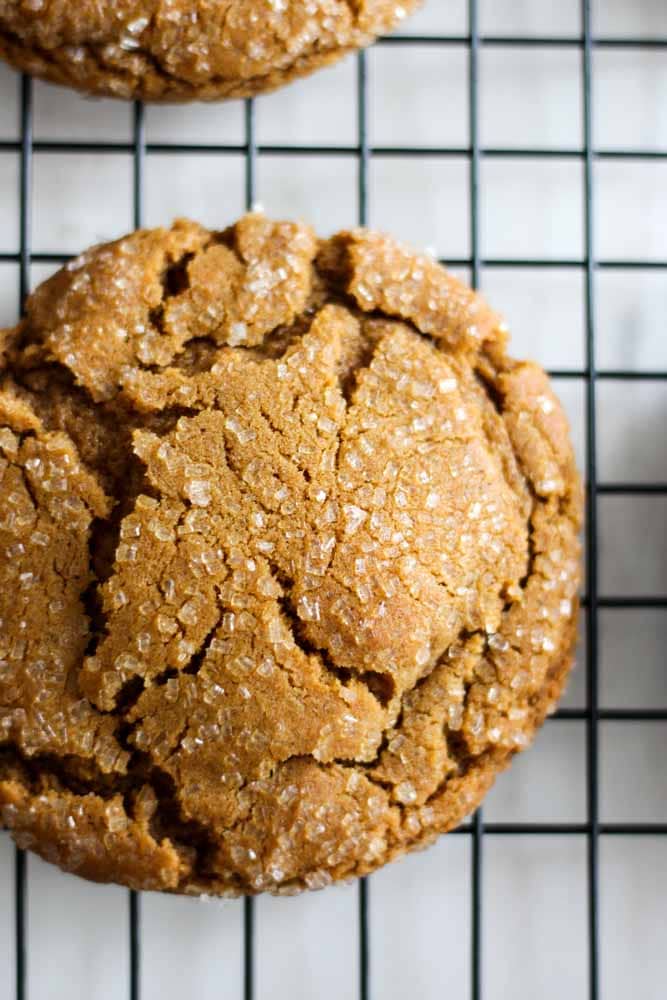 There aren't any major tips or tricks in this recipe, which makes them that much better. Just the usual creaming of butter and sugar for a couple minutes and dropping them on the parchment paper. This no fuss Christmas cookie recipe also requires no chilling! Straight from the bowl to the oven and in to your belly.
The other option is to freeze them. You can either freeze the mixed up dough or freeze the baked cookies, either way you have the best ginger cookie waiting for your stomach at the blink of an eye.
My only note would be to not skip out on the coarse sugar coating. It may be a little more difficult to find them but it makes a huge difference in the end! They're crunchy and look so pretty. That's a very important Christmas cookie factor. I tested them both ways and both tasted outstanding but there is just something so magical about the sugar-coated ginger cookie.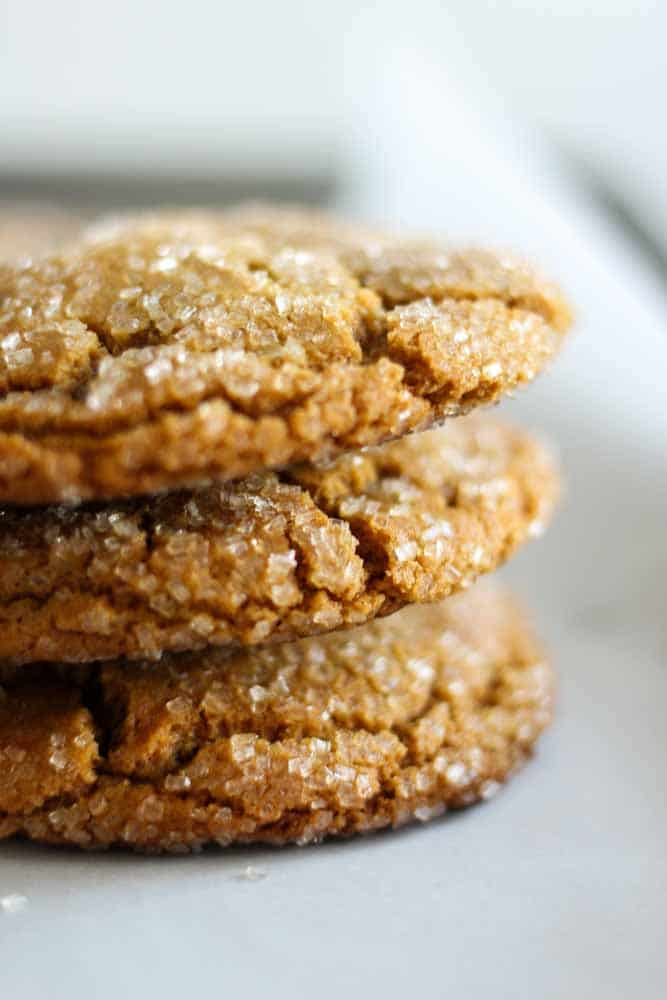 Also, you may feel a little odd using an entire ¼ cup for each cookie, but trust me this makes is important. The larger the better. The more giant and chewy and flavorful. All very good things.
Stay tuned every day this for a new Christmas cookie recipe! And if you need more inspo right now check out all of the recipes from last year's extravaganza.
Three Ingredient Thin Mints, Monster Cookie Cups, Almond Shortbread Cookies, Chocolate Chip Pudding Cookies, Molasses Cookies, Peanut Butter Cup Cookies, Peanut Butter Blossoms, Soft and Chew Snickerdoodles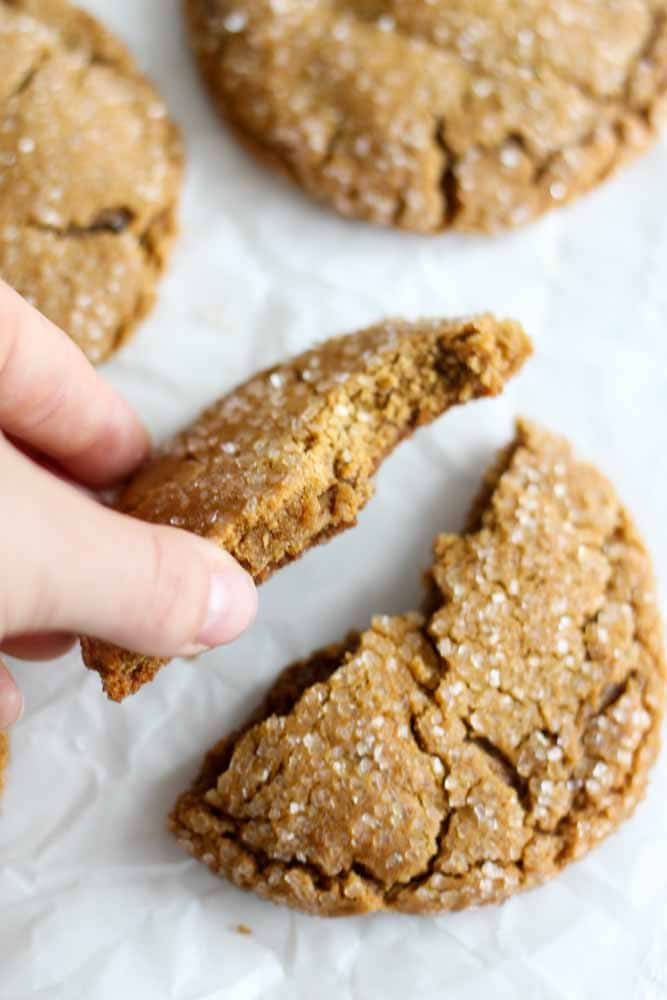 And if you make any of these recipes and love them please give me a virtual high five by following me on social and tagging #WhatMollyMade!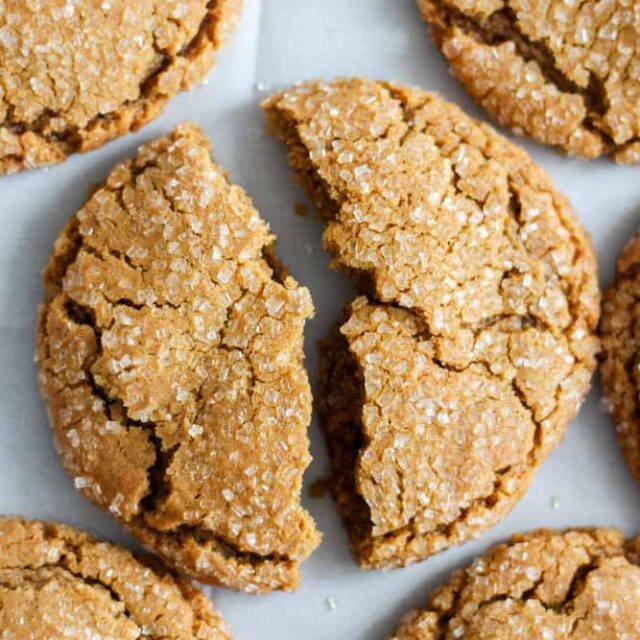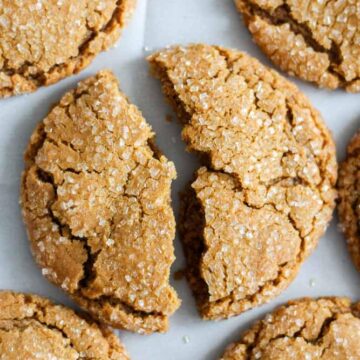 Ingredients
4 ½

cups

all purpose flour

2

teaspoons

baking soda

3 ½

teaspoons

ground ginger

1 ¼

teaspoons

cinnamon

1

teaspoon

ground cloves

¾

teaspoon

salt

1 ½

cups

shortening

2

cups

granulated sugar

2

eggs

½

cup

molasses

1

cup

coarse sugar
Instructions
Preheat the oven to 350°(F) and line a large baking sheet with parchment paper.

In a medium bowl stir together the flour, baking soda, ginger, cinnamon, cloves and salt and set aside.

In a large mixing bowl or stand mixer beat the shortening with an electric mixer on medium speed to soften, about 1 minute. Add both cups of sugar gradually and beat until mixed, about 2 minutes, scraping down the edges with a rubber spatula occasionally. Beat in eggs one at at time and then beat in the molasses until combined. Add dry ingredients to wet ingredients gradually, beating well after each addition. Scoop the dough using a ¼ cup and roll into balls. Roll them in to the coarse sugar and place 3-4 inches apart on the prepared cookie sheet.

Bake for 11-13 minutes or until the cookies are light brown and puffed, being careful not to over bake. Allow to cool on the sheet for a couple of minutes then transfer to racks to cool completely. Store in an air tight container at room temperature for 3-5 days.

Make Ahead Tip: Prepare dough and freeze in an airtight container for up to 3 months. Baked cookies also freeze well with the same method.