Is there actually any holiday where chocolate isn't appropriate? Show up to any event with these Triple Chocolate cookies and you're gaurenteed an invite back. They're soft and fudgy and kind of melt in your mouth the second you bite into them.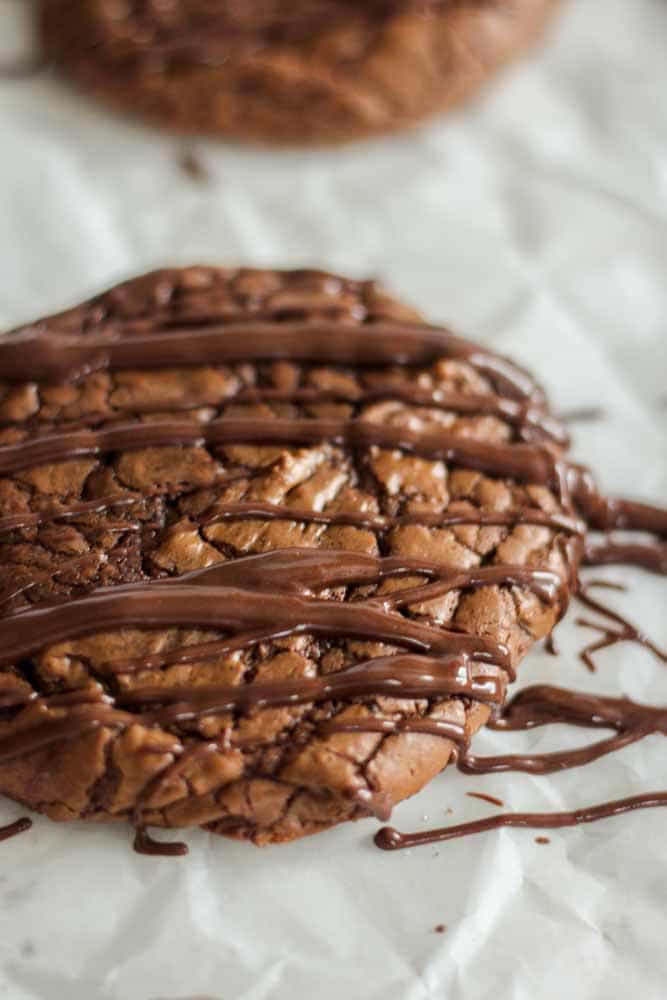 Here we are, day 3 of Christmas cookies this week. Let's call it Christmas cookie hump day. A day to celebrate making it half way through the work week with triple chocolate cookies and a day to celebrate another Christmas cookie recipe! Though that means we're one day closer to my favorite week of the year being over. And I LOVE sharing Christmas cookies with all of you!
ICYMI: I shared Giant Ginger Cookies on Monday and the Best Sugar cookies yesterday.
But today, my friends, is the day we chat about triple chocolate cookies. They look like your typical flourless chocolate crinkle cookies, but they are not. Very close! But there's subtle differences in this recipes you're going to love!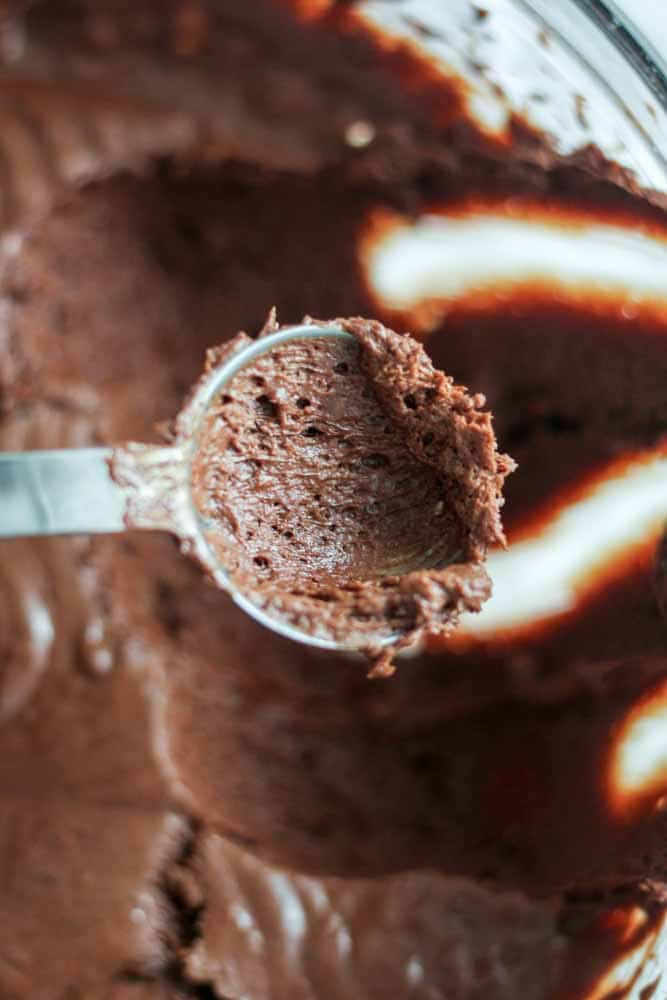 How to Make Triple Chocolate Cookies
First things first, there are instant coffee granules in this recipe. Are you thinking "coffee in my cookies? um who are you?" Maybe. But you will thank me tomorrow when you're chowing down on all the chocolate. I like to think of coffee and chocolate in comparison to salt and well pretty much any food. Salt brings out and heightens the natural flavors of most foods. And that's exactly what coffee does to chocolate.
It pulls out the strong chocolate flavor and makes it that much better. You can't even taste coffee in these chocolate cookies at all. Of course you can omit the coffee granules if you don't have them on hand or if your kiddos get freaked out but I highly recommend it!
The majority of this recipe is, you guessed it, chocolate! So it's super important to get high quality chocolate. Chocolate baking bars are sold by the 4 ounce so this recipe makes it super simple to buy the chocolate without wasting any because you will use it all! Two bars of bittersweet and 1 bar unsweetened. By the way you can find these in the baking aisle right next to the chocolate chips! I like Ghirardelli or Baker's. Both great choices.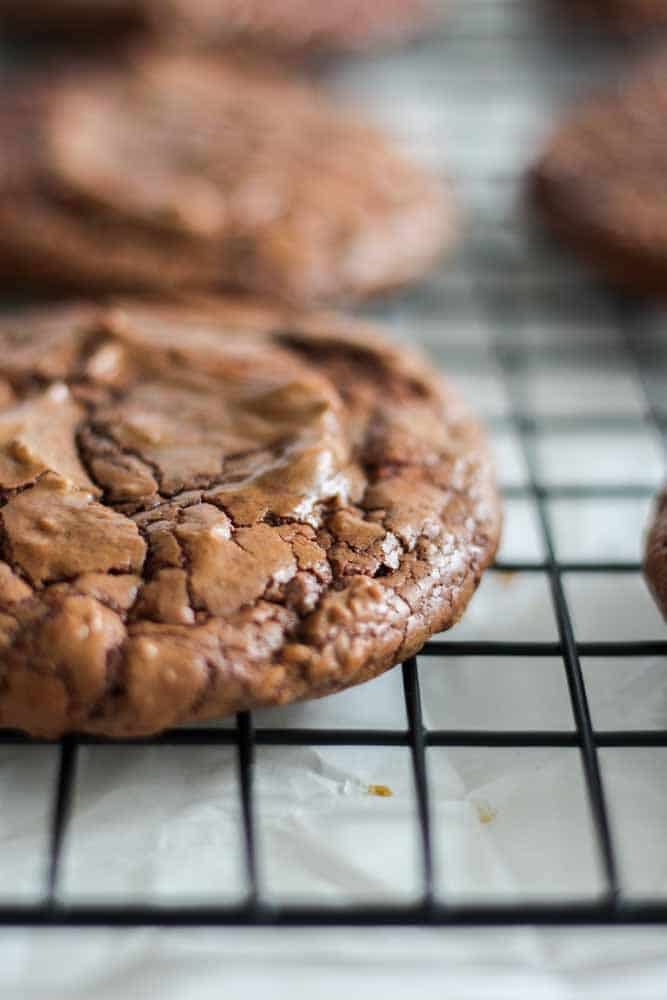 Then there's the sugar. I know you're probably thinking nearly 2 cups of sugar is a lot, but because we're using bittersweet and unsweetened chocolate we lose some of the sweetness compared to if we're using milk or semisweet. I also learned from another blog this week that when you combine the sugars (along with the egg) with warm butter/chocolate it helps the sugars move to the top of the cookies while they're baking and creates the crackly and shiny top you see in flourless cookies or brownies. They look so perfect!
From there you add a small amount of flour, baking soda and salt and fold in chocolate chips. That's the 3 source of chocolate! Hence triple chocolate cookies!
Once the batter is done you cover it with plastic wrap and allow it to set for about 20 minutes. The chocolate cookie dough will become much thicker and when the minutes are up you'll be able to use a large spoon to scoop out the dough and place on the baking sheets. Nine minutes later you have ooey, gooey, crackly and decadent triple chocolate cookies.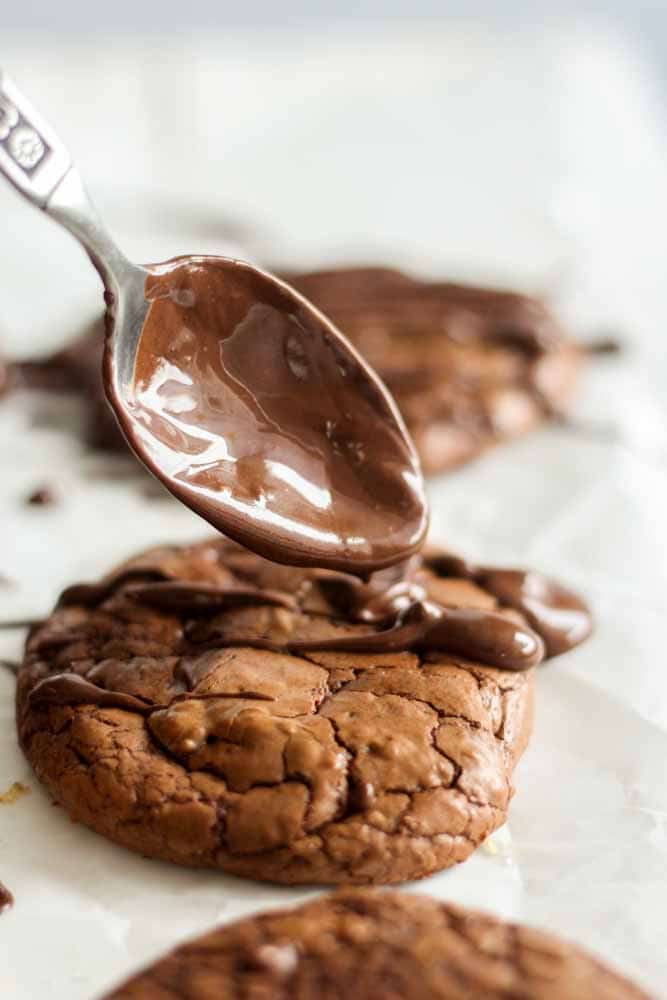 I'm taking suggestions for more adjectives to describe this recipe, btw. If you make these and have any ideas shoot them my way!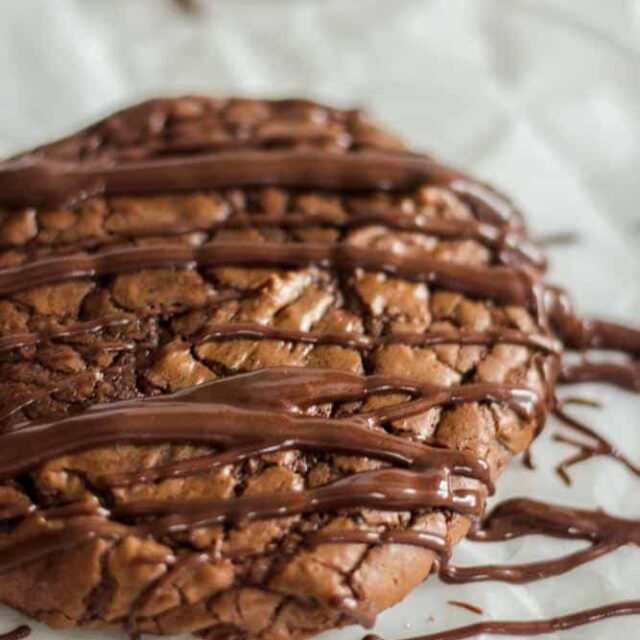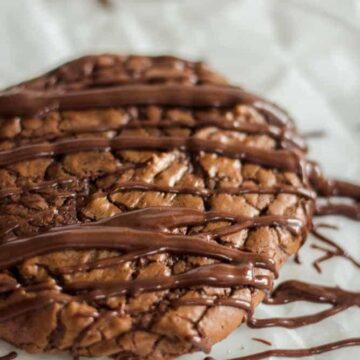 Ingredients
8

ounces

bittersweet chocolate

coarsely chopped

4

ounces

unsweetened chocolate

coarsely chopped

1

tablespoon

instant coffee granules

I used NesCafe

1/2

cup

1 stick butter

1/3

cup

all purpose flour

1/4

teaspoon

baking powder

1/2

teaspoon

salt

4

eggs

1

cup

granulated sugar

3/4

cup

brown sugar

Chocolate Drizzle:

1

cup

semi sweet chocolate chips

4

teaspoon

shortening
Instructions
In a medium saucepan heat the choppes bittersweet and unsweetened chocolate, instant coffee granules and butter over low heat until melted and smooth, stir continously. Remove from heat and allow to cool slightly.

While the chocolate is cooling, in a small bowl stir together flour, baking powder, and salt and set aside.

In a large mixing bowl or with your stand mixer beat eggs, granulated sugar and brown sugar with medium-high speed for approximately 3 minutes. Slowly add the chocolate mixture and beat well until combined. Beat in the flour mixture until well combined, about 2 minutes. Cover the surface of the dough with plastic wrap and allow to stand at room temperature for at least 20 minutes. Dough will thicken.

While it's setting, preheat the oven to 350°F (175°C). Line a large cookie sheet with parchment paper and drop using 1/8 cup onto prepared sheet. Bake for 9-11 minutes or until tops are set and begin to crack. Allow to cool on cookie sheet for 2 minutes and transfer to a wire rack to cool completely.

While the cookies are cooling, combine the shortening and semi-sweet chocolate chips in a microwave safe bowl and heat on high for 30 seconds. Remove from microwave, stir and place back in for another 30 seconds. Repeat if necessary until chocolate is melted and smooth. Drizzle chocolate over baked cookies. Place in the freezer for about 4 minutes to set quickly. Store in an air tight container for up to 3 days.

Make ahead tip: make the dough and bake the cookies and store for up to 3 months in the freezer in an air tight container.
Did you make this recipe!? Snap a pic and tag @what_mollymade and use #whatmollymade!
See all Christmas Cookie Recipes.
SHOP THE RECIPE
Here are a couple of items I used to make today's recipe:
Glass Bowl Set
, Silicone Spatula Set
, Baking Sheets
, Parchment Paper
, Nescafe Original Coffee Granules
Some of the links above are affiliate links, which pays me a small commission for my referral at no extra cost to you! Thank you for supporting What Molly Made!