Your favorite Girl Scout Cookie turned healthy! These Paleo Samoa Truffles are a delicious dessert recipe when you need a sweet treat. Bonus: they're vegan, paleo and no-bake!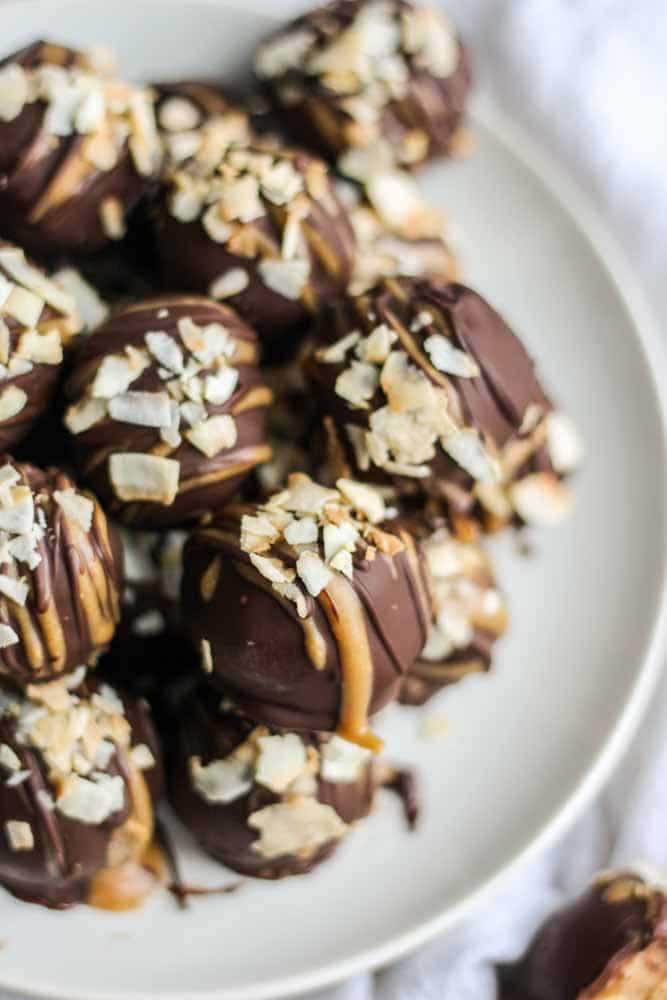 Happy New Year friends! I'm beyond grateful to head into another year of doing what I love and sharing delicious recipes. It's been a heck of a year around here with so many things I've learned (about blogging and myself). I've learned to focus on what I'm passionate about, I rebranded this blog to a new name (formerly known as Bests and Bites), I was featured on websites like Better Homes and Gardens and TheFeedFeed and I went to my first food blogging conference last May!
I've seen explosive growth around here, met and connected with amazing blogger friends and have had the chance to connect and share with so many people who've tried my recipes. When I started this blog my goal was to turn my passion for baking in to a platform to share and serve others through my recipe triumphs (and fails).
And as I head in to 2017 that will continue to do that to bring you all recipes that fill your stomach and hearts with joy on your own and to share with loved ones.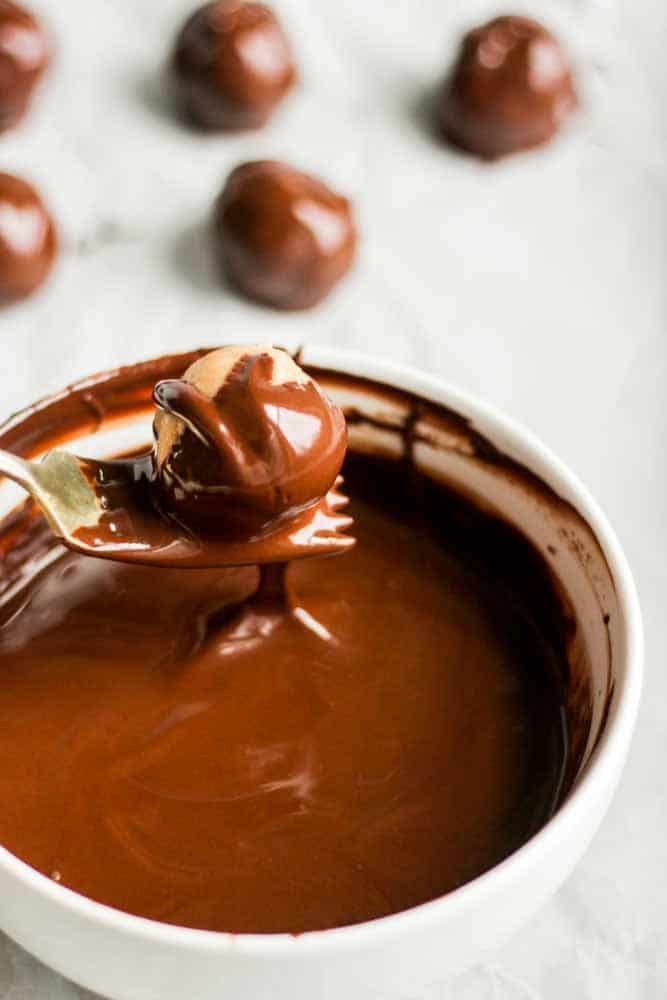 With all that happened in 2016 it makes me hopeful and eager to see what's to come in 2017! If you're a regular around here you've probably noticed I've been sharing a lot of healthy baking recipes since I rebranded. Because living a healthy life full of whole and natural ingredients is so important to me I'm going to continue to increase these types of recipes to share with you all. Sprinkled with indulgent recipes, of course. Life is about balance in my book!
So without further ado, my very first recipe of 2017 are these Paleo Samoa Truffles! Chewy and caramely bites of sweetness sprinkled with toasted coconut.
Girls Scout cookie season is right around the corner and I don't know about you but I ate my way through cookies last month and I'm not sure my body can handle any more. But I don't want to miss out! And I don't want to be tempted by the delicious Somoa flavors so I created these paleo samoa truffles to curb the cravings and provide a little sweet and healthy treat to eat instead.

So let's chat Paleo Samoa Truffles!
These paleo samoa truffles are filled with coconut! Coconut flour, coconut oil and toasted coconut. Do not skip toasting the coconut. The toasty flavor is crucial to the Samoa flavor we all know and love. And it only takes a few minutes. Make sure you buy the unsweetened coconut for this. No pre-packaged sweetened coconut here.
I also used unrefined coconut oil. Have you ever wondered what the difference is between refined and unrefined coconut oil? The major difference is in the flavor, the nutrients and the way the oil is extracted from the coconut itself. Unrefined coconut oil keeps it's distinct coconut odor and flavor because of the way it's extracted from the coconut. It's coconut oil that's extracted from fresh coconut meat and isn't exposed to high heat like the refined coconut oil, so no additives or preservatives are required, unlike the refined coconut oil that's extracted from dried coconut and can be exposed to high heat and trans fat additives. I always opt for this type of coconut oil whenever possible.
On top of the health benefits, the unrefined coconut oil tastes more like coconut! And the more coconut flavor in this recipe the better.
Then there's the paleo caramel in these paleo samoa truffles. Easy paleo caramel is made with three ingredients: creamy nut butter (I used cashew), pure maple syrup and coconut oil. I love using paleo caramel in my healthy baking recipes (like these layered brownies). It's so sweet and delicious and tastes just like caramel sans the sugar and fat.
I dipped these paleo samoa truffles in dark chocolate then sprinkled them with some reserved toasted coconut and caramel to add some additional flavor and to make them look pretty.
I like to keep mine in the freezer and eat one at night when I'm craving something sweet.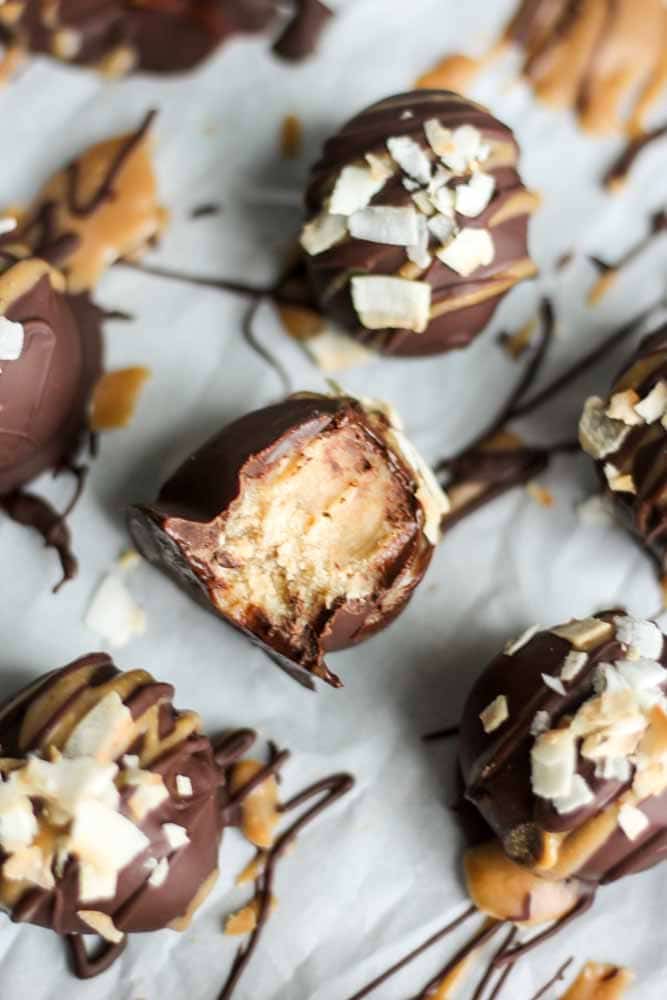 So here's to a year full of healthy and guilt-free dessert recipes and many more lessons and exciting things to come! I hope your year is filled with happiness and health as well❤️ Thanks for following along and sharing my recipes with loved ones, it's truly an honor to share with you what I love to do.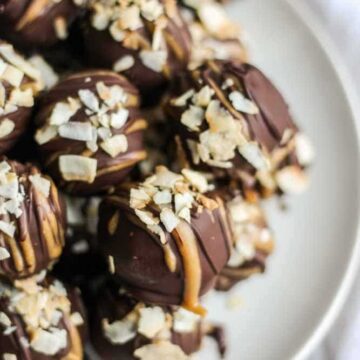 Paleo Somoa Truffles
Healthy and delicious, these paleo somoa truffles are no bake and they come together easily. Paleo and Whole 30 approved!
Print
Pin
Rate
Save
Saved!
Ingredients
¾

unsweetened coconut

toasted

1 ⅛

cups

coconut flour

¾

teaspoon

salt

½

cup

real maple syrup

⅔

cup

unrefined coconut oil

½

cup

creamy cashew butter

1

teaspoon

vanilla

¾

cup

chopped dark chocolate

melted
Instructions
Preheat oven to 350°F degrees. Position the rack to the middle and place the unsweetened coconut on a large baking sheet. Bake for approximately 4 minutes, remove and stir slightly and place back in the oven and bake for 3-4 more minutes, just until toasted and golden brown. Remove from oven and reserve a few tablespoons of toasted coconut for topping.

In a medium bowl, add the coconut flour and salt and mix quickly and set aside.

In a large microwave safe bowl, combine the maple syrup, coconut oil and cashew butter. Heat on high in the microwave for 30 seconds, stir and repeat until completely melted. Stir well until combined and smooth. At this point, remove a few tablespoons of paleo caramel and set aside in a small bowl for topping. Add the vanilla and toasted coconut to the rest of the caramel and stir well. Add the dry ingredients to the wet ingredients and stir until completely combined. Mixture will be somewhat wet. Chill for 30 minutes in the refrigerator to firm before rolling.

While chilling, line a large baking sheet with parchment paper. Once the mixture is chilled roll into 2 inch balls and place on the prepared baking sheet. Melt the dark chocolate in 30 second increments on high heat in the microwave, stirring between each until smooth. Add up to 1 tablespoon of coconut oil to thin chocolate if necessary. Dip each ball in the chocolate and place back on the baking sheet. Immediately top each one with reserved paleo caramel (you may need to reheat in the microwave again to melt slightly) and the toasted coconut. Place them in the freezer to set, approximately 15 minutes. Store in an airtight container in the freezer for up to two months or in the refrigerator for up to 1 week.
DID YOU MAKE THIS RECIPE!? SNAP A PIC AND TAG @WHAT_MOLLYMADE AND USE #WHATMOLLYMADE!
SHOP THE RECIPE
Here are a couple of items I used to make today's recipe:
Glass Bowl Set
, Silicone Spatula Set
, Baking Sheets
, Parchment Paper
,Organic Virgin Coconut Oil, Unrefined
,
Some of the links above are affiliate links, which pays me a small commission for my referral at no extra cost to you! Thank you for supporting What Molly Made!