When you look at this chocolate caramel tart it n exactly scream "good for you." But that's exactly what it is. This chocolate caramel tart is paleo, gluten-free and vegan. Aka no refined sugar, no grains no unhealthy fats and yet, it has all the flavor and them some.
I reeeealllly like where this is headed.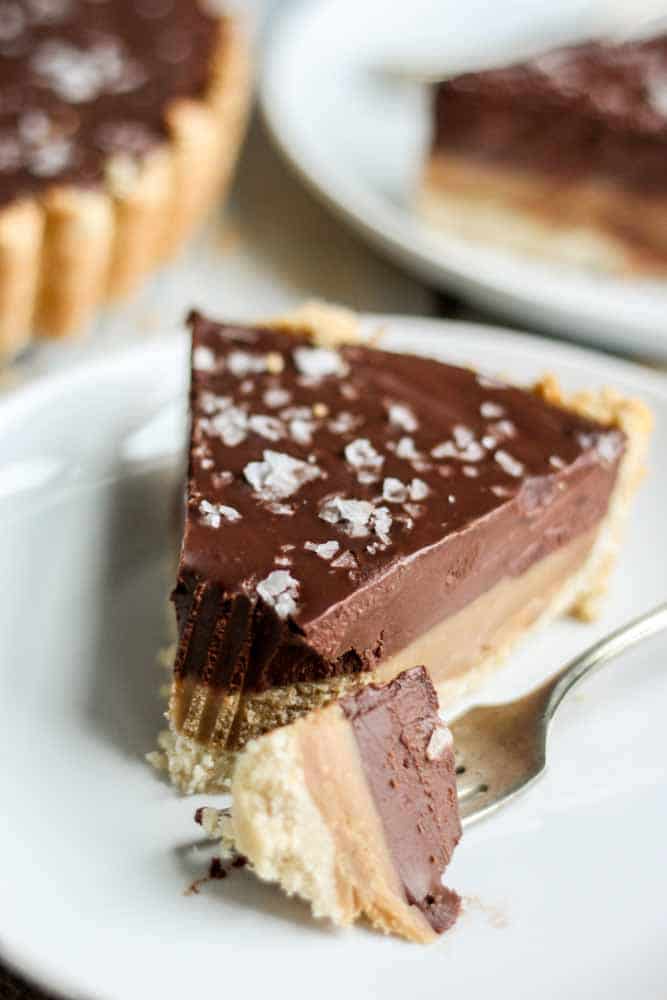 So please join me in hopping on this indulgent (yet healthy) flavor train of paleo caramel and lots of chocolate. Get your ticket now, seriously. We can pretend we don't actually have any adult responsibilities and just enjoy each other's company and eat an entire tart in one setting (which I've totally never done before...).
And "ooh" and "ahh" over the fact there is a real thing in this life called paleo caramel. Seems like an oxymoron doesn't it? Because caramel is sweet and gooey and the sugar index on it is through the roof. Yet here we are creating an entire tart from a caramel recipe made of whole natural ingredients with no refined sugar.
I'm so grateful for paleo caramel. I really am. Keep on scrollin to find out how you make this magical creation (p.s. it's SO easy).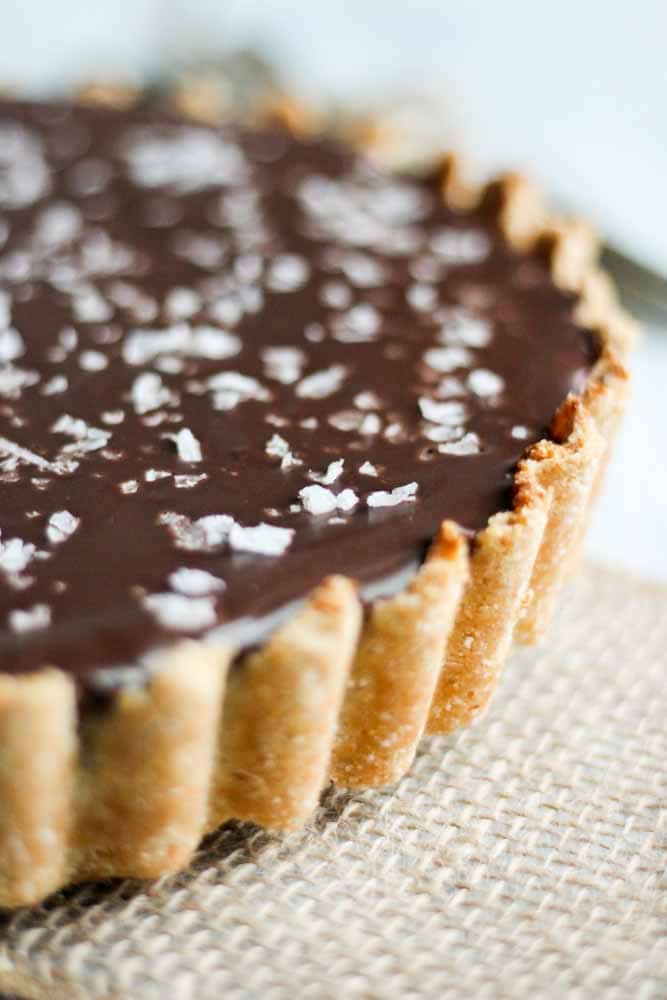 Before I jump into the how-to's of making this chocolate caramel tart, I want to talk about the last week! Mostly because it was so fun and I feel like sharing it with someone (and you're the lucky chosen ones).
Zach and I got back from Iowa at the crack of dawn last Tuesday. That's not an exaggeration. Actually we got up before the crack of day because my alarm went off at 2:30 am. That part wasn't so much fun. But we were back for two days and I thought I was getting back to a normal routine and then Zach spontaneously asked me if I wanted to attend a conference with him in Nashville.
One of my New Year's resolutions is to be more spontaneous and stop trying to work out every detail and just say "yes" to things I would typically analyze and worry about. I decided to work remotely and get up at 4am to drive to Music City. YOLO.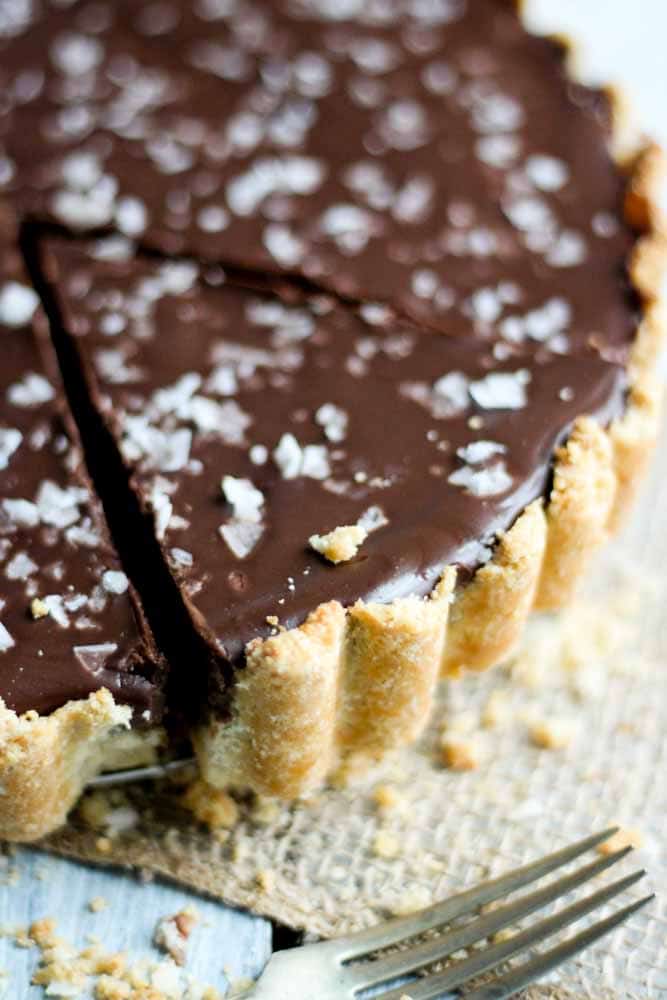 We stayed at the Opryland hotel. OMG has anyone stayed there?! It blew my mind. There was actually a hotel inside the hotel. acres of floral and greenery arrangements and 16 restaurants. I was somewhat frightened to venture too far because there was a solid chance I wasn't going to make my way back. I spent the day at the cafe drinking coffee and working. When Zach was done we headed downtown and went to as many bars as possible then headed to the Listening Room for a show. It was so so good.
I worked the next day and we headed home. Quick, yet amazing trip. Also free. That always helps! I'm off to a great start with this whole resolutions thing and I like the way it feels. Anyone else killing the resolution game?
Maybe its eating healthy and sticking to your paleo diet? If so, then congrats! You're in the right place. Because this chocolate caramel tart just so happens to fit in your grain-free, sugar-free regime.

There are 3 layers to this chocolate caramel tart:
Crust: The crust is a mix of coconut flakes, almond flour, coconut oil and a little pure maple syrup. It's super simple to blend and bakes in under 15 minutes. Then the rest of the chocolate caramel tart is no bake. Yep, no more baking required.
Caramel: Sitting atop the flaky crust is a thick layer of the paleo caramel we chatted about earlier. There are three main ingredients to this layer: creamy nut butter (I used cashew), pure maple syrup, and coconut oil. I added a bit of salt and vanilla because there are no recipes that those two don't make better. Melt them together and pour over the crust. Place in the freezer to set completely.
You have a little bit of time between now and the chocolate layer so it sets completely and you get the pretty clean line when you cut it. This is a time for any activity you want. Reading, watching Gilmore Girls, cleaning (I guess), showering is also an option. So many activities.
Chocolate: Ohhhh paleo chocolate ganache. You are so rich and creamy and the mere thought of you warms my soul. Coconut milk and paleo chocolate. The End.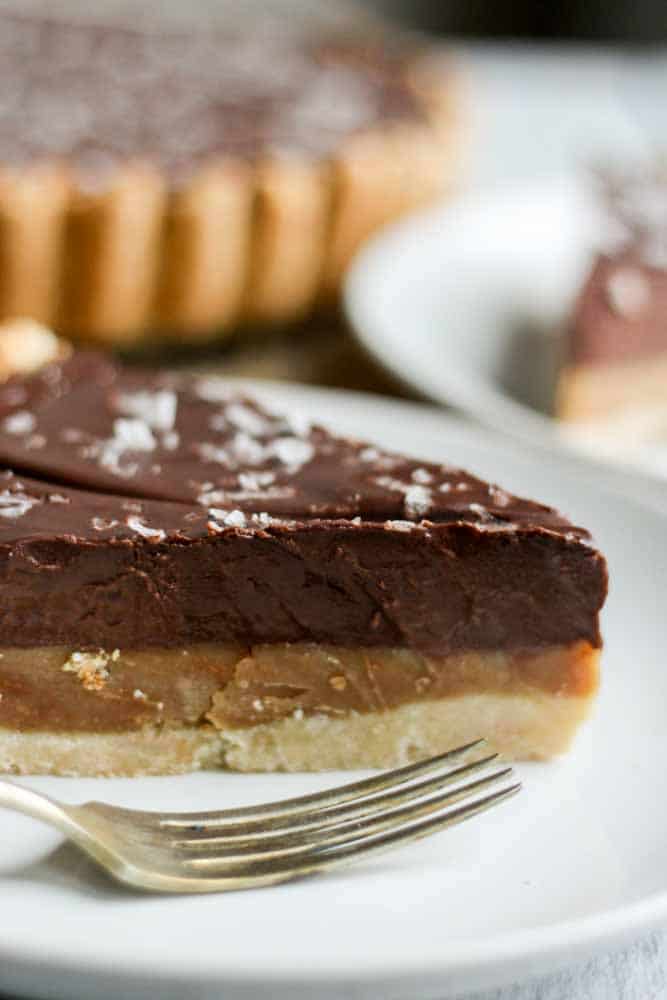 Let the chocolate set and you're left with thick and decadent chocolate caramel tart. One of THE best desserts I've made in a while. And filled with whole ingredients. It's my favorite. And I have this really great feeling it's going to be yours too!
More paleo chocolate recipes: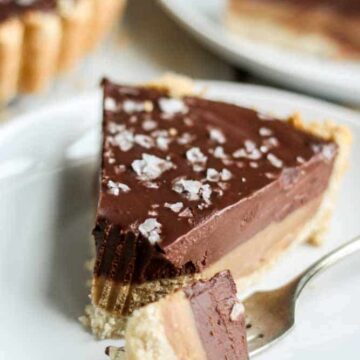 Ingredients
Crust

½

cup

unsweetened coconut flakes

2 ½

cups

almond meal/flour

½

cup

coconut flour

½

teaspoon

salt

4

tablespoons

coconut oil

4

tablespoons

maple syrup

Caramel Layer

1

cup

creamy nut butter

I used cashew but you could use creamy almond butter

⅔

cup

pure maple syrup

⅔

cup

coconut oil

2

teaspoon

vanilla extract

1

teaspoon

salt

Chocolate Ganache

1

cup

canned coconut milk

10

ounces

dark chocolate

sea salt

for topping
Instructions
To make the crust: Preheat the oven to 350° F. In the bowl of a food processor, combine the coconut flakes, almond meal, coconut flour and salt. Pulse to combine. In a small microwave safe bowl, melt the coconut oil and maple syrup together. Pour into the food processor and pulse until well mixed.

Press the crust into the bottom and sides of a 9-inch tart pan. Use the flat bottom of a cup or measuring cup to press the crust down firmly.

Bake for 10-12 minutes until golden brown around the edges and firm. Remove from the oven and allow to cool completely.

To make the caramel layer: Combine the nut butter, maple syrup and coconut oil in a medium sauce pan over medium to high heat. Stir the mixture constantly until all ingredients are melted and smooth. Remove from the heat and add the vanilla extract and salt. Stir to combine. Pour the caramel layer over the crust. Mixture will be very thin. Place in the freezer for at least 30 minutes to set. Caramel should be cold and firm.

To make the chocolate: Place the chocolate in a large bowl and set aside. Place the canned coconut milk in a medium microwave safe bowl and microwave on high for 1 minute, or until bubbling. Pour the coconut milk over the chocolate and let stand for 2-3 minutes. Whisk together until smooth. Pour chocolate ganache over cooled and set caramel layer. Top with sea salt, if desired. Place back in the freezer for another 30 minutes until completely set.</span>

Store in the refrigerator for up to 1 week or in the freezer for up to 1 month.
DID YOU MAKE THIS RECIPE!? SNAP A PIC AND TAG @WHAT_MOLLYMADE AND USE #WHATMOLLYMADE!
SHOP THE RECIPE
Here are a couple of items I used to make today's recipe:
Tart Pan with Removable Bottom, Thai Kitchen Organic Coconut Milk , 100 Percent Maple Syrup, Enjoy Life Mega Chunks Semi-Sweet Chocolate, Nutiva Organic Coconut Oil
Some of the links above are affiliate links, which pays me a small commission for my referral at no extra cost to you! Thank you for supporting What Molly Made!