Paleo Pumpkin Chocolate Chunk Blondies are a healthier alternative to all your pumpkin desserts! These paleo blondies are thick and chewy and filled with pumpkin and extra large chocolate chunks.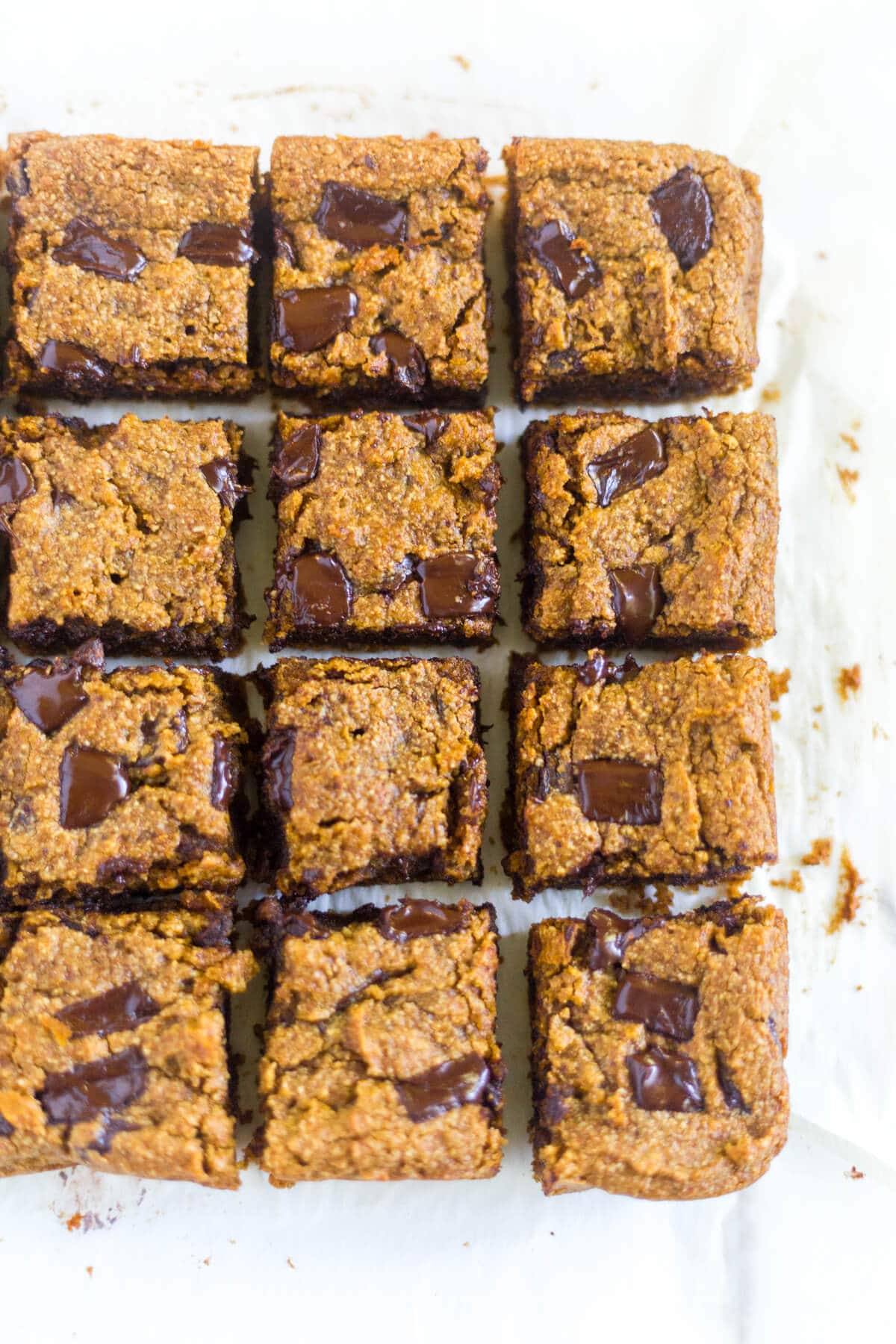 We're here in this beautiful season called fall and I am SO pumped to be sharing another pumpkin recipe with you. After Tuesday's gluten free pumpkin muffins I knew I had to follow it up with these paleo pumpkin chocolate chunk blondies.
I made these and the muffins to take with Zach (my fiance) and I on a roadtrip to North Carolina. We're rounding out the last day of a family vacation and let me tell you, it was exactly what I needed.
After a season of stress and craziness I needed one full week of relaxation and rest with my entire family. My two sisters, their sons and husbands and my parents all rented a big house right on the beach for the whole week. We've done nothing but eat snacks, watch movies, lay on the beach and eat yummy seafood.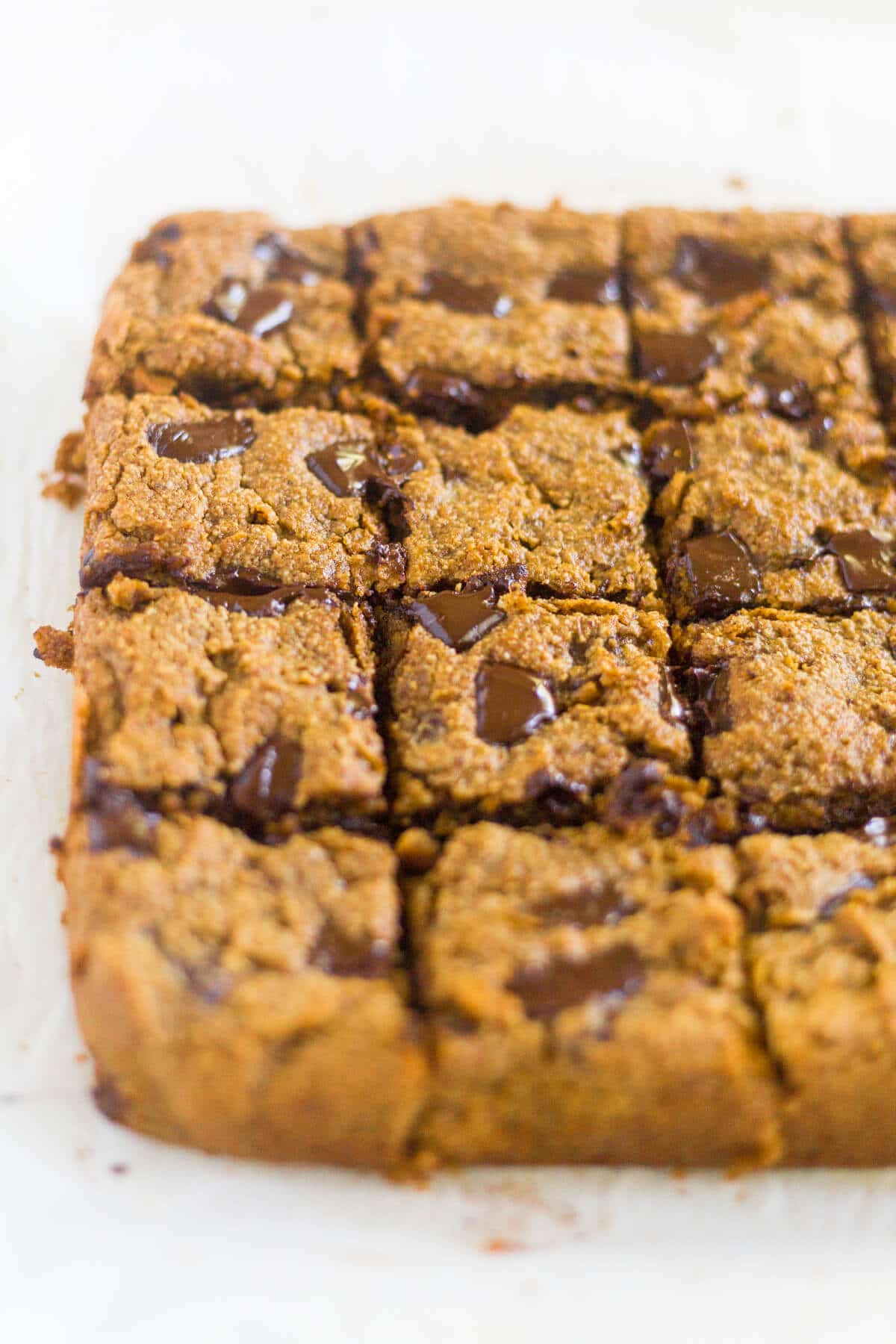 It was exactly what I needed to reset and get ready for the holidays. Tonight we're celebrating Zach's birthday which is coming up on Tuesday. We're buying him a DQ ice cream cake (who else LOVES DQ ice cream cakes?!) and we're having burgers and my family is giving him his bday presents.
Zach and I are going to celebrate with dinner when we get back on his actual birthday and I'm so excited to give him his gifts! I also know we will want to reset our diets when we get back from vaca so there's a reallyyyy good chance I'll be making these paleo pumpkin blondies to celebrate.
Considering he ate them all in the car before we even got here I have a feeling he'll be super happy with that decision.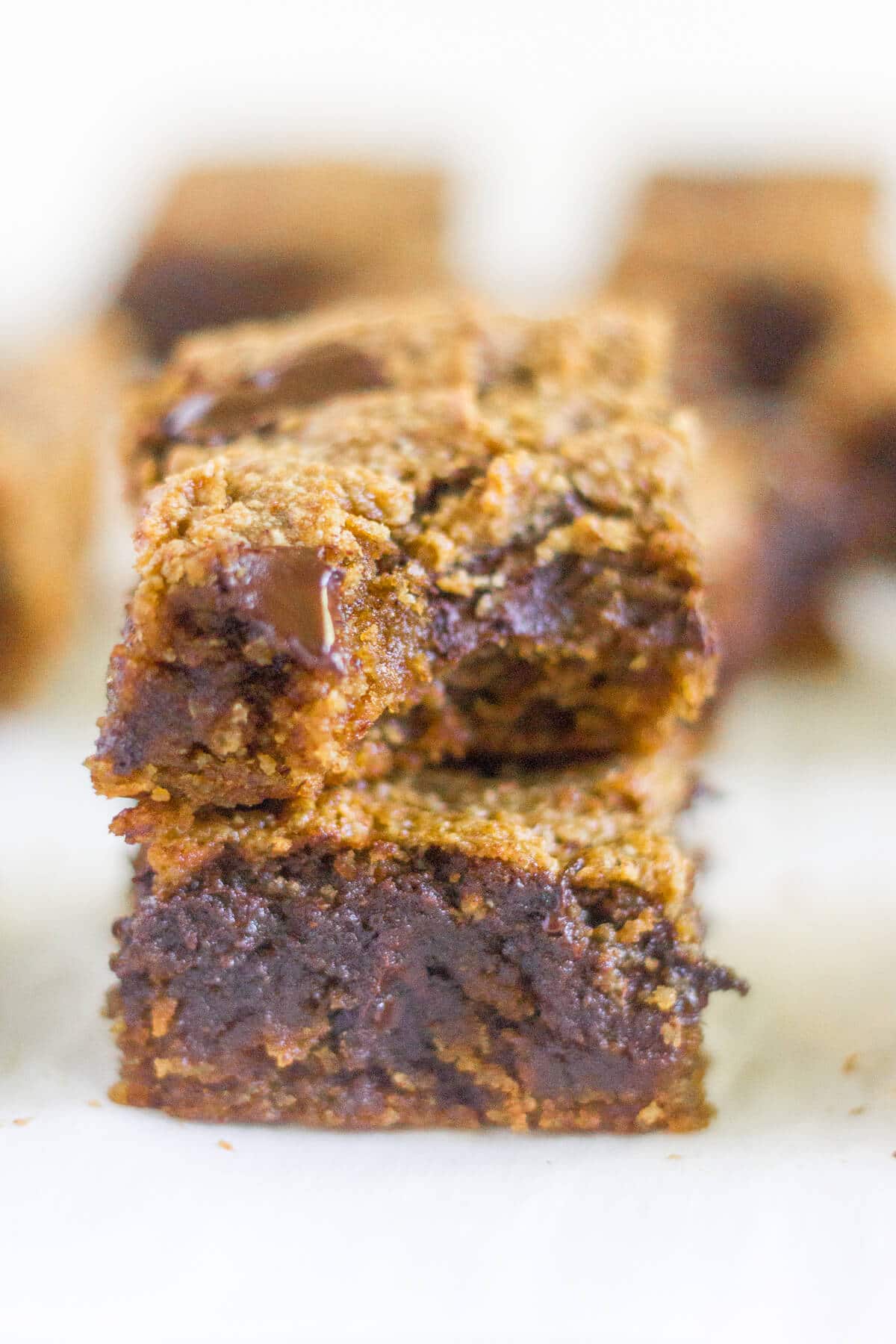 I also have a reallyyyyy good feeling all of you are going to love these paleo pumpkin chocolate chunk blondies too. To this day my paleo pumpkin bars are one of my most popular recipes here and easily the most popular recipe in the fall. It's been featured on Buzzfeed and Better Homes and Gardens because it's basically pumpkin pie in a bar form.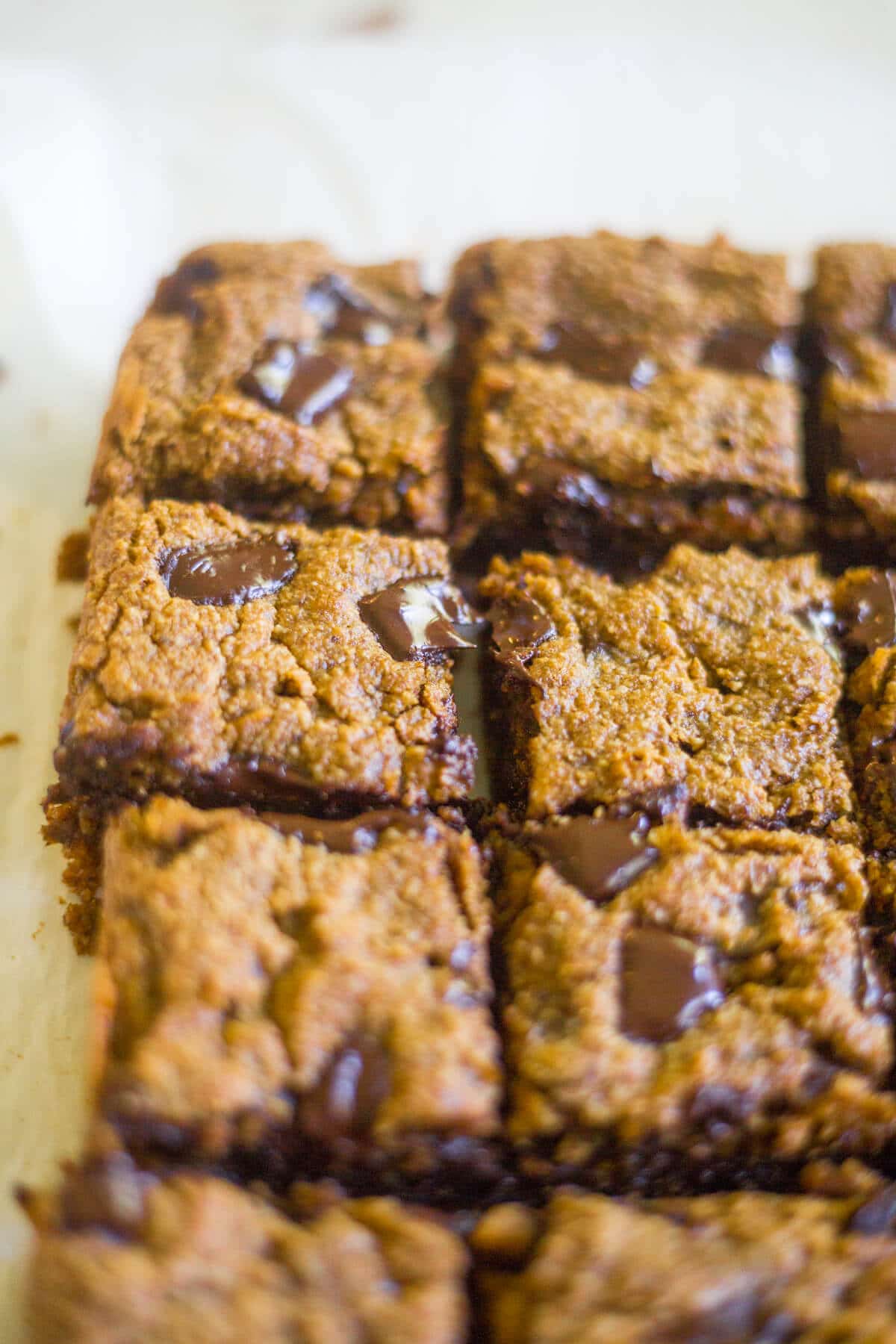 My paleo chocolate cookie bars are also a huge crowd pleaser. So for this recipe, I combined the two for you to make paleo pumpkin chocolate chunk blondies! Let's break this recipe down for you:
Paleo Pumpkin Chocolate Chunk Blondies
Appearance: I mean just look at those melty chocolate chunks! These squares of heaven look just as good as they taste.
Taste: The combination of pumpkin and chocolate chunks are a fall must. The pumpkin spice mix is the perfect addition to make these paleo blondies taste soo good.
Texture: These blondies are thick and chewy just like a traditional blondie. They're a couple inches thick and they have a delicious chew to them.
Ease: If you like recipes that only take one bowl then this recipe is for you! These are definitely an easy paleo recipe!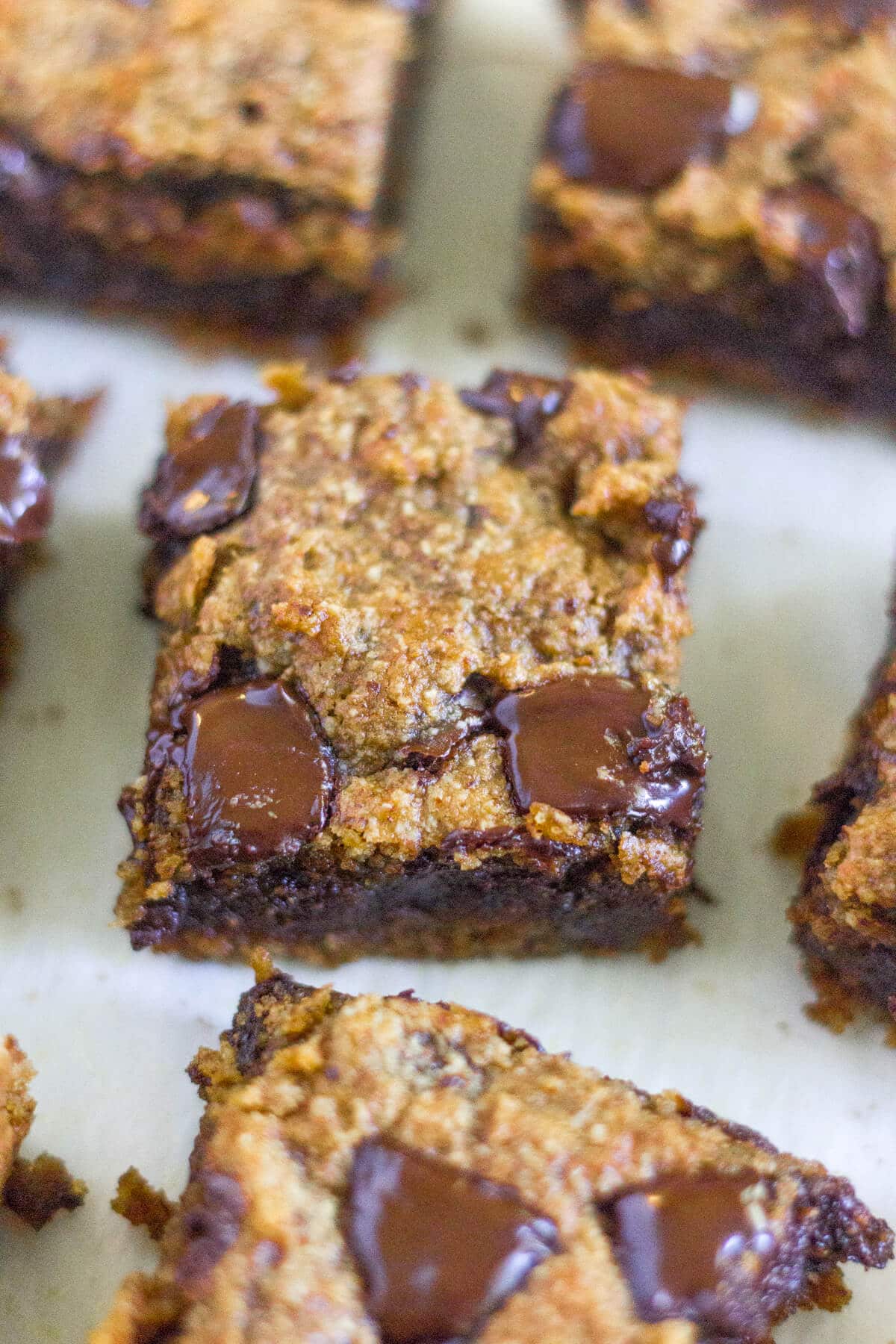 I will absolutely be making this recipe multiple times this fall. It's easy, delicious and healthier! When you can indulge with fall baking without all the guilt that's when you know you have a killer recipe.
I hope you guys love this recipe as Zach and I do! If make this recipe don't forget to leave a comment and let me know what you think! And don't forget to tag me on Instagram with #WhatMollyMade so I can see everything you make.
Happy fall ya'll! ??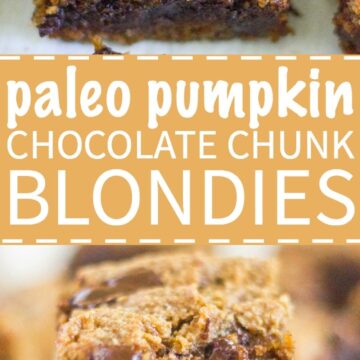 Ingredients
1

egg

1/4

cup

coconut oil

softened (not melted)

2/3

cup

creamy almond butter

2/3

cup

pure pumpkin

2/3

cup

coconut sugar

2

teaspoons

pure vanilla extract

1

cup

blanched almond flour

1/4

cup

coconut flour

3/4

teaspoon

baking soda

2

teaspoons

pumpkin pie spice

1/4

teaspoon

sea salt

1

cup

chopped dark chocolate or chocolate chunks
Instructions
Preheat oven to 350°F and line an 8x8" baking pan with parchment paper.
 Set aside.

In a large bowl using an electric hand mixer or stand mixer fitted with the paddle attachment, cream together the egg, coconut oil, almond butter, pumpkin, coconut sugar, and vanilla until well combined, about 2 minutes.

Add the almond flour, coconut flour, baking soda, pumpkin pie spice, and salt and beat on medium-low speed for another 1-2 minutes until combined.

Stir in the chopped chocolate/chocolate chunks, reserving a few for the top of the blondies. Spread evenly in the prepared baking pan and add a few extra chocolate chunks on top, pressing gently into the dough.

Bake 30-35 in the preheated oven until lightly browned and center sets and a toothpick inserted in the center comes out clean.. If tops and edges are getting to brown cover with foil to avoid over-browning.

Allow to cool completely in the pan before cutting. Store in an air tight container for up to 1 week or in the freezer for up to 3 months.
Here are a couple of items I used to make today's recipe:
Organic Pumpkin

, Enjoy Life Semi-Sweet Chocolate Mega Chunks

, Super-Fine Almond Flour

Some of the links above are affiliate links, which pays me a small commission for my referral at no extra cost to you! Thank you for supporting What Molly Made!