Paleo pumpkin bread is a healthy and delicious breakfast or snack recipe. Make this paleo pumpkin bread for a delicious refined sugar free, grain free and dairy free recipe.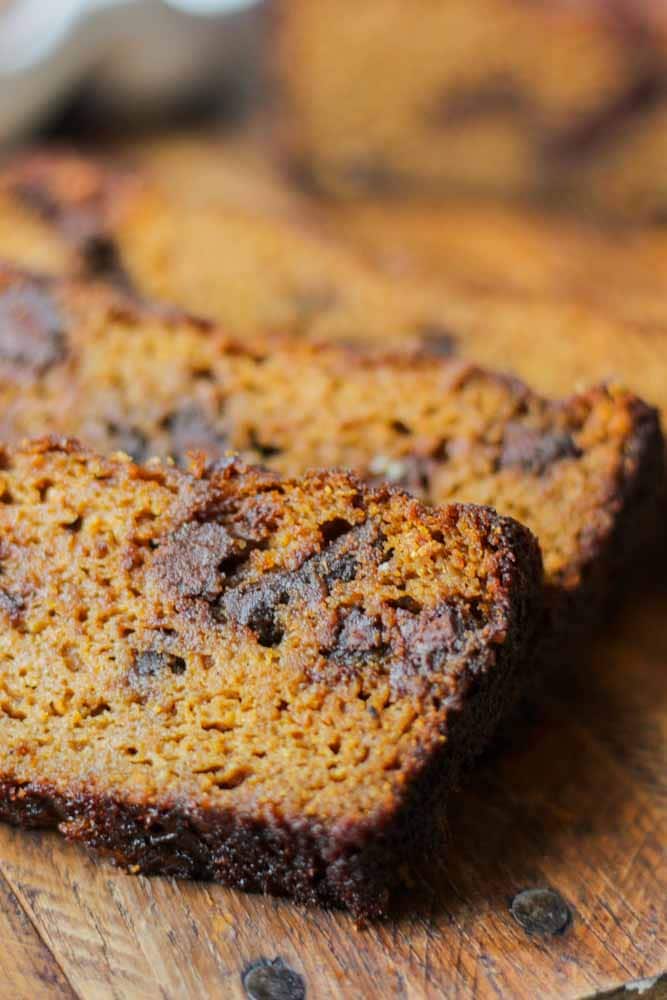 If you're new here, welcome! And thank you so much for navigating to my little corner of the internet:) If you can't tell, I'm pumpkin crazy right now! If you're not new here then you already know I'm pumpkin crazy. Or just crazy...?
For the last month or so I've been kicking up my workout plan and really focusing on my nutrition. So I've been experimenting with a lot of paleo recipes lately! Like my paleo pumpkin bars and paleo pumpkin chocolate chunk blondies. And I'm slowly finding that I actually enjoy healthy desserts just as much as the indulgent ones! Scouts honor!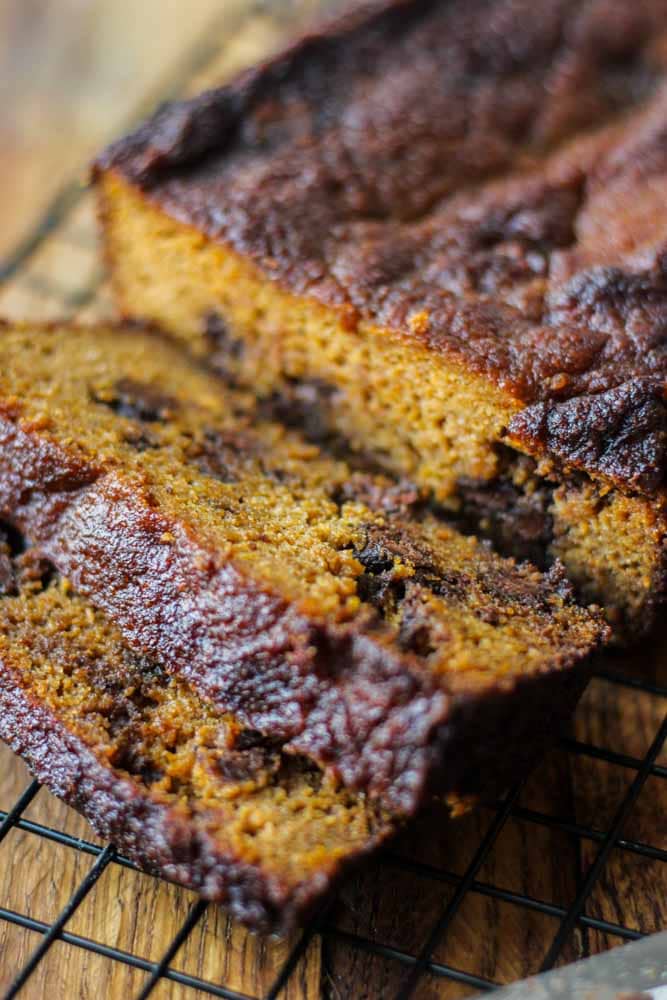 If you do it right, you can hardly tell the difference that there aren't any unhealthy ingredients in them. All I can say is, thank goodness cocoa powder/some chocolate chips are paleo. Can I get an amen? And thank goodness pumpkin is paleo too.
What's In Paleo Pumpkin Bread?
Lucky for us both of these ingredients are in this paleo pumpkin bread! The base of the bread is made with coconut flour and almond flour. And then there are paleo chocolate chips sprinkled throughout. When you get a soft and decadent bite of bread that's gooey with chocolate chips (aka every bite) it's just the best.
The reason there is both almond flour and coconut flour is because coconut flour absorbs a ton of moisture. By adding almond flour it helps minimize the moisture issue, so you don't have to use as many eggs in your baking. And the coconut flour is much more refined than almond flour, helping to reduce the more coarse texture of the almond flour.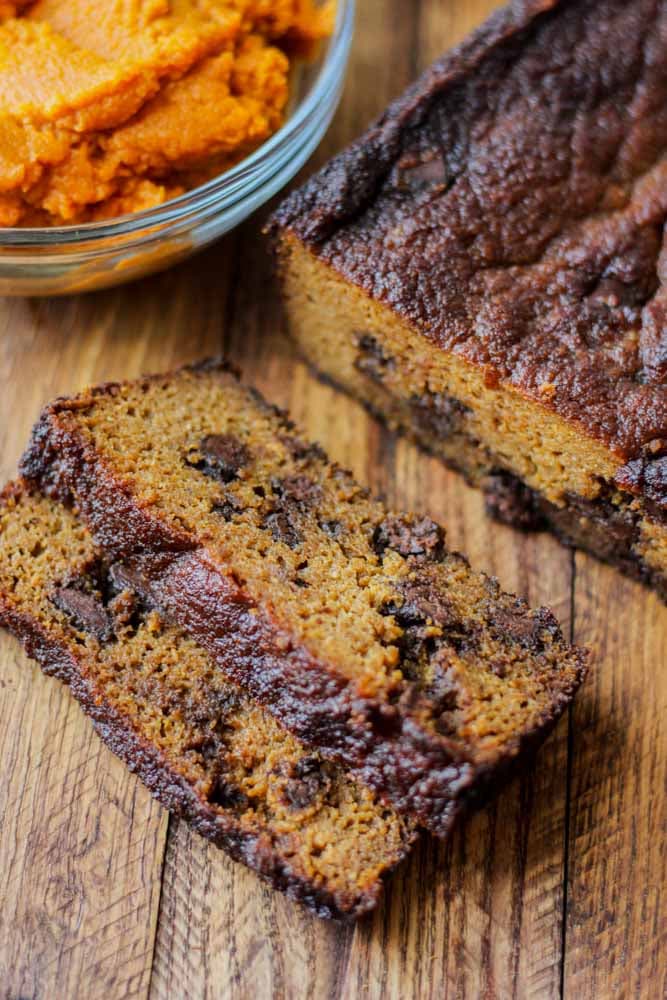 My first attempt at making this recipe I used only coconut flour. It absorbed so much moisture I definitely needed more flour to help with the structure. The second I took it out of the oven it sunk in the middle and was so moist I could barely cut it without it falling apart.
Round 2: I added almond flour to the mix and reduced some of the pumpkin (moisture) from the batter. Don't worry though, there's still plenty of pumpkin flavor left. I was keeping my fingers crossed the entire time it was baking and to my excitement, it was perfect! It kept its shape and cooked all the way through. I cut in to it and the chocolate chips melted and oozed with deliciousness.
I'm so excited about this recipe I can't wait for you to try it! If you love it as much as me let me know what you think☺️
How to Make Paleo Pumpkin Bread: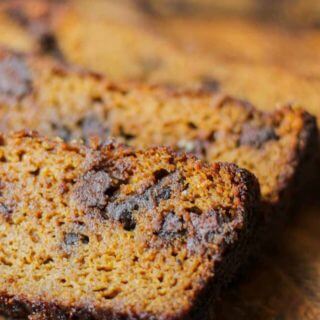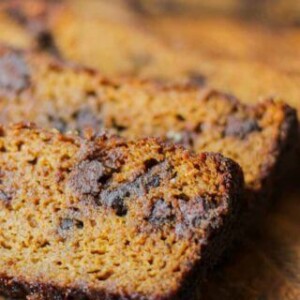 Ingredients
1 1/4

cup

canned pumpkin puree

4

large eggs

1

teaspoon

vanilla extract

1/3

cup

coconut oil

melted

3/4

coconut sugar

lightly packed

1/4

cup

pure maple syrup

1

teaspoon

baking soda

1

teaspoon

baking powder

1/4

teaspoon

salt

2

teaspoons

cinnamon

1

teaspoon

pumpkin pie spice

1

cup

almond flour

2

tablespoons

coconut flour

1

cup

paleo chocolate chips
Instructions
Preheat the oven to 350 degrees F. Grease a bread pan and set aside.

In a large bowl, whisk together the pumpkin puree, eggs, vanilla, coconut oil, coconut sugar and maple syrup until well combined.

In a medium bowl, whisk together the baking soda, baking powder, salt, cinnamon, pumpkin pie spice, almond flour and coconut flour.

Pour the dry ingredient into the we ingredients and stir together until just combined (over-mixing will yield a denser bread). Stir in the paleo chocolate chips if desired.

Pour the bread batter into the prepared bread pan and bake for 55-65 minutes or until a fork when inserted into the center comes out clean. If needed, tent the top with tin foil if the top of the bread is baking faster than the rest. Store in an air tight container in the fridge for 3 days or freeze for up to 2 months.