Old fashioned donuts are the best! They're cake like, filled with pumpkin spice and melt in your mouth. The sour cream and pumpkin puree make for a tasty breakfast recipe. Read more to learn how to make old fashioned pumpkin donuts!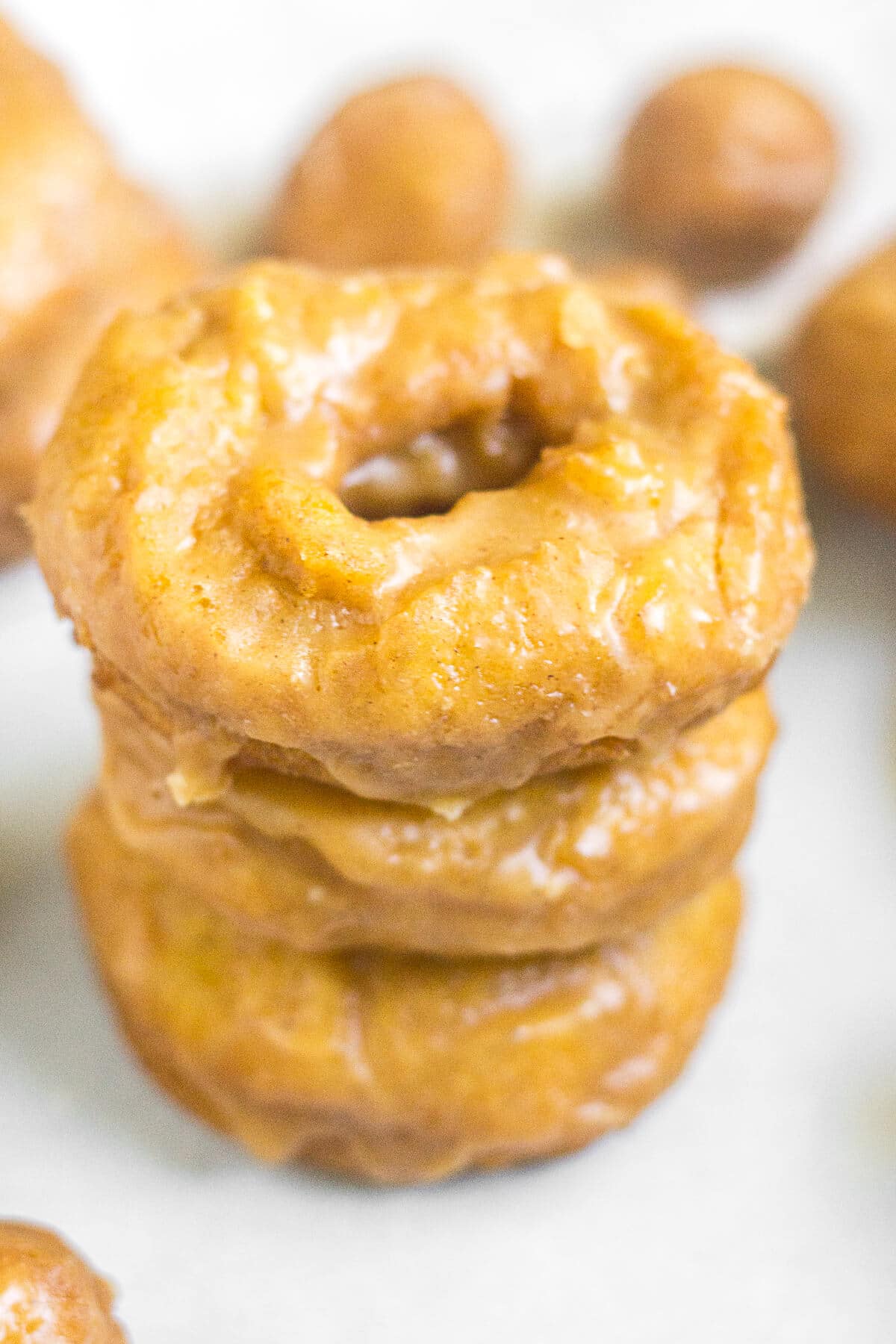 Hey hey ya'll! Let's pretend we're sitting in my living room, watching Gilmore Girls and drinking cold coffee (because somehow I can't seem to drink it while it's hot!). I would tell you all about my week and my plans for the weekend over some Old Fashioned Pumpkin Donuts.
Who am I kidding? I'm doing this right now by myself, but it would be SO much better if you were here.
So let's just pretend over the internet that you are. Please comment and share what your weekend plans are! I'm dying to hear.
My weekend plans involve a ??. Any guesses what that could be!?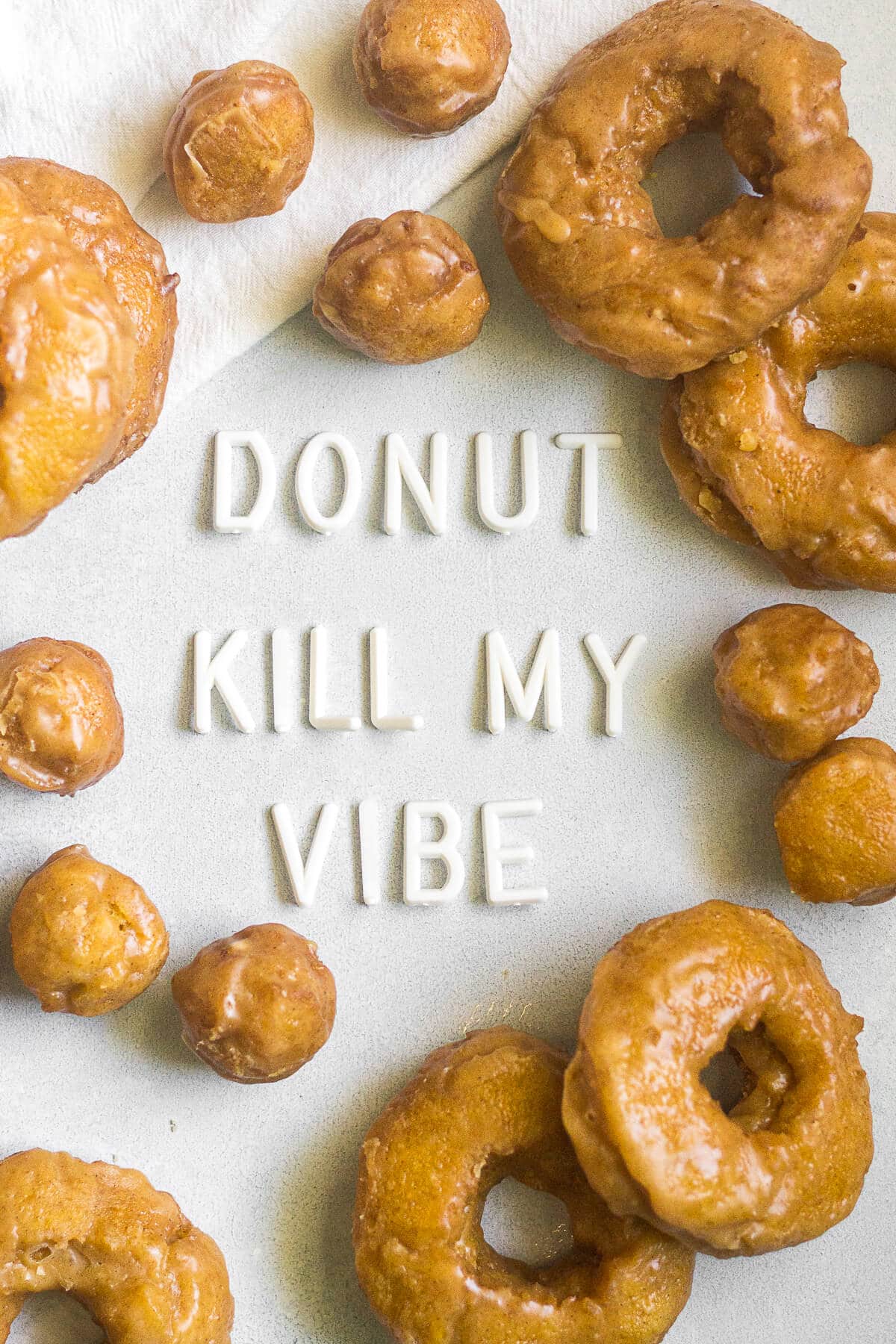 If you're literal like me then you guessed it right. Zach (my fiance) and I are staying in a TREE HOUSE tonight! We're heading an hour north to go hiking and maybe ziplining for the day and then we're staying in the cutest little red treehouse tonight.
There's no internet or cable so we will be off the grid for a solid 24 hours. It's gonna be magical. It has the cutest little sleeping loft and just warms my heart. We live for spontaneous weekends like this!
Some of my other favorite weekend activities include: going to church, taking my friends pictures, wedding planning (these days), working out, watching more Gilmore Girls and experimenting with donut recipes!
This weekend it's tree houses, last weekend it was old fashioned pumpkin donuts. I made brioche donuts a while ago and filled them with lots of cream. But I wanted to test an old fashioned donut because they are some of my favorites! Especially the pumpkin kind!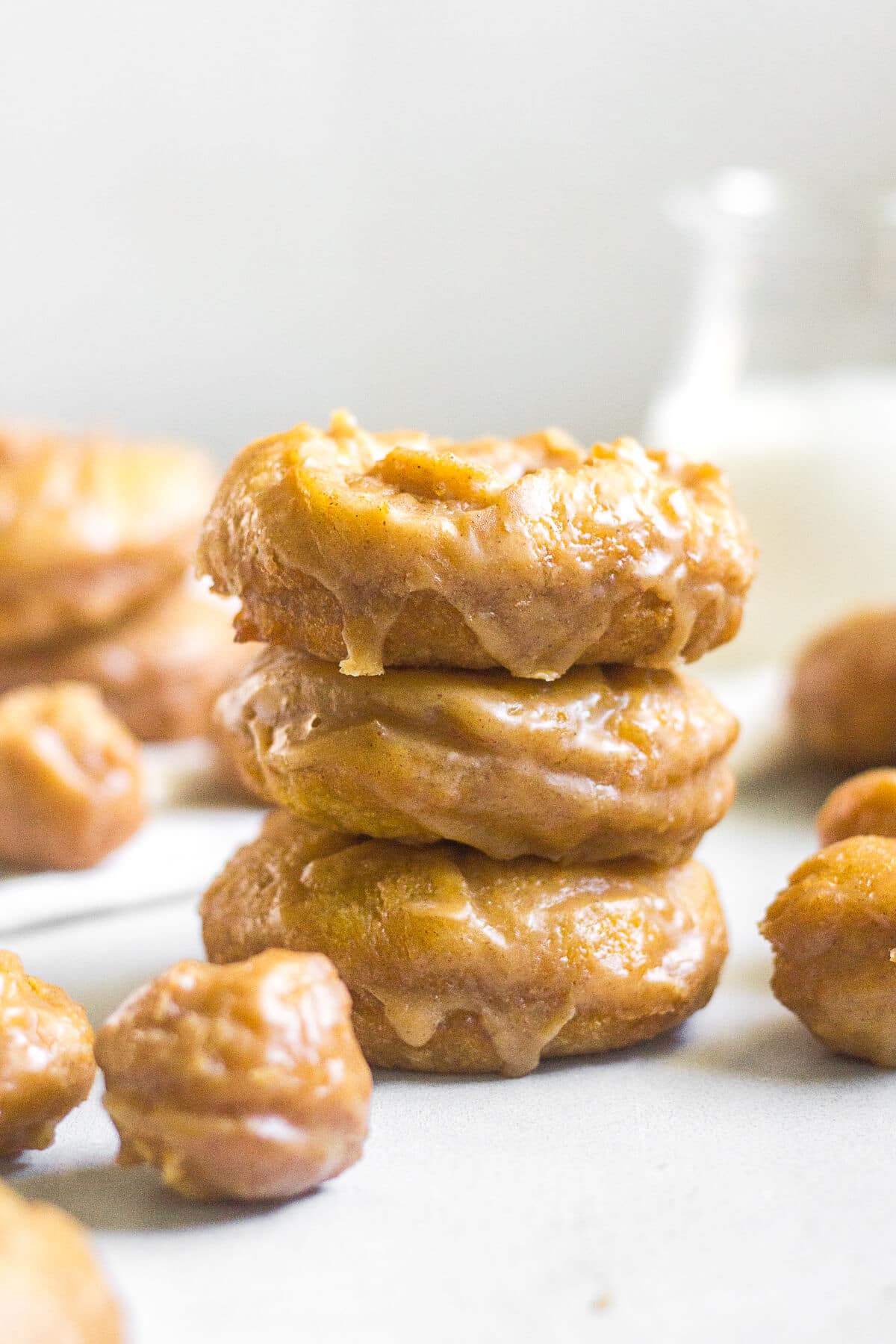 So what makes a donut old fashioned?
Old fashioned donuts aren't old fashioned because they can't get hip with the trends. Because TRUST ME, this recipe is about as hip and tasty as they come.
My best guess is because they were invented circa late 1800s. That's a LONG time ago. But not before the cake donut. Old Fashioned Donuts are a variation of the traditional cake donut.
Old fashioned donuts are traditionally made with sour cream or buttermilk, traditional leaveners (i.e. baking soda) and then fried at a lower temperature than traditional donuts which creates the famous crackly/rough edges.
The other best part about old fashioned donuts is the glaze. It's shiny and hardens around the donut to create almost a glaze-like crust. It's really magical. Scroll down for more on the glaze front. But first we must talk all things donut and how to make them.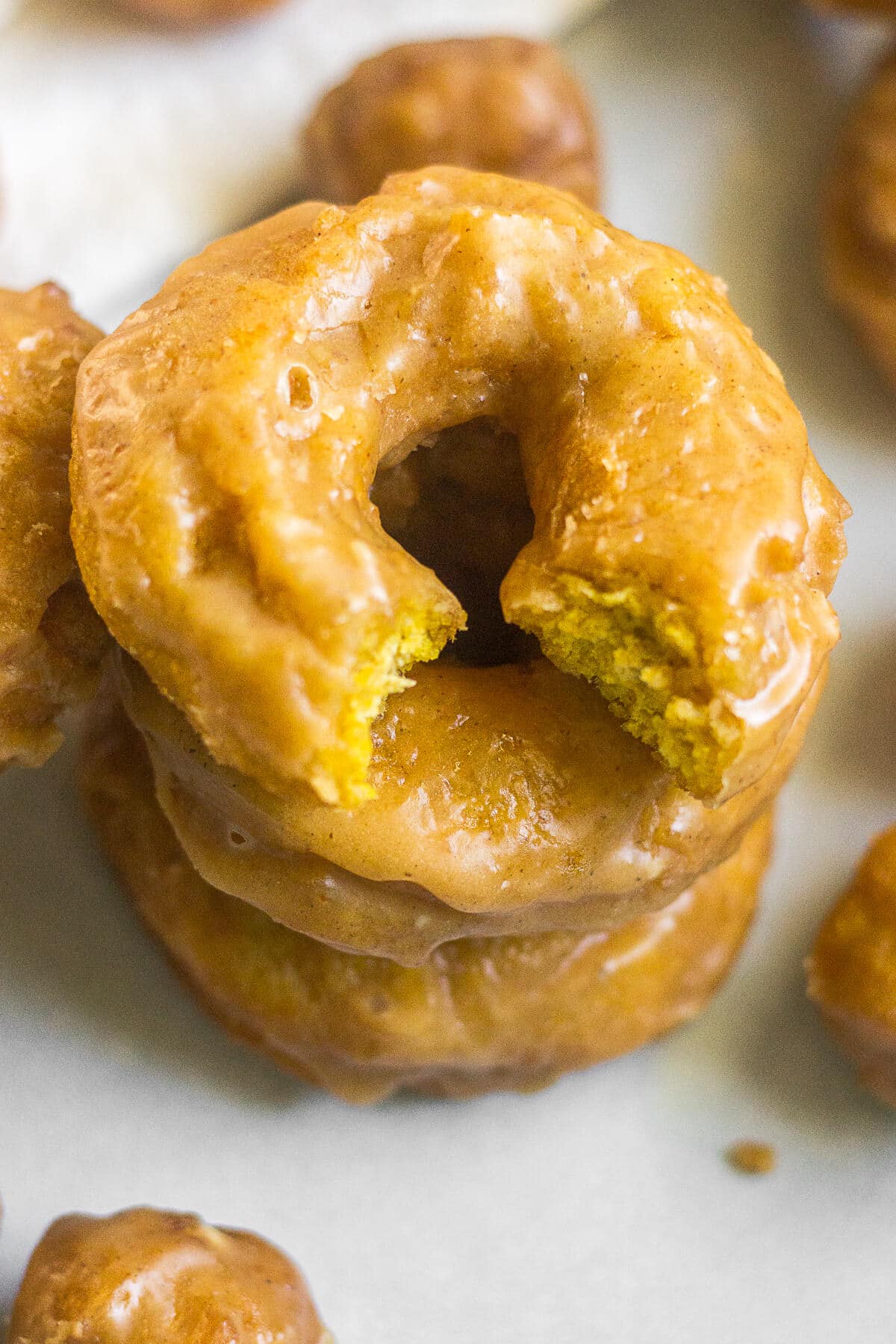 How Do You Make an Old Fashioned Donut?
The best part (in my opinion) about old fashioned donuts is that you don't need to worry about the whole yeast thing. I don't dislike yeast-based recipes, I mean some of the best doughnuts and cinnamon rolls come from it, but it does take patience.
Here are a few key ingredients to help make these old fashioned pumpkin donuts:
These pumpkin donuts are made with traditional leaveners. A traditional leavener is what you typically think of when you're making cookies and cakes. These donuts are made with baking soda and baking powder.
The key ingredient in these pumpkin donuts is the sour cream. The sour cream contains extra fat for flavor and richness. The acid in sour cream also helps tenderize the gluten in the flour and makes these donuts so soft and cake-like.
The other ingredient needed is cake flour. The cake flour isn't 100% mandatory for this recipe but it's definitely recommended! It's softer and results in a lighter consistency.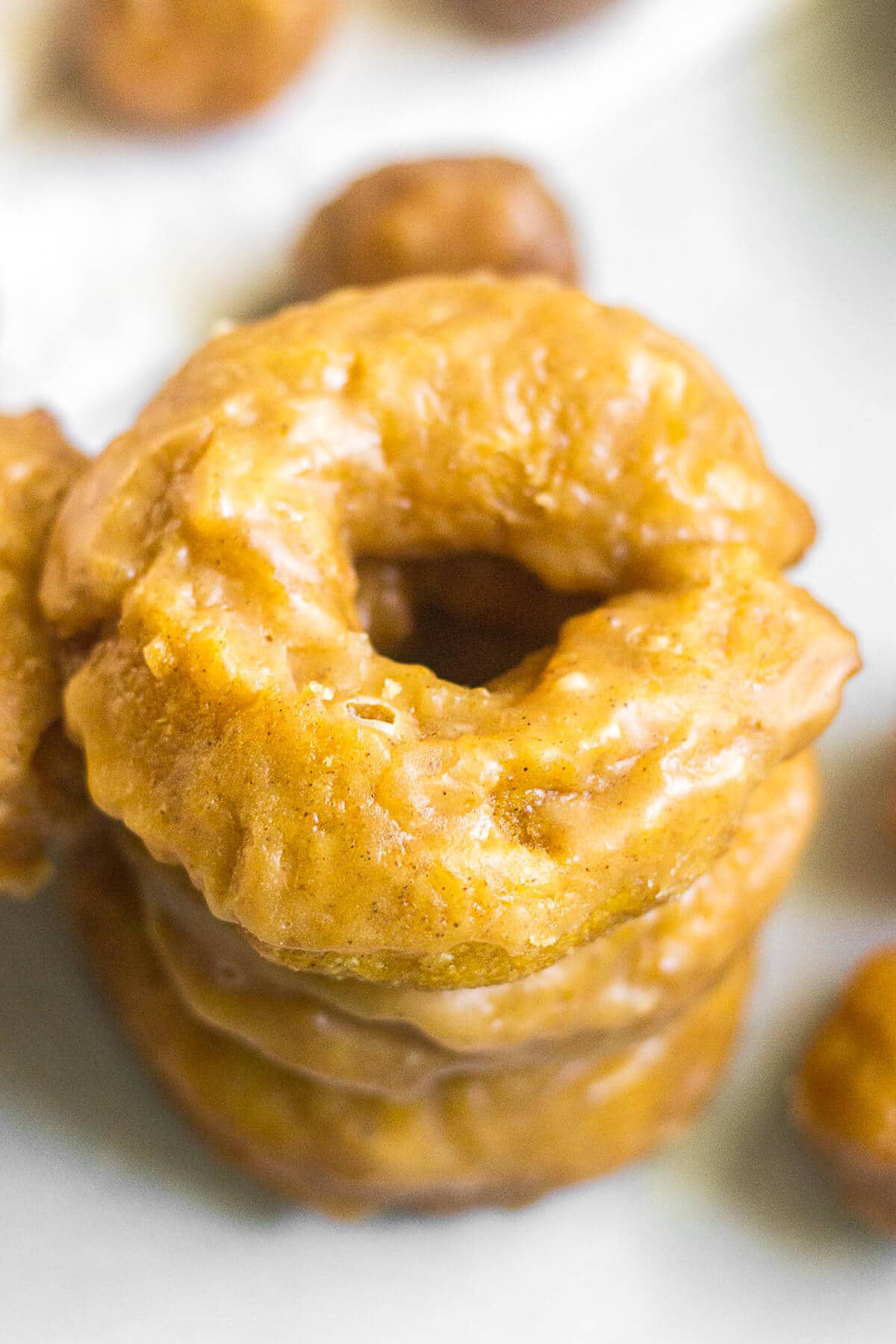 Here are a few key steps to make old fashioned donuts:
Once the dough is mixed up you're going to chill the dough for about 3 hours. This let's the dough firm up and settle. You can make the dough the night before and let it chill for up to 24 hours.
Roll the dough out to about ½ inch before cutting the donuts out. It may seem like it's too thin but it's going to puff up and rise when it's fried.
Fry the donuts at 325°F. The lower temperature creates those cracks that old fashioned donuts are famous for.
AND LAST BUT NOT LEAST, the key to making these pumpkin donuts a signature old fashioned donut. The glaze!
The key to the glaze is corn syrup. The corn syrup sets hard and shiny just like the donuts you see at the bakery. You can leave it out if you have to but I promise it won't be the same. Mix all the ingredients together and dip the donuts while they're still hot. Allow to cool for 5-10 minutes and the glaze will set up perfectly.
Here are a few of my favorite tools to make these old fashioned pumpkin donuts:
Donut Cutter makes the perfect shaped donuts and donut holes.
Deep Fry thermometers help you keep the oil the perfect temperature—so you fry those donuts golden brown every time.
Slotted spoons help get the donuts out of the oil without extra oil getting everywhere.
Donuts are more of a special occasion baking project because the dough rising and frying can be a little time consuming and messy, but it is so worth it! If you and your kiddos, friends or significant other want to make them together they're a fun bonding baking project too!
I made a bath while Zach watched and worked on his computer. That's about as close as we're gonna get to baking together and I'll take it any day.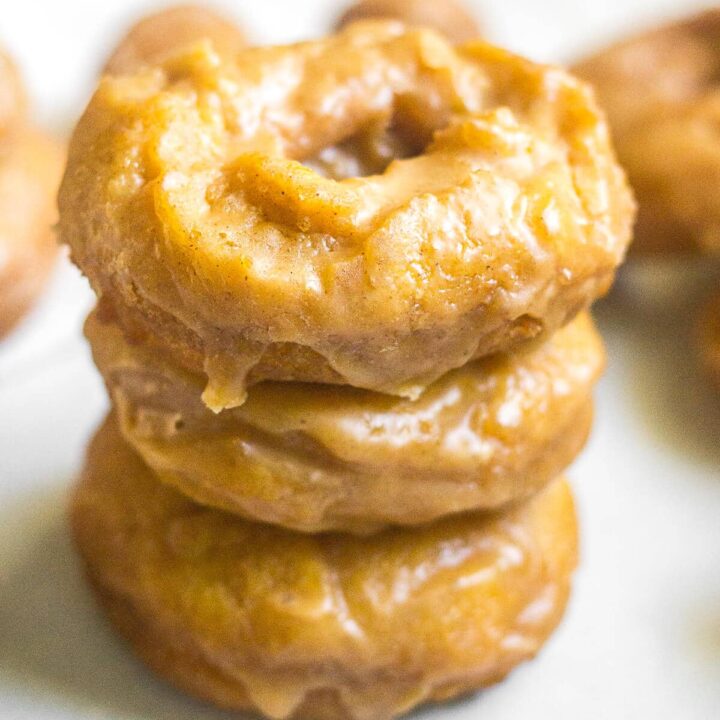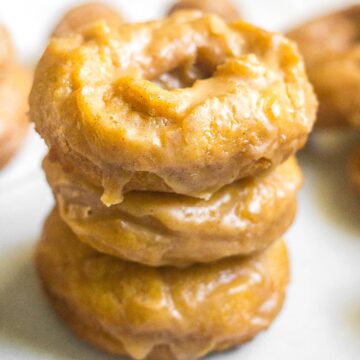 Ingredients
To make the donuts:

2

tablespoon

butter

softened to room temperature

½

cup

granulated sugar

2

teaspoons

baking powder

½

teaspoon

salt

¼

teaspoon

baking soda

1

teaspoon

pumpkin pie spice

½

cup

canned pumpkin

⅓

cup

full fat sour cream

1

egg

1

egg yolk

½

teaspoon

vanilla

2

cups

cake flour

vegetable oil for frying

For the glaze:

2

cups

powdered sugar

sifted

1

teaspoon

light corn syrup

⅛

teaspoon

fine salt

½

teaspoon

pumpkin pie spice

2

tablespoons

pumpkin puree

¼

teaspoon

vanilla

⅛

cup

hot water
Instructions
To make the donuts, in a large mixing bowl beat butter with a mixer on medium speed for 30 seconds. Add the sugar, baking powder, salt, baking soda and pumpkin pie spice. Beaut until combined, scraping down the the sides of the bowl as necessary. Beat in canned pumpkin, sour cream, egg, egg yolk and vanilla until combined. Stir in flour with rubber or wooden spatula until well combined. Cover with plastic wrap and chill for 3 hours.

Once chilled, on a well-floured surface, roll the dough to a ½ inch thickness. Cut with floured 2 ½ inch dough cutter, dipping the cutter into flour between cuts. Re-roll as necessary.

Once the dough is cut and ready, prepare the glaze. In a large bowl using an electric mixer, beat the powdered sugar, corn syrup, salt, pumpkin pie spice, pumpkin puree and vanilla on medium speed until combined. Gradually add the hot water, scraping down the sides as necessary. Set aside.

Heat 2 inches of the oil to 325°F in a large and deep pot/pan. Place 2 or 3 donuts in the oil and allow to float to the top. Let cook for 20-30 seconds, then using the slotted spoon, flip over and allow to cook on the other side for another minute. Remove from oil and place on paper towel lined cooling rack to drain.

While the donuts are still hot, give the glaze a whisk and dip the cracked side of the donuts into the glaze. Let dry on cooking racks until set, about 10-15 minutes. Serve slightly warm. Donuts should be served the same day.