Light and fluffy and crispy and golden brown. Adjectives that all perfectly describe these homemade Brioche Doughnuts with Vanilla Pastry Cream.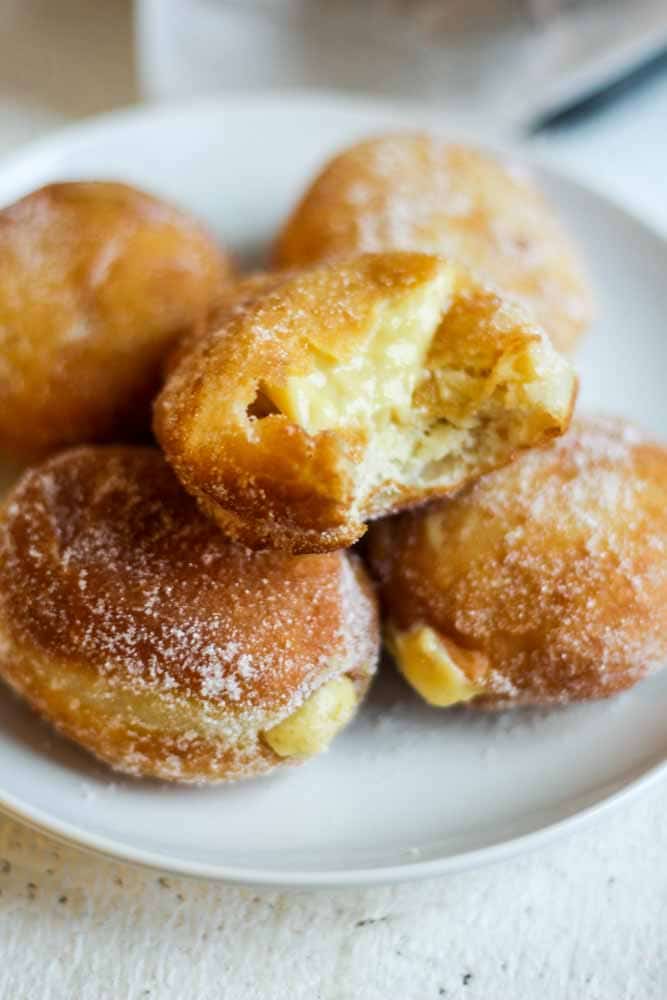 But seriously, is it doughnuts or donuts? I don't know and I feel like I'm not fancy enough to call this recipe doughnuts. But they're homemade and perfect so I'm doing it. But I still love donuts.
I've been so excited to experiment with a doughnut recipe for months now and a couple of weeks ago I had the whole day to myself to focus on them and find the best recipe to share with all of you. Those are the days that made me fall in love with baking in the first place. It's time to myself to physically make something with my hands that results in the sweetest doughnut that I get to share with loved ones.
Just me, my mixer, lots of flour and a creative way to express myself and love for the ones around me. Why do you bake?! Any favorite part of the baking process you enjoy most?
I'd say mine is putting the final touches on the recipe! Such a great feeling of accomplishment and excitement to share what I've made with everyone. I get so excited about physically sharing these recipes, but I also get so excited to share the recipe with you to spread the baking love. I really hope you love this one! It was so much fun.

So, how do you make brioche doughnuts?
The dough is not overly complicated at all. In fact, there are only a few ingredients included and you likely have all of them in your pantry right now. Milk, sugar, butter, flour, eggs, salt and yeast. Active dry yeast may not be in your pantry but its so cheap and you can always find it in the baking section.
One thing I highly recommend you have on hand before beginning this recipe: plastic wrap. It's important for rising the dough (which only needs to sit for at least 15 mins) and then covering the brioche doughnuts before frying.
Another great tool to keep on hand? A frying thermometer. It hooks right on to the side of your frying pan and gives you a constant read of the temperature of your oil. You want to fry these doughnuts at 350°F to cook evenly without burning. This does the trick!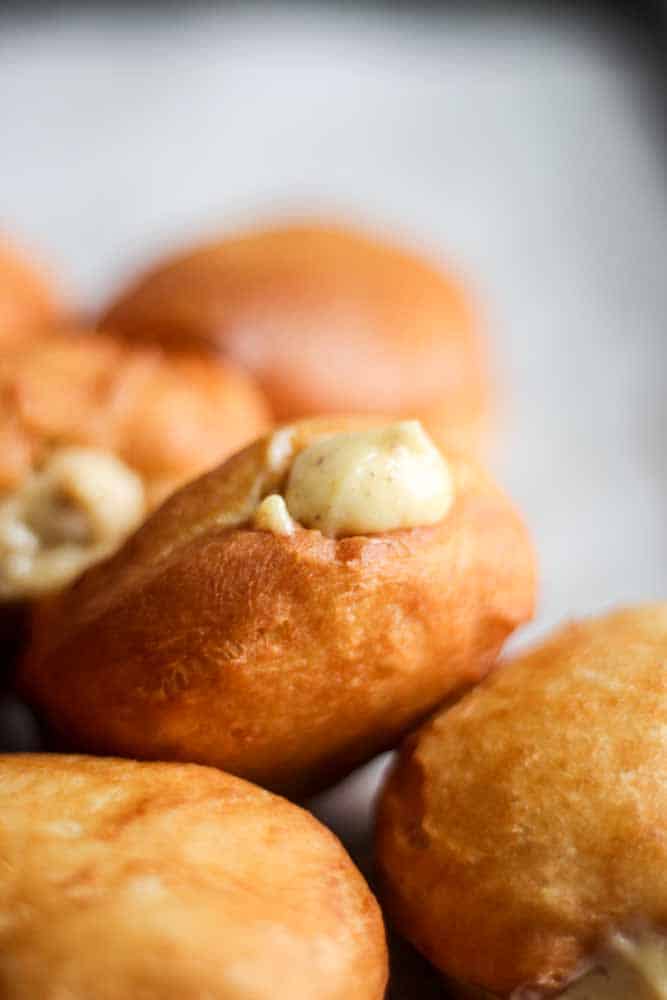 Now let's chat about this pastry cream. Thick, rich and creamy and it bursts the perfectly fried dough when you take a bite. The more cream oozing (is that a gross word?) the better. I fill my doughnuts to the max and I love every bite. Is that just me?
I have a strong feeling these doughnuts are going to be happening on Christmas morning in my household. Brioche doughnuts and a mimosa are in my very near future.
Oh how I love being a grown up on Christmas. Probably the only day of the year I can honestly say that. #Adulting.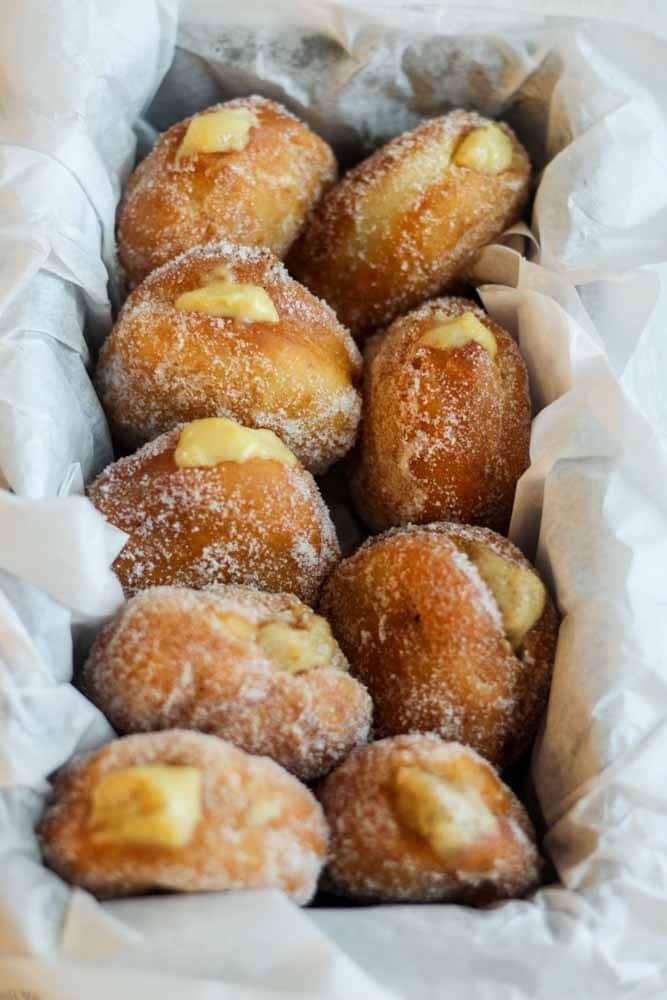 Speaking of Christmas...who's ready?!?? I have a few last minutes things to do this week but the majority of my shopping and wrapping are complete.
And obviously making these doughnuts are on that list too. The buttery brioche happening here brings joy that demonstrates what Christmas is all about. Brioche Doughnuts = Christmas cheer. And cheer all year long.
Wishing you all the merriest Christmas! Enjoy time with your families and know that I am so grateful for each one of you?❤️.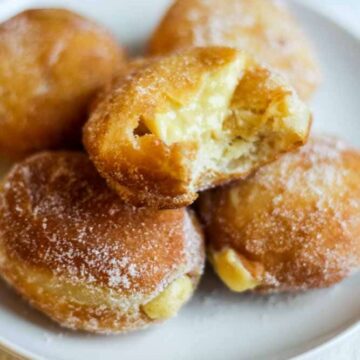 Ingredients
Brioche Doughnuts:

1 1/4

cups

warm whole milk

108-110°F

2

tablespoons

active dry yeast

about 2 1/2 packets

1

tablespoon

granulated sugar

6

tablespoons

butter

lightly melted

1

egg

room temperature

3 1/2

cups

all purpose flour

1

teaspoon

salt

Vanilla Pastry Cream:

1 1/2

cups

whole milk

1/2

cup

sugar

1/4

cup

flour

1/4

teaspoon

salt

4

large egg yolks

1

teaspoon

vanilla extract
Instructions
Brioche Doughnuts:

In a large mixing bowl or with your stand mixer using the paddle attachment, combine the warm milk (I took mine out of the fridge and warmed in the microwave for about 1 minute and 20 seconds to reach the desired temperature) with the active dry yeast and sugar. Allow the mixture to sit without mixing for 5-10 minutes or until the mix is foamy and starts to smell like bread.

Once foamy, add the butter and egg and mix quickly to combine all ingredients, about 30 seconds.

Add 3 cups of flour and the salt and knead using the dough hook or your hands until the dough comes together. If you're using a hand mixer this will take about 3 minutes. If you're using your hands it will take longer, 5-10 minutes. Add the remaining 1/2 cup flour in increments until the dough is no longer too sticky. It should be slightly sticky to touch.

Once complete, grease a large bowl and place the dough inside and cover tightly with plastic wrap. Let rise in a warm place while making the pastry cream (directions below), or at least 15 minutes.

To fry the brioche doughnuts, line two large baking sheets with parchment paper and set aside. Moderately flour a clear work surface and roll the dough out to 1/2 - 3/4 inch thickness. Using a doughnut or circular cookie cutter, cut out 3-inch diameter rounds and arrange on the prepared baking sheet. Fill the sheet and cover with plastic wrap while finishing the rest of the dough. Repeat the process until the dough is cut out and all of the doughnuts are covered in plastic wrap.

In a heavy-bottomed large pot or deep fryer, heat a minimum of 2 inches of oil until a frying thermometer reaches 350°F, being careful not to allow it to get too hot. Working in batches of 3 or 4, use a slotted spoon to carefully place the doughnuts in the hot oil. Fry until golden brown, between 1 and 2 minutes per side, flipping only once. Transfer hot doughnuts to a wire rack to cool then make sure the oil returns to 350°F before frying the next batch. Let the doughnuts cool completely before filling with cream.

To fill the doughnuts, place the pastry cream in a pastry bag or plastic bag with the tip cut off. Insert a knife into the middle of the doughnut from the long end to create a hole. Place the tip of the pastry bag inside and fill the doughnut with cream until full.

To make the pastry cream:

In a medium bowl, whisk together the sugar, flour and salt. Add the egg yolks and whisk until thoroughly combined to create a thick paste and set aside.

Warm the milk in a saucepan over medium high heat until you start to see wisps of steam coming off the milk, just before it starts to boil. Pour a small amount of the hot milk into the eggs and whisk to combine to bring the temperature of the eggs up without them scrambling. Continue to pour the milk in slowly, whisking continually, until completely incorporated. Once mixed, pour the entire mixture back into the saucepan over medium heat. Whisk vigorously and constantly until the cream thickens. At first it will be very thin and frothy but will begin to thicken and turn to a pudding-like consistency after a few minutes. Pause periodically to see if the cream comes to a light boil. If you see bubbles it's done. Whisk a few more seconds and remove from the heat.

Using a strainer, pass the cream through to ensure any cooked eggs are removed. Cover the cream directly on the surface with plastic wrap and place in the refrigerator to cool completely while you fry the doughnuts.
DID YOU MAKE THIS RECIPE!? SNAP A PIC AND TAG @WHAT_MOLLYMADE AND USE #WHATMOLLYMADE!
SHOP THE RECIPE
Here are a couple of items I used to make today's recipe:
Strainer with Double Fine Mesh
Thermometer
Glass Bowl Set
, Silicone Spatula Set
, Baking Sheets
, Parchment Paper
, OXO Good Grips Non-Stick Rolling Pin
Some of the links above are affiliate links, which pays me a small commission for my referral at no extra cost to you! Thank you for supporting What Molly Made!