Smooth and creamy, these turtle vegan cheesecake bars are an easy and no bake healthy dessert. The crust is made with pecans and dates and the silky vegan cheesecake is topped with paleo caramel and pecans. You won't believe how yummy an easy it is to make!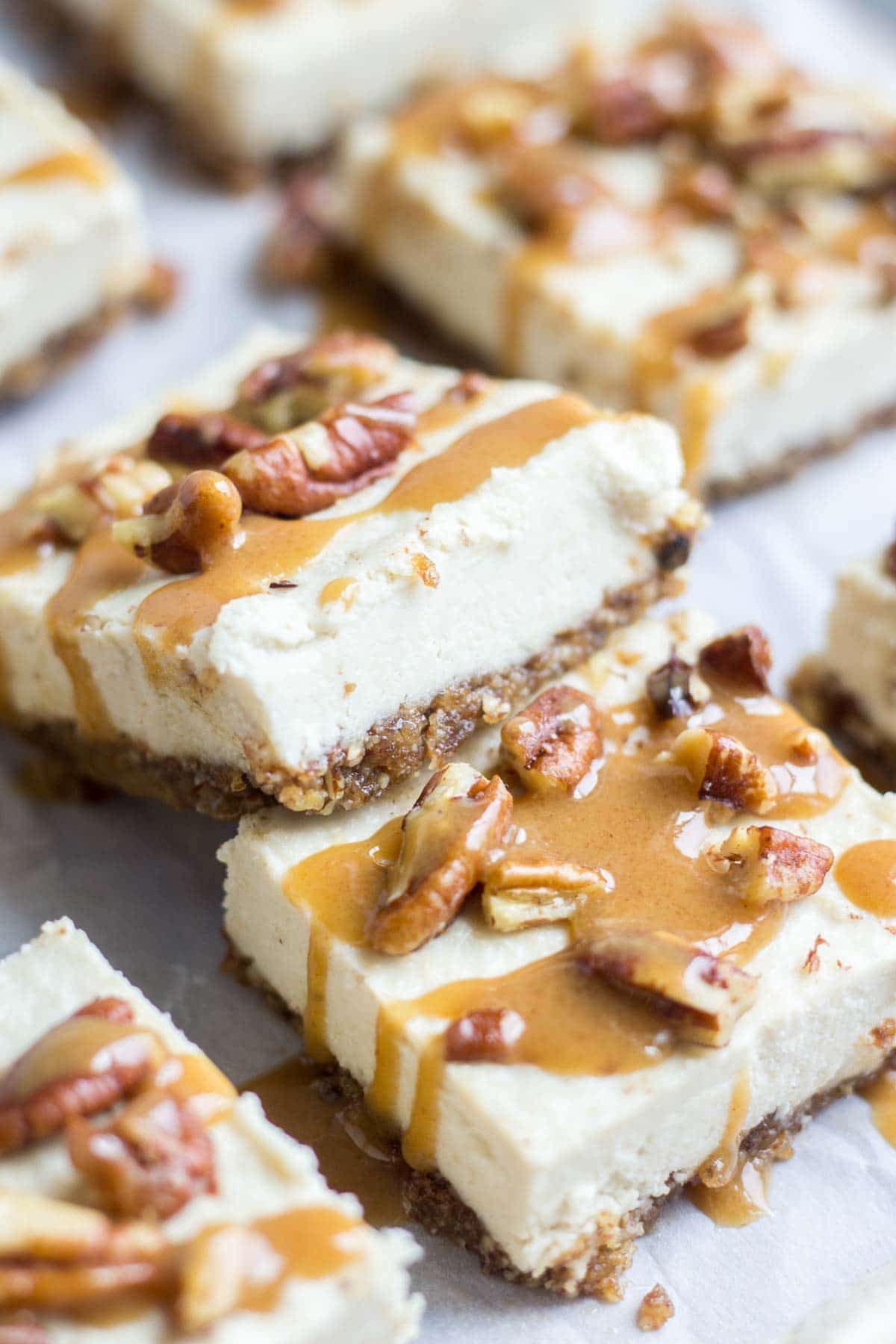 Happy Tuesday! And happy day after the first day of spring! I totally missed the boat on that one TBH. I'm usually the person counting down the days until we can actually say it's officially springtime (even though the weather doesn't seem to think so). But somehow in the craze of all my deep thinking it crept up on me out of nowhere.
Though I can't say I'm mad about it because there are tons of things I'm looking forward to this spring, in the month of May in particular....
May 5-7: I've got the Everything Food Conference in SLT where I'm speaking about social media. Eeek!
May 12: I'm headed to St. Louis with my fiance to watch the Cardinals and Cubs play
May 21: My big sister's baby shower! I'm helping plan all of the desserts, it's going to be an "around the world" theme. I'm so excited!
May 22: IRELAND! I'm headed to the beautiful country with another couple where we'll be site seeing and eating lots of amazing food for 10 whole days.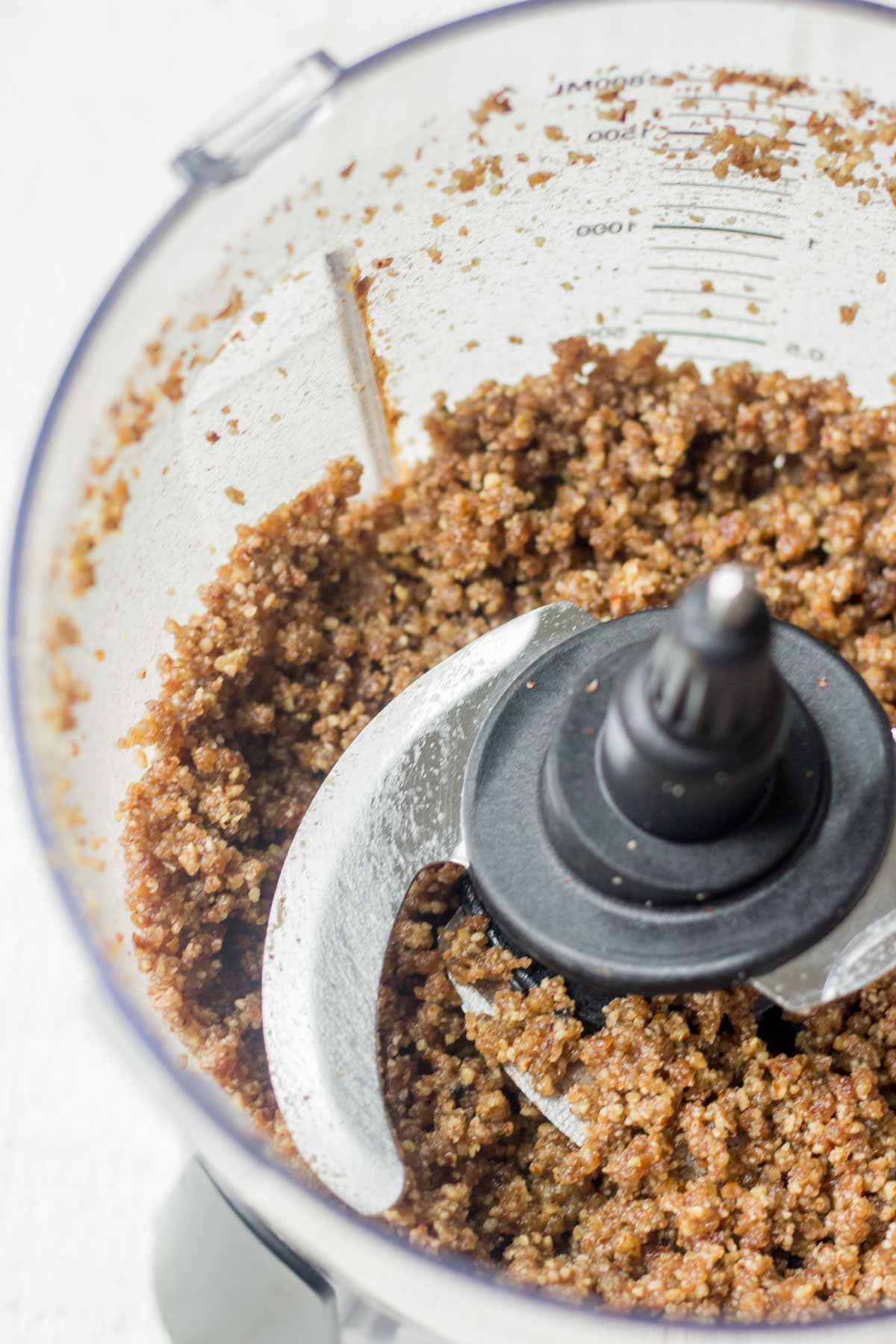 Am I crazy to fit all of that in one month? It's very possible. But I am so very excited! And even though I'm excited I'm doing everything in my power to appreciate the moments that are happening now. Because these precious moments don't come again.
Anyone else struggle with staying in the present? Whether it's worrying about a job project, wondering what's going to happen with specific relationships or finances, or wishing time away so that something fun (aka Ireland) will come sooner, I find myself worrying about future things, instead of truly experiencing what's happening at this moment.
I do this with the past too. Wishing I would have said something differently or made a different choice. Or over analyzing a situation that can't be changed anymore, instead of actually making the best decisions I can in this moment. It's a struggle. On the daily.
But there is silver lining! Because I know it's something I struggle with and I'm taking it day by day to make sure I appreciate the present. I started a grateful journal a couple of weeks ago and every night I write down a list of what I'm grateful for and then do a short journal entry about one specific thing I was really grateful for that day. It's making a huge difference!
I also am going to read the book Present over Perfect. Anyone read this yet?! My fiance ordered it and he's going to read it first so I can't wait to dive in. I'll keep you posted on the details!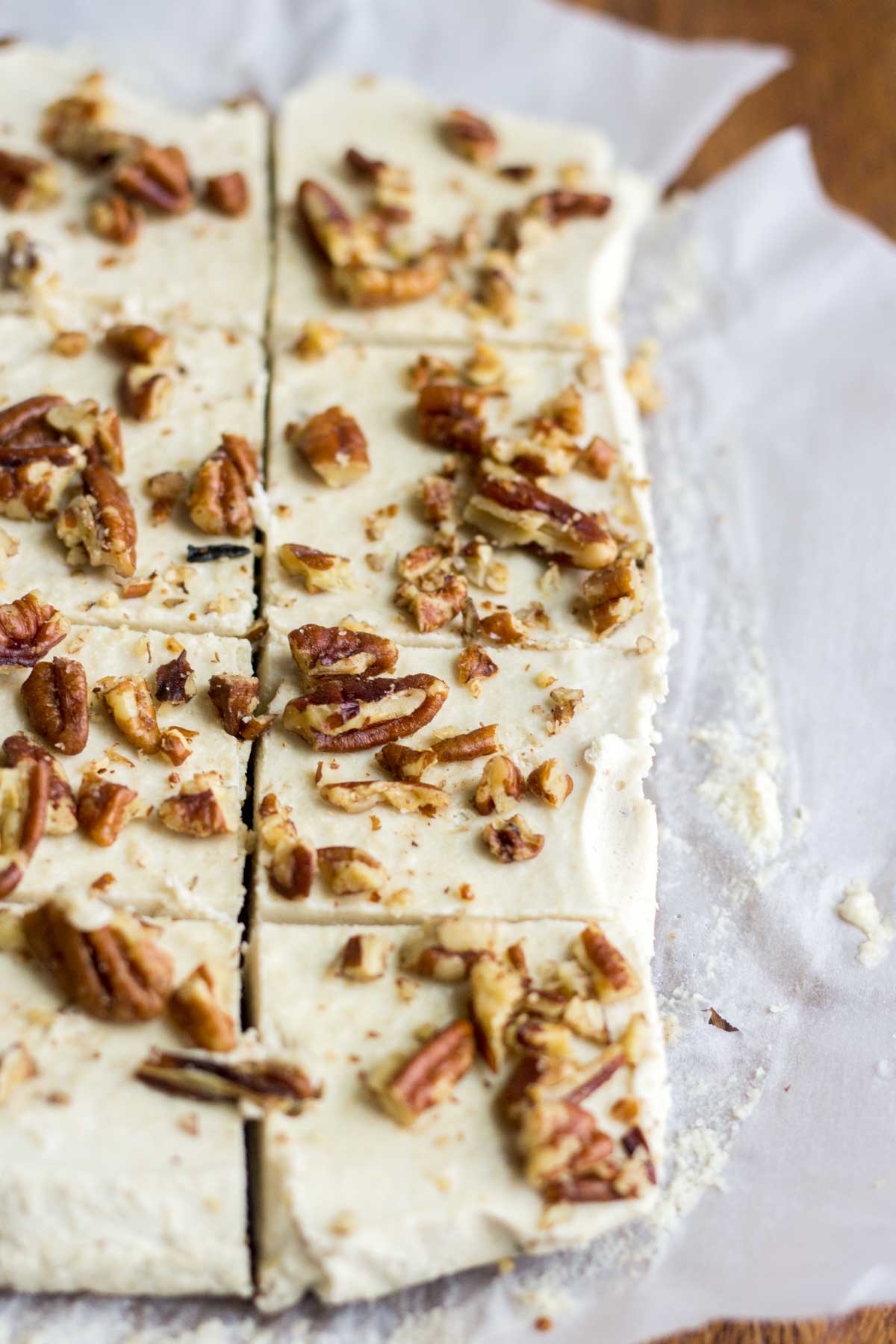 Speaking of the present, I'm physically in this moment (probably not when you're reaing this) writing this post about some life changing and delicious Vegan Turtle Cheesecake. I know you may be wondering how in the world you even make vegan turtle cheesecake.
And that's a great question, considering "cheesecake" literally has cheese in the name. Kind of an oxymoron if you ask me. But really, this vegan turtle cheesecake tastes like the real deal. You wont' even miss the traditional recipe.
I did a deep dive into how to make vegan cheesecake a couple of weeks ago that takes you through all the basics of vegan cheesecake, from the ingredients needed and the simple steps to make it perfect every time. That post focuses on a traditional vegan cheesecake so I wanted to create a twist on that. And so we have vegan turtle cheesecake.
Who doesn't love caramel and nuts on top of cheesecake? You could even get crazy and drizzle some dark chocolate on top.
Aside from all of the flavors happening in this vegan turtle cheesecake, there are a lot of awesome healthy attributes that make it that much better. So you're eating dessert but you don't even have to feel guilty.
Why this turtle vegan cheesecake is so healthy:
Paleo! This vegan turtle cheesecake also doesn't include any grains, processed foods, dairy etc. It's truly filled with the good stuff. For dessert! Is this real life?
Vegan! This is kind of a given considering the name of the recipe. But still worth noting again. No dairy happening here friends. Just pure non-dairy dessert heaven.
Gluten-Free! This is also a given considering it's paleo too, but still worth highlighting. The crust is made of cashews and dates, so no grains or inflammatory gluten-filled ingredients up in here.
Natural and Raw! All natural whole ingredients are what make this vegan turtle cheesecake so perfect. Natural God-grown ingredients for the crust and the bulk of the "cheesecake" is made with soaked cashews. All things you can find in nature.
Refined Sugar-Free! There isn't an ounce of refined sugar in this recipe. It's sweetened with natural ingredients like dates and a hint of maple syrup.
Also, it's no bake. No ovens require for this recipe to happen. Not really a healthy benefit, but a huge benefit nonetheless.
I know what you're thinking. With all of these health benefits, is this vegan turtle cheesecake actually any good? I'm not gonna lie, I've tried a lot of healthy desserts that just turn out gross. I mean I eat it because it's kinda like dessert and it fills my cravings when I'm trying to keep my will power strong, but they're kinda off sometimes. Ya feel me?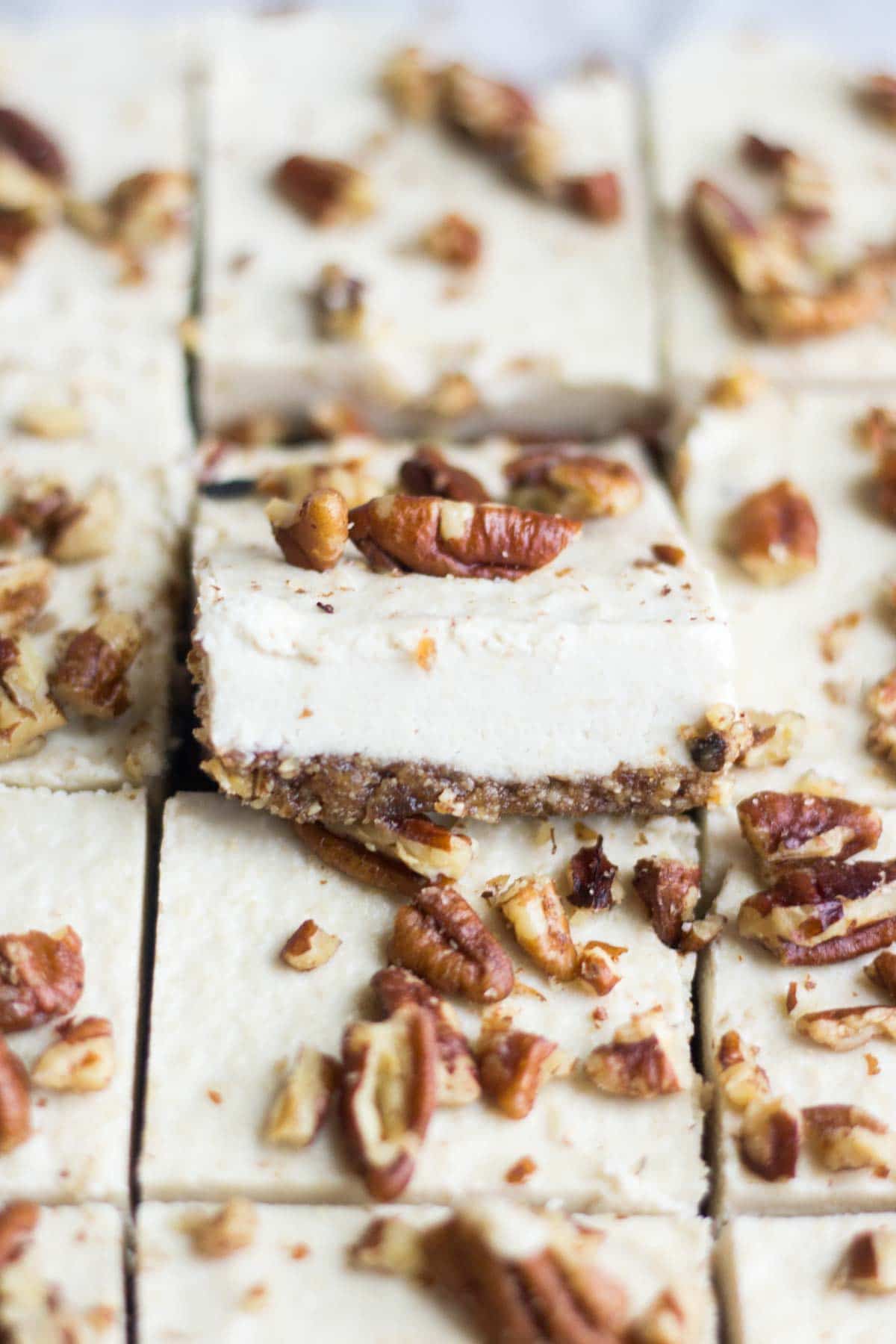 But THIS. This recipe will change your mind of healthy desserts if you aren't a believer and it will most definitely change your mind about vegan cheesecake.
The smooth and creamy texture and sweet and nutty crust (with a pinch of salt) make for an irresistible dessert and you'll actually have no idea it's healthy. It's so easy to make and the healthy benefits and ability to fit in anyone's diet are just added bonuses compared to the amazing texture and flavor.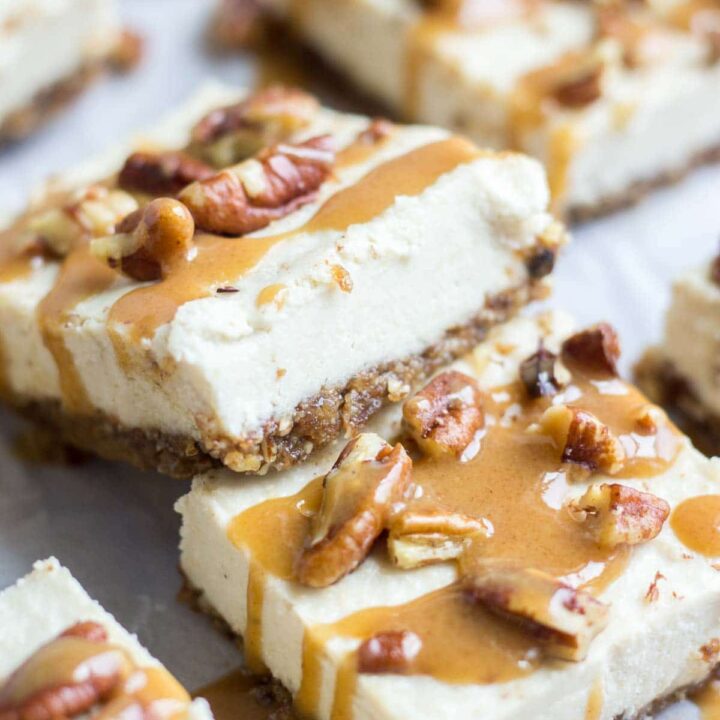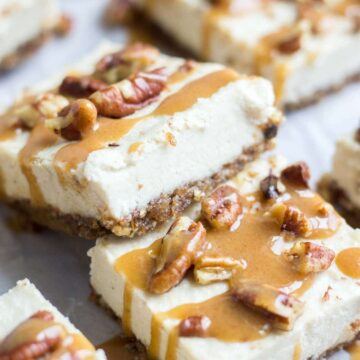 Ingredients
For the crust

2

cups

pecans

or cashews

1 ¼

cups

pitted dates

finely chopped

¼

teaspoon

sea salt

1

tablespoon

of water

if needed

For the cheesecake

2

cups

cashews

soaked for at least six hours or overnight

½

cup

canned coconut milk

¼

cup

coconut oil

melted and cooled

⅓

cup

pure maple syrup

2

tablespoons

lemon juice

1

tablespoon

vanilla extract

¼

teaspoon

sea salt

For the caramel:

¼

cup

creamy nut butter

I used cashew but you could use creamy almond butter

⅛

cup

pure maple syrup

⅛

cup

coconut oil

½

teaspoon

vanilla extract

¼

teaspoon

salt

½

cup

pecans

optional
Instructions
To make the crust, line an 8" square pan with parchment paperl. Set aside.

In a high-powered food process or blender, blend the pecans, pitted dates and salt until it comes together into a sort of sticky dough and starts to pull away from the edges, about 1-2 minutes. If it's not coming together add one tablespoon of water.

Press the dough evenly into the bottom of the prepared pan. Set aside.

To make the cheesecake, in a high-powered blender, combine all of the ingredients and blend for 2 full minutes, or until the mixture is smooth and creamy. To make it more smooth add a little more coconut milk .

Pour the cheesecake filling into the pan over the prepared crust. Smooth out the top and tap the pan against the counter a couple times to release any air bubbles.

To make the paleo caramel, add the nut butter, maple syrup and coconut oil together in a medium microwave safe bowl. Heat on high for 30 seconds and stir to combine. Place back in the microwave and repeat until smooth. Add the vanilla and salt and mix well. Drizzle over prepared cheesecake. Top with additional pecans.

Place in the freezer to set for at least 2.5 hours or until completely firm. Serve frozen or thaw a few minutes.

Keep vegan cheesecake in the freezer for up to 3 weeks.