Chocolate peanut butter pull apart bread is an easy dessert recipe to share! It's made with canned biscuits, chocolate, peanut butter and crushed Butterfinger candy bars. The ingredients come together in minutes and bake to flaky perfection. Just in time for Thanksgiving and fall parties!
I can't believe I'm saying Thanksgiving already. I feel like it was just yesterday I was getting engaged and going to Ireland. The summer flew (and half of fall) and now we're gearing up for Thanksgiving!
Though I do love all the festive and creative activities that come with the Thanksgiving, my most favorite part about them is being able to see my friends and family a little extra.
When life gets crazy I like to hit the pause button and just enjoy some much needed family time. Surrounded by food and desserts, of course. We're obviously in charge of desserts.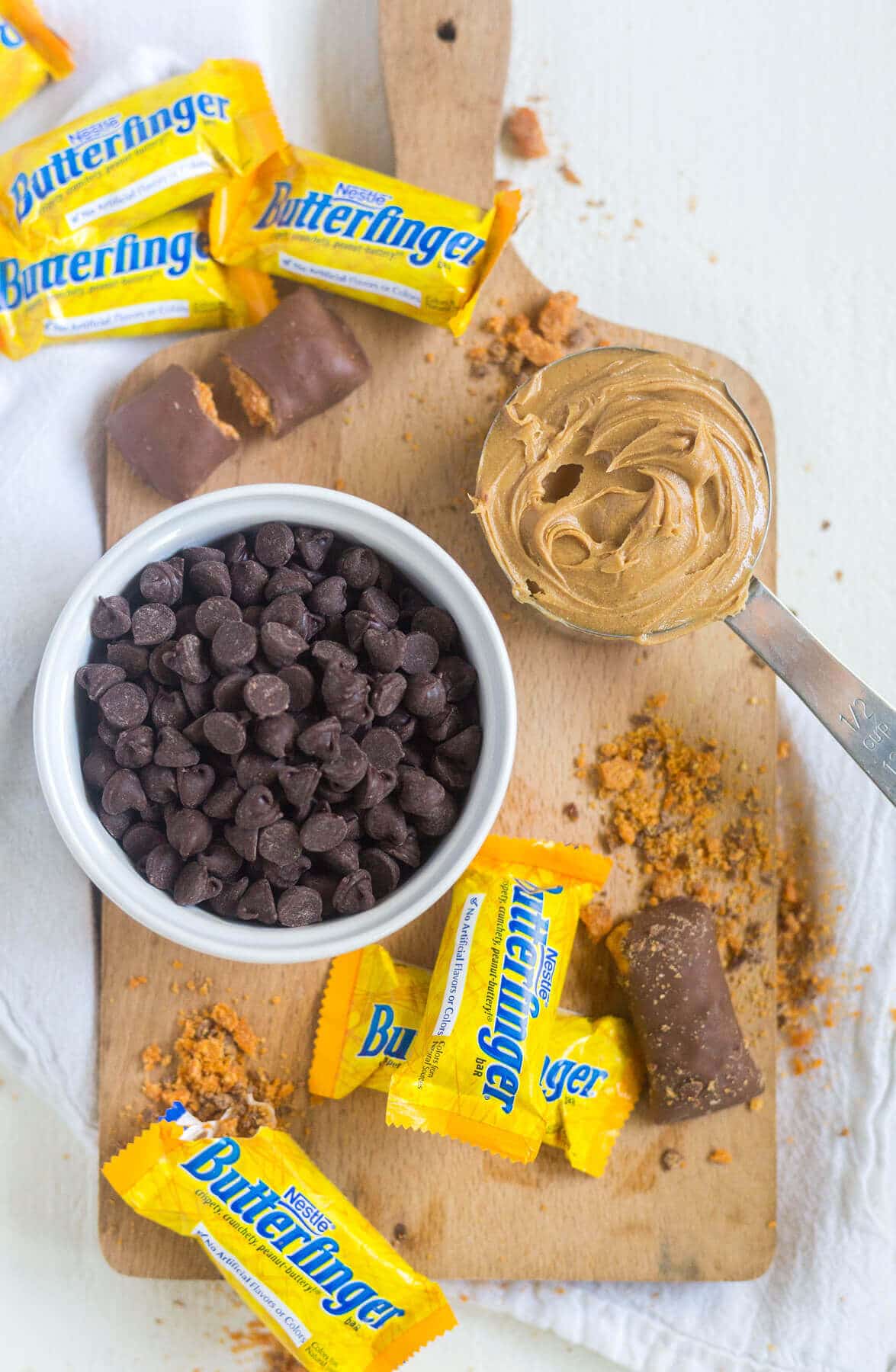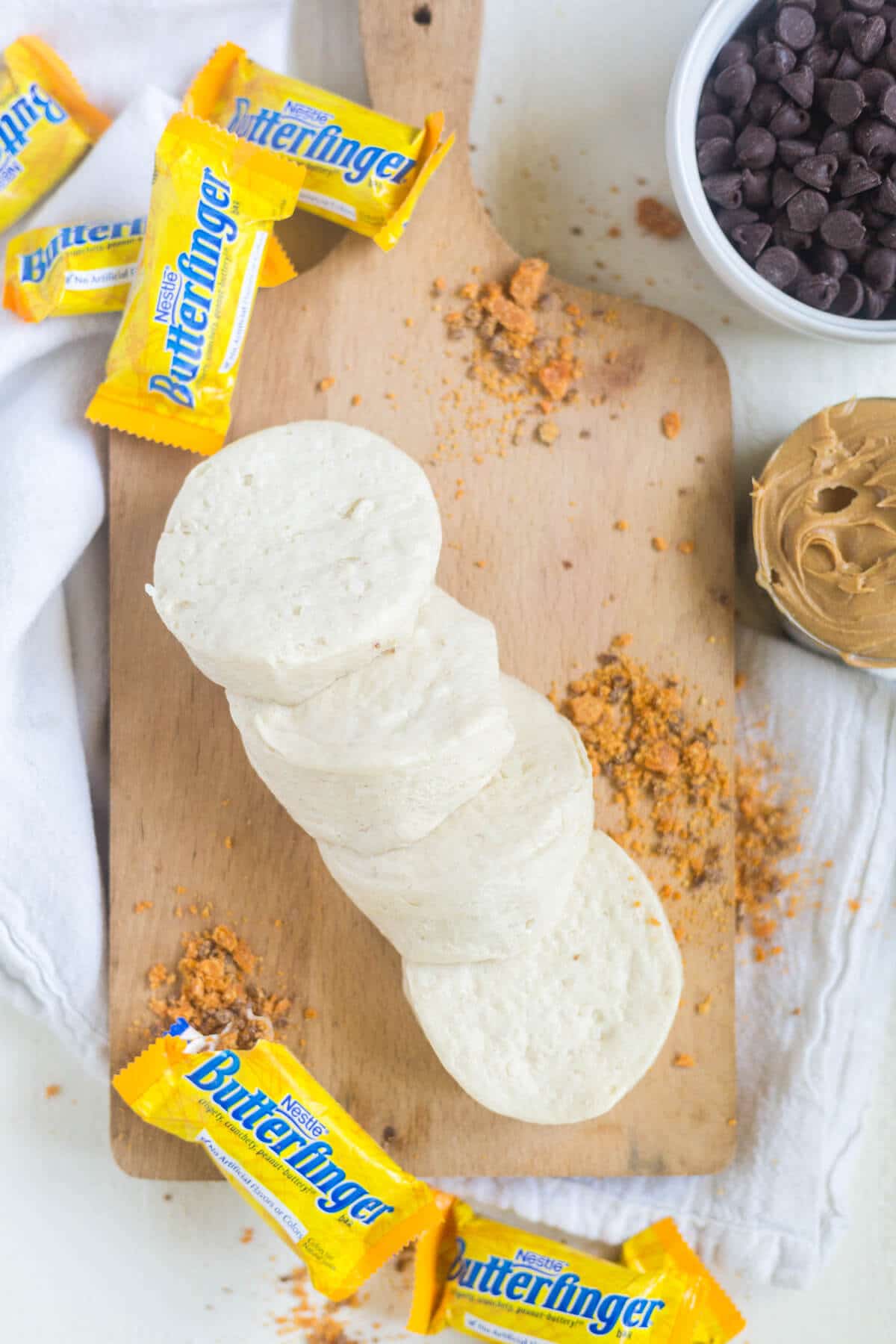 I'm making my caramel apple mini cakes, pumpkin snickerdoodle cobbler, and this chocolate peanut butter pull apart bread!
This year for Thanksgiving Zach and I are headed to my parents' (about 2 hours north) to celebrate. I'm super excited because Zach's mom, who lives in Iowa, is coming to Ohio for the holiday and she's going to be able to spend time with us!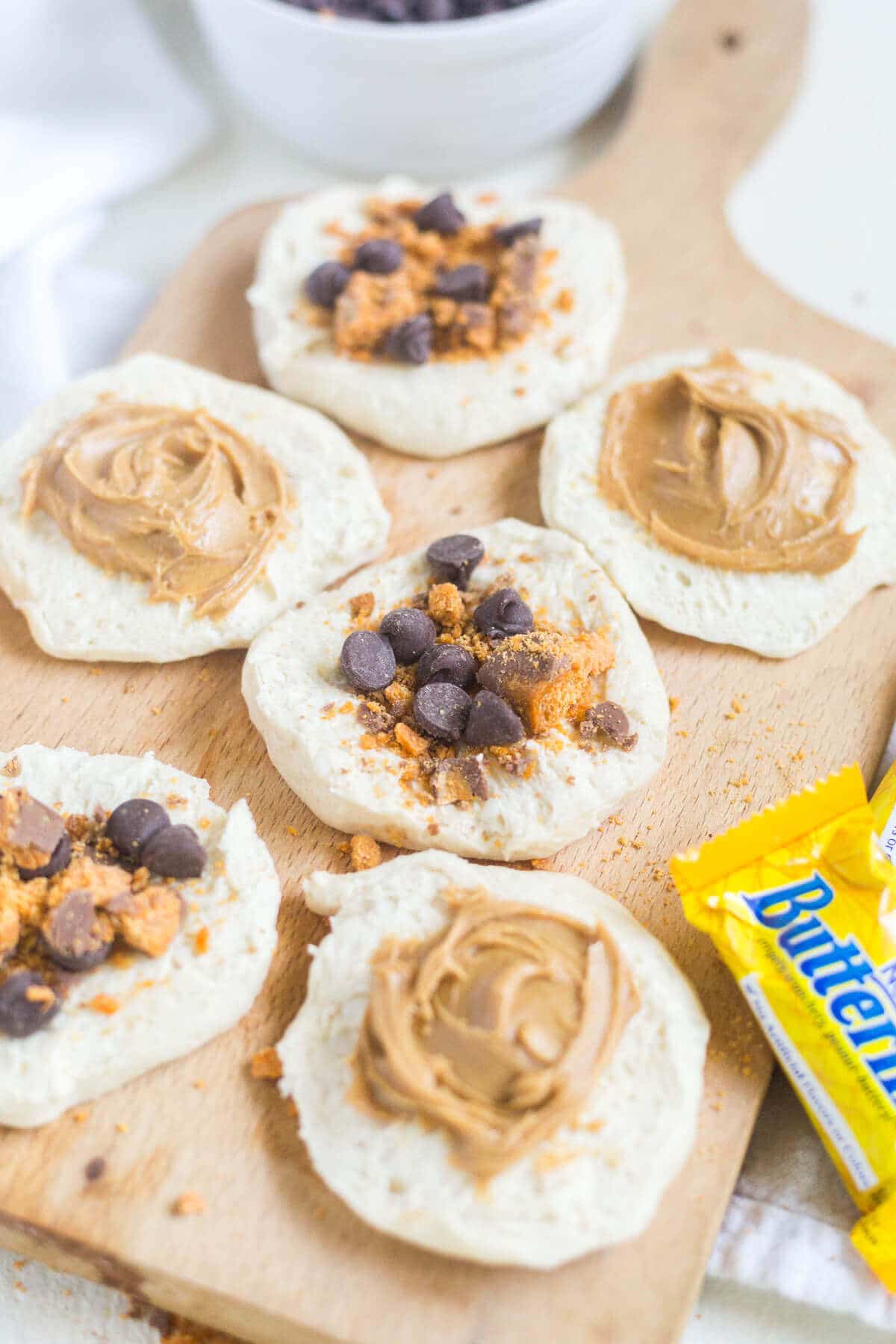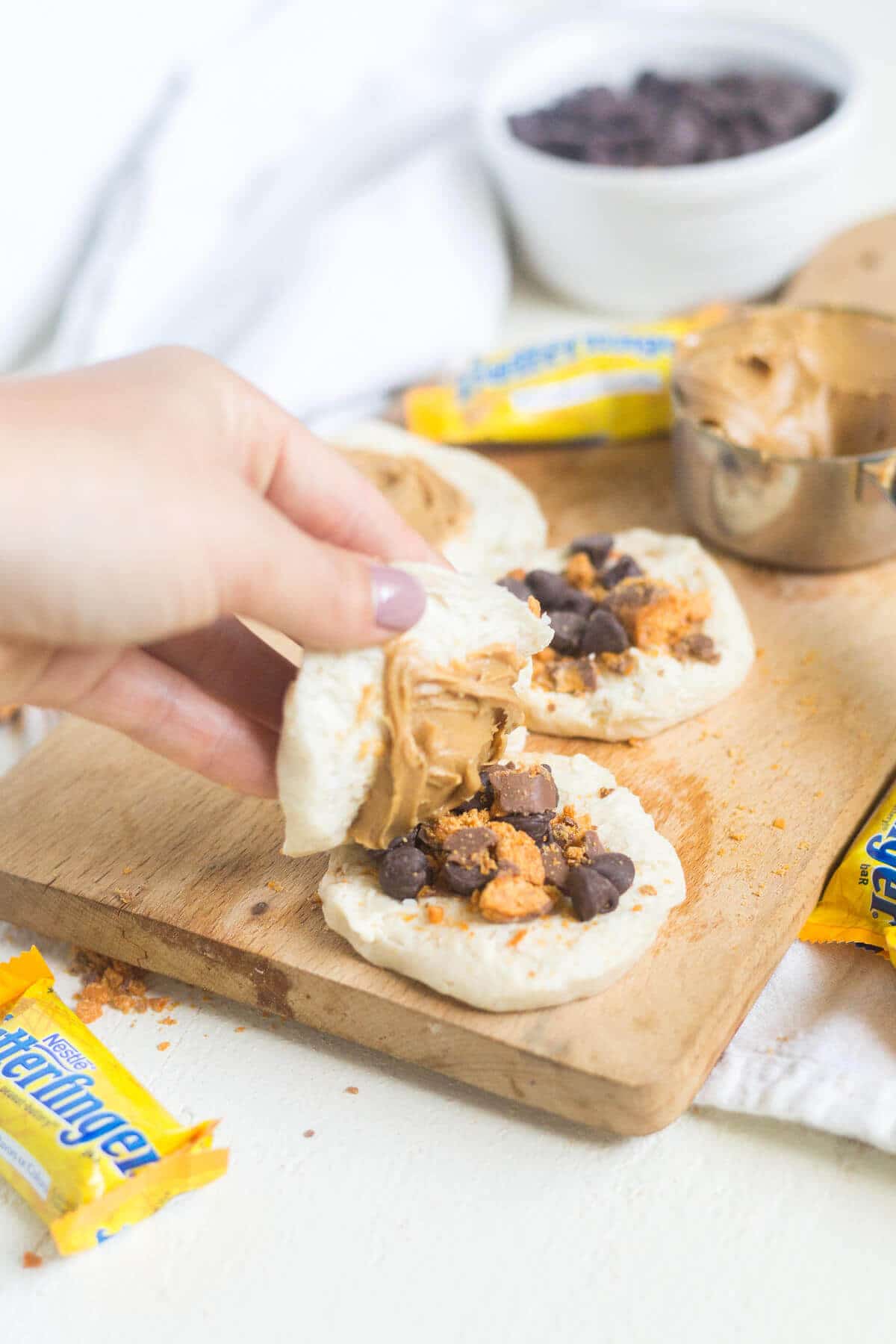 It's a good mix, I think. You've got your apple dessert, your pumpkin dessert and your dessert for the chocolate AND peanut butter lovers. My grandpa will bring the traditional pies, but I'm in charge of the recipes that have a fun twist to them. I'd say these all qualify.
One of the reasons I really like this chocolate peanut butter pull apart bread is because of how easy it is to make. It's also a great recipe to share because you pull it apart.
You can use plates for serving each portion or you can pull a flaky, chocolate/peanut butter/Butterfinger® piece off and eat it while you chat.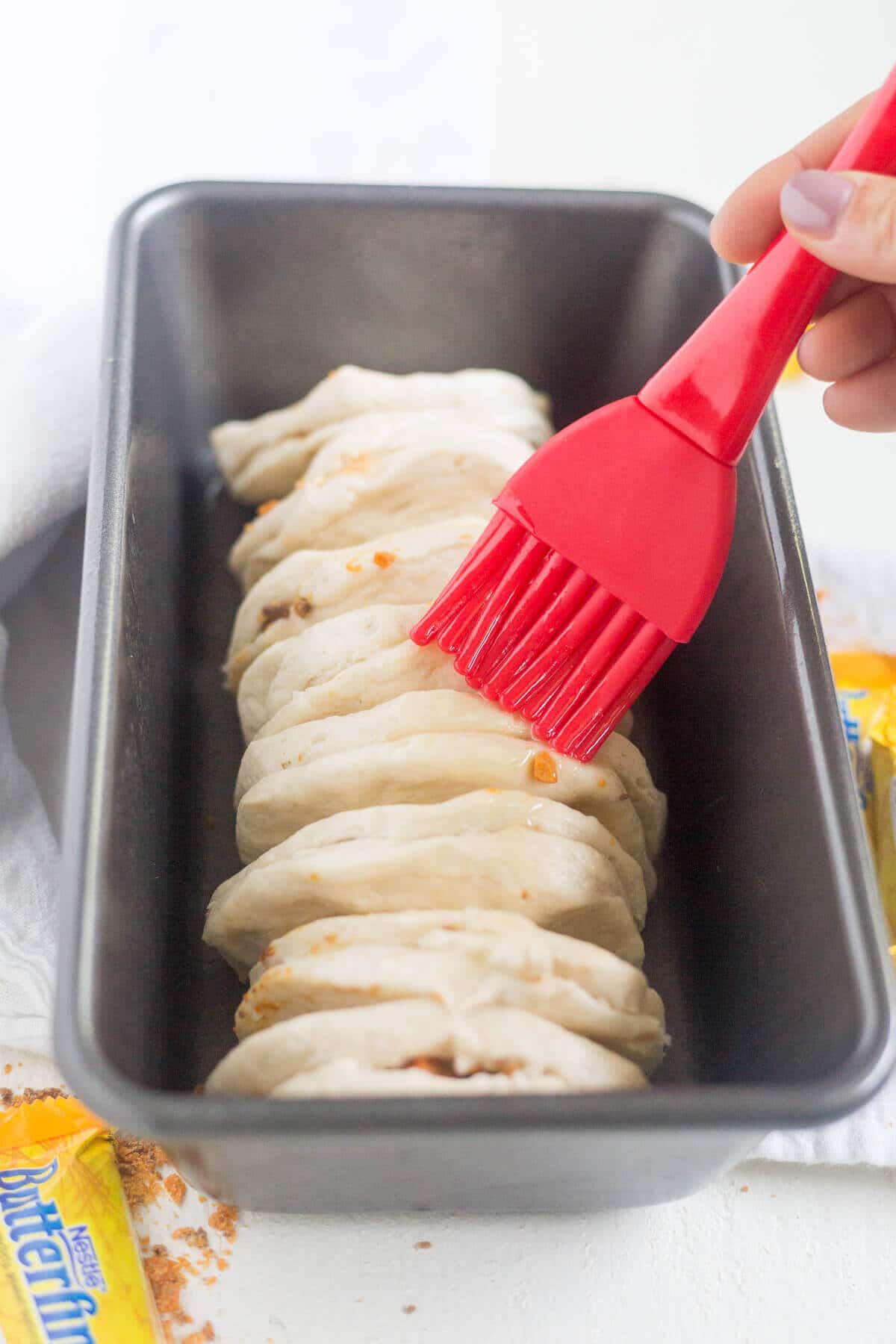 The reason it's so easy is because the chocolate peanut butter bread is made with canned biscuits. AKA no messy flour or tons of mixing bowls or measuring spoons. Less clean up is ALWAYS a plus in my book.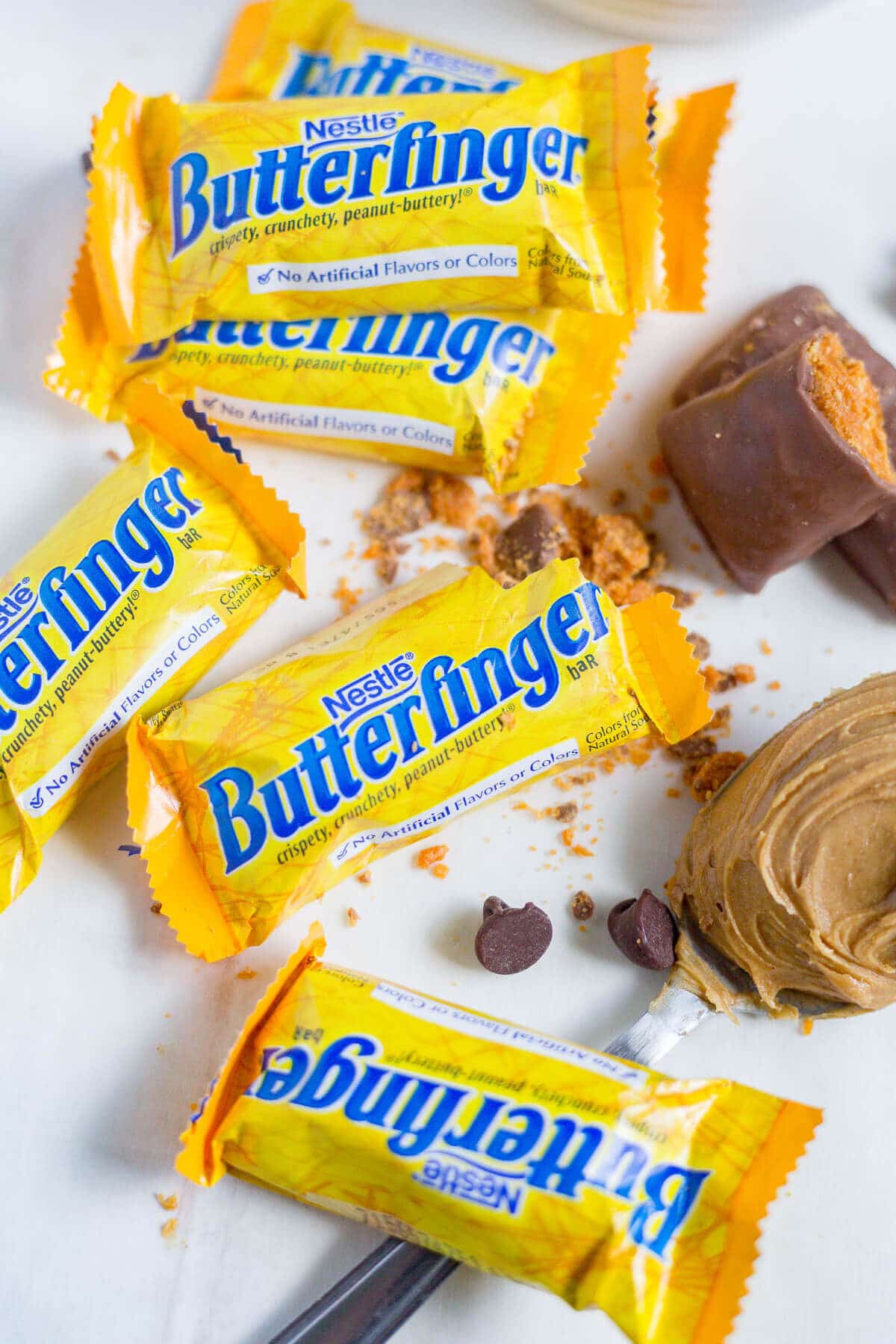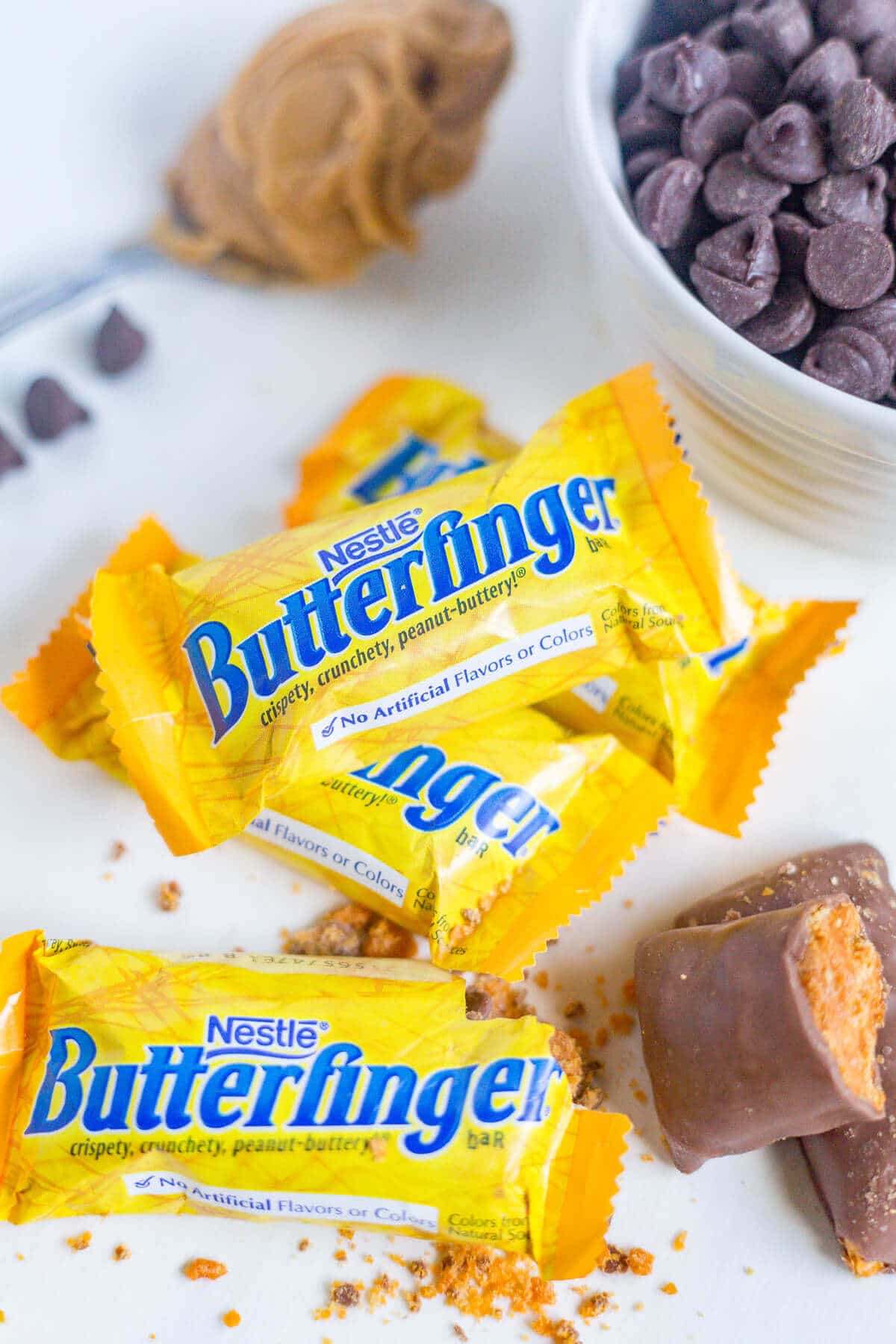 What Is Pull Apart Bread?
Pull apart bread is a dessert recipe made from canned biscuits and any other toppings you're craving. In this case, chocolate, peanut butter and Butterfinger® (which I'm always craving).
You cut the biscuits in half and line them up in a loaf pan with your extra ingredients then bake it in the oven. The biscuits rise and fill the entire bread pan, so you're left with flaky, buttery, Butterfinger® topped dessert.
Friends and family can pull the flaky parts of the biscuit off the end of the loaf!
I love the texture of this specific pull apart bread. The flaky and buttery base of the loaf alone melts in your mouth, but the bread oozing with melted chocolate and peanut butter makes it so good. And the crunchy Butterfinger® sprinkled throughout and on top adds another layer of crunchy, delicious texture.
And another bonus: you can make this chocolate peanut butter pull apart bread ahead of time.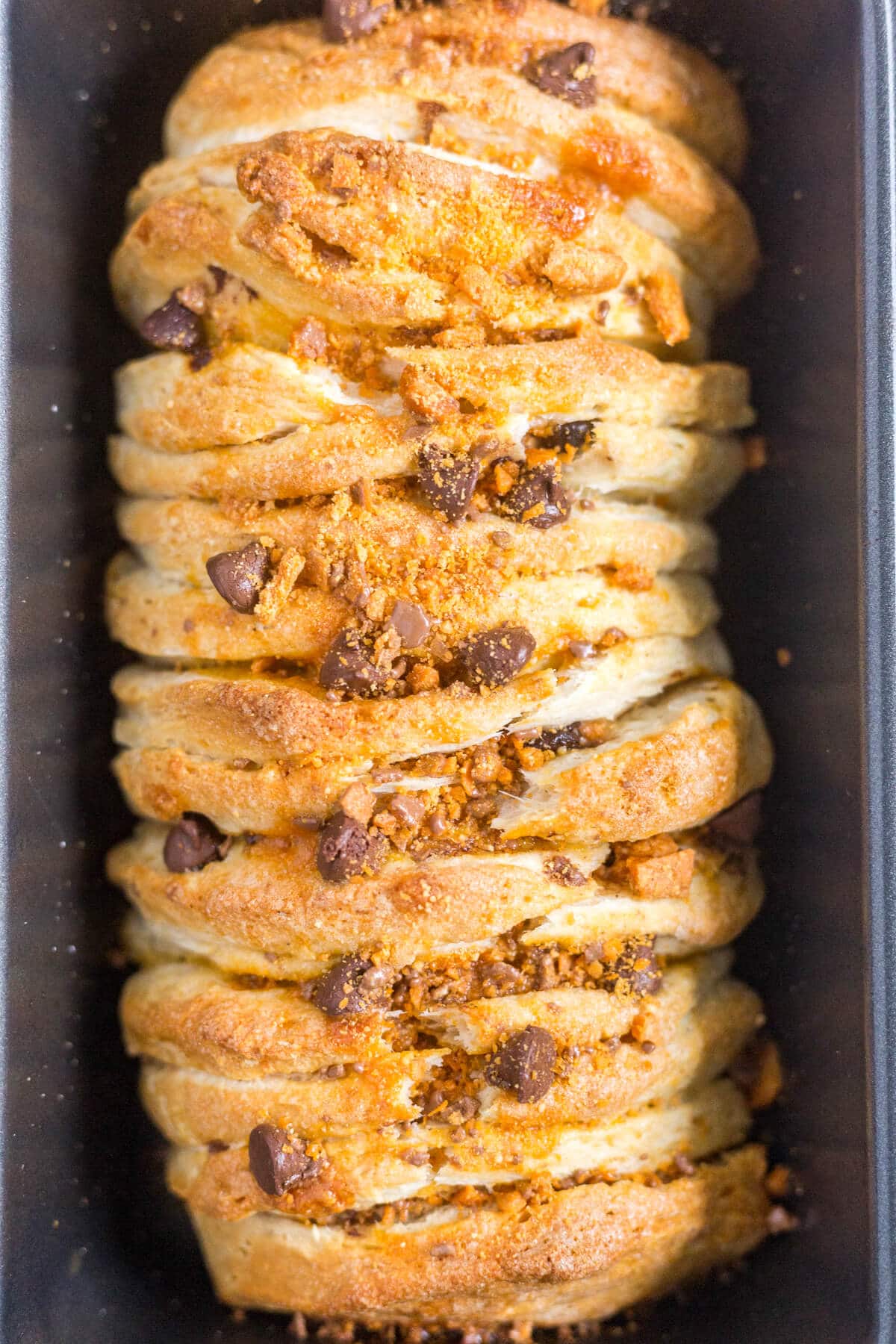 Can you freeze pull apart bread?
Absolutely, you can freeze pull apart bread. Freezing this chocolate peanut butter pull apart bread is the best way to get ready for the holidays. Make it a month in advance and when company is over just throw it in the oven.
To freeze pull apart bread, bake the entire bread all the way through the directions. Instead of serving it right away, cover it tightly and place in the freezer. This pull apart bread will stay good in the freezer for up to 3 months.
That means you could make this recipe today and be ready for Thanksgiving. I'm usually a serious procrastinator, but when it comes to pull apart bread I don't mess around.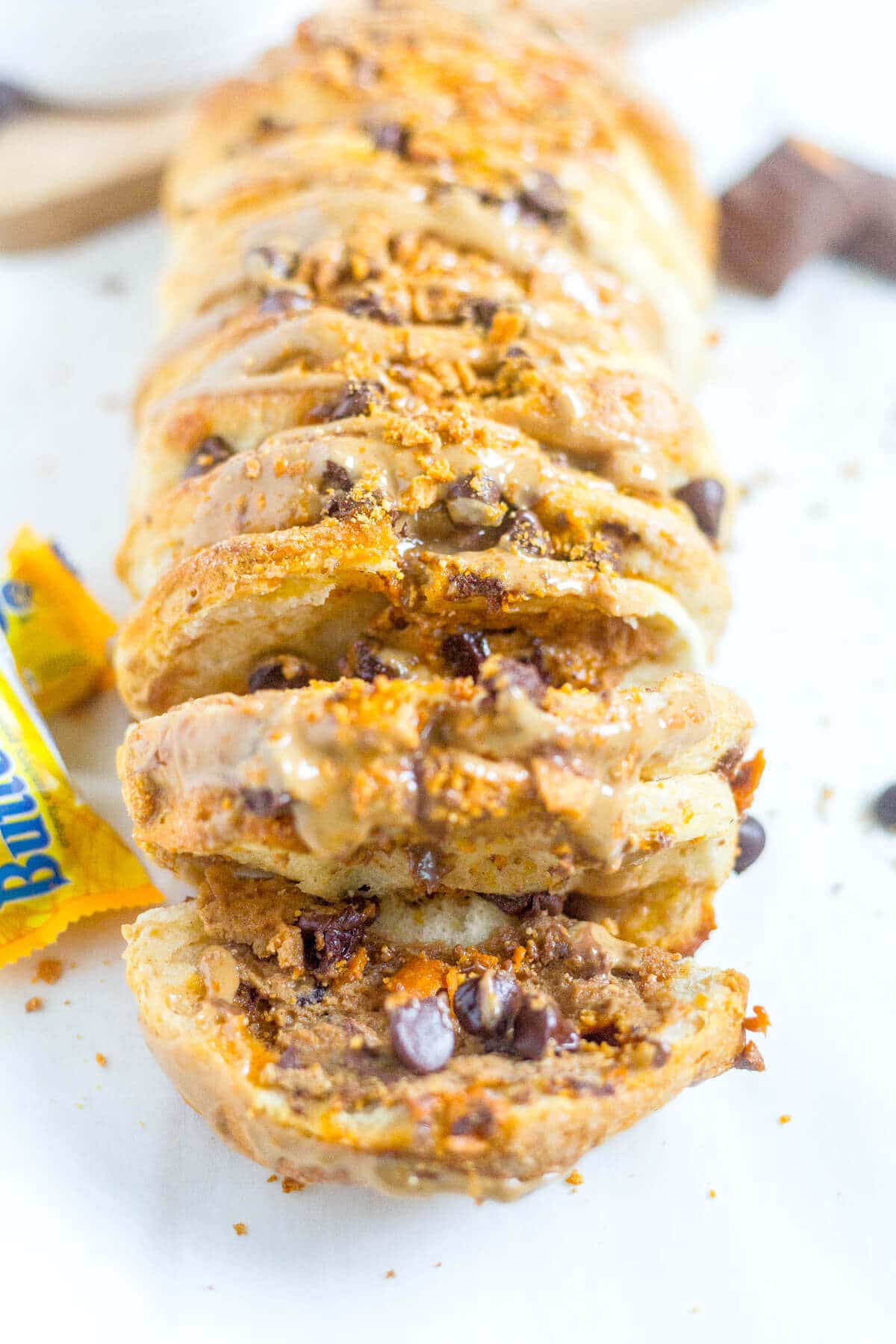 How to reheat pull apart bread
Once you've frozen your pull apart bread and you're ready to serve it, preheat the oven to 300°F and place the bread (straight from the freezer) into the oven for about 20 minutes, or until it's warmed all the way through.
You can add a little extra chocolate, peanut butter and Butterfinger® Fun-Size crushed candies to the top to give it some extra flavor.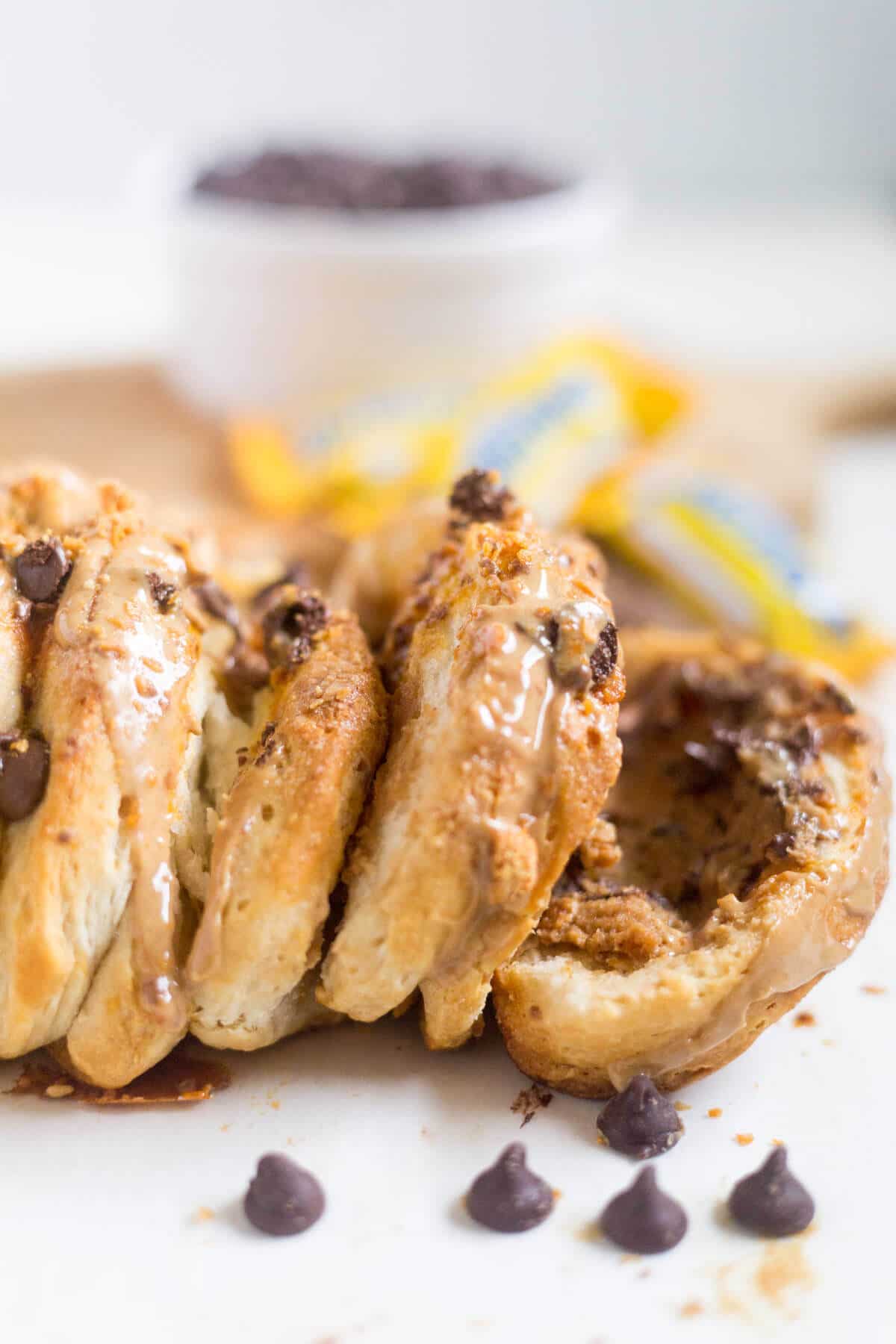 You can get this recipe, and lots of other Butterfinger® recipes on their Pinterest page. If you love this recipe you can also give me a virtual high five by following me on Pinterest, Instagram and Facebook.
Thank you to Butterfinger® for supporting WMM and sponsoring this post.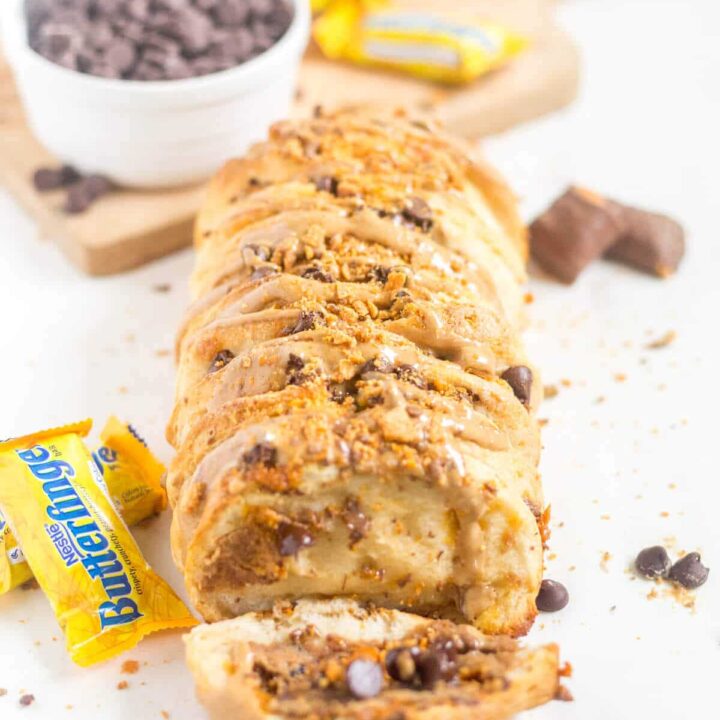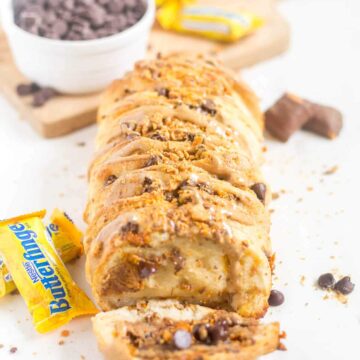 Ingredients
One can prepackaged biscuits

½

cup

creamy peanut butter

plus more for topping

½

cup

semi sweet chocolate chips

plus more for topping

8-10

BUTTERFINGER® Fun-Size candy bars

crushed

1

tablespoon

butter

melted

Sugar for sprinkling
Instructions
Preheat oven to 375°F. Spray and line a 9x5 standard loaf pan with non stick spray and set aside.

Pull apart biscuit rounds and cut each in half to get 16 rounds. Add 1 tablespoon of peanut butter to 8 rounds and then add 1 tablespoon of semi sweet chocolate chips and 1 tablespoon of crushed Butterfinger® to the other 8 (you should have chips and Butterfinger® together on 8 rounds).

Add one peanut butter round to one chip/Butterfinger®round so you end up with 8 sandwiches. Line the rounds standing up in the prepared pan. Brush the tops with melted butter and sugar. Bake in the oven 30-35 minutes.

Once baked, remove from oven and place on wire rack to cool. While bread is still warm, sprinkle with additional chocolate chips and Butterfinger® and spoon 1-2 tablespoons of peanut butter on top. Allow to sit for a few minutes then spread the chips and peanut butter slightly as they will have melted. Serve immediately or store in the freezer for up to 3 months.
Here are a couple of items I used to make today's recipe:
Loaf Pan
, Butterfinger Fun Size Bars
Some of the links above are affiliate links, which pays me a small commission for my referral at no extra cost to you! Thank you for supporting What Molly Made!