This chicken wing brine will yield the most tender and juicy chicken wings you will ever have. Brining injects flavor and moisture into wings while tenderizing them, giving you succulent, fall-off-the-bone meat.
Once you learn how to brine chicken wings you won't go back. Easily make the brine then let it do all the hard work in the fridge. Make this brine and try our Asian-Inspired chicken wings and honey sriracha chicken wings.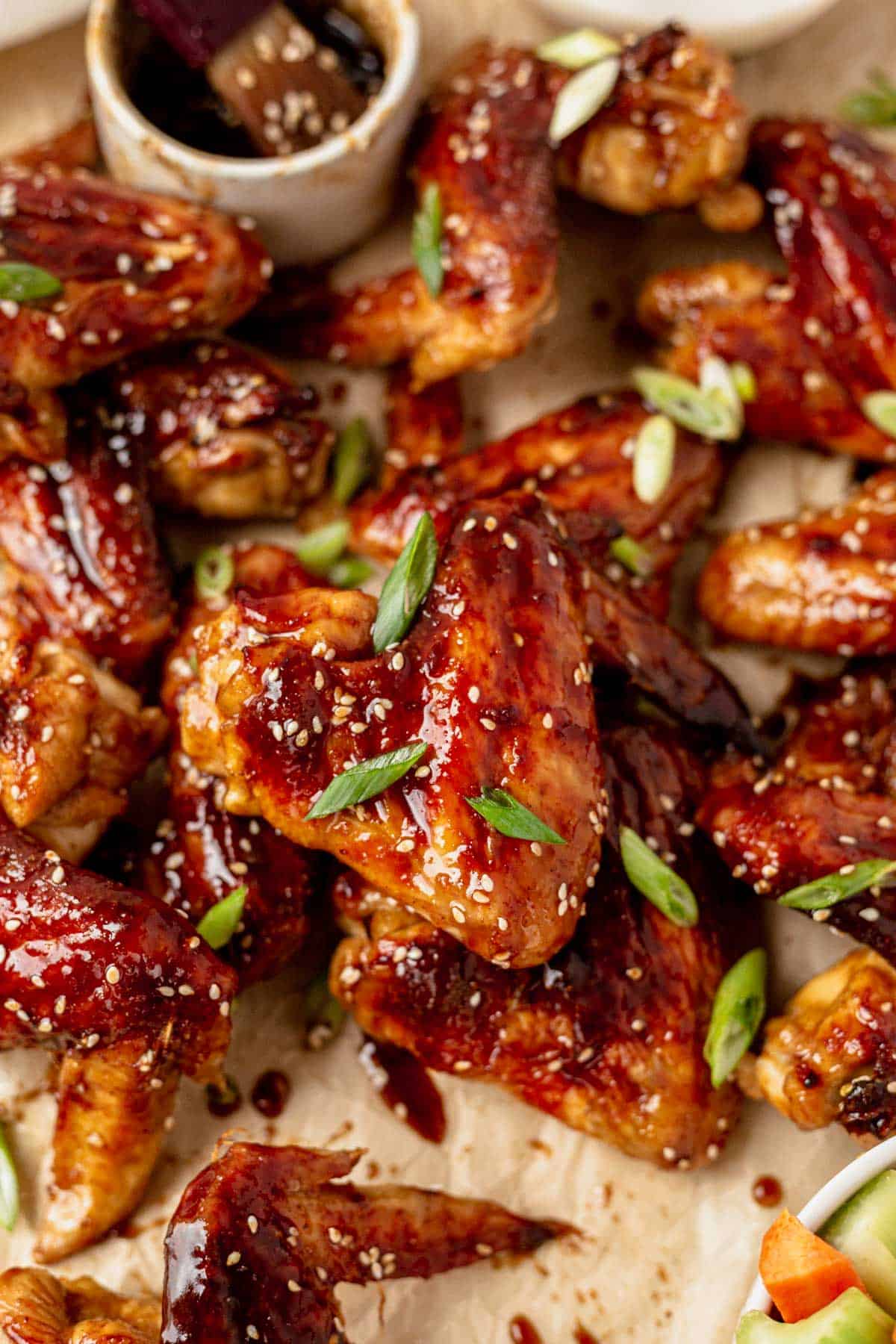 Brining chicken wings is the best way to achieve ultra-moist chicken wings. No one wants tough and dry wings on game day! Whether you're baking them, grilling them, or throwing them in the air fryer, bringing them is the easiest way to ensure the wings and any cut of chicken, are juicy and delicious every single time.
Along with our favorite chicken marinades, brining chicken results in a more delicious end result because of the added flavor and enhanced texture. Save this one to brine your next batch of wings!
Chicken Wing Brine
A chicken brine is a mixture of salt, sugar, and water. It adds moisture and flavor to the meat and helps it retain moisture during cooking. The salt in the brine helps to break down the muscle fibers in the meat, while the sugar adds sweetness and helps to brown the skin.
The brine's water helps hydrate the meat, making it more juicy and flavorful. This type of brine (our preferred method) is known as a wet brine, while a dry brine applies salt and seasoning directly to the surface of the meat.
Is it Worth it Brining Chicken Wings?
If you have the extra time to brine the chicken, it's worth it. It's about 15 minutes of prep time on your end. The rest of the time is cooling and brining in the fridge, which is completely hands-off. Here are a few reasons why we love to brine chicken wings.
Moisture retention: The salt helps to break down muscle fibers, allowing the chicken to absorb more moisture and retain it during cooking.
Tenderness: Brining causes the muscle fibers to absorb more water, which in turn makes the muscle fibers more flexible and tender.
Flavor enhancement: The salt in the brine seasons the meat and the sugar in the brine helps to caramelize the skin (who doesn't want crispier skin?).
All of these reasons are not only great for chicken wings, but also chicken breast, thighs, and even turkey. This easy turkey brine is perfect for the holidays.
What You Need for this Chicken Wing Brine
Here are the ingredients for this simple brine. Most are pantry staples and easy (and affordable) to find at the grocery store. Jump down to the recipe card for exact measurements.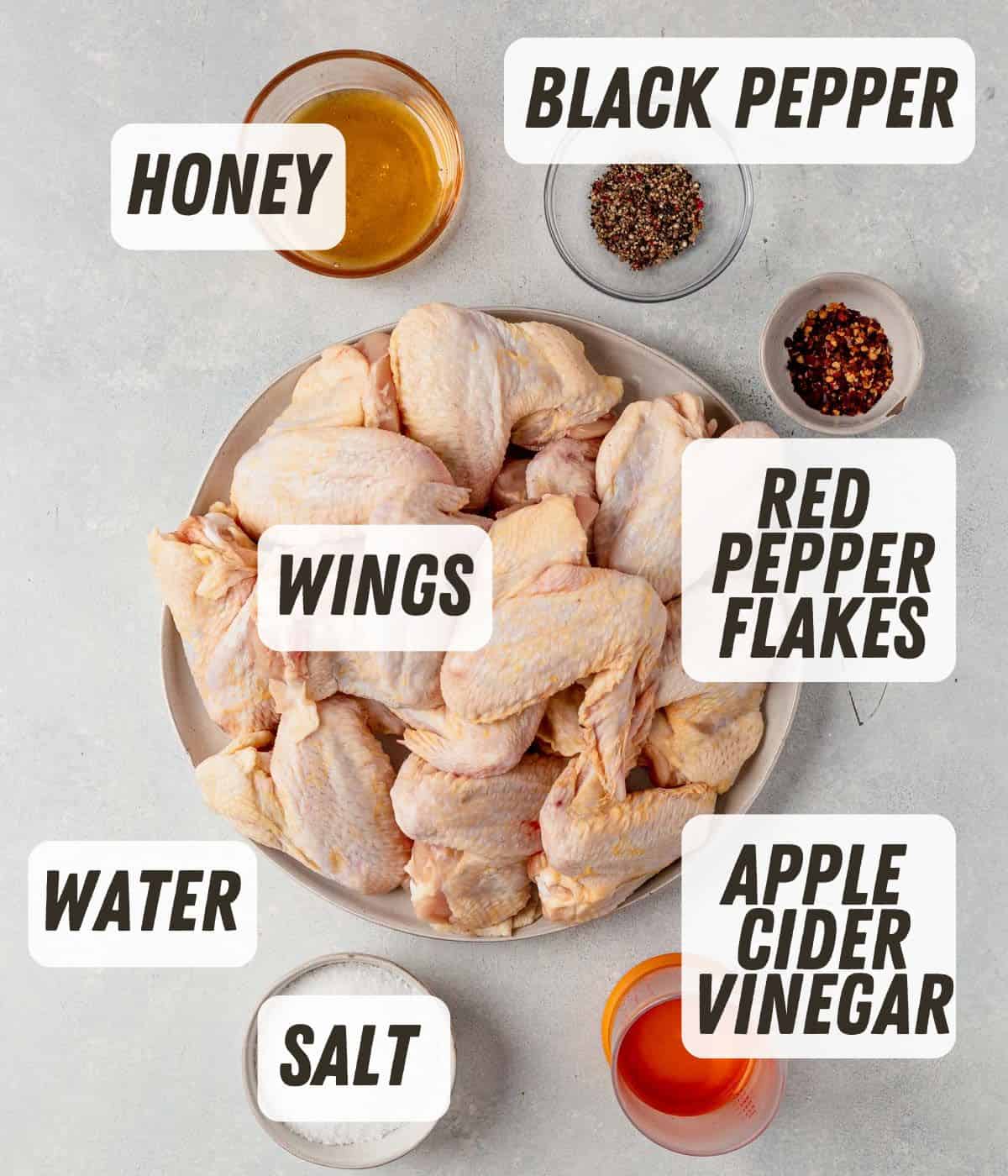 Wings: we used almost 4 pounds of naked wings in this saltwater solution and it was just right.
Salt: This is the most important ingredient in brine. Be sure to use kosher salt for the best results. Table salt will work if you have that ono hand, but use a few tablespoons less as it's a finer salt.
Sugar: The sugar helps to balance out the saltiness, adds a subtle sweetness to the meat, and helps to caramelize the skin for crispy wings. We used honey, but granulated sugar or brown sugar are great options.
Water: The water helps to hydrate the meat and dissolve the salt and sugar.
Spices: We're using red pepper flakes to flavor the wings. Adding fresh herbs is a great way to infuse more flavor.
Acid: Some brine recipes include an acidic component such as lemon juice or vinegar which help to tenderize the meat and add a tangy flavor.
How to Brine Chicken Wings
The full printable recipe is below, but let's walk through the easy steps with some photos and a video so you have a clear idea of what to expect. This recipe for brined chicken wings is pretty simple, but these steps will make sure it turns out every time.
Video: watch how to brine chicken wings.
Stir 4 cups of water, honey, salt, black pepper, red pepper flakes, and apple cider vinegar in a large stock pot or dutch oven. Bring it to a boil over high heat then reduce to medium heat and simmer until the salt is dissolved.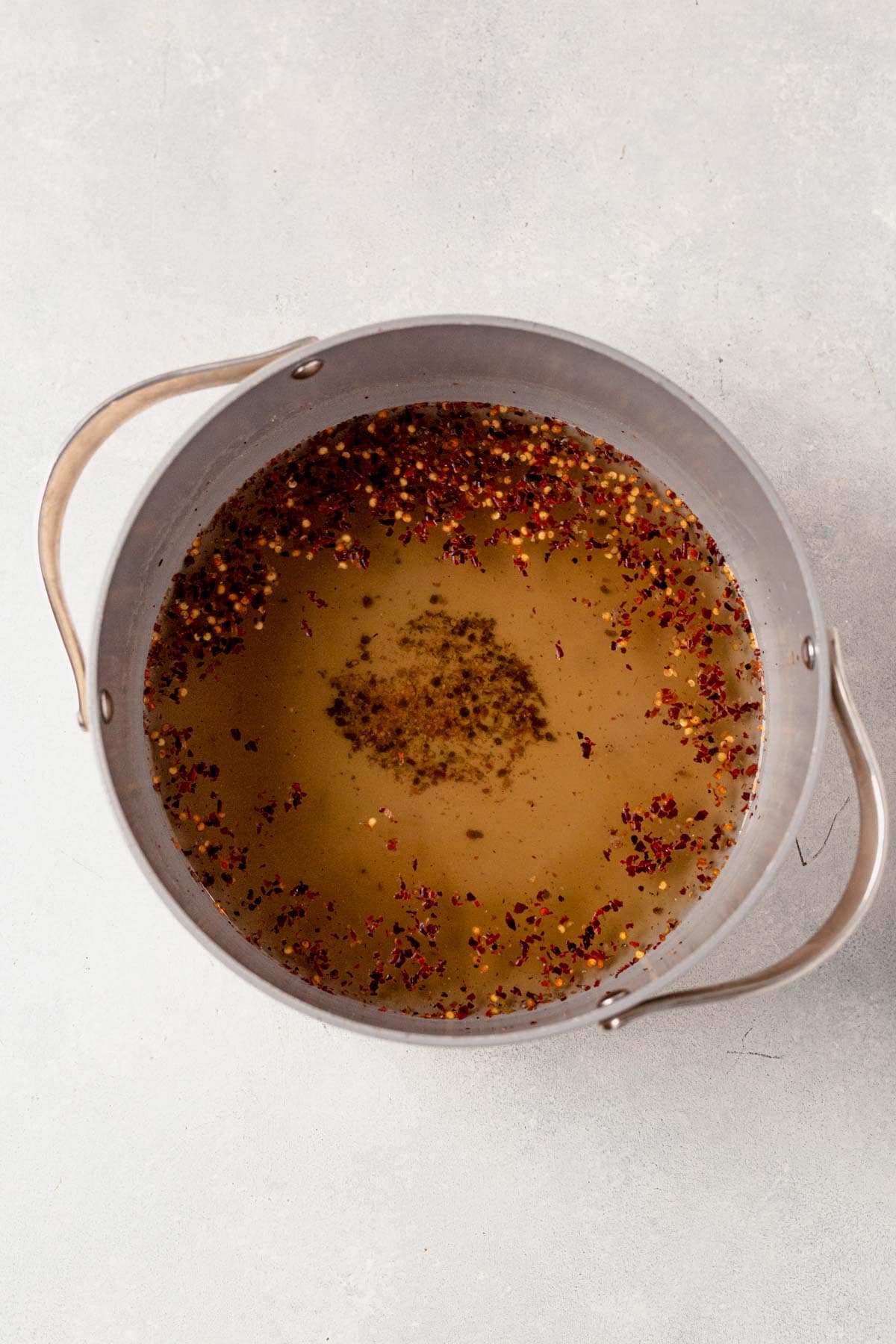 Add 2 cups of cold water to bring the temperature down, then refrigerate the mixture until it's fully chilled.
Important: the brine must be completely chilled before adding the chicken wings. Adding wings to lukewarm water can bring the temperature into the danger zone for bacteria.
Once chilled, add the whole wings to the brine and make sure they are completely submerged. Cover and refrigerate for 2-4 hours.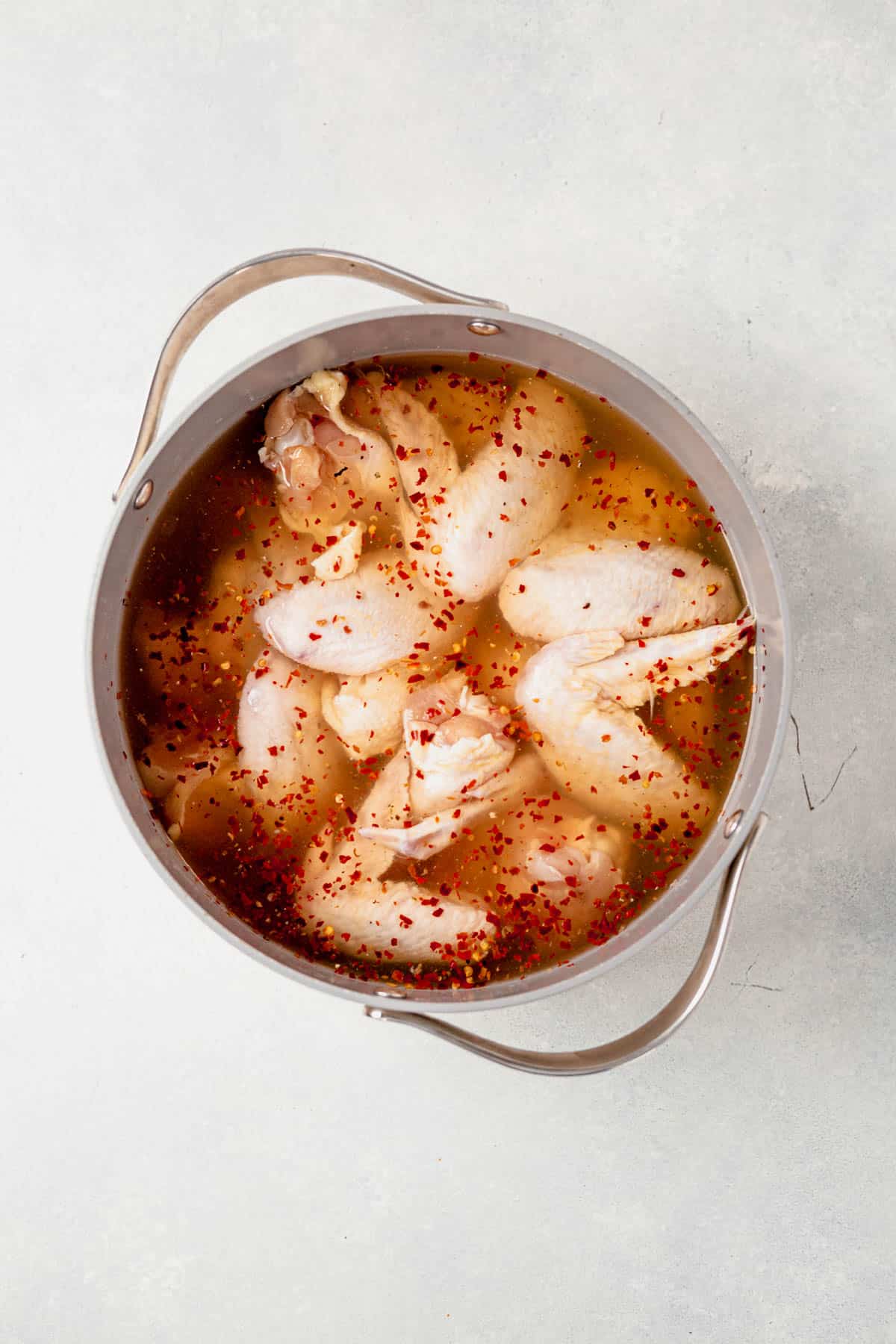 After brining, remove the wings from the brine and pat them dry with paper towels.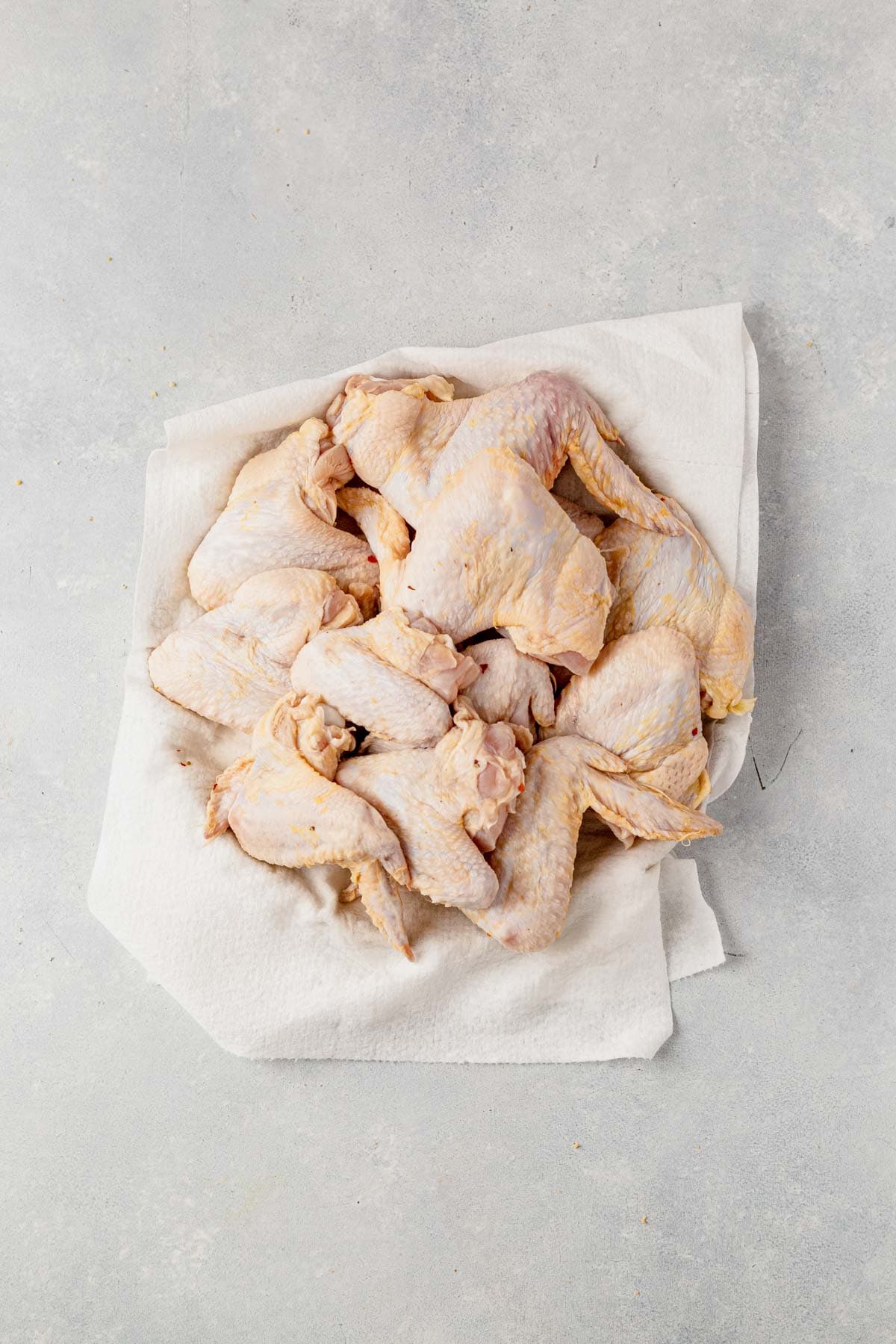 How Long Does it Take to Bake Chicken Wings?
On average, it takes about 20-25 minutes to bake chicken wings at 425°F (218°C). This will vary based on how large the wings are and the temperature of your oven. Brined chicken cooks about 20% faster than unbrined chicken, so keep that in mind! Always use a meat thermometer to ensure the wings are cooked all the way through. The internal temperature should reach 165°F.
Toss baked chicken wings with your favorite sauce like BBQ sauce, hot sauce, lemon pepper sauce or use the sauce from our asian chicken wings.
Brined wings are also great for dry rubs (before baking), like the spice rub on our Instant Pot pulled pork.
FAQs
Do you rinse chicken after brining?
You do not need to rinse the meat after brining as long as you didn't brine it for too long and followed the general rule of ¼ cup of kosher salt per quart of water.
Is 2 hours long enough to brine chicken?
The duration of time varies depending on the type of chicken, the size of the pieces, and the desired level of flavor and tenderness. A general rule is to brine each pound of chicken for 1 hour. Chicken wings are small so 2-4 hours is enough.
What's the secret to crispy chicken wings?
My favorite ways to ensure extra crispy wings every time are to make sure the wings are really dry (with or without brining), use high heat, add a coating like baking powder or cornstarch, and cook the wings on a wire rack.
Do you refrigerate chicken while brining it?
Yes, you must refrigerate chicken while it's brining. It's imperative to keep the chicken cold so it doesn't enter the danger zone for bacterial activity.
Can I use this for other cuts of chicken?
A brine is especially good for all types of poultry, including turkey and duck because of its lean meat. Brining adds tons of flavor to a whole turkey on Thanksgiving, or you can brine an entire chicken. Just make sure you have enough brining mixture to cover the entire cut of meat or bird.
What's the difference between bringing and marinating?
There is a much larger liquid-to-meat ratio in brine than in a marinade. A marinade coats the majority of the chicken, while the chicken is submerged in the liquid in brine. Finally, brine has much more salt in it, but they're both designed to infuse flavor and tenderize the meat. See our post all about how to marinate chicken to learn more.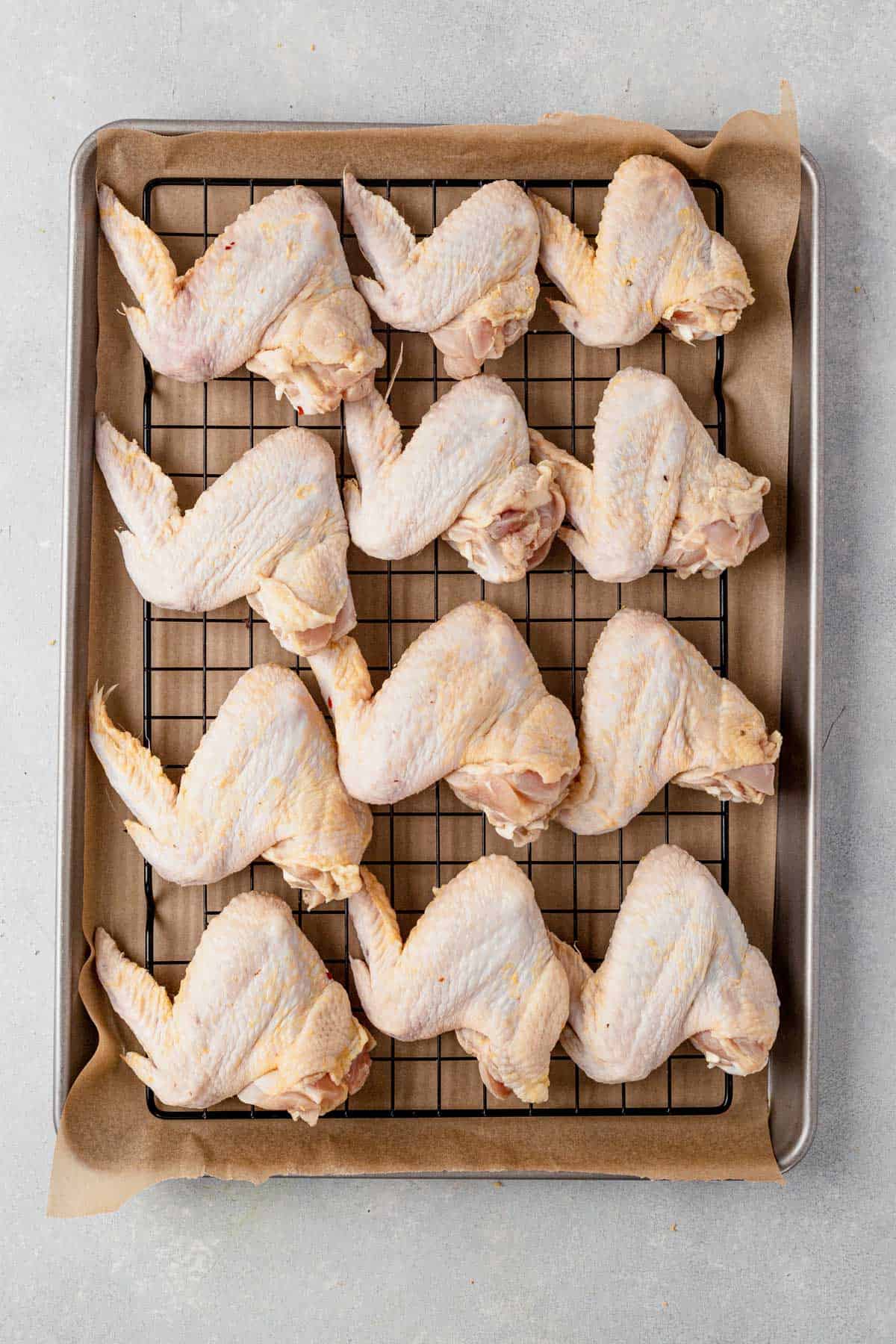 If you make this recipe, I'd love for you to give it a star rating ★ below. You can also tag me on Instagram so I can see it!
Chicken Wing Recipes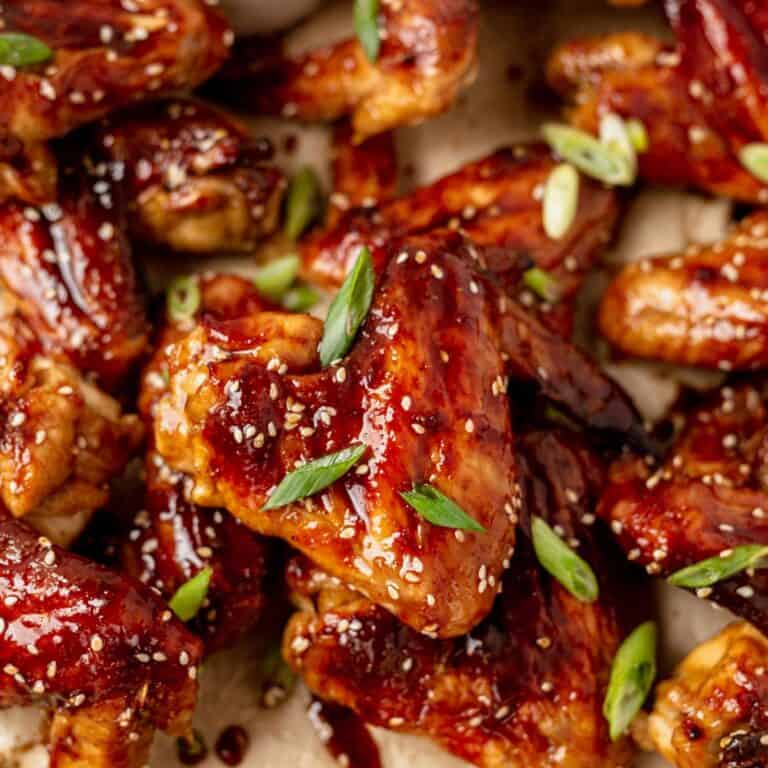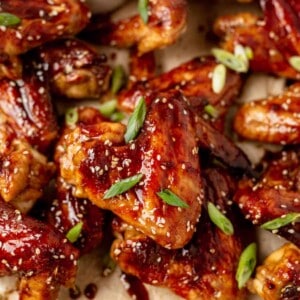 Chicken Wing Brine
This chicken wing brine will yield the most tender and juicy chicken wings you will ever have. Brining injects flavor and moisture into wings while tenderizing them, giving you succulent, fall-off-the-bone meat.
Print
Pin
Rate
Save
Saved!
Ingredients
6

cups

water

divided

⅓

cup

kosher salt

¼

cup

honey

⅓

cup

apple cider vinegar

1

tablespoon

red pepper flakes

1

tablespoon

black pepper

3-4

lbs

chicken wings
Recommended Equipment
Large stock pot or Dutch oven
Instructions
In a large pot heat 4 cups of water, salt, and honey over medium-high heat. Add the red pepper flakes, black pepper, and apple cider vinegar and stir to combine. Heat and stir for 3-4 minutes, until the salt and honey are dissolved.

Remove the pot from the heat and pour in 2 cups of cold water to bring the temperature down, then refrigerate until fully chilled. Do not skip this step because you cannot put chicken wings into lukewarm water for safety reasons.

When the brine mixture is chilled, add the raw chicken wings making sure they're fully submerged. Cover the pot with a lid or plastic wrap and refrigerate the chicken wings and brine for at least 2 hours or up to 4 hours. Remove the wings from the brine and discard the brine.
Baking Brined Chicken Wings
Preheat the oven to 425°F. Line a large baking sheet with parchment paper or foil then place a wire rack on top (we used a cooling rack).

Use paper towels to pat the wings dry really well. Arrange the wings in a single layer on the prepared wire rack. Bake for 35-45 minutes, or until the wings reach an internal temperature of 165°F. Brined chicken wings typically take 20% less time to bake, so start checking the internal temperature around 25 minutes, depending how big your wings are.
Notes
Salt: you must use kosher salt (aka cooking salt) because it has larger grains than table salt. Decrease the amount of salt by 2 tablespoons if you're using table salt.
Flavors and substitutions:
Honey: swap for maple syrup or packed light brown sugar.
Fresh herbs: add 10-15 sprigs of fresh herbs of your choice or 1 Tablespoon of dried herbs
Lemon: lemon slices would add a delicious, bright flavor.
Warm brine: do not put the chicken wings in a warm or lukewarm brine because it's a cozy environment for bacteria to grow, which is a health hazard. Ensure the brine is completely chilled before adding the wings.
*Nutrition information is for the chicken only.
Nutrition
Serving:
1
serving
|
Calories:
281
kcal
|
Protein:
25.8
g
|
Fat:
18.9
g
|
Cholesterol:
163
mg
|
Sodium:
123
mg
|
Vitamin A:
13.2
IU