Don't have a bay leaf and need it for a recipe? Here's the best bay leaf substitute to use in recipes.
Picture it: you're making Slow Cooker Braised Short Ribs, but the recipe calls for one bay leaf, but you don't have one. Use this guide to find the best substitutes for bay leaves in your pantry right now.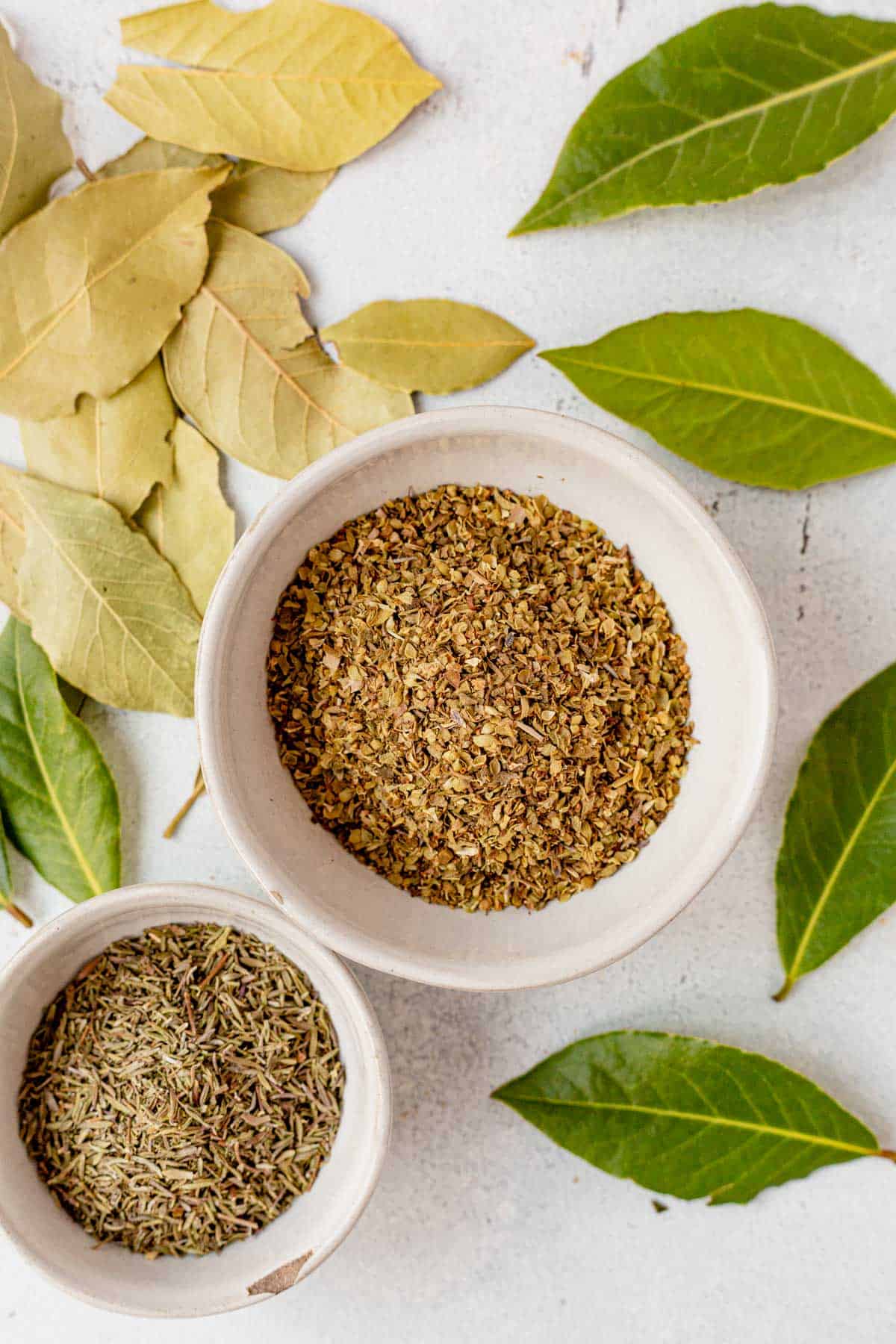 You don't want to sacrifice the flavor of the dish so you start looking for the best bay leaf substitute. Fortunately, there are several options that give a close flavor match to bay leaves!
Keep reading to find options for the best bay leaf alternatives, whether its a fresh alternative or one you already have in the spice rack.
Jump to:
What is a Bay Leaf?
A bay leaf, or laurel leaf, is a culinary herb with an aromatic flavor profile. They are a member of the mint family and come from the sweet bay tree or bay laurel tree. It's native to warmer climates, like the Mediterranean region.
Use bay leaves in broths, stews, soups, pasta sauces, or other tomato-based sauces, and added to meat dishes or recipes with lentils. You can find fresh, dried, crushed, whole, or ground bay leaves.
Since they are aromatic herbs, they also help to bring out the fragrance in a dish. They are a common ingredient in Indian, East Asian, Caribbean, and American cuisine.
In addition to their culinary uses, bay leaves have medicinal properties. This article from WebMD highlights several nutritional and health benefits.
What Do They Taste Like?
Bay leaves have a minty flavor that possesses notes of spearmint, menthol, pine, and black pepper. They have a slightly bitter flavor but have a pleasant yet strong aroma.
Most recipes use of whole and dried bay leaves, but sometimes you will use a fresh bay leaf. Because of their bitter taste, remove whole bay leaves from the dish before serving.
Are They Poisonous?
Bay leaves are not poisonous to humans. Most recipes tell you to remove the bay leaf before eating it, leading people to believe that it's poisonous.
They look like other poisonous leaves, including mountain laurel leaves and cherry laurel leaves, which are poisonous to humans.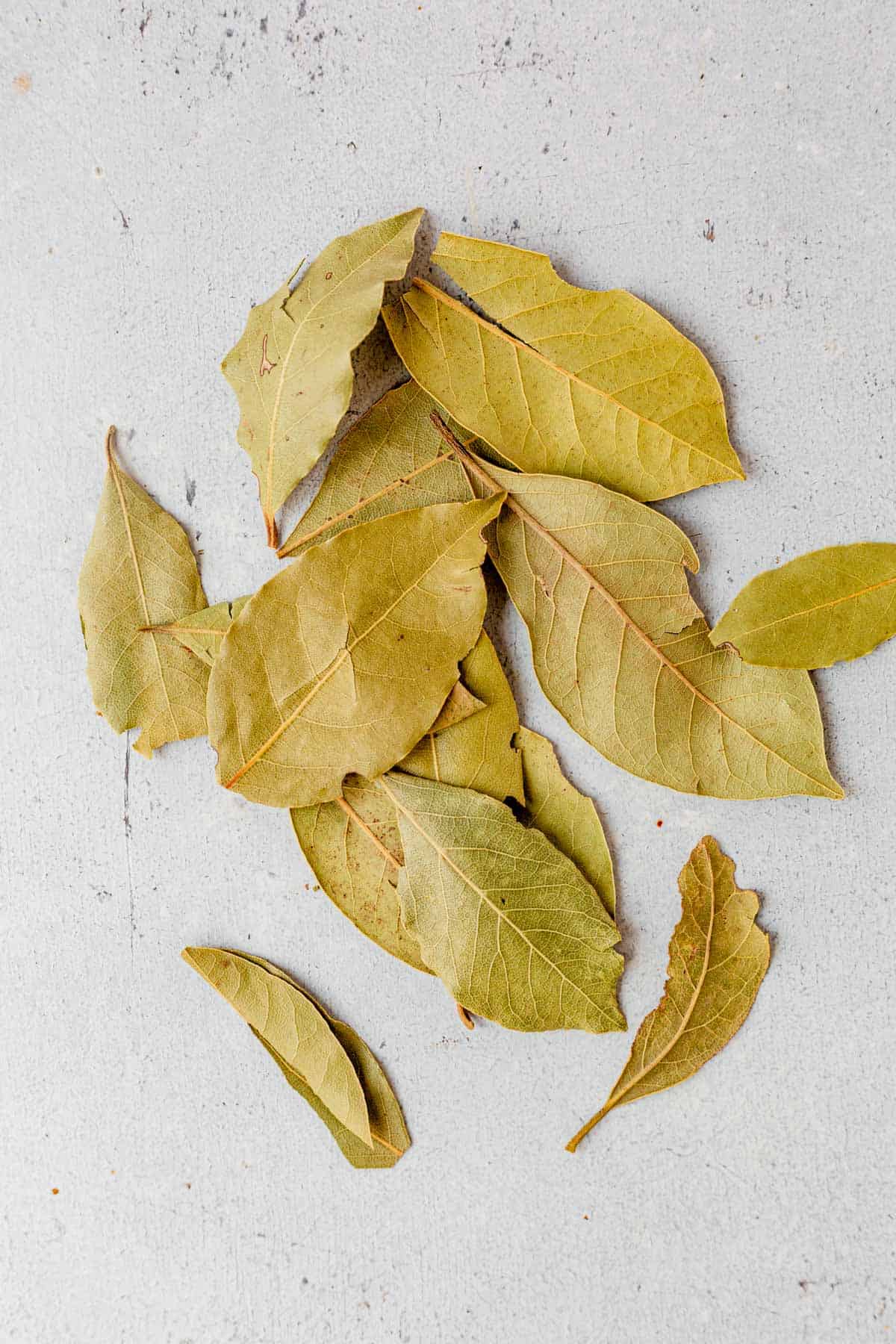 Dried vs Fresh Bay Leaves
Most recipes call for whole dried bay leaves; however, it is often easy to find fresh bay leaves in grocery stores. You may also already have crushed or ground bay leaves in your spice rack! If not, find them in the spice aisle of most grocery stores.
Fresh Bay Leaves: Use fresh bay leaves in place of dried bay leaves in recipes. Fresh bay leaves have a stronger flavor, so use fewer fresh leaves in your recipe. Use one fresh single bay leaf for every two dried bay leaves called for in the recipe.
Crushed Bay Leaves: Crushed bay leaves release their strong flavor and aroma more quickly. Use fewer crushed bay leaves in place of whole ones. Put them in a tea infuser or muslin bag because for easy removal. Use ½ teaspoon of crushed bay leaves to replace one whole bay leaf.
Ground Bay Leaves: the biggest difference between a crushed and ground bay leaf is that you do not need to remove ground bay leaves after the cooking process, which is. Use ¼ teaspoon for every dried bay leaf.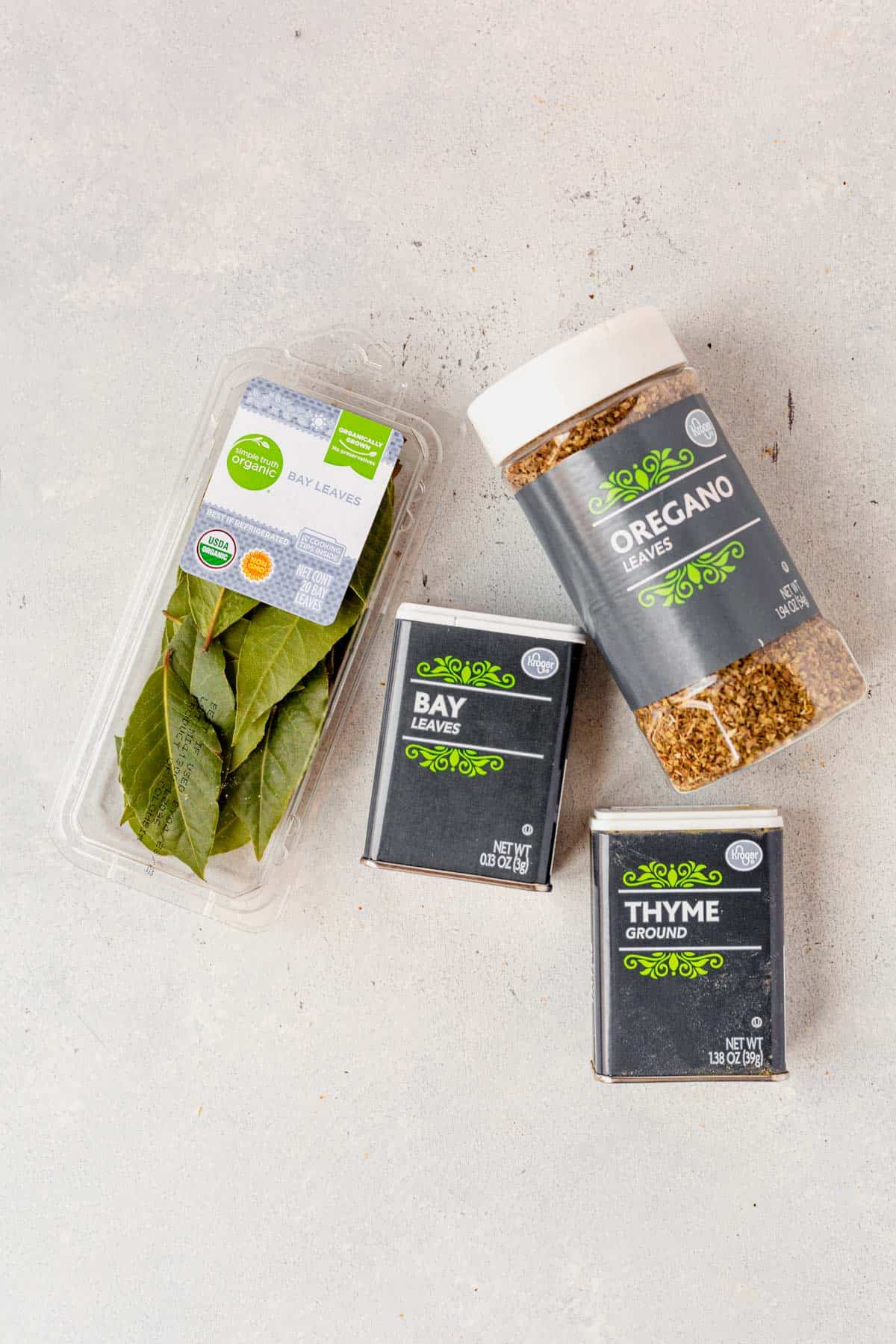 Best Bay Leaf Substitute
1. Thyme
Thyme looks different than bay leaves but has a similar flavor profile and minty taste. Use about half the amount of thyme as you would bay leaves.
2. Oregano
Another great alternative is oregano because its slightly bitter and earthy flavor can complement many dishes. Oregano has a peppery taste and a little goes a long way, so use half the amount of oregano as you would bay leaves.
3. Mexican Oregano
While regular oregano has a slightly minty flavor, Mexican oregano has citrus undertones. Mexican oregano is a good substitute for Latin or Mexican-style dishes, like chilis or salsas. Use ¼ teaspoon of Mexican oregano for every 1 bay leaf and add more as desired.
4. Basil
Basil is another great alternative for to substitute for a bay leaf, especially if you are making Italian dishes, like tomato-based dishes or tomato-based sauces. It tends to be a bit sweeter in flavor profile which is why fresh basil is good in pasta sauces. If you use a basil leaf to replace a bay leaf, use a 1:1 ratio.
5. Boldo Leaves
South American cuisine commonly uses an ingredient called a boldo leaf, relative to the bay leaf. They possess a similar yet slightly stronger flavor than bay leaves and can be overpowering. Use one boldo leaf for everyone and two bay leaves.
6. Juniper Berries
If you aren't cooking for pregnant women or children, who are not to eat juniper berries, you may consider using them in place of a bay leaf. They have a slightly fruity and peppery flavor that has hints of pine. Use ¼ teaspoon of juniper berries for every 1 bay leaf.
7. Rosemary
Rosemary doesn't taste quite like a bay leaf but it is a very common herb used for cooking because of its robust flavor. It makes a great alternative to bay leaves in meat dishes, like steaks, roasts, fish, lamb, or other gamey meats. Start with a 1:1 ratio but add more rosemary if desired.
8. Nothing
That's right: omit the bay leaves if you don't want to use a substitute for anything. Bay leaves add a distinctive flavor to their dishes but the finished recipe will be delicious without them too.
Want to add bay leaf flavor to a dish that doesn't call for one? The strong aroma and strong flavor of a bay leaf make it difficult to use if a recipe doesn't call for it.
However, if you find yourself wanting to make a dish that could benefit from an aromatic herb with a minty flavor and peppery taste, these Greek Chicken Meatballs are a great place to start.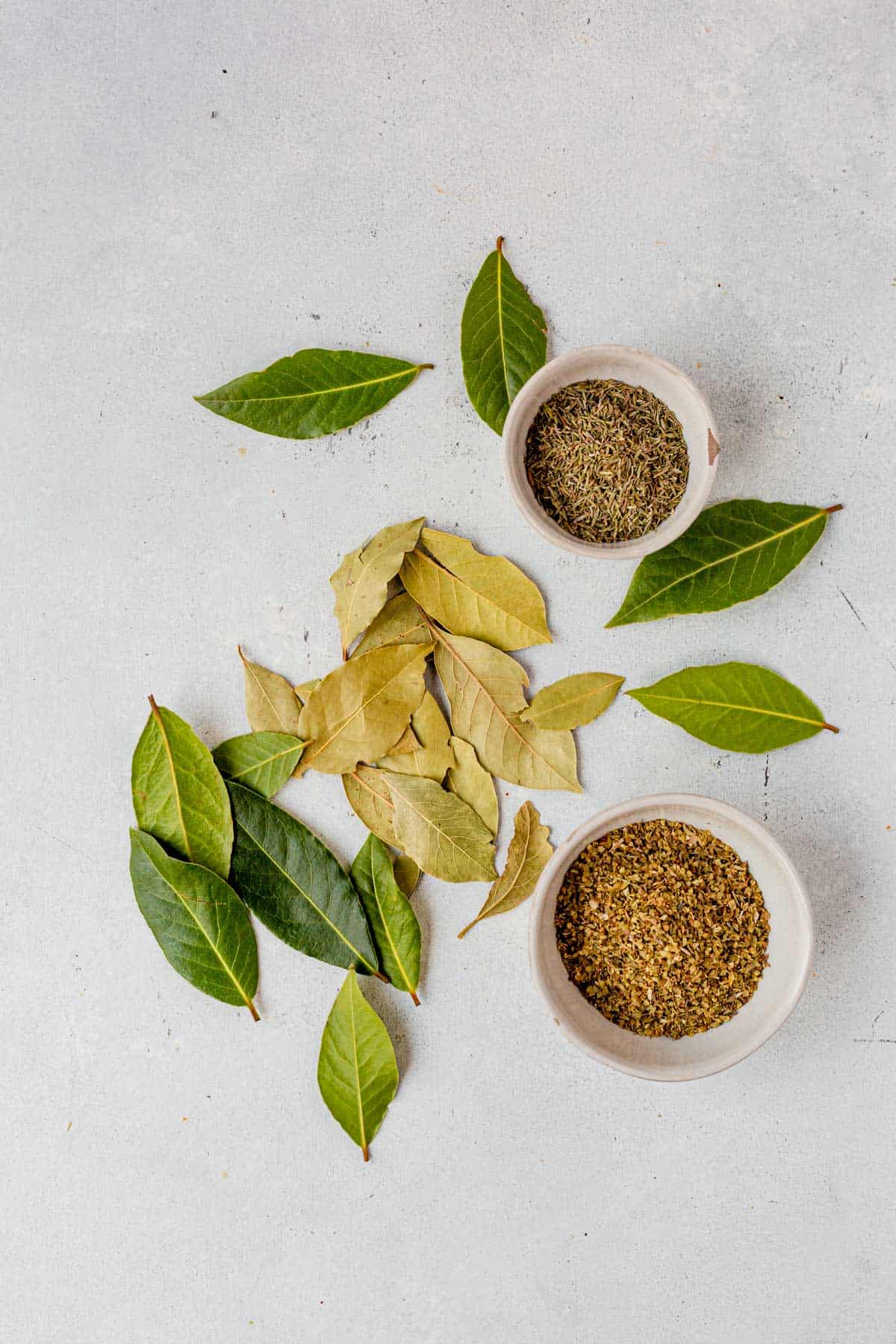 Frequently Asked Questions
What tastes similar to bay leaves?
Thyme and Oregano are the best universal substitutions for bay leaf. Fresh basil is sweeter than a bay leaf but makes a good bay leaf alternative in Italian dishes.

Dried basil has a peppery taste like bay leaves making it a great alternative for bay leaf substitution.

Boldo leaves are great alternatives to bay leaves but do have a stronger flavor than bay leaves. However, all of these herbs add a subtle flavor profile to round out whatever dish you are cooking.
Does a bay leaf really make a difference in cooking?
Bay leaves add a great fragrance and aroma to your dishes. You may notice their absence from a dish but it's fine to leave them out.
What flavor does a bay leaf add to a recipe?
Bay leaves have a minty taste with subtle hints of pine and black pepper. They add a sophisticated bitter flavor that helps keep heavy soups and stews light.
Can I omit bay leaves from a recipe?
A bay leaf's main purpose is to add flavor and deepen the dish's existing flavor. However, the flavor added is subtle so if you don't have any and don't care to find a substitution, you can leave it out.
Can bay leaves be overpowering?
Adding too many bay leaves can quickly overpower a dish with a strong menthol flavor. Do not use bay leaves unless the recipe calls for it.
How do you offset the taste of bay leaves?
If you've added too much bay leaf and need to offset the flavor, there are a couple of options to try to offset the flavor. First, if it makes sense, saute some garlic and add it to the dish! Second, you can add just a bit of sugar to smooth out the flavor profile.
Do mosquitoes hate bay leaves?
Fun fact: mosquitos don't like bay leavese. Mosquitoes do not like the pungent aroma that bay leaves give off.
Best Recipes with Bay Leaves
Bay leaves add an amazing richness to the dishes you are preparing.