Gluten-free chicken and dumplings start with savory vegetables and tender chicken in a creamy broth before it's topped with pillowy steamed dumplings. This recipe is loaded with so much cozy flavor and is easier than you might think.
Building flavor from searing the chicken first adds so much flavor and is our secret to the best soup recipes.
Do you love the technique of searing the chicken for the base of the broth? Then you'll this creamy chicken tortilla soup with Mexican-inspired flavors and a creamy broth.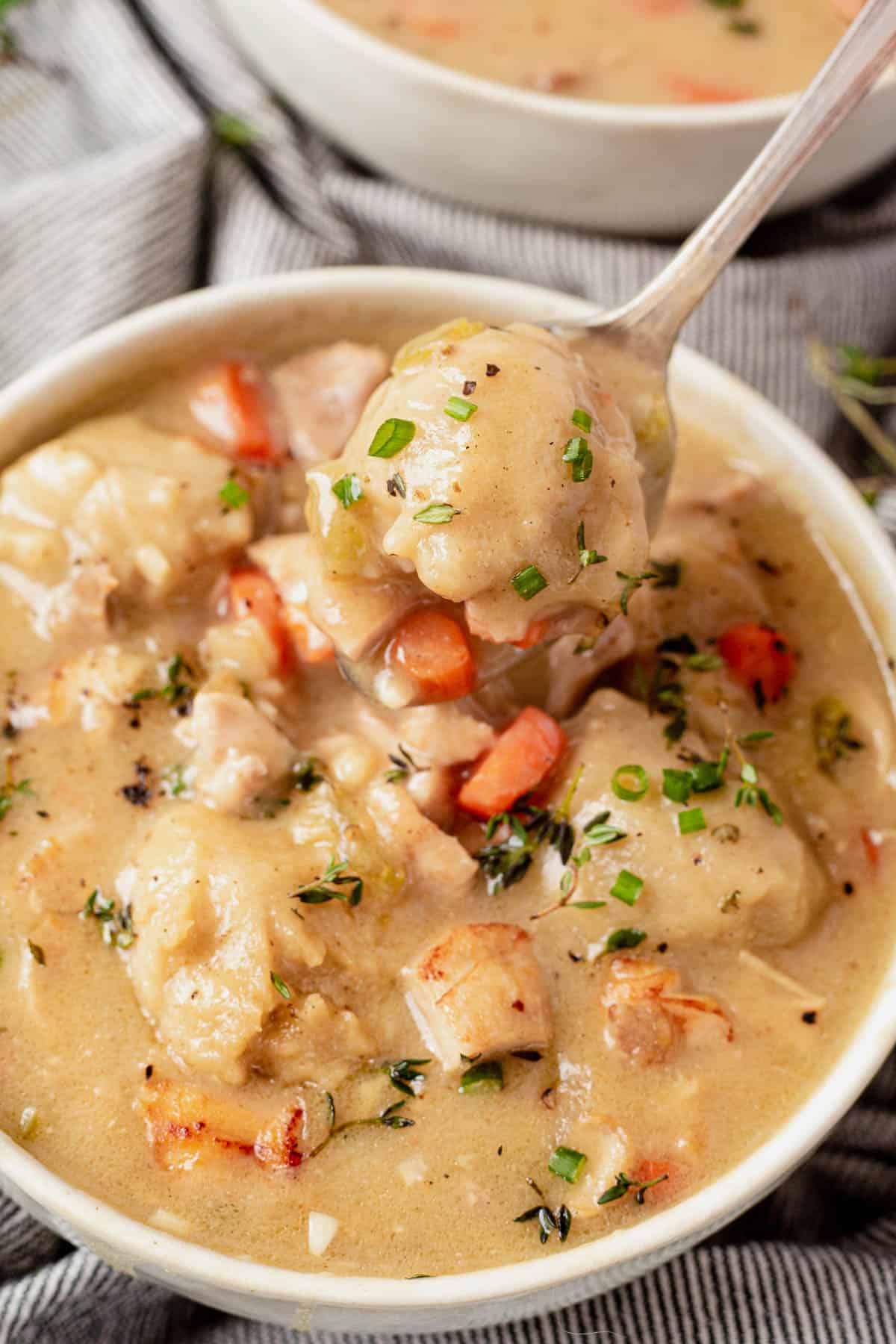 This chicken and dumplings recipe sits somewhere in the glorious space between soup and stew, with chunks of tender chicken, just the right amount of vegetables, and light and fluffy dumplings. It's the ultimate comfort food all in one bowl.
There are a lot of shortcuts out there for easy chicken and dumplings—recipes that call for cream of chicken soup, crockpots, rotisserie chicken, etc. There's nothing wrong with those, but there's nothing like making it from scratch for a deep and richen chicken flavor with fluffy dumplings.
It's so much easier to make it from scratch than you might think! Make the soup in one pot and the dumplings in one bowl.
Related: This creamy sausage gnocchi soup is easily made with gluten-free flour and gnocchi the next time you have a creamy soup craving.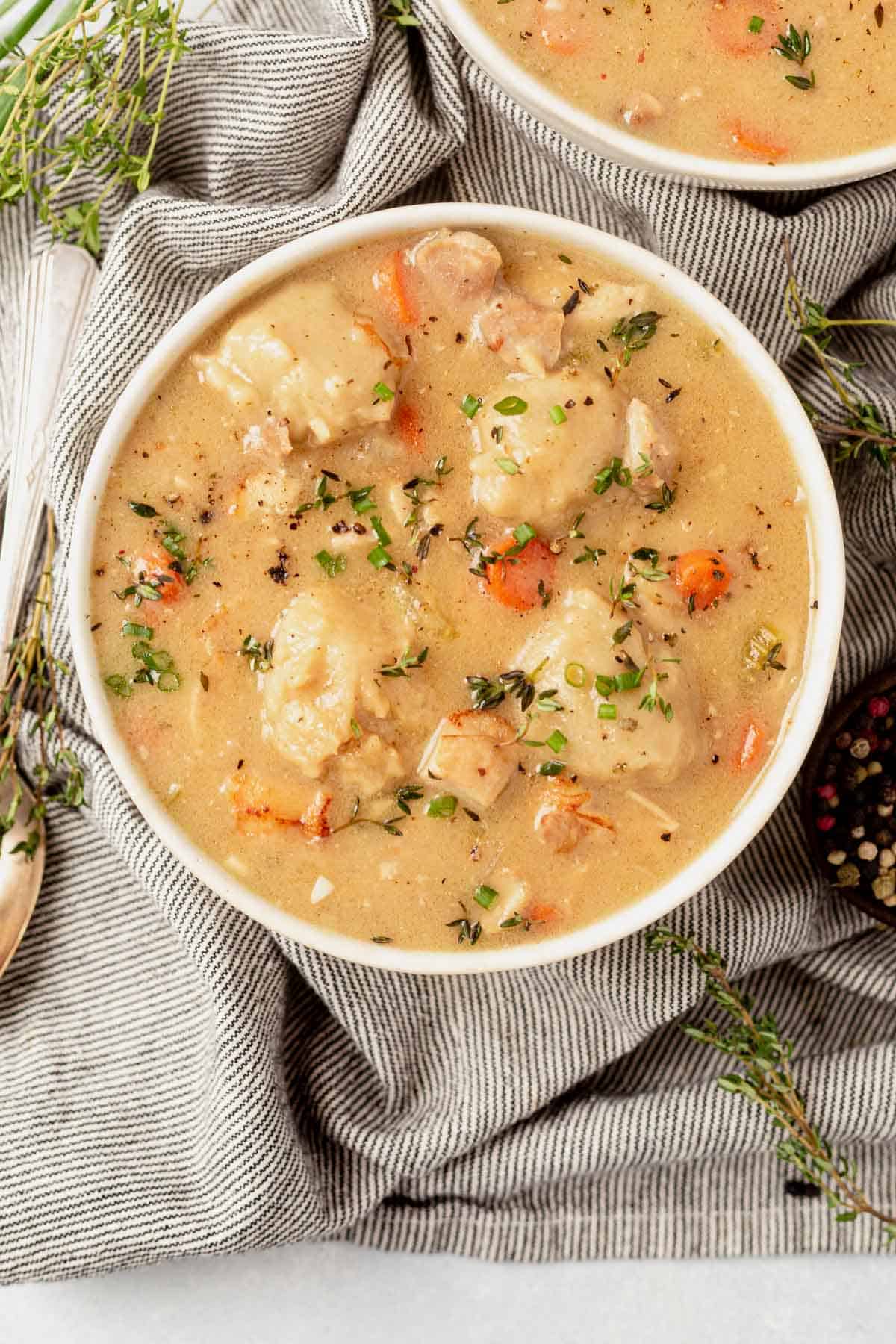 Why This Gluten-Free Chicken and Dumplings Recipe Works
Searing the chicken to create a "fond" builds so much flavor.
Partially cook the chicken and then simmer it in the broth making sure it's tender and not overcooked.
Make the gluten-free dumplings in one bowl (so easy!) then steam them on top of the soup, giving them a tender and fluffy texture.
It's made with simple, real ingredients for quality and flavor like no other.
Grab These Ingredients
Here are the simple ingredients for gluten free chicken and dumplings. Most are pantry staples and easy (and affordable) to find in grocery stores. Jump down to the recipe card for exact measurements.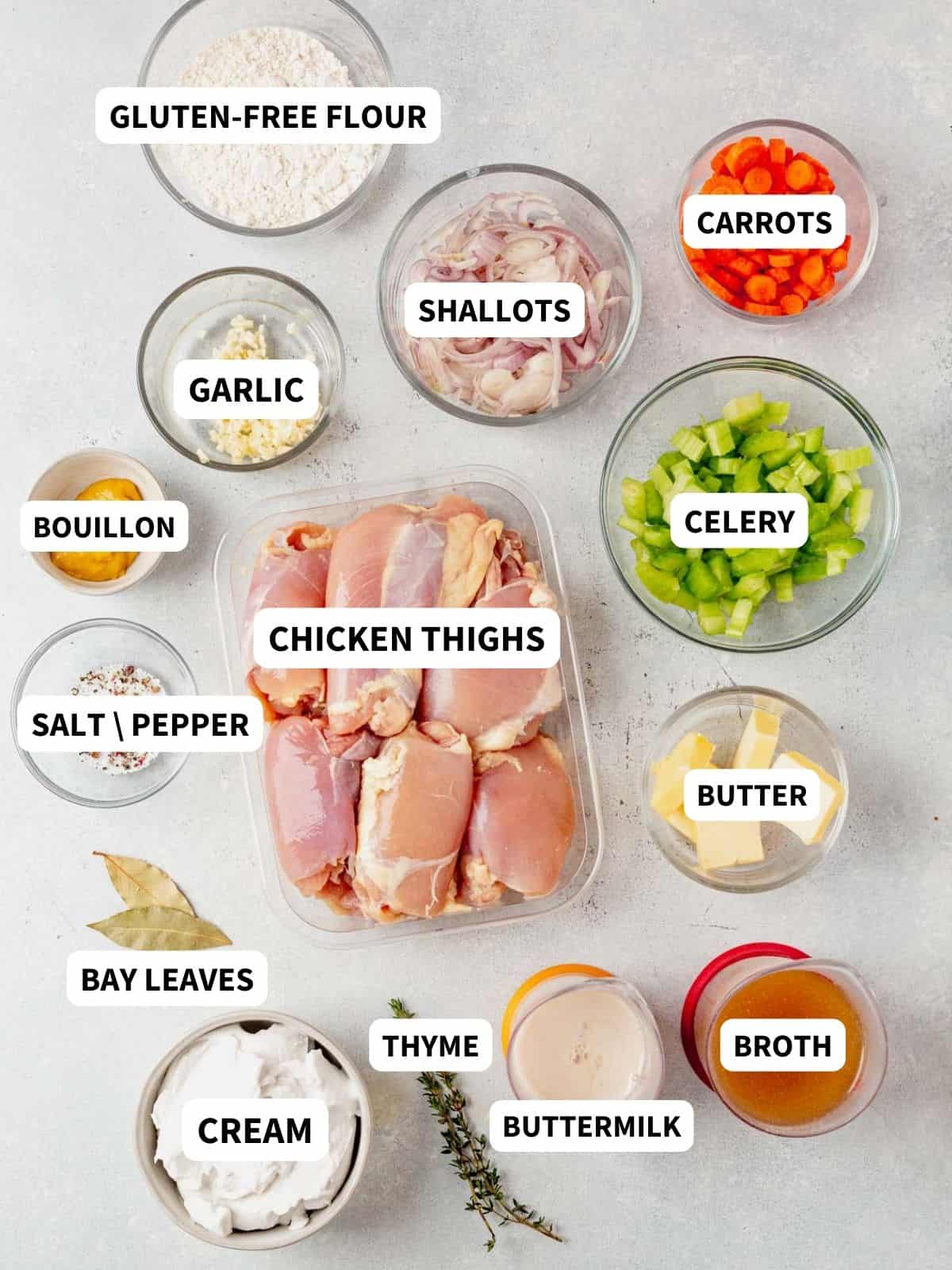 The Chicken Soup Base
Chicken: This is the main protein in the dish and adds protein and flavor. We used boneless chicken thighs for added flavor, but chicken breast works too.
Broth: Chicken broth or chicken stock work as the base of this soup. Make sure to use a gluten-free brand or make your own and check to tell if the chicken broth is bad.
Vegetables: we use a mixture of celery, carrot, and diced shallots, which are very typical for a mirepoix. We also add fresh garlic for more aromatics.
Gluten-free flour: Use a quality gluten-free all-purpose flour blend with xanthan gum for the base of the soup to make it thick and creamy. We love to use Bob's Red Mill 1:1 gluten-free flour because it contains a mixture of whole-grain brown rice flour, potato starch, and xanthan gum. Check out the recipe FAQs below to thicken it without flour.
Spices and herbs: Fresh thyme and bay leaves (or a bay leaf substitute) add so much flavor to this soup. We also love to top it with other fresh herbs like chives or parsley and of course salt and pepper.
Cream: cream gives the soup a really rich element. We tested this recipe with heavy cream and full-fat coconut cream and both were delicious.
Chicken bouillon: use the paste or cubes to add even more intense chicken flavor. Use these if you have them handy, but the recipe will still be delicious without them.
Gluten-Free Dumplings
Gluten-free flour: use the same gluten-free flour blend you used for the roux in the soup.
Baking powder and soda: Use baking soda and baking powder to help the gluten free dumplings rise. Baking soda needs some sort of acid to react, which is why we use buttermilk.
Buttermilk or dairy-free alternative: The acid in the buttermilk gives the dumplings a delicious taste and helps them rise. Make your own dairy-free buttermilk by mixing 1 tablespoon of apple cider vinegar or lemon juice with almond milk (or another dairy-free milk).
Eggs: this help bind the dumplings together. We tested these dumplings without eggs and they were too dense.
How to Make Gluten-Free Chicken and Dumplings
The full printable recipe is below, but let's walk through the steps with some photos and a video so you have a clear idea of what to expect. This gluten-free chicken and dumpling soup is an easy recipe worth the effort to make the soup from scratch. Follow these step-by-step instructions to make sure they turn out every time.
Video: Watch How to Make this Recipe
Sear the chicken thighs on both sides for 2-3 minutes, until they're golden brown (they don't need to be fully cooked), and then transfer them to a clean plate or cutting board.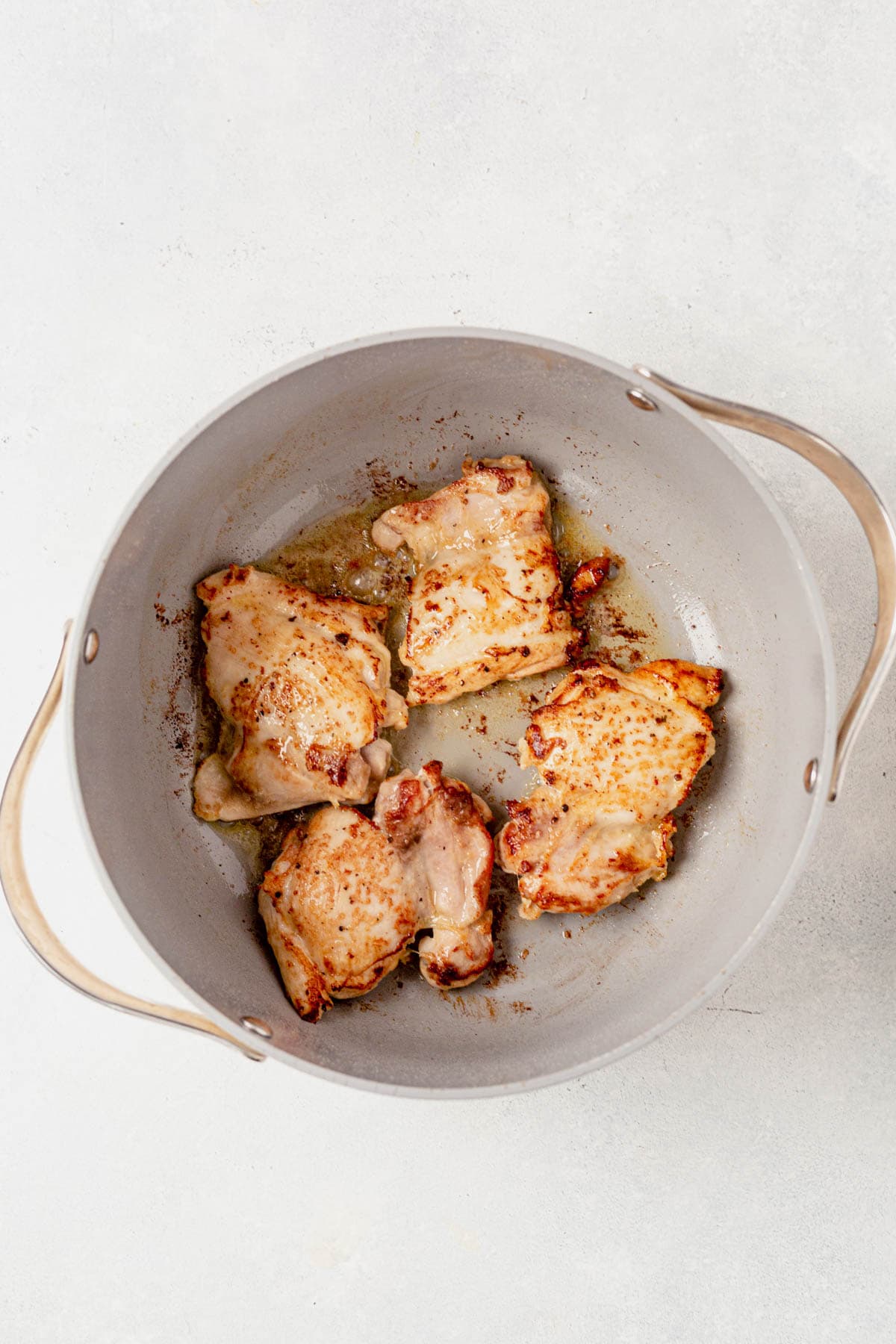 Melt butter in the same large pot over medium heat. Cook the onion, celery, and carrot in the melted butter until it's soft. Add the thyme and garlic and continue to cook for another minute until it's fragrant and your house smells like heaven.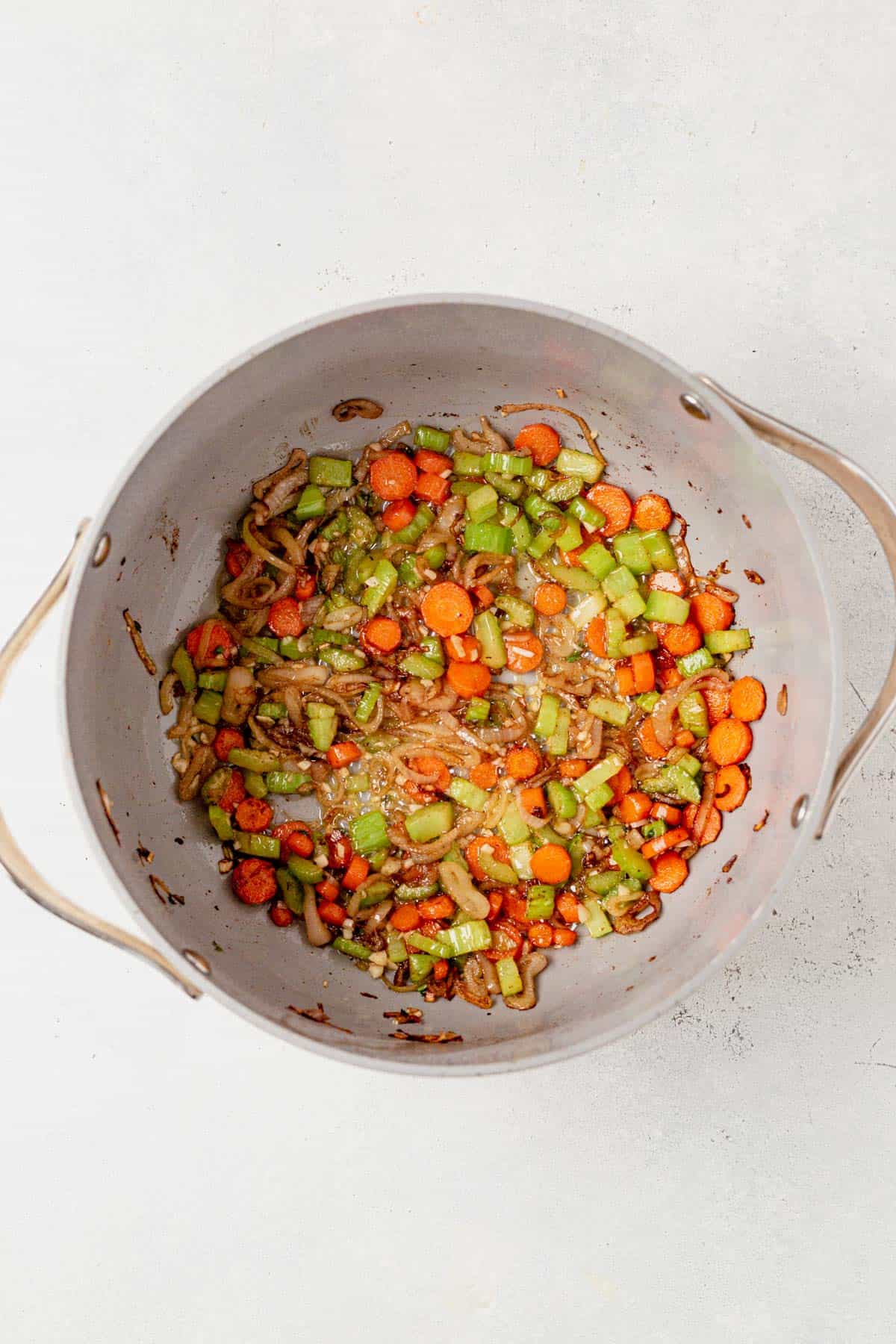 Sprinkle the gluten-free flour on top to create a roux. This is what thickens the soup! Slowly stir in the chicken broth then add the bouillion and bay leaves and let it simmer while you make the dumplings.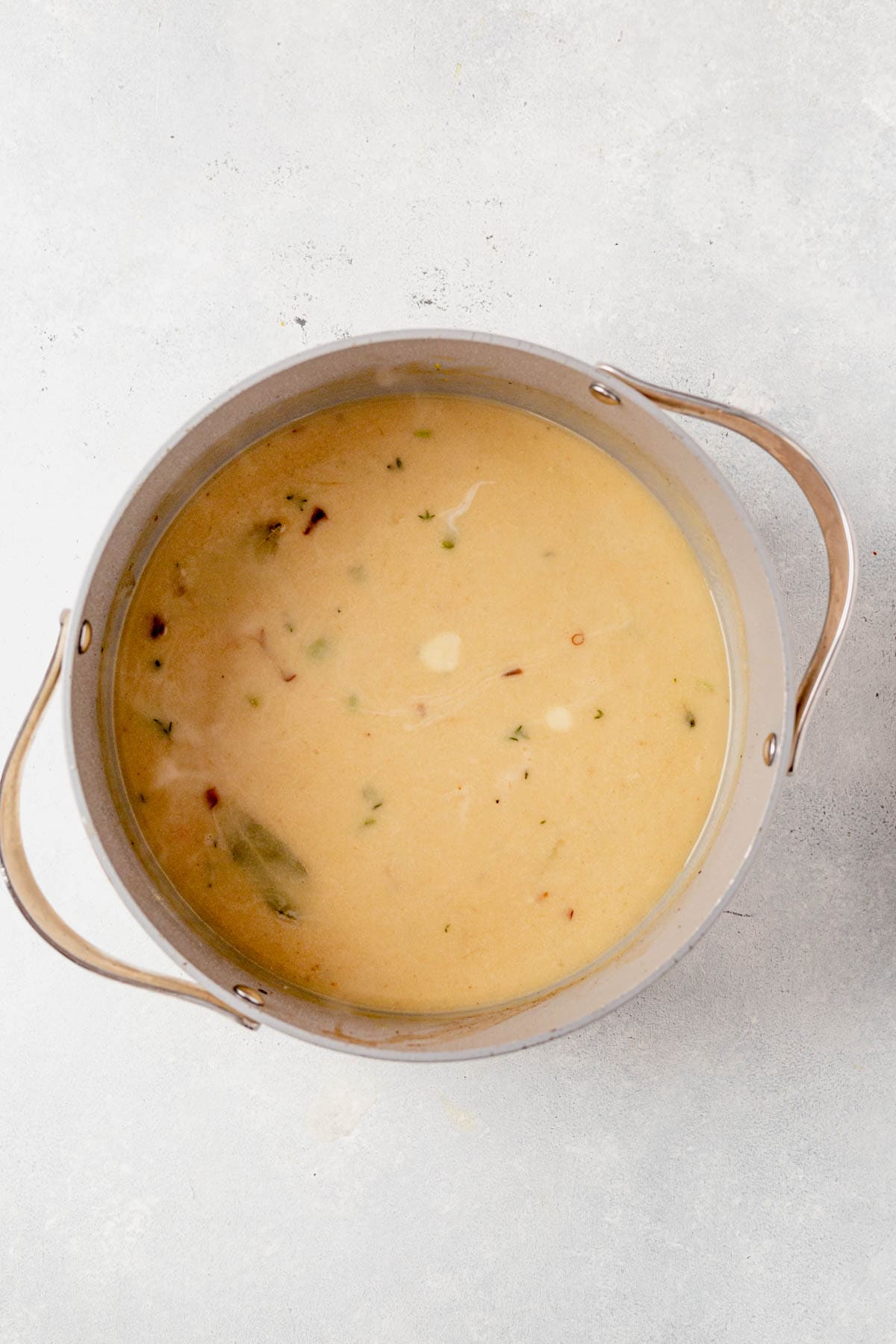 Mix the dry ingredients together in a medium to small bowl then create a well in the center and add the wet ingredients. Mix them together until they're just combined.
Chop the partially cooked chicken into cubes and place it in the boiling soup to finish cooking.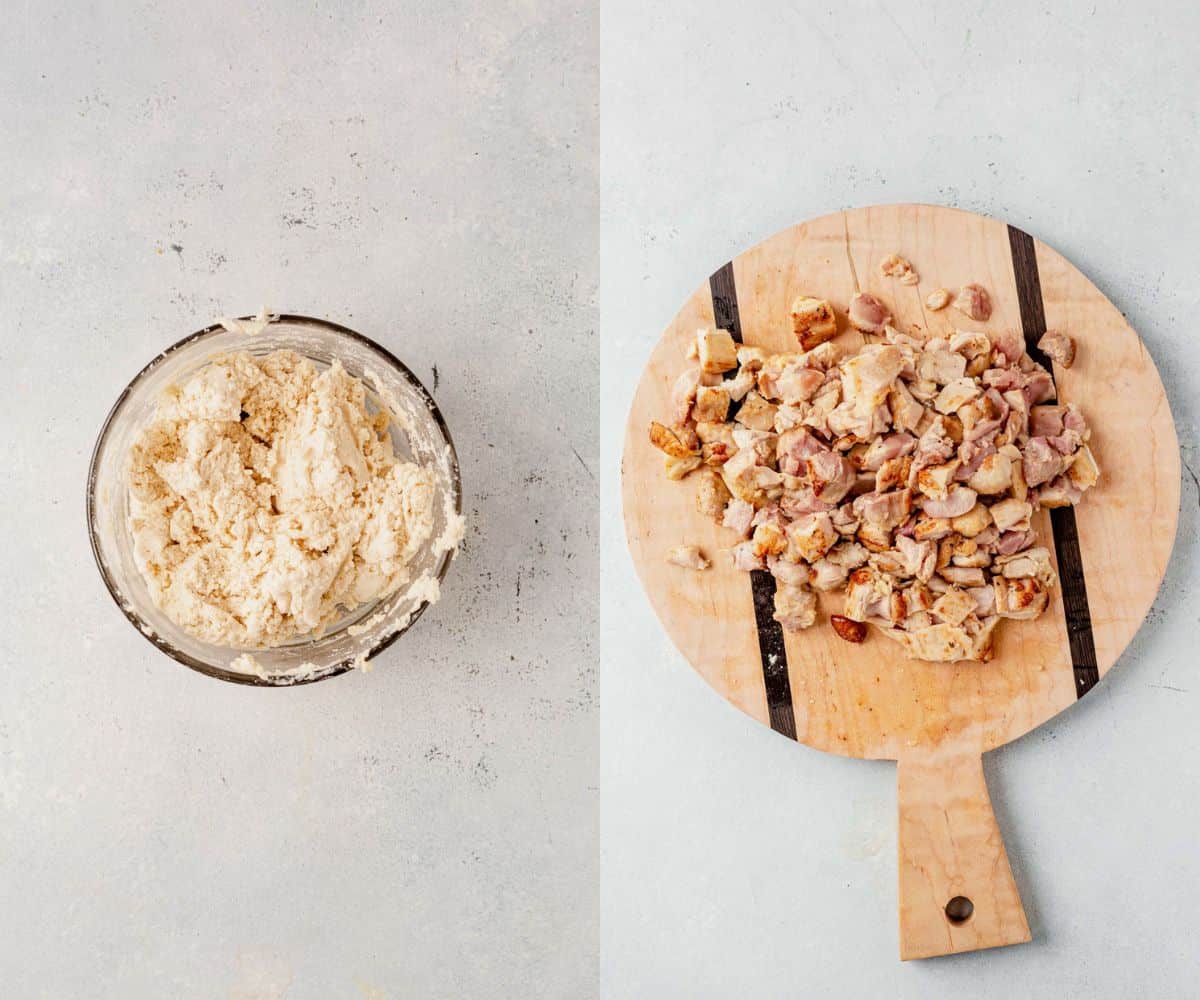 Remove the bay leaves then drop the gluten-free dumpling batter on top of the simmering soup. Cover and steam the dumplings for 10-12 minutes. They'll take longer to cook the larger they are.
Top the finished soup with fresh parsley or fresh thyme and fresh cracked black pepper. Serve warm!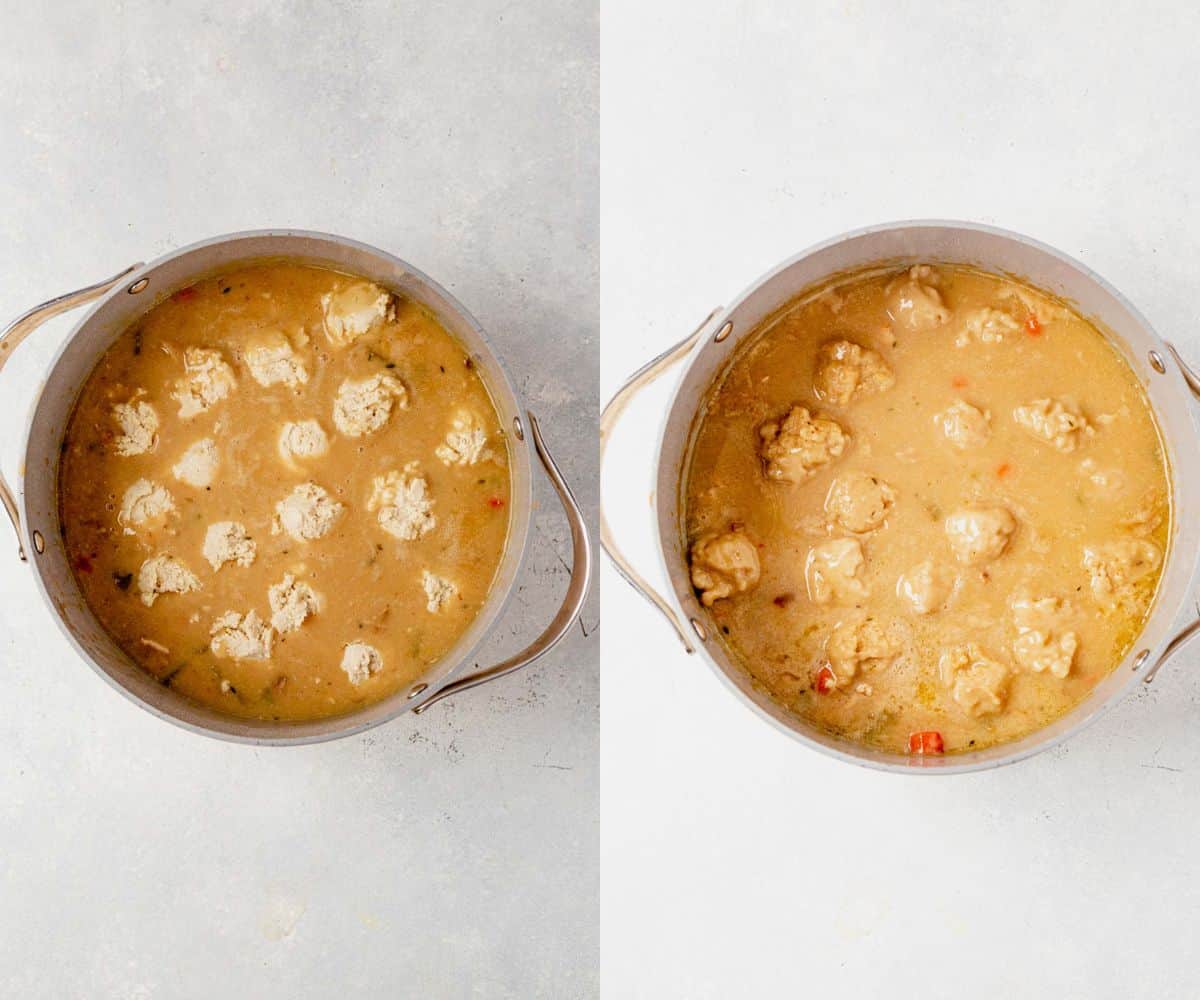 The Secret to the Best Homemade Broth
My favorite way to create the best homemade broth is to sear the chicken in oil or butter first to create a golden brown crust. Color equals flavor in cooking. This gives the chicken added flavor and also adds "fond" (brown chicken remnants) to the base of the soup.
A great soup starts with a great base (thanks to Top Chef for teaching me this), so searing the chicken is key. Deglazing the pan with butter gives the vegetables and roux so much flavor. Additionally, partially cooking the chicken ensures it's tender and not overcooked, no rubbery chicken here! All in all, don't skip this step!
Recipe FAQs
Are any dumplings gluten-free?
No, most dumpling recipes call for white or wheat flour, which is not gluten-free. Use a quality gluten-free flour blend for this recipe.
What are gluten-free dumplings bade of?
Tender and fluffy gluten-free muffins call for gluten-free flour, baking powder, eggs, salt, and buttermilk or broth.
How do you thicken chicken and dumplings without flour?
You can thicken this soup recipe using a slurry (mixture of cornstarch or tapioca flour and water) instead of roux, which is made of fat and gluten-free flour. Mix a couple of tablespoons of cornstarch with water and simmer it in the soup/broth before you add the dumplings.
Can I use rotisserie chicken?
Purchase rotisserie chicken or use up leftover chicken to save time, however, you won't get the same deep, intense chicken flavor from searing it first.
Can I use Bisquick for the dumplings?
You can use gluten-free Bisquick instead of making homemade dumplings. Follow the instructions on the box and steam them as directed.
Can you overcook the dumplings?
Yes, overcooked dumplings will begin to fall apart in the soup. Use a timer and carefully cut a dumpling in half to tell if it's done.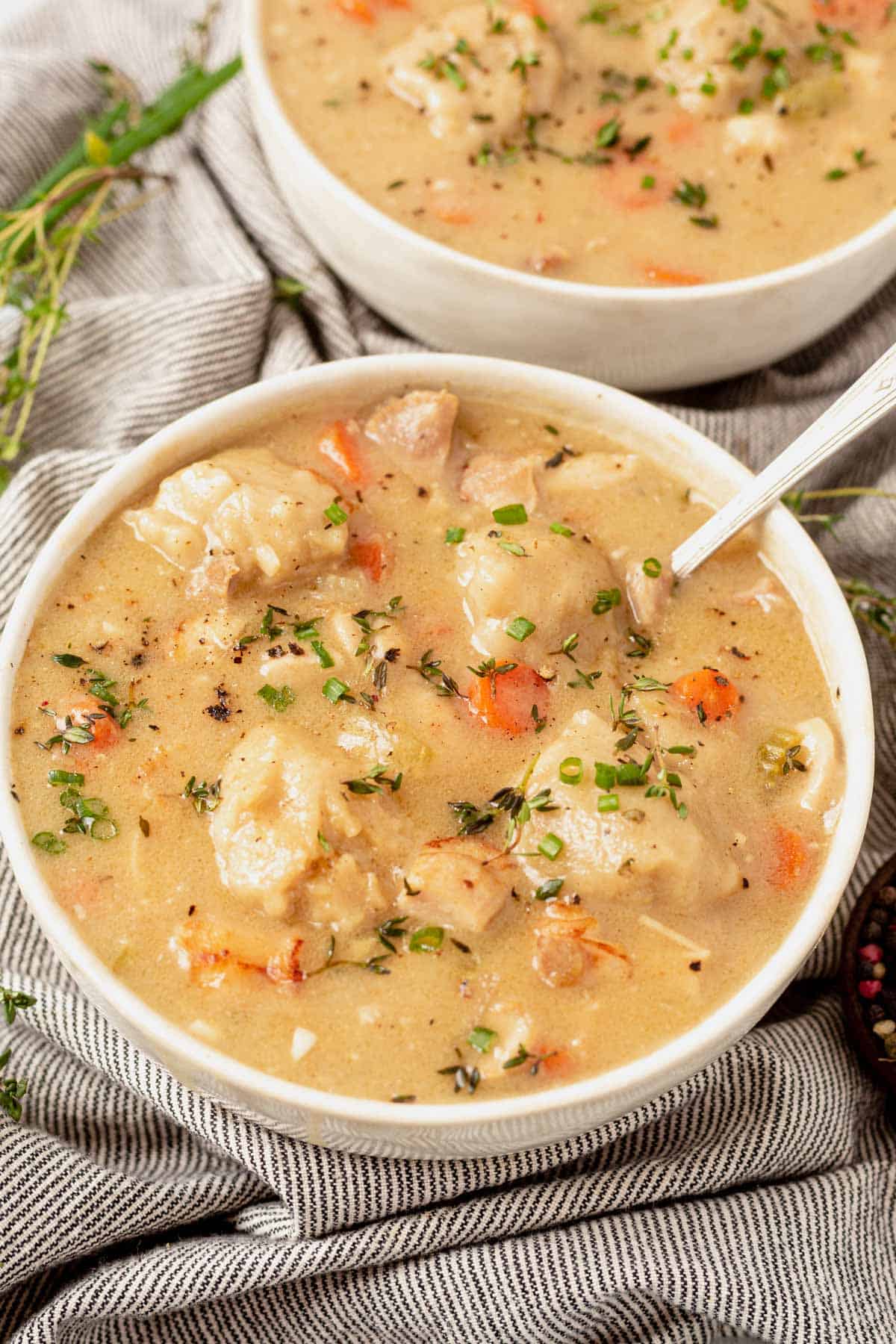 Tools for this Recipe
Here are some basic kitchen tools we used for this recipe (may contain affiliate links).
Storing and Freezing
Store leftover gluten-free chicken and dumpling soup in an airtight container and refrigerate for up to 3 days or freeze for up to 3 months. Leftovers are a little bit thinner in consistency but the flavor is still great. The dumplings are always best if made fresh, but you can store leftovers separately for the best results.
Reheat the soup on the stove until warm all the way through or warm individual bowls in the microwave. Reheat the dumplings on a baking sheet at 350° for 5-7 minutes.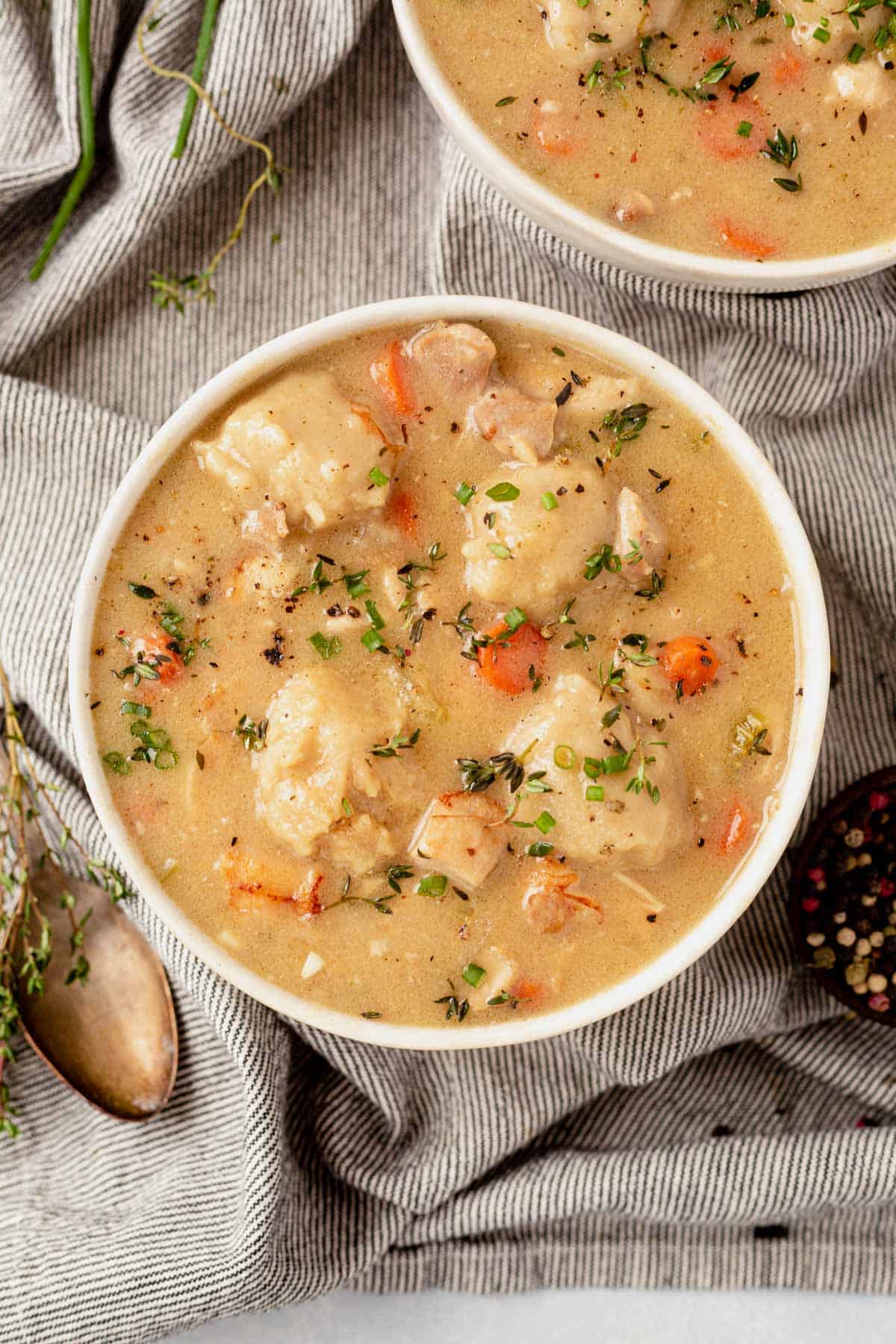 More Gluten-Free Dinner Recipes
Want more classic recipes made gluten-free? This Italian Meatball soup is crave-worthy and this creamy steak pasta is full of bold balsamic flavor.
Our favorite gluten-free soups have bold flavor and tender chicken, just like this chicken Florentine soup and this reader-favorite creamy chicken tortilla soup.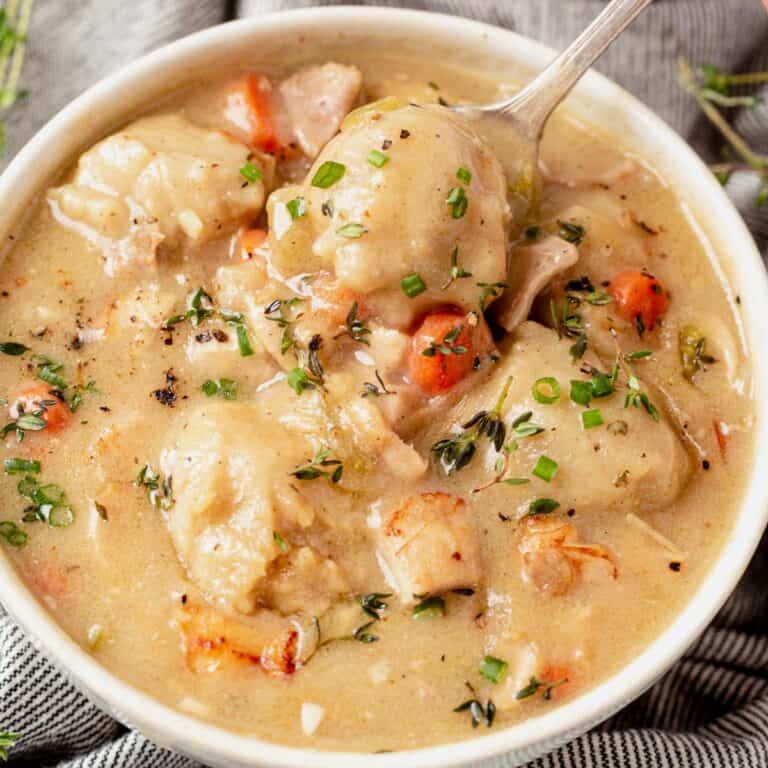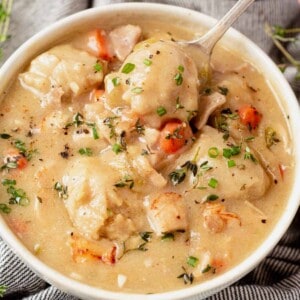 Gluten-Free Chicken and Dumplings
Gluten-free chicken and dumplings start with savory vegetables and tender chicken in a creamy broth before it's topped with pillowy steamed dumplings. Scroll up to the blog post above for step-by-step photos to see how each step of this recipe is made.
Print
Pin
Rate
Save
Saved!
Ingredients
Chicken Soup Base
1 ½ - 2

lbs

boneless skinless chicken thighs

chicken breasts work too

Salt and pepper

to taste

5

tablespoons

unsalted butter or olive oil

divided

2

shallots

thinly sliced (Note 1)

4

medium carrots

peeled and sliced into rounds

4

ribs celery

chopped

3

cloves

garlic

minced

2

sprigs fresh thyme

¼

cup

gluten-free flour

(with xanthan gum, Note 2)

2

teaspoons

bouillon paste or 2 chicken bouillon cubes

optional (Note 3)

4-6

cups

chicken broth

2

bay leaves

1

cup

heavy cream

or coconut cream for dairy-free (Note 4)

1

teaspoon

kosher salt

¼

teaspoon

black pepper

Fresh parsley, thyme, or chopped chives for topping
Gluten-Free Dumplings
2 ¼

cups

gluten-free flour

same as above

2

teaspoons

baking powder

¼

teaspoon

baking soda

½

teaspoon

kosher salt

2

eggs

beaten

¾

cup

buttermilk

(Note 5 for dairy-free buttermilk)
Recommended Equipment
Large Pot or Dutch Oven

Small cookie scoop

optional
Instructions
Make the Soup
Pat the chicken dry with paper towels and season both sides with salt and pepper. Add 2 tablespoons of butter or olive oil to a large dutch oven or stock pot over medium-high heat. Sear thee chicken on both sides for 2-3 minutes, until golden brown then transfer it to a clean plate or cutting board. The chicken does not need to be cooked all the way through.

Add the remaining 3 tablespoons of olive oil or butter to the pot. Once it's hot and shimmer, add the shallot, carrot and celery and cook to soften for 5-7 minutes, scraping any brown bits off the bottom of the pan from searing the chicken. Add the garlic and thyme and cook for another 1-2 minutes, until fragrant.

Sprinkle the gluten-free flour on top and stir until the vegetables are coated. Slowly pour in 4 cups of chicken broth, stirring constantly, until the mixture thickens. Add the bouillon, cream, and bay leaves and stir to combine. Add up to 2 more cups of chicken broth to reach your desired consistency, if needed.

Bring the soup to a gentle boil over medium-high heat then turn the heat down to medium-low and simmer uncovered while you make the dumplings.
Make the Gluten-Free Dumplings
Whisk dry ingredients together in a medium bowl. Push the dry ingredients to the outsides of the bowl to create a small well in the center. Pour in the wet ingredients including the whisked eggs and buttermilk then use a rubber or wooden spatula to gently fold the wet and dry ingredients together. Do not over-mix or the dumplings can become dense.

Before adding the dumplings, chop the half-cooked chicken into cubes (shredding chicken works too). Remove the bay leaves from the soup and stir in the chopped chicken over low heat. The chicken will finish cooking in the soup.

Drop the dumpling dough by the heaping teaspoon or small cookie scoop in simmering broth. You can use a tablespoon or larger cookie scoop if you prefer larger dumplings, but they will take linger to cook so check the center. Cover the soup tightly with a lid and turn the heat up slightly to bring the soup to a very gentle simmer. Simmer for 12-15 minutes, without opening the lid. The steam cooks the dumplings so we don't want any of it to escape.

When the time is up, check the dumplings to make sure they're cooked through. Carefully remove a dumpling and cut it in half to see if it's cooked through; the interior should look like a soft dinner roll. If they're not fully cooked, cover and cook 2 minutes more.

Remove the finished soup from the heat and garnish with parsley or chives. Taste and add more salt and pepper as needed. Serve warm.
Notes
Note 1. Shallots. I love the mild flavor of shallots in this recipe, but you can also use 1 small diced yellow/sweet onion instead, which ends up being about ½ cup of diced onion. Note 2. Gluten-Free Flour. Use a quality 1:1 gluten-free flour with xanthan gum. We tested this recipe with Bob's Red Mill Gluten-Free Flour and King Arthur's Measure for Measure flour and they were both great. Note 3. Bouillon Paste. This adds deep rich chicken flavor but can be omitted if you don't have it on hand or don't want to purchase some just for this recipe. We used Better than Bouillon paste. Note 4. Coconut Cream. This is the thick cream that separates on top of a can of full-fat coconut milk. You can find it in the international or baking aisle of most grocery stores. Some brands are a bit sweeter than others so keep that in mind. We tested this with Thai Kitchen and it was delicious. Note 5. Dairy-Free Buttermilk. Add 1 Tablespoon of apple cider vinegar or lemon juice to a liquid measuring cup and fill it the rest of the way up with dairy-free milk. Let it sit for 3-4 minutes to curdle slightly before using it in the recipe. Rotisserie chicken: use leftover shredded chicken or a rotisserie chicken if desired. Add it to the soup right before the dumplings. It won't have as much rich flavor or color, but will still be delicious. Storage: store leftovers in an airtight container and refrigerate for up to 3 days or freeze for up to 3 months. The dumplings are always best if made fresh, but you can store leftovers separately for the best results.
Nutrition
Serving:
1
bowl
|
Calories:
473
kcal
|
Carbohydrates:
55.6
g
|
Protein:
14.2
g
|
Fat:
31.2
g
|
Cholesterol:
148.6
mg
|
Sodium:
1247.7
mg
|
Fiber:
4.5
g
|
Sugar:
6.7
g
|
Vitamin A:
562.6
IU
|
Vitamin C:
6
mg