Soft and chewy rocky road cookies are made with pudding to keep them soft and the toasted marshmallow instantly transports you to campfires with friends.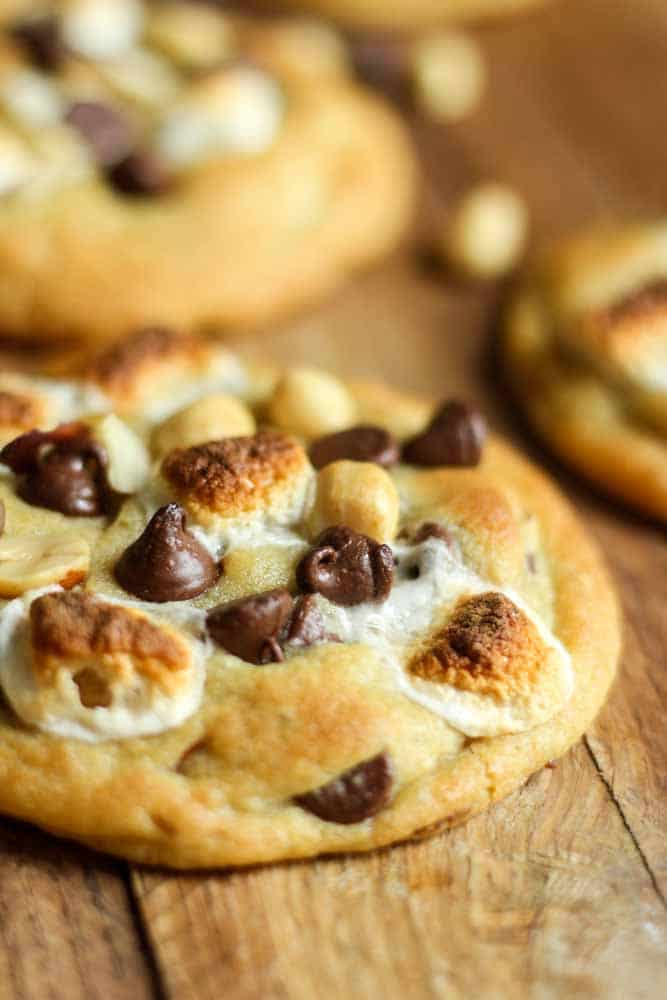 Jump to:
First things first. These Rocky Road cookie are to die for.
Second, and mostly because I'm dying to get this off my chest, I'm just plain old exhausted. Totally irrelevant to these cookies, but just wanted to share! I'm in a season of life where I think I said "yes" to too many things. Ever had that happen to you?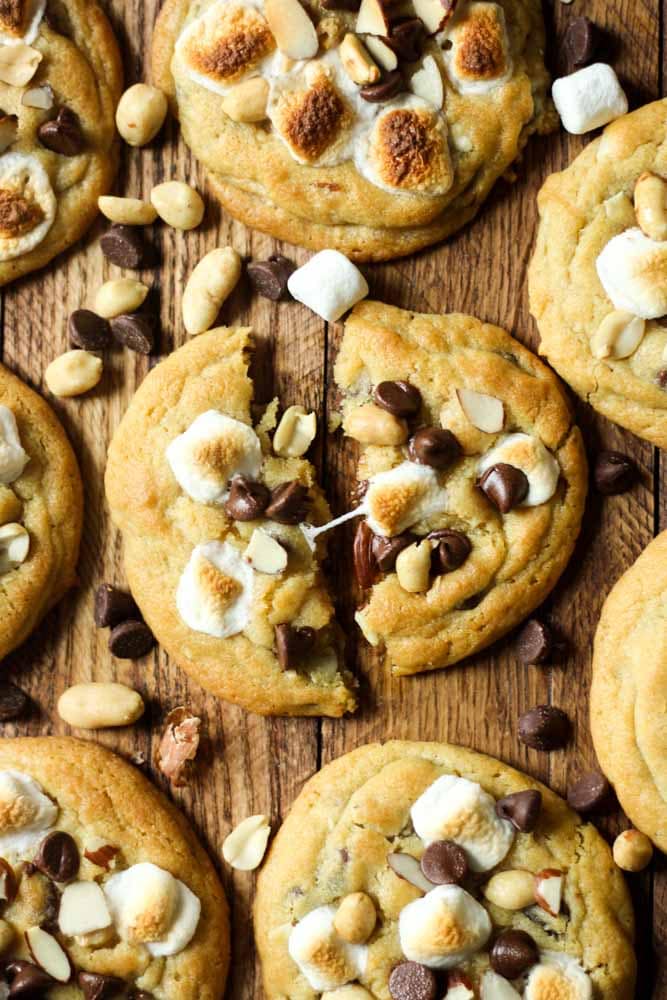 Things are really ramping up at work and then I said yes to a few too many obligations outside of work (which I am super passionate about!) but, I've found myself doing half the job at those things and I'm left feeling unaccomplished and might be letting people down rather than making the difference I set out to make by saying "yes" in the first place. Neither of those things are good.
How am I supposed to enjoy Harry Potter or The Bachelorette when I always feel like I should be doing something else?! I can't have that.
And I think that's okay.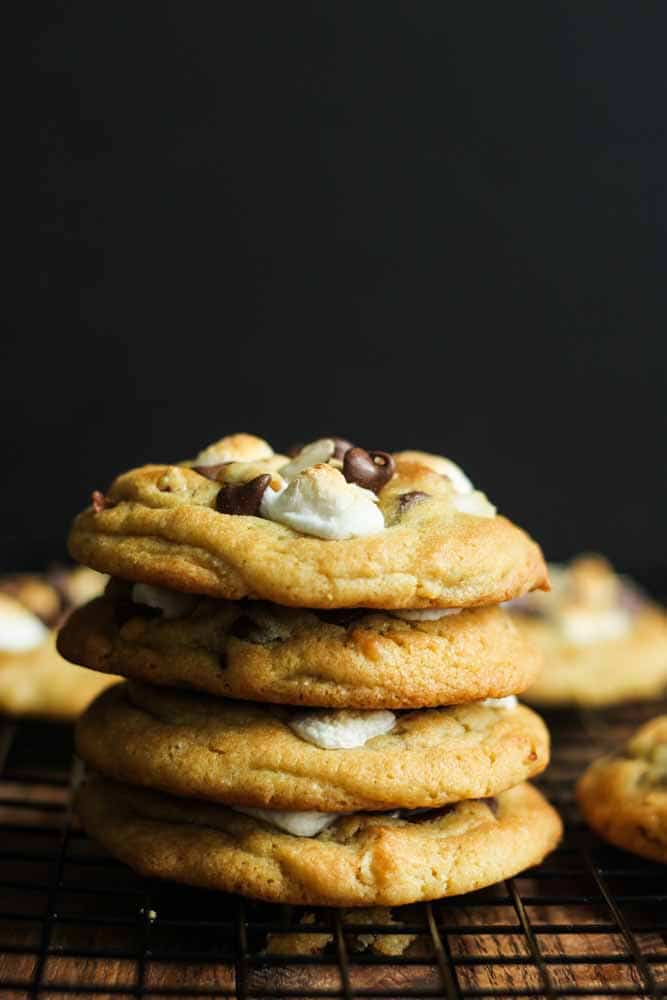 This season made me think of the book, The Best Yes
. It's all about making wise decisions in the midst of endless demands. Which we all have! Here are some of my very favorite quotes from the book (which I really need to post on my wall or mirror every day):
"The decisions you make determines the schedule you keep. The schedule you keep determines the life you live. And how you live your life determines how you spend your soul."
"We have to slow the rhythm of rush in our lives so the best of who we are can emerge."
"Saying yes all the time won't make me wonder woman it will make me a worn out woman."
"Not every opportunity is meant to be my assignment."
Yes, yes, yes and YES. That last one hits it home for me. Anyone else have this same thing happen to them? I'd love to hear some advice!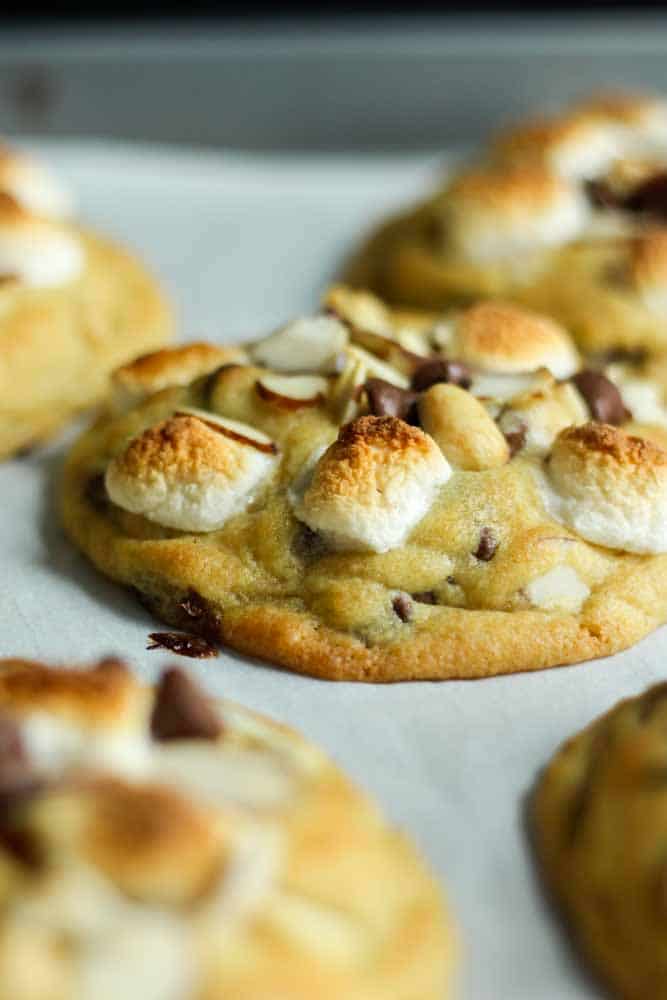 Can you freeze rocky road cookies?
One thing I do have time for? These ROCKY ROAD COOKIES. Both making and eating. Roll a batch of dough into cookies then keep them in the freezer for up to 3 months. It takes a total of 12 minutes to go from frozen treat to gooey, melty pillows of cookie.
What makes this recipe so good
The base is made with my very favorite chocolate chip pudding cookies. All you have to do is add the chopped nuts and marshmallows. The only (slightly) tricky part of this recipe is getting the marshmallows perfectly toasted. I say this from experience, friends. One too many batches of charred marshmallows told me you need to just watch these in the oven the whole time. No, you don't have to watch the oven for 12 minuets! Just the last 30 seconds.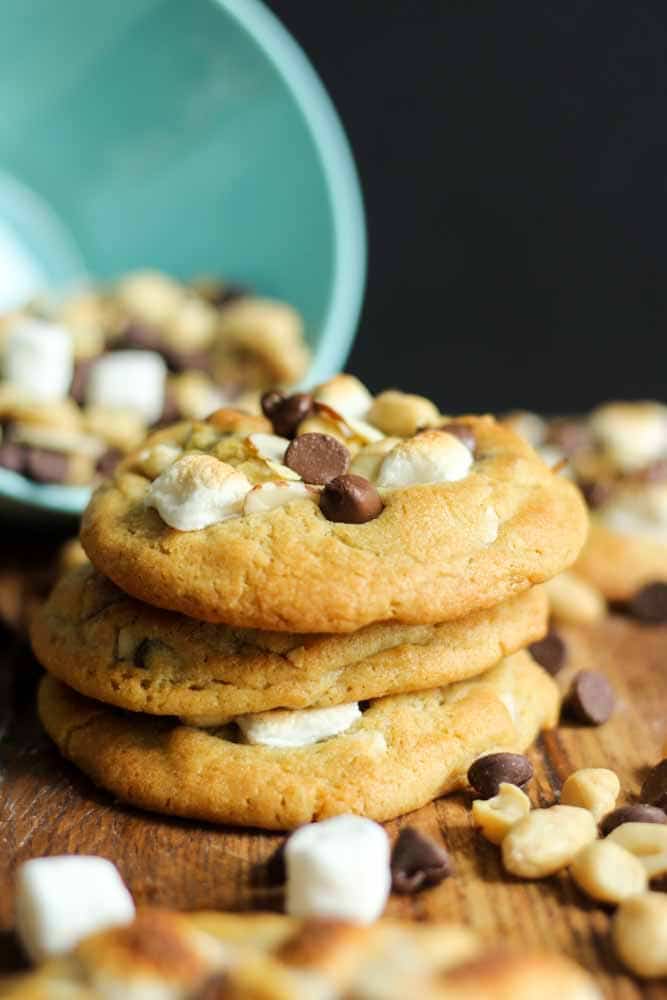 How long to broil the marshmallows
You bake the cookies perfectly and pull them out right when they're done. Flip on the broiler and then top your cookies with the marshmallows. Throw them back in the oven and watch! The sweet spot for me was about 40 seconds.
Let them cool and they'll be perfect for your summer activities! Camping, picnics, family parties or just because. The best part is they stay soft for so long so you can make them ahead of time.
If they last that long.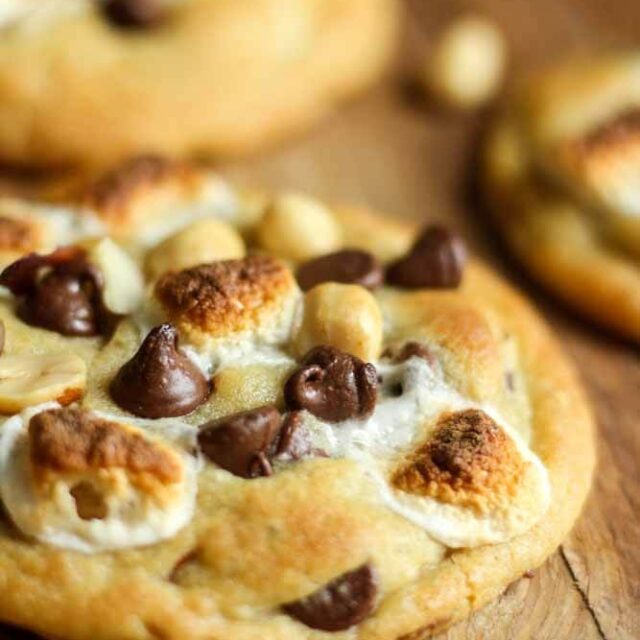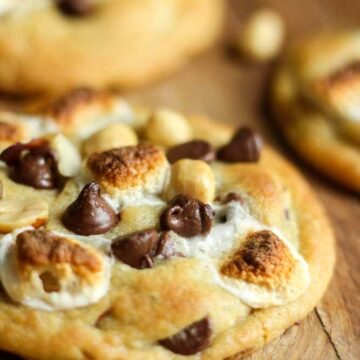 Ingredients
2¼

cups

all purpose flour

1

teaspoon

baking soda

½

teaspoon

salt

1

cup

2 sticks unsalted butter, softened

¾

cup

brown sugar

¼

cup

granulated sugar

3.4

ounces

vanilla instant pudding mix

2

large eggs

1

teaspoon

vanilla extract

1

cup

semi-sweet chocolate chips

½

cup

chopped almonds

plus extra for topping

½

cup

chopped walnuts

plus extra for topping

½

cup

mini marshmallows
Instructions
Preheat oven to 350 degrees. Line baking sheet with parchment paper and set aside.

In a medium bowl, whisk together flour, baking soda and salt and set aside.

Using a stand or electric mixer, combine the butter and sugar until creamy. Add the pudding mix, vanilla and eggs until well combined.

Slowly add the dry ingredients to the wet ingredients and mix until just combined. Add chocolate chips, almonds and walnuts and stir with a rubber spatula.

Measure out dough into two large tablespoons and roll into a ball then drop onto the prepared baking sheet. Bake for 10-12 minutes, or until slightly golden and just set on the top. Pull cookies out and turn on the broiler. Top cookies with more almonds, walnuts and marshmallows. Place back in the oven until marshmallows are lightly golden on top, about 30-40 seconds. Allow to cool on the baking sheet for five minutes then transfer to a baking rack to cool completely.