Bake this 3 ingredient pesto chicken to juice perfection in under 30 minutes. The chicken is coated in fresh basil pesto, topped with mozzarella cheese and baked perfectly. The chicken is so tender and cheese bubbles and melts on top.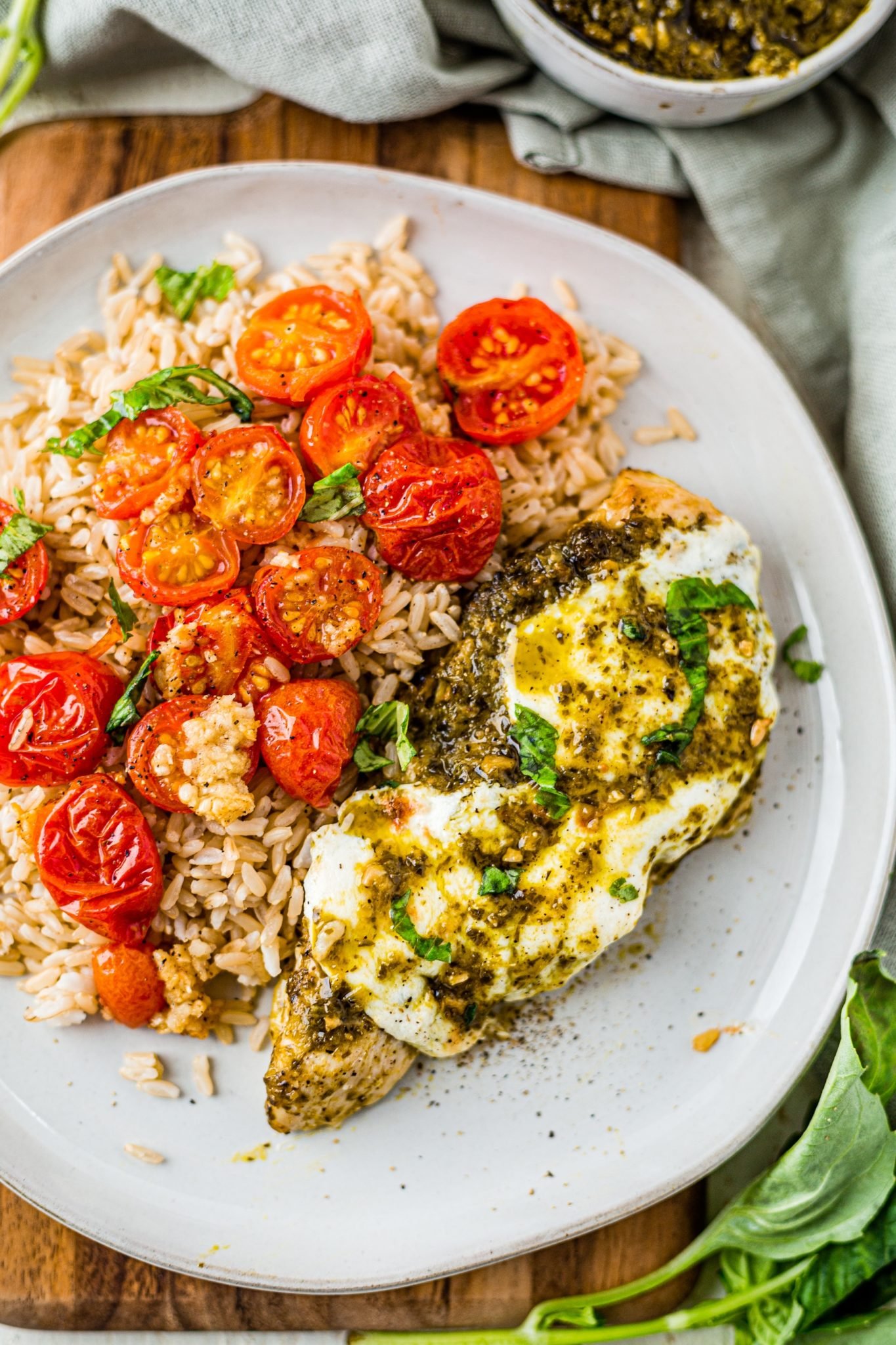 Jump to:
Say goodbye to boring, dry chicken and hellooooo to a chicken breast coated in fresh garlic-herb pesto topped with melted, bubbly cheese. I tested this recipe 3 times to make sure you have everything you need to make a killer pesto chicken bake.
If you're like us and dinner stresses you out, this one will ease your mind. Add 2 (maybe 3) ingredients to the grocery list and dinner is ready in under 30 minutes.
3 simple ingredients
Chicken breast
Basil pesto
Mozzarella (optional)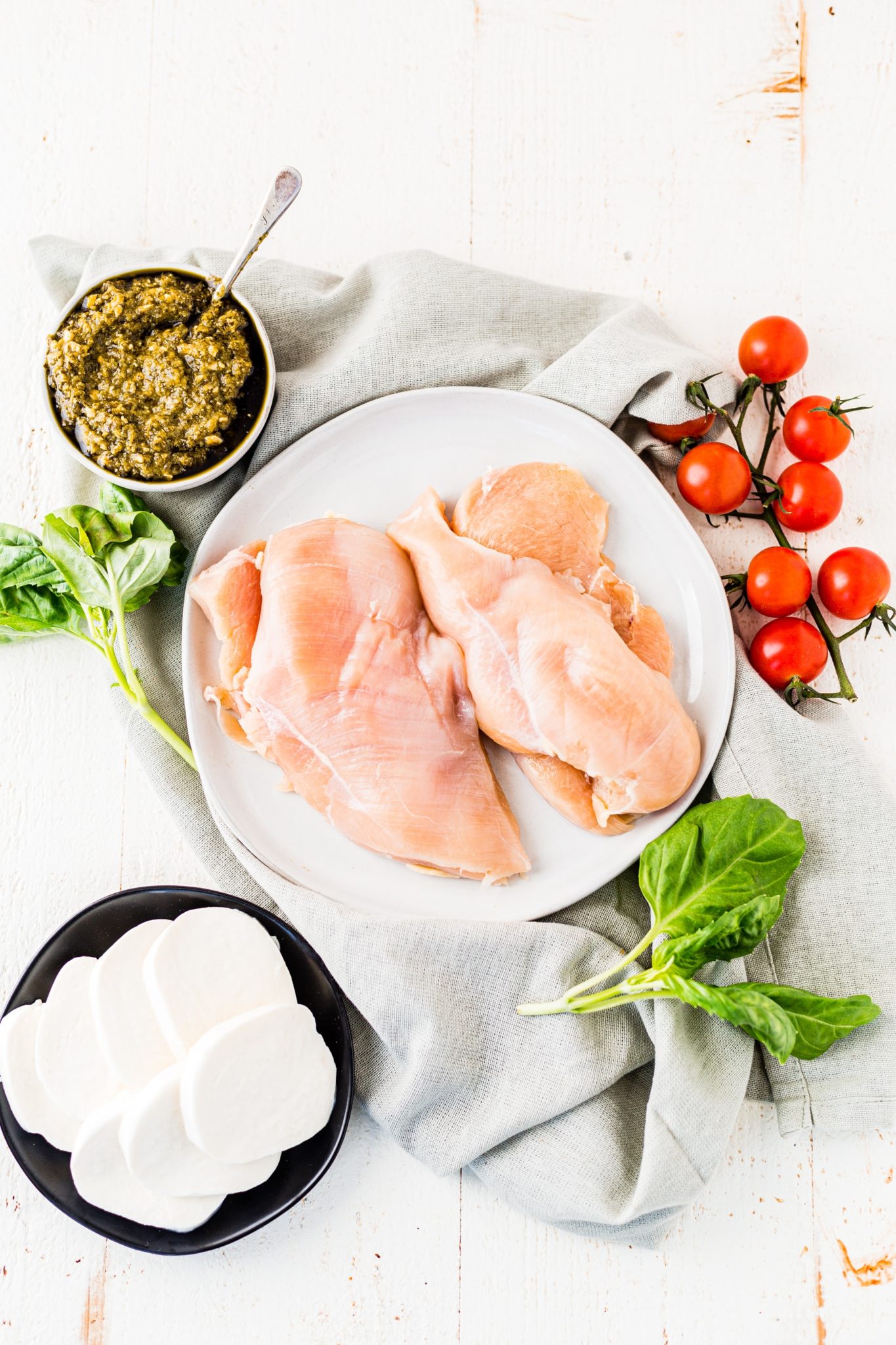 The size of the chicken breast matters
Chicken breast can range from 4-10 ounces. That's a massive difference! When it comes to baking chicken, it's critical that each piece is relatively the same size so they cook evenly and finish baking at the same time.
A 10 ounce piece of chicken will take a lot longer to cook than 4-5 ounces. The smaller breast will be overcooked when the larger piece is just right, if you have the both in the same pan.
A standard serving is about 4 ounces. This recipe calls for 4-5 ounce chicken breasts, so use a food scale (affiliate) if you have one to weight out each chicken breast.
What to do if your chicken breasts are too large
If they're very large (8-10 ounces), cut them in half lengthwise to make two pieces of chicken out of one. See the video in the recipe card for an example.
If they're just over (6-8 ounces), pound them out with a tenderizer so they're all similar in thickness.
Pro tip: digital read thermometer to make sure your chicken is perfectly cooked, use a . Insert it into the center of the chicken breast. Then it reads 165°F, the chicken is done (or a few degrees lower to account for carryover cooking while it rests).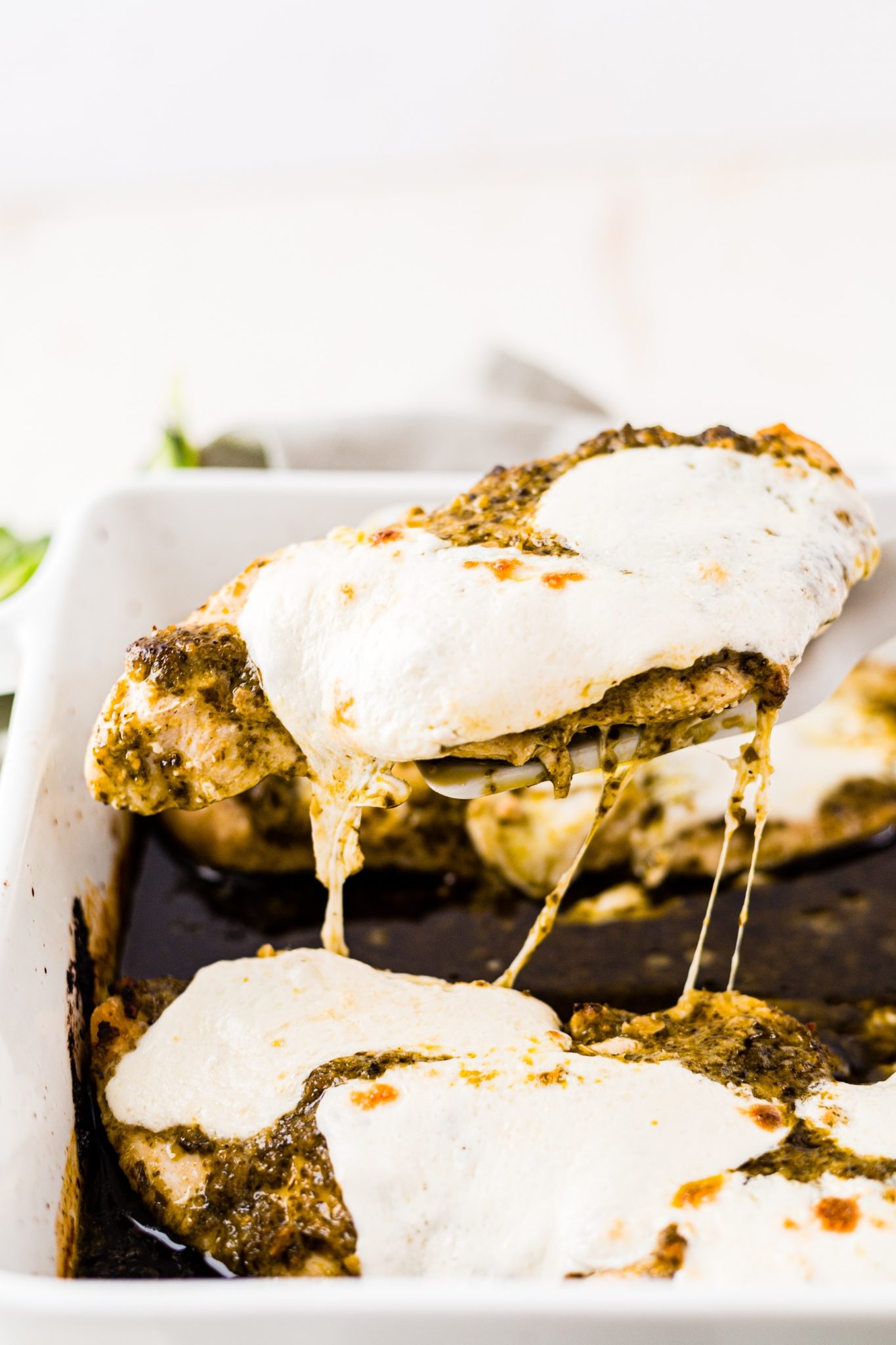 A guide to pesto
Store-bought basil pesto: This is the most simple pesto option because it's the most readily available at any grocery store. I like a good quality basil pesto and they're usually in the aisle with the pasta and sauces.
Store-bought dairy free (vegan) pesto: This is a little harder to come by, but you can pick it up at health food stores like Whole Foods. Trader Joe's has a great Kale Basil Pesto made with cashews.
Homemade vegan pesto: You can use this recipe to make your own vegan pesto with a few simple ingredients like pine nuts, olive oil, basil and nutritional yeast.
What to serve it with
This pesto chicken bake can totally stand on it's own as the star of a weeknight dinner, so I have side dish ideas outline here, but if you want to add this simple dish to something else, I've got those ideas too!
Roasted tomatoes: Halve 1 qt of cherry tomatoes then drizzle them with olive oil and toss with salt, pepper and fresh minced garlic. Bake on a sheet pan at 350°F for 25 minutes. You could also add them to the same baking pan as the pesto chicken and roast it all at once.
Pesto chicken pasta: Bake the chicken without the mozzarella then cut it up into pieces and toss with your favorite pasta and a bit more pesto. Top with cheese!
Sandwiches: sandwich the chicken and fresh mozzarella between two pieces of sourdough and cook over the stove for a pesto chicken panini/sandwich.
Pizza: Bake the chicken (without mozz) and add it to homemade pizza with your other favorite toppings like fresh tomatoes and shredded mozzarella.
Salad: To keep this low carb, cut up the chicken and put it on a salad with fresh veggies.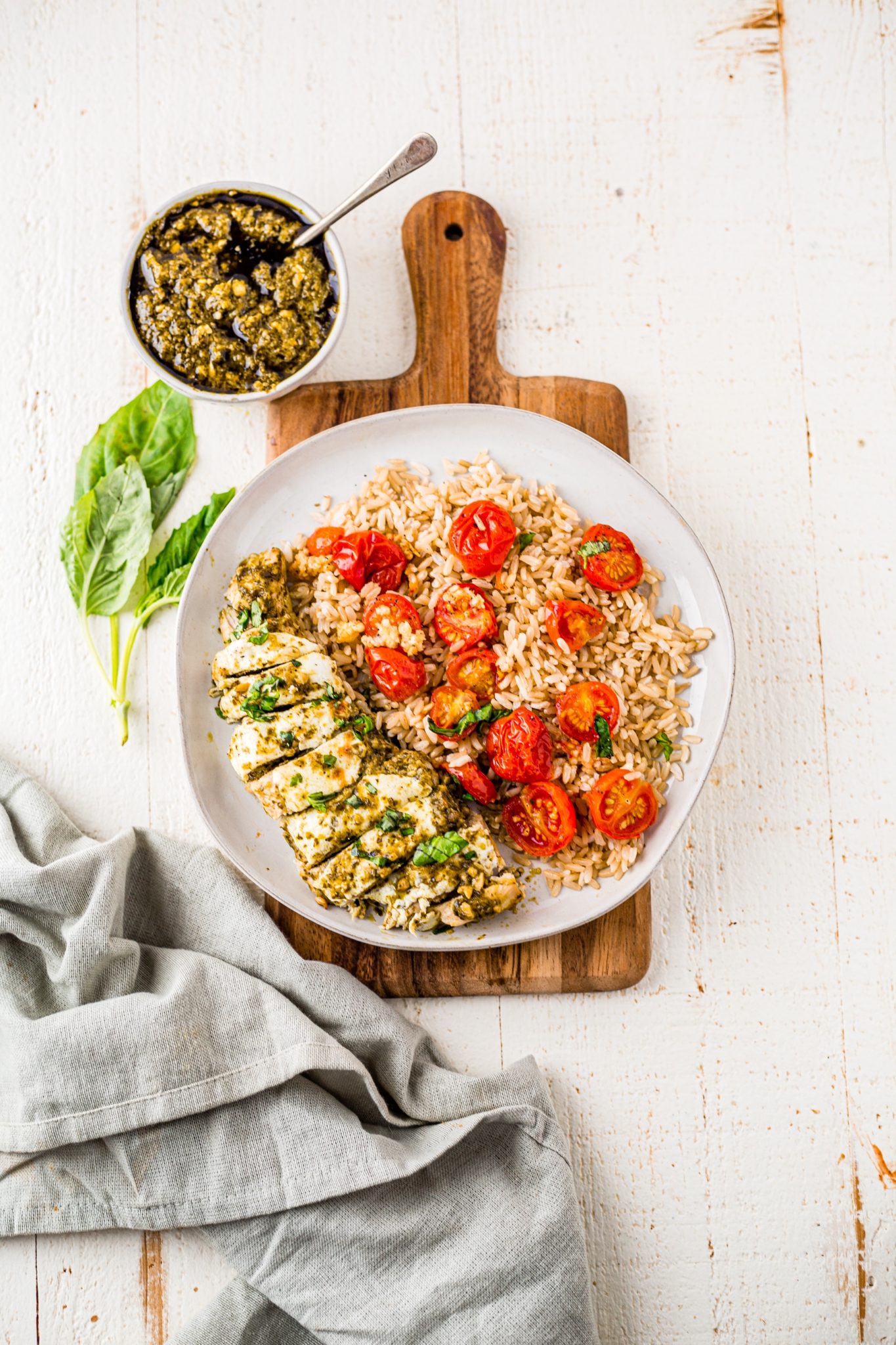 Watch how to make pesto chicken
More baked chicken recipes to make ASAP
Common Questions about Pesto Chicken
What temperature do you bake the chicken? This chicken breast is best cooked at 400°F for 22-26 minutes.
How many calories are in pesto chicken? There are 285 calories in one 4-ounce chicken breast with 1 ounce of mozzarella cheese.
What are some simple side dishes? Roasted tomatoes, roasted broccoli, Antipasto salad, summer corn salad, or a simple kale salad.
Can you meal prep this? Store in an air tight container in the fridge for up to 3 days. Warm at 350°F until heated all the way through or cover with a wet paper towel and microwave in 30 second increments on high.
Recipe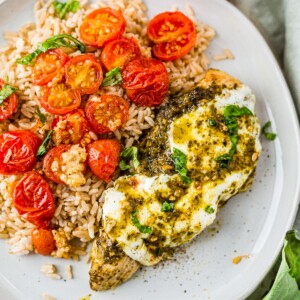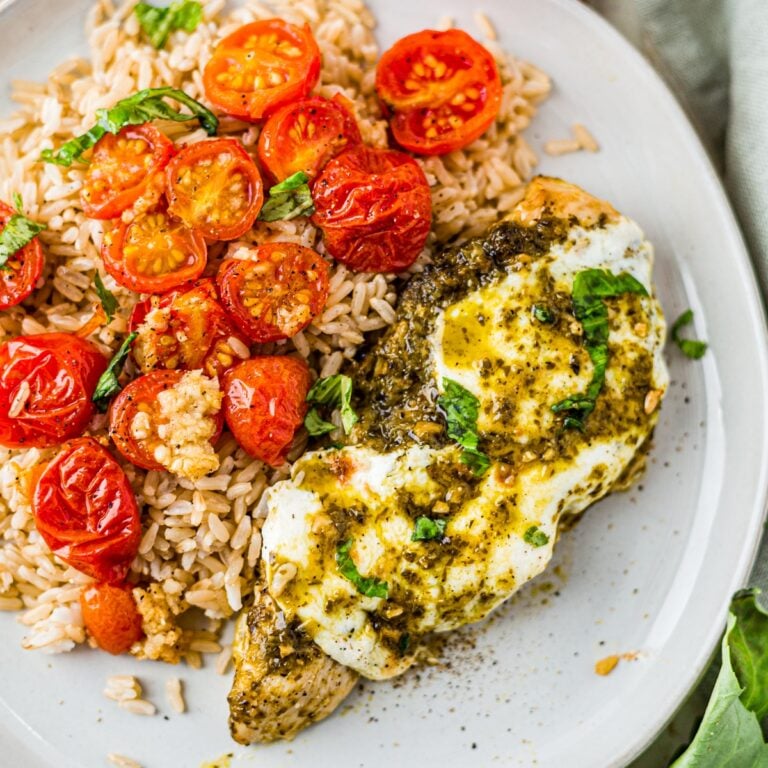 Easy Pesto Chicken
This 3 ingredient pesto chicken is baked to juicy perfection in under 30 minutes. The chicken is coated in fresh basil pesto, topped with mozzarella cheese and baked perfectly so the chicken is tender and cheese bubbles and melts on top. This low carb, simple meal will become a dinner staple!
Print
Pin
Rate
Servings:
4
people (1 chicken breast each)
Ingredients
4

(4-5 ounce)

chicken breasts

Salt and pepper to taste

1/2

cup

(6.5 ounces) basil pesto

vegan (dairy free) pesto recipe or store bought

4

ounces

fresh mozzarella

optional
Instructions
Preheat the oven to 400°F. Pat the chicken dry and trim off any excess fat if needed. If your chicken breast is much larger than 4-5 ounces, you may need to slice it in half lengthwise to get a 4-5 ounce portion (chicken breasts can be very thick and large). The chicken will cook more evenly if each piece of chicken is similar size. Season both sides of the chicken with salt and pepper.

Spread 1/4 cup of the pesto into the bottom of a square baking dish. Place the chicken breasts in the dish and cover them with the remaining pesto. If using the mozzarella, place a 1-ounce slice on top of each piece of chicken.

Bake in the preheated oven for 22-26 minutes, or until the internal temperature of the chicken reaches 165°F. If you want the mozzarella brown and bubbly, turn on the broiler for the last 1-2 minutes.

If using the fresh mozzarella, remove the chicken from the oven at 20 minutes (or when it reaches about 160 degrees) and place back in the oven and broil for 2-3 minutes
Notes
If your chicken breast is larger than 5 ounces you may need to cook it longer. Use an instant read thermometer to check if they're done.
Store: In an air tight container for up to 3 days.
Nutrition
Serving:
4
ounces
|
Calories:
285
kcal
|
Carbohydrates:
1.5
g
|
Protein:
27.5
g
|
Fat:
17.9
g
|
Cholesterol:
83
mg
|
Fiber:
0.4
g
|
Sugar:
0.4
g