This PB & J Smoothie Bowl is made with fresh, raw ingredients and the perfect recipe to start your morning. The "jelly" comes from the strawberries and the "PB" comes from all natural almond butter! This sweet and satisfying healthy smoothie bowl will become your next go-to.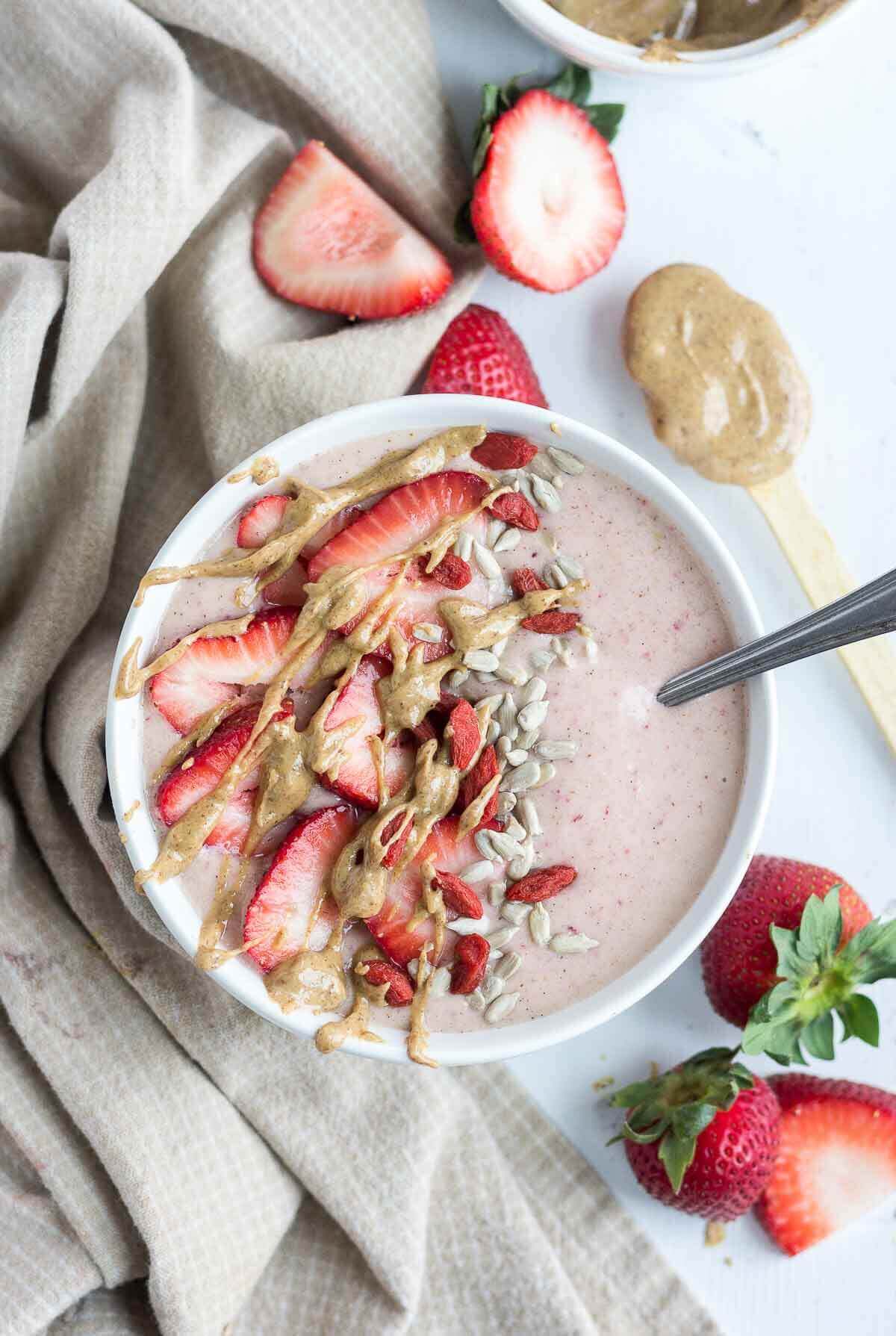 Before we talk all things smoothie bowls, I have REALLY EXCITING NEWS! I know, the exciting news just keeps coming. First Zach and I got engaged, then we went to Ireland for 10 days and now we are HOMEOWNERS!
Zach and I closed on our very first home yesterday morning. We could not be more thrilled to put down some roots and start our lives together as we keep planning our wedding. Though we aren't moving across the country, or even across the states, we still are moving about 30 minutes across the city. It doesn't seem like a huge difference, but we're going from a 600 sq ft apartment downtown to over doubling that size and have .6 acres of land!
If you're familiar with the Columbus area, the house is in New Albany. I'll have a longer commute to work but the house and a yard and a place to call home will be so worth it. We're also planning on putting in a home gym!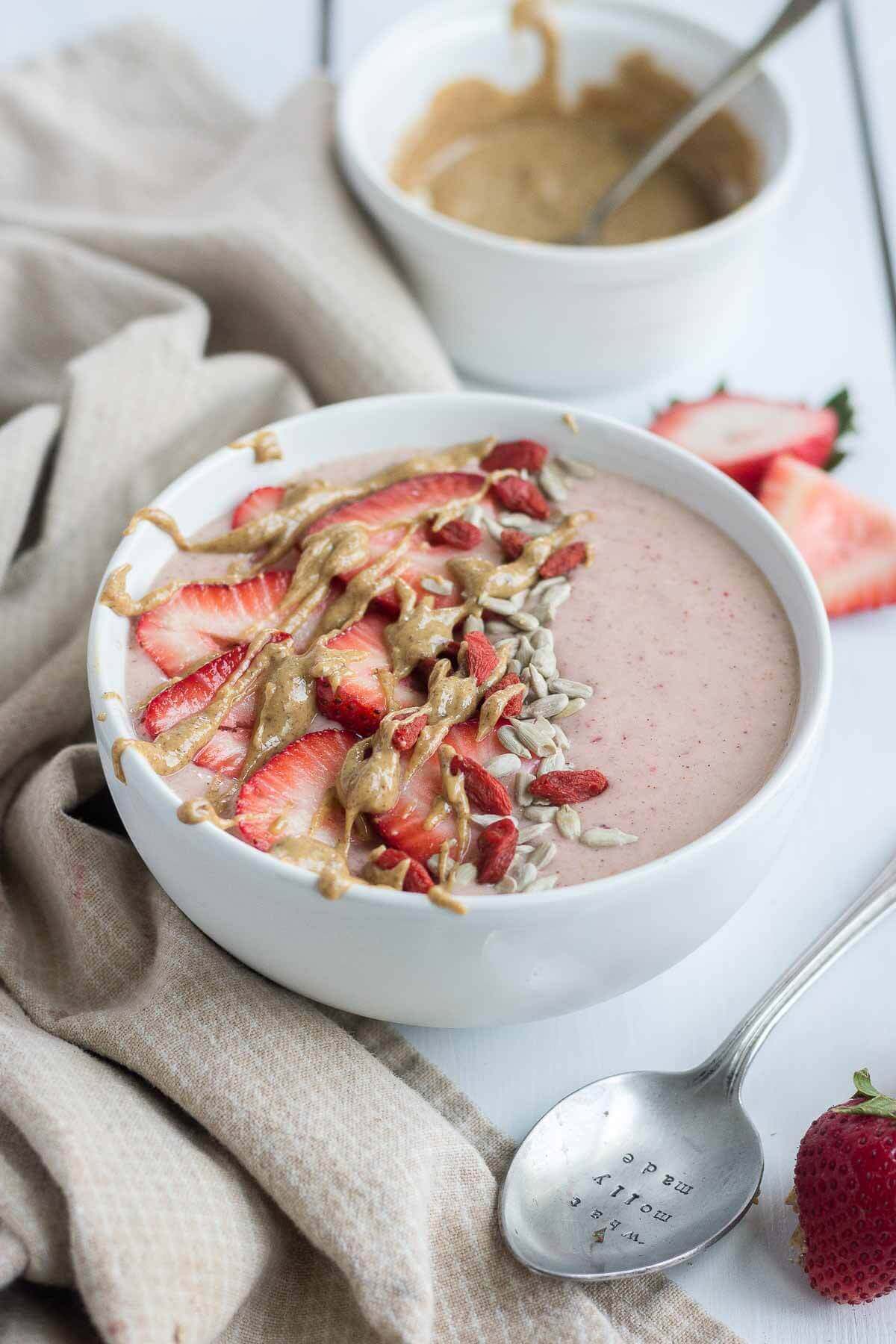 We are #adulting so hard you guys. Moving to the suburbs and getting married. I love every second of it. Our first adult purchases for the house include: a riding lawn mower, washer and dryer, and a new couch! Stay tuned here on the blog because I'll be doing a house tour once we get settled!
Until then, our major focus is actually finding time to move in. When we planned all of the activities coming up we didn't have moving into a new home on the list, so we're a little tight on schedule to even find a day to move our stuff. Luckily we have a good chunk of time before we have to be out of our apartment.
Today we're headed to Buckeye Country Super Fest with 6 of our out-of-town friends and family and tomorrow Zach's mom is coming into town for a week and a half (yay!). She'll be here the following weekend when my whole family comes down to go wedding dress shopping. And the following weekend we have an out of town wedding that Zach is in. I told you we were busy.
Instead of stressing I decided to take it a day at a time and tackle the tasks of that day when they come because I know it's going to get done eventually.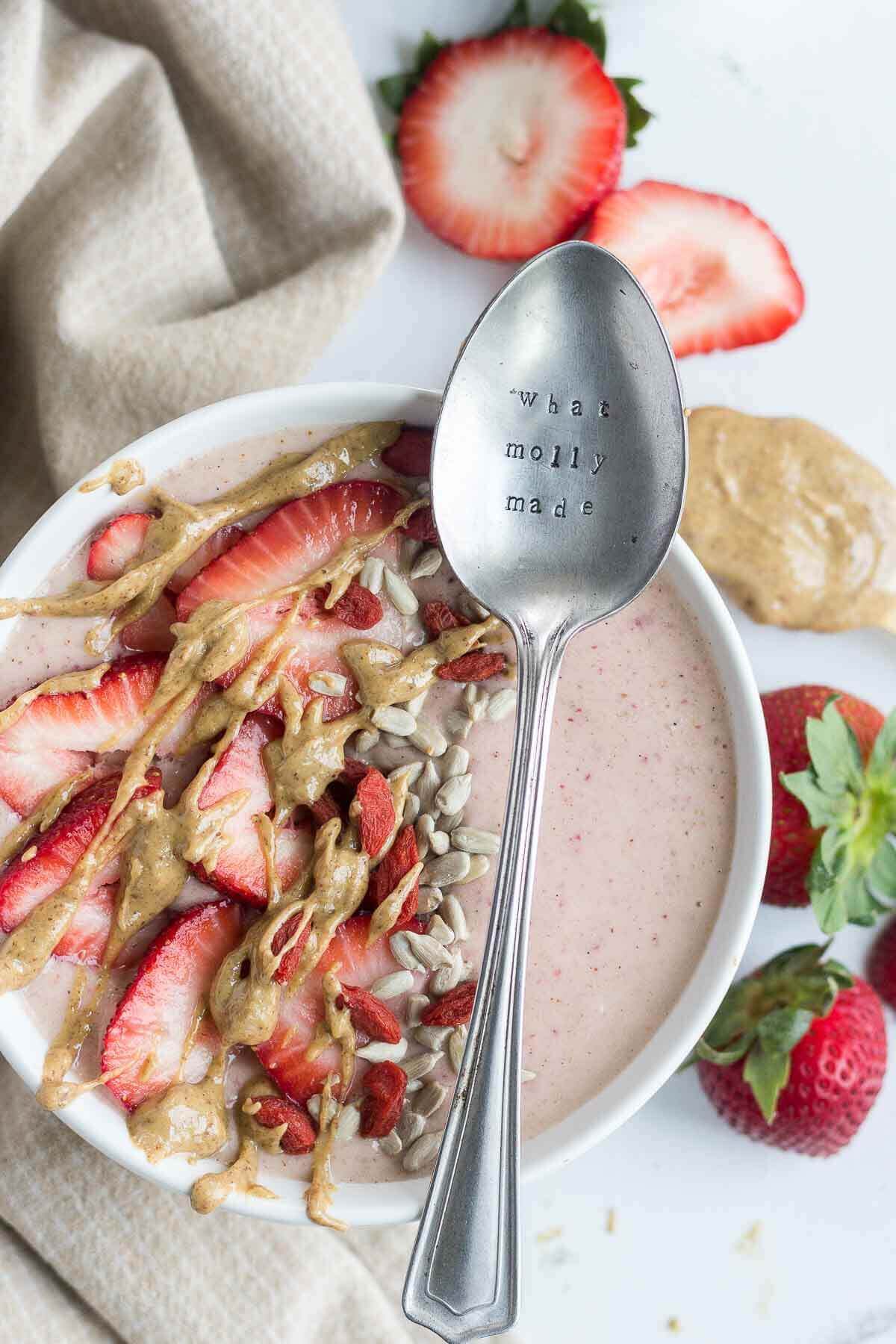 Now that we have all the really exciting news out of the way let's chat about this PB & J Smoothie Bowl. A smoothie bowl has been my go-to breakfast in the mornings because I can pack it with fruits, veggies and protein powder to get all the nutrients I need in own delicious bowl.
I work out in the mornings so I like to have something with a few more simple carbs to refuel my muscles post workout and smoothie bowls hit the spot. Although I do want simple carbs I try not to overload my smoothie bowls with too much fruit. Because of that, I added a special vegetable to this smoothie bowl you may or may not have seen before: cauliflower!
Cauliflower in a smoothie bowl is kind of genius, actually. It provides extra cold and creamy texture (similar to the way bananas do) and packs lots of nutrients too. You're getting texture plus hidden veggies and it doesn't taste like a thing. Pinky promise!
I also love to add protein powder to my smoothie bowls. I don't have it listed here in the ingredients but you can definitely add a scoop of your favorite vanilla protein powder to this for some extra protein.
The almond butter and strawberries are my twist on PB & J because I always use strawberry jam and almond butter on my actual PB & J. Usually on some Ezekiel bread. If you want to use other berries or peanut butter you totally can! I actually have a berry almond smoothie bowl that is really delicious too.
Looking for some fun toppings to add to your smoothie bowl? Here are some of my favorites:
unsweetened coconut
dairy free chocolate chips or cocoa nibs
muesli
granola (usually homemade granola)
more fresh fruit (bananas, strawberries, berries etc.)
extra melty almond butter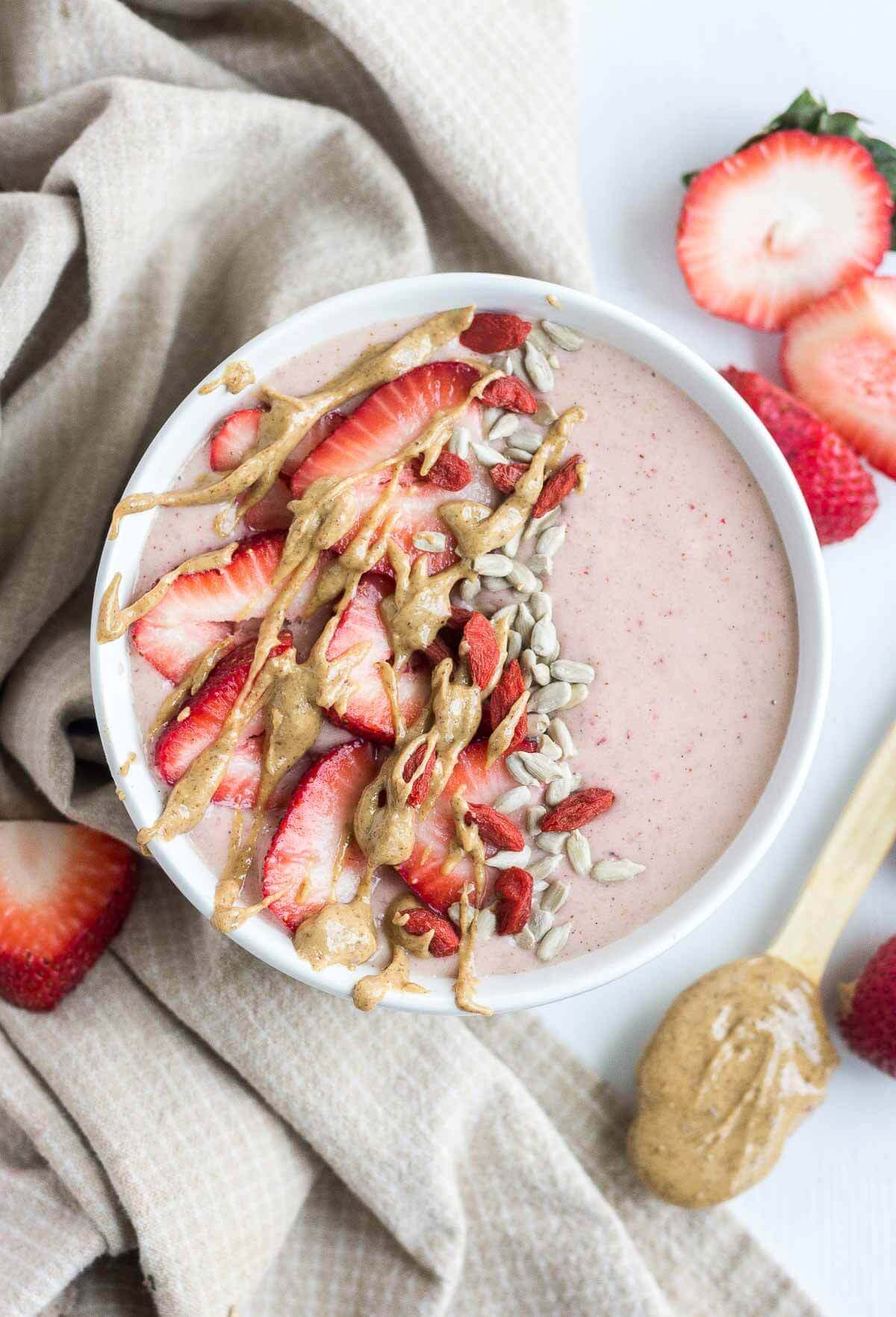 The added toppings to a smoothie bowl is what makes it so special. It adds extra flavor and so much texture when you take a spoonful! It also makes it look really pretty so you feel like you're super fancy on a Tuesday morning.
No one has to know it takes minutes to make!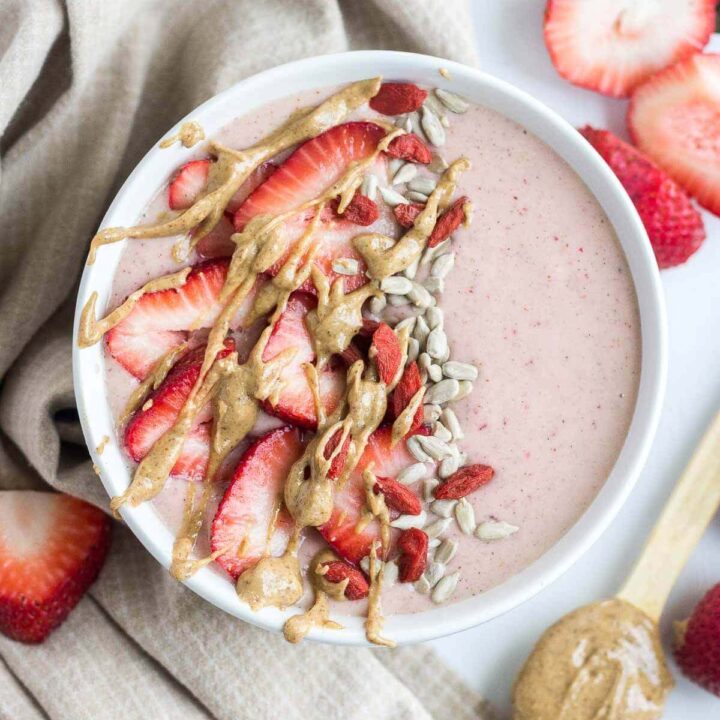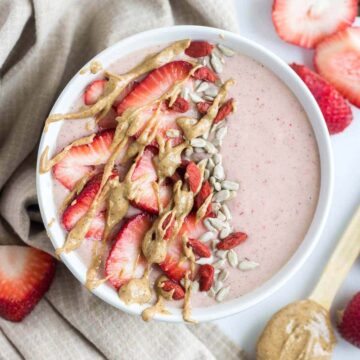 Ingredients
1

frozen banan

1

cup

frozen strawberries

1

cup

frozen cauliflower

¼

cup

almond milk

2

tablespoons

almond butter

1

scoop protein powder

optional

toppings: strawberries

pumpkin seeds, granola, coconut, melted almond butter
Instructions
Add all of the ingredients except for the topping into the blender. Blend on high until mixture is thick and smooth. Pour into a large bowl and add toppings. Enjoy immediately.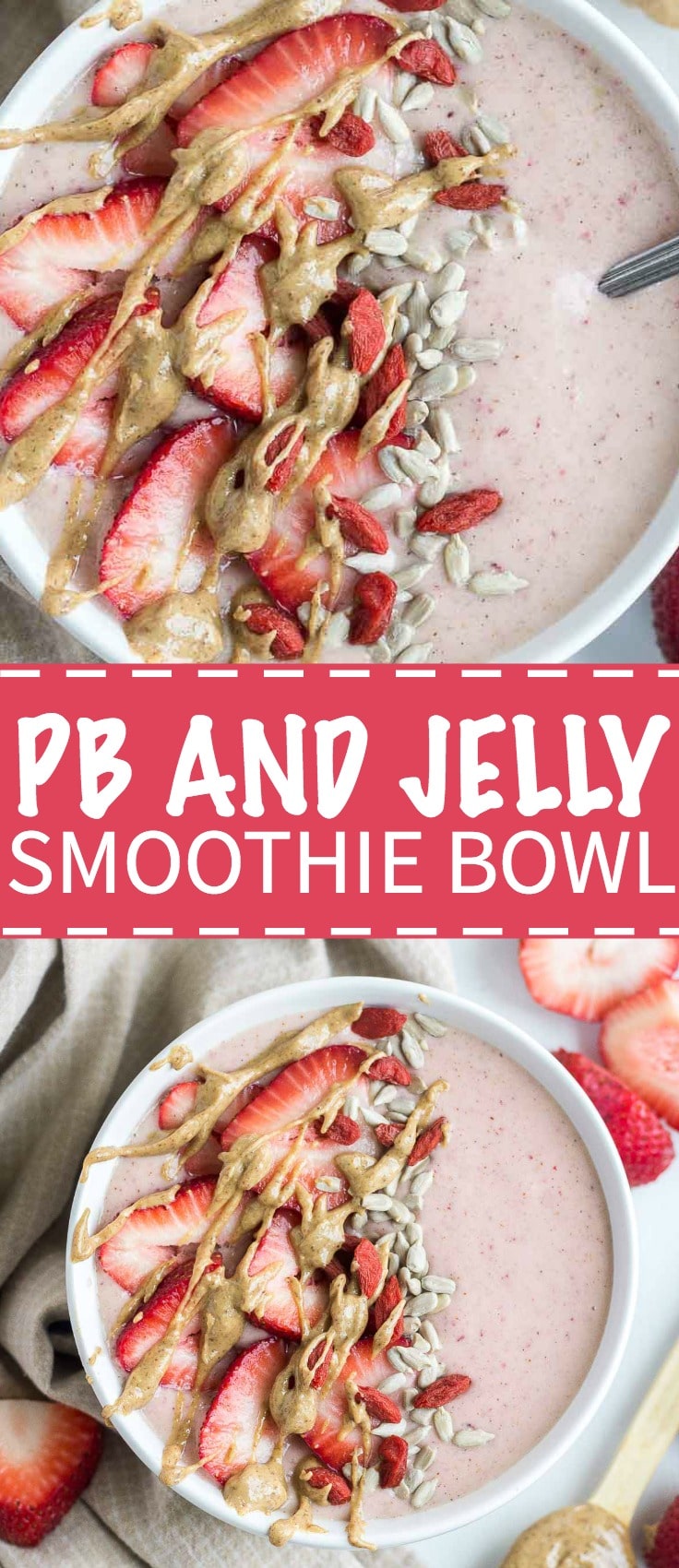 DID YOU MAKE THIS RECIPE!? SNAP A PIC AND TAG @WHAT_MOLLYMADE AND USE #WHATMOLLYMADE!
Here are a couple of items I used to make today's recipe:
Ninja Mega Kitchen System
Some of the links above are affiliate links, which pays me a small commission for my referral at no extra cost to you! Thank you for supporting What Molly Made!