This healthy frozen treat is a guaranteed crowd pleaser! You're going to flip for how easy they are to make and all of the natural, healthy ingredients you use to make them. Make a bunch of these paleo frozen bananas and keep them in the freezer for whenever you and your family need a sweet (but healthy) dessert.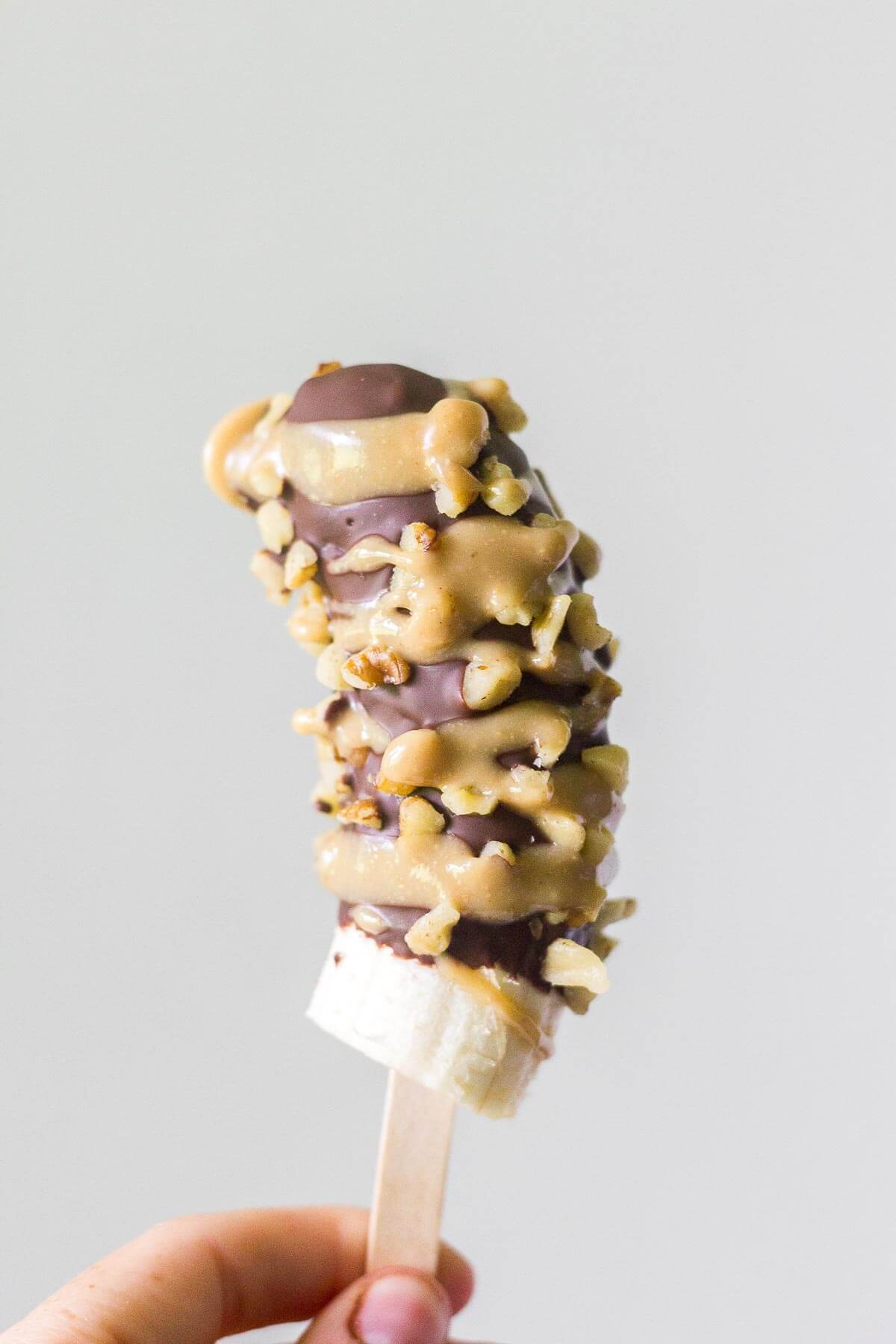 You guys. We have paleo frozen bananas. We also have dark (dairy free) chocolate. We also have crunchy walnuts and PALEO CARAMEL.
Is there anything else you actually need on your Saturday? Give me a pool, some friends and a good book and there isn't a thing I need in the world.
Speaking of good books, I just finished reading Present over Perfect and it was SO GOOD. Especially the second half. I just started Love Lives Here and already loving it too. I'm reading more and more these days because I made some major changes to my mourning routine (stay tuned on that!) that's been making a huge difference in my life.
Back to the paleo frozen banana.
What's In Paleo Frozen Bananas?
Paleo frozen bananas are made of simple, healthy ingredients. There are four components to this recipe:
Bananas: of course bananas are the star of the show. I recommend getting bananas that are ripe, but not too ripe. Try not to get ones that have any green on them. If you do I would wait a day or so to make these paleo frozen bananas so they are ripe enough.
Chocolate: I like to use dark chocolate here! I especially like to use the Enjoy Life chocolate because it's dairy free and gluten free. I mix my chocolate with a little bit of coconut oil to get the chocolate to a little thinner consistency. For easy dunking!
PALEO caramel: If you follow along here you know paleo caramel is one of my favorite ingredients (see: vegan turtle cheesecake, paleo samoa truffles and caramel crunch brownies). It's sweet and tastes JUST like regular caramel.
Walnuts: nothing special here except that they're pre-chopped walnuts:)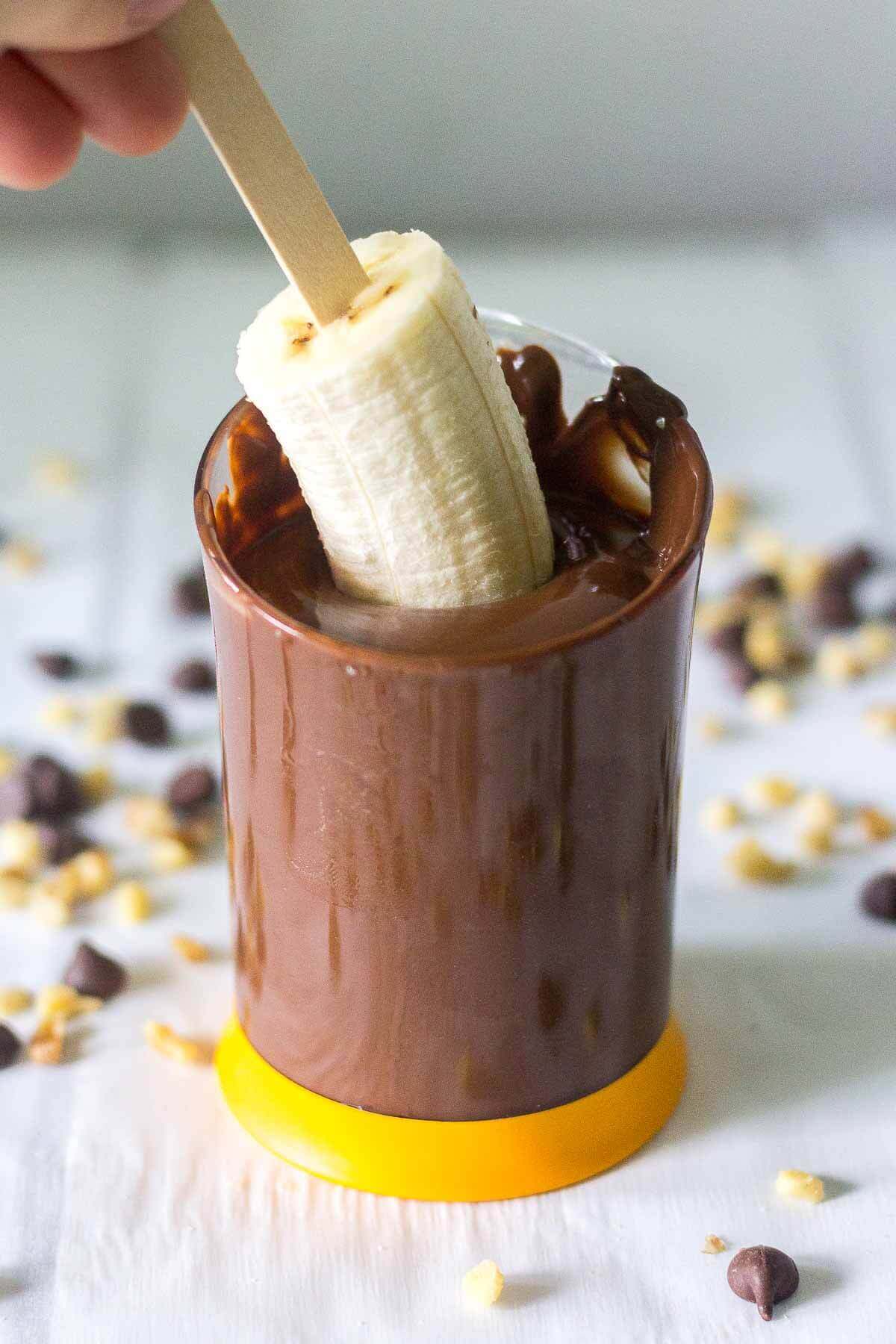 One thing to note: you will need some sort of popsicle stick or skewer. You can get skewers at the store or you can buy popsicles sticks online. I bought them on Amazon and they were at my house in a matter of days. I'm all about that easy lifestyle.
If you can handle dunking and drizzling you'll be all set to make these paleo frozen bananas! But I do have a few tips I learned along the way that may make it easier to make these.
Helpful Tips for Making Paleo Frozen Bananas:
Place the sticks in the end of the 1/2 banana at sort of an angle. You'll want to follow the natural curve of the banana the best you can so the stick doesn't come out of the side. I ended up going about half way up the stick, that way when you're dunking the banana doesn't fall off the stick from the weight of the chocolate.
Use a tall, skinny cup for the chocolate. This will let you dunk once and cover the entire banana. A tall measuring cup or glass cup will work perfect.
Add more coconut oil to the chocolate mixture if you find yours to be too thick. You want chocolate covering the banana but you don't want a super thick layer of chocolate.
Have a baking pan and parchment paper ready to go before you start dunking!
Freeze all of the bananas once you cover them in chocolate. You can let them freeze while you're quickly making the paleo caramel! This makes them way easier to drizzle with caramel and nuts.
When drizzling with caramel and nuts, spin the popsicle stick around in your hand to cover the whole thing. Place it back down on the parchment paper. It's okay if some of the caramel gets messed up!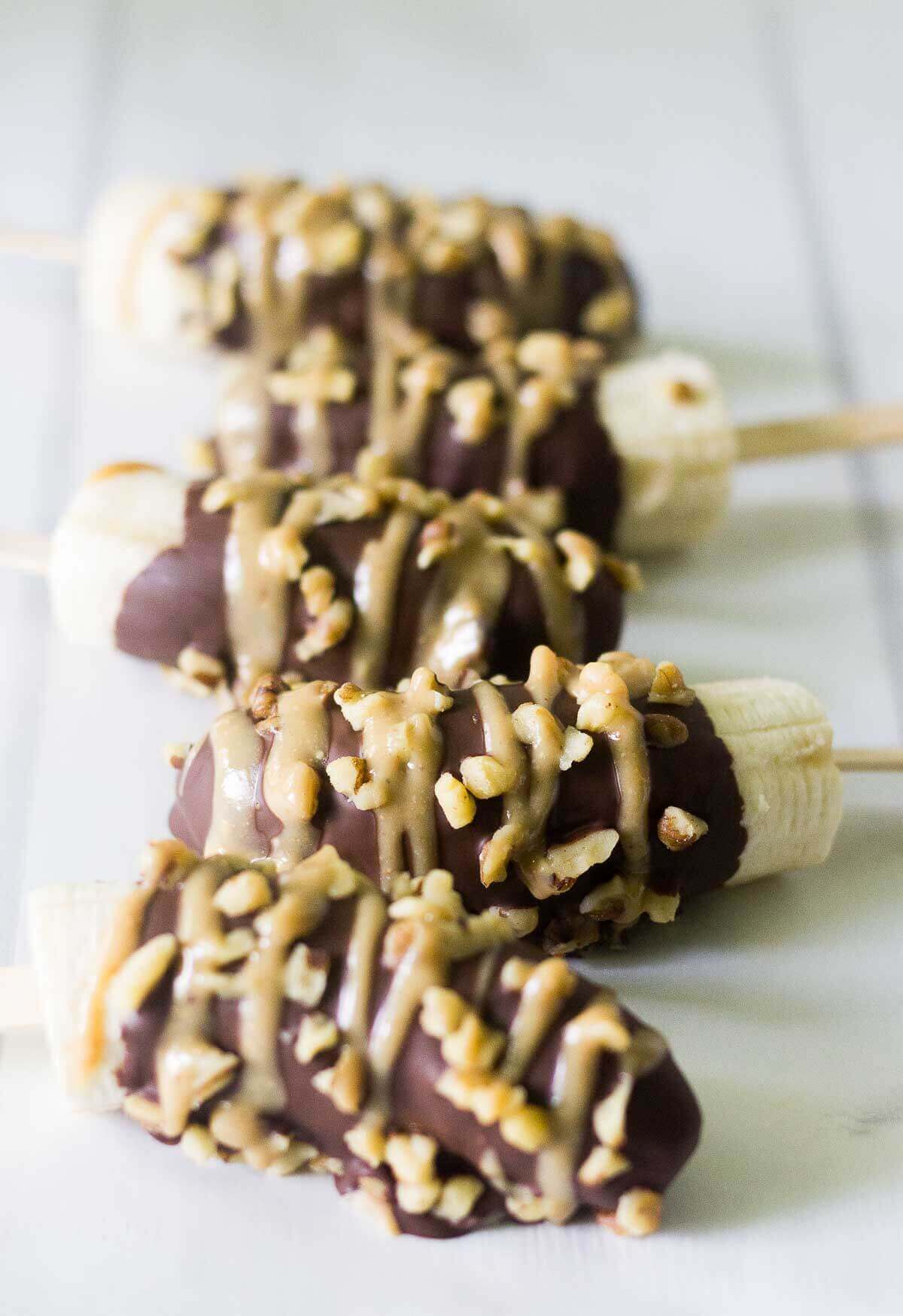 I really really hope you're going to fall in love with these paleo frozen bananas as much as I did! They remind me of going to a fair or a summer party when I was younger.
I love them so much because I don't feel guilty after I indulge in one (10) of them after a long day or on a Saturday night around the camp fire. Or watching Gilmore Girls by myself...
My point is: these paleofrozen bananas work for every occasion! They fit into everyone's dietary needs because they're grain free, dairy free, vegan and paleo. But no one would ever know it! So all your friends and family will love it no matter what lifestyle they have!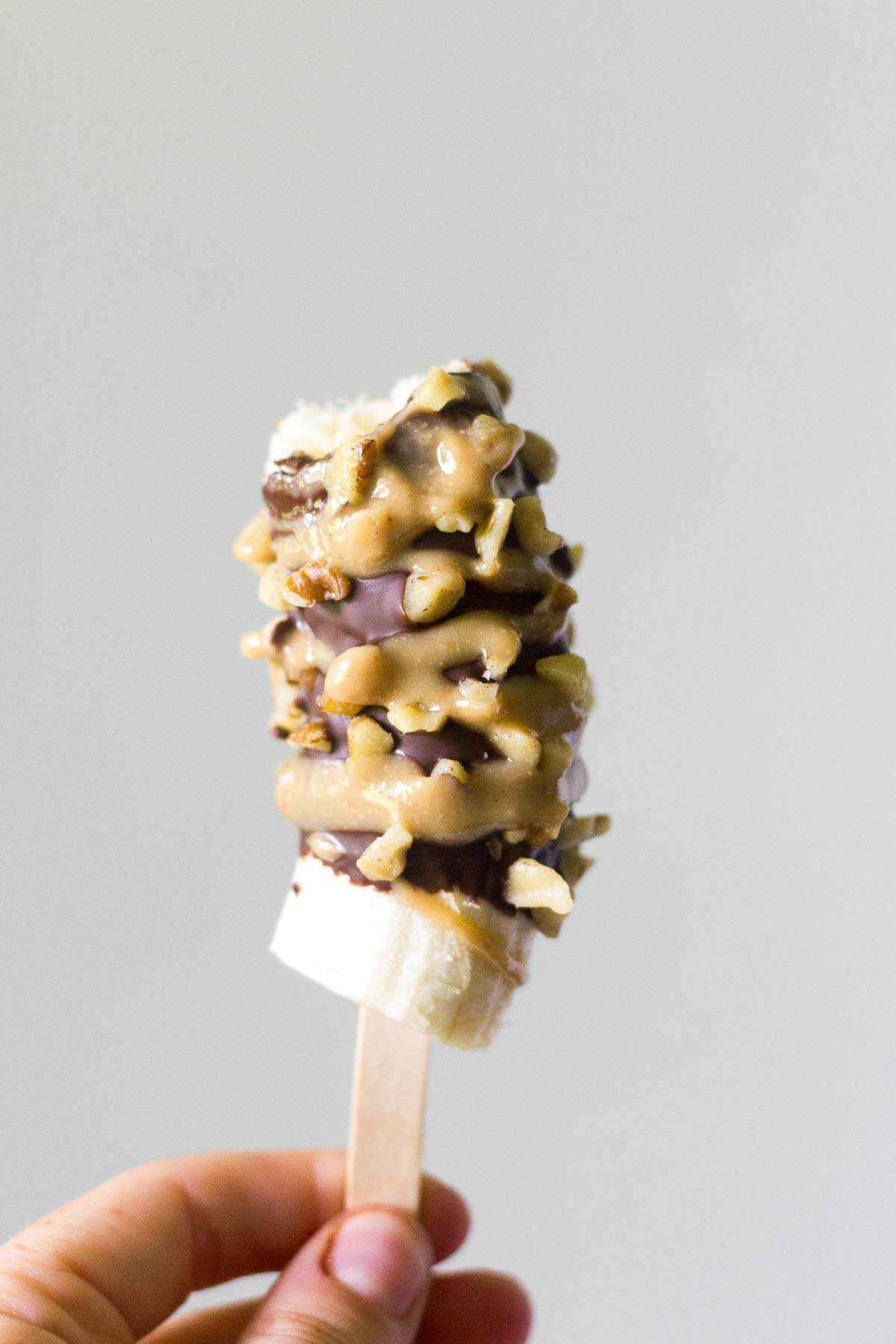 Can't wait to hear how they turn out for you! If you make these (or any recipe) don't forget to follow and tag me on Instagram with #WhatMollyMade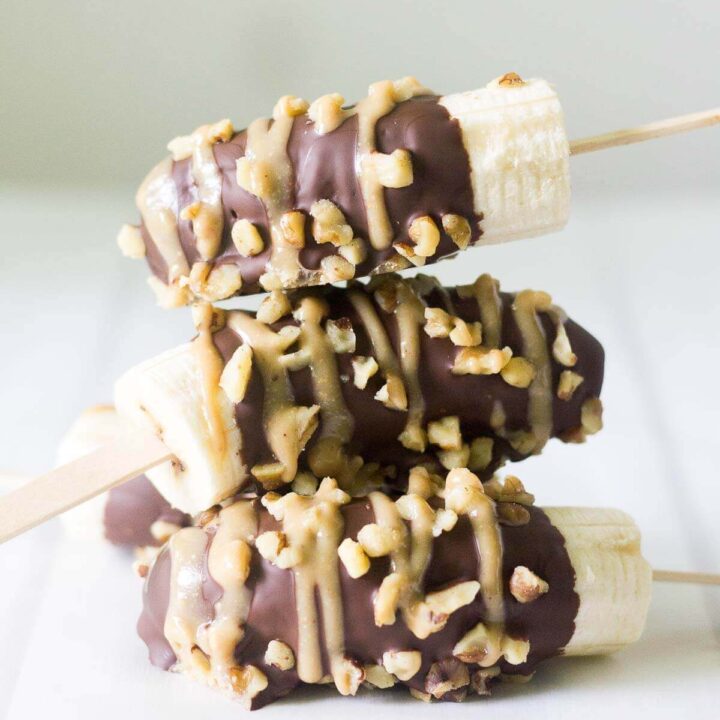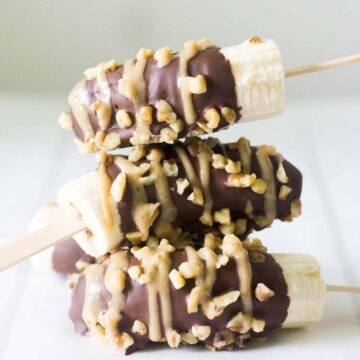 Ingredients
4

ripe bananas

cut in half

Chocolate layer:

2-3

cups

dark chocolate

1

tablespoons

coconut oil

Caramel:

¼

cup

creamy nut butter

I used cashew but you could use creamy almond butter

⅛

cup

pure maple syrup

⅛

cup

coconut oil

½

teaspoon

vanilla extract

¼

teaspoon

salt

½

cup

walnuts

chopped
Instructions
Line a large baking sheet with parchment paper and set aside.

Cut bananas in half and push a popsicle stick into the center of each, about half up up. In a tall microwave safe cup or measuring cup, add the chocolate chips and coconut oil. Place in the microwave and heat on high for 30 seconds. Remove and stir. Repeat one or two more times until the chocolate is completely melted. Add more coconut oil by the teaspoon to reach desired consistency if needed.

Dip each banana in the melted chocolate and place on the prepared baking sheet. Once all bananas are dipped, place the baking sheet in the freezer while you prepare the paleo caramel.

To make the paleo caramel, add the nut butter, maple syrup and coconut oil to a medium microwave safe bowl. Heat on high for 30 seconds. Remove, stir and repeat until completely melted. Add the vanilla and salt and stir until combine.

Remove bananas from freezer and drizzle with paleo caramel and chopped walnuts. Place back in the freezer for at least 20 minutes until set.

Store in an air tight container in the freezer for up to two weeks.
Here are a couple of items I used to make today's recipe:
Baking Sheet
, Parchment Paper
, Popsicle Sticks
Some of the links above are affiliate links, which pays me a small commission for my referral at no extra cost to you! Thank you for supporting What Molly Made!