Healthy pumpkin banana bread is an easy and healthy recipe to make this fall! It's made with canned pumpkin, greek yogurt, coconut oil and optional chocolate chips for a healthy, but delicious pumpkin banana bread recipe.
This recipe is bittersweet. Because it's my LAST pumpkin recipe this year. And also, because it's sweet:) In a healthy, not too sweet kind of way though.
Let's quickly recap this year's amazing pumpkin recipes: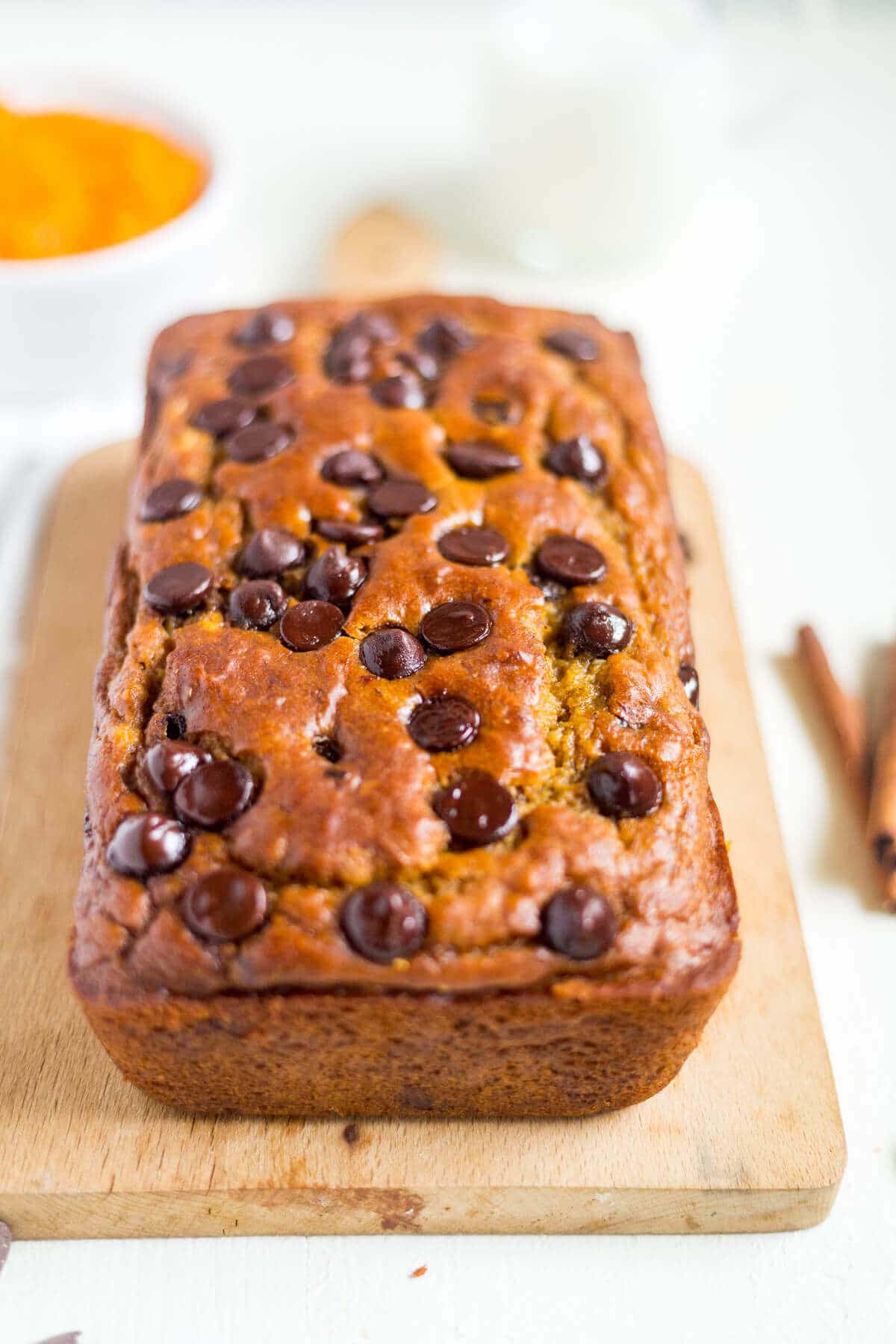 And now this healthy pumpkin banana bread! That's TEN new pumpkin recipes this year. I wasn't planning on hitting a certain number, but I'm kind of proud of that. Clearly I love pumpkin. I love it because it's so perfect in healthy baking recipes and indulgent recipes.
This pumpkin banana bread was calling for a healthy twist with the addition of pumpkin! This recipe for pumpkin banana bread doesn't have any butter and it's made with greek yogurt.
I shared a similar recipe of this over on The Stay at Home Chef earlier this year, but there was no pumpkin. It healthy whole wheat banana bread and it got rave reviews!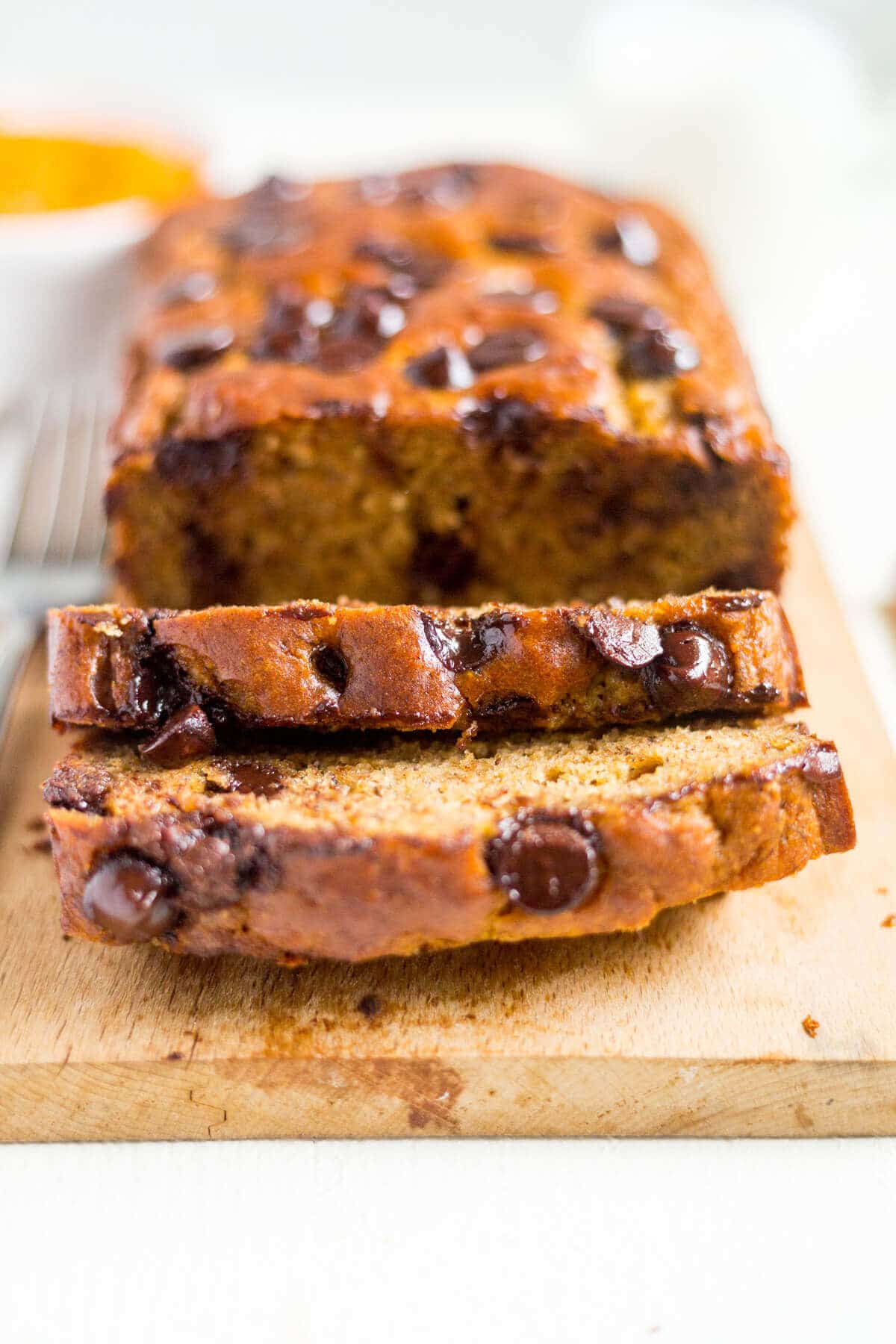 I love the pumpkin version because it's festive for the fall. It's filled with pumpkin and pumpkin pie spice. Not to mention it makes your home smell amazinggg.
Zach and I have a Friendsgiving tonight and you have no idea how pumped I am. There's something special about coming together as friends, as chosen family, to celebrate everyone's season of life, both good and bad. We can appreciate where we are, lean on one another if we need to and celebrate being friends forever.
I'm bringing this healthy pumpkin banana bread, because I have a feeling we're going to be needing a dose of healthy after the amount of stuffing and cornbreads we'll be consuming. We're also planning on play What Do You Meme. It's hands down the funniest game ever. Maybe even funnier than Cards Against Humanity.
I can't wait for a good time celebrating with friends!
My friends are health concious on most days so I know they'll appreciate this healthy pumpkin banana bread. But they may not even know it's healthy, it's that good!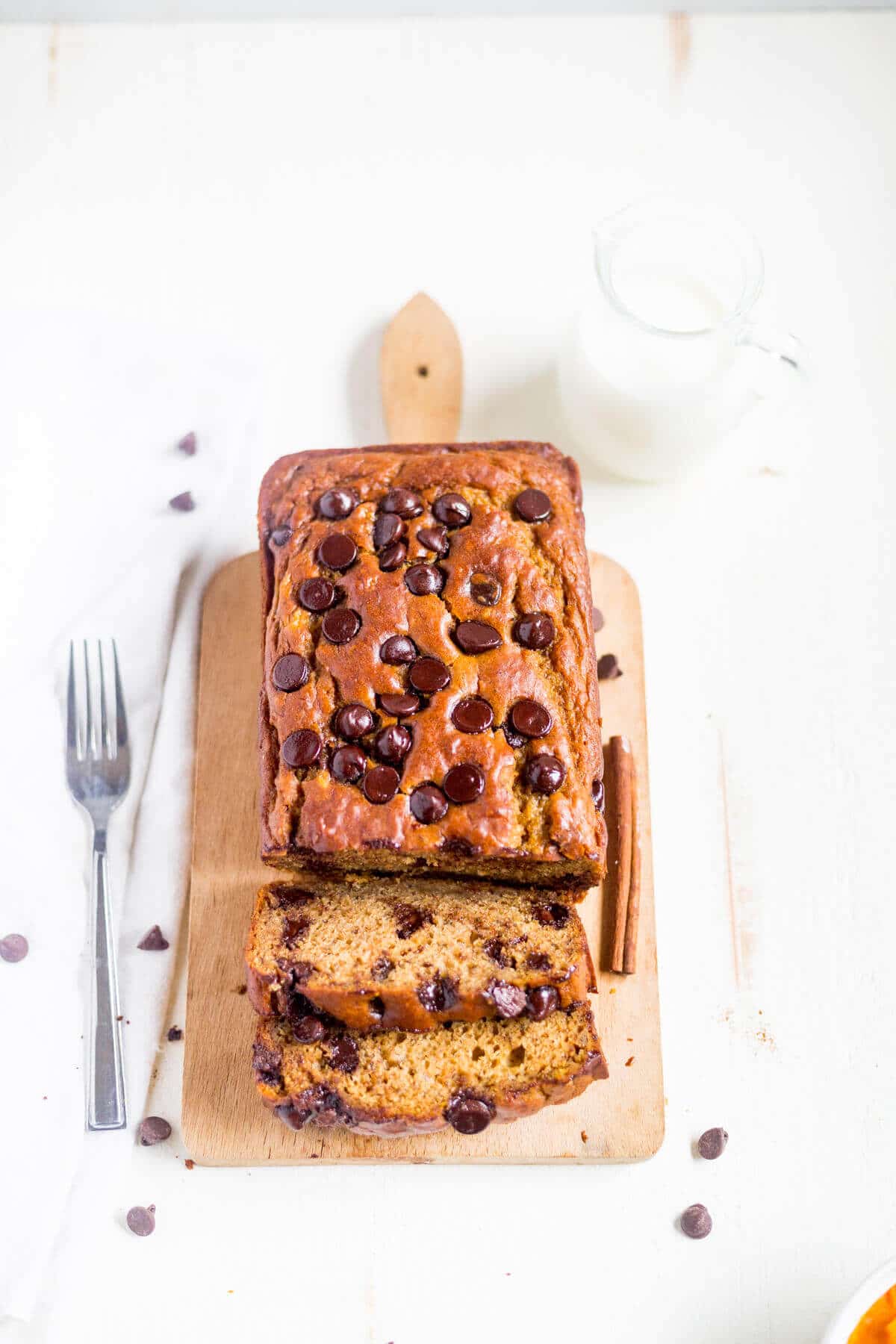 How To Make Healthy Pumpkin Banana Bread
You're going to start to make your pumpkin banana bread with ripe bananas. You want most of your banana to be brown and very soft. This allows you to mash them easier and they're a little sweeter, making the consistency and texture perfect.
You'll mash the bananas with a fork and add the rest of the wet ingredients in the bowl, including the greek yogurt. From there you'll add the sweeteners and dry ingredients and stir it all up.
One of the biggest reasons (aside form the flavor) I love this recipe is because you only need one bowl to make it! That means one less time going through your cabinets to find the right size bowl and one less bowl to clean once you're done. It's such a win!
You'll either mix in your dark chocolate chips, or leave them out, then pour them into the baking pan and let them bake! I like to cool mine in the pan for about 15 minutes then transfer it to a cooling rack to cool completely so the bottom of the pumpkin banana bread doesn't get soggy.
You can either serve it right away or freeze it for later.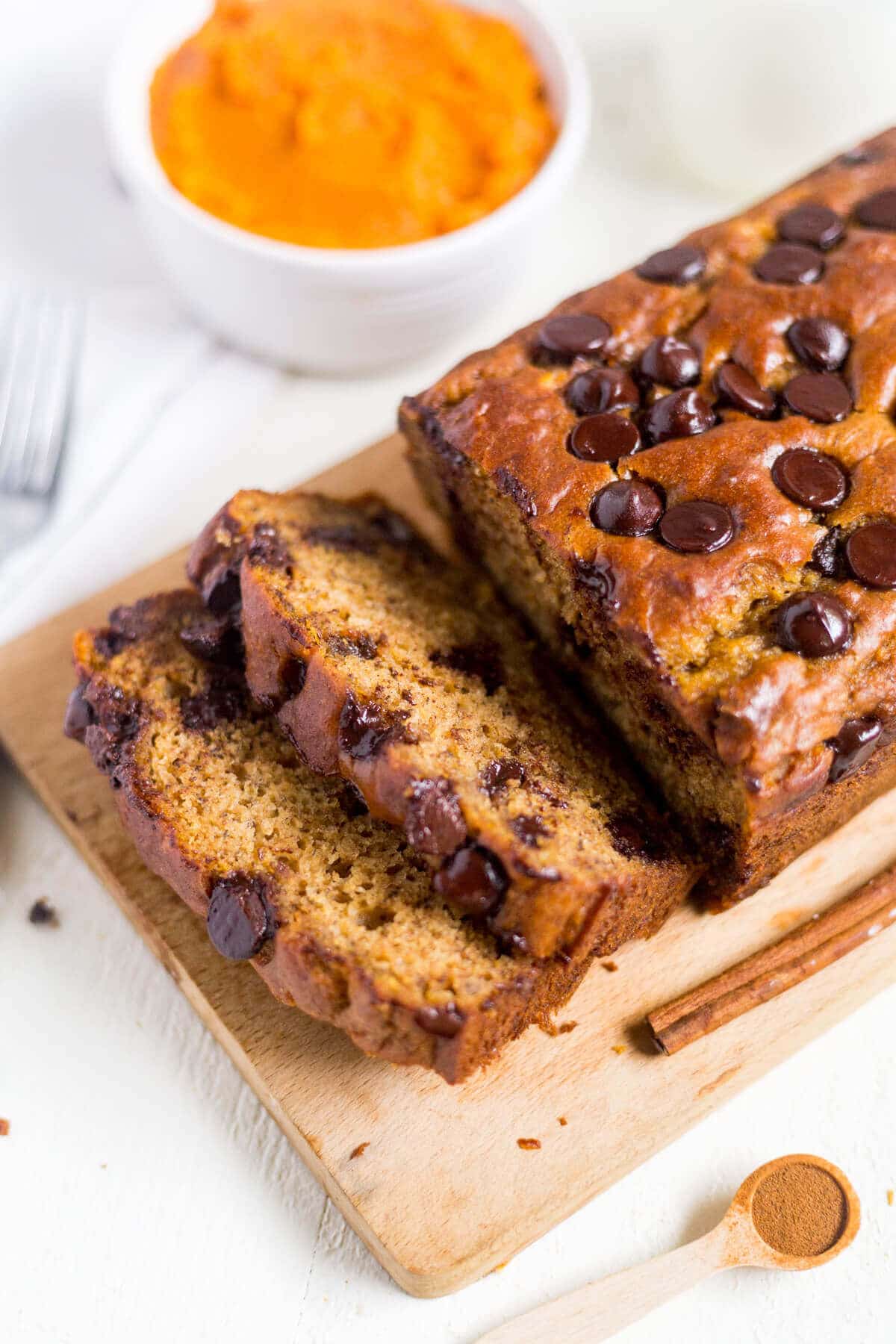 How to Freeze Healthy Pumpkin Banana Bread:
To freeze healthy pumpkin banana bread, allow the baked bread to cool completely. Once cooled, wrap it completely in plastic wrap or cut it and place it in an air tight container then place it in the freezer. The bread will last for up to 3 months in the freezer.
When you're ready to serve, thaw in the refrigerator overnight then warm it in the oven at 300°F for about 20 minutes, or until warm all the way through.
It's a great snack mid-morning or even on your way to work with some almond butter on top.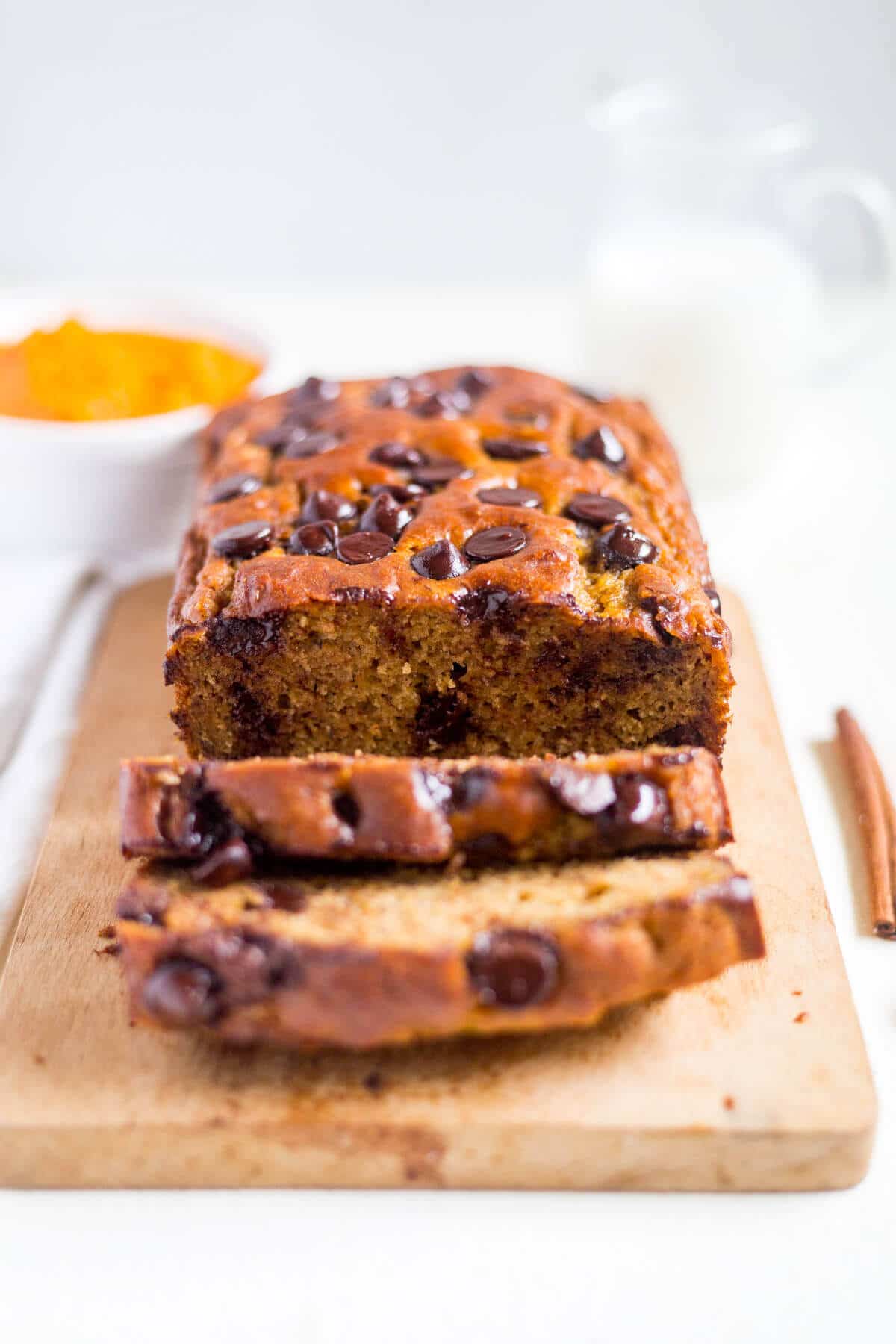 I'm sad about sharing my last pumpkin recipe, but what comes with my last pumpkin recipe is a ton of Christmas recipes! Stay tuned for all the holiday recipes happening right after Thanksgiving, especially cookie week!
Don't forget to follow along on Instagram for updates on recipes!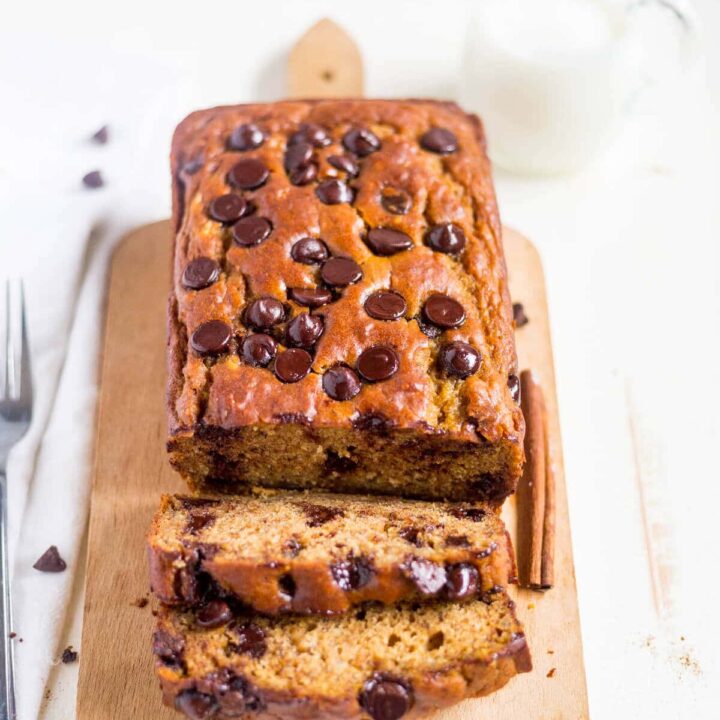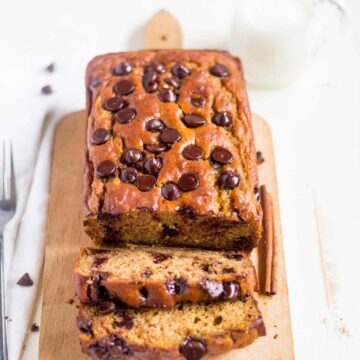 Ingredients
2

bananas

very ripe

1

large egg

room temperature

1

egg yolk

room temperature

3

tablespoons

coconut oil

melted and cooled to room temperature

½

cup

plain or vanilla greek yogurt

½

cup

pumpkin pure

¼

cup

brown sugar

¼

cup

maple syrup

1

teaspoon

vanilla extract

¾

teaspoon

baking soda

¼

teaspoon

baking powder

2

teaspoons

pumpkin pie spice

¼

teaspoon

salt

1½

cups

white whole wheat flour

spooned and leveled

1

cup

dark chocolate chips

optional
Instructions
Position the oven rack in the center and preheat the oven to 350°F. Lightly grease a standard 8x4 inch loaf pan with nonstick spray and set aside.

In a large bowl, mash the bananas with a fork until almost smooth, but a few lumps are okay. Add the egg and egg yolk and whisk until combined then whisk in the coconut oil, greek yogurt, and pumpkin.

Once combined, whisk in the brown sugar, maple syrup and vanilla. Add the baking soda, baking powder, pumpkin pie spice and salt and using a wooden spoon or rubber spatula, stir until combined. Slowly stir in the flour, stirring gently between each addition, being careful not to over mix. Add the dark chocolate chips if using them and fold until just combined.

Pour the batter into the prepared bread pan and bake for 55-60 minutes until a toothpick inserted in the center comes out clean. Check the bread at around the 40 minute bark for browning. The the bread is browning too much around the edges cover with foil and place back in the oven to finish baking.

Remove from the oven and allow to cool on a wire rack for about 20 minutes then remove from pan and allow to cool completely before cutting.

Bread is stored well in an air tight container in the refrigerator for up to 5 days or in the freezer for up to 3 months.
Here are a couple of items I used to make today's recipe:
8 Inch x 4 Inch Loaf Pan
, Organic Pumpkin, 15 Ounce
Some of the links above are affiliate links, which pays me a small commission for my referral at no extra cost to you! Thank you for supporting What Molly Made!