A healthy guide to Austin, TX! This guide covers the best healthy restaurants in Austin as well as cafes and the best things to do. If you're heading to Austin and want to stay healthy while you travel this post is for you!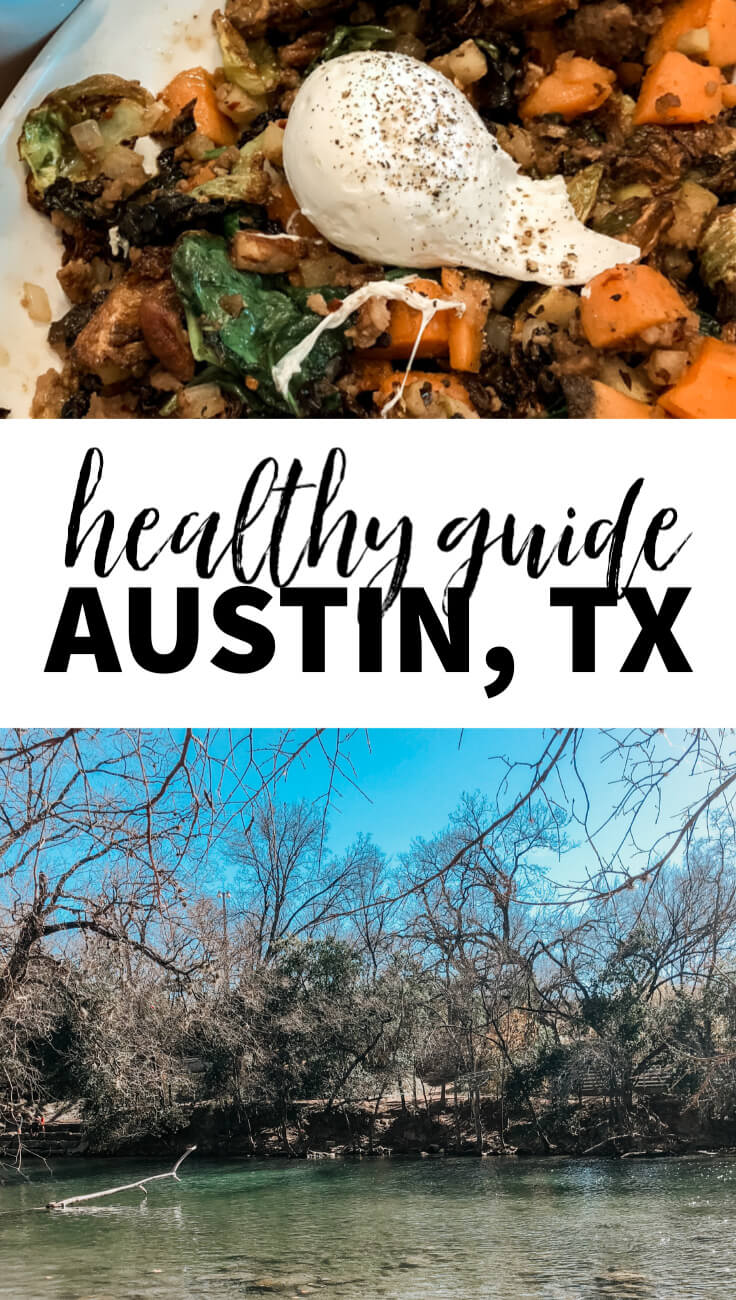 It's been about a month since Zach and I got back from an epic Texas trip. We stayed just outside of Austin and we had a blast in this amazing city. We made it our mission to try all the healthy food and do all the healthy things.
I can be kind of tricky to travel and feel healthy at the same time. But when you're in a place as amazing as Austin, the healthy options are limitless. Here's a comprehensive list of what to do in Austin. The healthy version! What to do, eat and drink in Austin!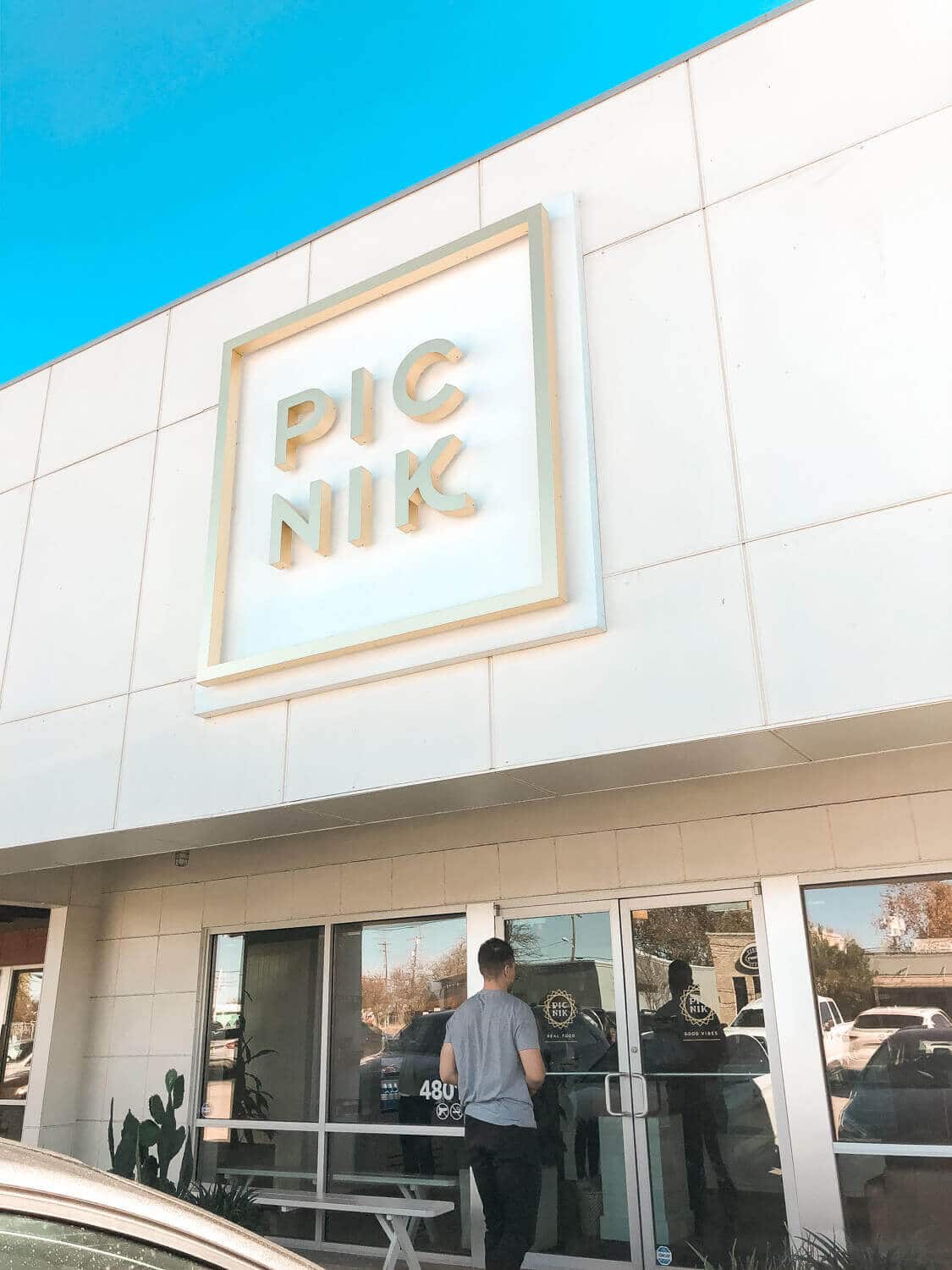 Healthy Restaurants in Austin, Tx:
Picnik - Not only was this my favorite restaurant in Austin, but I think it might be my favorite restaurant ever. Everything on their menu is gluten free and they have so many dairy free options. They cook everything in avocado oil even though it's 800% more expensive. I got the Coconut Curry Lime Bone Broth to drink and it was amazing. To eat we shared the creamy cashew queso (must order!) for an app and for our meals, I got the Harvest Hash and Zach ordered breakfast tacos. They use Siete tortillas and Zach said they were the best tacos he had in Austin! We also really wanted to try the guacamole and fried brussel sprouts! We ate at the restaurant but they also have a food truck!
Sway - We ate here for dinner one night and loved it! It's a Thai restaurant and they have a ton of options if you're gluten free. Be sure to ask how spicy things are because some of the dishes are very spicy. It's a little pricy so it's a good date night spot if you want to splurge a littler.
Curcuma- We didn't try this because we ran out of time but we heard great things! It's a plant-based food truck in East Austin. Everything is also vegan, gluten free and dairy free. Double check if it's open before you go!
Flourchild - This one is a little pricey but the quality is totally worth it. They have lots of yummy bowls!
Forthright cafe - We didn't make it here either but it was pretty much on every list we read. They have a gluten free bread that everyone raves over! It's a great lunch spot.
Cava- This is a fast-casual Mediterranean restaurant. They have tons of build your own options with salads grains and pitas. Think Chipotle, but Greek style!
True Food Kitchen- They have an awesome seasonal menu and it's so fresh! Another great spot for lunch.
Blenders and bowls- You guess it—smoothies and smoothie bowls. They've got tons of fresh toppings and it's a great spot for breakfast or lunch.
Café no Sé- They have a California style and change up some of their menu items seasonally. It's healthy food in a rustic space and they are super accommodating for food sensitivities like gluten free and dairy free.
Sweet ritual- This is a bit of a drive outside of right downtown but it's so worth it! They have gluten free and dairy free ice creams that have coconut and almond butter bases. I got the chocolate peanut butter and it was epic.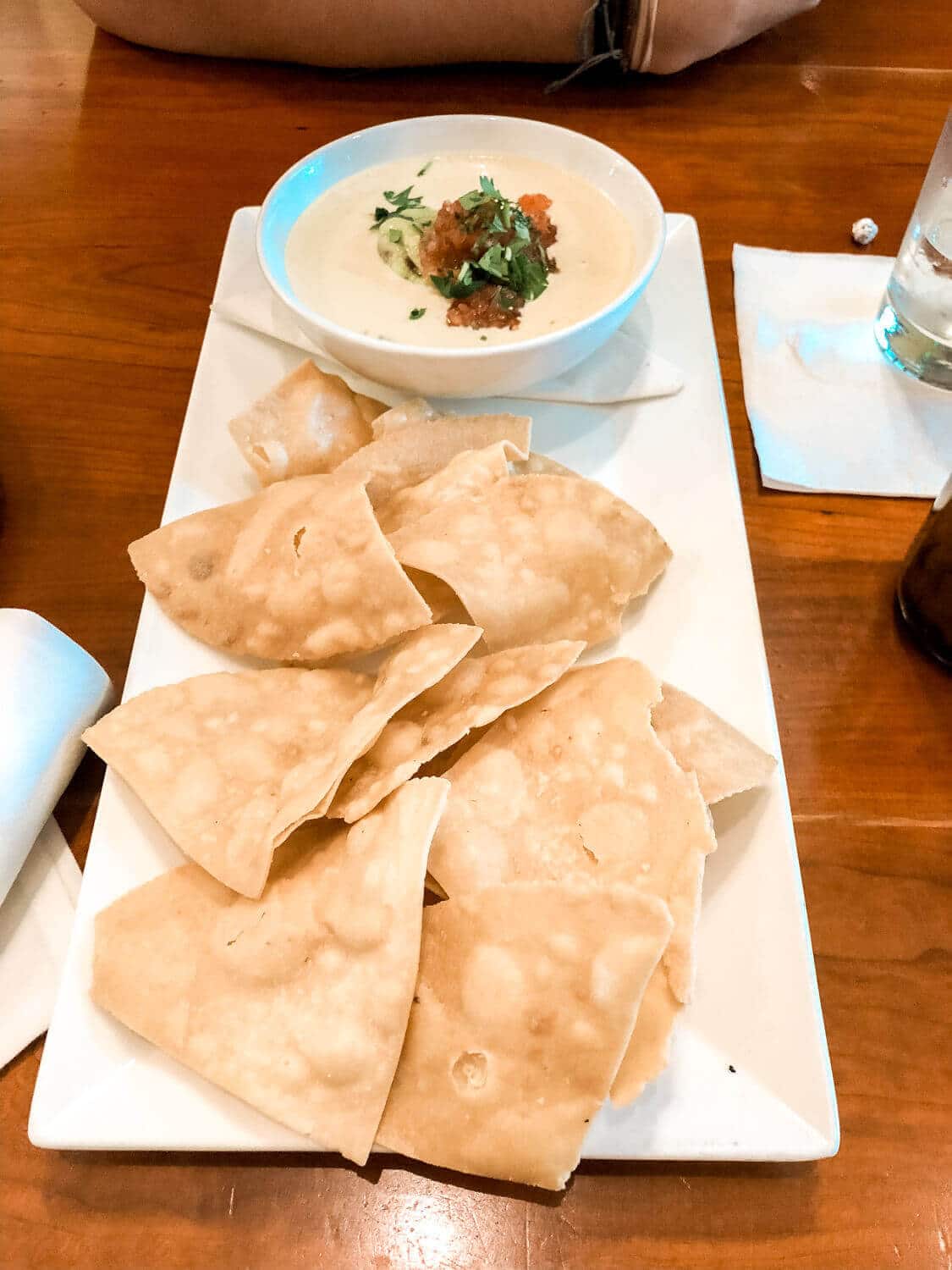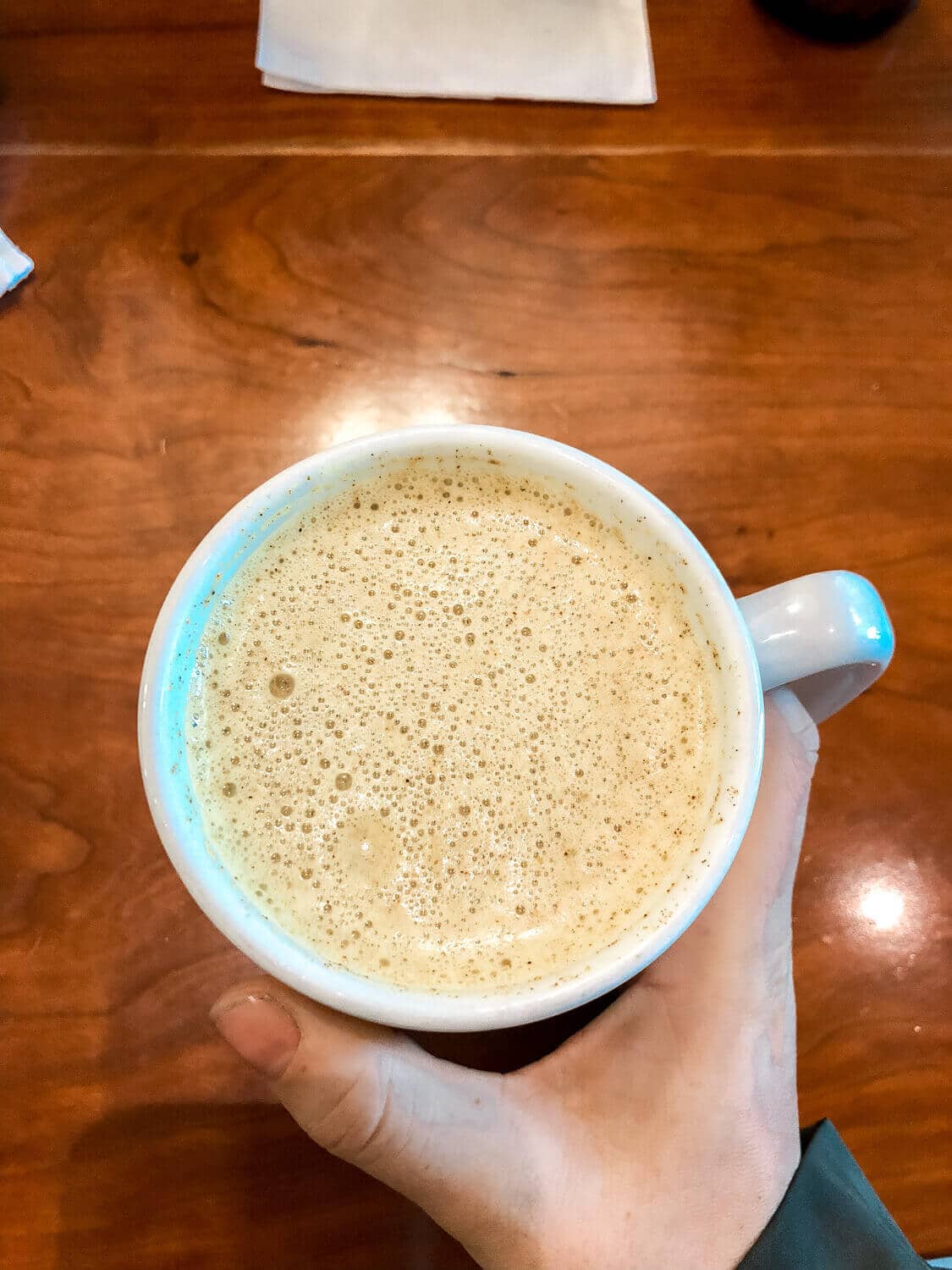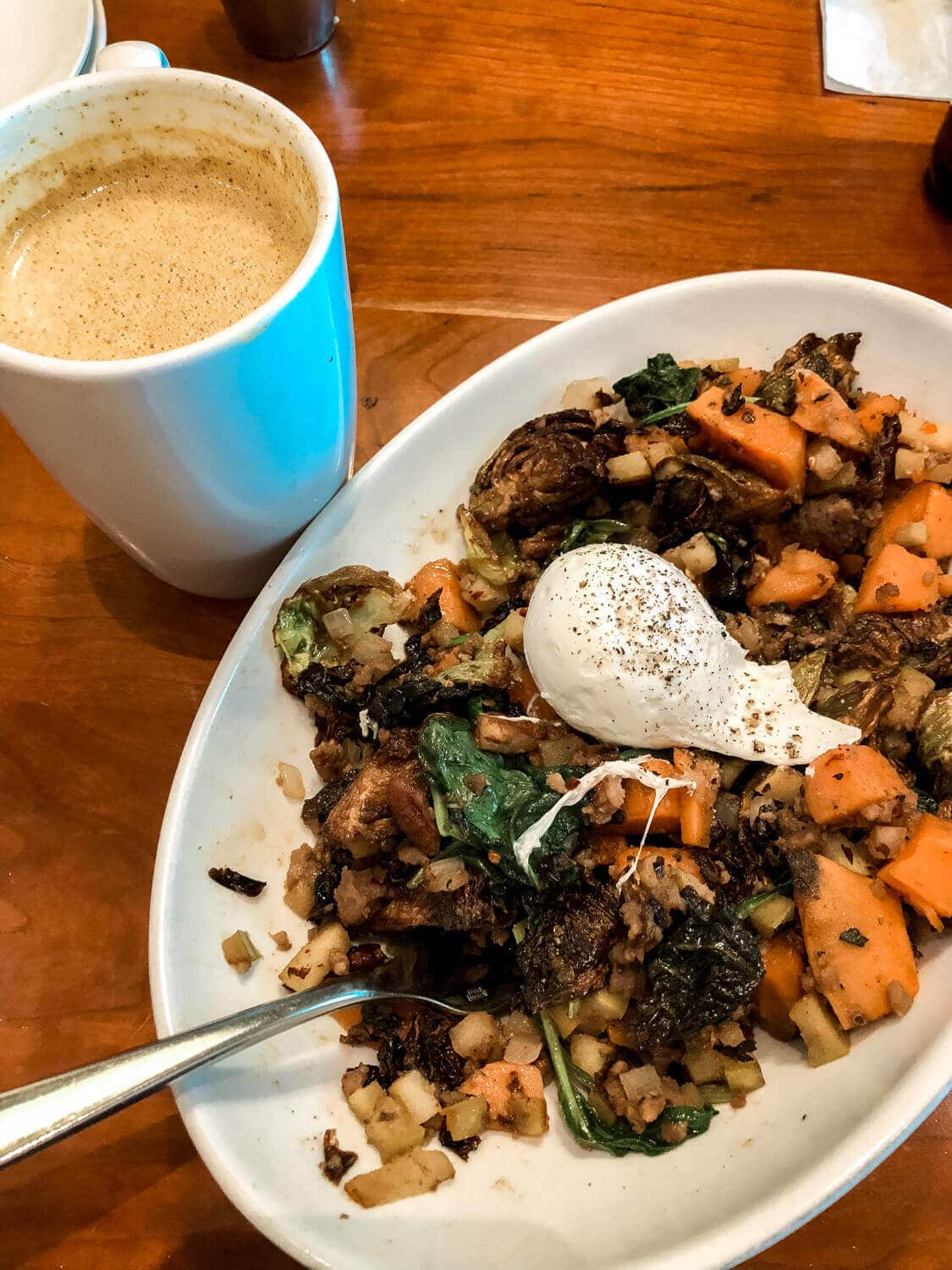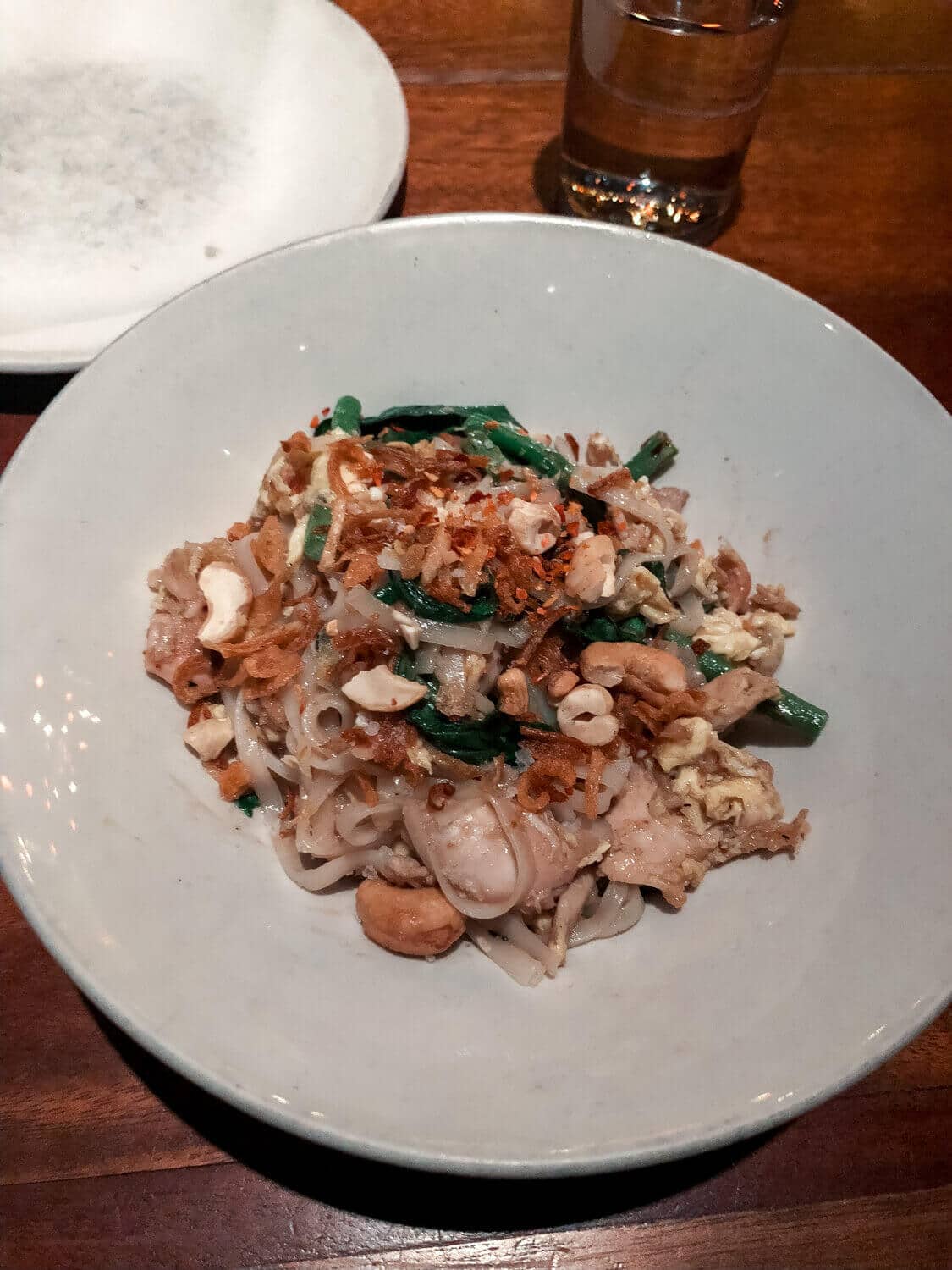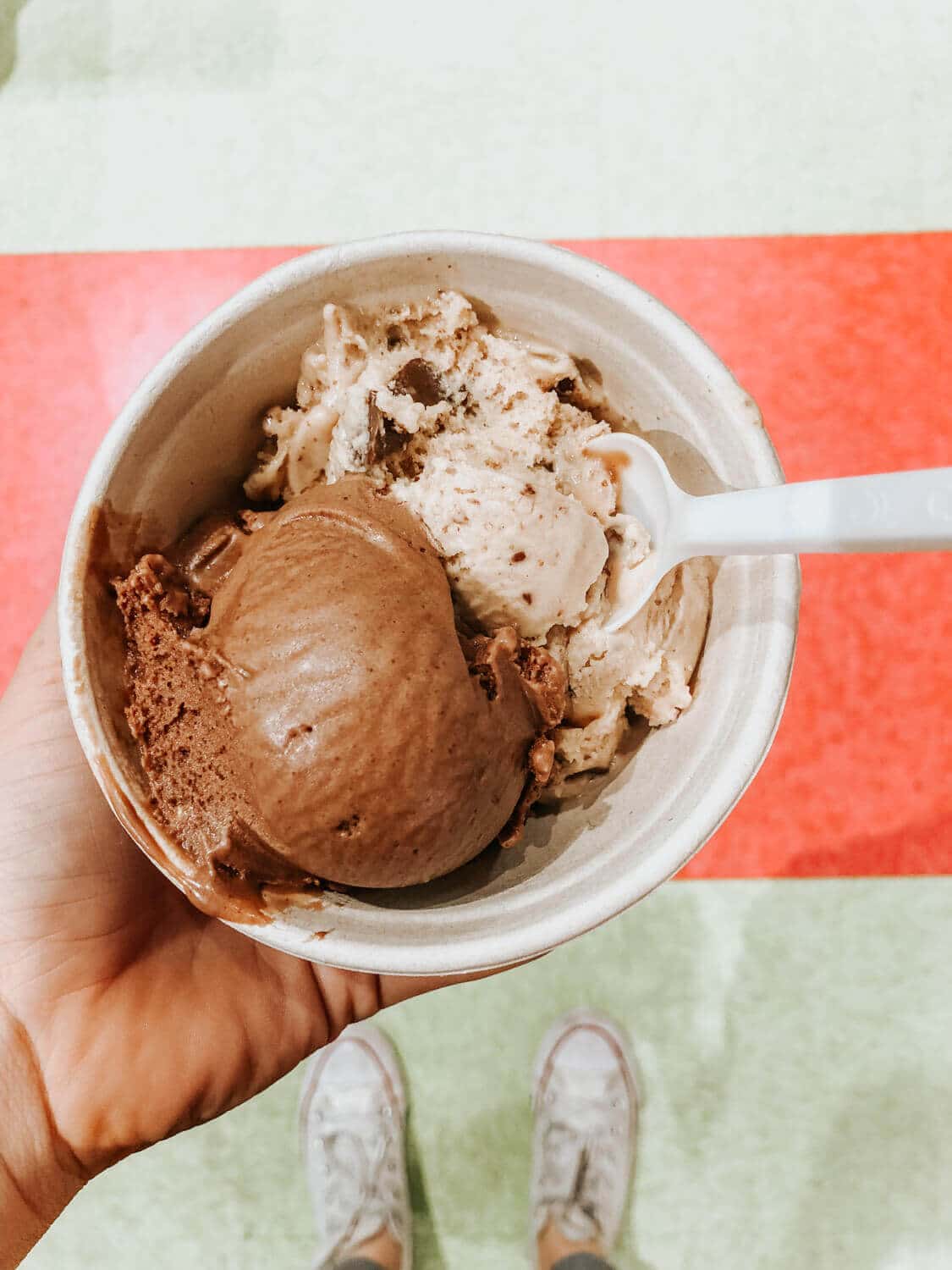 Best cafes in Austin for Matcha and Coffee:
Flat track coffee- They had my favorite matcha out of every cafe we went to. They use an organic matcha and I made it with oat milk. It's a little pricey and the cup was pretty small but the taste was worth it. Zach got a coffee and loved it too.
Juice Society- You can get juice, coffee or matcha here, all great options!
Tom's store- Surprisingly, the Tom's store in South Congress has a great little cafe inside and they have a great matcha and coffee. I don't know what type of matcha or milk they use but it's a great option.
7th flag coffee- I really liked the atmosphere and vibe here. There's tons of seating inside and outside and it's super cute. I was kinda bummed they only had almond milk as an option instead of cashew or coconut too, but it was still really good. Zach liked the coffee!
Houndstooth- We didn't hit this one on this trip but I had it another time I was in Austin and loved it. Love the feel and they had quite a few milk options as well as a great chai and matcha.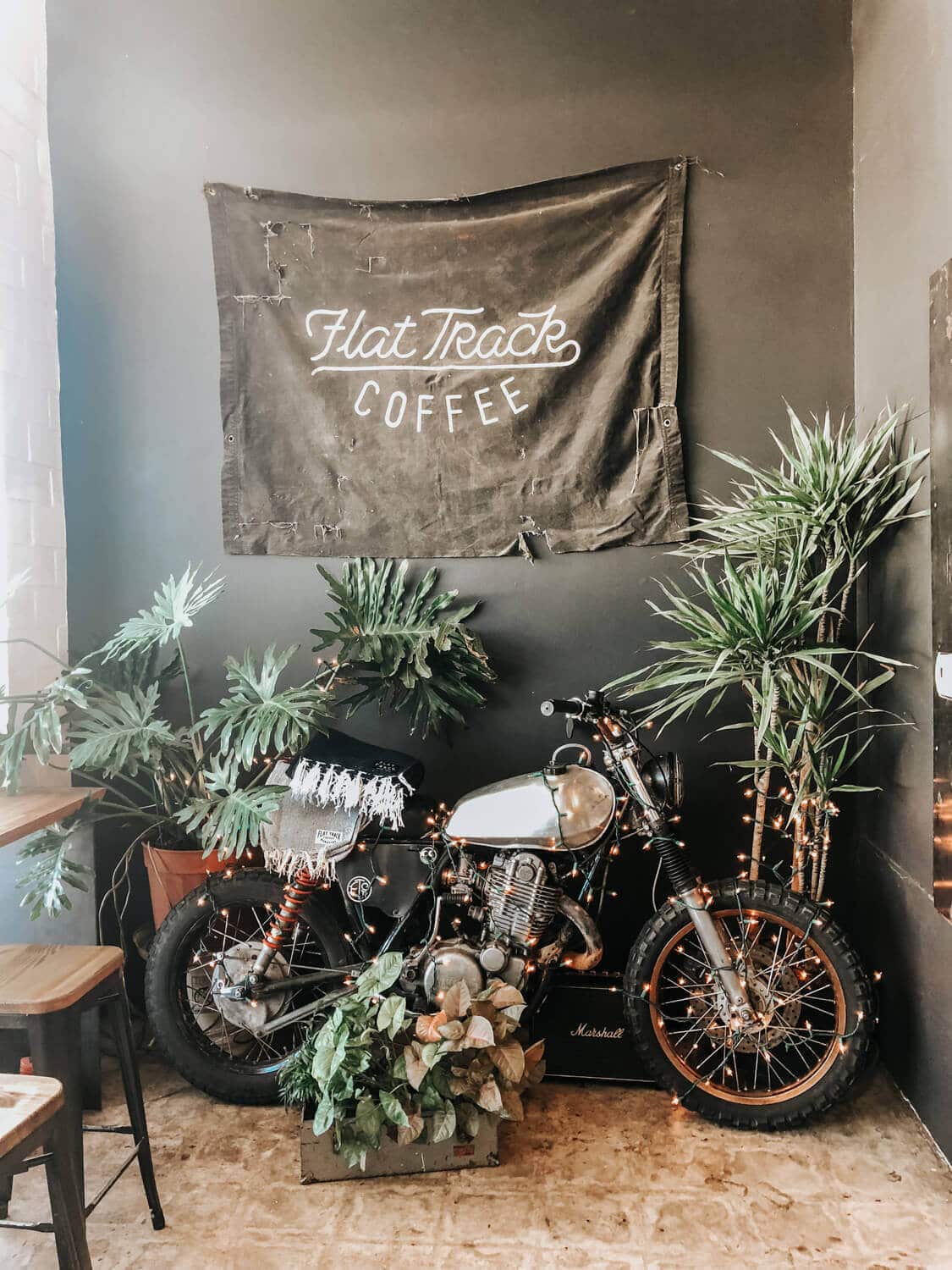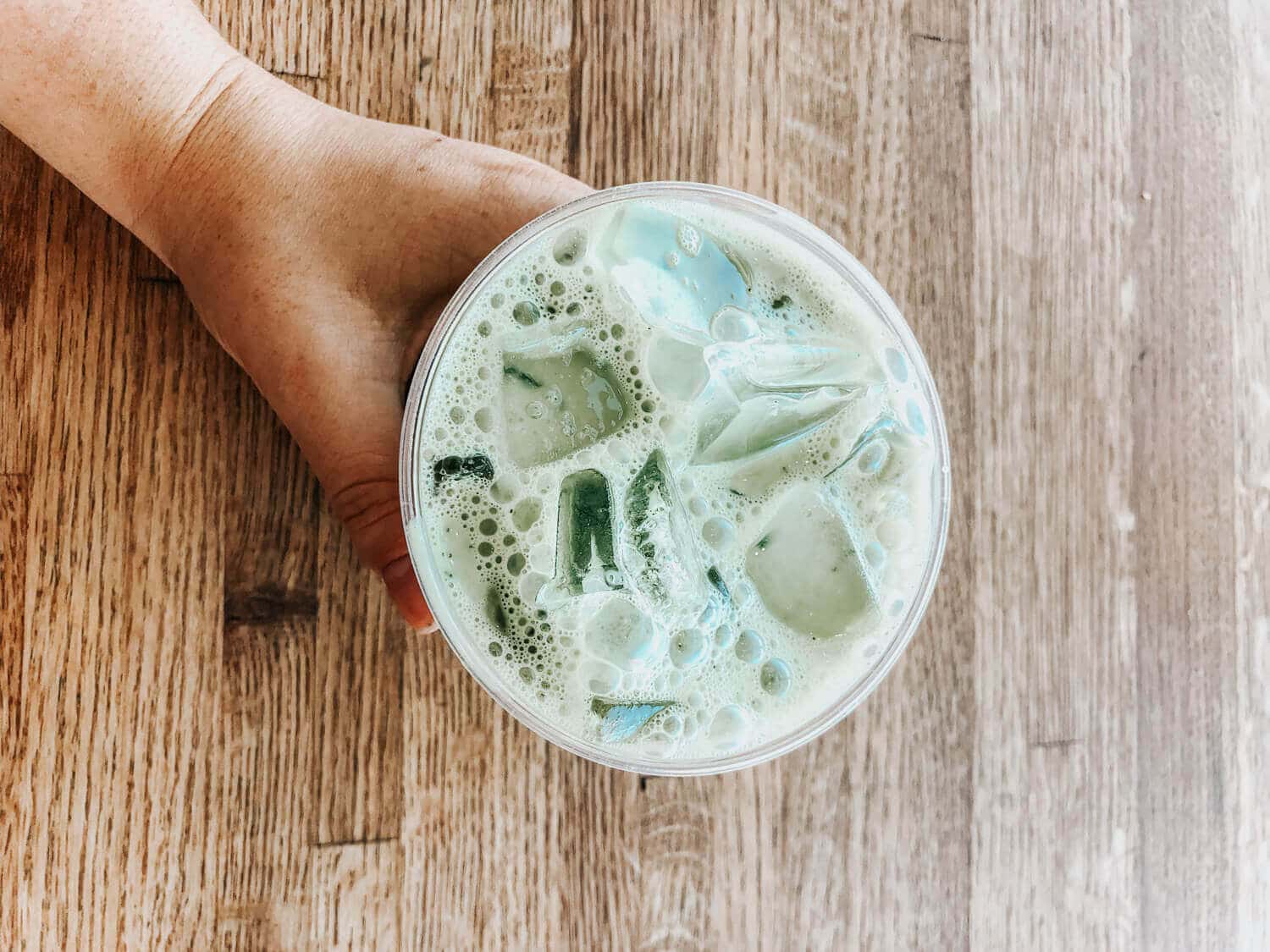 What to Do in Austin:
Zilker park- there are tons of trails and open spaces to walk, relax or throw a frisby
Climb Mount Bonnel- This is more of an easy stroll up some steps vs an actual hike but once you get to the top you have an amazing view of the city and river. It was really crowded when we went but it was still beautiful.
Rent scooters- Find a couple of bird scooters and ride around the streets and neighborhoods around Austin. It's a great way to see the city that isn't driving through it. We had a blast seeing Austin from scooters!
Visit cool shops- Austin is headquartered to a lot of cool companies and home to some really unique stores. Some of our favorite shops we went into were Outdoor Voices, Yeti, Patagonia, and Toms.
Walk around south congress- If you want more local shops there are tons of them lining South Congress. Just take a stroll up and down both sides of the street and pop into the stores you think look fun!
Stand up paddle boarding- if it's nice out you need to rent some paddle boards and get yourself on the water. Everyone does this in Austin and it's a blast!
Swimming at Barton Springs- if the weather permits you should check this out too! You have to pay to get in for the day but it's really cool. There's grassy areas all around to lounge. I recommend grabbing some snacks, laying out, swimming and having a picnic.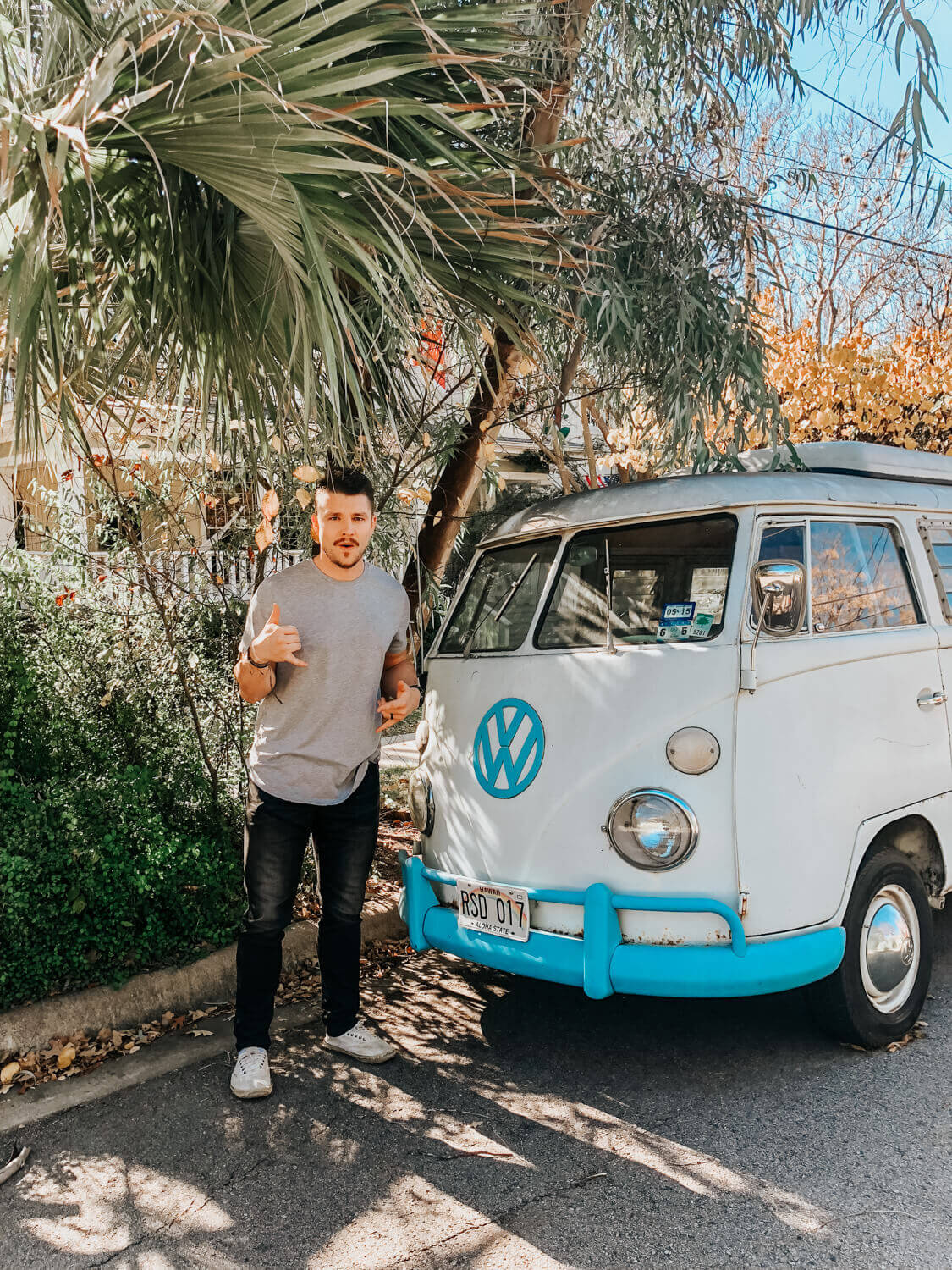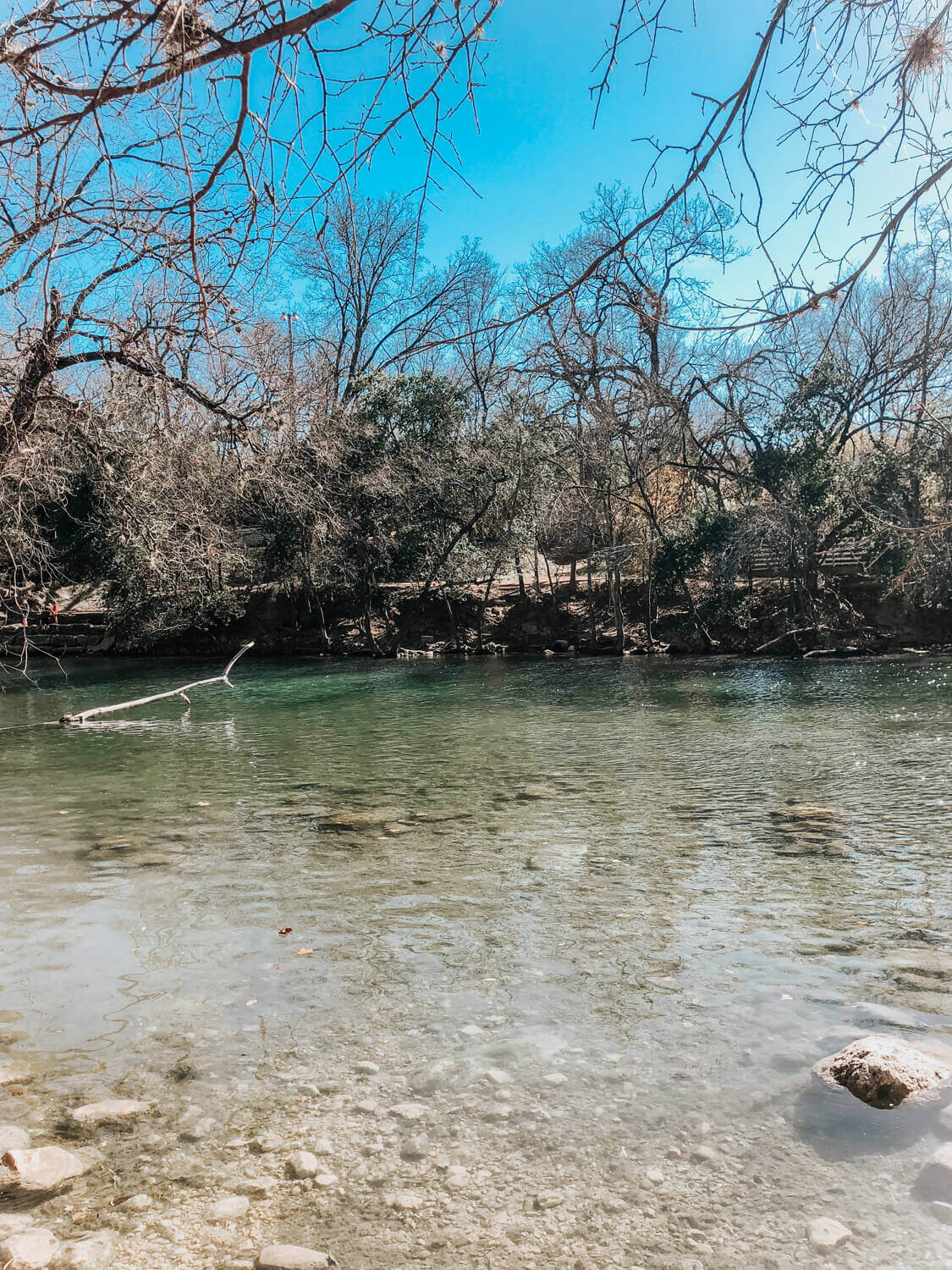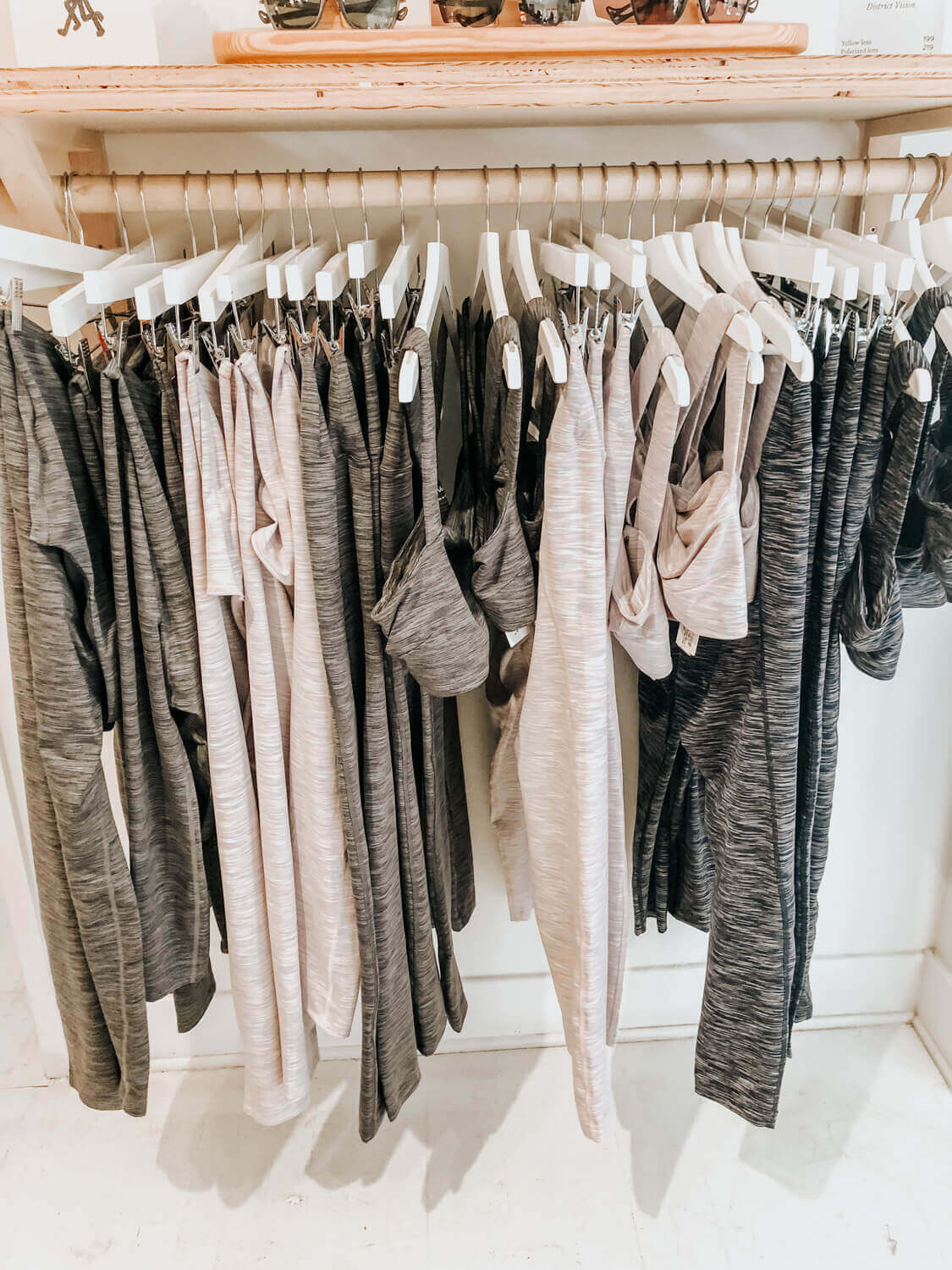 If you do all these things I guarantee you'll leave this vacation feeling light, healthy and energized! There is just a healthy culture and vibe about the whole city so it's easy to eat healthy and do some active things!
More travel guides: