The ultimate guide to a long weekend in Napa Valley! From the BEST wineries to visit that have full tours of their grounds to the most amazing local restaurants, this travel guide will be a full trip with links to every place you have to visit. Plus tips on easy transportation and the best places to stay!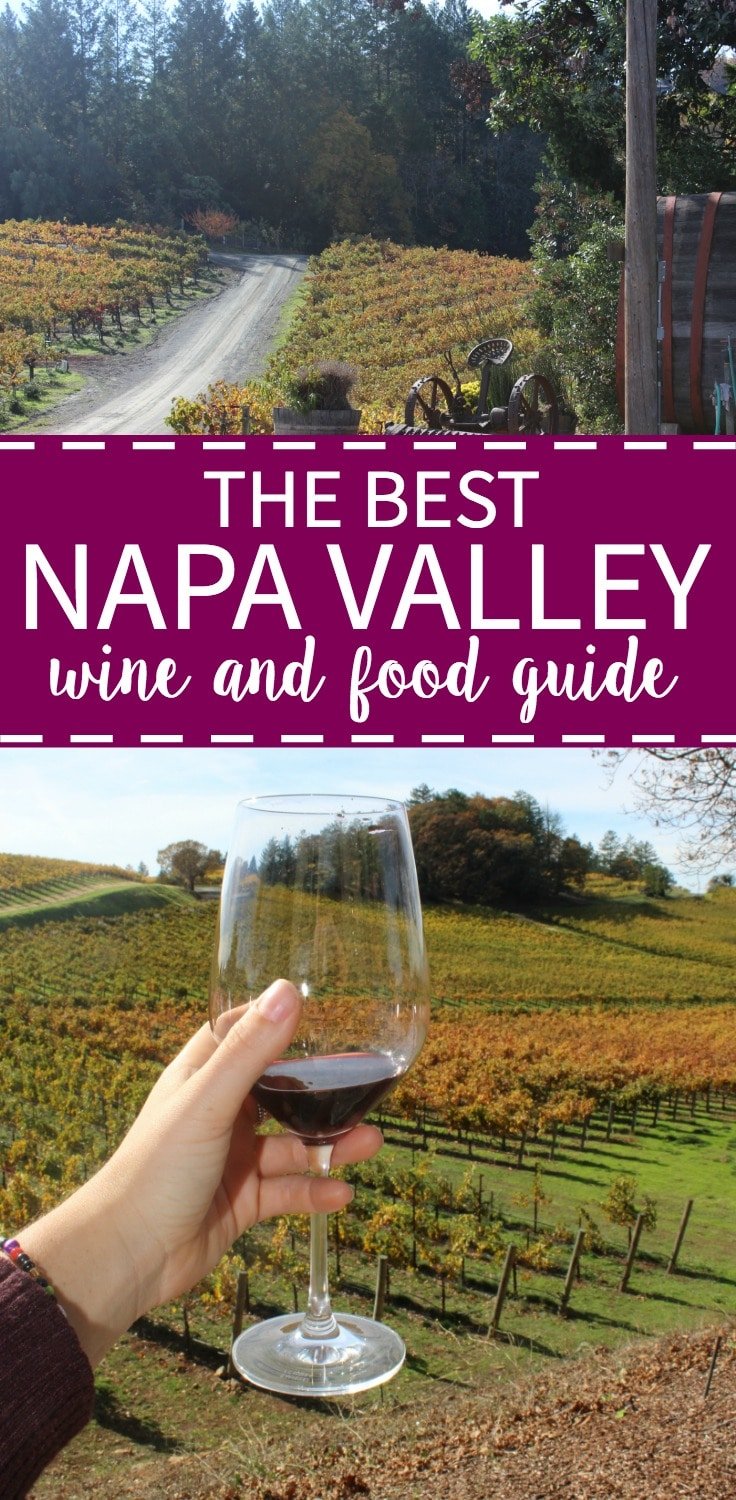 I've been friends with my bestie since we were 3 (23 years) and last week was our very first girls trip we've ever taken together. We've been on vacations with each others' families but have never done a best friend trip on our own. And we knew that needed to change. And that Napa Valley was on both of our bucket lists. So the planning begin!
We were super overwhelmed when we started planning our trip because there is just SO much information out there about Napa and there are about 300 wineries you can visit in the valley. How is one supposed to decide on the best wineries and restaurants to visit in 4 days with all of those options?!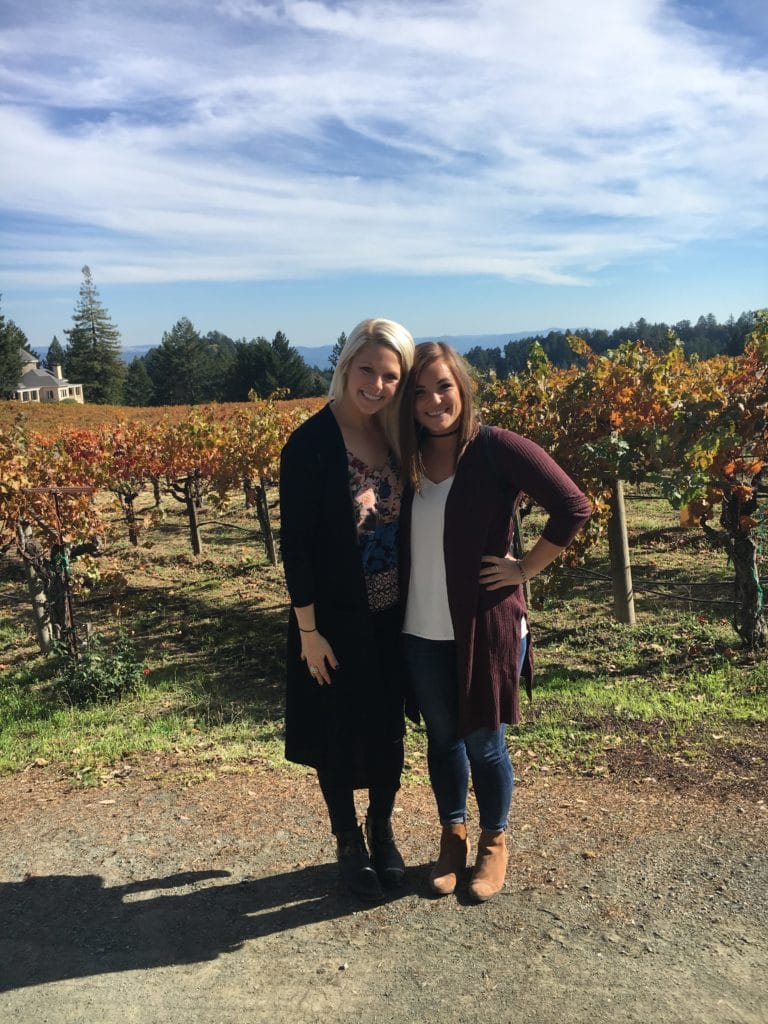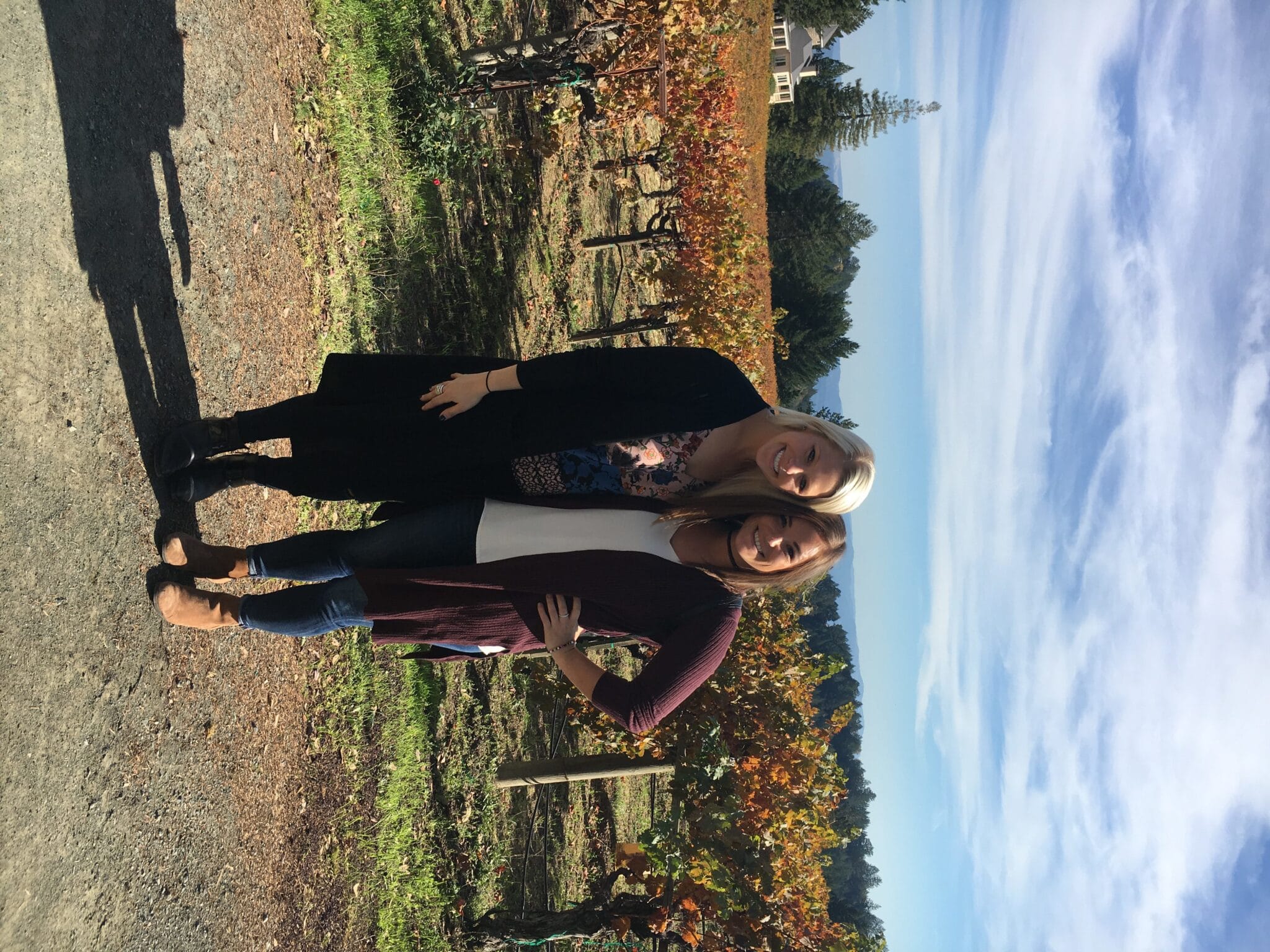 Because Chelsea's parents have been to Napa they gave up some advice and we booked about 4 wine tours in advance. Next time I would book them all in advance because the tasting fill up quick! So definitely do that.
Here are a few lessons learned:
Book your wine tours in advance- this way you know you have a spot and don't have to worry about squeezing in somewhere
Only book a maximum of 3 tours in one day- you want to have time to enjoy each place and not drink too much wine in a day, plus still have time for meals
We were there for 3 days, but definitely could have stayed longer! We didn't exactly follow the above rules well because we kind of winged it for a few tours and ended up at 4 one day (not recommended).
Day 1 in Napa Valley
How to get to Napa:
We flew in to San Fransisco (because it's way cheaper than flying straight in to Napa) and we didn't want to pay for a rental car so we took an Uber to the Ferry Building and caught the ferry to Vallejo. The ride is about an hour and it's absolutely gorgeous. Plus the ferry building has an amazing market inside! Get there early and grab a quick breakfast and coffee and take it on the ferry with you.
Once we got to Vallejo we needed a ride to our hotel in downtown Napa (about 25 minutes). We were going to take the shuttle ($13 a ticket), but it was going to take over two hours so we opted for Uber again and it only cost $40 (which isn't bad if you're splitting). We checked in at the Napa Winery Inn (they were having a great fall special on their rooms) and headed to our first winery! We went to three the first day.
Wine tours day 1:
Paradigm: This is a tiny winery that came highly recommended by a lot of my coworkers. When we got there they had glasses of Rose waiting for us and we were the only ones there. They showed us around the grounds, took pictures for us, explained their process of how they make their wine and we even got to meet the owner. They explained all the science behind how the weather and temperatures affect the wine taste and then we proceeded inside to try a sampling of their red wines. If you go make sure you ask for Marianne (she's amazing!) and tell her Molly and Chelsea from Ohio referred you:). We each ordered a few bottles of their Rose and 2012 Cab.
From there we Ubered to Turnbull Wine Cellars. We didn't have a plan after Paradigm so Marianne helped us find this place, and we're glad she did! You don't need an appointment to do a tasting but if you do make one you'll get a tour of the whole winery. If you ask extra nice they may give you a taste of their Port, and it was ahhmazinggg. We also loved their black label wine.
Mending Wall: our third wine tasting this day a little off the beaten path but totally worth it. We took an Uber there and the grounds are absolutely gorgeous because it's up in the mountains a bit. We tried an array of their Cabs and I liked the majority of them, but one turned my teeth super purple! You don't need an appointment here either, but one is definitely recommended.
Food and restaurants day 1:
San Fransisco Ferry Building was the perfect quick breakfast if you're in San Fransisco for the ferry ride over to the Napa area. I got a sugar free vanilla latte and a homemade pastry.
Rutherford Grill- we stopped here for a quick to for lunch between wine tastings and it was just what we needed. Shout out to our waitress Sherry for being so friendly and giving us the scoop on all the wineries. You HAVE to get the Grilled Artichokes and Skillet Cornbread. We ordered both and split it and it was perfect. We also hear the pretty much everything there was amazing. You may want to call in advance for a reservation because it was pretty busy around lunch time, but we snagged a seat at the bar!
Farmstead- YOU DO NOT WANT TO MISS THIS PLACE. And you definitely need a reservation. The only time we could get in was at 4pm so we went then, but ended up sitting at the bar because it was beautiful that day and they have live music on Friday nights. It's more of a local restaurant so there were tons of locals and we had a chance to meet a bunch of them and learn more and find out more about the best wineries. We ended up staying for 6 hours! They have a happy hour menu starting at 4 too. And throughout the night we ordered 6 appetizers to keep us satisfied.

Biscuit sandwiches- if nothing else you have to order these. They're homemade biscuits with jam and prosscuitto. One of the best things I've eaten in a while
Meatballs- these were really good too, but kinda tiny.
Warm Burratta- This was amazing! It came with a whole roasted garlic and crispy bread
Pimento cheese- it was super fresh cheese and delicious, but not my favorite of the 6 we ordered.
Mac n Cheese- This came in a skillet and was so cheesy and good. Get it!
Lamb Sliders- these were perfect
Day 2 in Napa Valley
Wine tours day 2:
Schweiger- this vineyards sits almost at the top of the highest mountain in Napa Valley. Grab an uber a little bit in advance so you have time to get there. We sat outside and overlooked the gorgeous mountainside and tasted an assortment of their red wines, but started the tasting off with their Sauvignon Blanc. This was one of my favorites! You can order cheese plates here too. If you've got another tasting to go to after this I recommend keeping tabs on how far an Uber is, they take a while to get up the mountain!
Pride- This was our favorite! It's at the very top of the mountain and the entire winery overlooks the mountainside. We had the most amazing tour guide and gave us so many details about the history and the grounds. Fun fact: the winery is technically built in both Sonoma and Napa county, and to be able to call their wine official "Napa wine" everything must be made and produced in Napa county. They made this contraption that makes the wine that they wheel across the county line to make sure their wine is official. Then we got to walk through the caves where they age the wine in the barrels and we even got to drink the wine straight from the barrel. So cool! YOU DO NOT WANT TO MISS IT.
Reverie- this was was just down the mountain and equally as gorgeous. The tasting was outside and they cleared out a huge space in the grass in the middle of these giant redwoods and we sat and tasted their reds and were in heaven.
Restaurants Day 2:
Archetype- this is a definite must for brunch. We sat at the bar and got to watch the chefs work their magic during the brunch rush. Everything looked so amazing and they were like a well-oiled machine. It was so cool to watch! We split the giant burrito and considered getting the sticky buns, but the burrito was so big! You could easily split a meal here.
Ciccio- this restaurant came highly recommended from the locals who were giving us the wine tours. And they did not disappoint. It's an Italian restaurant serving up amazing food. If you're a pizza and pasta lover, go here!
We didn't do any wine tours the next day because we had to catch an Uber back to San Fransisco, but we stopped at the Oxbow Market. If you have time, you have to go to the Oxbow Market. It's a building that houses numerous mini restaurants from Oysters to ice cream and everything in between. We got pizza from Ca' Momi and it was so authentic.
After we left we did the math and realized an Uber back to the city was actually faster and only a little more expensive than taking the bus then the ferry. We opted for that and then went straight to Tartine Bakery in San Fransisco. Holy moly was this place amazing! We ordered the banana cream pie because we heard it was the best ever and it really was.
We had such an amazing girls trip and were so sad all of the festivities were over, but I was kinda glad to get back in to my routine. I hope you find this helpful and please let me know if you go to any of these awesome restaurants and vineyards!