This green juice recipe is packed with green veggies, sweet fruit, and flavorful herbs to support skin, weight loss, hormones, and digestion. It's easily made in the blender and cheaper than vegetable juice you'll find at a juice bar. It's packed with anti-inflammatory ingredients, it's slightly sweet and very delicious!
Make this homemade juice in your juicer or a blender!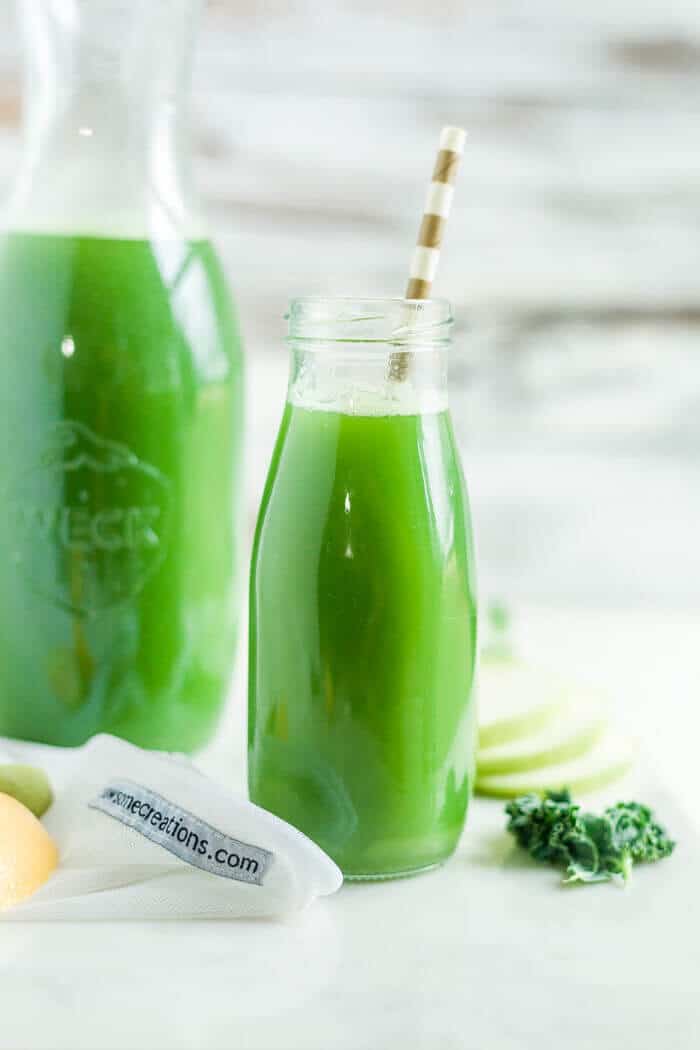 Jump to:
If you're new to juicing then this green juice recipe is for you! You don't need a fancy juicer (although that's ok too). All you need is a blender and a Rawsome Creations Nut Milk Bag to get the benefits of juicing at home.
Why You'll Love this Green Juice
It's a great way to add whole vegetables and nutrients into your diet.
Supports your immune system (thanks to vitamin c!) and digestive system.
Balance blood sugar first thing in the morning.
Packed with a powerful antioxidant blend.
Easy to make without a juicer.
It's a great addition to any healthy diet and can support several medical conditions (like PCOS).
Can I drink green juice every day?
It's filled with only natural ingredients and tons of veggies so it's actually recommended to drink green juice every day, especially if you don't feel like you're getting enough nutrients from your diet.
Is green juice really good for you?
Anything that helps you get more vegetables into your diet regularly is going to help your overall health. Although some argue you're missing out on some of the fiber from the pulp, there are still so many great vitamins, minerals, and antioxidants in this delicious green juice recipe you can really benefit from.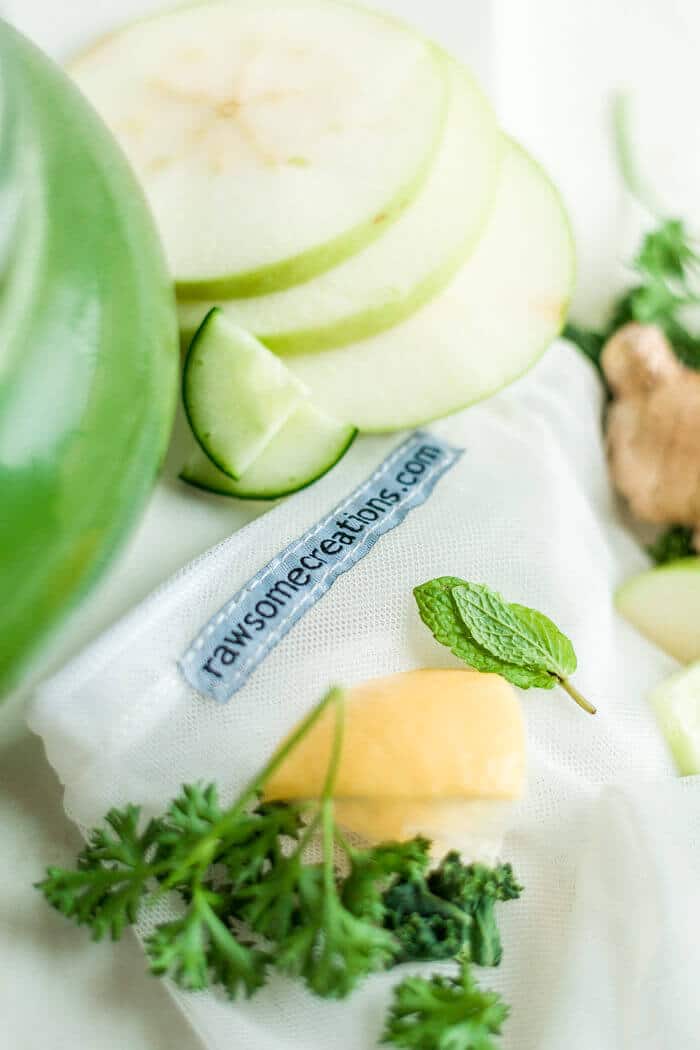 When you head to the grocery store make sure you pick up all the ingredients for this healthy green juice recipe. As a general rule, I try to get as many organic fruits and veggies as I can to get the very best green juice recipe I can.
Key Ingredients
Here are the ingredients in this simple green juice recipe. You can find all of these raw vegetables and fruits in the product section of the grocery store. Skip down to the printable recipe card below for the full recipe and exact measurements.
Kale: we used organic kale, but any dark leafy greens are great options.
Green Apple: the natural sugars in a granny smith apple balance out the recipe
Pineapple: this is optional if you want less sugar, but adding fresh fruit juices, especially with kale, adds so much flavor.
Herbs: Parsley, mint, and cilantro
Cucumber: we always have English cucumbers on hand (as a snack and to make lemon cucumber water).
Celery: make sure to wash it first!
Ginger: I love ginger so much because of it's flavor and anti-inflammatory benefits. Use less for a more mild flavor.
Lemon Juice: squeeze fresh juice from a lemon for some acid to balance everything out.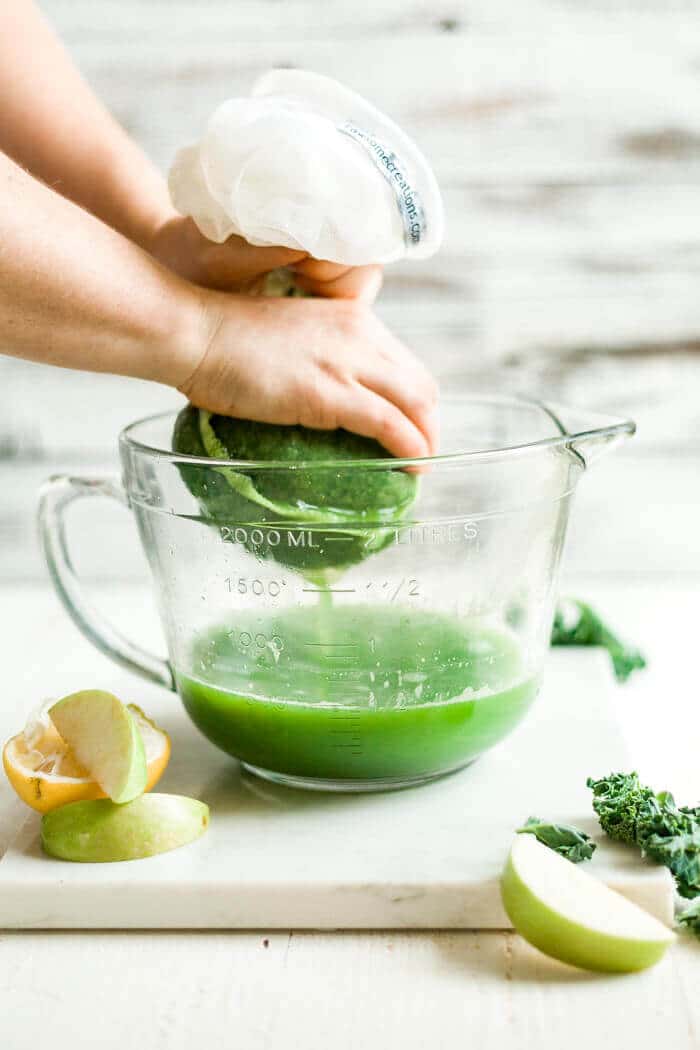 Frequently Asked Questions
What does this green juice recipe taste like?
There's a great balance of sweetness from the apple and pineapple and zing from the ginger. You'll taste the celery and cucumber a bit, which gives it an additional fresh flavor to go with the fresh mint.
Overall, this green juice in the blender is really balanced and tastes really yummy on top of being so good for our bodies.
How do you make green juice taste better?
The key to a tasty green juice is a bit of sweetness from fruit. This recipe calls for pineapple and apple to help balance the greens from the kale and celery. I also love the freshness from the herbs and bite from the ginger.
What kind of juicer to use?
We really like this Hurom juicer if you want to omake this in a juicer instead of a blender. Cut your fruits and veggies a little smaller and be sure to peel any citrus fruits. Run them through the juicer, using the tampeer as needed!

Can I use a blender to juice vegetables?
You don't need a juicer to juice vegetables, you can use a blender. This recipe is designed for making it that way!
They key to making this green juice recipe in the blender is the Rawsome Creations Nut Milk Bag. It's designed with a culinary background in mind so the holes are just the right size and the seams are on the outside for easy clean up.
I also love this nut milk bag because it's ethically produced and made by an amazing team in Bali. This bag not only helps me make healthy and delicious recipes, but it also helps everyone on the production side as well.
What to do with leftover pulp
After you strain the juice through the nut milk bag, you're left with the pulp from the vegetables. I tend to compost mine, but you can use it for other recipes if you don't want to toss it. Here are 20 unique uses for leftover juice pulp.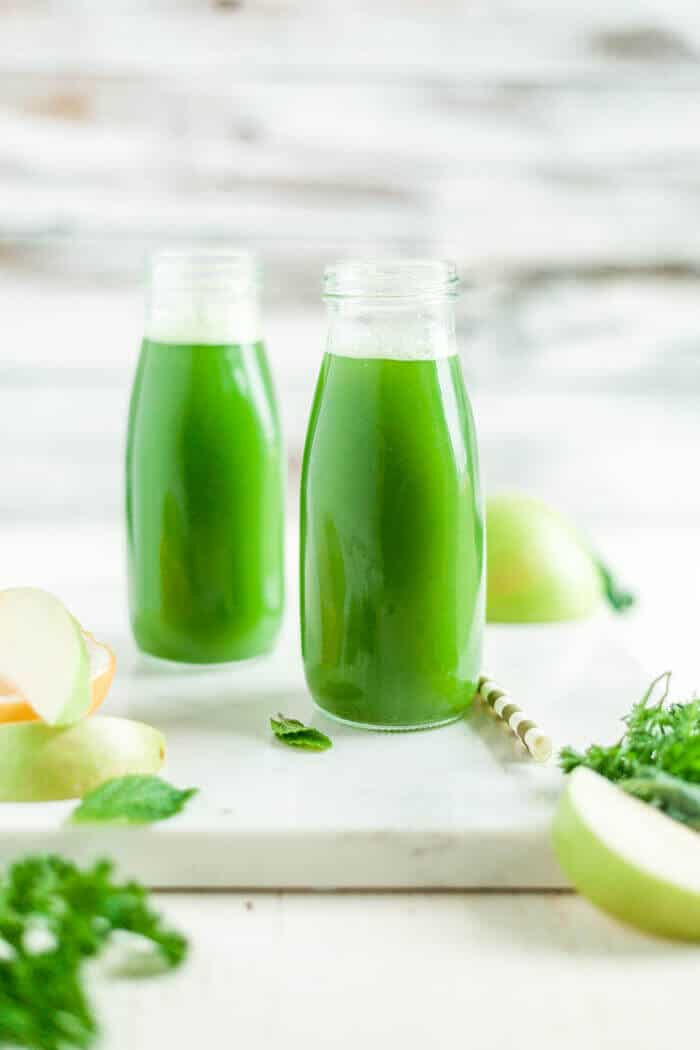 If you love this recipe, don't forget to follow me on Instagram and tag me with @what_mollymade so I can see it and feature you.
Green Smoothies You'll Love
The Best Green Juice
This green juice recipe is good for skin, weight, hormones and digestion. It's easily made in the blender so it's great for beginners and it's slightly sweet, and very delicious!
Print
Pin
Rate
Save
Saved!
Ingredients
1 ½

cups

water

2

cups

kale or spinach

1

green apple

cored and cut into chunks

1

cup

pineapple

fresh or canned with no sugar added

½

cup

parsley leaves

1

tablespoon

chopped mint

1

medium cucumber

quartered

2

celery stalks

roughly chopped

1

inch

piece of ginger

peeled

Juice from 1 lemon
Instructions
Wash all vegetables and fruits well. Add water to the blender jug then add the rest of the ingredients. Blend on the highest setting for at least one minute, until completely combined and is similar to a smoothie consistency.

To separate the juice from the pulp, place a nut milk bag or fine mesh seive over a large glass measuring bowl (I use an 8 cup glass measuring bowl). Pour the juice milk mixture into the bowl through the nut milk bag, squeezing the mixture through the bag so all of the liquid and pulp is separated. Reserve the pulp to put in muffins or crackers.

Drink immediately or place in a sealed glass jar in the refrigerator for up to 2 days. Shake well before drinking. This recipe doubles well.
Notes
Storage: store any leftover juice in an air tight cup with a lid or glass bottle in the fridge for up to 3 days. Shake well before drinking. Make it in a juicer: Cut your fruits and veggies a little smaller and be sure to peel any citrus fruits. Run them through the juicer, using the tamper as needed!
Nutrition
Serving:
1
glass
|
Calories:
104
kcal
|
Carbohydrates:
24.4
g
|
Protein:
2.6
g
|
Fat:
0.6
g
|
Sodium:
68
mg
|
Fiber:
5
g
|
Sugar:
15.6
g