This green smoothie bowl is filled with superfoods and healthy ingredients to fuel you through the day. It's made with fruits and veggies, Vital Proteins and healthy fats to make for breakfast, lunch or a snack.
This post is sponsored by Vital Proteins. All opinions are my own!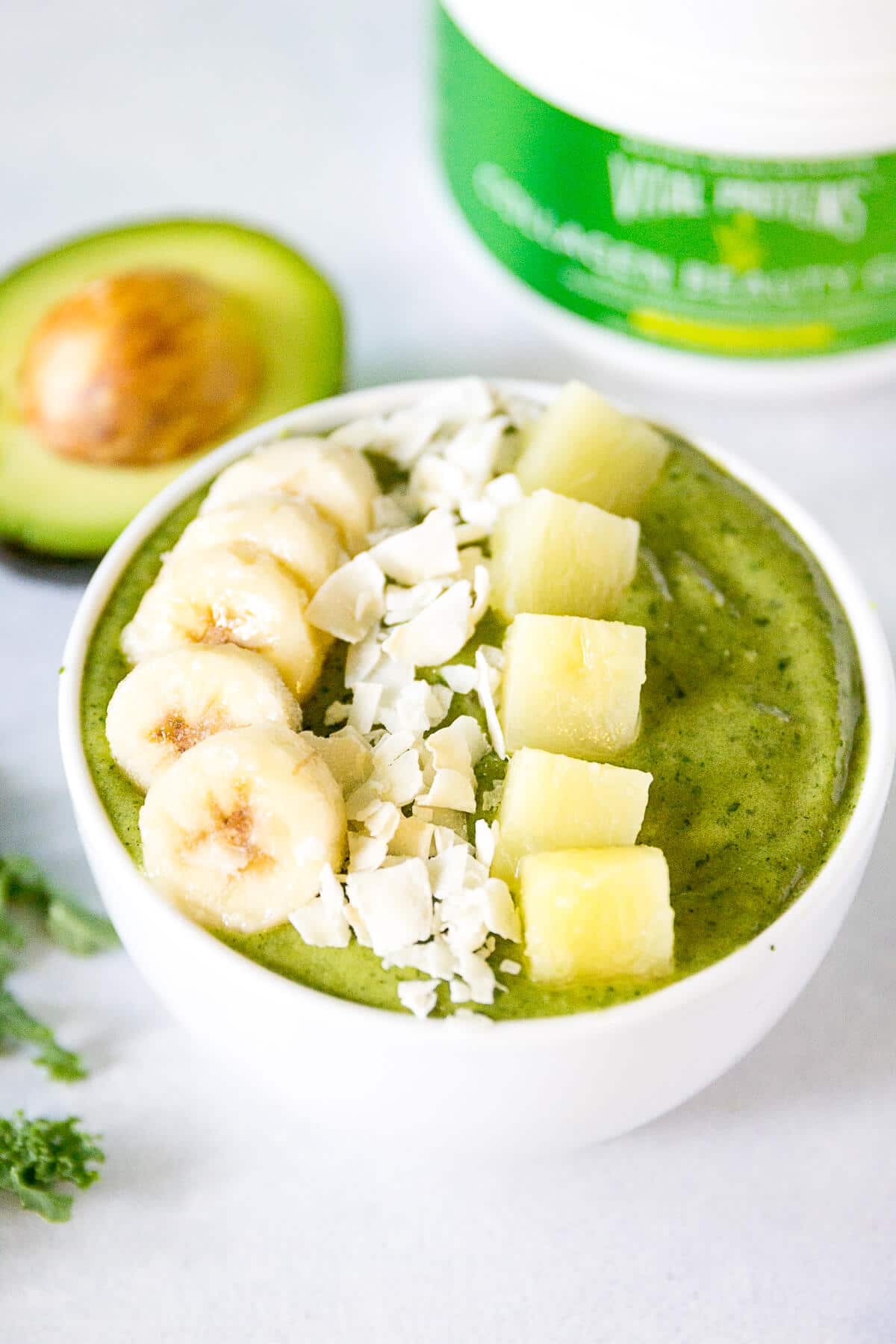 Anything that is bright green and you eat with a spoon has to be good for you, right? But, taste good too? No so much.
Lucky for us, this green smoothie bowl tastes as good as it is for you. It's packed with some seriously healthy ingredients and comes together in minutes. That's a triple win in my book.
Healthy✔️
Easy✔️
Delicious✔️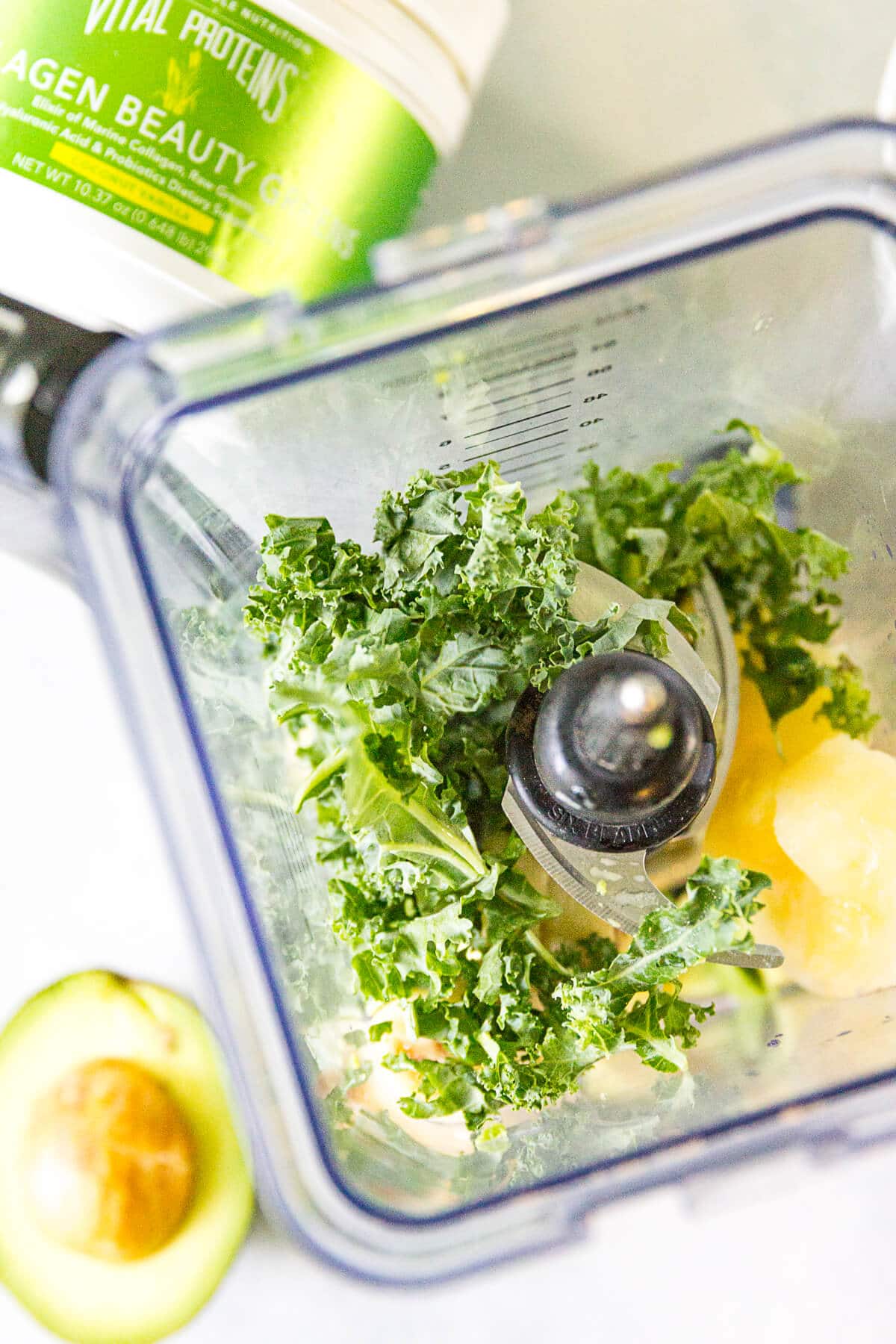 My favorite kind of smoothie bowl is the super thick kind that you're forced to eat with a spoon. It makes your smoothie bowl so much more fun to eat and I feel like I'm eating ice cream for breakfast!
There are a few ways I like to thicken my smoothie bowl!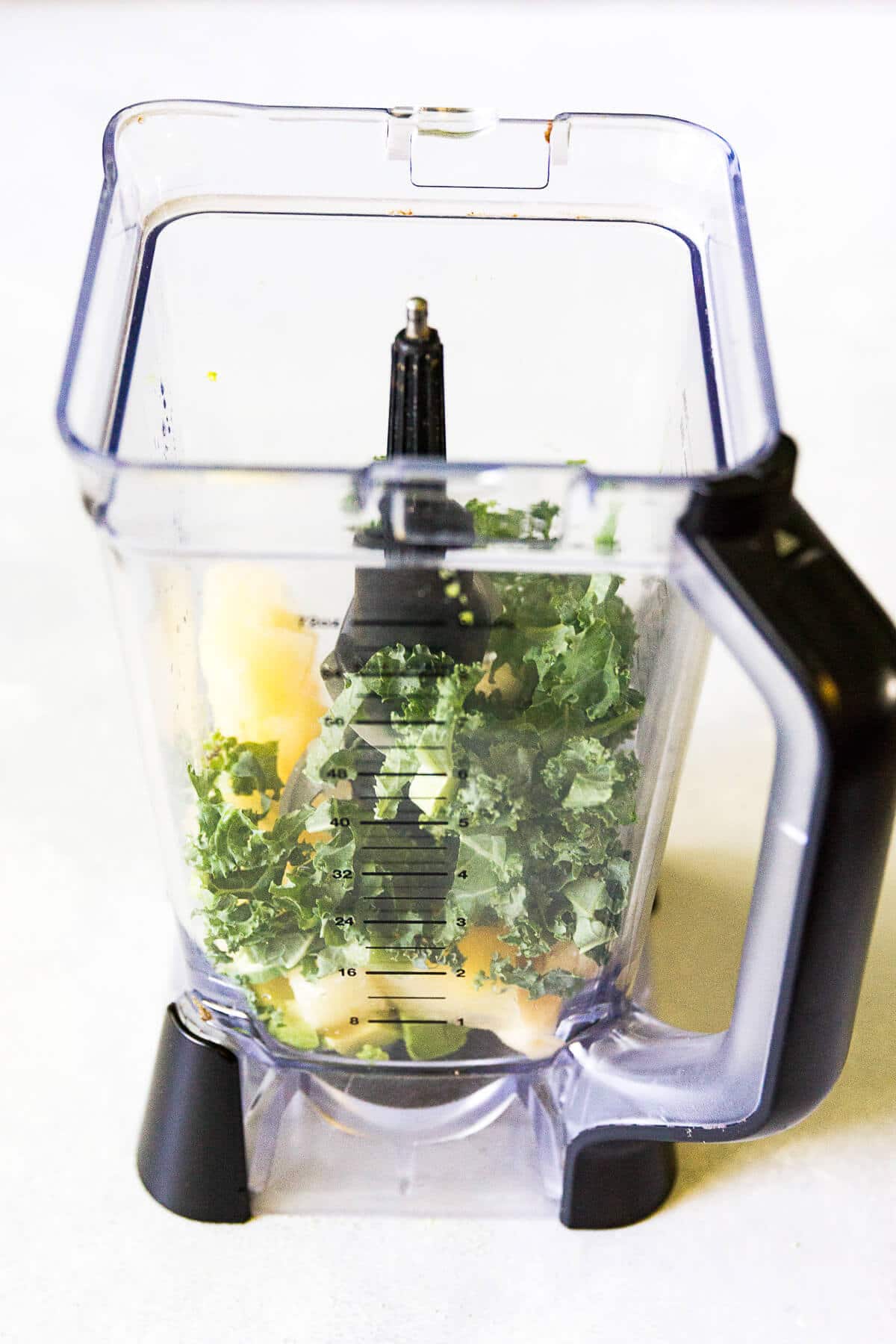 How to Thicken Smoothie Bowls
Frozen fruit: Frozen fruit, especially frozen banana, makes smoothie bowls extra thick. It adds a creamy texture on top of it! I like to keep extra bananas, pineapple, berries and mango in my freezer to make smoothies and smoothie bowls on the spot.
Coconut Milk: Another way to thicken smoothie bowls is to use canned coconut milk rather than almond milk. The coconut milk has extra fat and is a little thicker than it's liquid counterpart. This way it doesn't get too thin when you add the milk!
Avocado: I don't use avocado in every smoothie bowl recipe (though I did in my mocha protein smoothie bowl) but it's a great way to add some extra thick and creamy texture. A little goes a long way here and you can't taste it at all!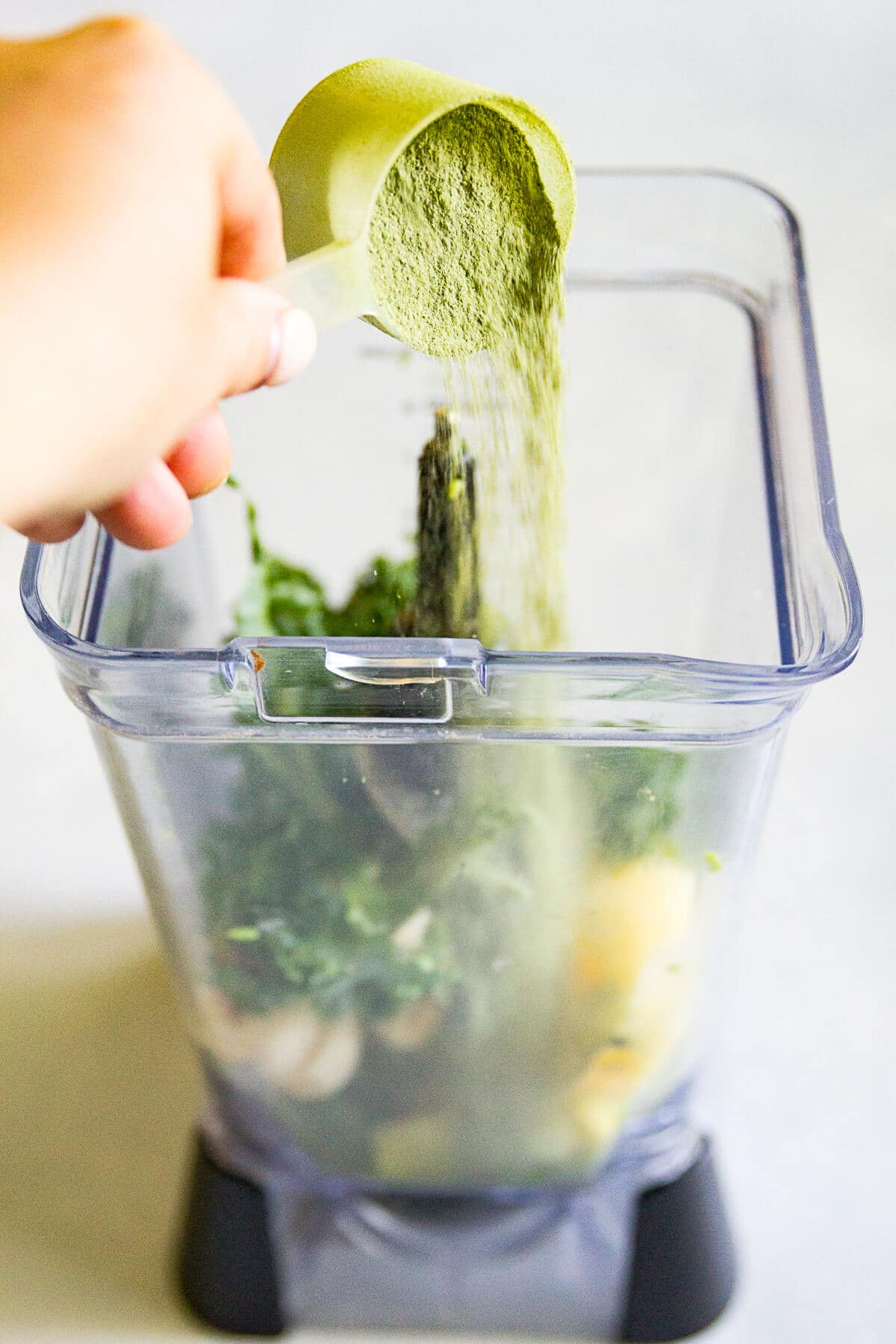 What Makes this Green Smoothie Bowl So Healthy?
There is SO much happening in this green smoothie bowl that makes it a super breakfast (or snack/lunch) food. It has a combination of healthy fats and carbs and you can easily add another scoop of your favorite protein. I love the collagen protein from Vital Proteins!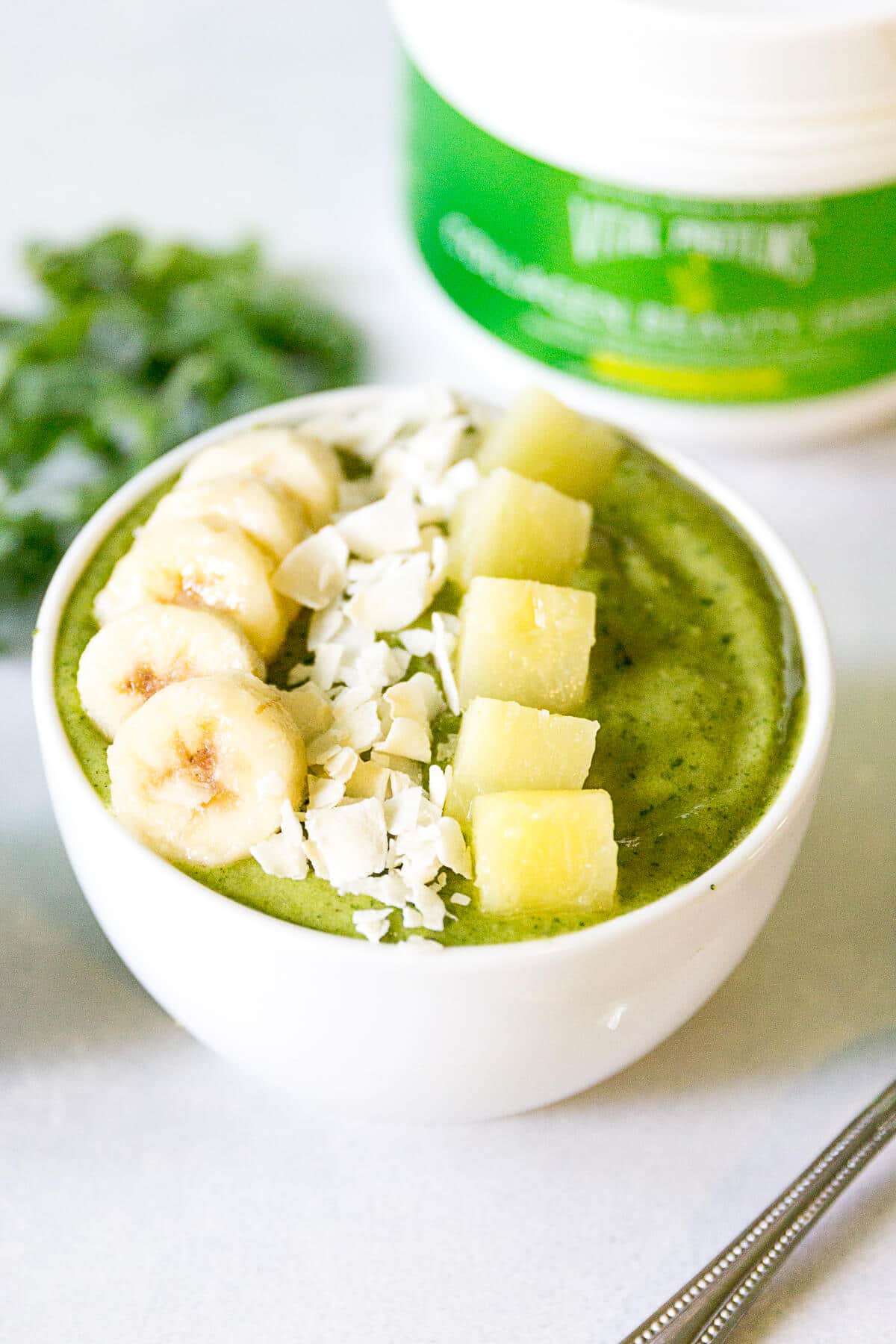 So let's break down all of the ingredients quickly:
Vital Proteins Collagen Beauty Greens: This powerful powder is made with a blend of collagen peptides combined with organic greens rich in Vitamin A, hyaluronic acid, and probiotics to give ya beauty from inside for healthy skin, hair, and nails. AKA goddess-like skin. AKA green smoothie bowl. You better believe I'm eating this smoothie bowl every day for a month up until our wedding.
Kale: This dark, leafy green is also great for you! It's filled with fiber and more vitamins and nutrients like folate and magnesium.
Fruit: The fruit in this recipe includes a little pineapple and banana. I didn't want to overdo it on the high-sugar fruit, but they are a great compliment to the kale.
Healthy Fats: The healthy fat in this recipe comes from the avocado. I mentioned this before, but you can't taste it at all in this green smoothie bowl recipe. It adds healthy fat to keep you full longer and a creamy texture for scooping with spoon. Another healthy fat is the coconut milk!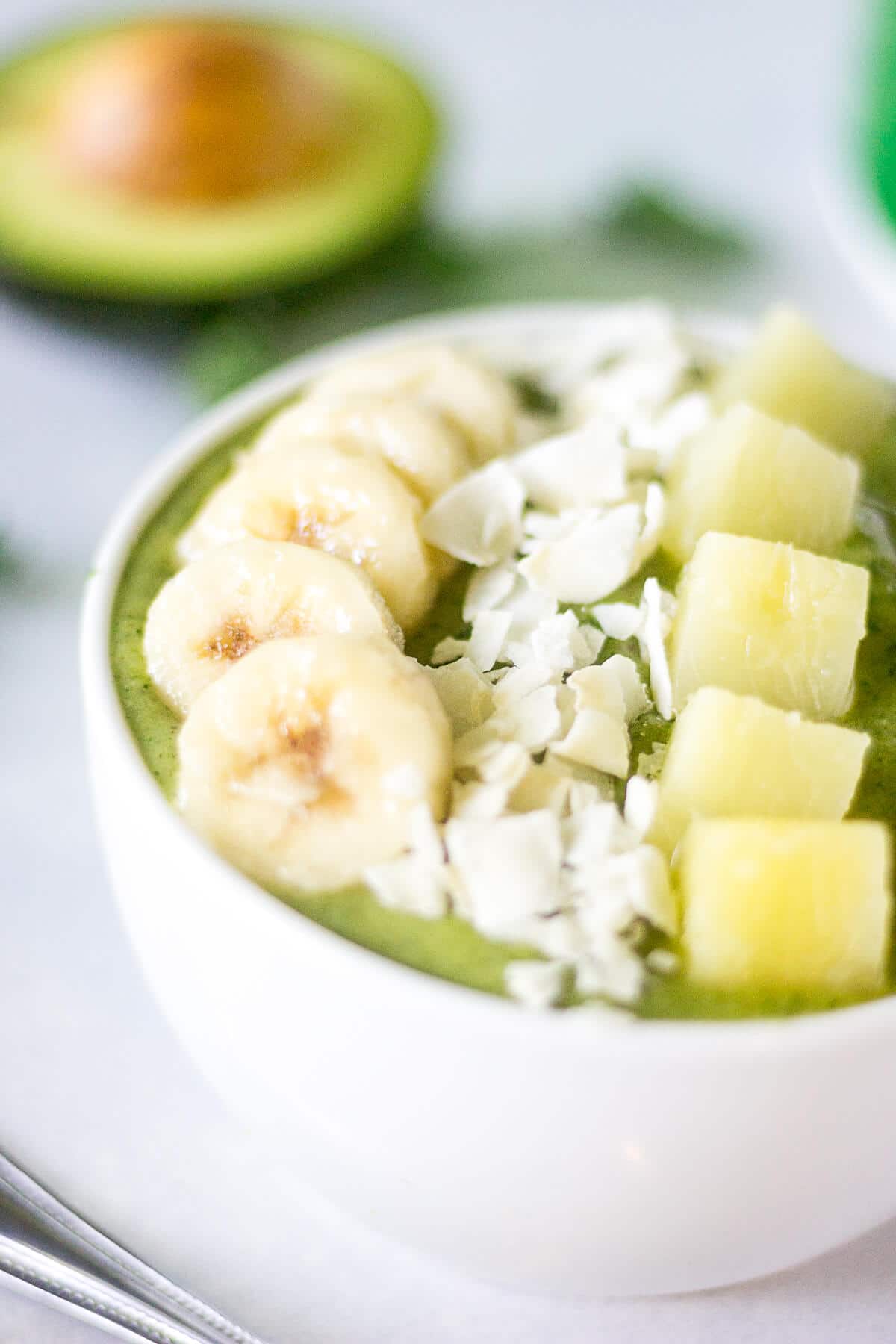 Not necessary (but kind of), is the toppings on a smoothie bowl. I love to add crunch and texture to make each green goddess smoothie bowl bite extra special. My favorite toppings include: organic granola, a little extra fruit, unsweetened coconut, and sometimes dark chocolate.
If you're searching for more, here are a few of my other favorite smoothie bowls: Berry Almond Smoothie Bowl, Pitaya Power Smoothie Bowl, Tropical Coconut Smoothie Bowl and Mocha Protein Smoothie Bowl.
More smoothie bowls:
How to Make a Green Smoothie Bowl: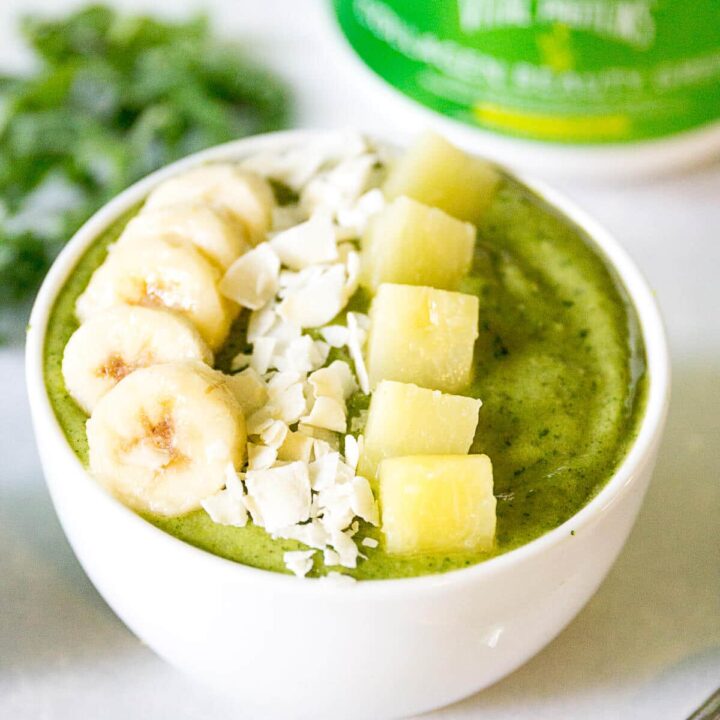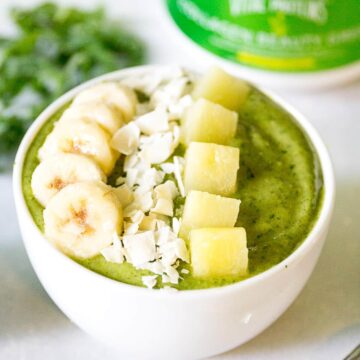 Ingredients
½

frozen banana

½

cup

frozen pineapple

1

cup

kale

¼

avocado

½

cup

full-fat coconut milk

canned

toppings: banana

pineapple, granola, chia seeds, unsweetened coonut
Instructions
Add all ingredients aside from toppings in the blender. Blend on high for 1-2 minutes until thick and smooth. If you don't have a high powered blender it may take a little longer.

Pour into large bowl and add assorted toppings. Eat immediately.
Here are a couple of items I used to make today's recipe:
Organic Classic Coconut Milk
, Vital Proteins Collagen Beauty Greens