Light and zesty lemon poppy seed bread that's moist and lightly sweet made for brunch or dessert this spring!
Love lemon breads and cakes? We used this recipe as the base of this Gluten-Free Lemon Drizzle Cake. You'll also love our Glazed Lemon Poppy Seed Bars made with white chocolate or the gooey lemon filling in these gluten-free lemon bars.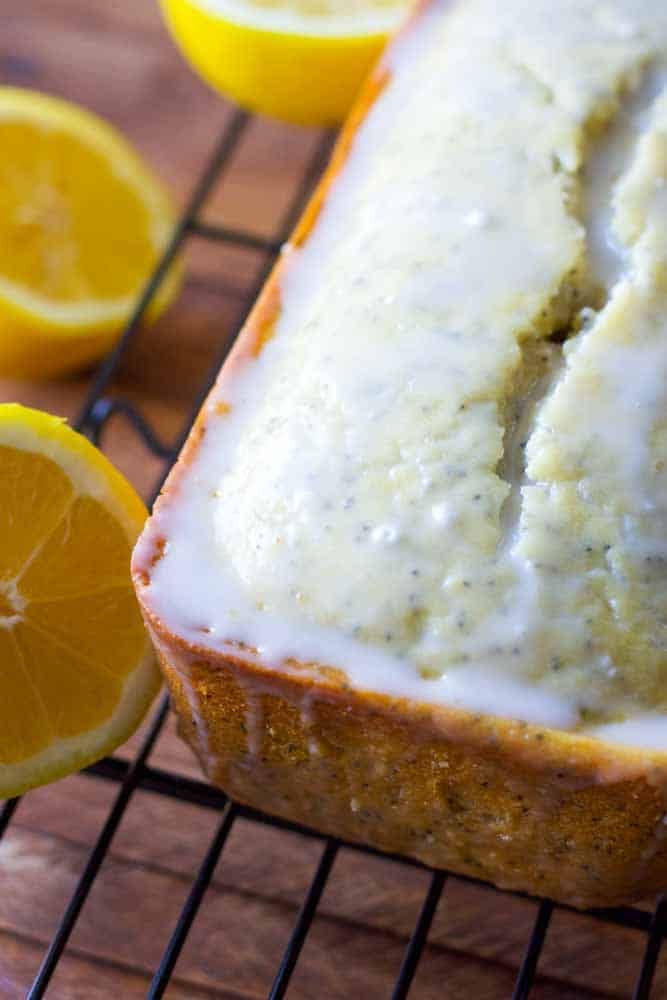 It's the first full week of spring! And this weekend is the first full weekend of spring! And guess what I'll be doing? Moving.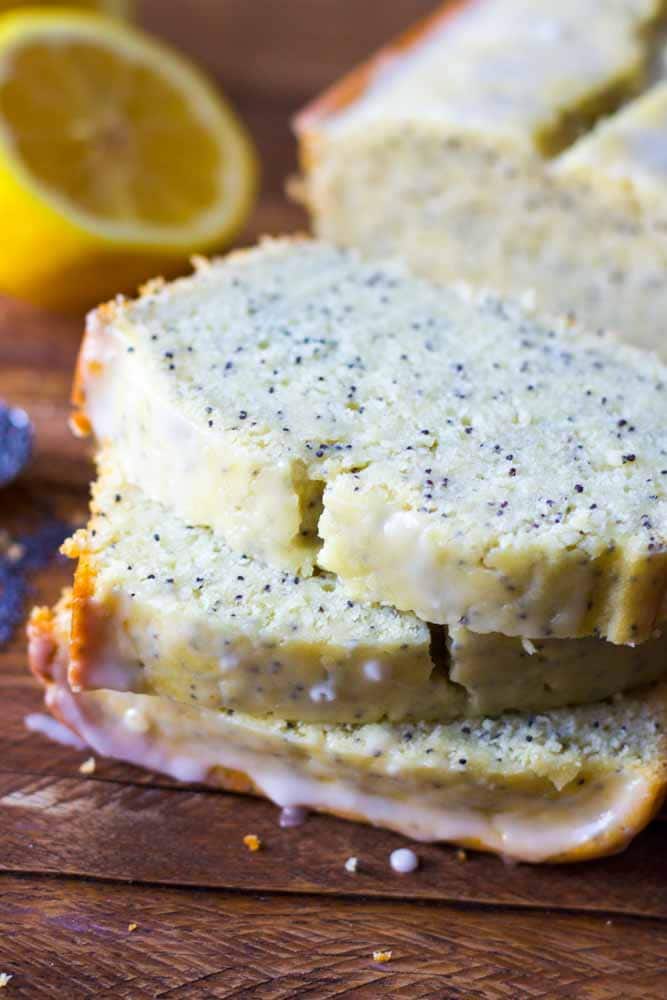 There's boxes on boxes piled up around me as we speak. Which is actually quite impressive for me. Last time I moved I didn't even begin packing until the morning of.
There was no planning involved, just throwing things in boxes and trash bags (yes, I did that) and fitting as much as I possibly could to make the two hour trek from Akron to Columbus.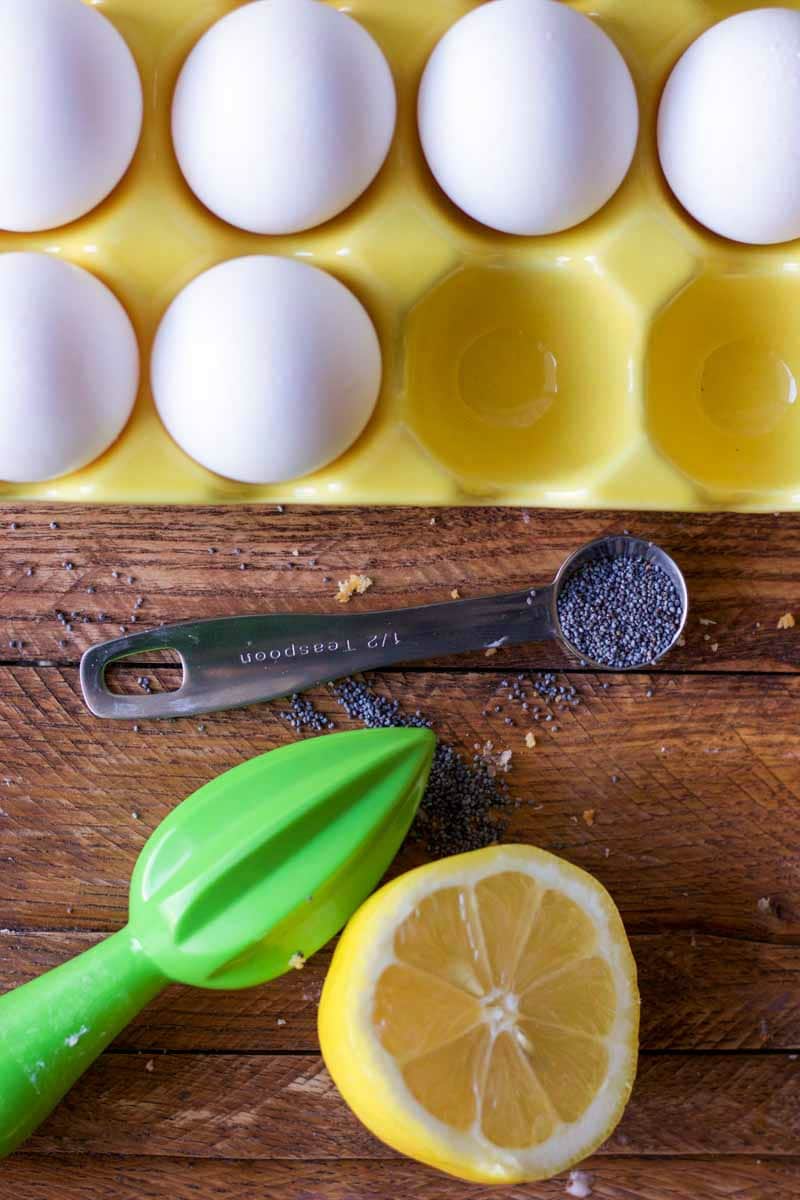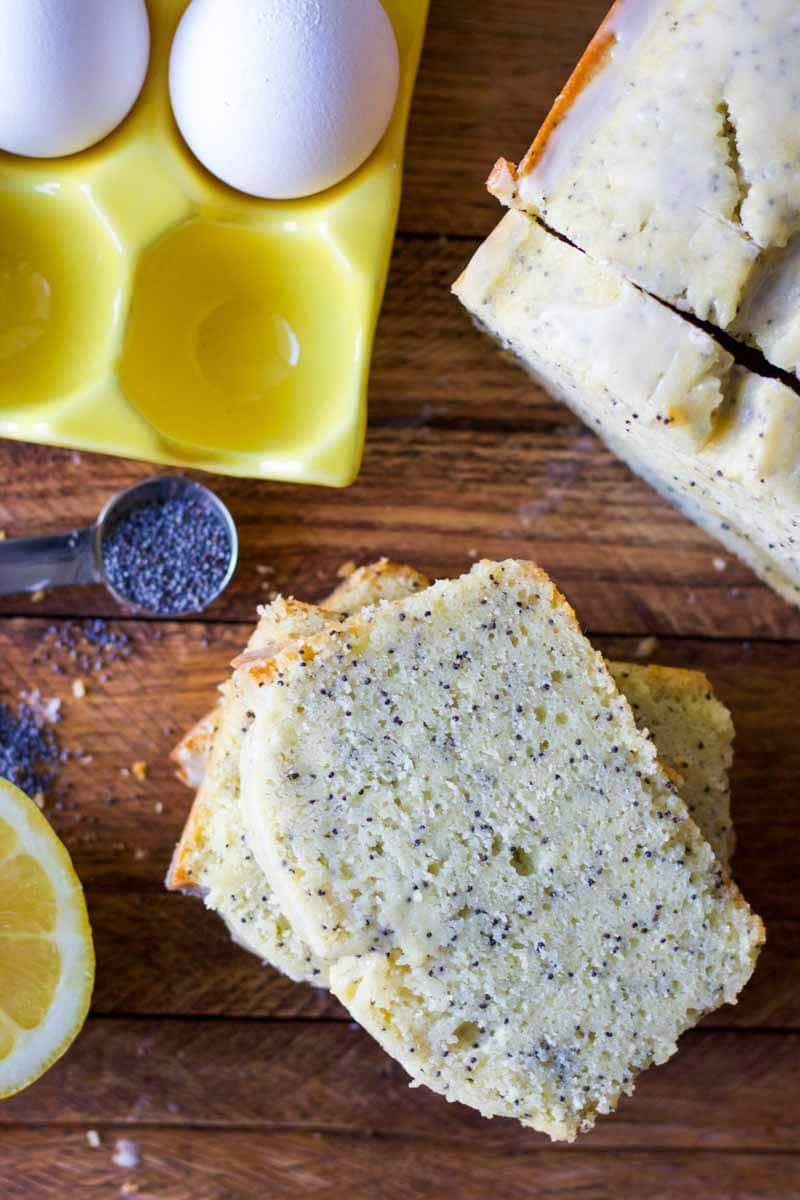 Luckily, this time I'm moving down the street. Literally. I can look out my window and see my new apartment right now. It's brand new and I'm going to have the place all to myself and it's right next to the grocery store. That. Is. Huge. As a food blogger, I make no less than 3 trips to the grocery store per week. They know me there.
So my parents are driving down and a few friends and my boyfriend are helping me move. I wanted to say thank you by making them a yummy treat, which is typically the only way I know how to express emotion.
Got a promotion? Cookies. Helped me at work? Cupcakes. Offered to help me move? Lemon Poppy Seed Bread.

Alternate titles for today's Lemon Poppy Seed Bread:
Just The Right Amount of Lemon Bread
Lemon Poppy Seed Cake Bread
The Only Bread You Will Make for the Rest of Spring
Stop Talking Right Now So I Can Eat This! Bread
Thank You For Helping Me Move Bread
This recipe has just the right amount of zing from the juice and zest of a lemon and the poppyseeds give it a great texture for a little crunch in every bite. It's moist and the citrus adds a little pop of flavor the moment you sink your teeth in.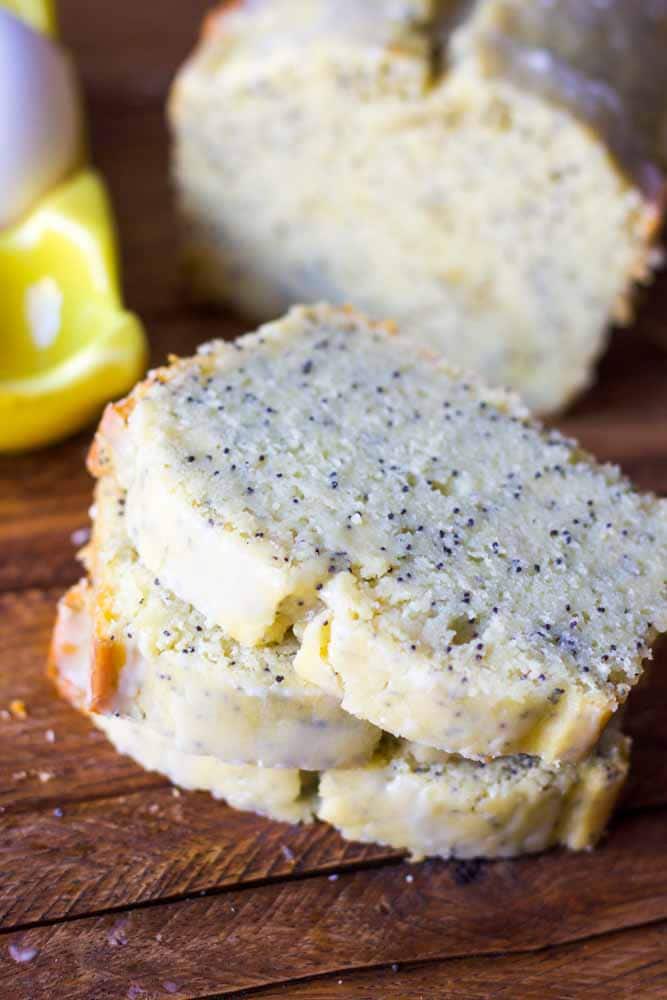 Some of the keys to making this recipe so good: melted butter, sour cream and obviously, the lemon.
Using melted butter is key for quick breads like this. It's perfect for gentle mixing and folding in so you don't have to heavily beat it like you would for cookies. You want to subtly mix the batter making sure it's just combined and melted butter is perfect for that. In addition tot he delicious flavor, color and moisture it provides.
The sour cream adds another layer that makes this bread's texture so perfect. The acid in the sour cream tenderizes the gluten in the batter and the result is a melt in your mouth piece of lemon poppy seed bread.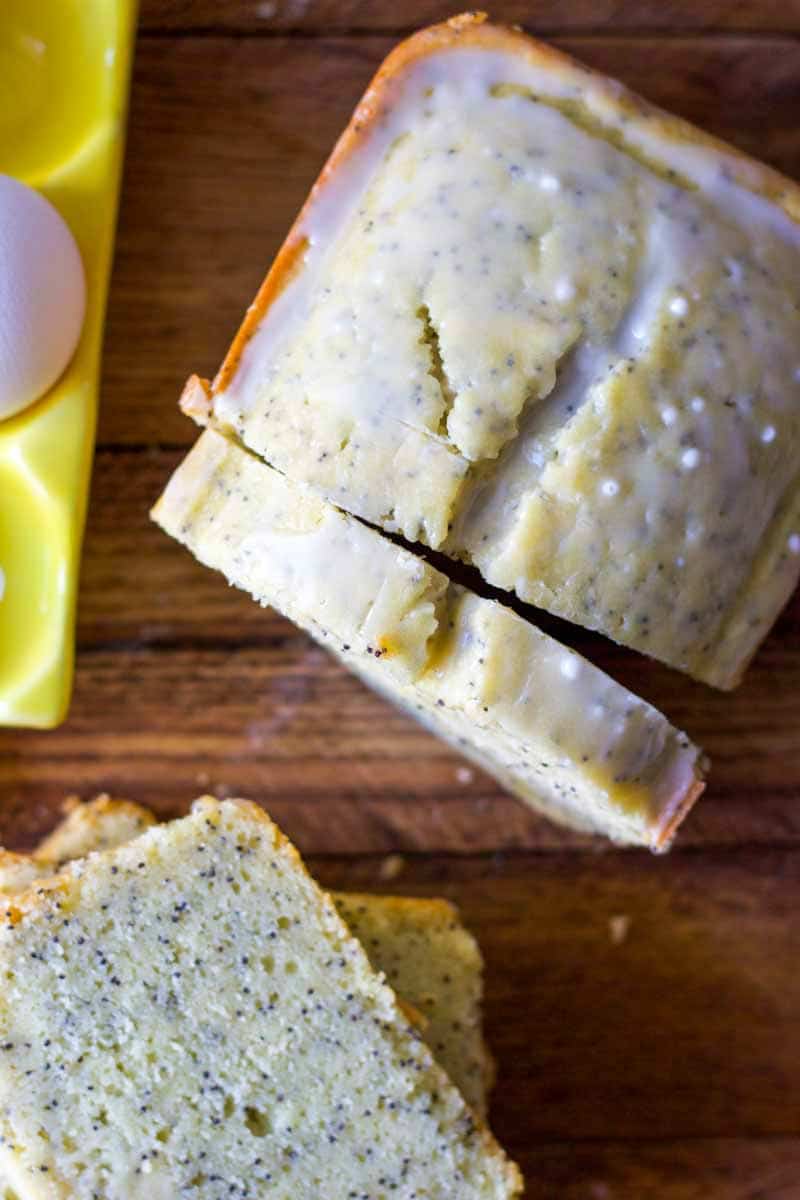 And this recipe wouldn't be this recipe if it didn't have the lemon?. I'm not a fan of recipes that have a huge punch of lemon. I like a subtle lemon flavor. Enough zing to notice, but not too overpowering. By using the juice of one lemon with half the lemon's zest, I've found a very happy medium, just in time for spring!
If you love this lemon poppy seed bread, you'll love this healthy lemon cake, iced blood orange loaf and 25 lemon poppy seed recipes. Don't forget to take a picture and tag me on Insta.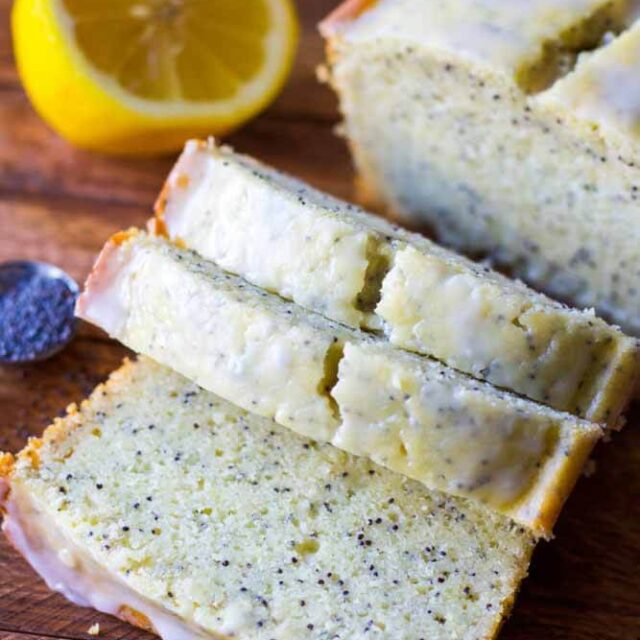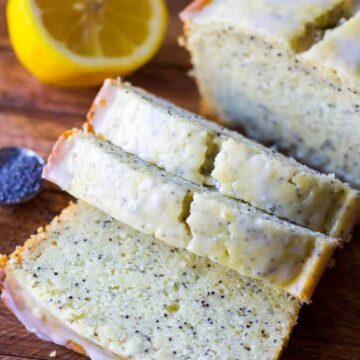 Ingredients
For the Bread

1 ¾

cups

all purpose flour

1

teaspoon

baking powder

½

teaspoon

salt

¾

cup

butter

melted

1

cup

granulated sugar

3

eggs

juice of 1 lemon

zest of ½ lemon

¼

cup

sour cream

2

tablespoons

poppy seeds

¾

cup

milk

For the Icing

1

cup

powdered sugar

2

tablespoons

water
Instructions
Heat oven to 300 degrees and thoroughly grease a 9x5 inch loaf pan. Set aside.

In a medium bowl, mix together the flour, baking powder and salt. Set aside.

Using a handheld mixer or stand mixer, beat together the melted butter and sugar until it turns a pale light color, about 3 minutes. Slowly add the eggs to the mixture with the mixer on low speed. Add the lemon juice, zest, sour cream and poppy seeds and mix until combined, about 1 minute.

Keeping the mixer on low, add half the milk and half the flour until combined. Add the remaining milk and the rest of the flour and gently fold using a rubber spatula until just combined.

Transfer batter to the loaf pan, it's okay if it doesn't fill all the way. Bake in preheated oven for 1 hour 10 minutes to 1 hour and 20 minutes. Start checking it at 1 hour and 10 minutes to see if the top middle is set. Check for doneness by inserting a toothpick in the center. If it comes out clean it's done. Cool in pan for 20 minutes then transfer to wiring cooling rack.

While the bread is cooling in the pan, add the powdered sugar to a bowl with the water and mix well. Pour the icing over the bread while on the wire rack, with a piece of parchment underneath. Allow to cool completely. Store in an airtight container for up to a week or in the freezer for up to three months.