These healthier lemon poppy seed muffins are a lighter twist on the classic recipe. Soft and moist on the inside and slightly browned on these outside. Plus they're full of so much citrus flavor.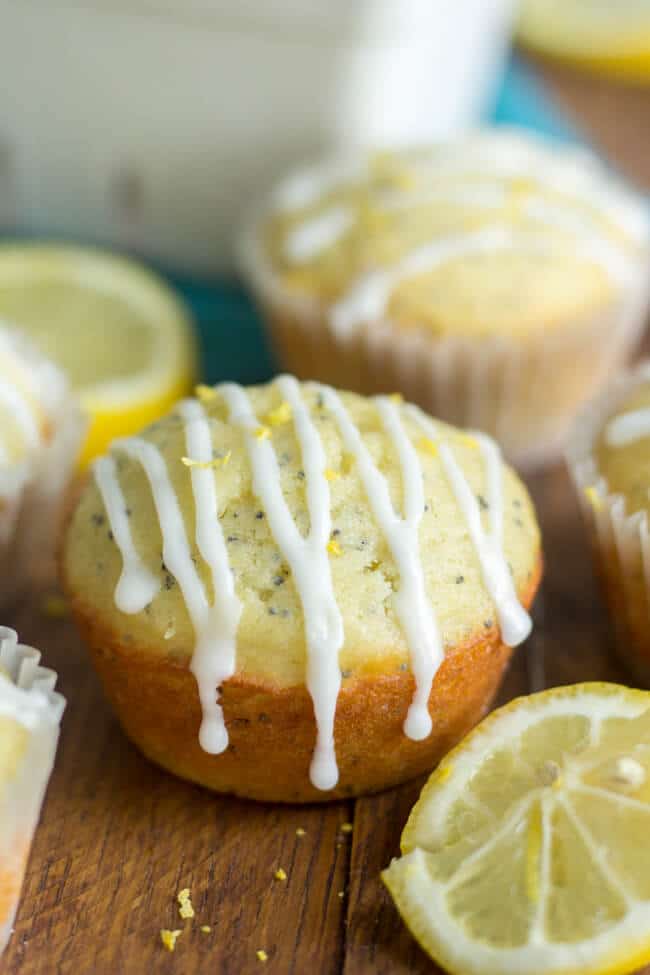 The weather Gods have awakened and sent the most perfect late-spring day upon us at the end of February. It's so magical. Typically, I look out my window to snow and gloom and today it's pure sunshine and warmth. It's 75 degrees in Columbus, Ohio to be exact. A record high! That means it's never been this wonderful outside in the history of the universe on this specific date.
And I don't know about you, but I think that deserves to be celebrated. And celebrations are coming in the form of healthier lemon poppy seed muffins today! ☀
I was going to wait a little bit longer to post this recipe but this day seemed so fitting. I love when the weather breaks because it means springtime and desserts full of lemon and citrus. It brings the color back in to my life and I get a newfound inspiration from colorful food to share.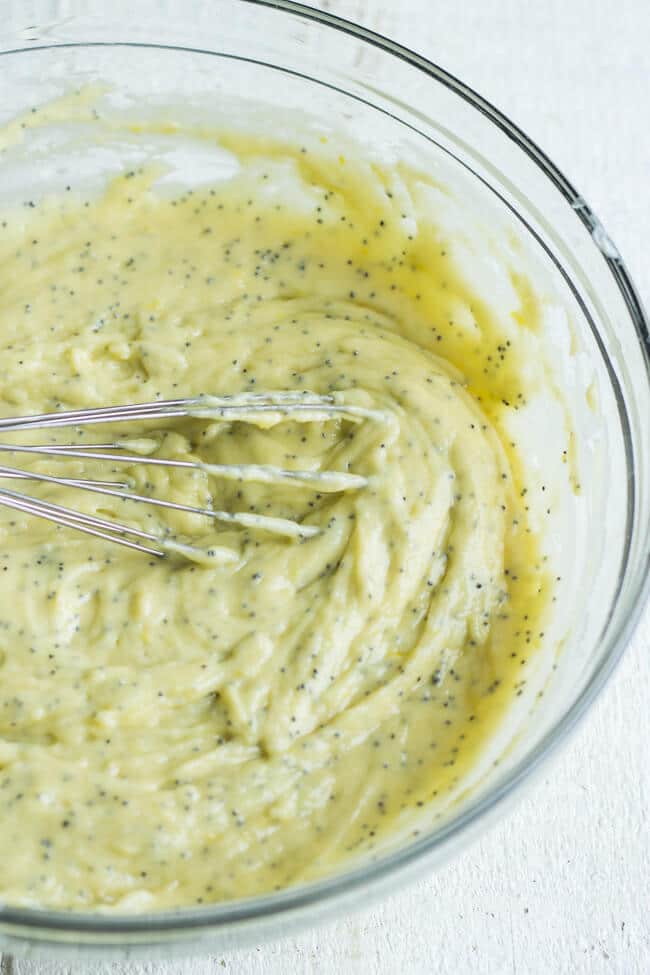 One of those colorful foods happen to be lemon! I have to admit I haven't always been a fan of lemon desserts, but I've slowly fallen in love. My relationship status? Lemon.
Not really, because I just got engaged!!! Read more if you're interested! But really, it's so tasty and adds a zing to my tustebuds and a big burst of flavor when I take a bite.
I especially love it in the form of lemon poppy seed (see lemon poppy seed bread and lemon poppy seed mini donuts) because it reminds me of my dad. He would head out to the store on a Sunday and return with 6 giant lemon poppy seed muffins for my sisters and I. Waking up to those was pure heaven.
Though they were as big as my face and likely filled with tons of fat and oil. And since my metabolism doesn't work in the ways it used to I wanted to recreate that memory, but add a healthy twist. Hence, healthier lemon poppy seed muffins.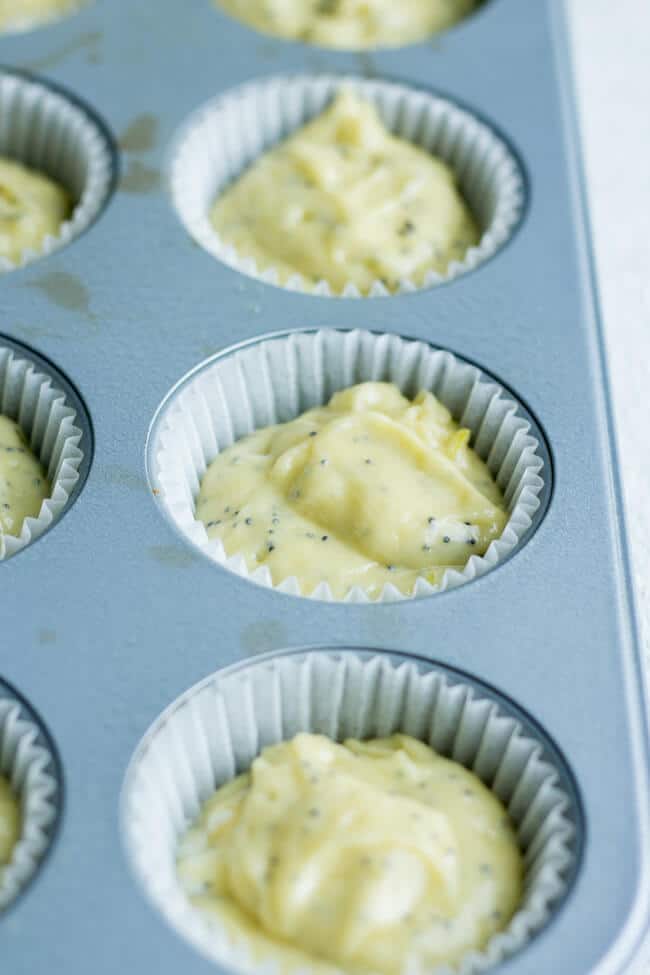 They're healthier because they don't require any oil or butter. They're made with olive oil, coconut oil and greek yogurt to give them the moist and delicious texture.
I absolutely love the addition of the olive oil in these healthier lemon poppy seed muffins because I think the flavors of lemon and olive oil are a match made in heaven. The key is to use really good olive oil. You will be able to taste it through the muffins so make sure you use a brand and variety you love. I prefer extra virgin olive oil!
However, if you aren't into olive oil you can absolutely sub it out for all coconut oil. The muffins will turn out just as perfect, pinky promise.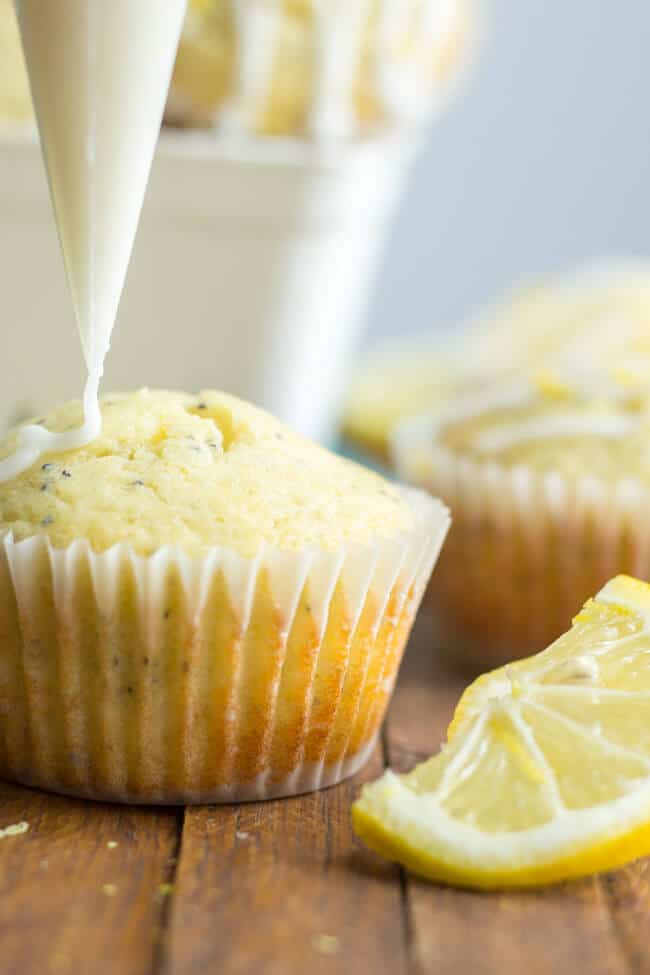 The poppy seeds don't have an overt flavor to them but they provide the muffins with a crunchy texture and they look super pretty.
Another reason these healthier lemon poppy seed muffins look super pretty is because of the icing on top! You can omit it (I supposed), but it adds an extra zing of lemon and they look so pretty, like you spend hours baking them.
But the good news is they're actually they're super simple to make! No busting out the electric mixer or stand mixer, just a good old fashioned whisk and a little elbow grease.
You can use muffin liners for this recipe or you can skip them all together. Both are fine! These healthier lemon poppy seed muffins won't stick to the sides of the liners and come out of the pan easily if you give them a good spray before adding the batter.
I'd recommend filling the muffin tins about ¾ of the way full. These muffins rise quite a bit so you don't want them overflowing the top of the pan and baking unevenly.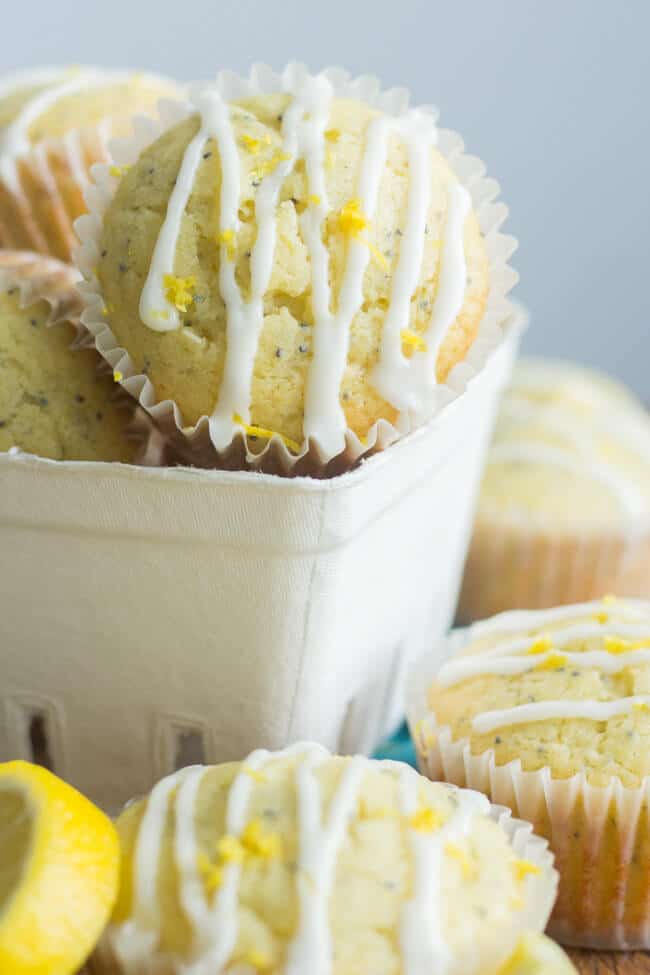 I also have a special trick when it comes to the oven temperature when I make muffins! I feel like I've been sharing this type a lot lately, probably because I've been a little obsessed with muffins lately. See: GF Chocolate Banana Muffins and Nutella Stuffed Banana Muffins. But the trick is simple! Bake the muffins for the first few minutes at a higher temperature (in this case 425°F) and then reduce the heat to 350°F and finish baking.
This technique allows the muffins to rise quickly. and create the rounded dome look you see at bakeries. When you reduce the heat it allows the muffins to bake evenly through the rest of the way. Just set your timer to remember to turn it down and you'll have perfect healthier lemon poppy seed muffins in under 15 minutes.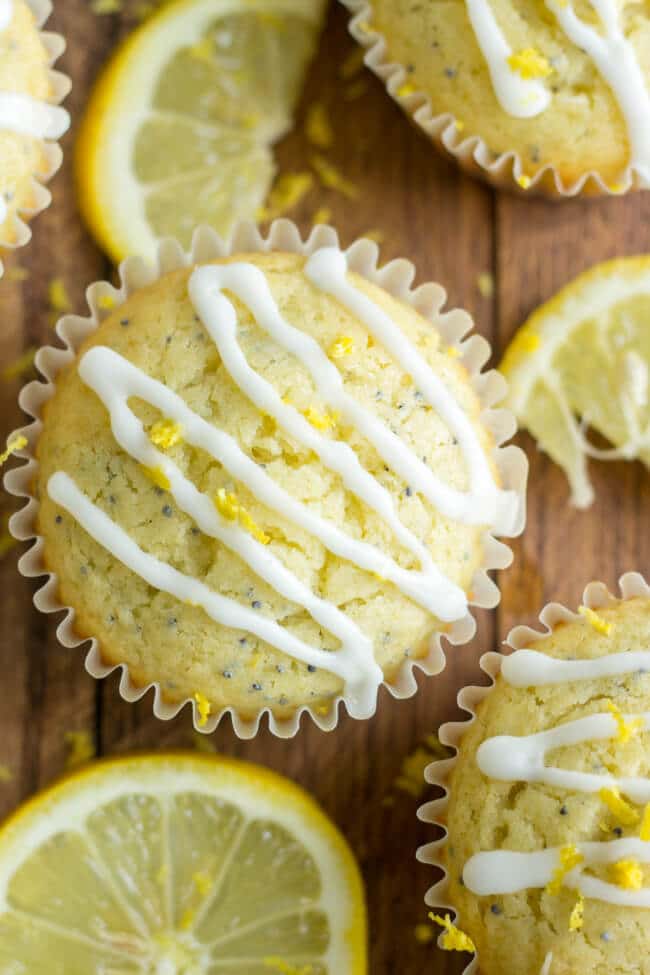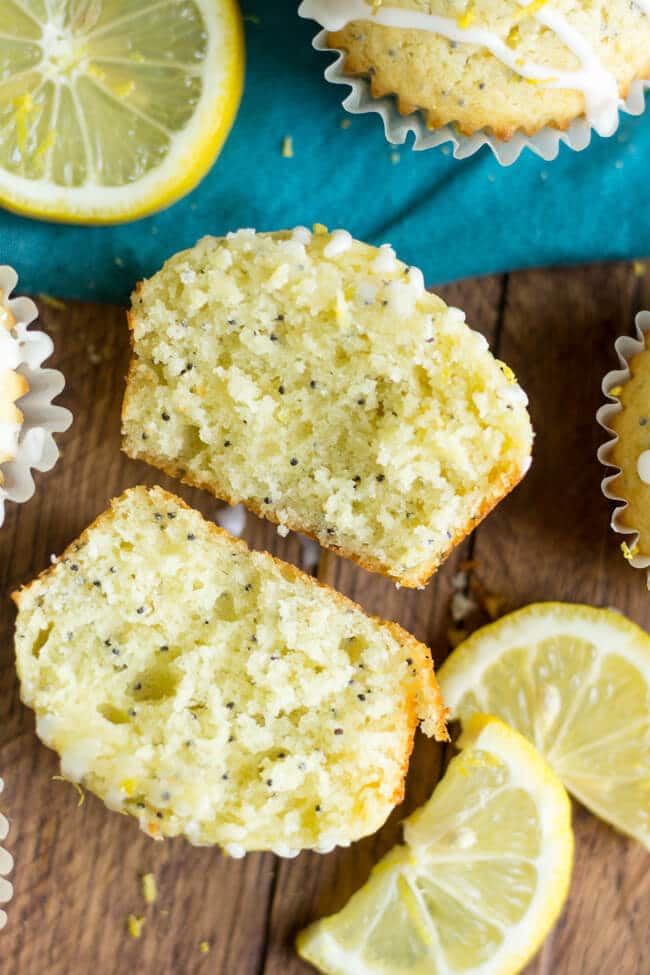 I like to eat mine in the mornings, but these healthier lemon poppy seed muffins are perfect any time of day! Especially on days like today☀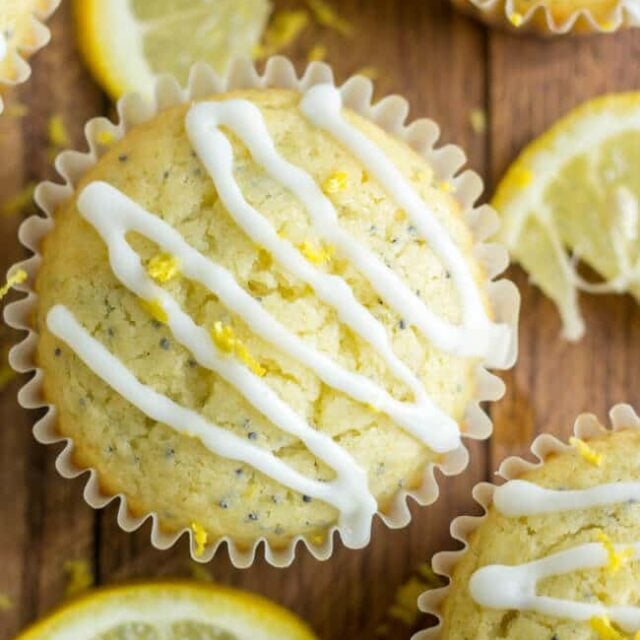 Ingredients
Muffins:

2

cups

all-purpose flour

1 1/2

teaspoons

baking powder

1/2

teaspoon

baking soda

1/2

teaspoon

salt

1/2

cup

olive oil

1/4

cup

melted coconut oil

2/3

cup

sugar

2/3

cup

Greek yogurt

1

Meyer lemon

zested and juiced

2

egg

1

teaspoon

vanilla extract

1

tablespoon

poppy seeds

Icing:

Juice from half a lemon

1

cup

powdered sugar
Instructions
Preheat oven to 425°F. Place muffin liners in a 12 count muffin tin or spray with non stick spray. Set aside.

In a medium bowl, whisk together flour, baking powder, baking soda, and salt. Set aside.

In a large bowl, whisk together olive oil, coconut oil, sugar, yogurt, and lemon juice and zest until fully combined. Add egg and vanilla, and mix thoroughly.

Add dry ingredients to wet ingredients in two additions, stirring until just combined. Fold in poppy seeds.

Pour batter into prepared muffin tin, filling 3/4 of the way full. Bake for 5 minutes at 425°F then reduce heat to 350°F and bake for another 8 to 10 minutes, until muffins are golden on top and a toothpick inserted in the center comes out clean.

Allow to cool in pan for ten minutes then transfer to cooling rack to cool completely.

To making the icing, whisk together the lemon juice and powdered sugar. Fill plastic bag or piping bag with the icing and cut off a very small portion of the tip with scissors. Pipe the icing on top of the muffins in a back and forth design. Allow to set for approximately 5minutes.

Keep in an air tight container for up to 5 days.
DID YOU MAKE THIS RECIPE!? SNAP A PIC AND TAG @WHAT_MOLLYMADE AND USE #WHATMOLLYMADE!
Here are a couple of items I used to make today's recipe:
12-Cup Regular Muffin Pan
, White Cupcake Paper - Baking Cup
, Glass Bowl Set
Wired Whisk Silicone Whisk Set
Some of the links above are affiliate links, which pays me a small commission for my referral at no extra cost to you! Thank you for supporting What Molly Made!