Soft and chewy peanut butter cookie cups filled with Monster cookie frosting. Oatmeal, chocolate chips, M&Ms mixed into a smooth and sweet frosting!
We're in full blown cookie celebrations and it only seems right to share with all of you our most adored recipes we've been gobbling up for the past 20 years. Some we've been making forever. Some we've learned and made up along the way. And some are brand new!
So without further ado, here we have recipe number 1 in our week straight of Christmas cookies: Monster Cookie Cups! Traditional Monster cookies are peanut butter oatmeal chocolate chip M&M cookies. Today's recipe is inspired by the delicious cookies. Our edible cookie dough recipe is so popular we decided a new version of monster cookie dough was a must.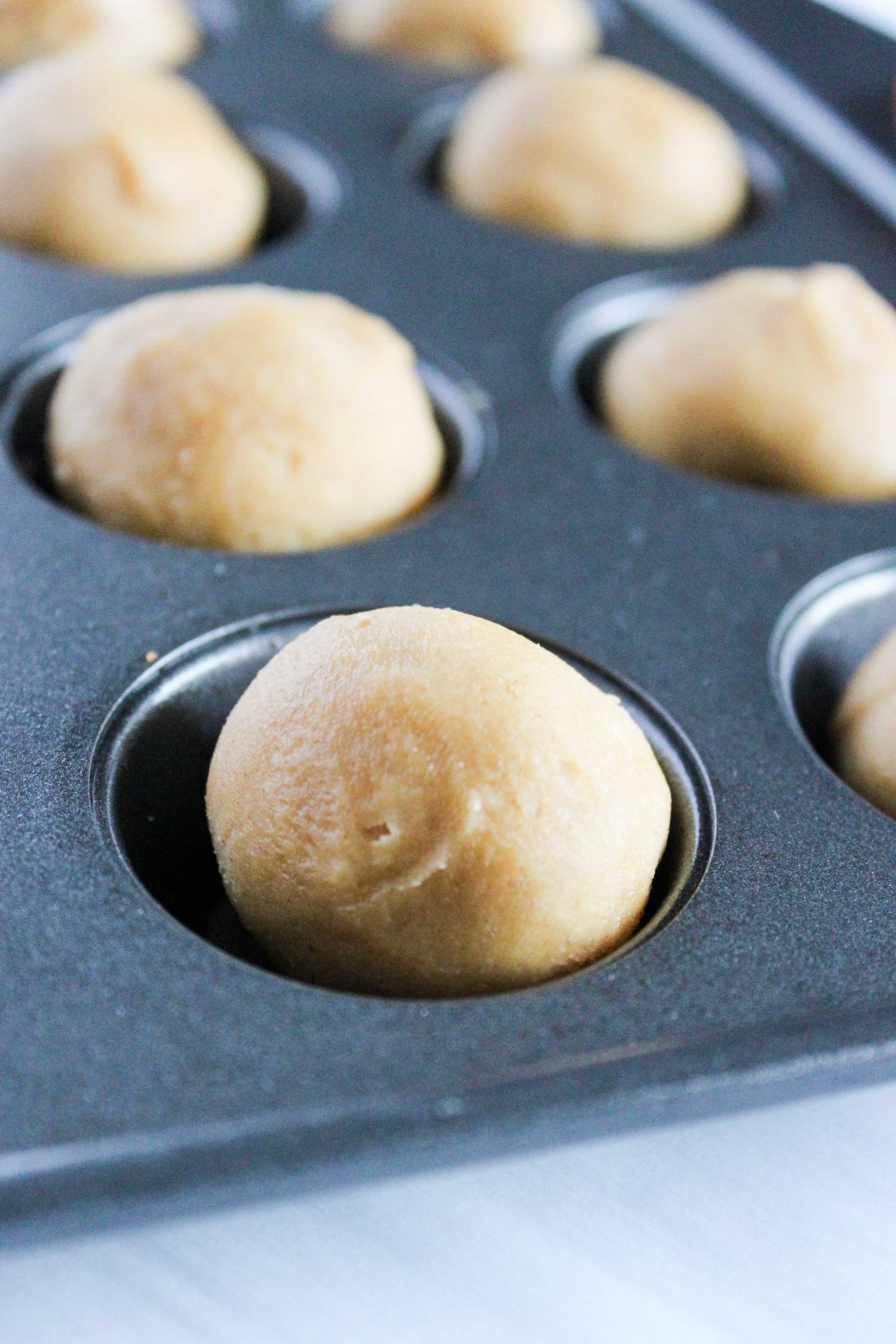 Rather than an oatmeal cookie with some peanut butter, these cookies are a peanut butter cookie turned into a mini cup and filled with Monster Cookie Dough Dip! They're the cutest little things ever!
I took my traditional soft and chewy peanut butter cookie and baked it into in a mini muffin tin. First, I rolled the dough into about an inch balls and placed them in the tin and pressed them into the tin. Baked them so they get soft and fluffy. They turn a gorgeous golden brown color!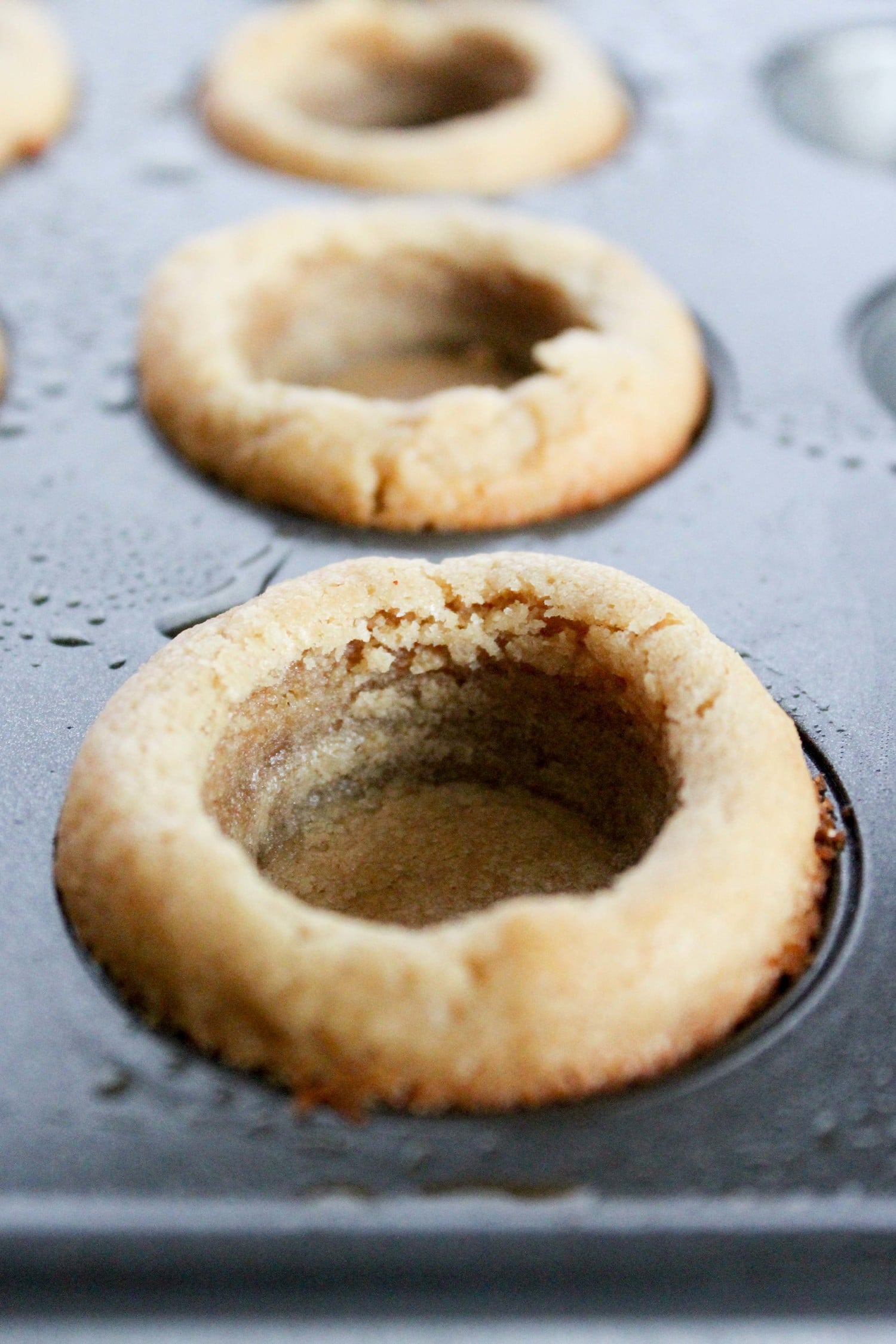 The moment they come out of the oven you need to create the well in the center of the dough to create the "cup." I planned on using the end of my rolling pin for this and realized in the middle of the first batch baking that my rolling pin wasn't flat on the end.
The seconds were counting down on the clock and I was panicking. I ended up grabbing my bottle of red whine vinegar and using the top of the bottle to push into the center of the warm cookies (thank goodness the cap was on tight!). It worked wonderfully.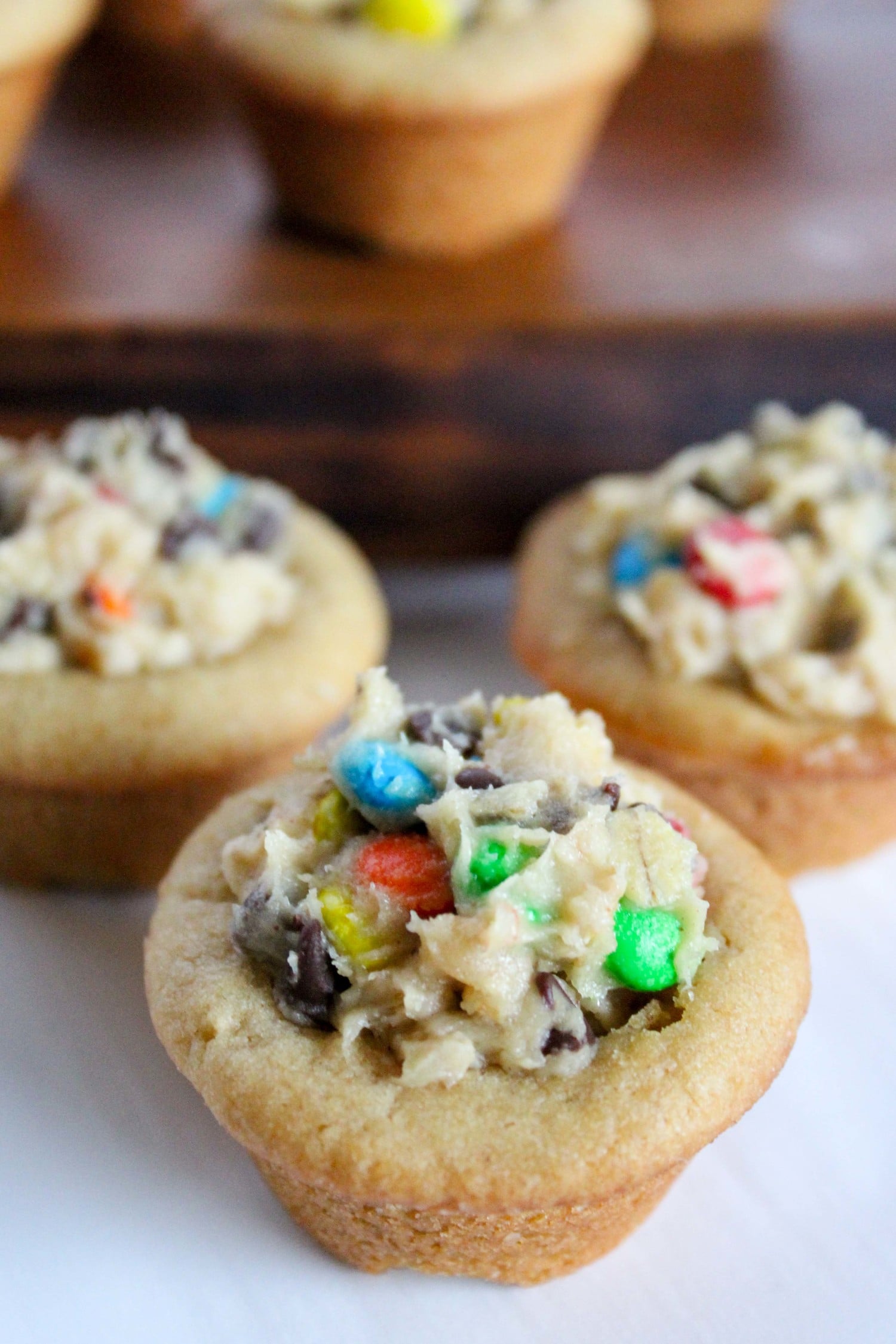 If there' s one thing I learned from this experience it's this: plan ahead so you aren't frantically running around your kitchen looking for the end of something that fits in a mini muffin tin.
Now let's talk about the star of this cookie recipe. The edible monster cookie dough! It's a lot like our buckeye dip, but with oats, M&Ms. It's sweet, colorful and fun and the perfect filling to go inside our adorable cookie cups. This recipe is so easy to whip up!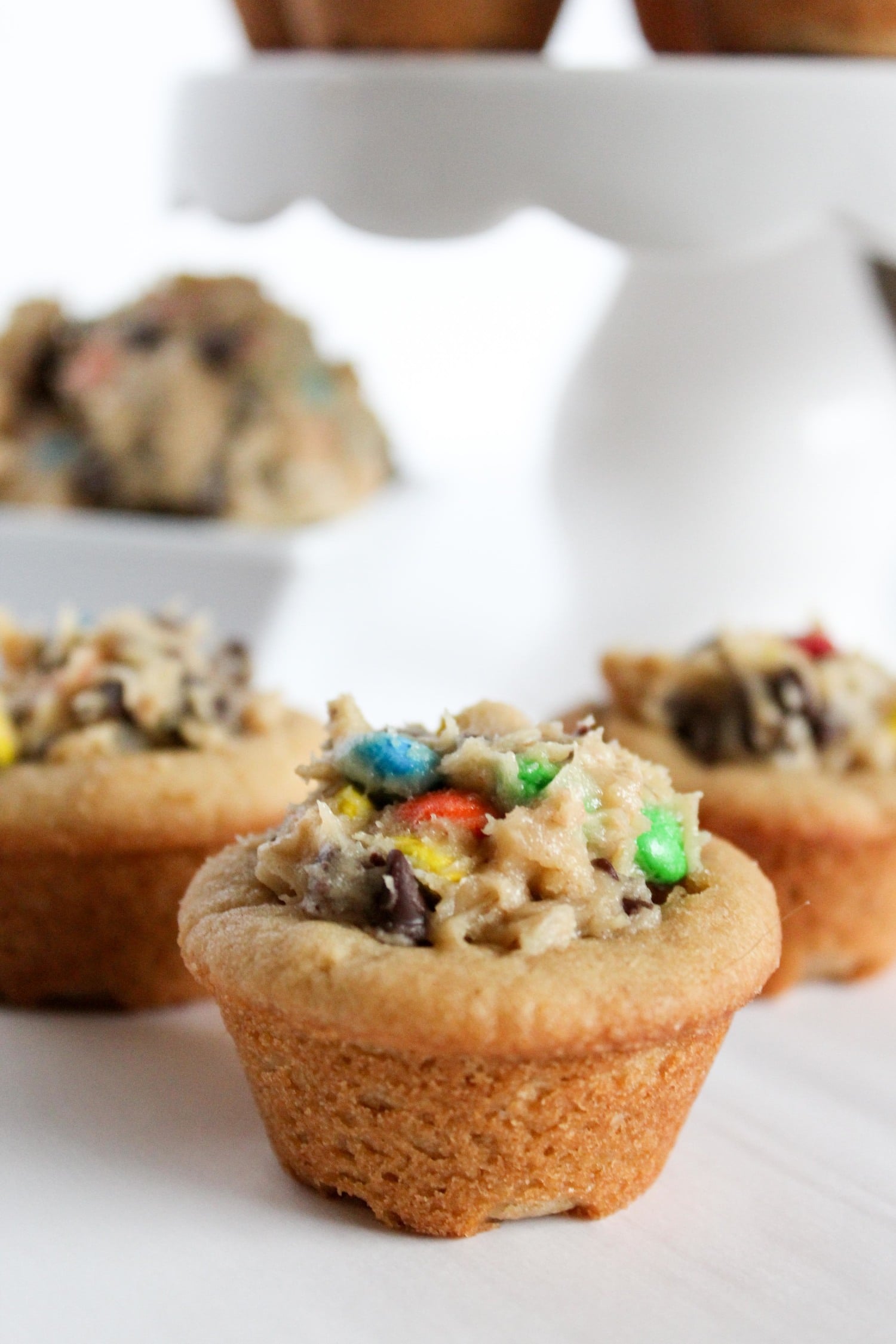 Just make the cookie dough and while they are baking blend the cream cheese, butter and peanut butter together, mix in all the fun and colorful ingredients and you're ready to assemble.
For the monster cookie dough, make sure you use the quick oats. The lighter fine texture is a much better fit with the creamy frosting than the more coarse rolled oats you can buy. I also recommend using mini chocolate chips and mini M&Ms because the cookie cups middle is smaller and the mini versions fit so well.
The chewy texture from the cookies combined with the smooth and sweet monster cookie frosting creates the most perfect cookie bite!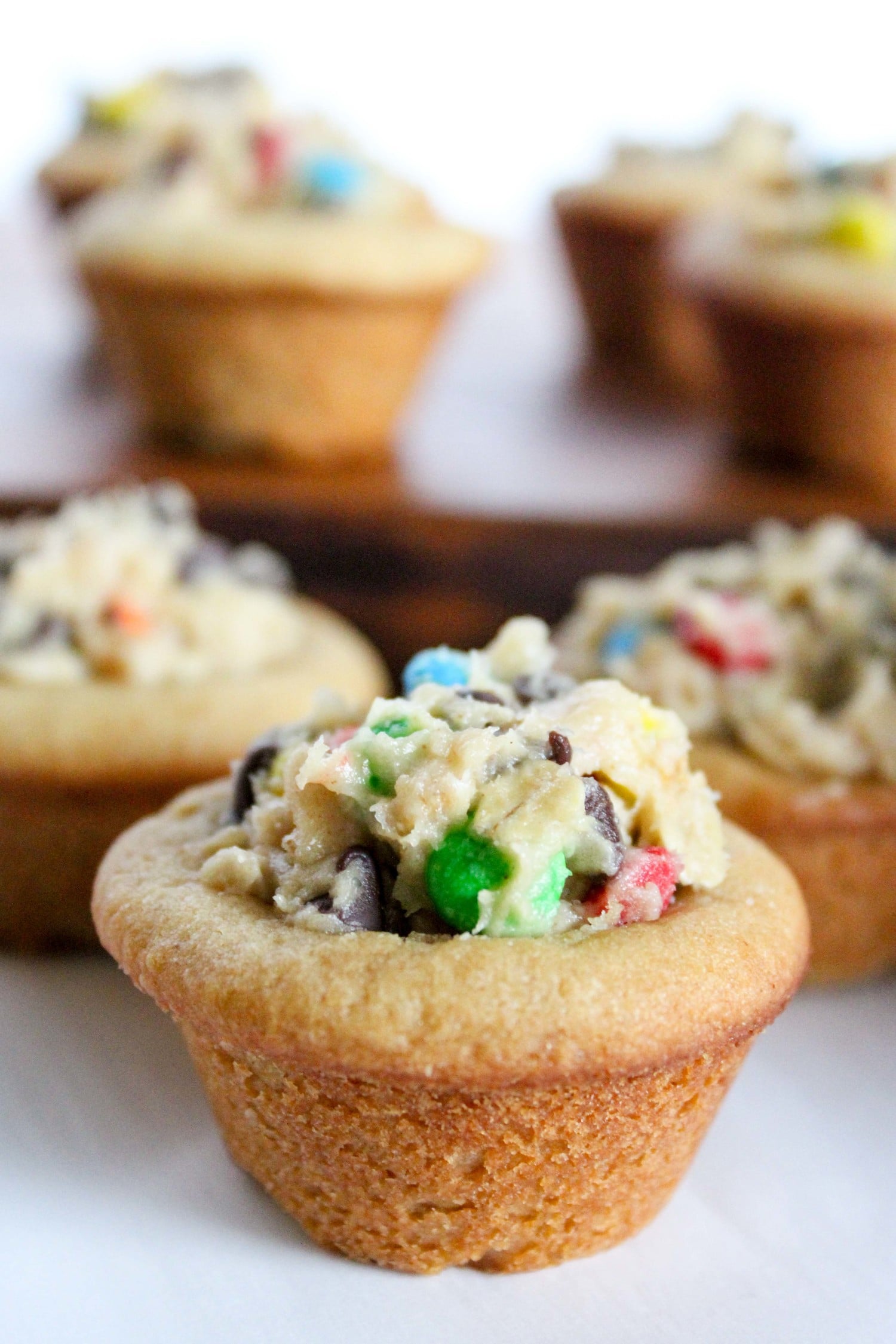 This world can never have too many peanut butter cookies and too many monster cookies, so I'm happy to have brought you a fun and different way to make them both!
This recipe will definitely become a go to for years to come.
If you like this recipe, give us a virtual high five by following us on Instagram, Twitter and Pinterest and liking us on Facebook!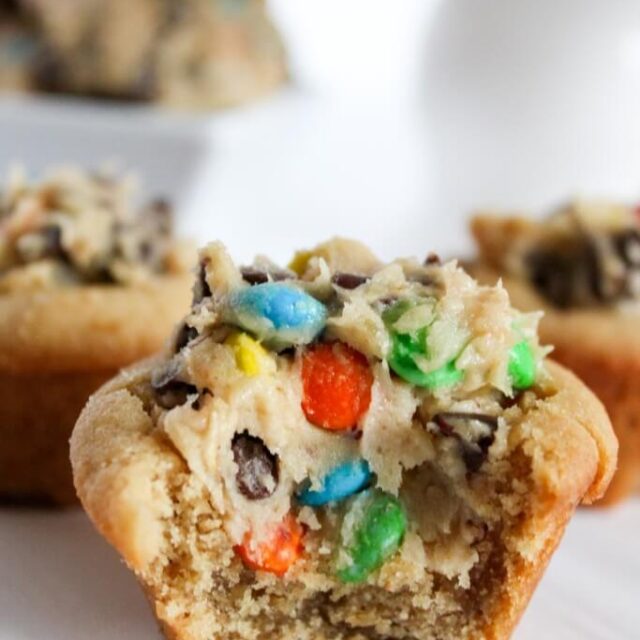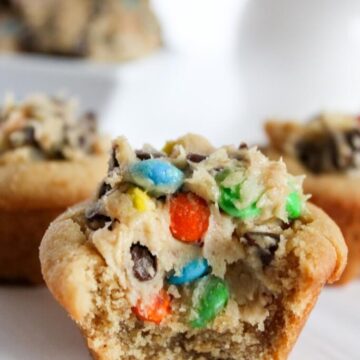 Ingredients
For the cookies

1 ½

cups

all purpose flour

1

teaspoon

baking soda

½

teaspoon

salt

½

cup

butter

1 stick, softened

¾

cup

creamy peanut butter

⅓

cup

granulated sugar

⅓

cup

packed light brown sugar

1

egg

2

tablespoons

milk

1

teaspoon

vanilla

For the monster cookie frosting:

8

ounce

package cream cheese

softened

½

cup

butter

softened

½

cup

creamy peanut butter

1 ½

cups

powdered sugar

3

tablespoons

brown sugar

3

tablespoons

all purpose flour

1

teaspoon

vanilla

1

cup

quick oats

½

bag mini M&Ms

½

bag mini chocolate chips
Instructions
Preheat oven to 375 degrees. Grease a mini muffin tin and set aside.

For the cookies, whisk together the flour, baking soda and salt and set aside.

In a large bowl with a stand mixer or electric mixer, beat the butter and peanut butter together until well combined. Add the sugars and beat until fluffy, about 2 minutes. Add the egg, milk and vanilla and beat until combined.

Shape the dough in one inch balls and place one in each muffin cup. Flatten slightly to shape to the muffin tin. Bake for 8-10 minutes until slightly golden and edges turn golden brown.

When they're done, using the bottom of a small round object, like a small spice bottle or the end of a rolling pin, push the middle of the cookie in to create a cup form. Allow to cool in pan for 3 minutes and transfer to wire rack to cool completely.

In the meantime, make the cookie monster dip by whipping the cream cheese, butter and peanut butter together using an electric mixer until smooth. Mix in the brown sugar, flour, vanilla and oats.

Beat in the powdered sugar ½ cup at a time. Add the M&Ms and mini chocolate chips and stir tother using a rubber spatula.

Use a small cookie scoop or ½ tablespoon to fill cookie cup with cookie monster filling. Serve immediately or keep in an air tight container in the refrigerator for up to a week.