There's nothing quite like a frosty drink to cool you down on a hot summer day. And what better way to embrace the season than with a Frozen Watermelon Margarita? This vibrant and refreshing drink is a fruity twist on a classic margarita. It tastes just as good as it looks!
Need another margarita recipe? Try a pineapple jalapeño margarita, mango margarita (frozen or on the rocks), or this delicious blood orange margarita.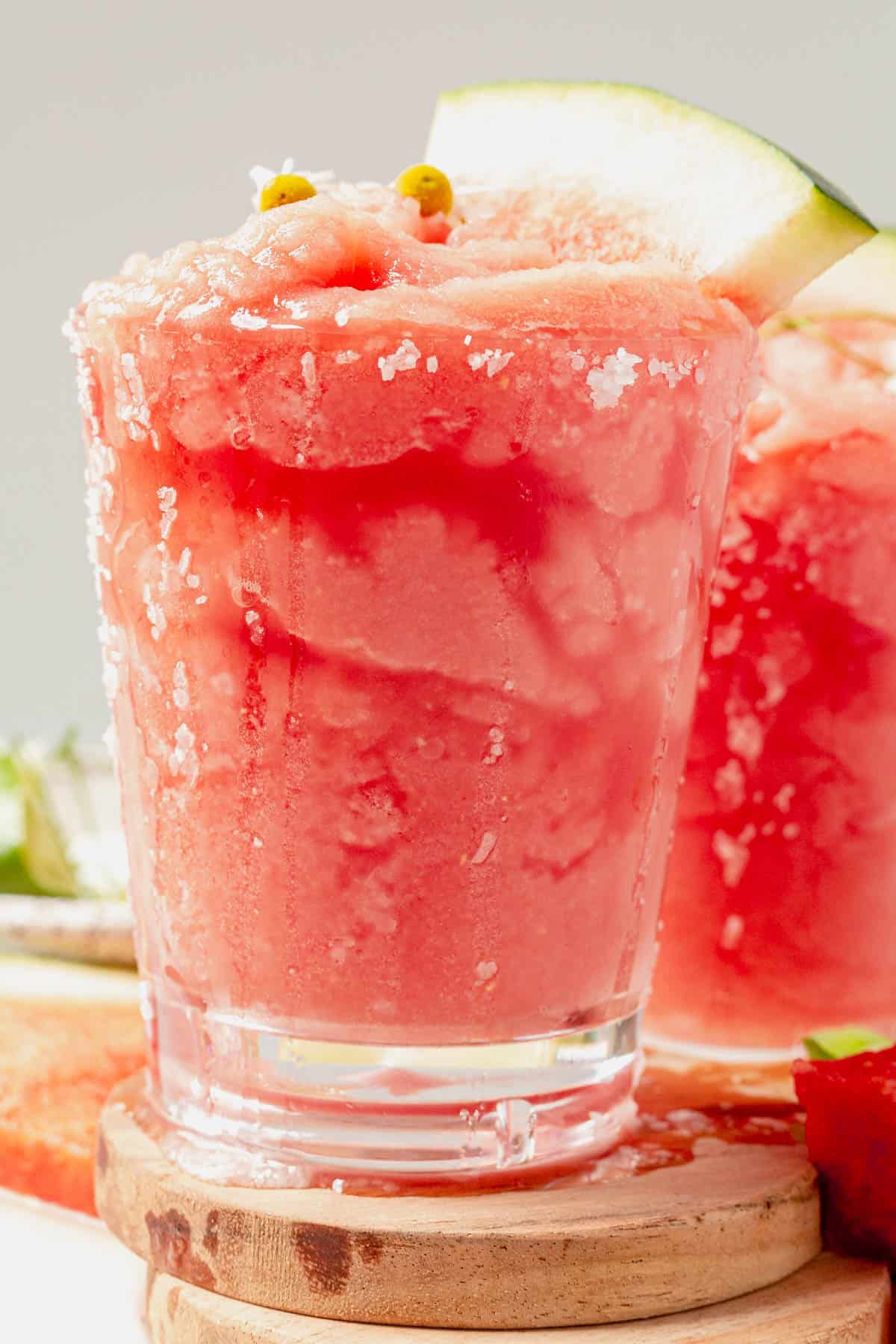 The luscious texture of this Frozen Watermelon Margarita encapsulates the essence of summer in one cup.
The combination of juicy watermelon, fresh lime juice, and tequila creates a refreshing cocktail perfect for any occasion.
Use our variations and expert tips to personalize and elevate your frozen margarita. Or follow the instructions in the recipe card to make a pitcher for your friends.
Why I Love this Frozen Watermelon Margarita
Perfect summer cocktail. Its vibrant pink hue and invigorating flavors make it a perfect choice for poolside parties, barbecues, or unwinding on a hot day.
Simple ingredients. The combination of fresh watermelon, zesty lime juice, and a hint of tequila creates a harmonious balance of sweetness and tanginess that tantalizes the taste buds.
Twist on the classic. Moreover, this delightful concoction is a refreshing alternative for those who prefer a fruity twist to the traditional margarita.
Want another tequila cocktail? This Mexican Mule is the perfect drink to try next time.
Have more watermelon to use up? Try this watermelon basil salad with feta!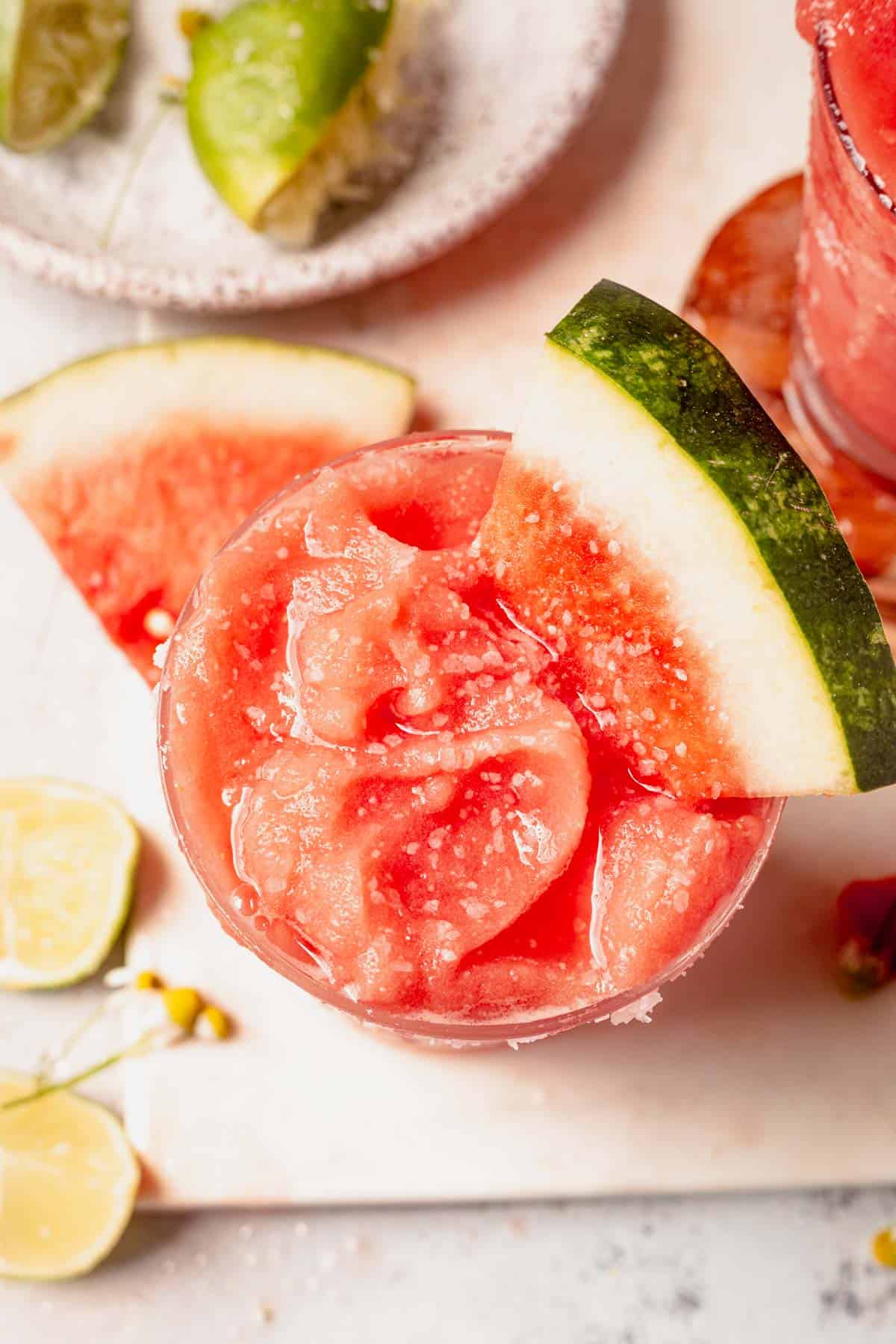 Grab these Ingredients
Here are the key ingredients for this frozen watermelon margarita recipe. They're easy to find in grocery stores, and you likely have most of the ingredients if you like to make homemade margaritas (like this cucumber margarita). Jump down to the recipe card for exact measurements.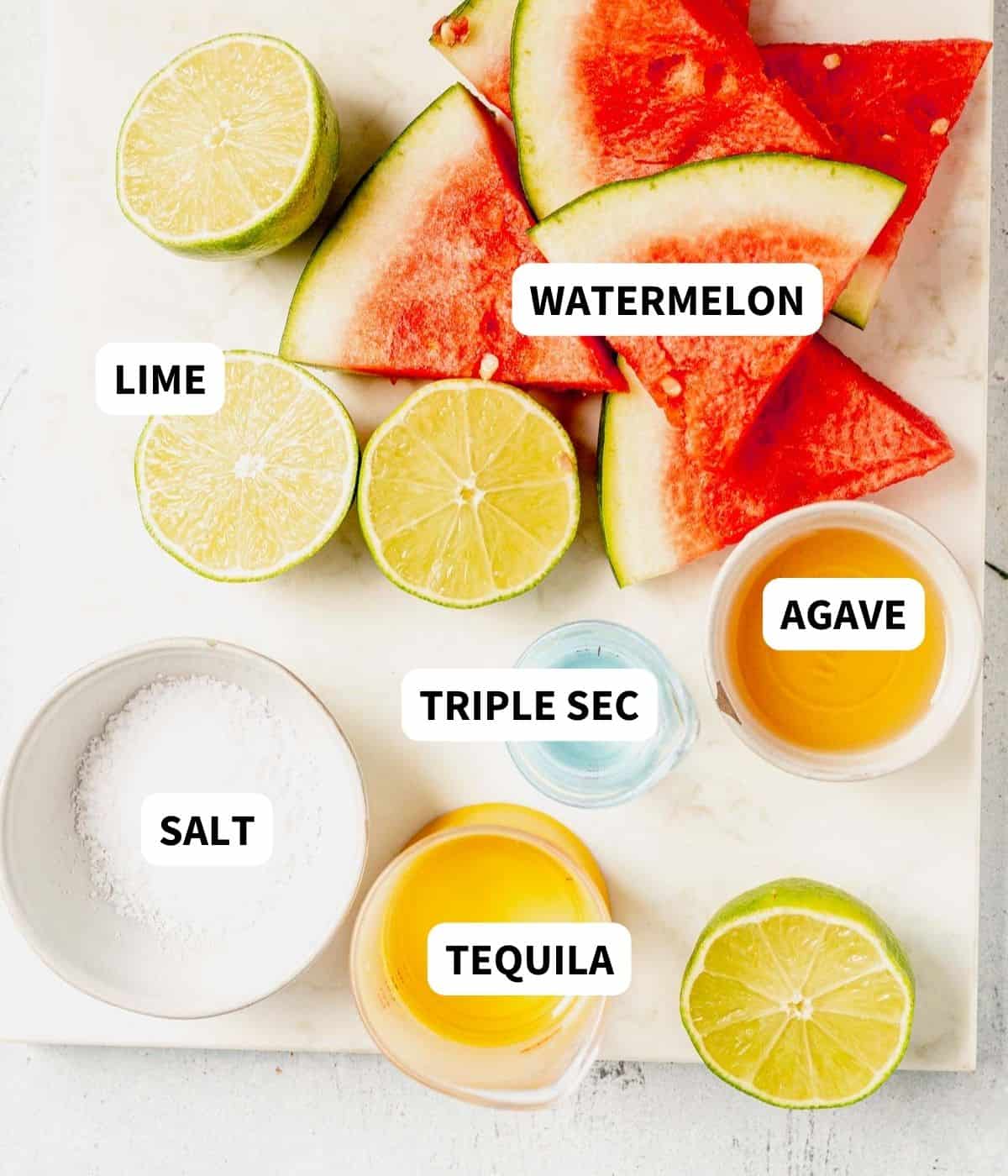 Seedless Watermelon: Opt for a ripe watermelon, as it will lend the most flavor to your margarita. Cut the watermelon into cubes and freeze them for at least two hours for the best consistency.
Lime Juice: Freshly squeezed lime juice adds a zesty tang that complements the sweetness of the watermelon. Save some extra lime slices to rim the glasses and garnish the top of the drink.
Tequila: Choose a good quality tequila that suits your taste preferences. Silver or blanco tequila works well for its clean and crisp flavors.
Triple Sec: This orange liqueur provides a subtle sweetness and enhances the citrusy notes in the drink. You could also use Grand Marnier (which is a blend of cognac and triple sec).
Agave or honey: Add a touch of sweetness to balance the flavors. Adjust the sweetness to your liking or omit it altogether for a margarita without added sugar.
Looking to lighten this recipe up? Learn the difference between a skinny margarita vs regular margarita. I would omit the sweetener and triple sec and add a bit more tequila!
How to Make a Frozen Watermelon Margarita
The full printable recipe is below, but let's walk through the steps with some photos and a video so you have a clear idea of what to expect. This tasty frozen watermelon margarita is really easy and these step-by-step instructions will make sure they turn out every time.
Freeze watermelon: cut the watermelon into cubes. Arrange them in a single layer on a large baking sheet and freeze for at least 2 hours.
Related: learn more about how to freeze watermelon.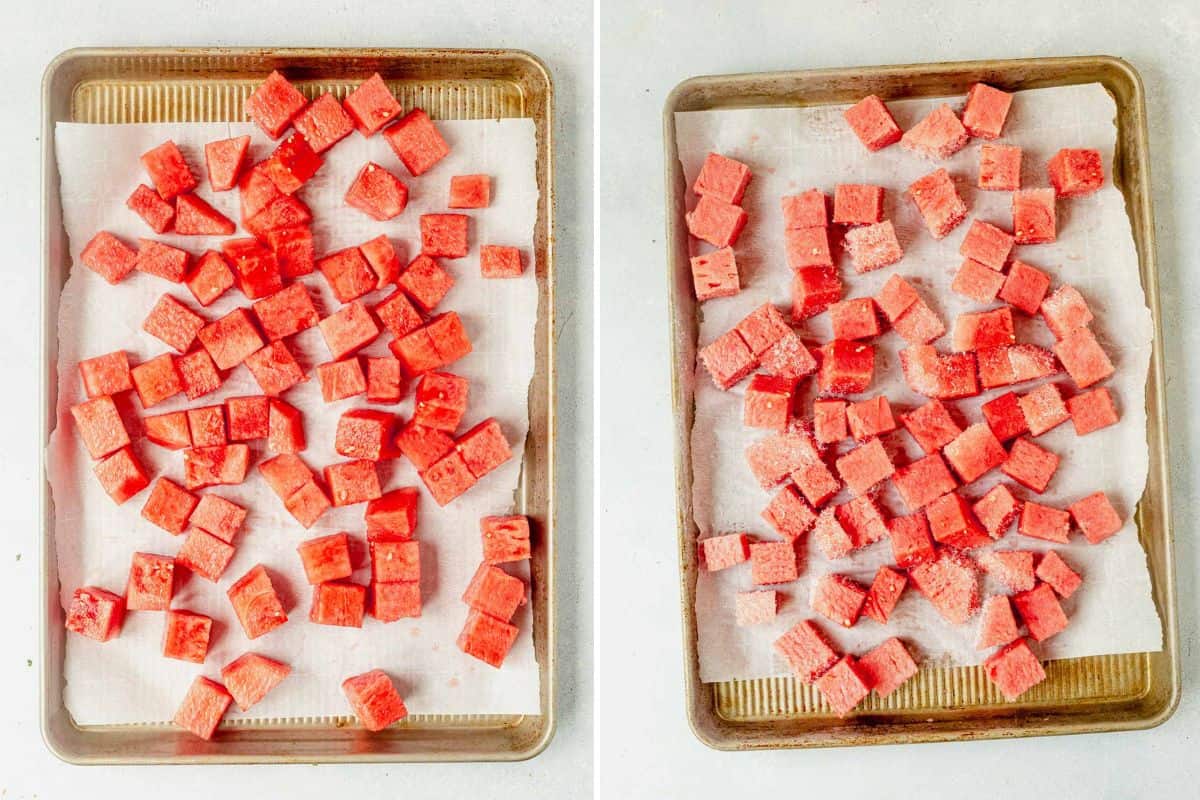 Blend: add all of the ingredients to a large, high-speed blender and blend until completely smooth, adjusting the sweetness and thickness to your preference by adding more agave or ice cubes.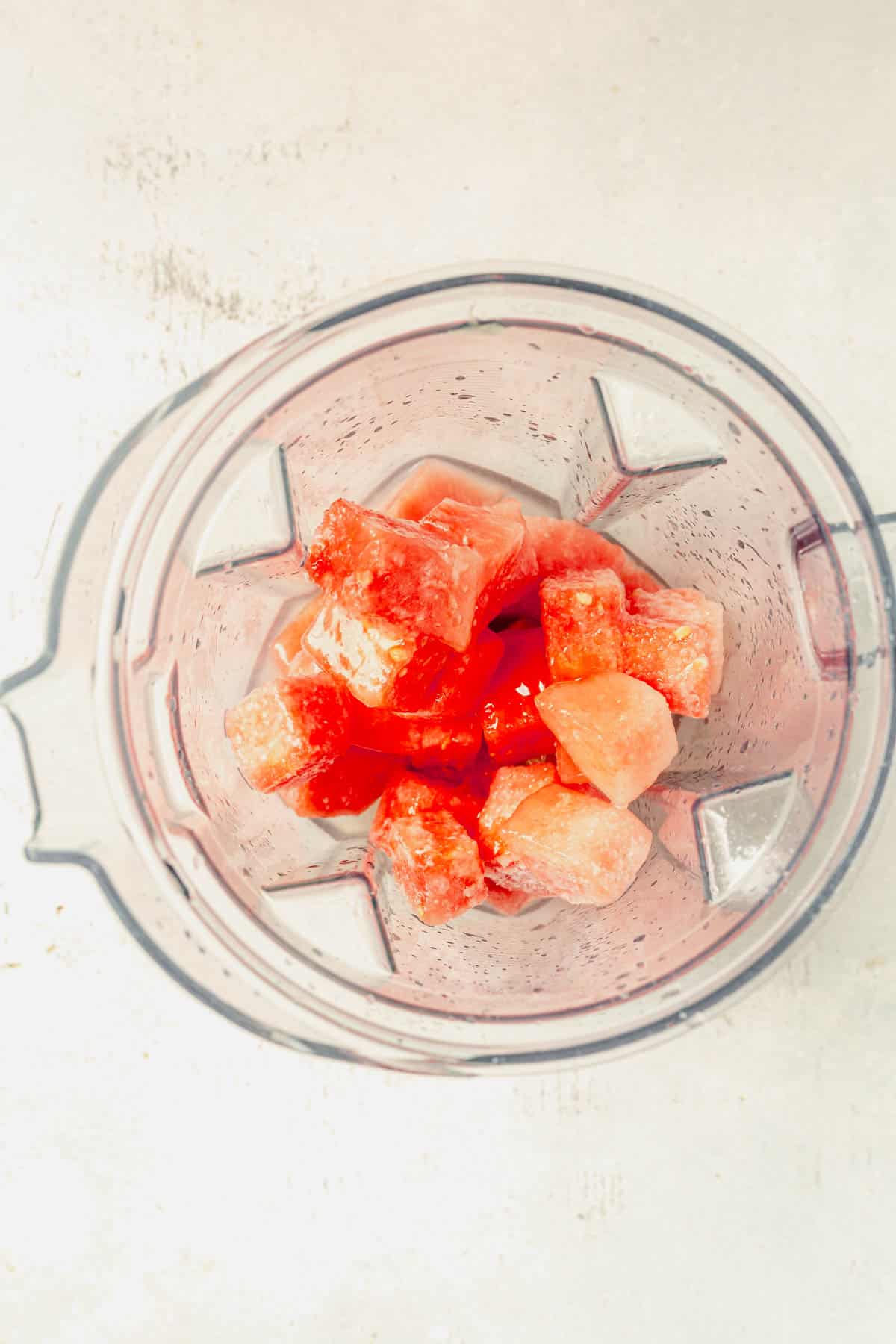 Serve: rim the glass with a lime wedge and dip it in salt. Pour the margarita into the prepared glass and serve with a small wedge of watermelon and/or fresh mint.
Fun tip: Use pink Himilayan salt for extra pink color around the rim!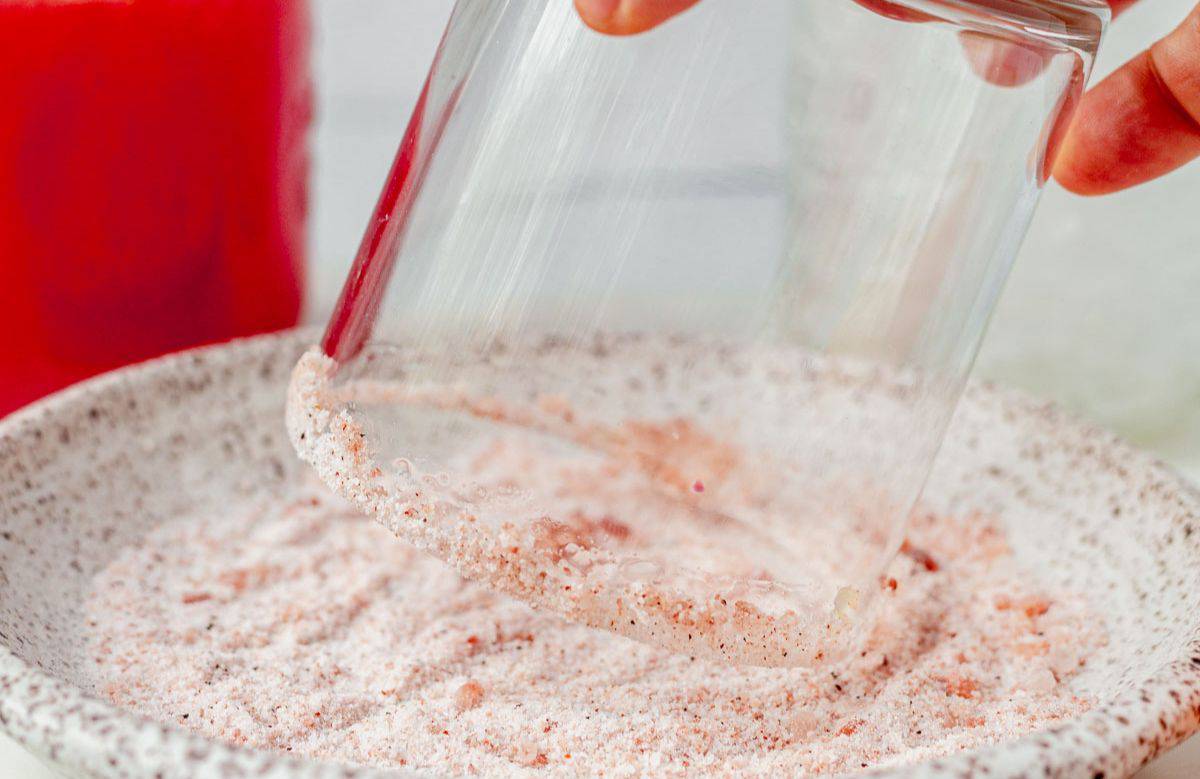 We love to serve this on a summer night with pork tenderloin tacos, carne asada tacos, or shredded beef enchiladas.
Video: Watch How to Make It
Expert Recipe Tips
Freeze the watermelon cubes for at least 2 hours. Ensuring they're completely frozen will give you the best consistency.
To add a touch of elegance, freeze watermelon balls separately and use them as garnish instead of wedges.
Use a high-speed blender for best results. You could even use a food processor if you have that handy.
If your margarita turns out too watery, add more frozen watermelon or ice cubes and blend again until desired consistency is achieved.
Recipe Variations
Spicy Watermelon Margarita: Add some jalapeño like we do in this skinny spicy margarita recipe. Infuse the tequila with jalapeño slices or garnish with a chili-salt rim for an extra kick.
Coconut Watermelon Margarita: Substitute half of the watermelon cubes with coconut water for a tropical twist.
Try more fresh fruit: swap the watermelon for frozen strawberries, frozen cantaloupe, frozen pineapple chunks, or frozen mango.
Frozen Watermelon Margarita Mocktail: Omit the alcohol and replace it with a splash of orange juice and sparkling water or lemon-lime soda for a delightful virgin version.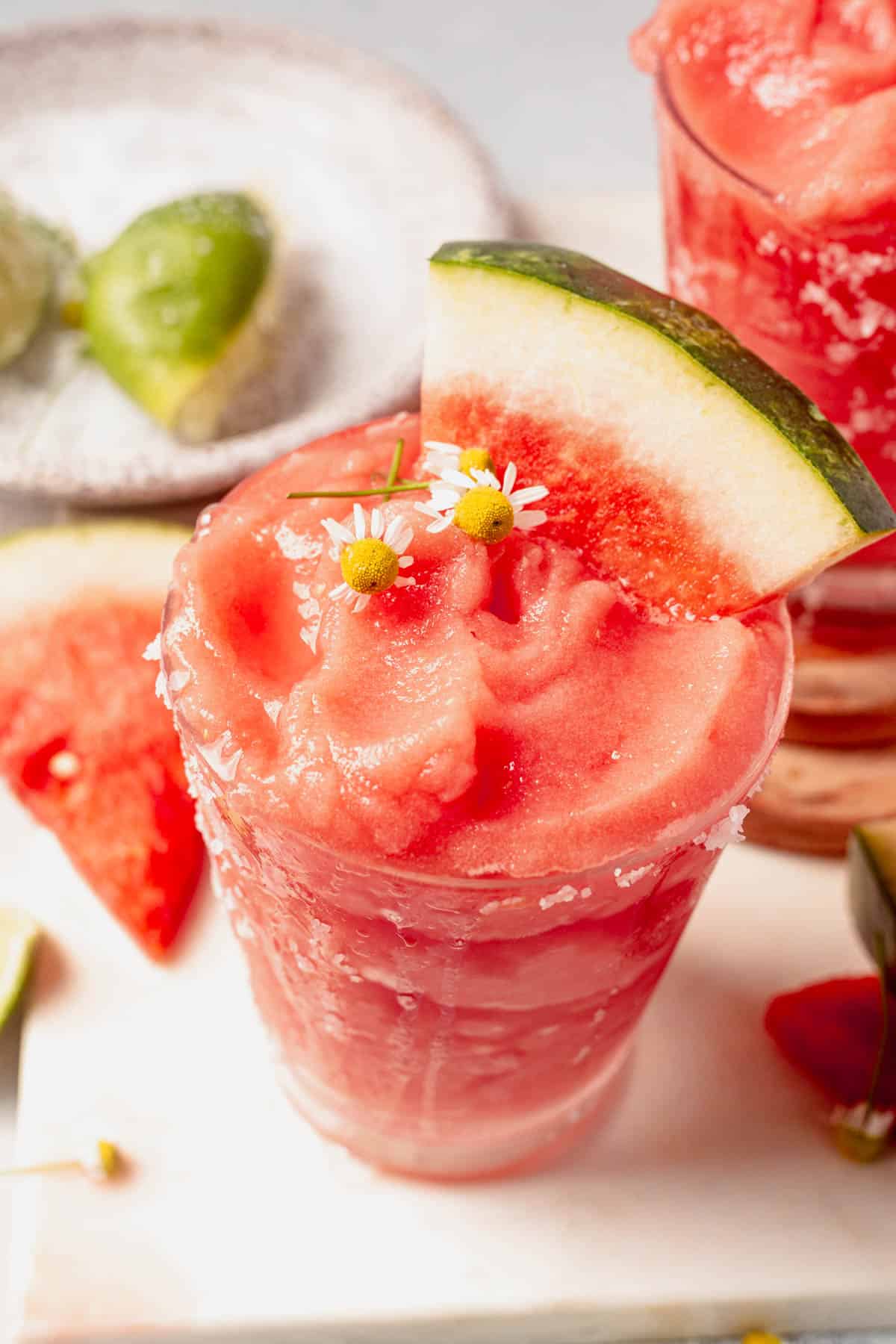 Recipe FAQs
What is a watermelon margarita made of?
A watermelon margarita is typically made with fresh watermelon, lime juice, tequila, triple sec, and a touch of a sweetener like simple syrup, honey, or agave.
How much alcohol is in a watermelon margarita?
The alcohol content in a watermelon margarita depends on the amount of tequila used. A standard watermelon margarita recipe usually includes 2 ounces (60 ml) of alcohol (tequila + triple sec).
How do you make a frozen margarita not watery?
To prevent a frozen margarita from becoming watery, make sure to use enough frozen fruit to maintain a thick consistency. If it turns out too watery, add more frozen ingredients or ice cubes and blend until you reach your desired thickness.
Storage Instructions
Frozen margaritas are best enjoyed fresh. However, if you have leftovers or want to prep in advance, pour the mixture into silicone ice cube trays and freeze. Before serving, allow it to thaw slightly and give it a quick blend to restore the slushy texture.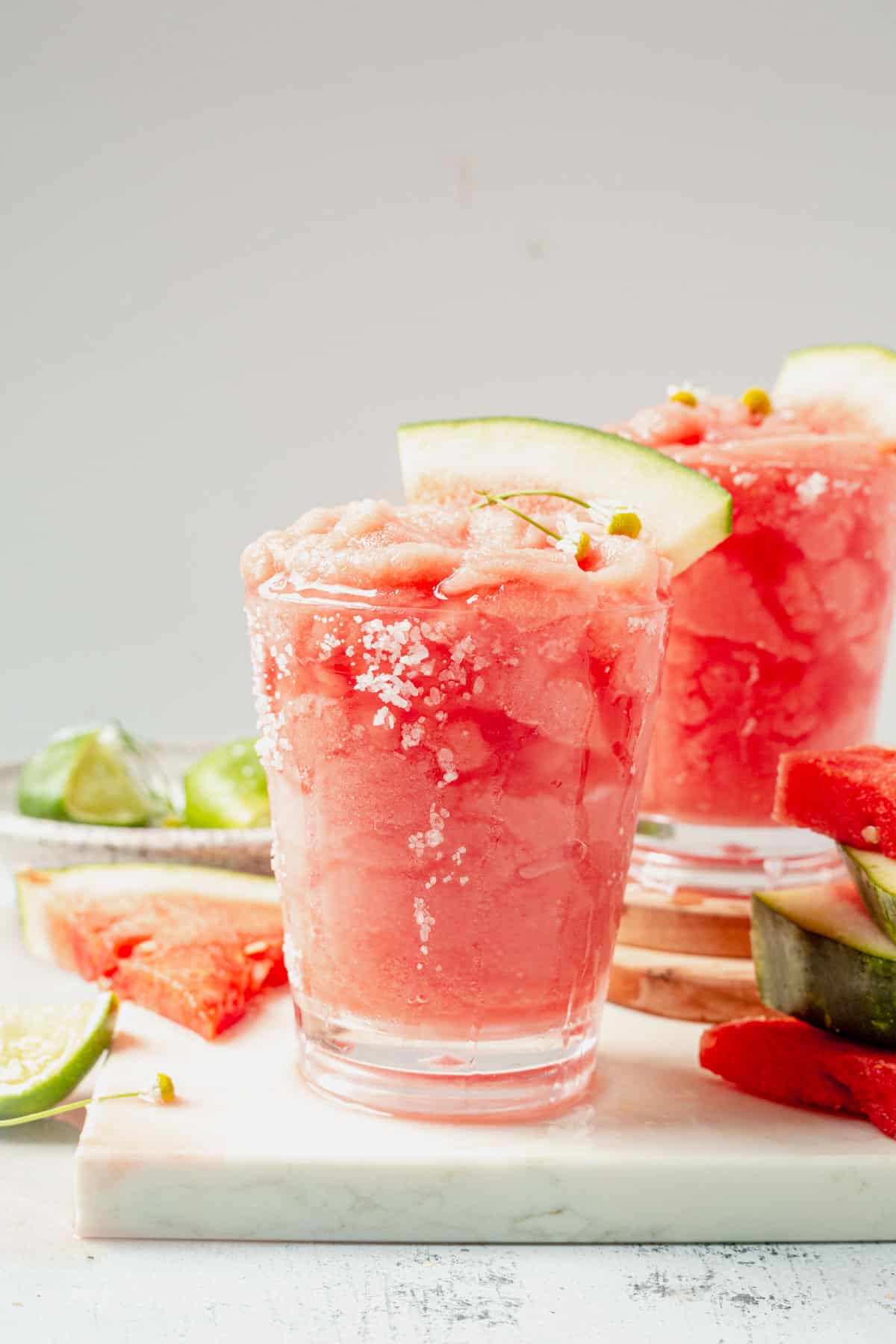 If you make this recipe, I'd love for you to give it a star rating ★ below. You can also tag me on Instagram so I can see it!
More Margarita Recipes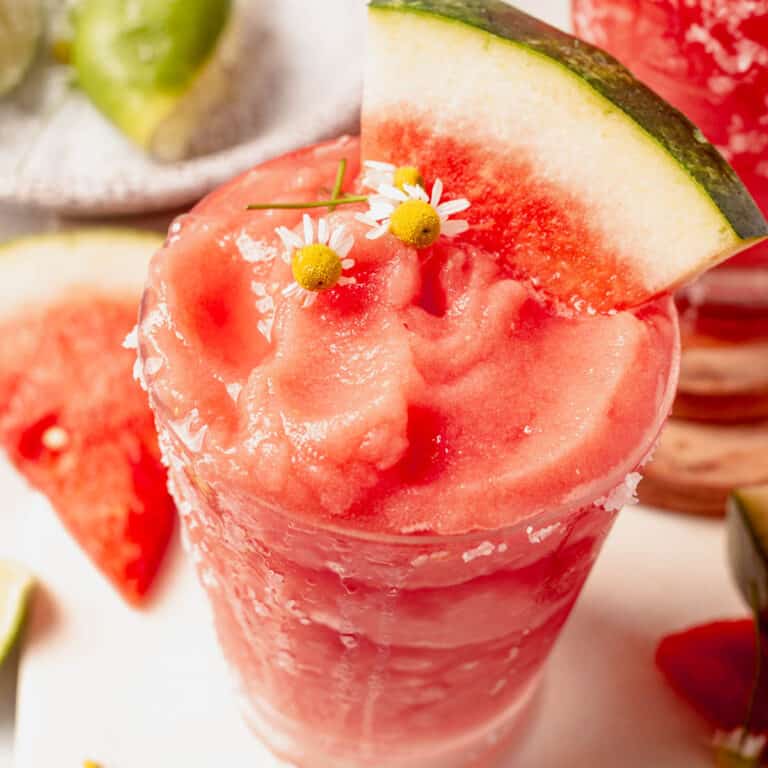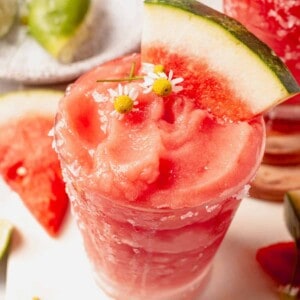 Frozen Watermelon Margarita
This frozen watermelon margarita is the epitome of summer, featuring juicy watermelon, fresh lime juice, and tequila. It's an easy and refreshing cocktail perfect for any summer occasion.
Print
Pin
Rate
Save
Saved!
Ingredients
1

cup

frozen watermelon chunks

frozen for at least 2 hours ( Note 1)

1.5

ounces

silver tequila

1

ounce

lime juice

.5 ounces triple sec

1-2

tablespoons

honey or agave

Salt and lime wheel for the rim

Watermelon wedges

mint, and/or lime zest for garnish
Recommended Equipment
High speed blender or food processor
Instructions
Add all of the ingredients to a high-speed blender, like a Vitamix. Blend on high for 1-2 minutes, or until the mixture is completely smooth and no chunks remain. Add more watermelon chunks or a splash of water to adjust the consistency based on your preference. The mixture should be thick. Use the tamper to help the watermelon blend if needed.

1 cup frozen watermelon chunks,

1.5 ounces silver tequila,

1 ounce lime juice,

.5 ounces triple sec,

1-2 tablespoons honey or agave

Add kosher or sea salt to a shallow bowl or dish. Run a lime wedge around the rim of a margarita glass. Turn the glass upside down into the salt to rim the glass with salt.

Salt and lime wheel for the rim

Pour the frozen watermelon margarita into the prepared glass and garnish with lime, mint, or a watermelon slice.
Notes
Note 1. Frozen Watermelon. Cut the watermelon into cubes and arrange them on a large foil or parchment-lined baking sheet. Store in the freezer for at least two hours or up to 6 months. If you aren't using it all right away, transfer the frozen watermelon pieces to a large freezer bag. I like to freeze an entire watermelon at once and so I have watermelon ready any time.
Frozen Watermelon Margarita Pitcher (serves 4). 4 cups of frozen watermelon, ¾ cup tequila, ½ cup lime juice, ¼ cup triple sec, ¼ cup honey or agave.
Nutrition
Serving:
1
margarita
|
Calories:
270
kcal
|
Carbohydrates:
37.6
g
|
Protein:
1.1
g
|
Fat:
0.3
g
|
Sodium:
4.1
mg
|
Fiber:
0.8
g
|
Sugar:
33.5
g
|
Vitamin A:
43.7
IU
|
Vitamin C:
21.1
mg