When comparing a skinny margarita vs regular one, there are a few key similarities and differences, including the sugar and calorie content. Skinny margaritas include natural sweeteners, fresh juices, less sugar, and fewer calories.
Keep reading to learn exactly how the ingredients differ and if a skinny version is actually better for you.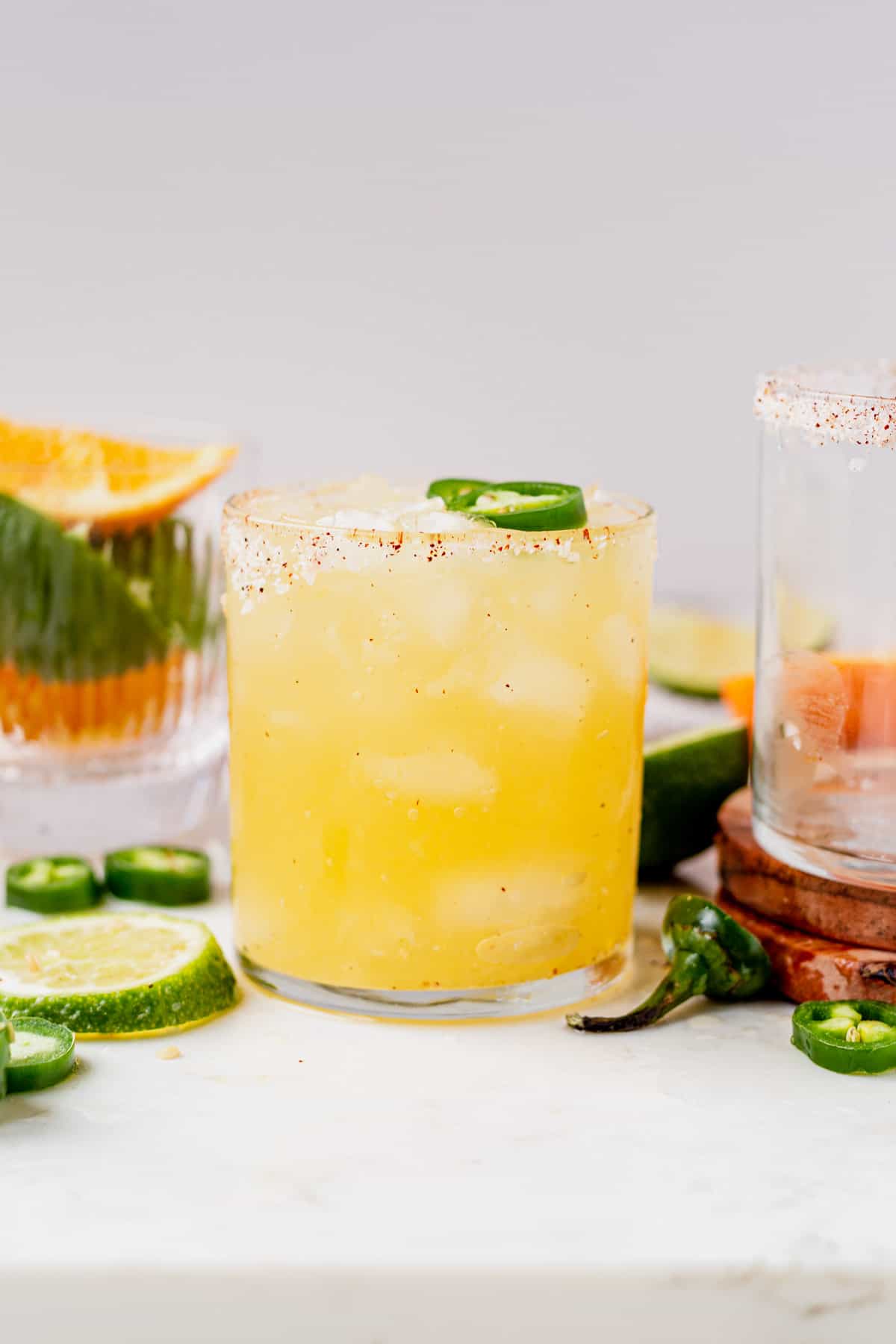 Love margaritas? You can make this pineapple jalapeno margarita, blood orange margarita, or cucumber margarita regular or skinny.
Jump to:
Margaritas are a popular cocktail made with tequila, lime juice, and orange liqueur. The classic Margarita is a beloved drink, but a skinny margarita has the same flavor with few calories and sugar content. The craze started when Bethenny Frankel launched her Skinny Girl margaritas.
The amount of calories and sugar in a margarita can vary based on the recipe. However, if you aren't making it at home, chances are it's going to be filled with sugar.
The good news is you can make a few simple swaps to enjoy a low-calorie cocktail with just as much alcohol and flavor.
Looking for a skinny margarita recipe? Try our favorite skinny spicy margarita made with fresh jalapeños and agave nectar.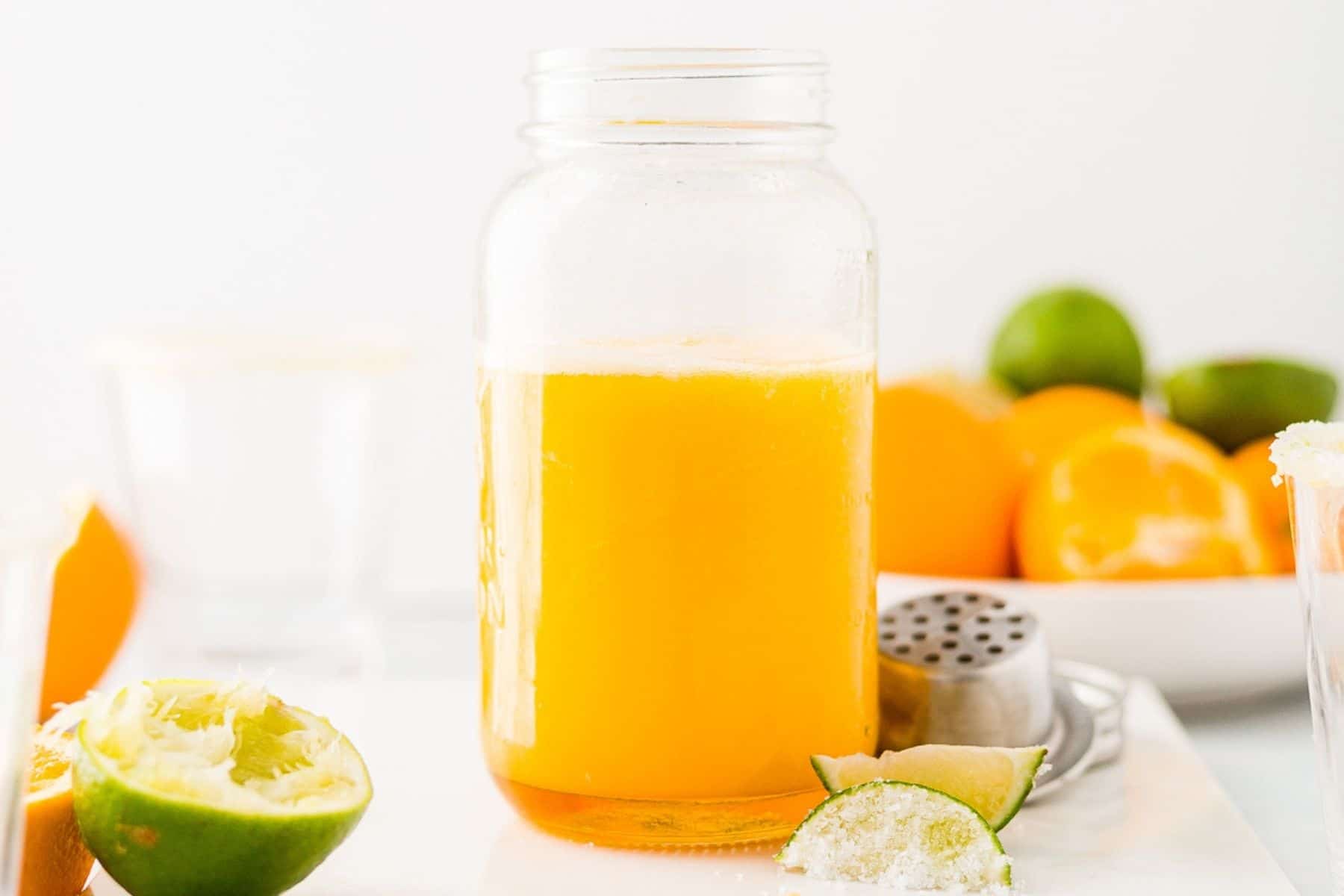 Skinny Margarita vs Regular: What's the Same?
Both alcoholic beverages use tequila as their base spirit and lime juice as the primary souring agent.
Store-bought mixes, homemade margaritas, and ones at a restaurant include a mixture of tequila, lime juice, and sweetener. You can order both on the rocks or frozen.
3 Differences Between a Skinny Margarita and Regular Margarita
The biggest differences between a classic margarita and a skinny one lie in the grams of sugar, calories, and grams of carbohydrates in each. Here's a breakdown of a skinny margarita vs regular one.
Calorie count and sugar content: The main difference is the number of calories and the sugar content. A regular Margarita is higher in sugar from sweetened lime juice and orange liqueur. A Skinny Margarita uses natural sweeteners, fresh juice, and little to now orange liqueur to reduce the calorie count.
Taste: A Skinny Margarita will taste less sweet, but may have a fresher taste from the fruit juices.
Fresh ingredients: a Skinny Margarita uses a combination of fresh lime juice, fresh orange juice, or natural sweeteners.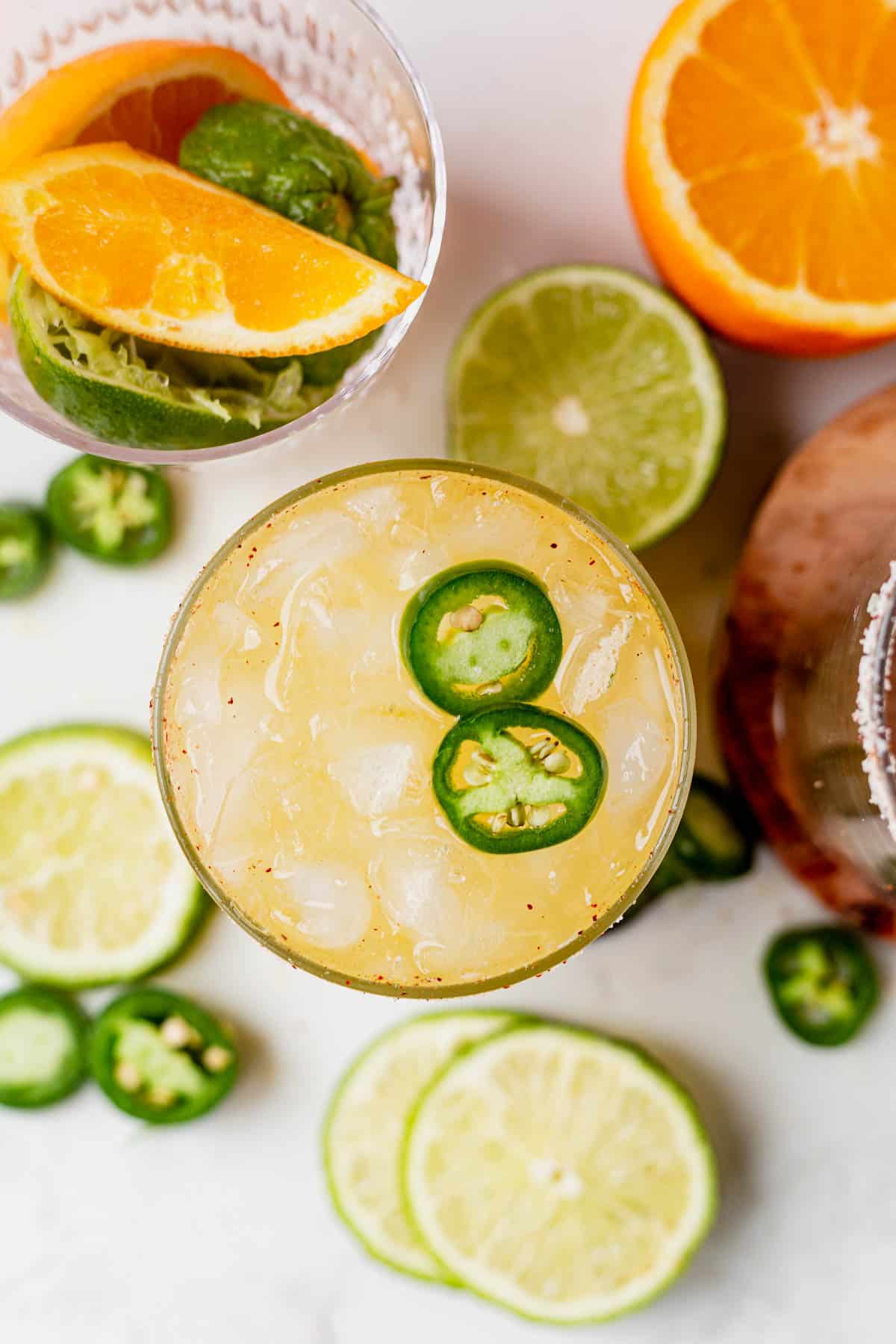 Ingredients in a Skinny Margarita
Tequila Blanco: This is the main ingredient in a Margarita. Distillers make Blanco tequila and bottle it immediately, without any aging.
Fresh-Squeezed Lime Juice: Provides a sour flavor that balances the drink.
Low-Calorie Sweetener: A small amount of agave nectar provides sweetness without adding extra calories.
Orange Juice: Some recipes call for the addition of fresh orange juice to provide a hint of sweetness and acidity.
Triple Sec or Cointreau: Some skinny margarita recipes call for a small amount of orange liqueur for added flavor, but it is optional.
Salt: Rim the glass with a lime wedge and coarse salt to enhance the flavor.
Ice: Blend or shake with ice to create a refreshing, chilled drink.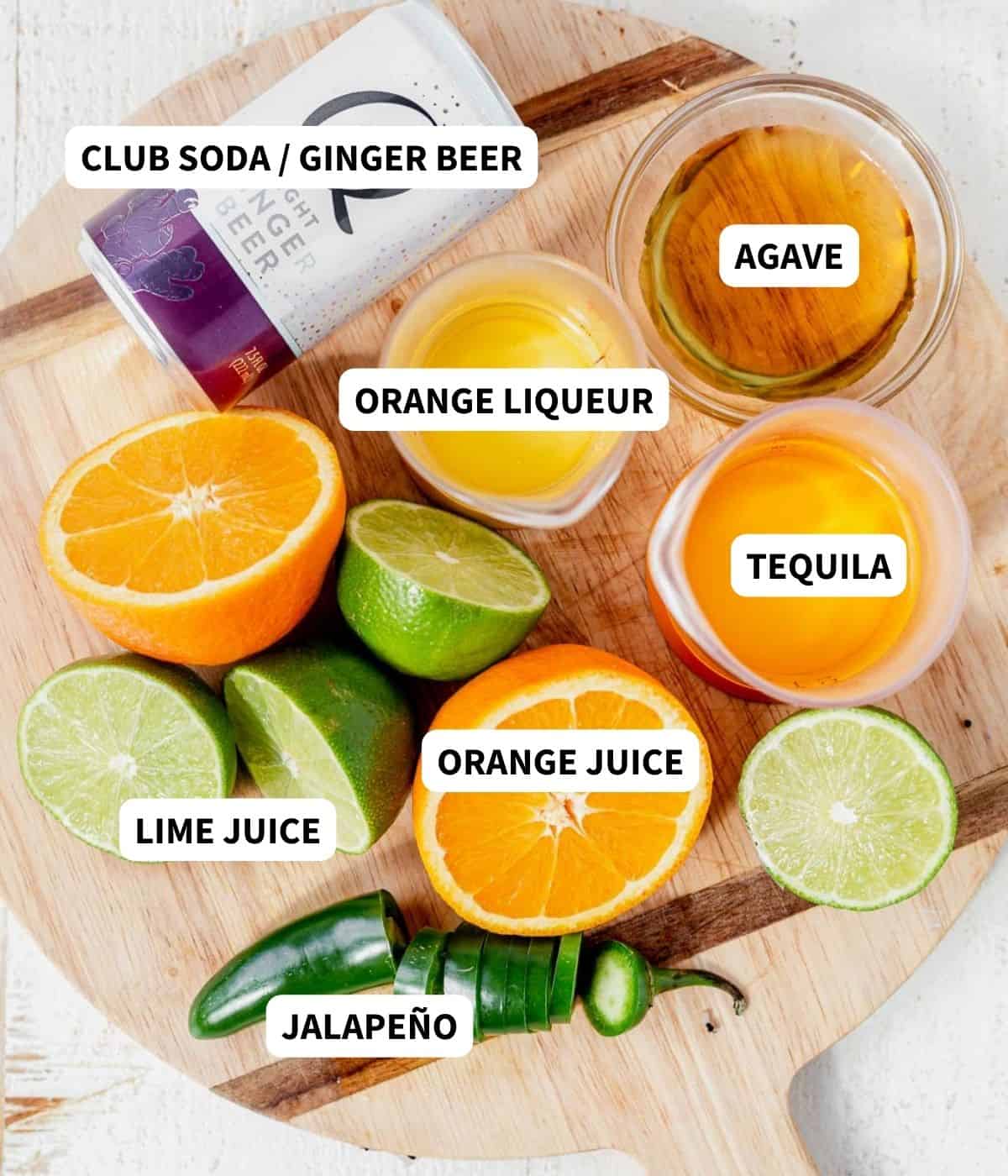 Natural and Low-Calorie Sweeteners For A Margarita
Using a low-calorie sweetener will result in a low-calorie margarita. Agave nectar is a popular choice when it comes to natural sweeteners, but stevia is a good choice too.
Stevia: A natural, calorie-free sweetener made from the leaves of the Stevia plant.
Monk Fruit Sweetener: This is a natural sweetener made from monk fruit. It's much much sweeter than sugar but has zero calories.
Agave Nectar: this is a natural sweetener made from the agave plant and is lower on the glycemic index. It has a sweeter taste and a slightly lower calorie count.
How to Make a Skinny Version of a Traditional Margarita
After comparing a Skinny Margarita vs regular Margarita, here's how to take your favorite margarita recipe and make it skinny.
Leave out the orange liqueur or add a small splash instead.
Use 1-2 teaspoons of agave nectar instead of a sour mix or simple syrup.
Squeeze in fresh fruit juices, like orange juice.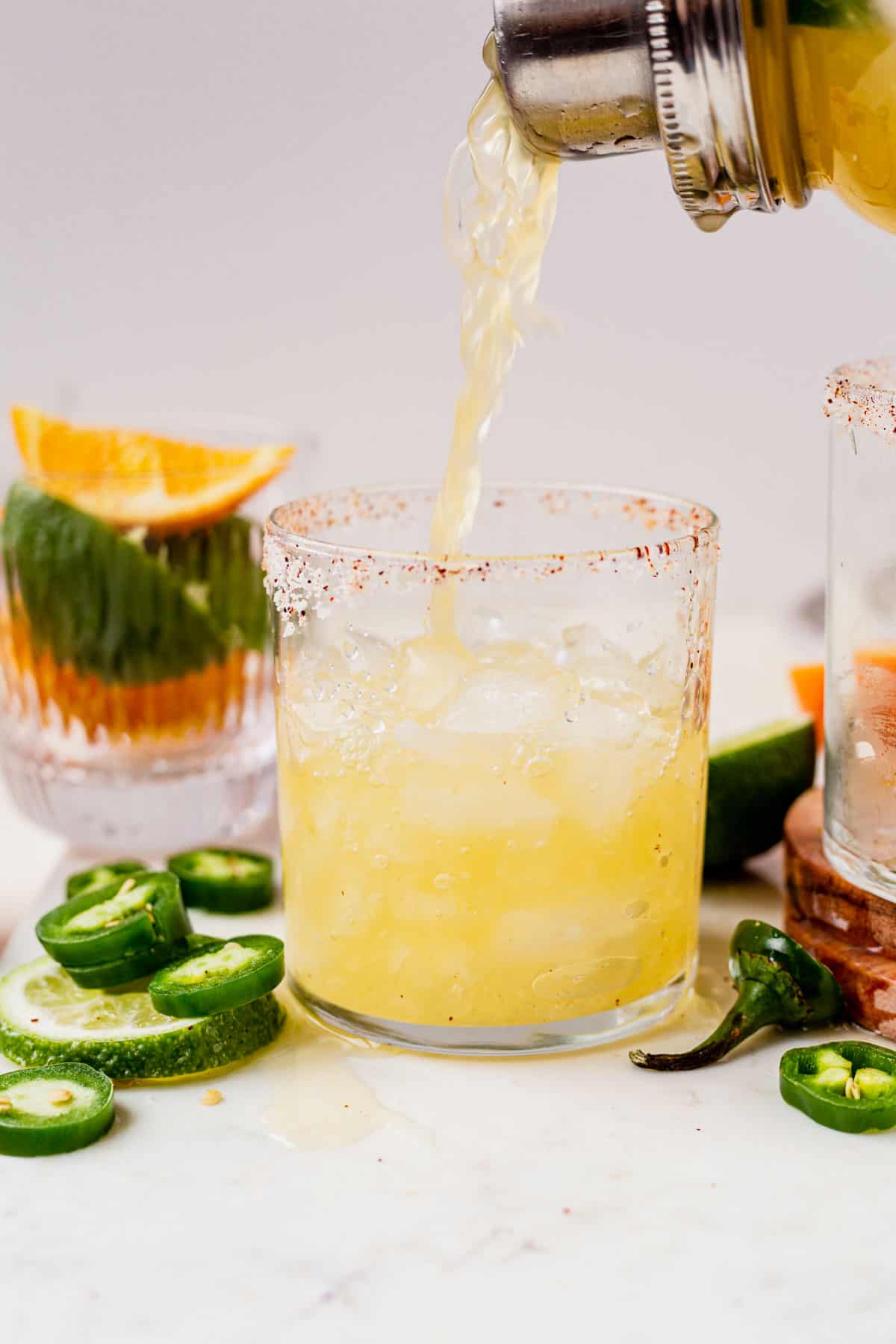 Frequently Asked Questions
Is there less alcohol in a skinny margarita?
Both use tequila as their base spirit and include the same amount of alcohol. There may be a very small difference in the amount of alcohol if you omit the orange liqueur, but not enough to notice.
Are skinny margaritas better for you?
A Skinny Margarita has a lower calorie count and less sugar. In fact, a skinny margarita can have up to 200 fewer calories.
How do you ask for a skinny margarita at a bar?
Ask for fresh lime juice instead of sweet and sour mix and request little too no orange liqueur. You can also ask for a splash of agave or simple syrup. Knowing the differences between a skinny margarita vs regular one will help you identify the ingredients so you can request lighter options.
How much sugar is in a skinny margarita?
The amount of sugar varies depending on the recipe, but a skinny margarita typically as 6-10 g of sugar per serving while a regular one can contain up to 30 grams of sugar.
Our Favorite Margarita Tools
Here are our favorite products to stock in your pantry so you can make a killer margarita whenever the craving strikes. This section may contain affiliate links.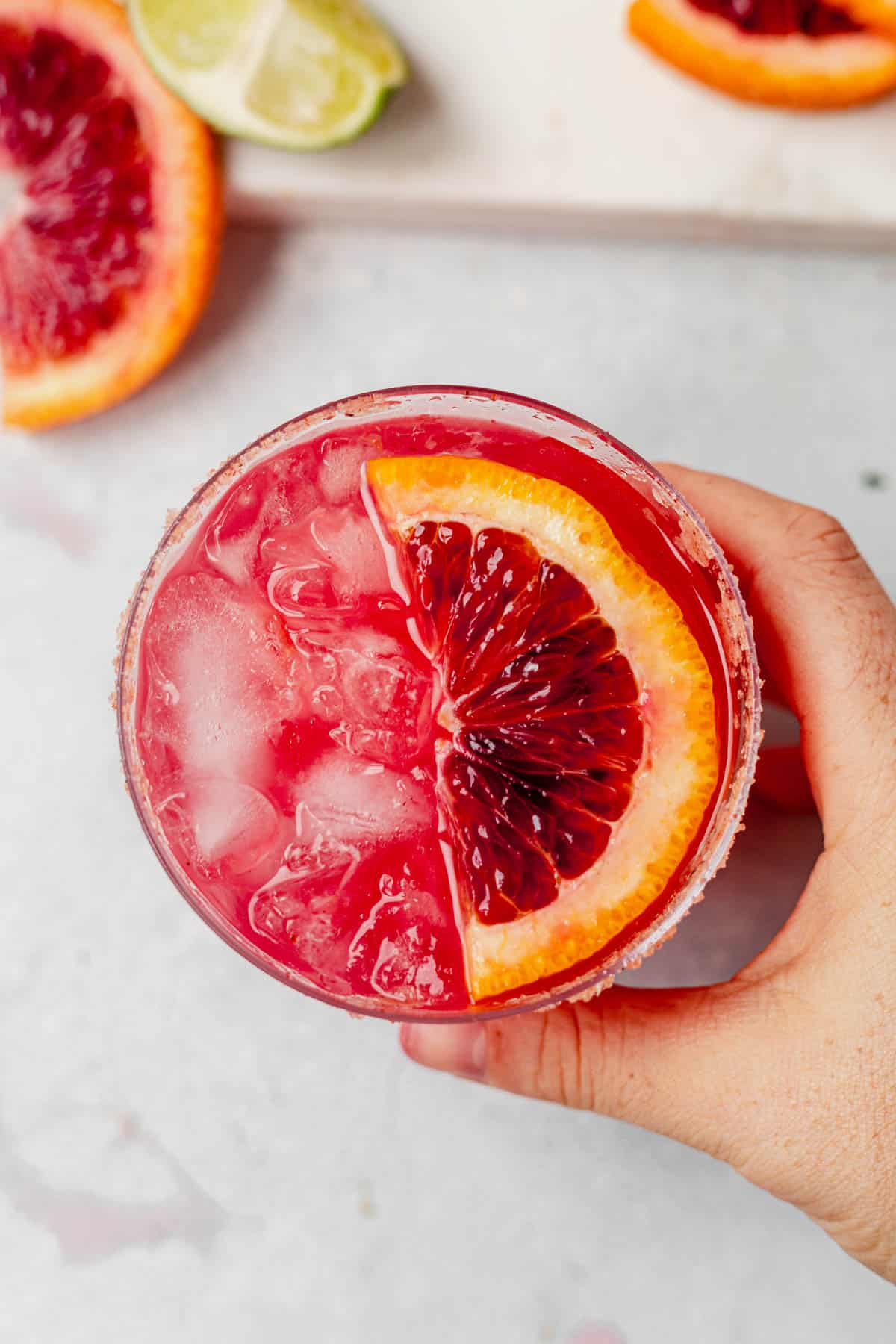 Margarita Recipes
Use fresh blood oranges, fresh lime juice, tequila, and triple sec to make the most refreshing blood orange margarita in 5 minutes.
These mango margaritas are naturally sweetened with agave and fresh mangos. Serve them on the rocks or frozen, or make them spicy with jalapeno. Similarly, this pineapple jalapeno margarita recipe features tropical fruit and fresh citrus (with a spicy twist).
The sweet floral flavor of this strawberry hibiscus margarita is made by shaking up hibiscus simple syrup with fresh lime juice, tequila, and triple sec.
Make this easy (5-ingredient) cucumber margarita recipe with fresh cucumber, tequila, lime juice, triple sec, and agave. Add jalapeño to make them spicy or leave them as is for a refreshing cocktail.
This skinny spicy margarita is everything you think of when you picture a Cinco de Mayo-inspired cocktail. It has heat and spice, yet it's cold and refreshing. It's sweet, and it's smoky, and it's incredibly fresh.
Want to learn more about making your favorite drinks at home? Check out the difference between an iced latte vs iced coffee.