This recipe for keto fudge with made with coconut oil and it's so easy to make because it only has 4 main ingredients. It's like a keto fudge fat bomb!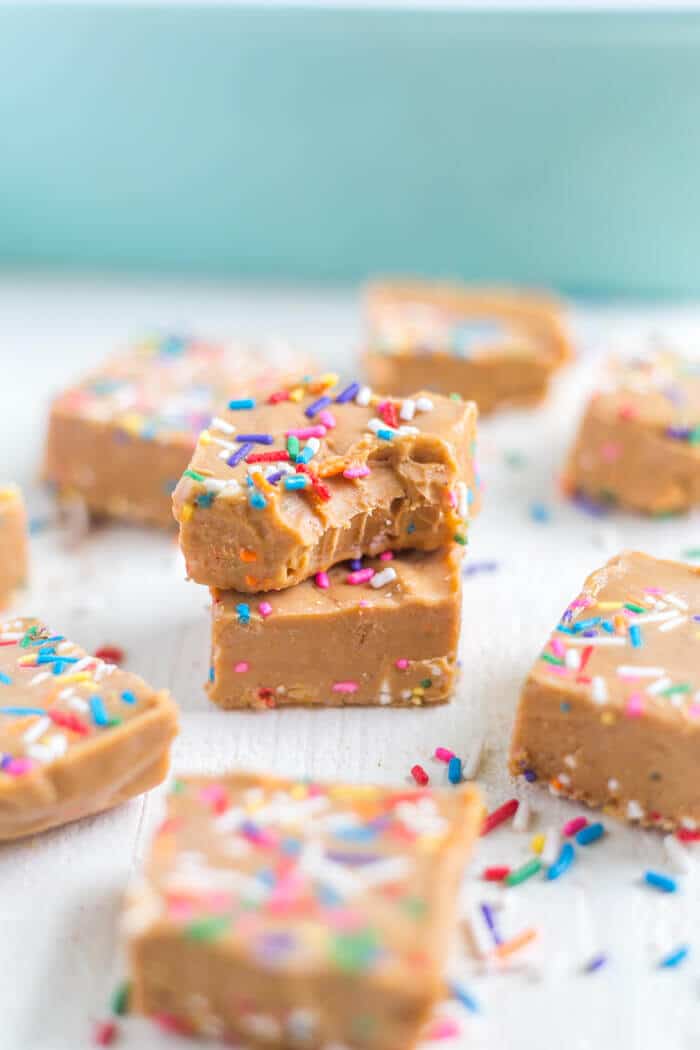 TODAY IS MY 3 YEAR BLOG ANNIVERSARY!
That means I've been sharing recipes on my little corner of the internet for 1,095 days! It's been a lot of hard work but I wouldn't trade it for the world! I seriously love creating healthy and easy recipes to share with everyone who stops by.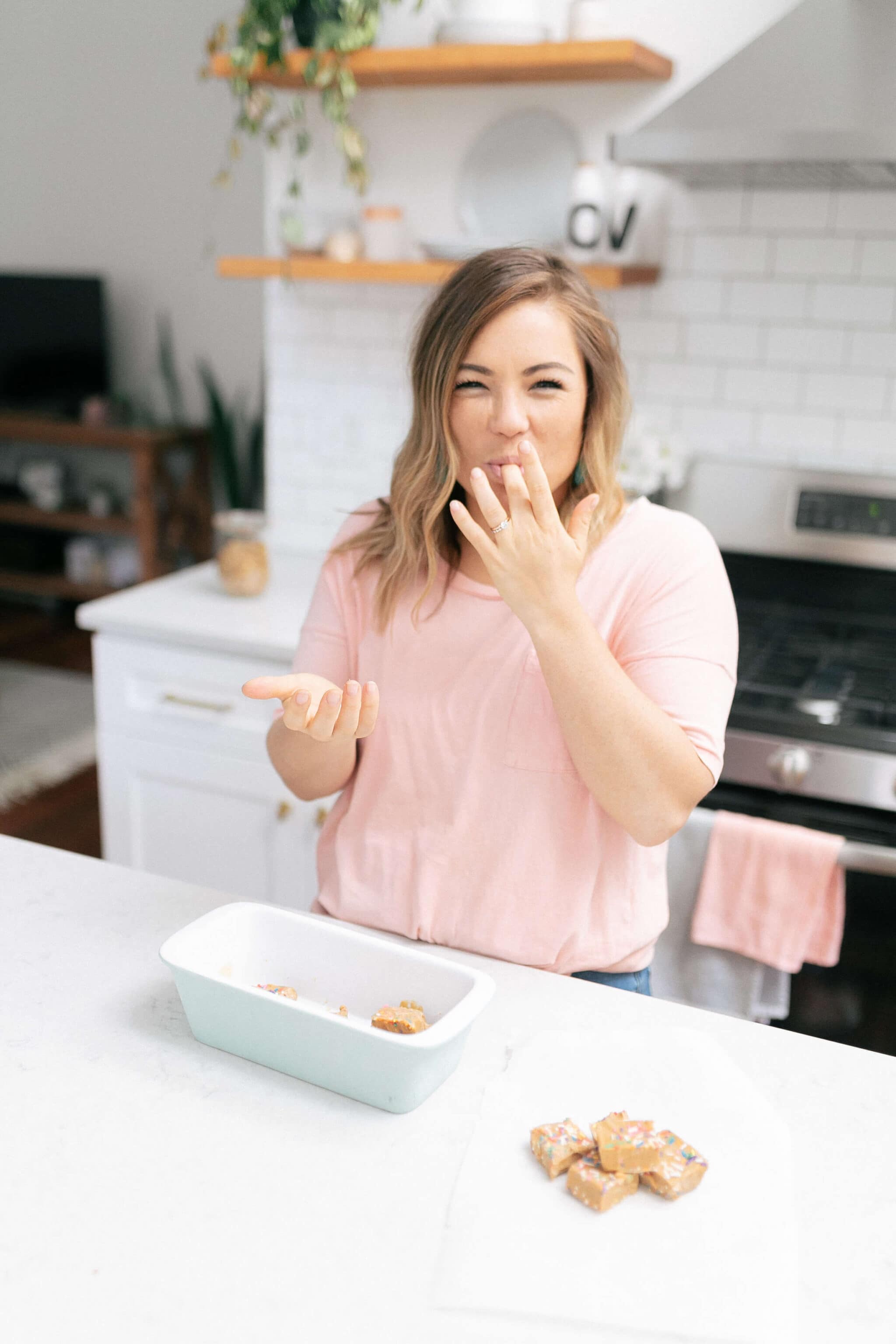 Before we jump into the recipe, I just wanted to say THANK YOU from the bottom of my heart for following along here. Wether you've made 1 recipe or 100, I'm just thankful you've found me, made a recipe and been a part of this journey. My biggest hope is that my blog and recipes help you live a healthier life and make it so much easier too.
There is so much I could say about this blog and my mission but I leave that to another post that's likely coming verrryyyy soon. So let's just talk about cake batter keto fuge:)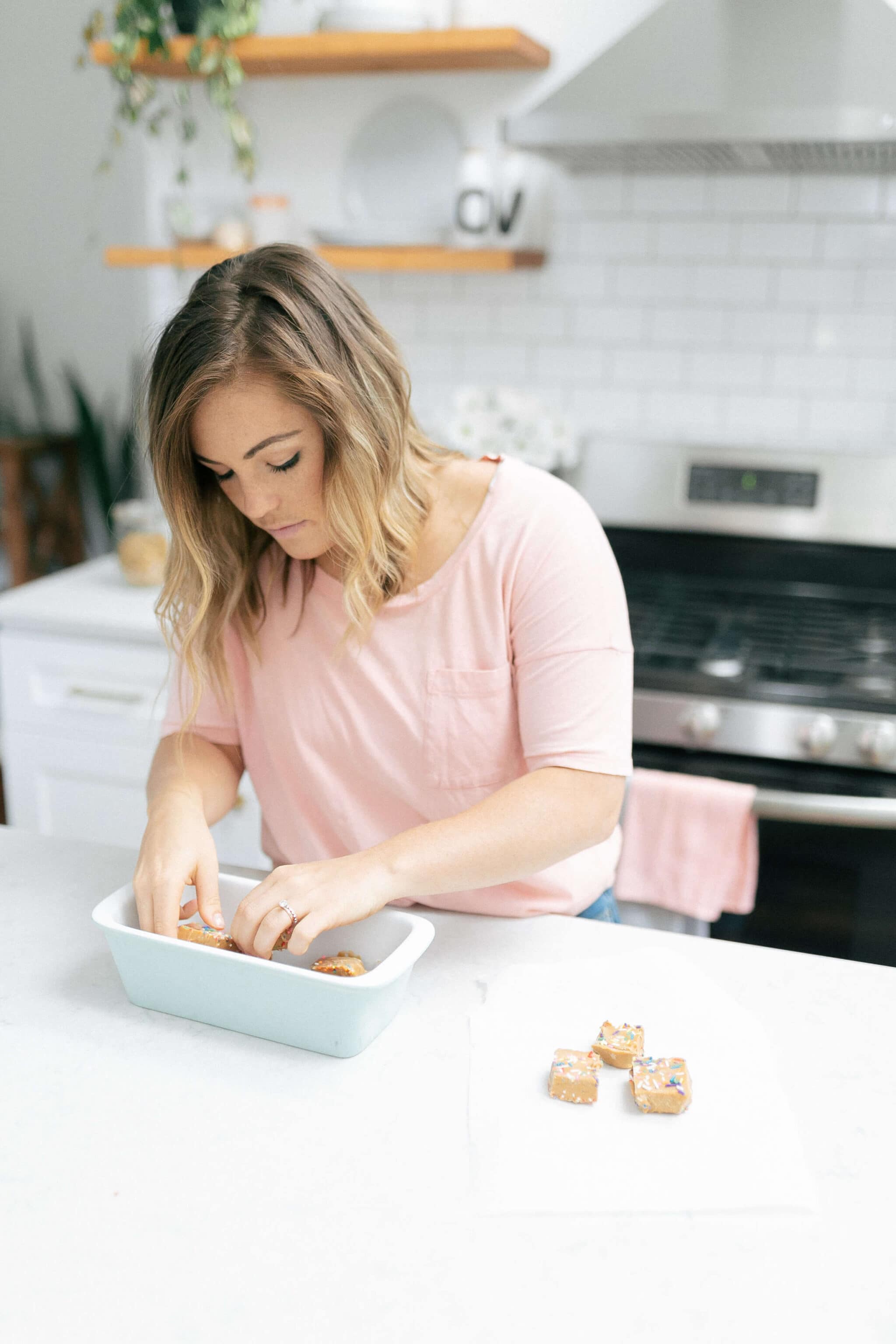 As a celebration, Zach and I went over to our friend Reenee's house, with RKM Photography, so we could get some new shots in her amazing kitchen.
You know for my blog birthday I had to make a cake batter recipe! How do you celebrate a birthday without sprinkles?!
This keto fudge came to me after I saw Ambitious Kitchen's tahini cookie dough recipe. I thought it looked like fudge and I knew you guys would go crazy over a low carb recipe.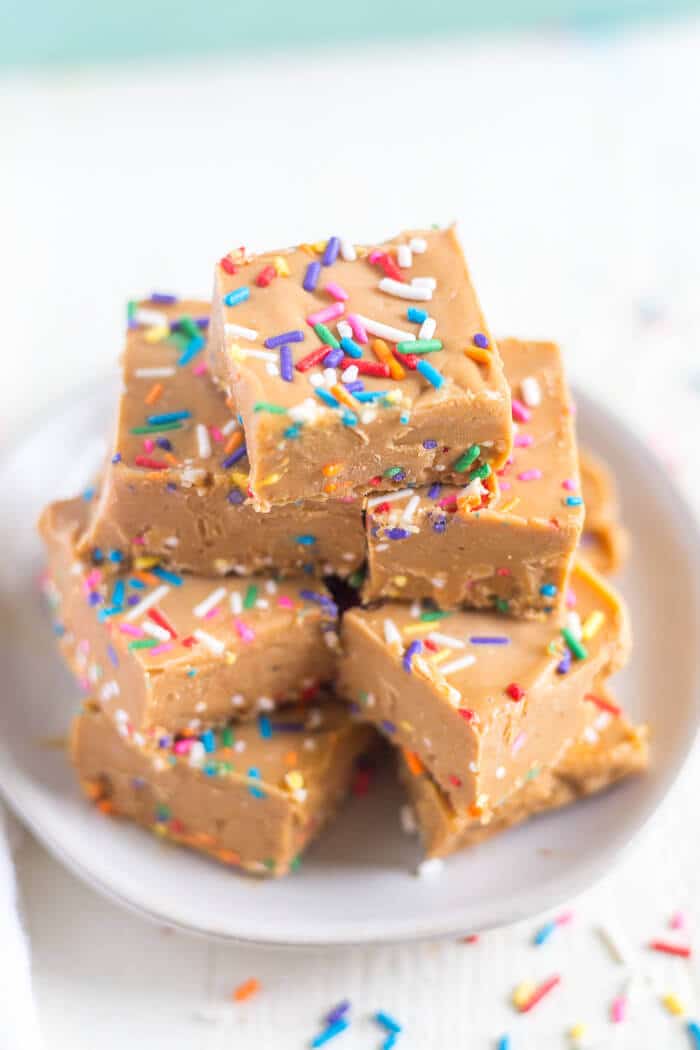 In my recent reader survey so many people said they like to eat a low carb diet! Not to mention my peanut butter fat bombs are the most popular recipe on my site.
Easy, low carb snacks or desserts are a go-to around here. Any way I can add some extra healthy fat into my diet I'm all for it. And these keto fudge fat bombs are just that!
I mentioned this before, but this cake batter keto fudge is really easy to make. No baking, stove or cooking required and you only need a few ingredients.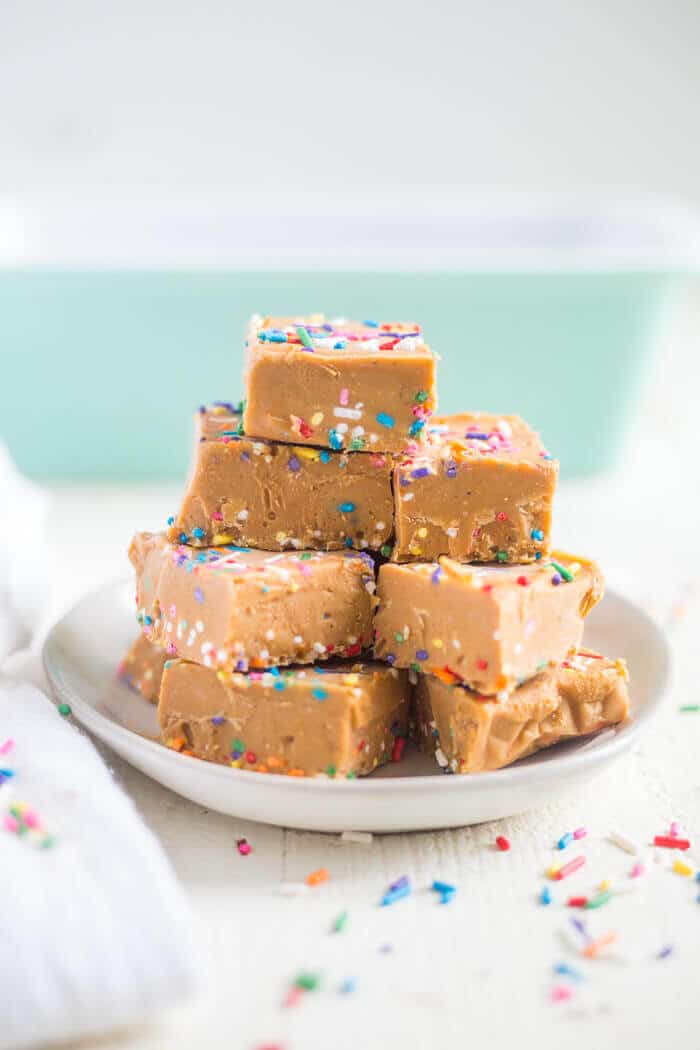 Ingredients for cake batter keto fudge:
Cashew butter

Coconut oil

Almond extract

Sprinkles
I also like to add a little bit of sea salt to mine but I don't count that as an ingredient because everyone already has that at home!
If you've got these ingredients and a freezer you're all set to make this keto fugde with coconut oil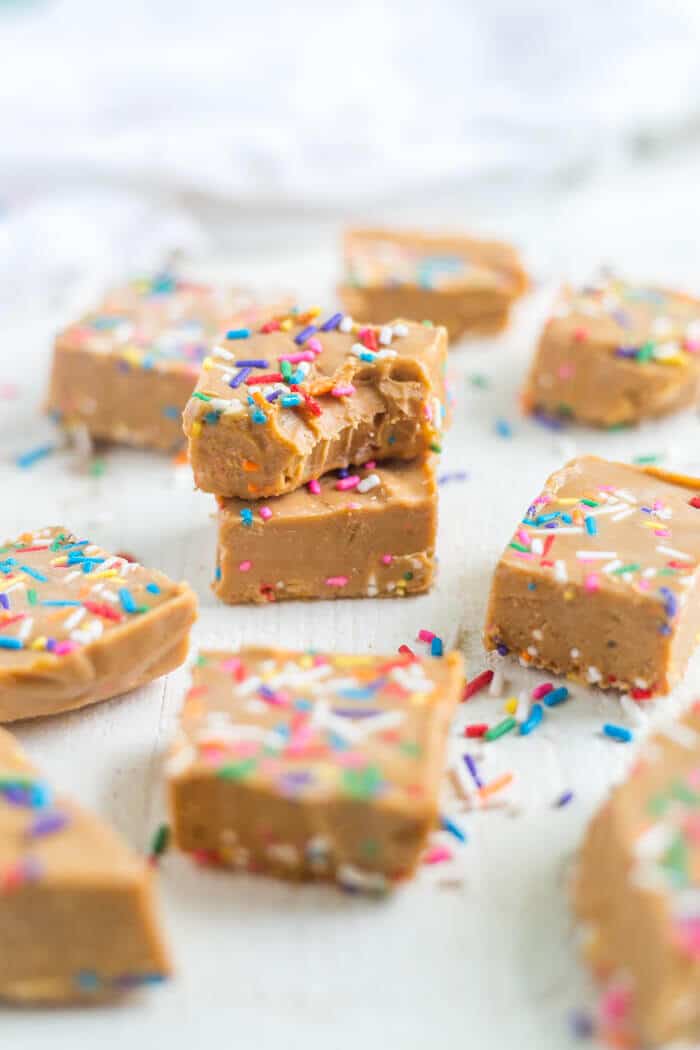 How to make keto fudge:
To make this cake batter keto fudge recipe, start by melting the casehew butter and coconut oil together in a large microwave safe bowl. You'll heat it in the microwave until it's completely melted.
Whisk in the almond extract then gently mix in the majority of the sprinkles, saving a few for the top. Pour the mixture into a bread pan lined with foil or parchment paper and place in the freezer for 5-10 minutes. Remove from the freezer and sprinkle the remaining sprinkles on top. Place back in the freezer for at least 30 minutes.
Cut into squares and enjoy! Don't forget to leave these in the freezer in an air tight container to store.
I love this recipe because it's keto fudge without cream cheese. You probably see a lot of those out there but I wanted to keep this one dairy free and use a nut butter and coconut oil as the base.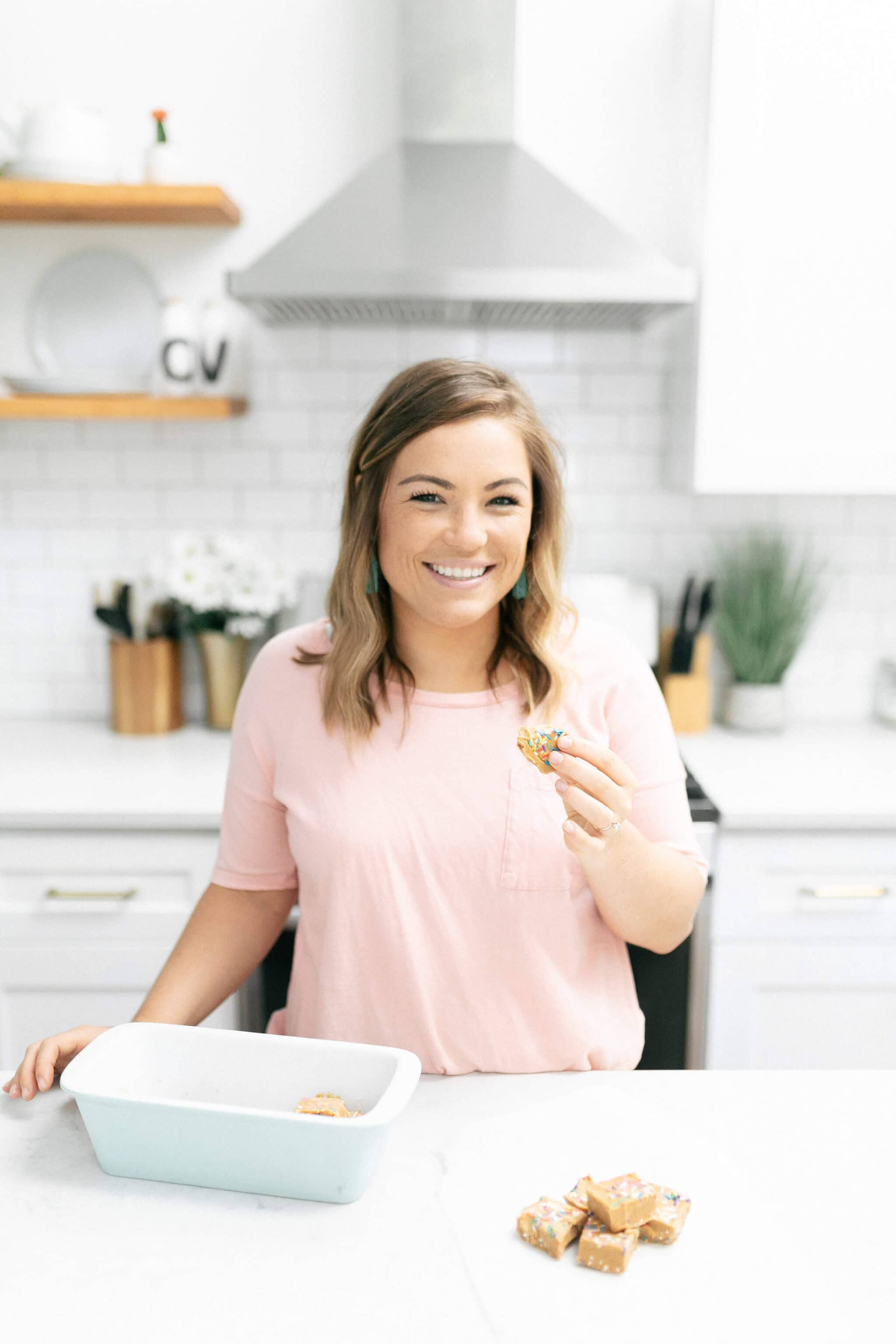 I know what you're thinking, there isn't any sweetener in here. Yes, you are correct! This recipe, in my opinion, doesn't need any sweetener. There's a bit of sweetness from the sprinkles and that's all you need.
Get good quality cashew butter and you're set. The almond extract adds so much flavor too!
How many net carbs are in this keto fudge?
There are 8 net carbs in a piece of this keto fudge. Pay attention to the kind of cashew butter you buy though! They can range in number of carbs so that could change this. If you want a few less carbs, use less sprinkles to top!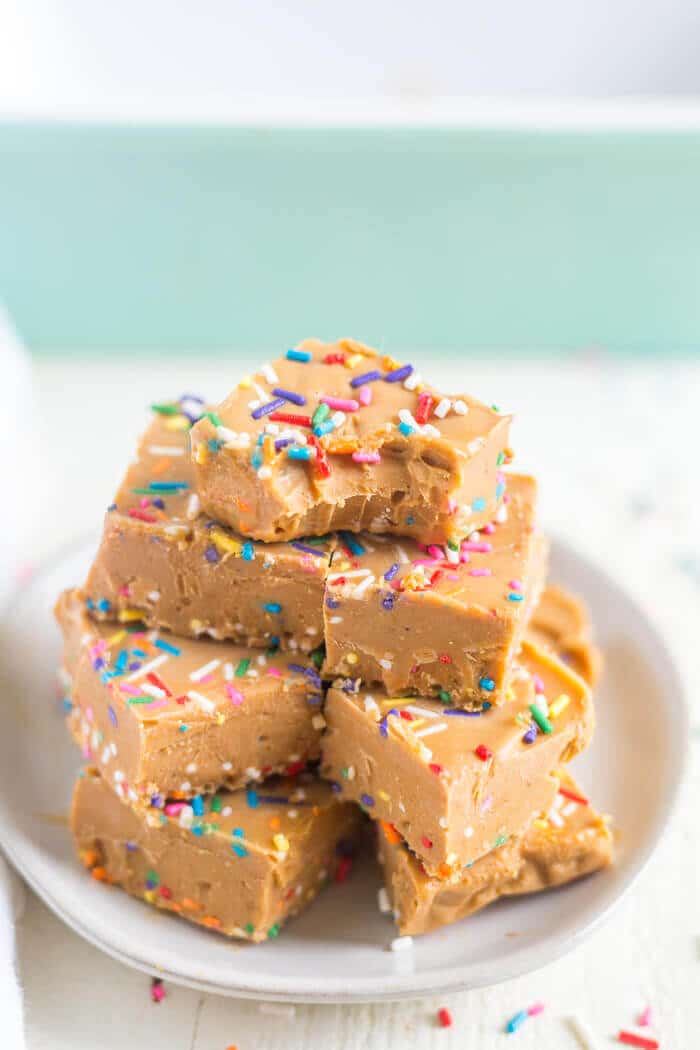 Thank you again for celebrating my 3rd blog birthday with me! I hope you love this recipe as much as I do! Don't forget to tag me on Instagram with @what_mollymade or #whatmollymade so I can see them and feature you!
More keto recipes: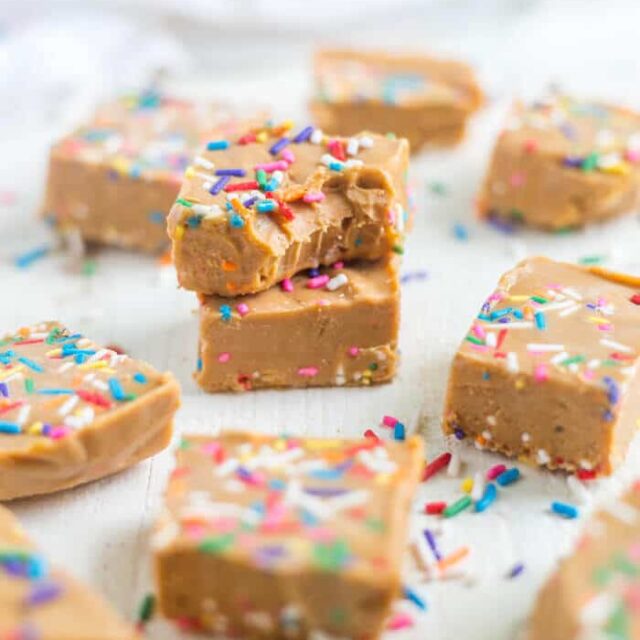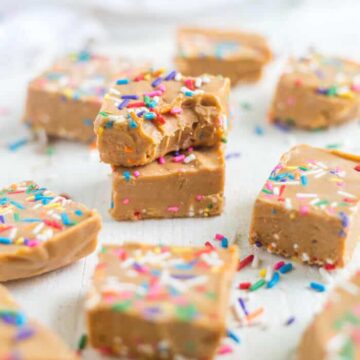 Cake Batter keto fudge
This recipe for keto fudge with made with coconut oil and it's so easy to make because it only has 4 main ingredients. It's like a keto fudge fat bomb!
Print
Pin
Rate
Save
Saved!
Ingredients
1

cup

cashew butter

¼

cup

coconut oil

1

teaspoon

almond extract

½

teaspoon

salt

2

tablespoons

sprinkles
Instructions
Line a 8x4 inch loaf pan with parchment paper or foil.

In a medium bowl, mix together the cashew butter, coconut oil, salt and almond extract until smooth. Pour the fudge into the pan. Freeze for 5-10 minutes to slightly set then remove from the freezer and sprinkle 2 tablespoons of sprinkles on top of the fudge. Freeze until completely firm, about 30 minutes. Cut into squares.

Store fudge in freezer safe container in the freezer for up to 3 months.