Have you ever wondered just how to make vegan cheesecake? This tutorial is going to give you all the steps and details on how to make a creamy, raw and healthy vegan cheesecake dessert! I bet you'll be surprised just how easy it is!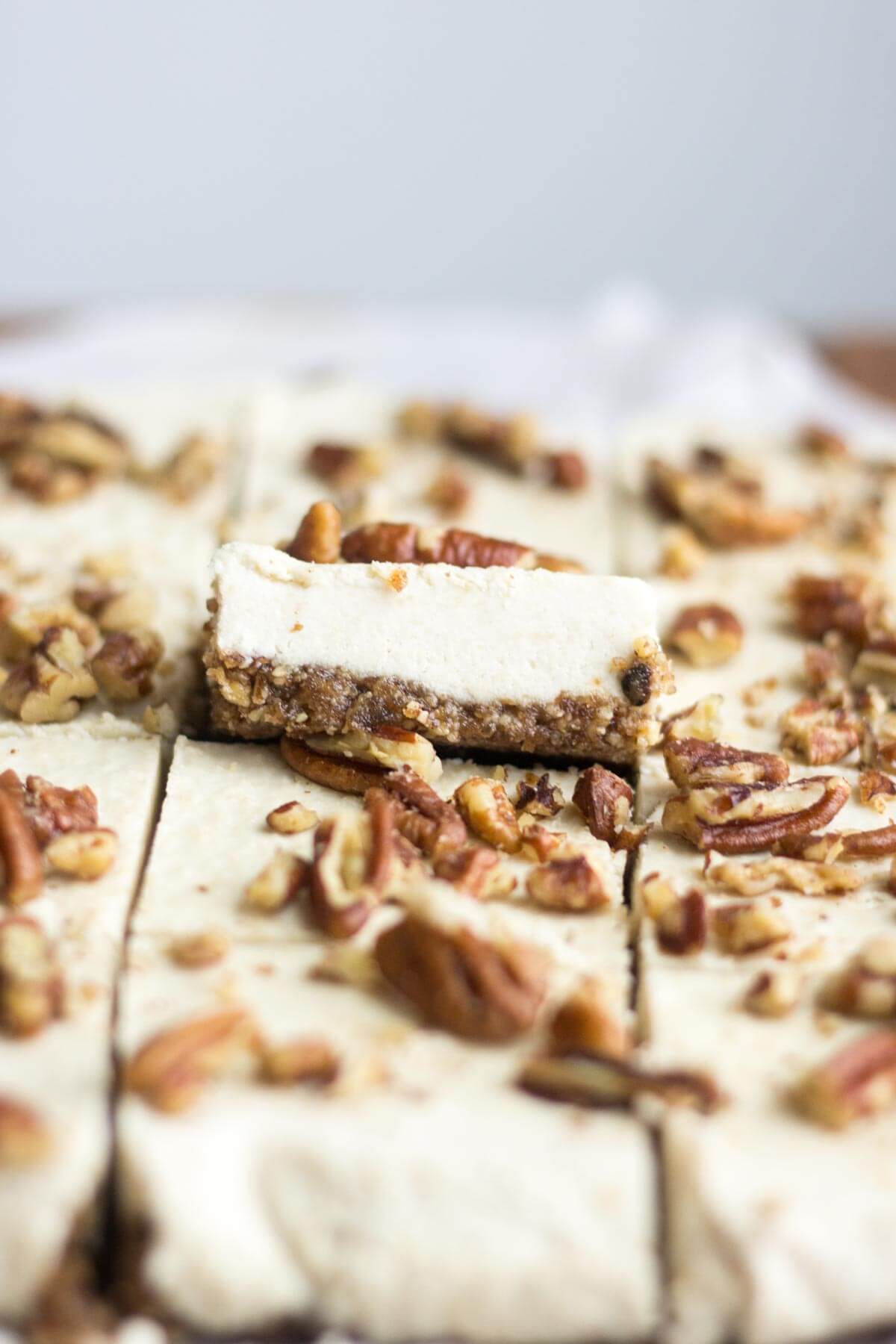 You may be thinking the exact same thing I was thinking when I first came across the concept of vegan cheesecake. I mean, this recipe has "cheese" in it's name. So how does one make it without cheese? Great question. I'm going to show/tell you!
I first want to thank some awesome ladies who've been sharing crazy good vegan cheesecakes lately and the ones who inspired me to take the plunge in to the vegan cheesecake world. To Bakerita and Minimalist Baker, thank you for all the marvelous, delicious and decadent vegan cheesecake inspo!
So let's jump right in to how to make vegan cheesecake crust:
It all starts with the crust. Two ingredient crust to be exact! Plus a little sea salt but I don't count that as an actual ingredient. And it's healthy, raw, doesn't have any refined sugar AND you don't even have to bake it. I could go on and on about amazing this concept is.
Here's what you need for the crust: dates and raw pecans. You can also use almonds or walnuts—all are great options!
To make the crust, combine both ingredients (plus the salt) in the food processor and give it a whirl. I have a Ninja food processor that I absolutely love and it only takes seconds to break these two ingredients down to a sticky, nutty crust. If you don't have a high powered food process like a Ninja or a Vitamix that's okay, it may just take you a little longer to get the consistency you're looking for.
Check how the texture in the picture below! This is the what you're looking for. The nuts will get broken up in to tiny pieces and the dates will blend them together to create an amazing sticky texture. Then....you're done. I swear that's all it takes. No baking required. Just press the mixture in to the bottom of your baking pan and you're golden.
Don't think you're limited to simply circular traditional pans when you learn how to make vegan cheesecake! I've made all different kinds of vegan cheesecake in the past from bars to traditional and even to mini cheesecakes in a mini muffin tin. Whatever format you choose, just place the crust mixture in the bottom and press down to make the perfectly sweet and nutty crust.
Now that we have our crust set and ready to go let's go over how to make vegan cheesecake filling:
Much like the crust, the filling also requires only minimal ingredients. Five ingredients to be exact. I told you learning how to make vegan cheesecake was easy!
Here's what you need for the filling: cashews, canned coconut milk, coconut oil, lemon juice and sweetener (I use maple syrup). So simple, so smooth and so delicious. You're going to want to eat it with a spoon!
And here's how to make vegan cheesecake filling so smooth and creamy:
The very first step is soaking the cashews! That's the most difficult part of this entire recipe. The creamiest cheesecake filling comes when you're able to soak the cashew overnight. Throw the cashew in a bowl with room temperature water so they're all submerged and let them all hang out for 10-12 hours.
The only reason this part is somewhat challenging is because you actually have to remember you want to make vegan cheesecake in advance. If you're anything like me you want instant yummy dessert right when you think about the idea. Planning ahead requires, well, planning. And sometimes that's just so hard. Amiright?
BUT, the good news is, if you're anything like me and don't remember to soak the cashews overnight you can soak them for 1-2 hours in boiling hot water. There's a chance it won't be as smooth and creamy, but it will still be smooth and creamy.
Once the cashews are soaked you repeat the only step in the crust: throw everything in the food processor and turn it on. This part takes a little bit longer to blend because you want to break down the cashews until it's so smooth and creamy. I usually leave the food processor on for 2-3 minutes.
You'll start to see a creamy white mixture and it will become super silky smooth. At this point you can stop the food processor and check it out. If the taste and texture is exactly what you're looking for then you're done. If you want it a little smoother add a bit more coconut milk and even you want it a bit sweeter add more maple syrup, or more lemon juice for tartness.
Once you're satisfied, pour the filling over the prepared crust. Give the entire pan a good tap against the counter to make sure all of the air bubbles are out and then put it in the freezer to set. Allow it to set for 2-3 hours depending on how thick the cheesecake is and you're ready to serve!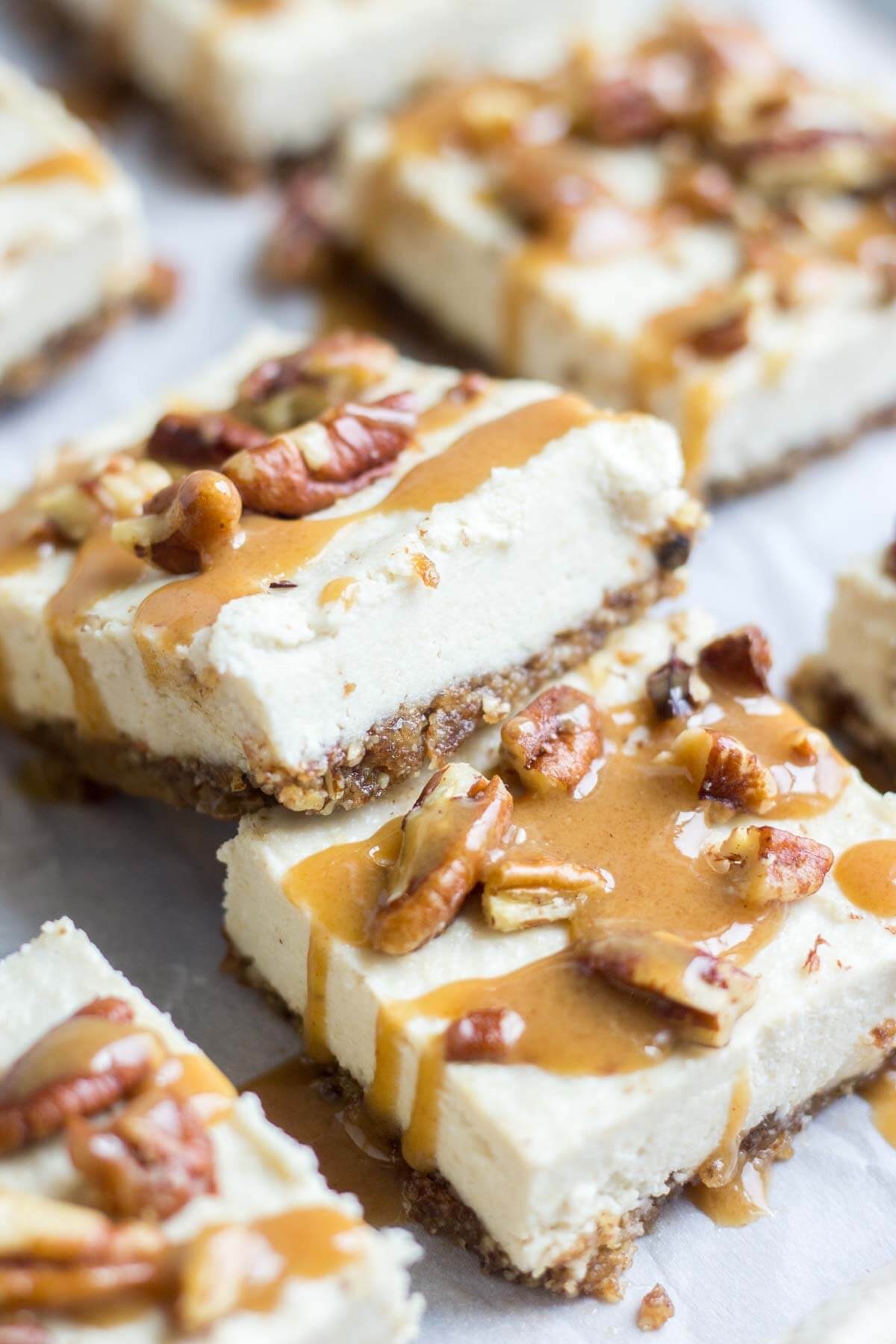 You can serve this straight from the freezer or you can let it thaw for about 15 minutes to let it soften slightly. I'd recommend storing it in the freezer once you're done too!
So there you have it. How to make vegan cheesecake. I told you it was super simple!
If you want to get creative you can start adding fun flavors to the classic vegan cheesecake. I made vegan turtle cheesecake (coming soon!) that had pecans and caramel, but you could go the citrus route with lemon or lime. Or even chocolate! There are so many options.
Now that you know how to make vegan cheesecake the options are endless?.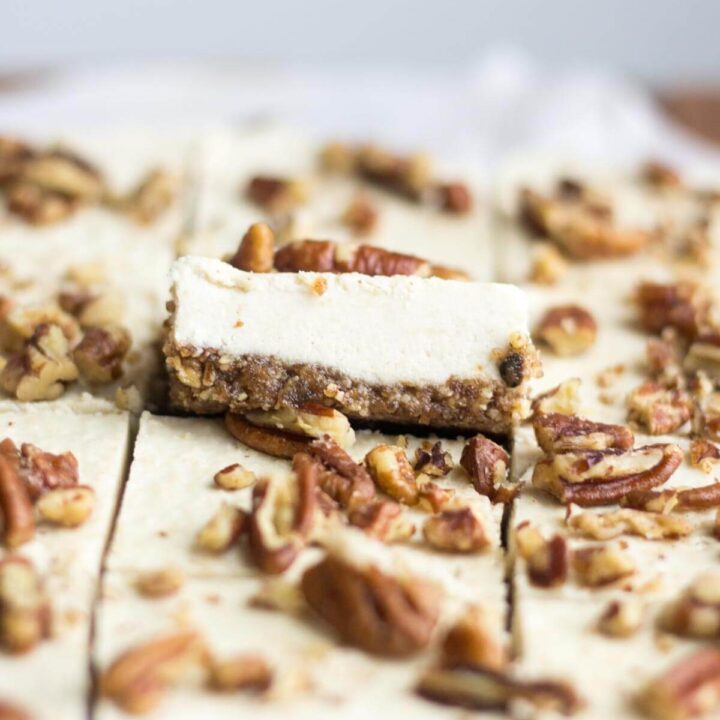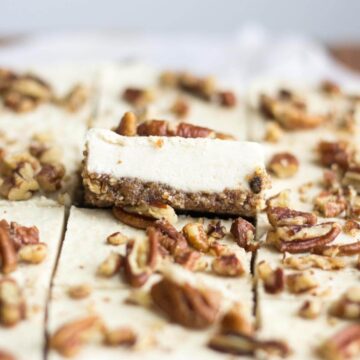 Ingredients
For the crust

2

cups

pecans

1 ¼

cups

pitted dates

¼

teaspoon

kosher salt

For the cheesecake

2

cups

cashews

soaked for 10-12 hours

½

cup

canned coconut milk

shaken

¼

cup

coconut oil

melted and cooled (use refined coconut oil if you want no coconut flavor)

⅓

cup

pure maple syrup

2

tablespoons

fresh lemon juice
Instructions
Add the pecans, dates and salt to a food processor or high-powered blender and blend until it comes together into a sticky dough, with small pecan bits remaining, about 1 full minute.

Press the pecan date mixture evenly along the bottom of the the pan size of your choice. Set aside.

To make the cheesecake, in a high-powered blender, combine all of the ingredients and blend for about 3 minutes, or until the mixture is silky smooth and creamy. You may need to add a bit more coconut milk or lemon juice to get it to blend smoothly if your blender isn't super high-powered. Taste the mixture and adjust the sweetness or tartness if needed.

Pour the filling over the crust and s with a rubber spatula. Tap the pan hard against the counter to release any air bubbles.

Place it in the freezer to set for 2-3 hours or until completely firm before serving.