Easy to make and full of good-for-you ingredients, these triple berry blender muffins will show you just how easy and delicious breakfast can be.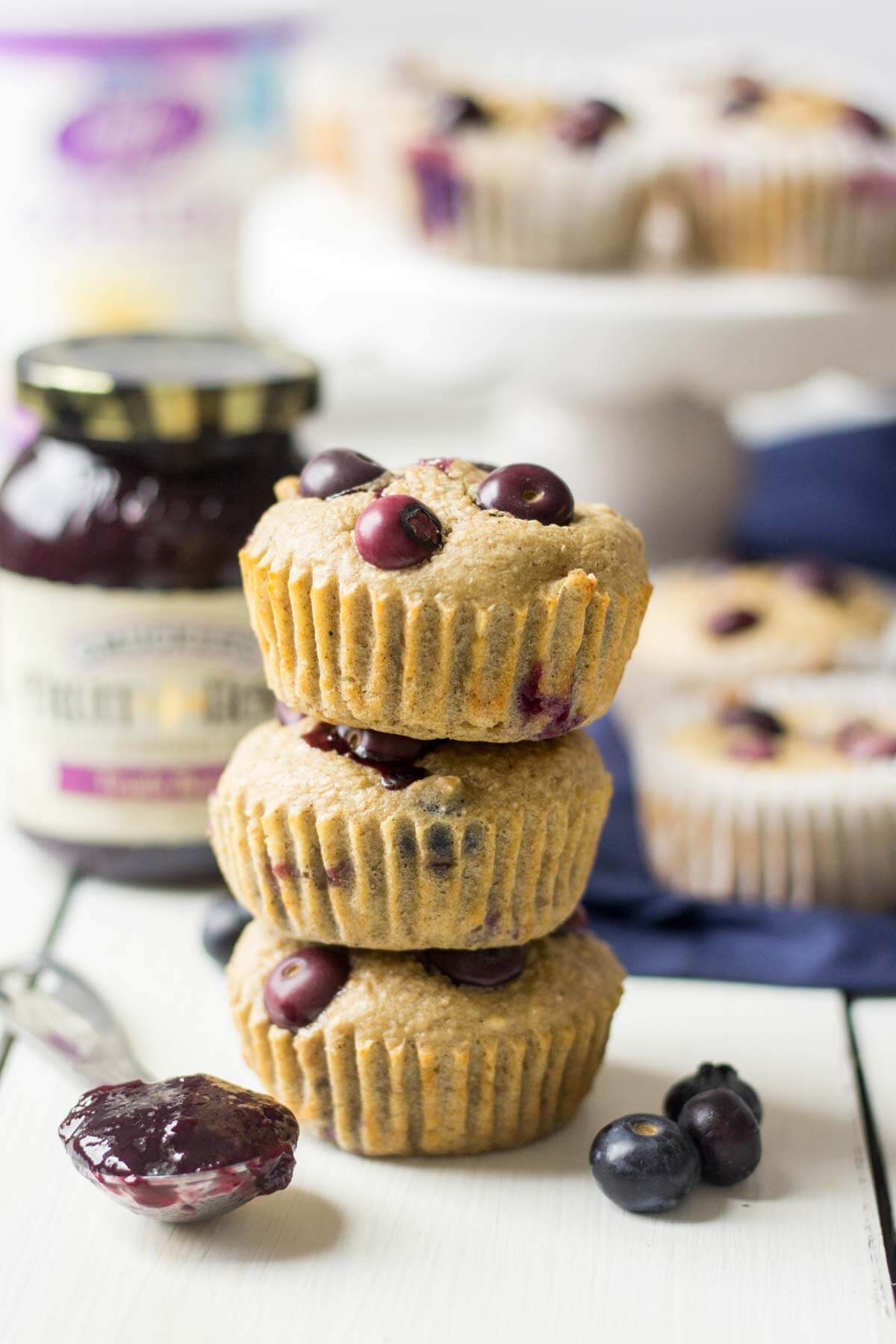 I'm a huge fan of blender muffins. If you couldn't tell by my chocolate blender muffins, they're one of my favorite breakfast or snack recipes to eat on-the-go. They're typically filled with healthy ingredients and long lasting carbs that will keep you full and energized until lunch time.
I hit the gym every morning before I head out to work so grabbing a healthy muffin that's filled with long lasting carbs from the oats, quick-absorbing carbs from the blueberries and Smucker's Fruit & Honey Triple Berry spread and protein from the Dannon Light and Fit Greek Yogurt replenishes my muscles and helps me recover.
These blender muffins also give me extra energy to kick butt the rest of the day!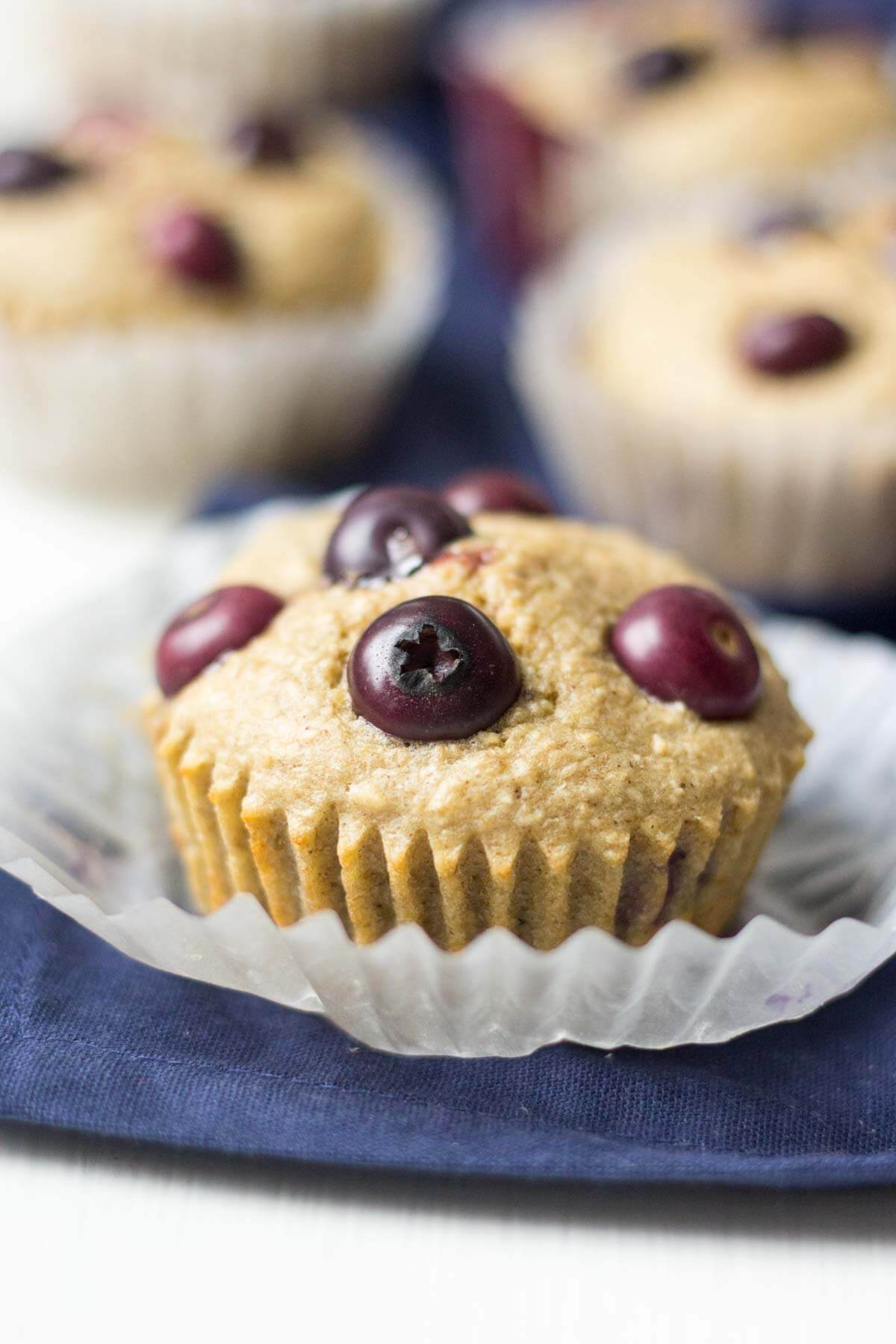 Which I definitely need. Between working full time, blogging full time, and going into contract on my first home (eek!), it's needless to say I need some extra energy to power through. Which is why I like to pack an extra blender muffin in my lunch box (okay, purse) to keep with me as a snack when I need it.
One of the ways I've been saving myself time and keeping on the healthy train is by meal prepping. I know, meal prepping isn't a giant secret anymore, but it really is crucial to a healthy lifestyle with us busy folks (aka everyone).
I ran to Target, which just so happens to be around the corner from my apartment (score!), and grabbed the essentials to make these muffins for the week: oats, bananas, Dannon Light and Fit Greek Yogurt, blueberries and Smucker's Fruit & Honey Triple Berry spread.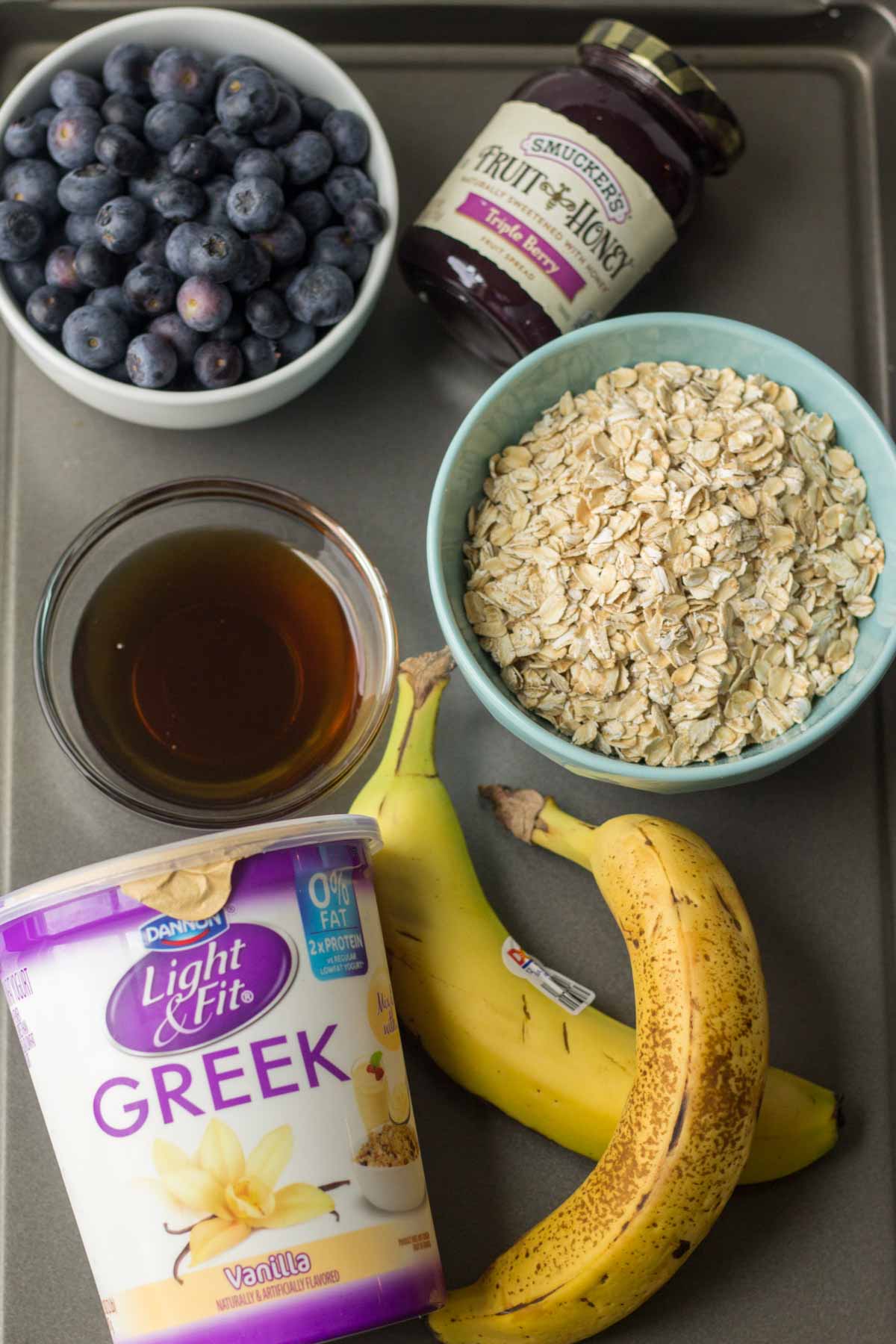 The combination of these ingredients, along with a few staples like baking soda, combine to make the best ever breakfast recipe on the go. These aren't your average blueberry muffins though. They have a special surprise inside of them! I like to keep things interesting.
A special fruit surprise for breakfast is a key motivator to get me out of bed in the morning.
Along with some other meal prepping essentials for the week, I packed up my car after shopping at Target and headed back to get my baking started.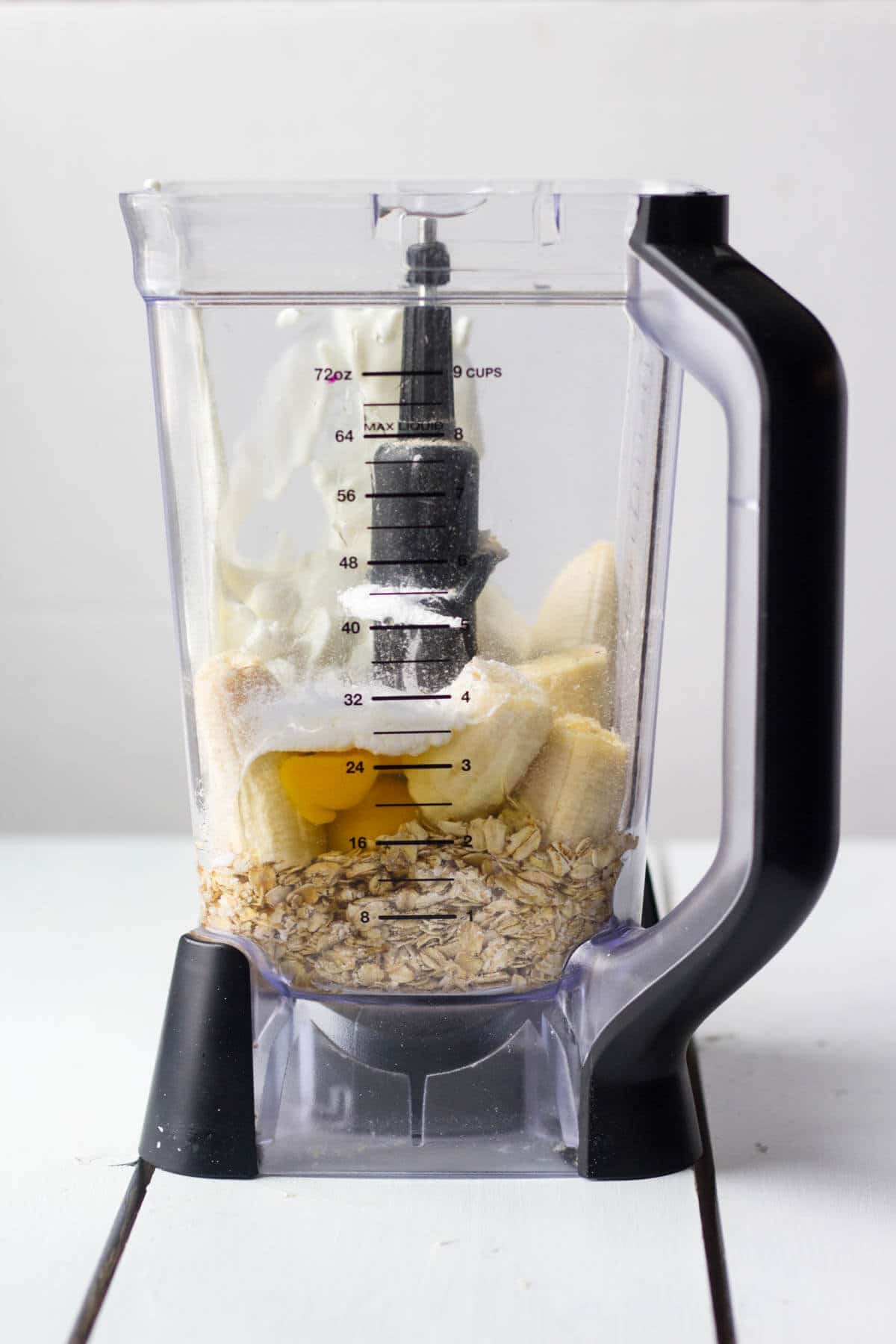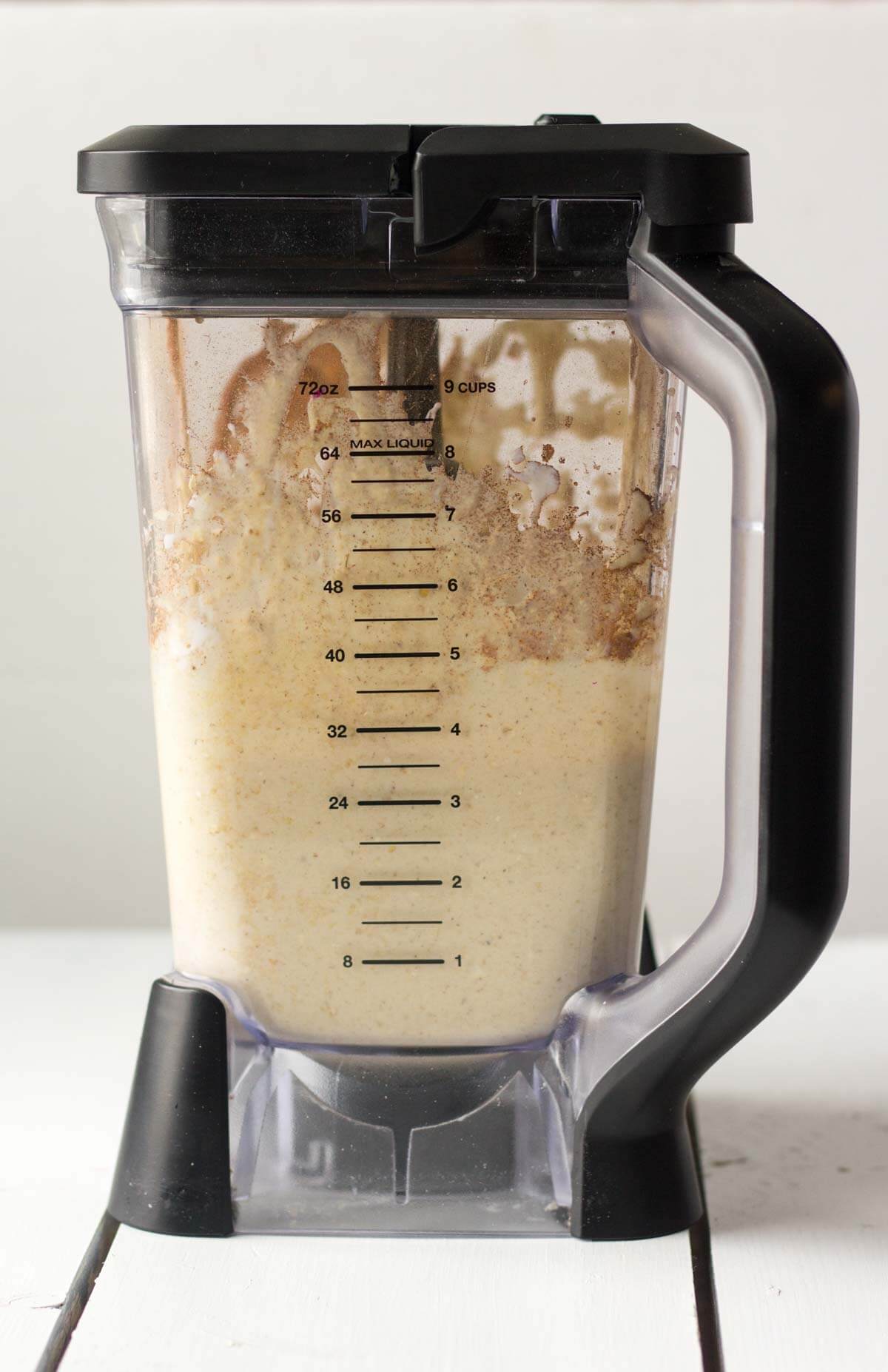 Here's how simple it is to make these Triple Berry Blender Muffins:
Add all of the ingredients except for the blueberries and Smucker's Fruit & Honey Triple Berry spread into your blender and blend on high until completely combined.

Add the blueberries and mix well.

Pour half of the batter into a lined and sprayed muffin tin, tp with ½ teaspoon of Smucker's Fruit & Honey Triple Berry then add more muffin batter. Bake and you're done!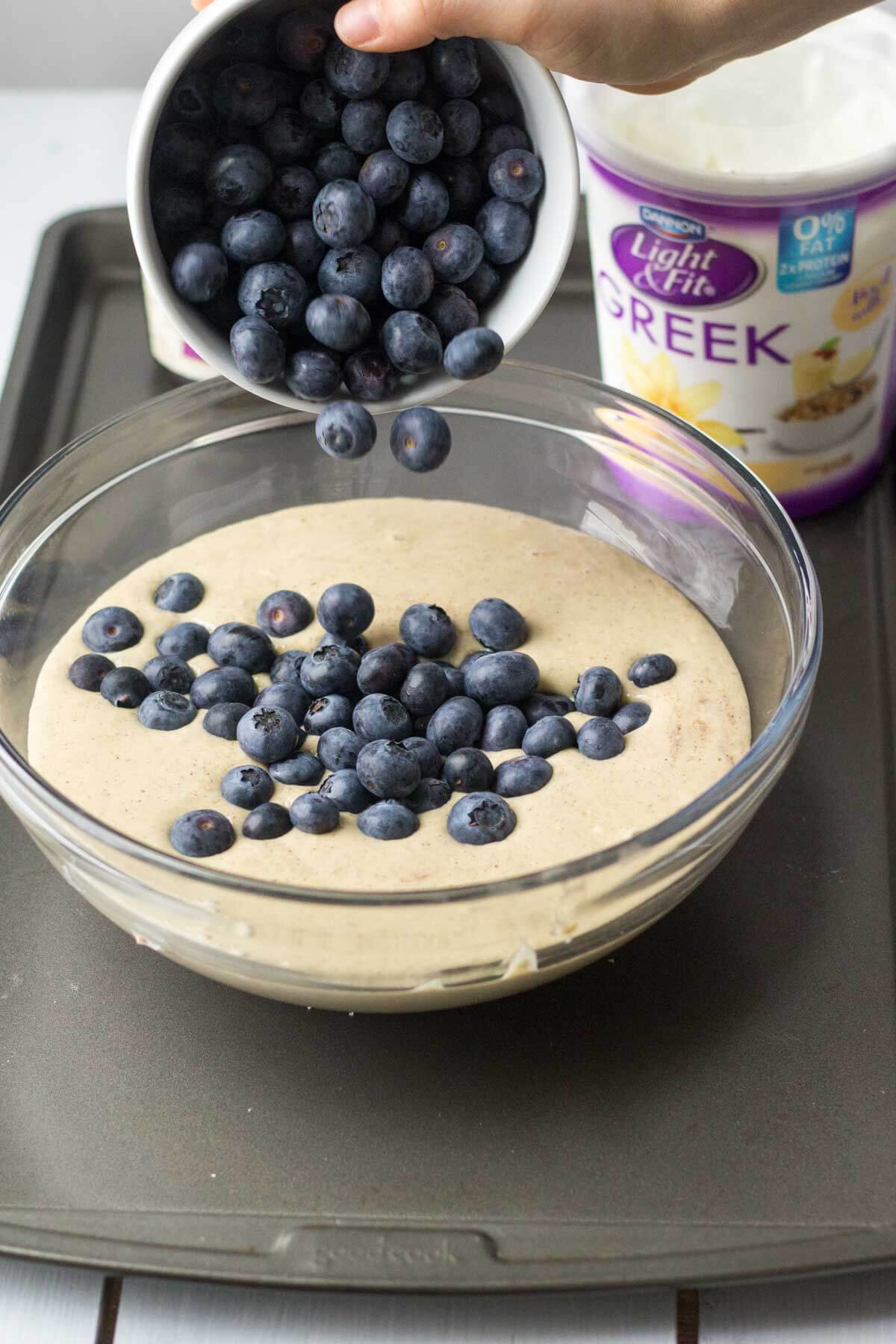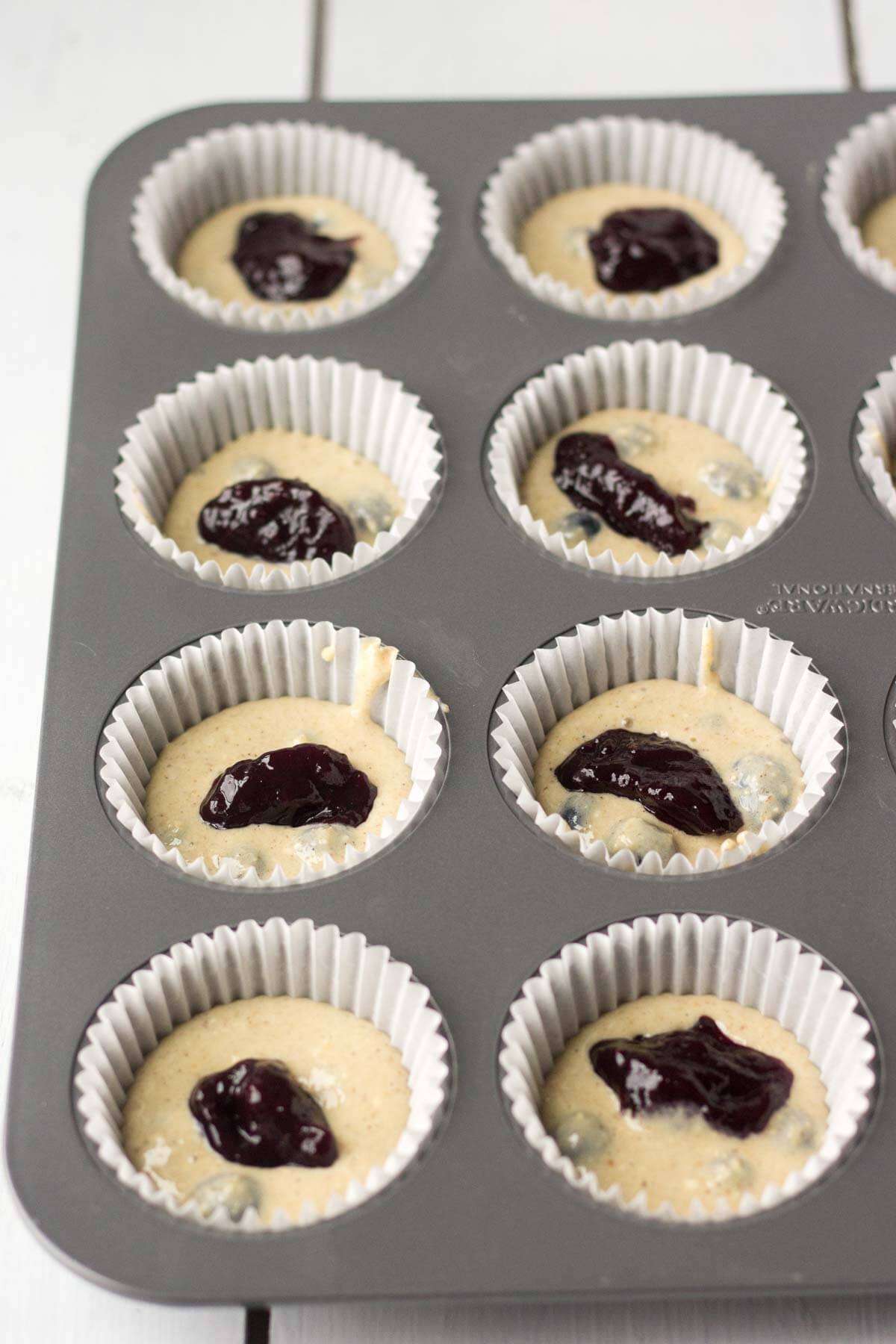 Yep, you read that right! You're only 2 steps away from making breakfast for the entire week. I tested this recipe a few times and after the second try I decided to double the batch because they disappeared so quickly!
The disappearing act was not magic. It was due to the unbelievable easy and delicious flavor doing on in these triple berry blender muffins.
Pro tip: make a double batch and freeze one batch for the next week. You just meal prepped breakfast for two weeks in three easy steps. #Boom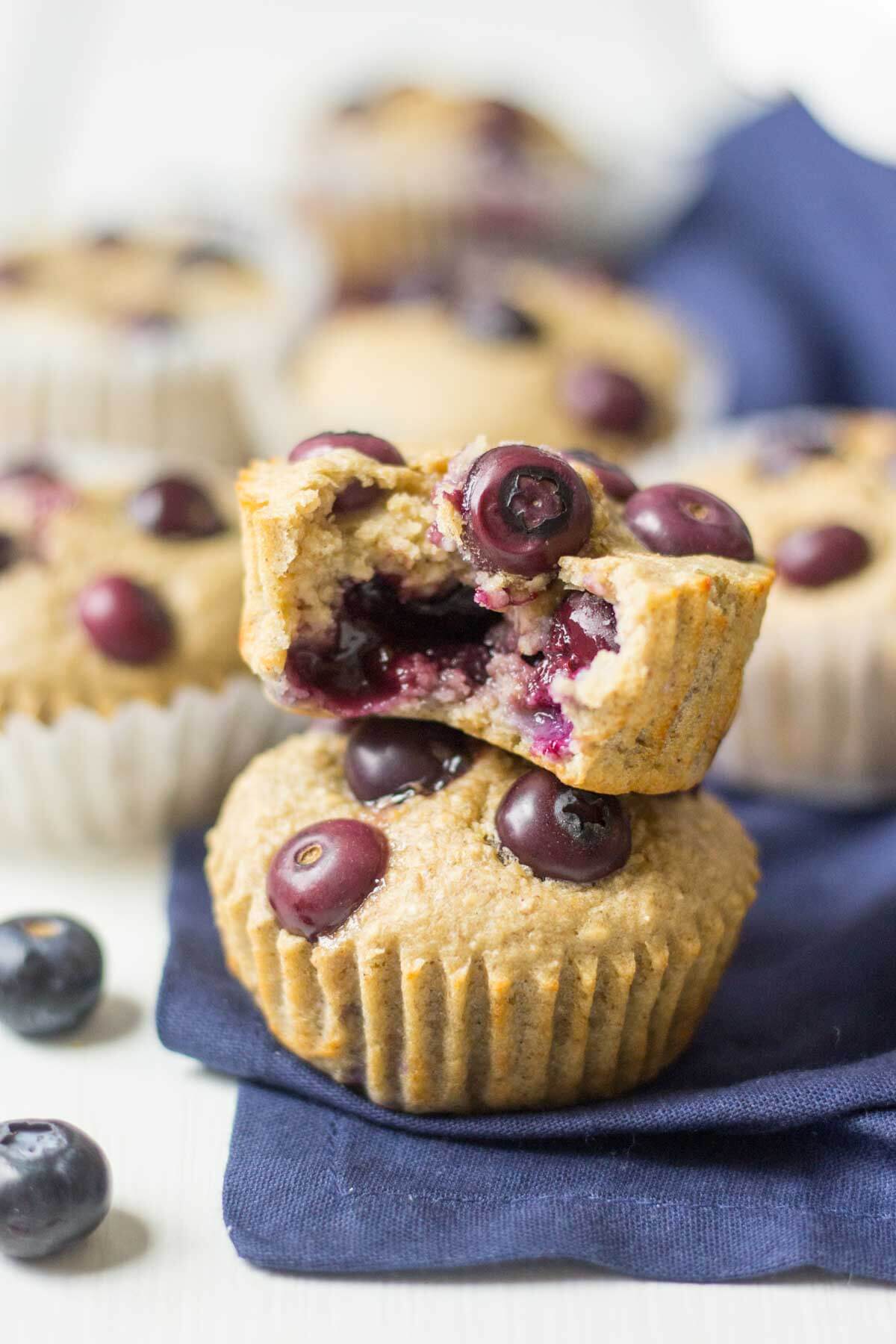 It's hard to choose just three, but below are a list of the...
3 reasons I love these blender muffins:
First, all the protein! The Dannon Light and Fit Greek Yogurt adds a perfect source of protein and so much moisture to this recipe. No dry muffins happening here. Just extra healthy and lots of yum. Make sure you grab the 32 oz Dannon Light and Fit Greek Yogurt because I garauntee you'll make another batch.

Second, they're naturally sweet! You won't find an ounce of refined sugar in these muffins. They're sweeted with mashed banana and a bit of pure maple syrup to make your breakfast dreams come true.

Third, the surprise inside! There's a delicious Smucker's Fruit & Honey Triple Berry spread surprise that hits your tastebuds when you take a bite. This too is sweetened with only natural ingredients, honey. It adds a powerful punch of flavor!
It really is amazing just how easy these muffins can be. Eating healthy doesn't have to be a complicated or time consuming process. When I find a recipe I fall in love with (cough these muffins cough) I make them over and over because they're super simple and meet me and my family's dietary needs.
I also love that I can find the ingredients so close to home. Living downtown can be a challenge but having a Target close by where I can get everything I need (plus some things I don't need, inevitably) is such a huge score.
If you're in the same boat as me I want to share the wealth with you! Use this code to grab your offer and make these triple berry blender muffins with me for the week.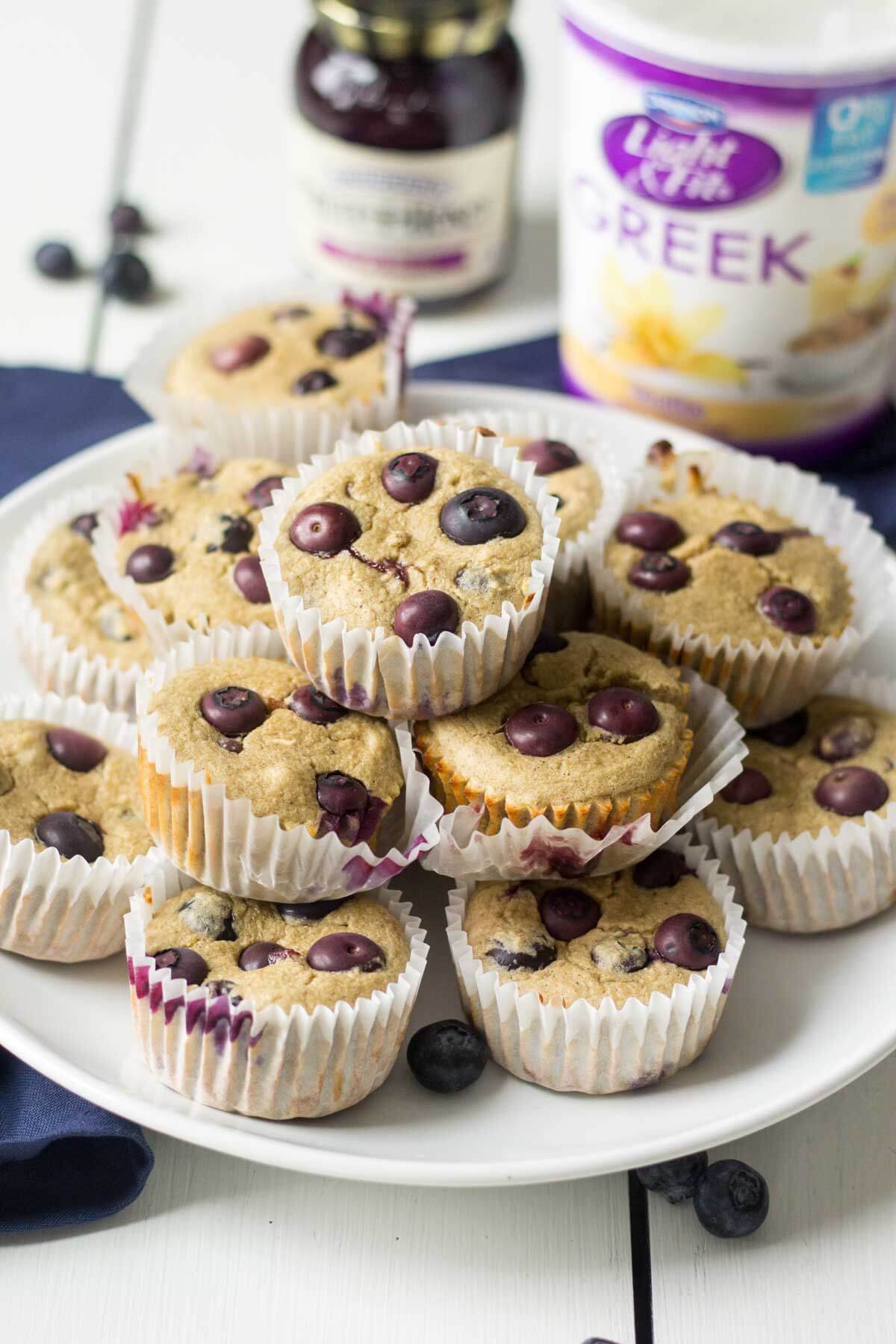 I also want to hear from you! Do you have any tips or advice for a busy/ healthy person?! I'm always on the hunt for tips and tricks and would love to give yours a try as well.
More healthy muffins: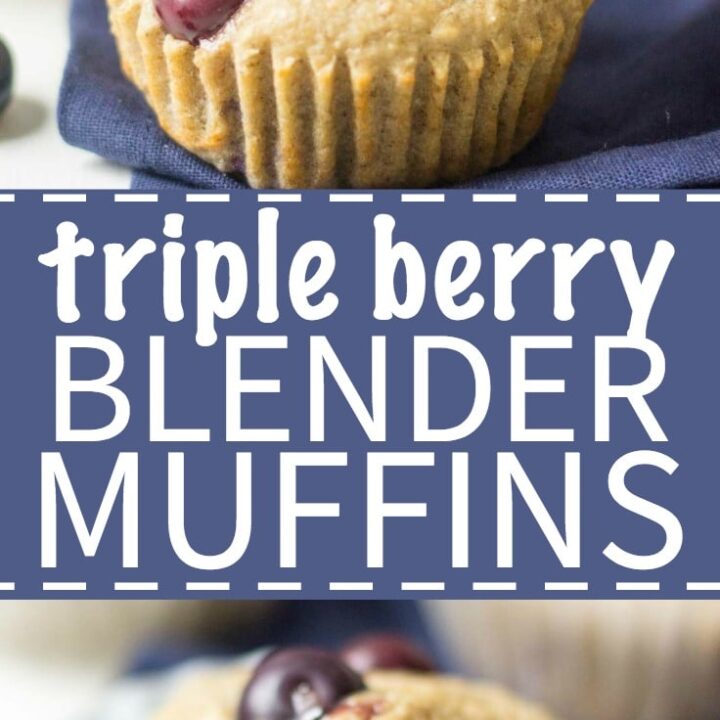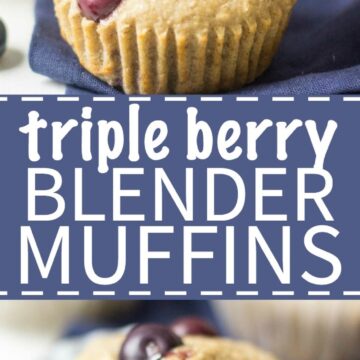 Ingredients
2 1/4

cups

oats

quick cooking or old fashioned

2

large bananas

very ripe

2

large eggs

3/4

cup

Dannon Light and Fit Vanilla Greek Yogurt

1/4

cup

pure maple syrup

1 1/2

teaspoons

baking powder

1/2

teaspoon

baking soda

1

teaspoon

pure vanilla extract

1/4

teaspoon

kosher salt

1/4

teaspoon

cinnamon

1/2

cup

blueberries

fresh or frozen + more for sprinkling

1/4

cup

Smucker's Triple Berry Fruit & Honey Spreads
Instructions
Preheat oven to 350° F. Line and spray a 12 cup muffin tin with nonstick cooking spray.

To the blender or bowl of the food processor, add all of the ingredients except for the blueberries and fruit spread. Blend on high about 3 minutes until the oats have broken down almost completely, scraping down the sides as needed.

Gently fold in the blueberries with a rubber spatula.

Add one heaping tablespoon to each each muffin cup. Then add one teaspoon of the Smucker's Triple Berry Fruit & Honey spread on top of the batter. Add another heaping tablespoon of batter on top of the spread, filling the cups approximately 3/4 way full. Sprinkle each muffin with a few additional blueberries on the top.

Bake 350° for 13-15 minutes or until toothpick comes out clean or with just a few moist crumbs attached. Cool muffins in the muffin pan for 10 minutes then transfer to wire rack to cool completely.

Keep in an airtight container at room temperature for 3 days or in the freezer for up to one month. Muffins are best served warm!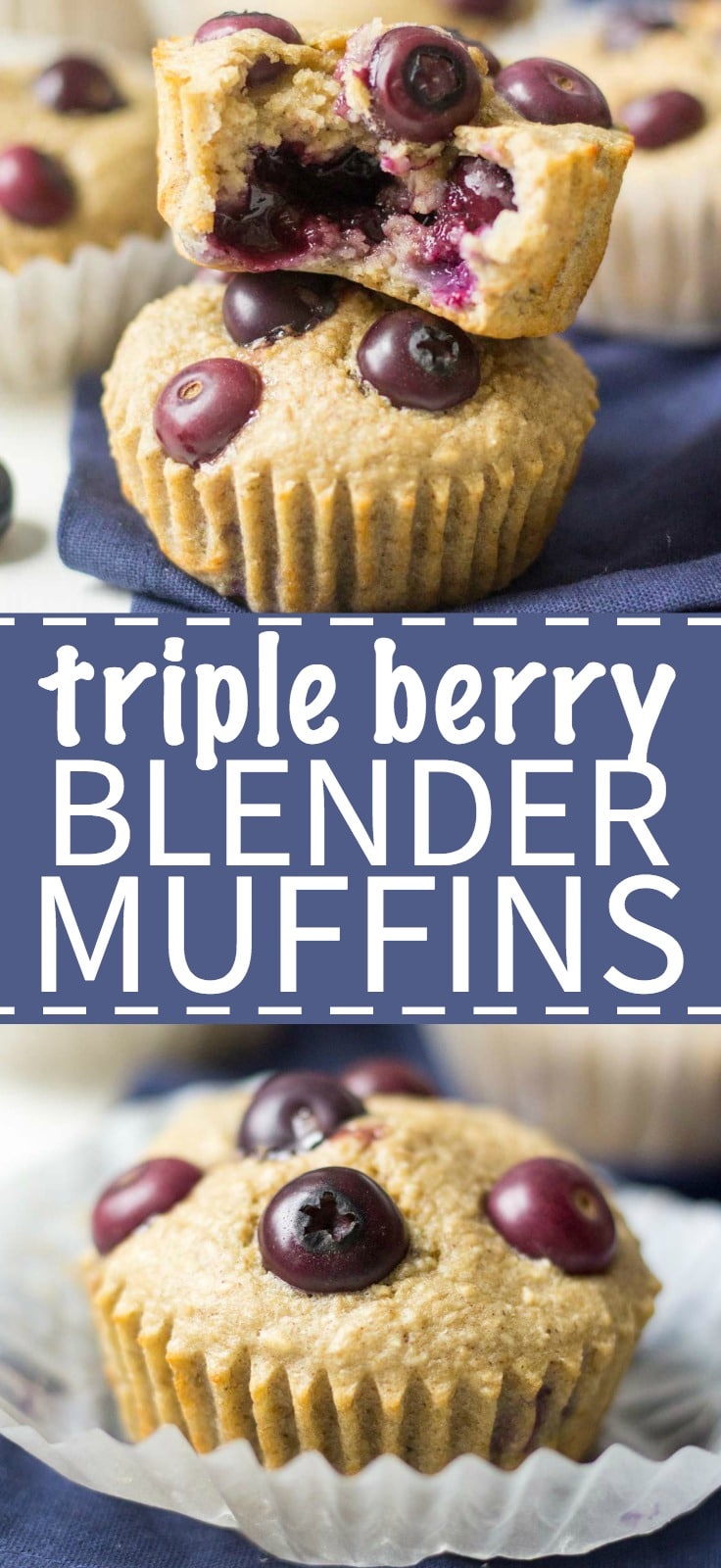 You might also like: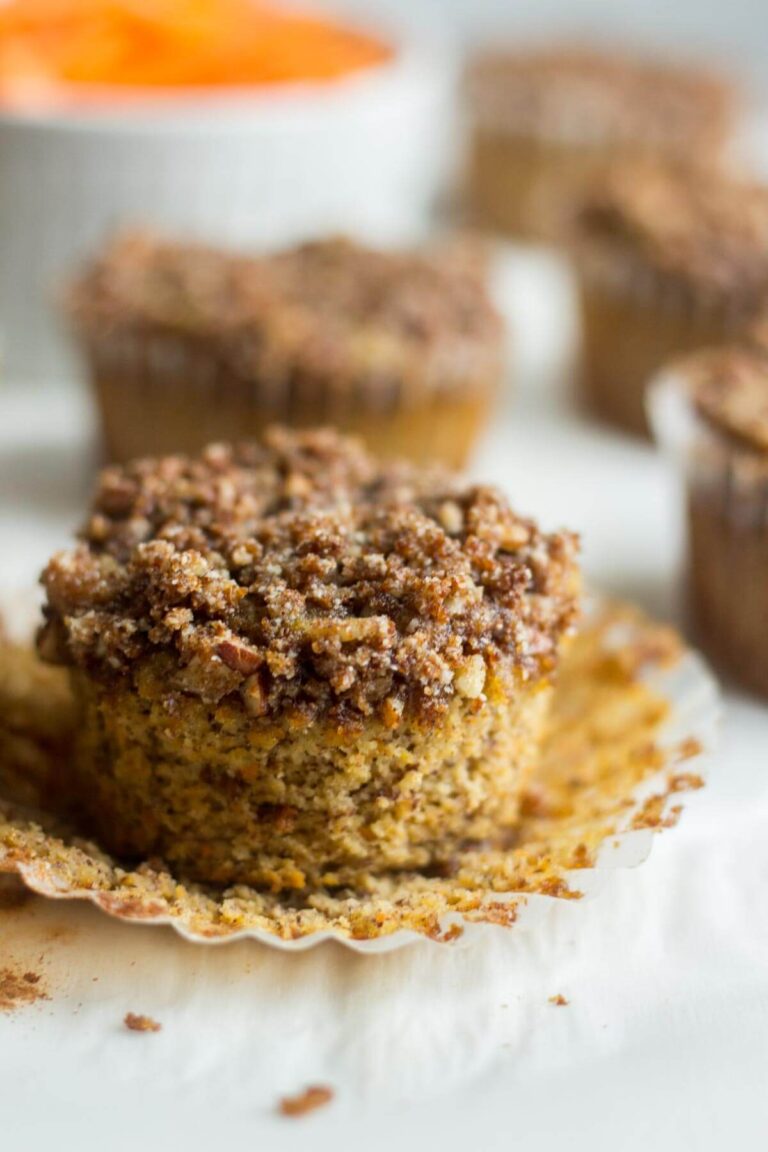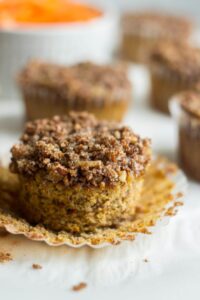 Healthier Lemon Poppy Seed Muffins