There is nothing better in the summer than a fruit crisp! You will love this strawberry rhubarb crisp for all it's summertime flavor, but you will also love that it's vegan and gluten free and has no refined sugar!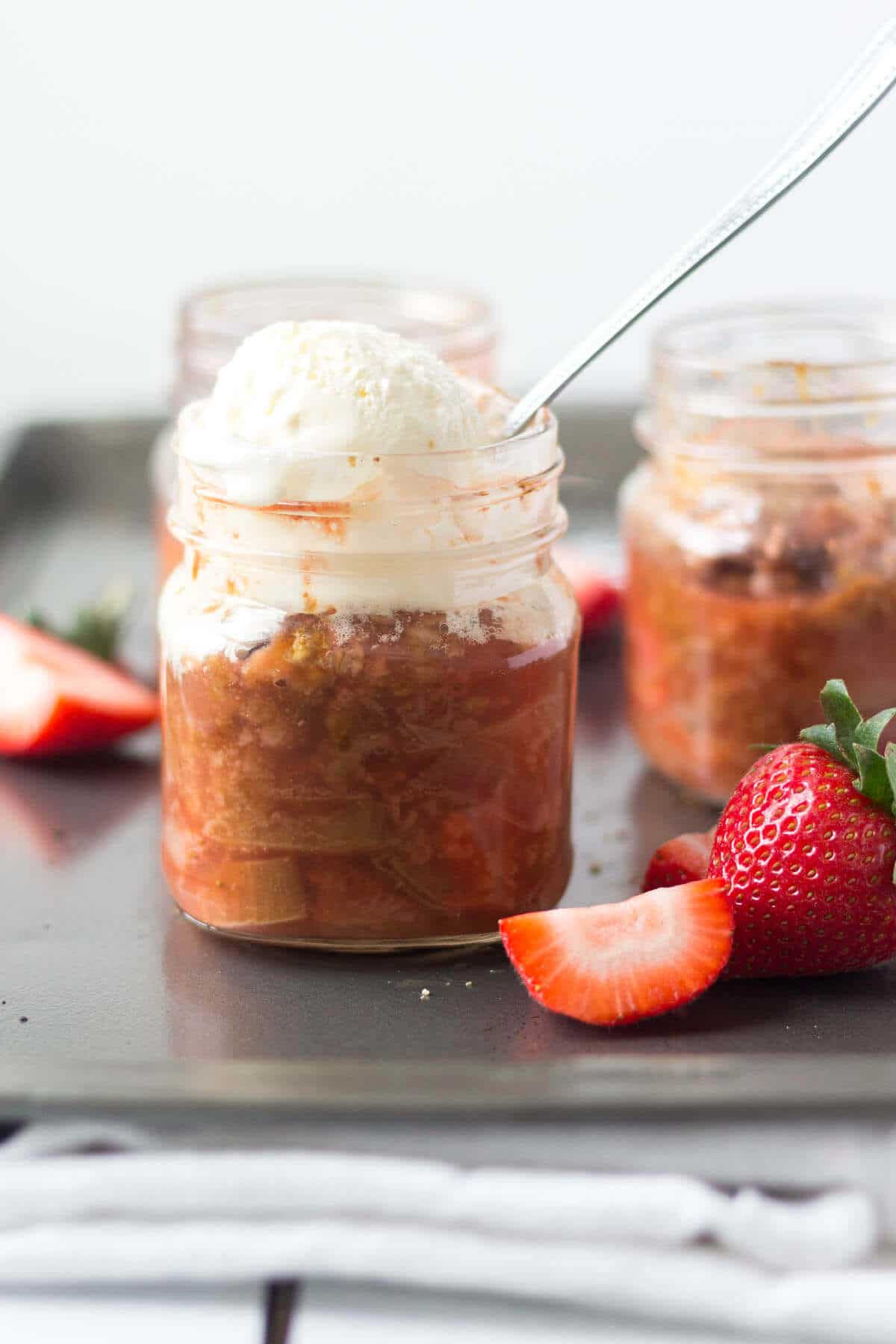 I'm in total slim down mode, you guys. I've gained a couple pounds due to stress (read more about that here) and I want to get back down to normal, especially since Zach and I have our engagement pictures at the end of the month. Eek! Engagement pictures?!
And because I want to keep my diet strong I've been on the lookout for some healthy dessert recipes. This vegan cherry crisp from Bakerita is to die for. I've also been eyeing these blueberry breakfast bars from Broma Bakery.
And of course I've make quite a few of my healthy dessert recipes. Specifically my strawberry basil popsicles and healthy banana cake. But since it's summer I've been dying to make another strawberry recipe.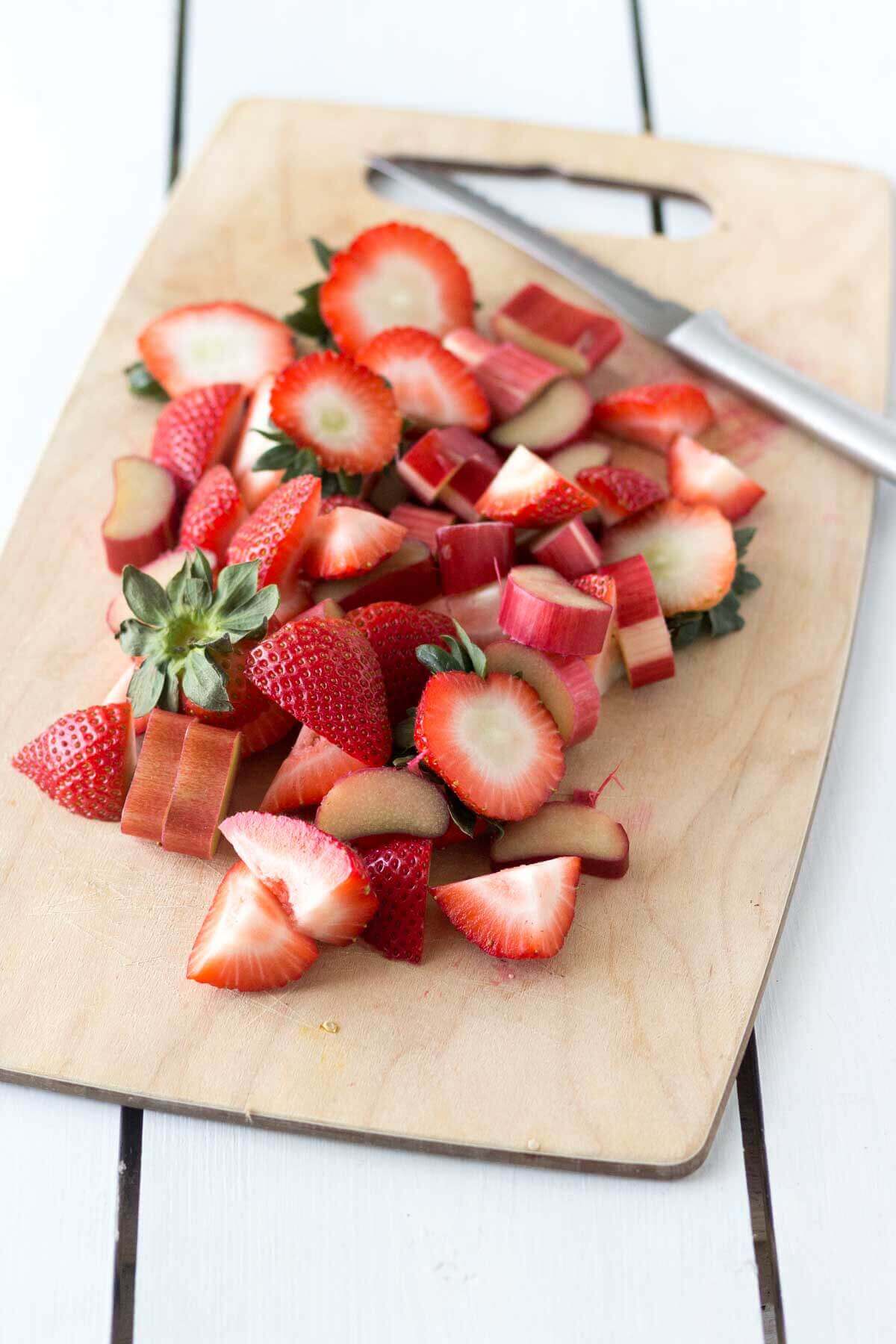 I wanted to add rhubarb too. I've always wanted to bake with rhubarb every since I saw Ina Garten use rhubarb on her show. I always thought it was some fancy ingredient you could only get if you flew to France to buy it from a special farmer's market. Ya know, the way Ina does it. But then I saw it in my grocery store for like $1. #score
That means you don't have to be afraid of rhubarb! I know it's not a common household ingredient but I promise it's delicious. Especially when you pair it with strawberries.
What is Rhubarb?
So you may be wondering. What is rhubarb? Rhubarb is technically a vegetable but most commonly used in recipes with fruit. You can buy it at the grocery store by the stalk like celery. It's harvested in June and it's most famous for it's bright pink color most of the time but can be light pink or sometimes green.
Fun fact: the color of rhubarb does not indicate if it's ripe or not like other fruit. The green is just as ripe as the bright pink.
The stalk of rhubarb is the only part that is edible and the only part you can buy from the grocery store. The leaves at the top of rhubarb when they're growing are actually poisonous.
It's naturally (very) tart when it's raw so I don't recommend eating it that way. And it's also baked or cooked with lots of sugar. In this case there's no refined sugar! But you won't taste any tartness in this strawberry rhubarb crips, I promise.
It's also famously paired with strawberries on the regular because they are both ripe at the same time, they have the same color and the strawberries offer a sweet addition to the rhubarb.
If you have any more favorite recipes with rhubarb send them my way!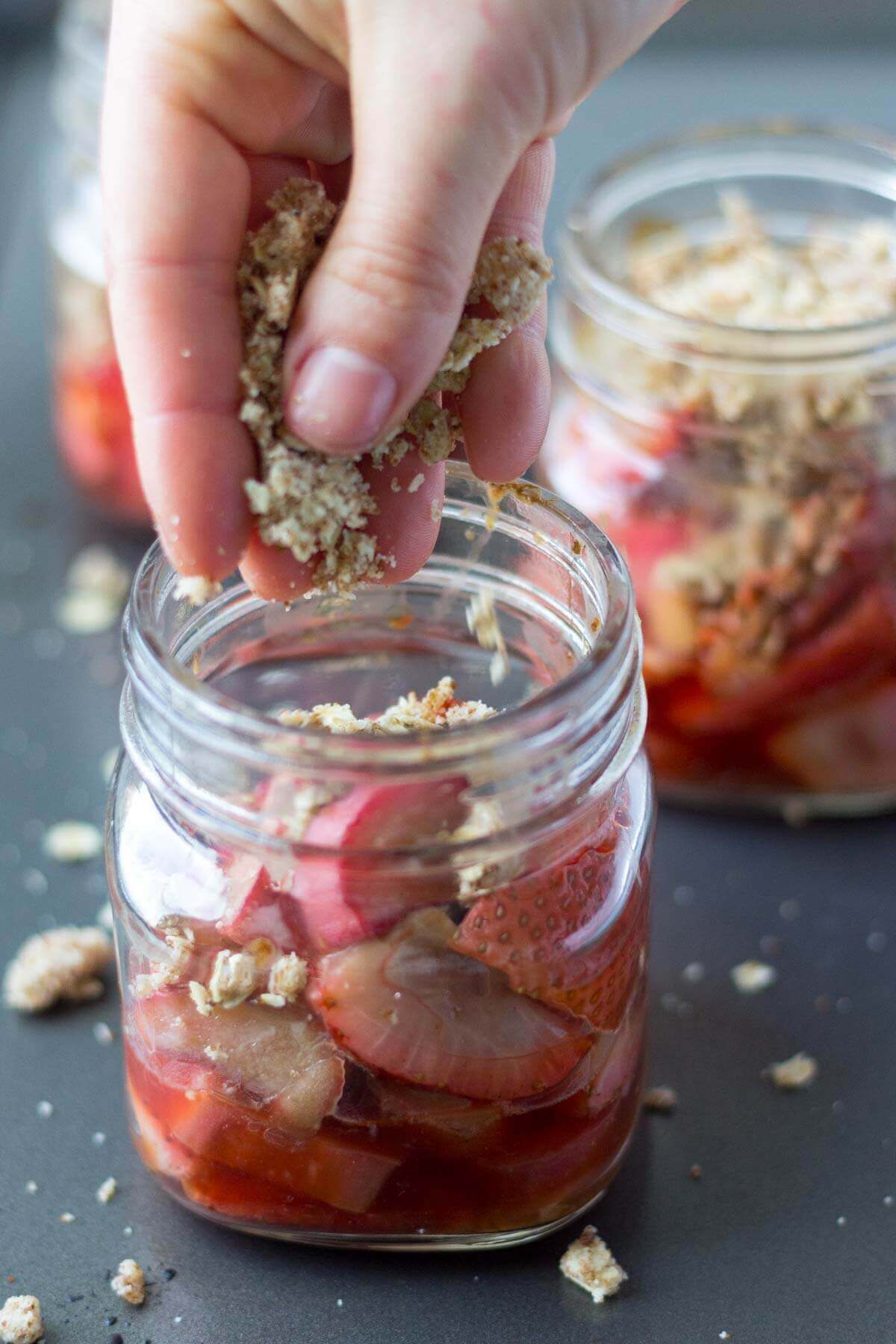 Now that we all know what rhubarb is and we're not afraid of it (like I used to be), let's swoon over summer crisps for a hot sec.
There is just nothing better than a warm crisp with a big scoop of ice cream on a hot day or when your family comes over to visit. It's sweet and gooey and crunchy on top. This strawberry rhubarb crisp has all of those delicious things happening, just sans the sugar, gluten and dairy.
Every time I bake a refined sugar free and gluten free dessert I'm amazed at just how delicious it tastes because you can't even tell the difference between it's super unhealthy (evil) twin.
They make so many amazing and natural ingredients these days that are the perfect sub for some other unhealthy things. I used all the yummy and healthy things in this strawberry rhubarb crisp.
How to Make Strawberry Rhubarb Crisp
One of the main reasons I love crisps is that they are so simple to create. For this strawberry rhubarb crisp, combine the both the strawberries and rhubarb with some coconut sugar, orange zest and cornstarch. From there you will place the fruit in mini jars like I did or in a 8x8 inch baking pan. Both work well!
Next, you need to make the crisp for this strawberry rhubarb crisp! Combine tapioca flour, almond flour and gluten free oats with more coconut flour and sprinkle it on top. If you're using the jars fill it to the very top. The fruit will get warm and gooey and sink down a bit when it bakes.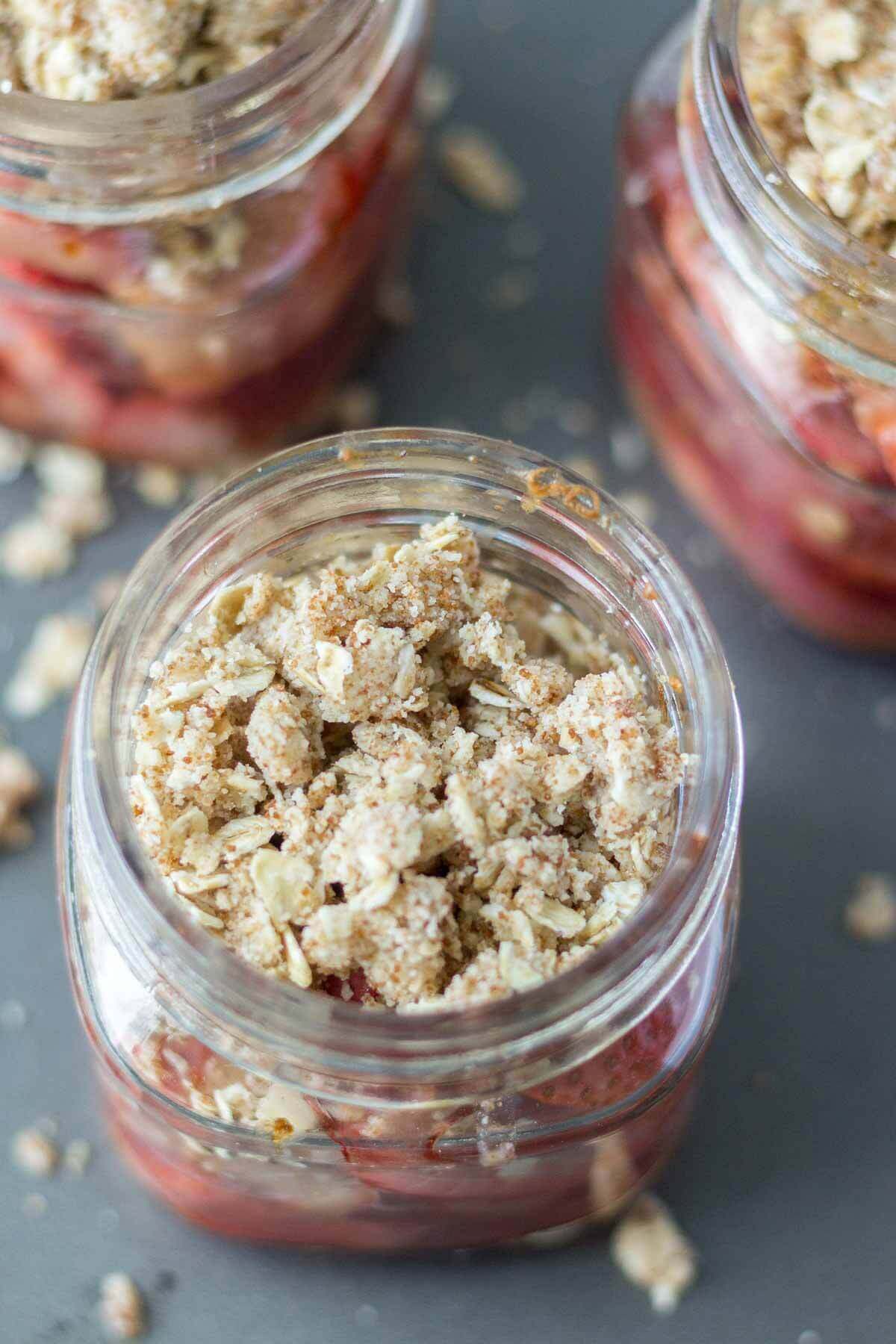 By the way, you can use this baking method for any crisp out there. It's super fun when you're entertaining guests because everyone gets their own individual dessert! And they look super fancy but they actually aren't.
I topped these with a large scoop of vegan vanilla ice cream. Highly recommended!
I'm thinking I'll bring all the ingredients for this when Zach and I head to Branson, MO this weekend. Zach's grandparents celebrated their 60th (!!) wedding aniversary this year so his entire family got a lake house on the lake of the Ozarks to celebrate.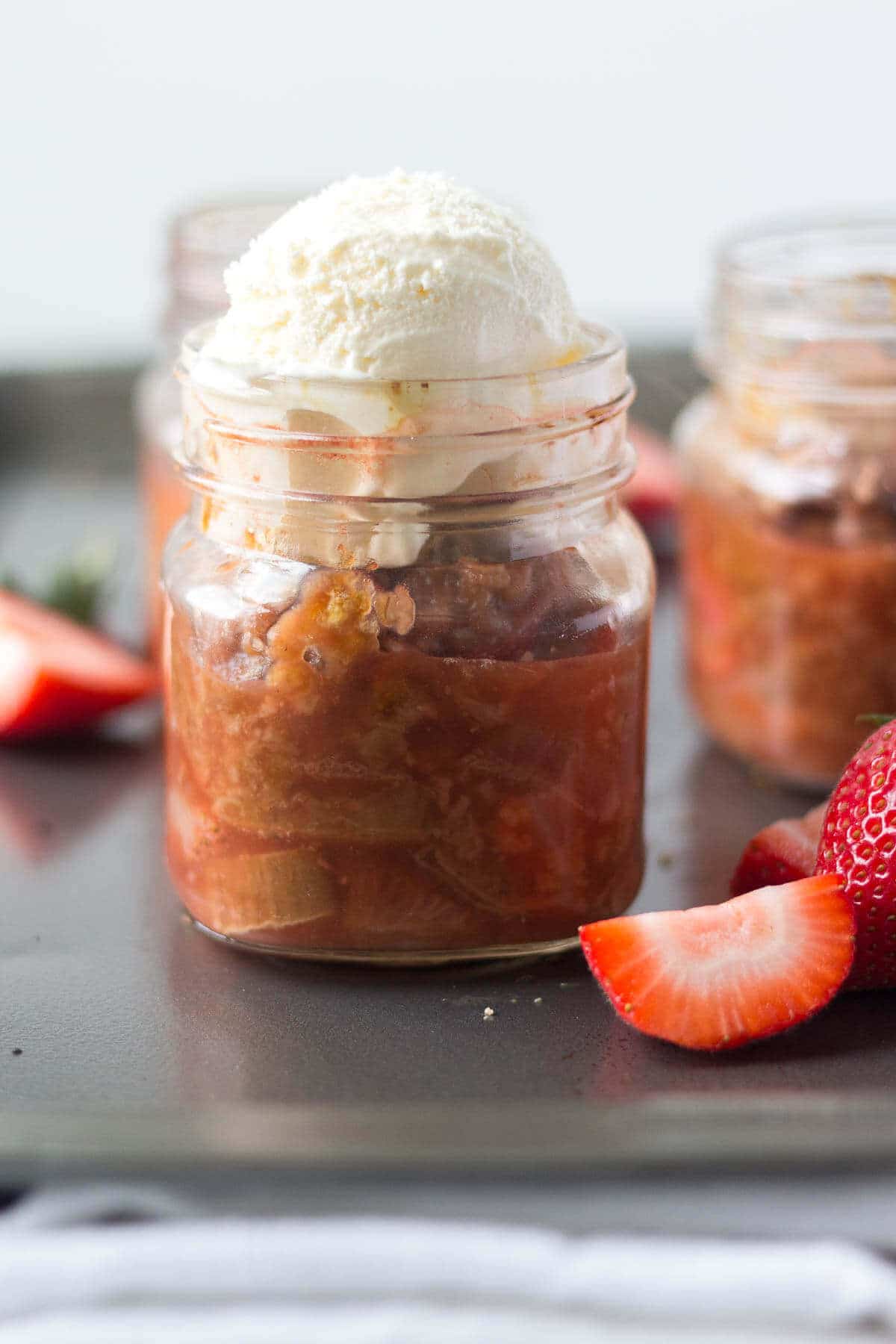 Has anyone been to Lake of the Ozarks?! I've heard it's amazing so I'm super excited to spend time with his family and relax for 5 days. If you have been comment below with recommendations on what to do, see and eat!
I'd love to hear from you! And don't forget, if you make any of my recipes tag me and use #WhatMollyMade so I can see it and feature you!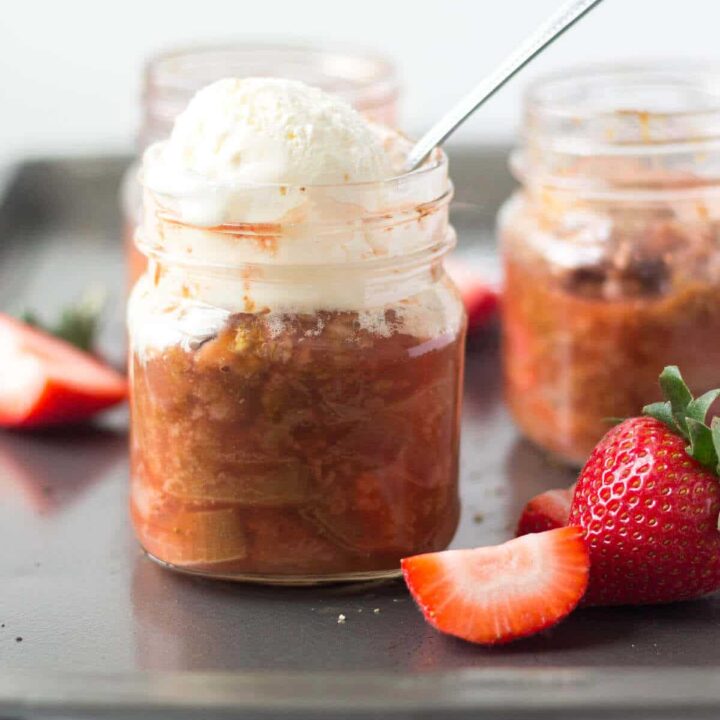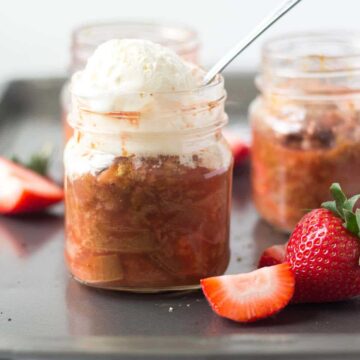 Ingredients
4

cups

fresh rhubarb

about 4 stalks

4

cups

fresh strawberries

about 1 pint

3

tablespoons

coconut sugar

3

teaspoon

orange zest

2 ½

teaspoons

cornstarch

crumble:

½

cup

almond flour

2

tablespoons

tapioca flour

1

cup

gluten free rolled oats

⅓

cup

coconut sugar

1

teaspoon

cinnamon

1

teaspoon

salt

½

cup

coconut oil

room temperature
Instructions
Preheat oven to 350°F. Place 6 small jars on a baking sheet and set aside. If using a 8x8 square pan set aside as well.

Mix the strawberries, rhubarb, coconut sugar, orange zest and cornstarch in a large bowl until fruit is completely coated. Stuff fruit evenly between jars or pour into larger pan. Cover with foil and bake in preheated oven for 25-30 minutes.

While baking, make the crumble. Mix almond flour, tapioca flour, rolled oats, coconut sugar, cinnamon and salt in a medium bowl. Add the coconut oil and cut it in with pastry blender or two knives until it's crumbly. Top the baked jars or pan with the crumble. Bake for an additional 18-20 minutes. Remove and top with ice cream.
DID YOU MAKE THIS RECIPE!? SNAP A PIC AND TAG @WHAT_MOLLYMADE AND USE #WHATMOLLYMADE!
Here are a couple of items I used to make today's recipe:
Clear Glass Bottles
, Dough Blender
Some of the links above are affiliate links, which pays me a small commission for my referral at no extra cost to you! Thank you for supporting What Molly Made!