Healthy, 3-ingredient strawberry basil popsicles are the perfect and easy summer treat! They take less than 15 minutes to make and freeze in a couple hours. Your family and friends will be amazed that they're made with whole foods and taste so delicious and sweet!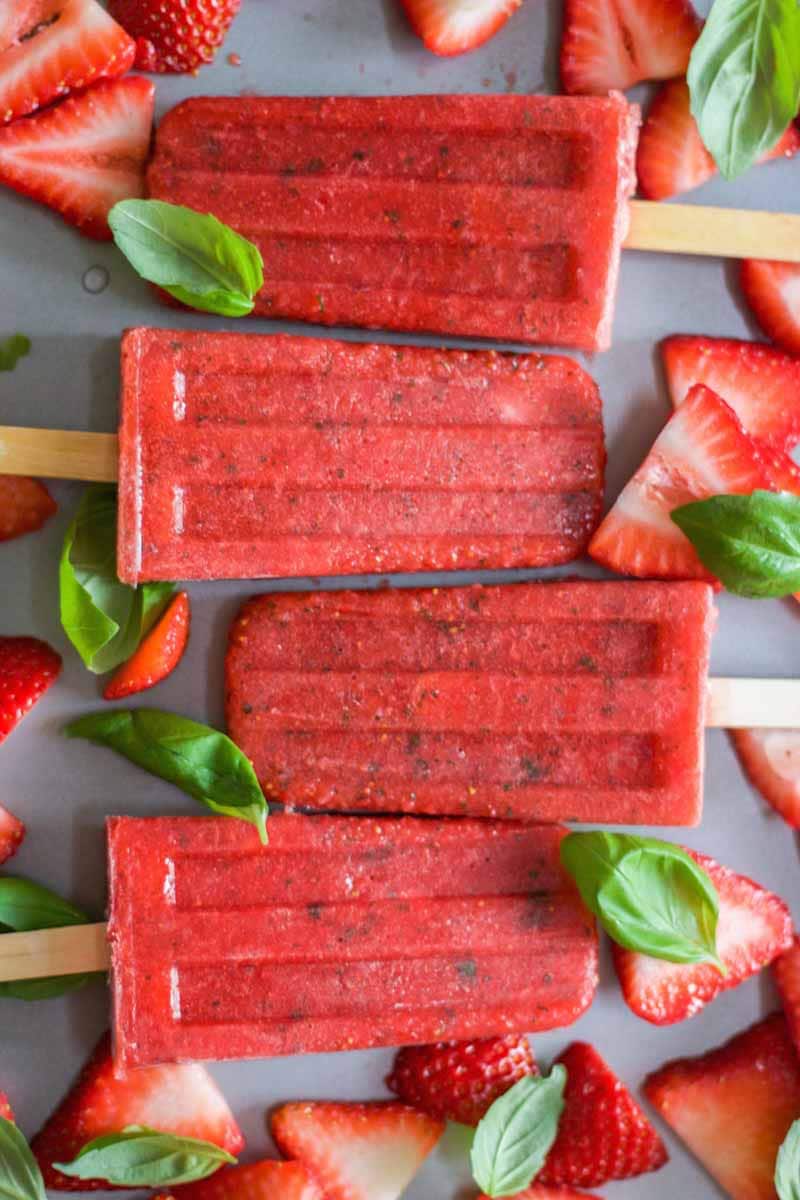 I fell in love with a popsicle two weeks ago. I went to Salt Lake City for the Everything Food Conference. I could go on and on and on about how amazing it was, but I think you'd have to sit here and read an entire book. There is just nothing like being surrounded by people who share the same passion as you.
I spent hours talking about blogging, social media, food photography and learning from some of the best. It was such an inspiring experience!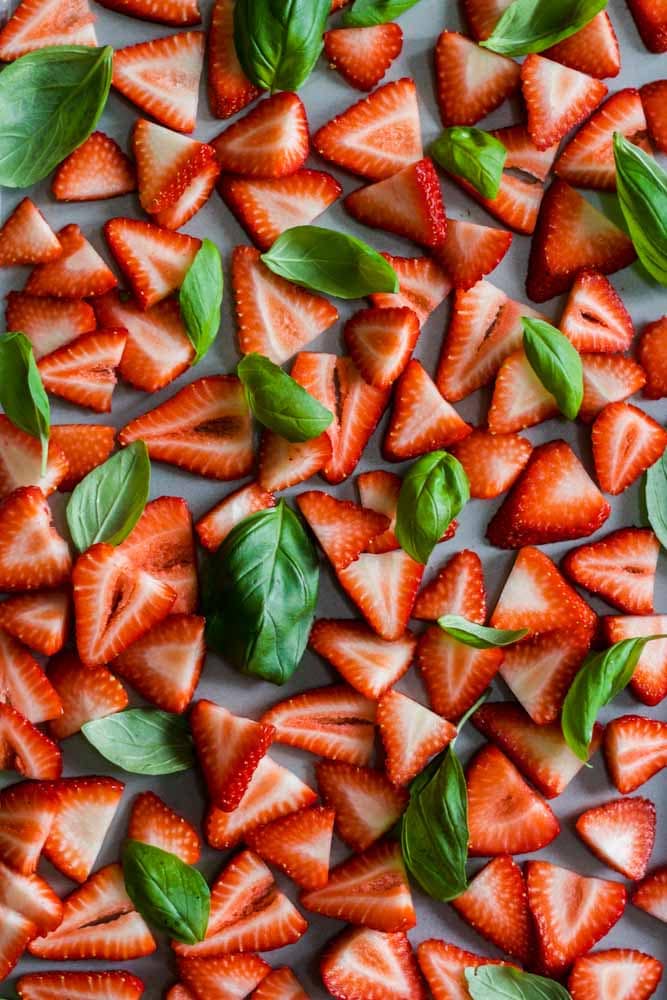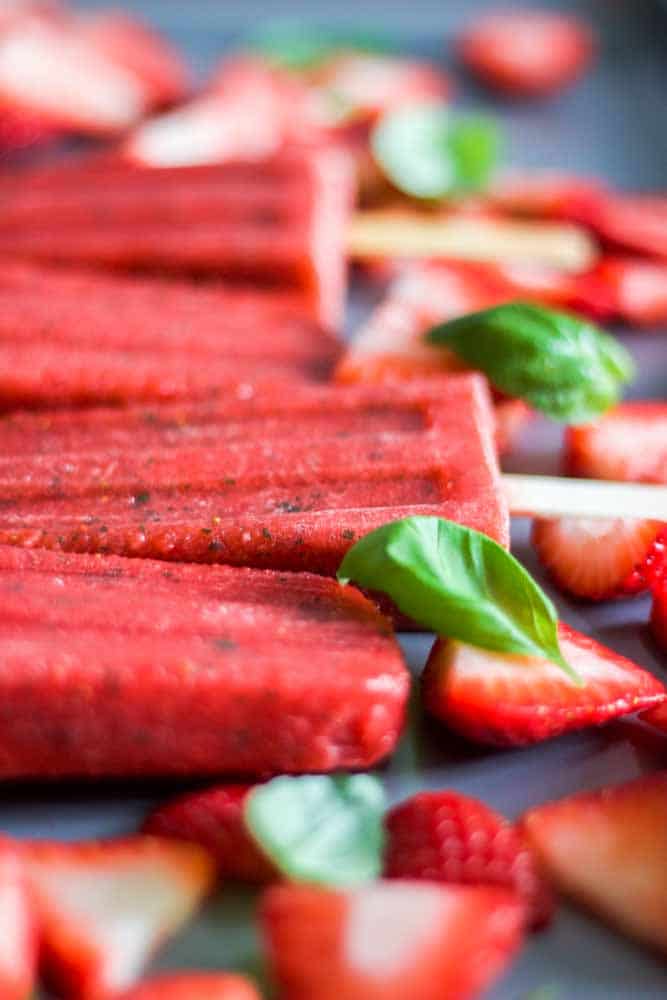 I was even inspired by all the food we ate. Which was ahhh-mazinggg. I came back about 10 pounds heavier, but also filled with so many ideas. One of the recipes I was dying to make were these strawberry basil popsicles.
There's a popsicle shop downtown called Lick'd that is freezing up some of the best flavor combinations for popsicles out there. From Chocolate banana to strawberry mint lemonade, this girl KNOWS her pops. I tried her strawberry basil popsicle and it was like an explosion of flavor in my mouth.
I couldn't believe that such a simple and healthy treat could taste so delicious. I had no less than 5 of them in the span of 3 days. No shame.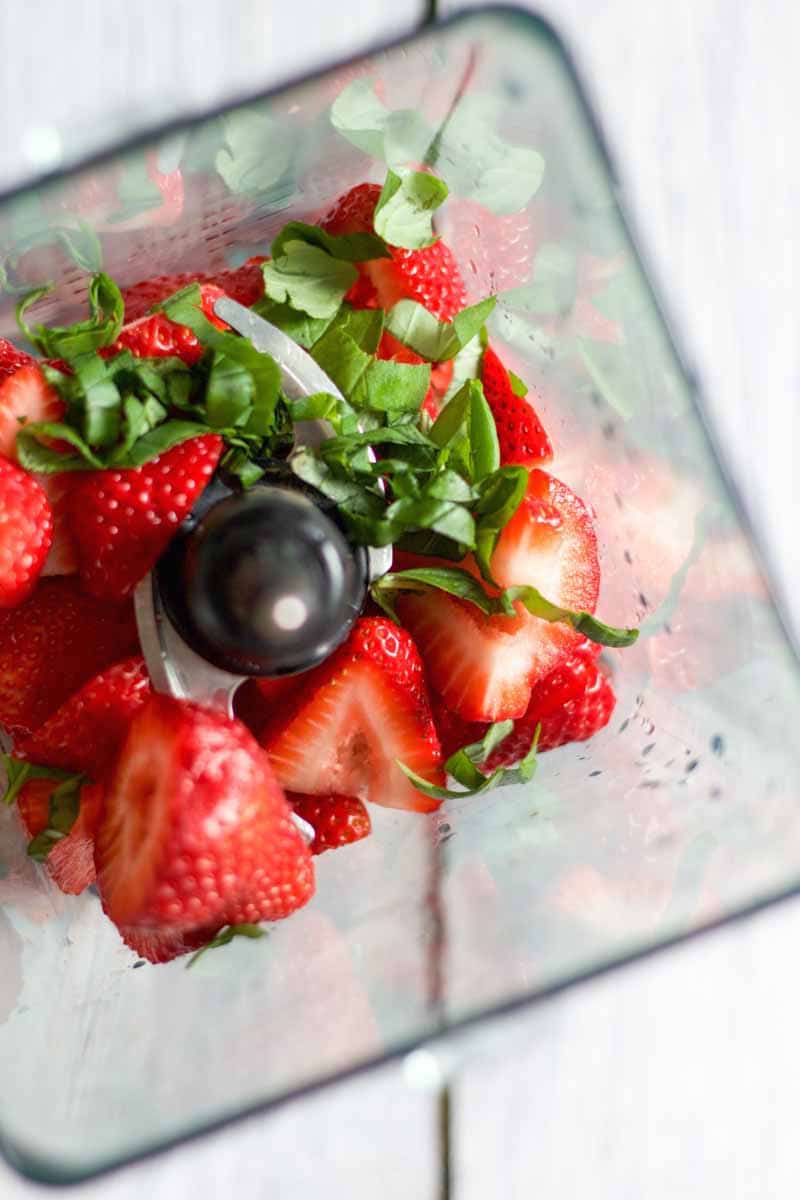 When I came home the cravings continued...and continued.
I decided to wait and make them for Memorial Day weekend. My whole family was in Akron at my parent's house for the weekend so it was the perfect time. I also waited to make them at my parents because my mom has a killer blender. Mine? Not so killer.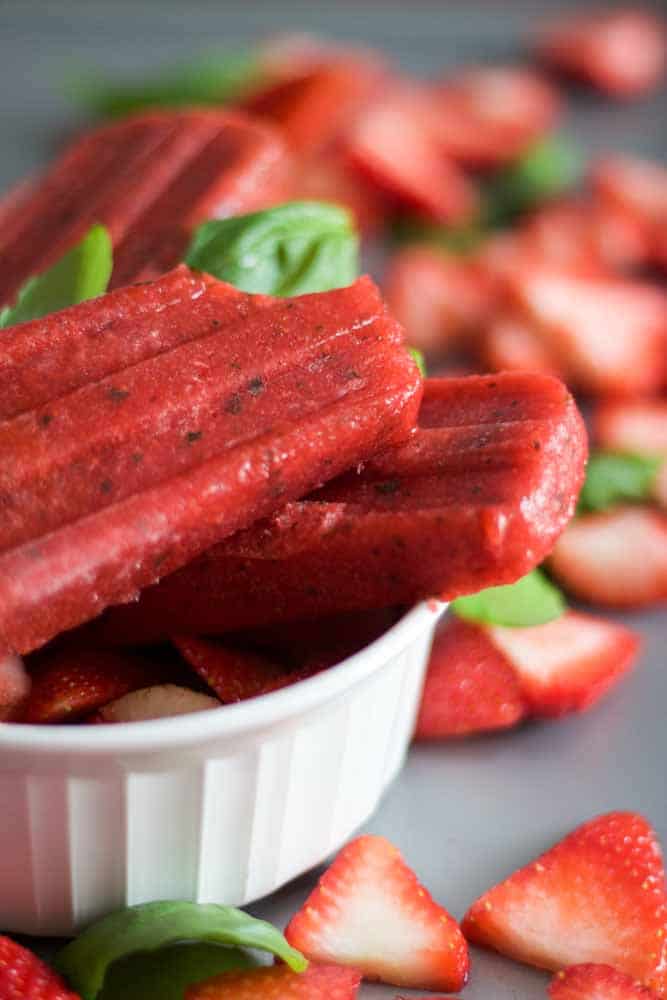 My mom's blender is like my blender's bigger, taller, cooler brother. It's strong and fast and gets the job done in oh, about 2.2 seconds. I turn mine on and I'm lucky if a strawberry gets blended in the first 2 seconds. Then the whole kitchen starts to smell a little bit like smoke. Smoke smell = nothing good in the kitchen.
Needless to say I was crossing my fingers I would win the blender at he conference. No such luck, maybe next year!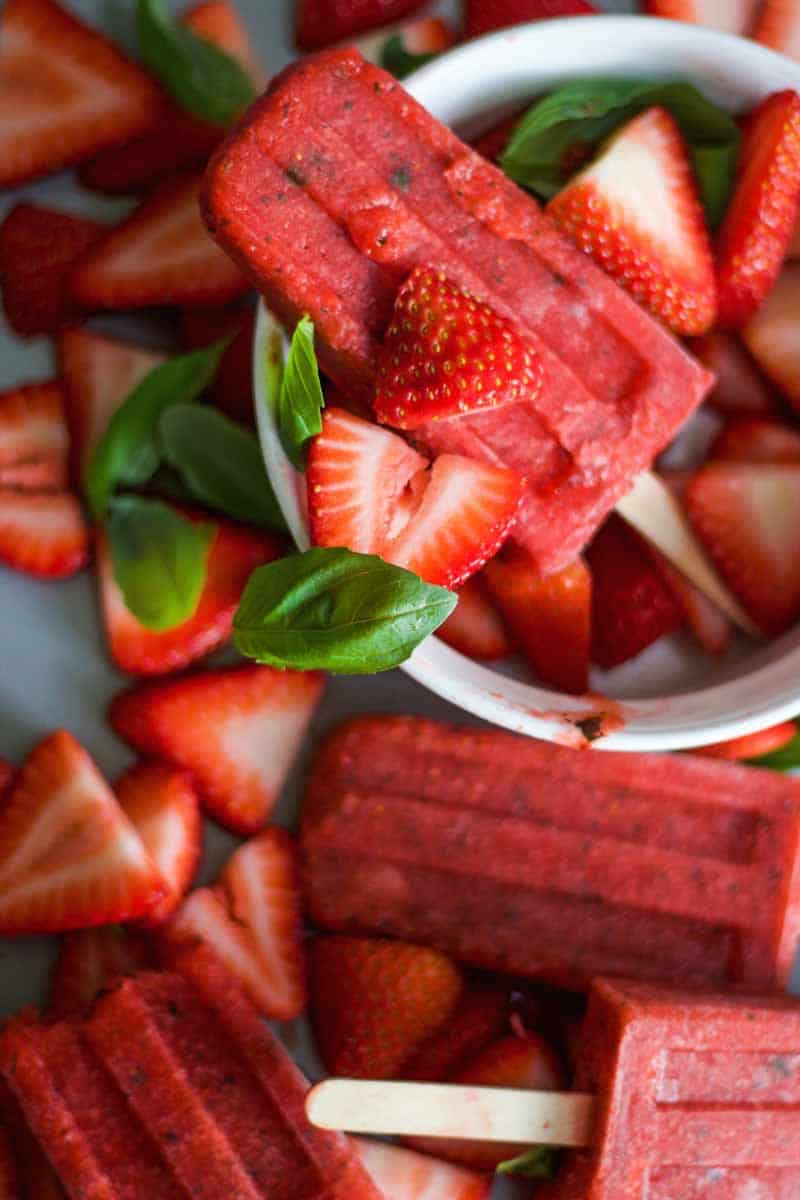 I threw 6 cups of fresh cut strawberries into a blender with a generous amount of basil and some honey and gave it a whirl. The water in the strawberries releases and turns the mixture into a liquid sweet, puree of strawberry basil love.
Pour the strawberry mixture into the popsicle molds and freeze for a couple hours and they turn into a light and refreshing, healthy summer treat!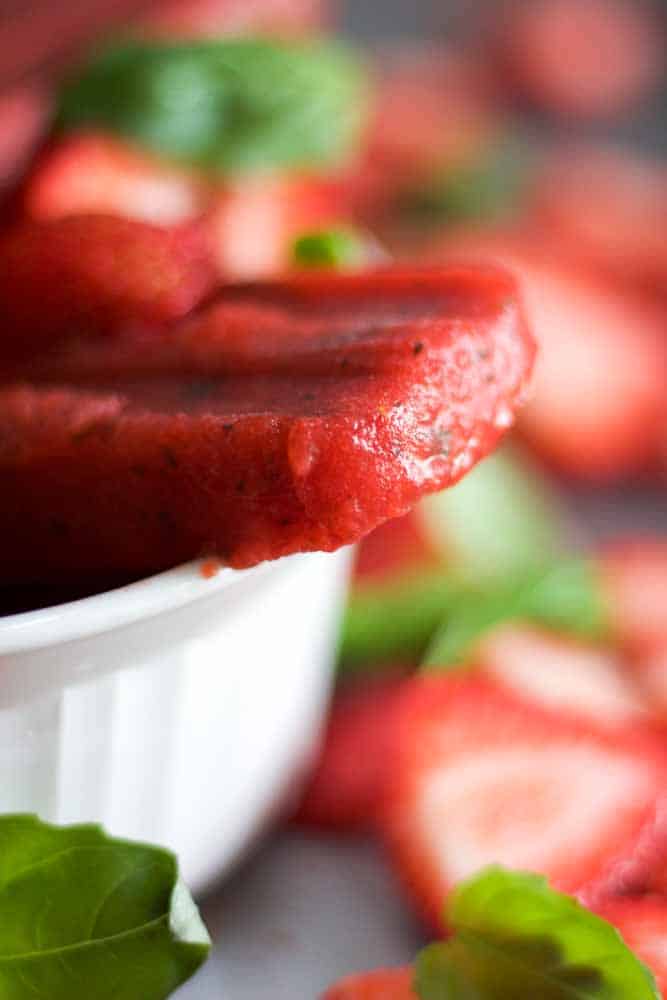 They're such a great alternative to sugary popsicles and so easy to make. If you're like me and always looking for ways to cut added sugar these are the best popsicles ever. Even my 2 year old nephew loved them!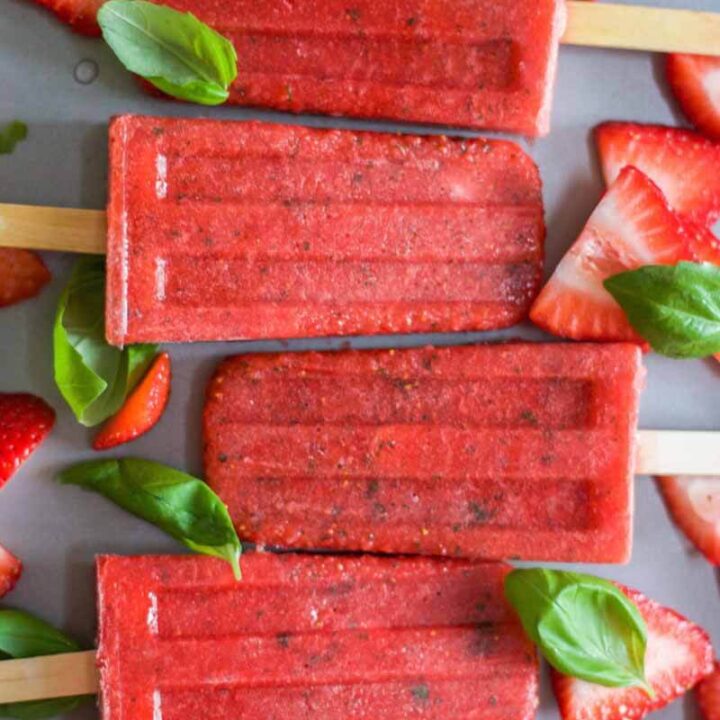 Ingredients
6

cups

fresh strawberries

½

cup

fresh basil

chopped

⅓

cup

raw honey
Instructions
In a blender or food processor, add the strawberries, basil and honey. Turn on high and blend until the mixture is smooth, about 1 minute. Pour the mixture into popsicle molds and place the wooden popsicle sticks in about ½ way down. Place in the freezer for at least 3 hours.

To remove the popsicles from the molds, run the popsicles under warm water for about 15 seconds.