This healthy banana cake recipe will be your new favorite! It's made with no refined sugar, or butter but has so much sweet banana flavor. It comes together so easily and is topped with a healthy and vegan whipped cream frosting. No one will believe how good for you it it!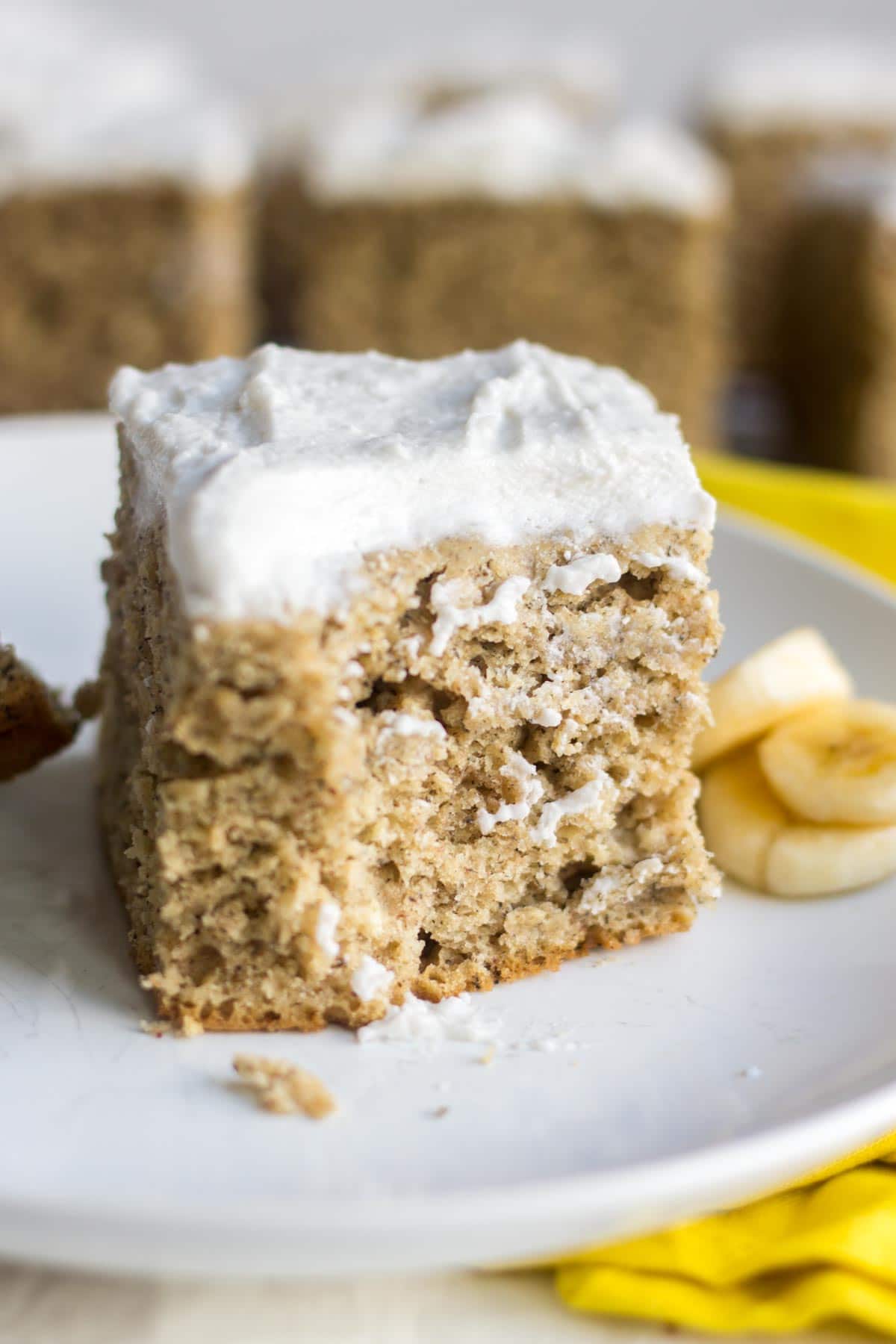 Happy Monday to all my food loving friends! I woke up today feeling energized and refreshed! Anyone else excited for the what this week has in store? I was motivated and ready to tackle what it has to offer.
But to be completely honest, this is the first time I felt this way in a while. I've been in kind of a funk for the past three weeks. Life is so great. My work is going well, I'm feeling super passionate and fulfilled in this food blogging journey and I snagged myself a fiance. But day-to-day I've been missing the zest and excitement that typically empowers me daily.
I've been so stressed and worried about the little things that are associated with this here blog and my full time job that I've lost sight of the big picture. That's making a difference in your lives by giving you the best and most delicious recipes you can eat and share with your loved ones.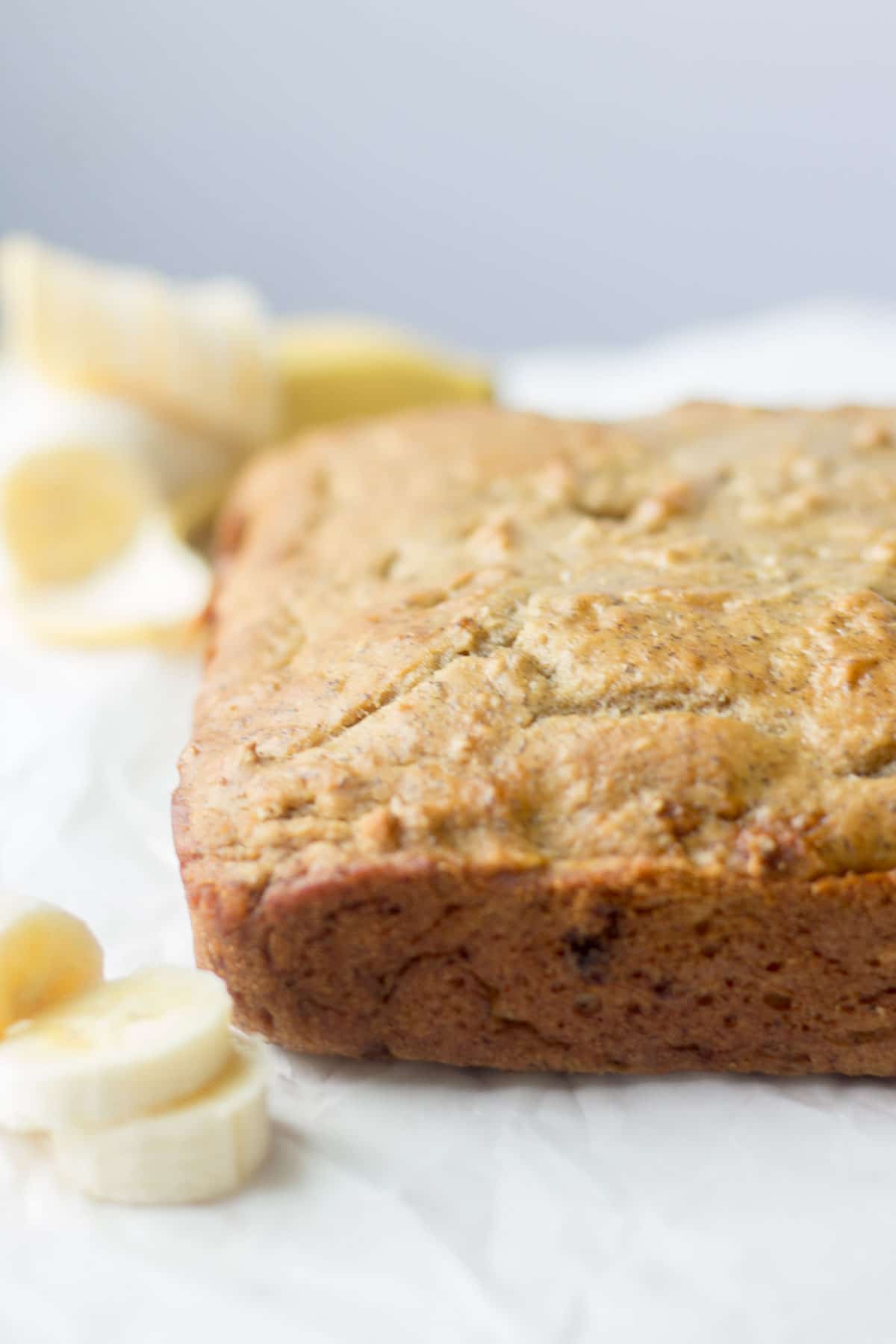 So I started a grateful journal last night. The idea is that instead of stressing about things I did/didn't do or what I did/didn't say that day I'm going to focus on all of the wonderful things and people that I am grateful for. It's a great reminder that there are so many amazing things in this life to be thrilled about and helps me keep the day-to-day issues in perspective.
Yesterday was the first day of my journal and today has taken a major turn for the better. And I want to take this time to start today's journaling a litter early to let you know just how grateful I am for each one you. For you finding this recipe at this exact moment. Whether you make it or not, I'm so grateful you stopped by and I hope this recipe or maybe this post inspires you and brightens your day.
I also wrote down that I was super grateful for this recipe of healthy banana cake. And how the pictures turned out. One of my favorite parts of the blogging process is taking the pictures! I've fallen in love with it. And when I get a perfectly cloudy day and take the pictures right at the golden hour the stars align and I'm a very happy food blogger.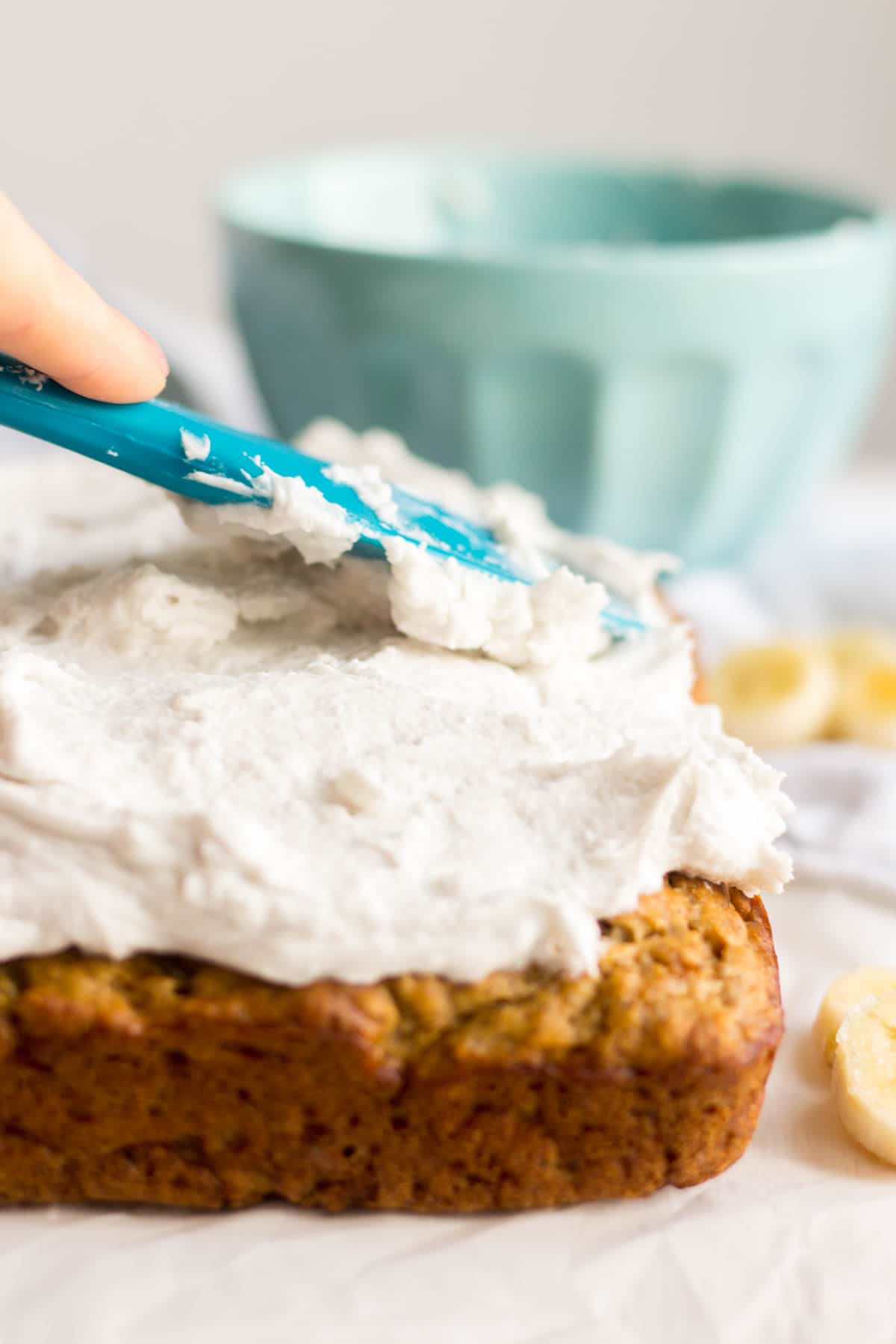 I'm also grateful for how delicious and easy this healthy banana cake recipe is!
Why is this banana cake healthy?
The reason it's so healthy is because there isn't any refined sugar in this recipe. That means no brown sugar, no granulated sugar and no powdered sugar. It's sweetened mostly with the ripe bananas and a little bit of maple syrup. Both of them together add just the right sweetness!
The other reason this is healthy is because there is no unhealthy oil or better! Just one tablespoon of melted coconut oil. Seriously guys, one tablespoon. Plus it's the healthy kind of oil you need in your life daily. So just go ahead and get your serving in this yummy healthy banana cake recipe.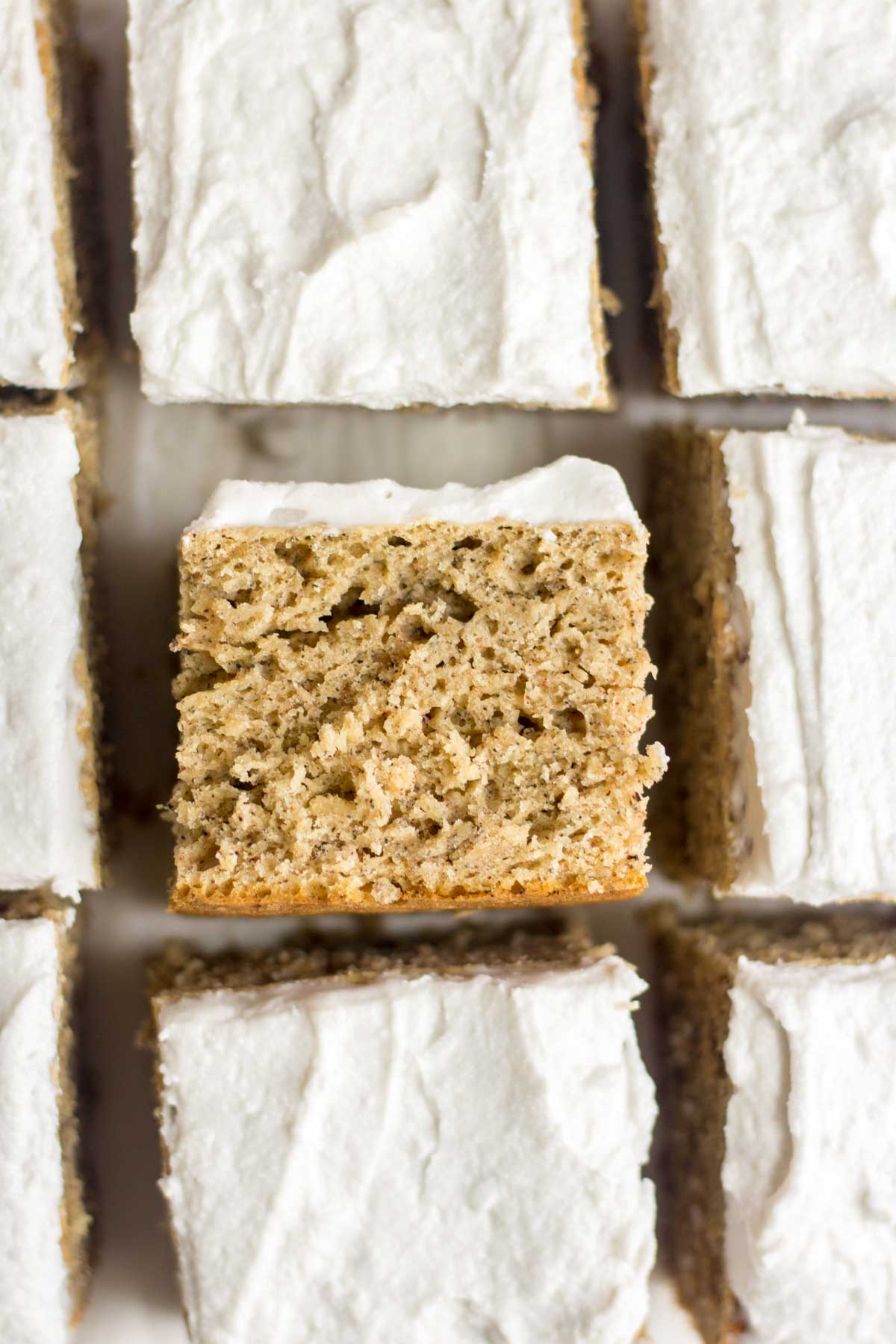 How to ripen bananas quickly
If you're dying to make this healthy banana cake recipe right now and you don't have any brown bananas waiting in your pantry, have no fear. I have a simple trick to help you ripen them quickly. Turn your oven on to 350°F and put the bananas on a pan (with the peel still on) in the oven for 15-20 minutes. The bananas will start to brown and will likely turn completely black/brown when you pull them out of the oven. This is normal!
If you don't even have time for that you can throw them in the microwave for 30 seconds. Stop, check to see if they're soft and done then repeat the process until they're nice and soft and starting to brown. Both of these are perfect options! They result in perfectly soft bananas you can blend up for this healthy banana cake recipe.
I also love this recipe because you can make half of it in the blender. Blend the first half of the ingredients and then add the dry ingredients into the mix. Pour in the pan and wha-la! Easy healthy banana cake.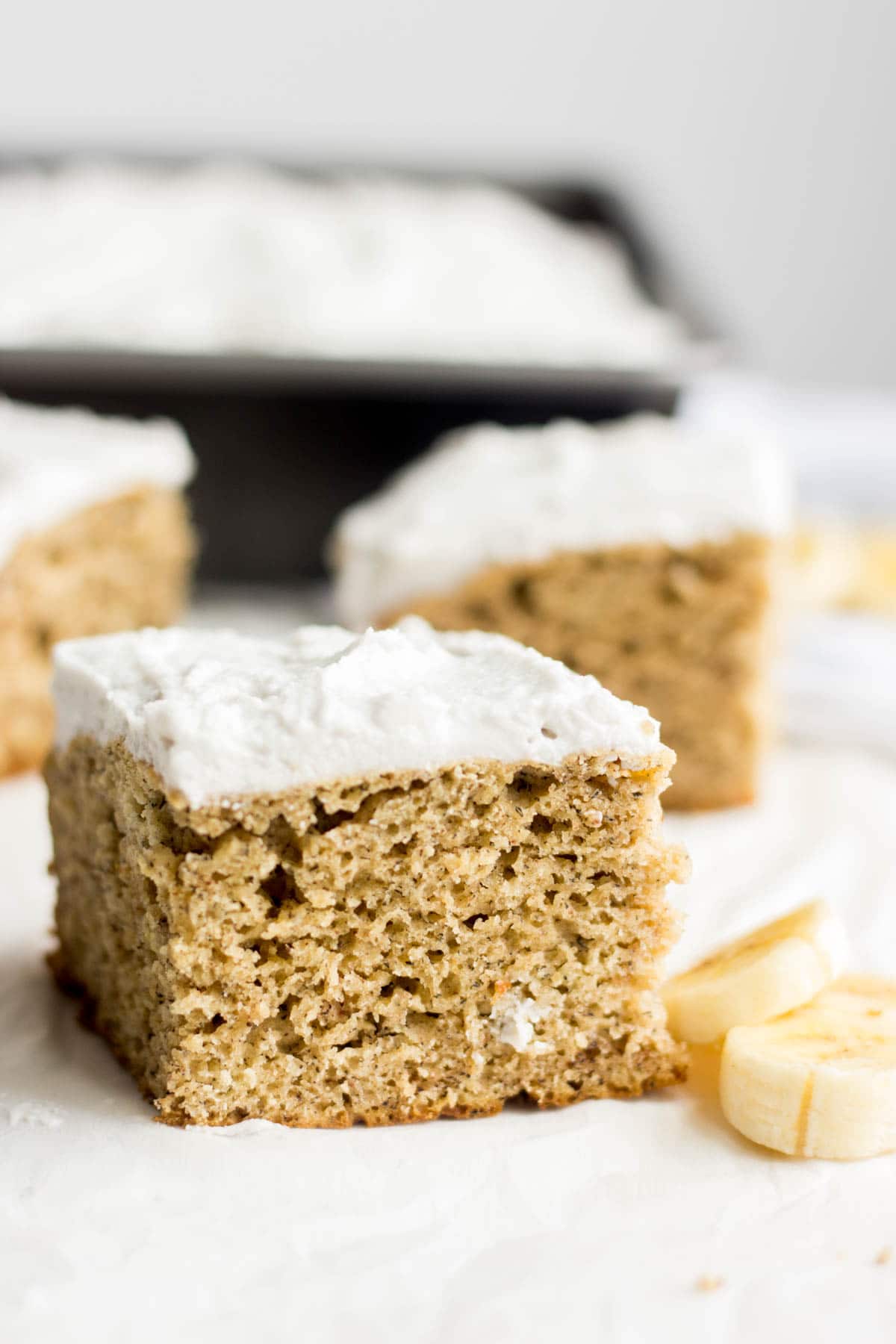 Now let's chat quickly about the frosting. I wanted to stick with the healthy these so I tested this coconut whipped cream frosting. It is divine! It doesn't have any dairy and you can easily make it with maple syrup or honey to sweeten it up. You can also do a few tablespoons of powdered sugar if you want to. Or you can buy some cool whip and spread it on top. So many options.
But, stay tuned for a more detailed post on how to make coconut whipped cream frosting! Until then, scroll down to the recipe directions for a simple how to.
And enjoy the recipe! I hope you are as grateful for this recipe as I am! I can always celebrate an easy, healthy and delicious recipe.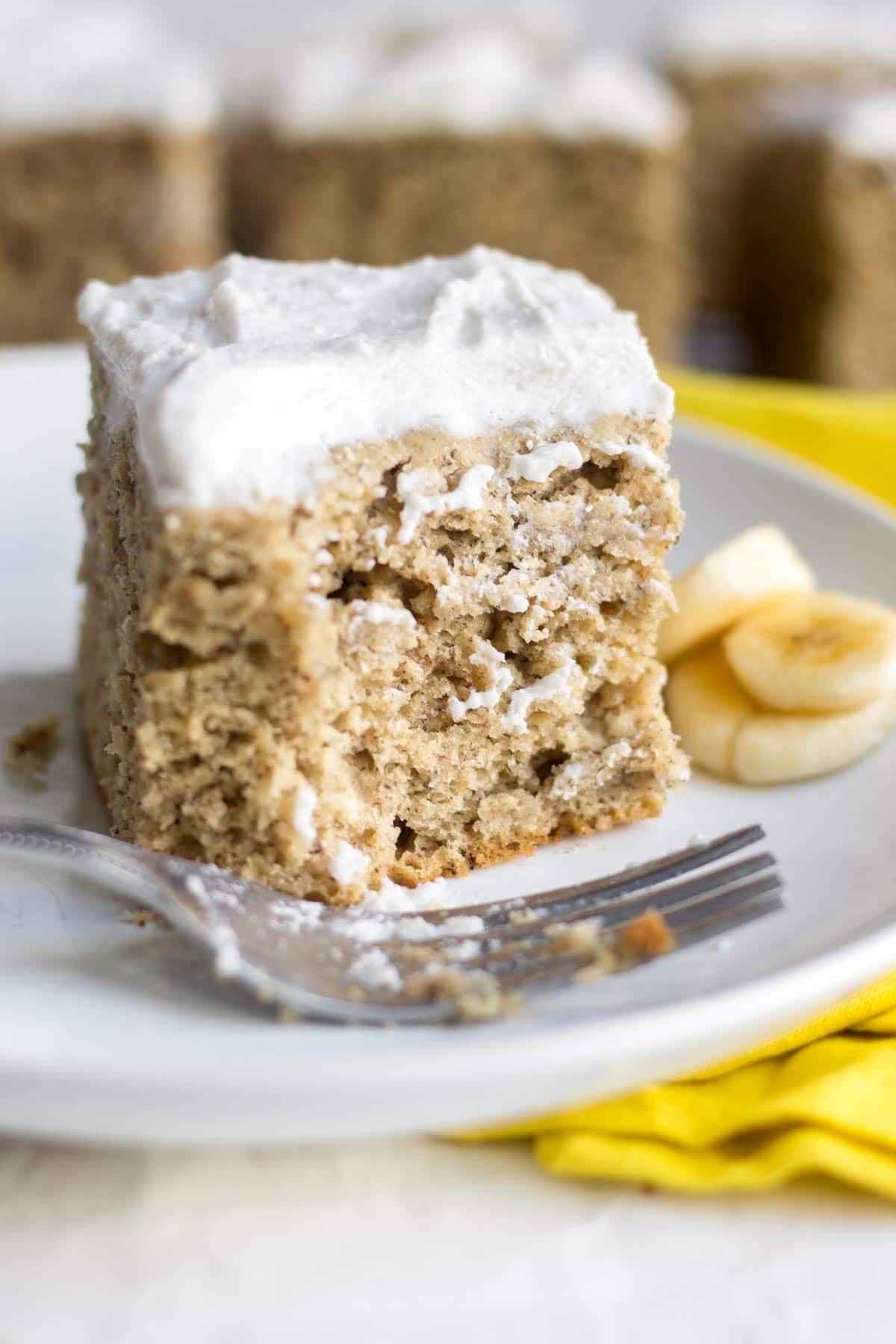 And if you're interested in starting your own grateful journal or following along with me please write in the comments! I'd love to hear what you're grateful for and what excites and motivates you every day. I'll be sharing what I'm thankful for in the next couple of posts so stay tuned and follow along with happy updates and yummy recipes❤️.
How Do You Make A Banana Cake?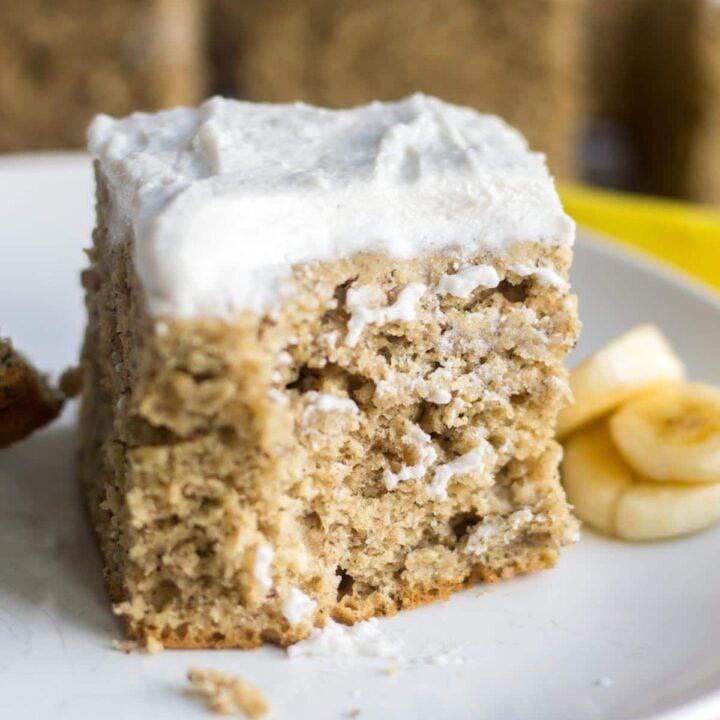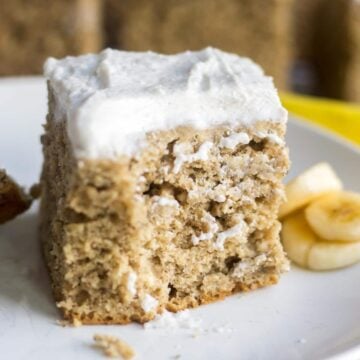 Ingredients
Cake:

2

cups

all white whole wheat flour or all-purpose flour

½

teaspoon

ground cinnamon

1 ½

teaspoons

baking soda

½

teaspoon

kosher salt

3

bananas

ripe

½

cup

vanilla or plain greek yogurt

⅓

cup

pure maple syrup

1

teaspoon

vanilla extract

1

tablespoon

coconut oil

melted and slightly cooled

1

egg

room temperature

Coconut whipped cream:

2 14

ounce

cans full fat coconut milk

8

tablespoons

honey

agave or maple syrup

1

teaspoon

vanilla extract
Instructions
Preheat the oven to 350º F. Spray an 8 inch square baking pan with cooking spray and set aside.

In a large bowl, whisk together the flour, cinnamon, baking soda and salt. Set aside.

In a blender, combine the bananas, greek yogurt, maple syrup, vanilla, coconut oil and egg. Blend until smooth, about 1 minute. Pour the blended wet ingredients into the dry ingredients. Whisk well until incorporated.

Pour the cake batter into the prepared pan. Bake for 25-30 minutes or until a toothpick inserted in the center comes out clean. Allow to cool completely in the pan..

Once cooled, make the frosting. Chill the cans of coconut milk in the refrigerator overnight or for at least 12 hours to separate the coconut fat and liquid. About one hour before making the frosting, chill a mixing bowl and beaters/paddle attachment in the freezer. Once chilled, open the coconut milk cans and scoop the solid white coconut cream into the bowl. Discard the coconut water or save it for another use. Using a handheld mixer or stand mixer fitted with the paddle attachment, beat the cream until fluffy and smooth, about 3 minutes. Add the sweetener and vanilla and beat until incorporated.

Remove cake from pan and frost cooled cake. Cut and serve.

Store frosted cake in the fridge in an air tight container for up to w week or freeze for up to one month.
Here are a couple of items I used to make today's recipe:
8-Inch Square Cake Pan
, Ninja Professional Blender
, 10 Pc Glass Bowl Set
, KitchenAid 5-Speed Hand Mixer
Some of the links above are affiliate links, which pays me a small commission for my referral at no extra cost to you! Thank you for supporting What Molly Made!