These paleo, gluten free and vegan popsicles are an easy summer/spring recipe to brighten up our day. The creamy layer is made with raw cashews and coconut milk and the strawberry layer is made with fresh strawberries and lemon. Both layers are sweetened slightly with pure maple syrup for a cool and sweet snack or dessert.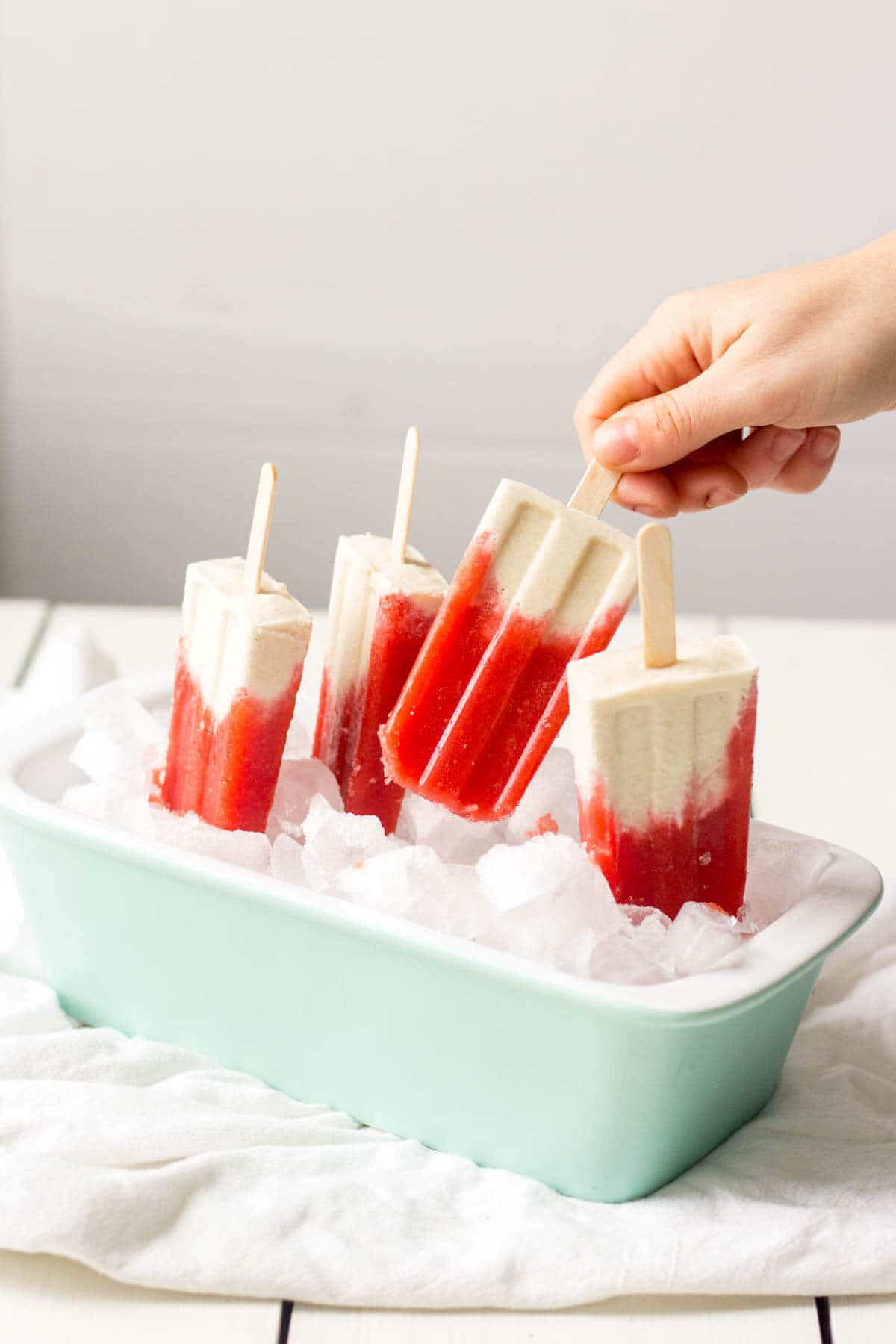 I've just recently discovered how easy it is to make cashew cream and I've been obsessing over it ever since. It tastes like cheesecake but it's vegan and healthy. Since spring hit I've been racking my brain for all the fruity ways I can make vegan cheesecake.
And a strawberries and cashew cream popsicles recipe just felt like a must. Plus it's super healthy! It fits right into my nutrition challenge.
I'm on day 3 of the Tone It Up Bikini Challenge and I'm feeling so great! If you're interested in feeling healthier and more confident, losing weight, or looking for a healthy community, this challenge is definitely for you. There are a few girls at work that are doing it with me and I love having an accountability group.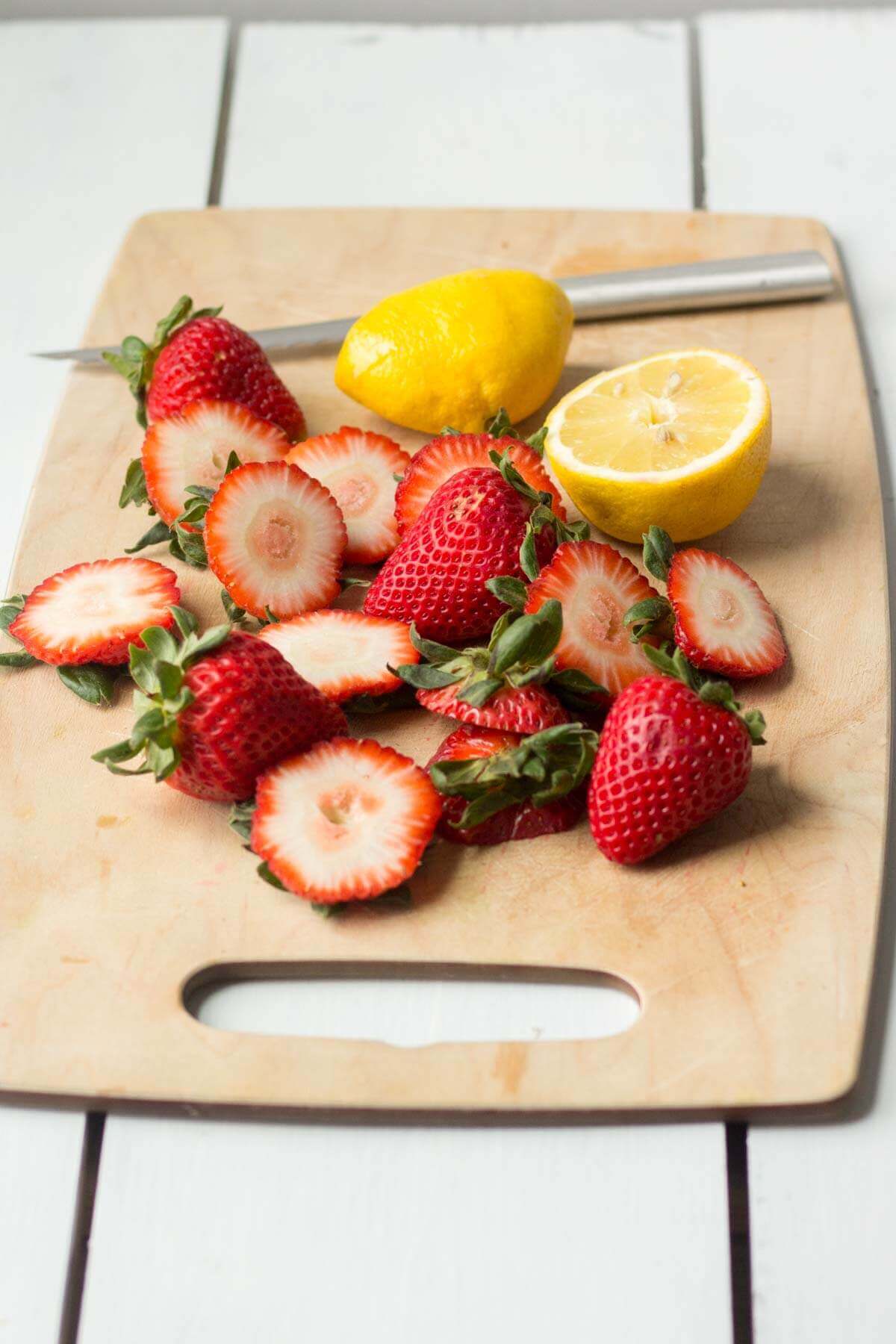 The challenge started on Monday but you could definitely start a week late. It's 8 weeks and they provide everything you need to know about nutrition from the best time to eat simple carbs and how to incorporate vegetarian complete proteins. They also have 50+ amazing healthy recipes!
I've been eating pina colada overnight oats every morning and it's just heavenly. Did I mention it's free?! Yes. All the information is yours fo' free.
My goal is to slim down, but mostly to feel more confident. Specifically before I try on wedding dresses in June. This challenge couldn't have come at a more perfect time. Aside from when Zach and I head to Ireland for 9 days I'm going to strictly follow this to see how I do! My problem has always been inconsistency so I'm really going to try and trust in the process. I tend to get frustrated if I don't see results in a week and cource change. Not this time!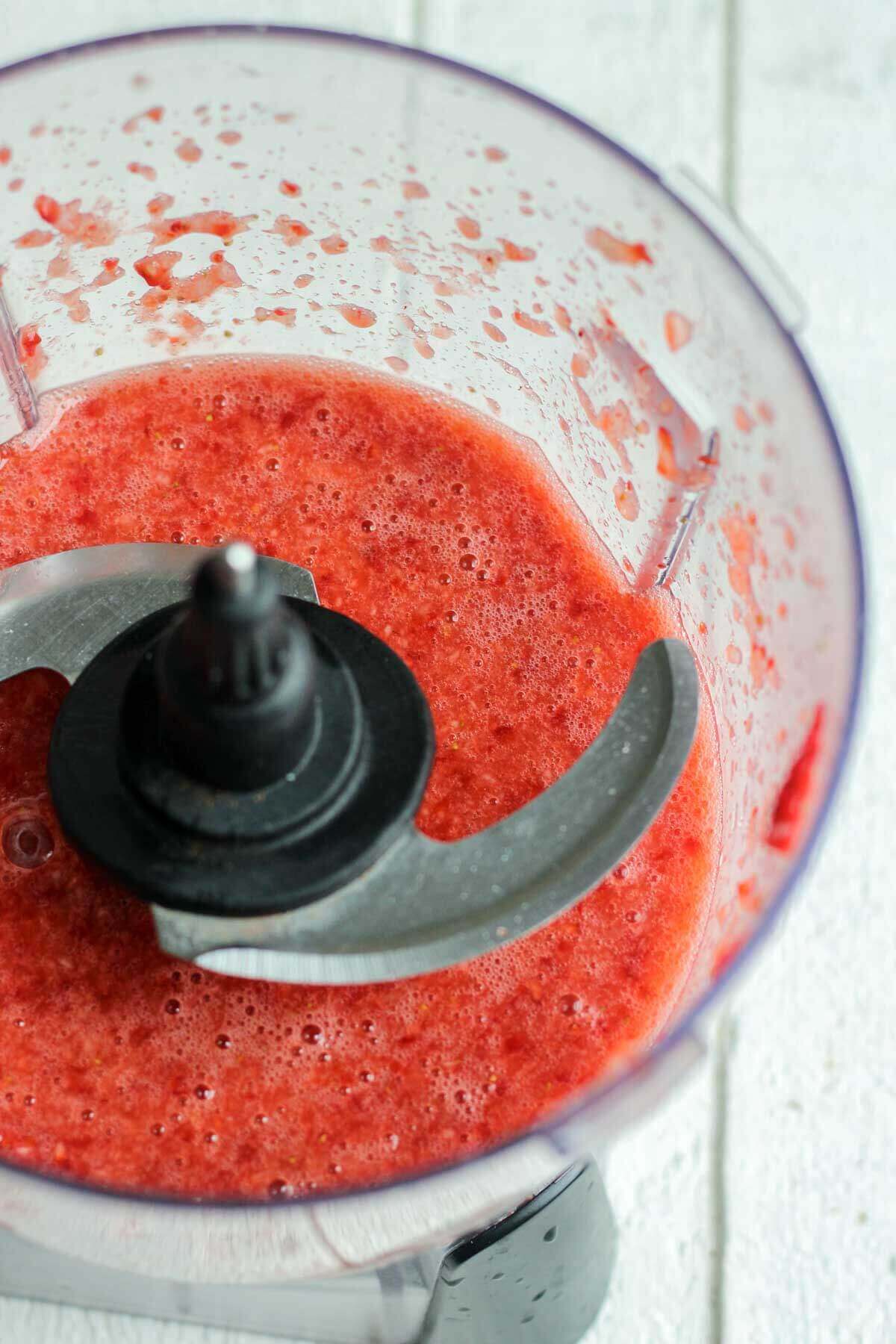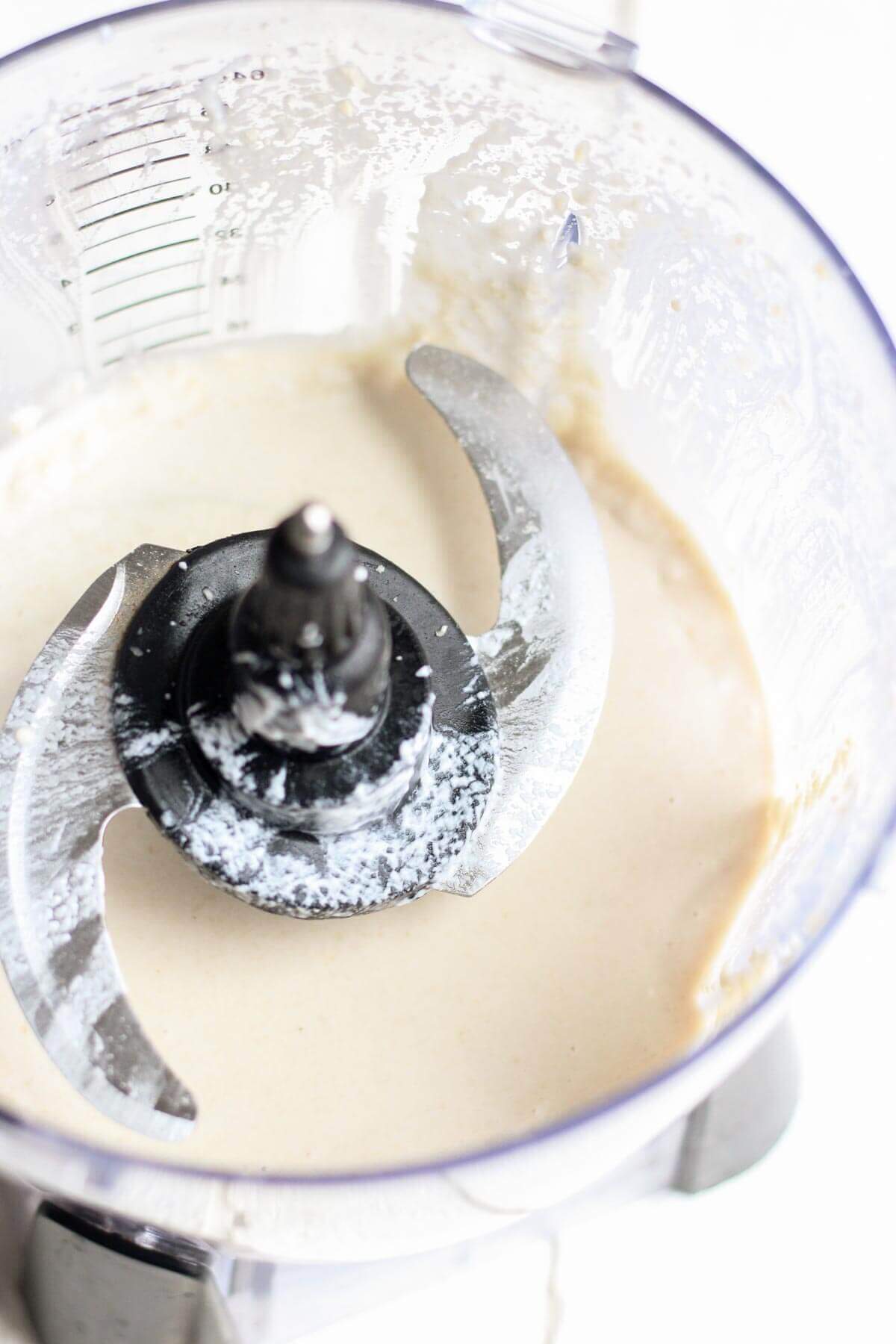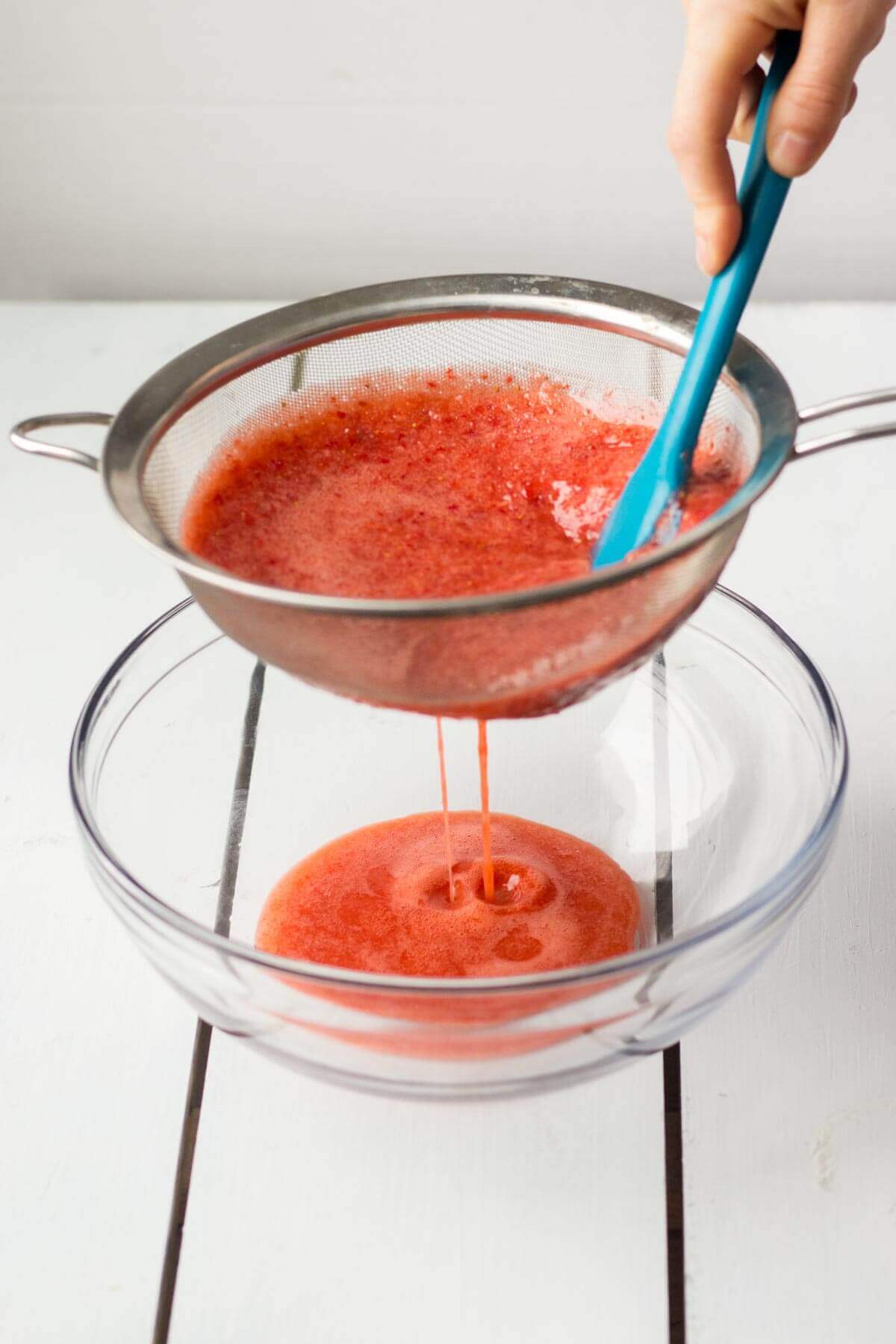 I was going through all of the recipes and was swooning over some of the breakfasts. They even included some yummy and clean desserts you can make! I wanted to create something that would fit into my challenge, but would also curb sweet cravings in the evenings or cool me down on a spring Saturday so I knew vegan popsicles had to happen.
I'm so excited for berries to slowly come into season and like I mentioned have been obsessed with cashew cream. I knew these strawberry and cashew cream popsicles were a must.
Don't be overwhelmed if these vegan popsicles look a little tough to make! I promise they're as simple as can be. No baking required! The hardest thing about the recipe is to remember to soak the cashews overnight. I find if you leave them in room temperature water for about 12 hours it's best. If you're time crunch you can throw them in boiling water and soak for 2 hours, they may just be a little less creamy.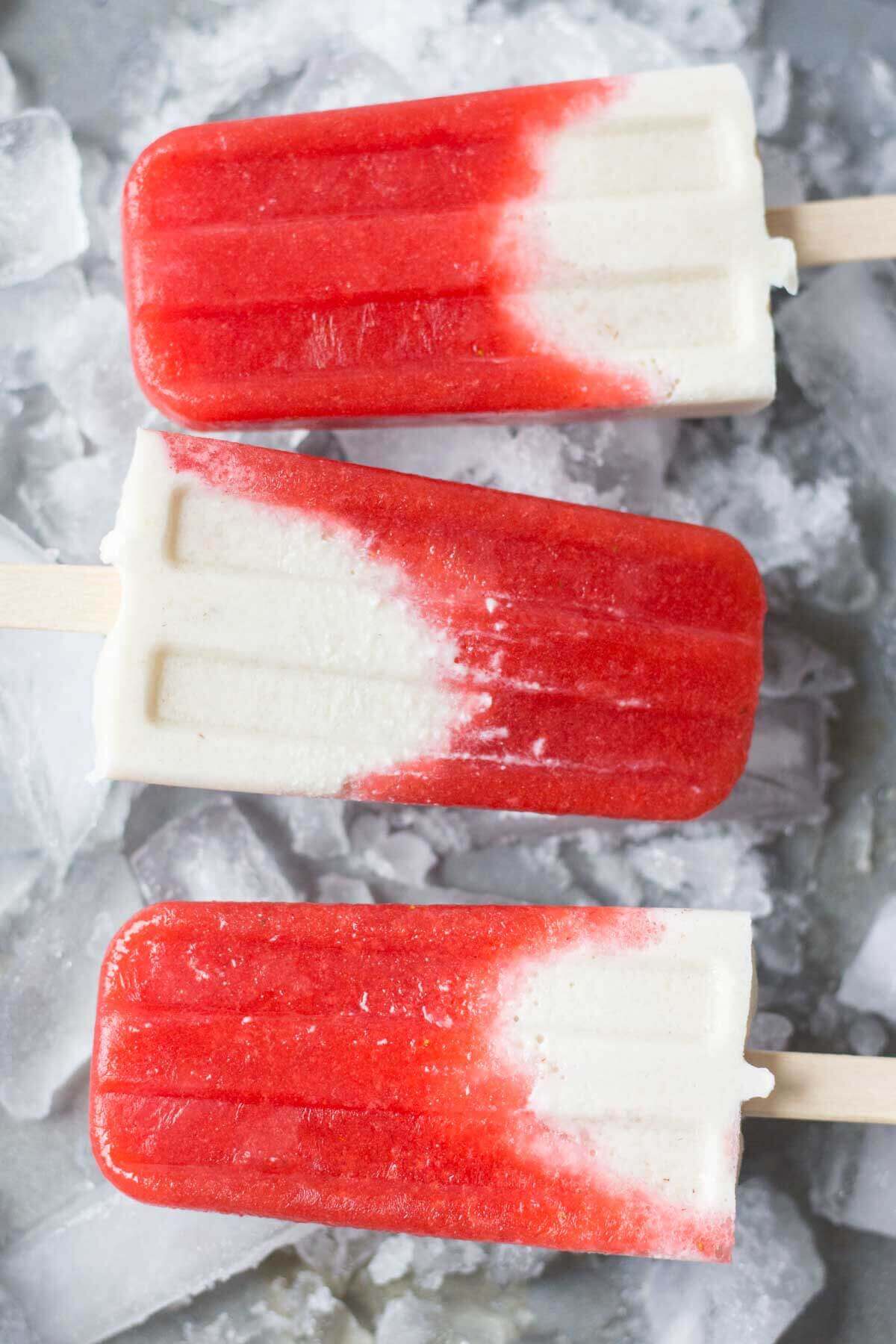 Once the cashews are soaked all you have to do is add all of the ingredients to the food processor and blend for a few minutes until it's smooth and creamy. It's a dessert lover's dream, especially when you're trying to be healthy like me:)
The second step in these vegan popsicles is the strawberry layer. It's made with fresh strawberries, lemon and maple syrup. Blend it up in the food processor as well and pour it through a strainer to get rid of the strawberry seeds. This way you're left with all the smooth strawberry juice!
Pour each layer carefully into the popsicle molds and wha-la! The slower and more gentle you pour the cashew cream on top of the strawberry layer the cleaner the line you'll have between the two when you pull these vegan popsicles out of the molds. If you want them to be a little mixed together don't be as careful! I tried both ways and loved it.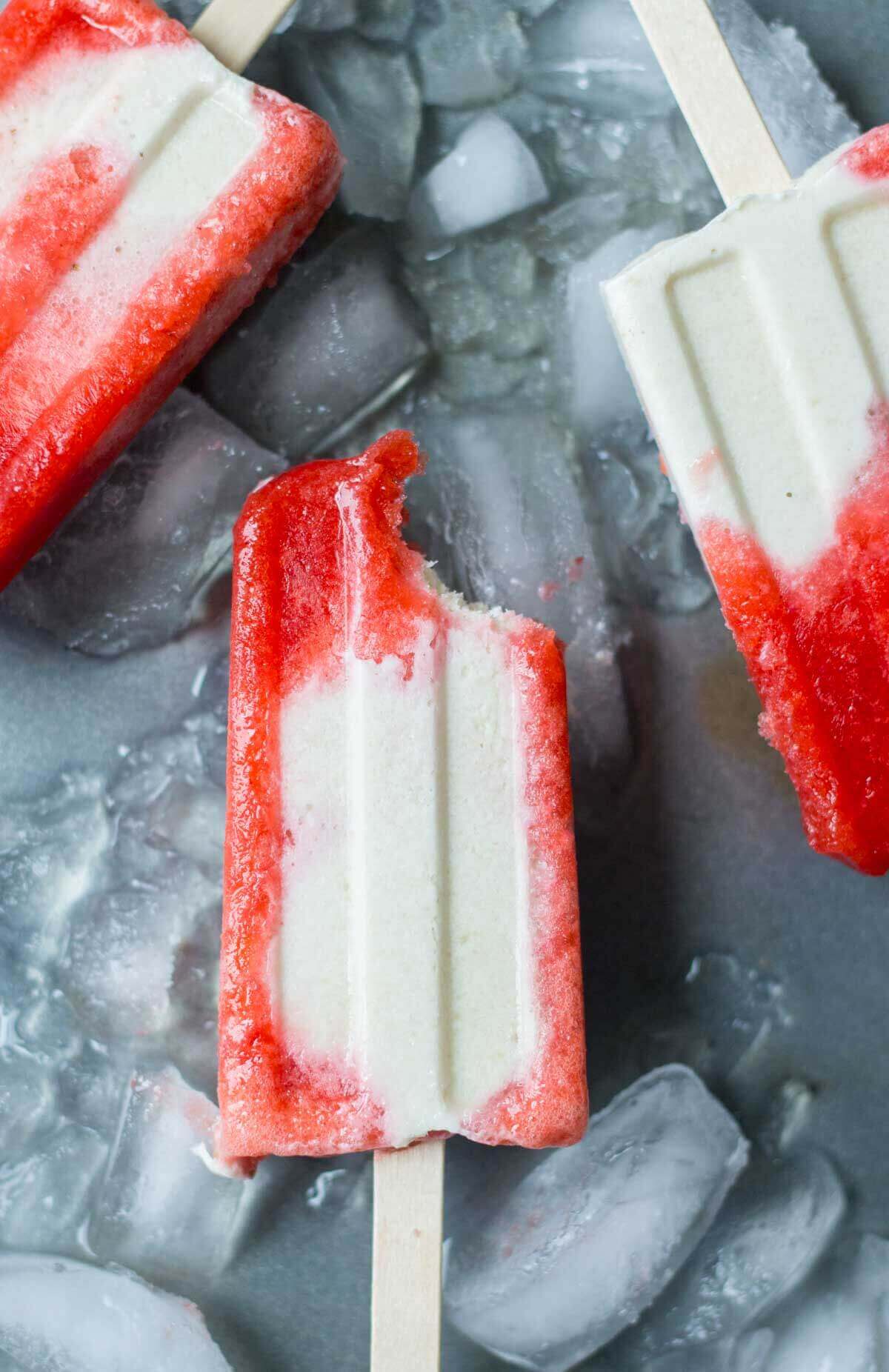 I liked when they were mixed together because you get a little strawberry and cream in one refreshing bite. But also love them separately too:) Next time I'm going to do half and half!
I can't wait to hear how these turned out for everyone! Follow me on Pinterest and tag me on Instagram so I can see how it turned out!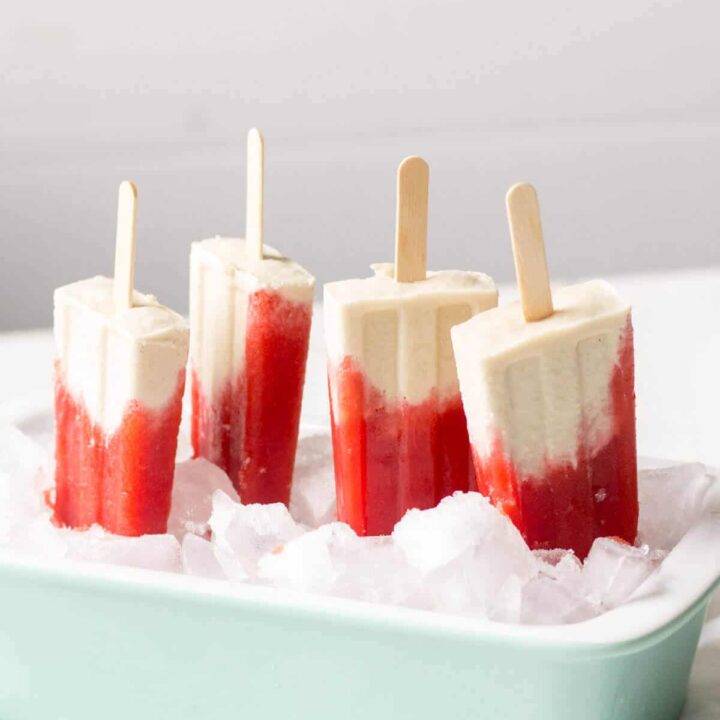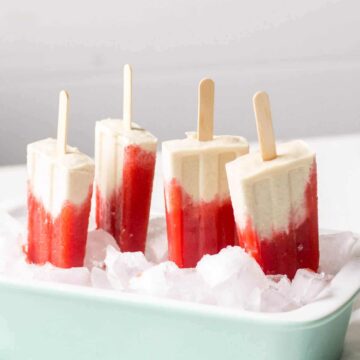 Ingredients
Cashew Cream:

¾

cup

raw

unsalted cashews

4

tablespoons

maple syrup

⅓

cup

water

1

teaspoon

vanilla extract

¼

teaspoon

sea salt

1 ¼

cups

well-shaken full-fat coconut milk

Strawberry Puree:

5

cups

strawberries

⅓

cup

maple syrup

2

tablespoons

lemon juice

1

teaspoon

vanilla extract
Instructions
Place the cashews in a medium bowl, cover completley with room temperature water and soak for 10-12 hours, or overnight. To soak in less time, cover with boiling water and soak for two hours. Once soaked, place cashews in a blender or food processor with the maple syrup, water, vanilla, and salt. Blend the mixture until smooth on high speed for 3-5 minutes, scraping down the sides as needed. Add the coconut milk and blend until smooth, about 2 additional minutes. Pour the cashew mixture into an easily pourable vessel ( like a pitcher) and set aside.

For the strawberries puree, rinse the blender or food processor and add the fresh strawberries, maple syrup and lemon juice. Blend until almost completely smooth, about 3 minutes. Pour strawberry mixture through a strainer into a large bowl or measuring pitcher to separate the seeds.

Evenly divide the strawberry puree into the popsicle molds, filling them approximately half way full. Carefully pour the cashew cream on top. The more gently you pour the more separate the layers will be. Swirl to mix the two if desired.

Freeze until firm, at least 4 hours. To remove them easily, run the mold under hot water for 10-20 seconds to thaw the outside.
DID YOU MAKE THIS RECIPE!? SNAP A PIC AND TAG @WHAT_MOLLYMADE AND USE #WHATMOLLYMADE!
Here are a couple of items I used to make today's recipe:
Ninja Mega Kitchen System
, Fine Mesh Strainers
, Popsicle Molds
, Wooden Craft/Ice Cream Sticks
Some of the links above are affiliate links, which pays me a small commission for my referral at no extra cost to you! Thank you for supporting What Molly Made!