Made with fresh fruit and real ingredients, this skinny strawberry shortcake is a guilt free dessert you can eat all summer long!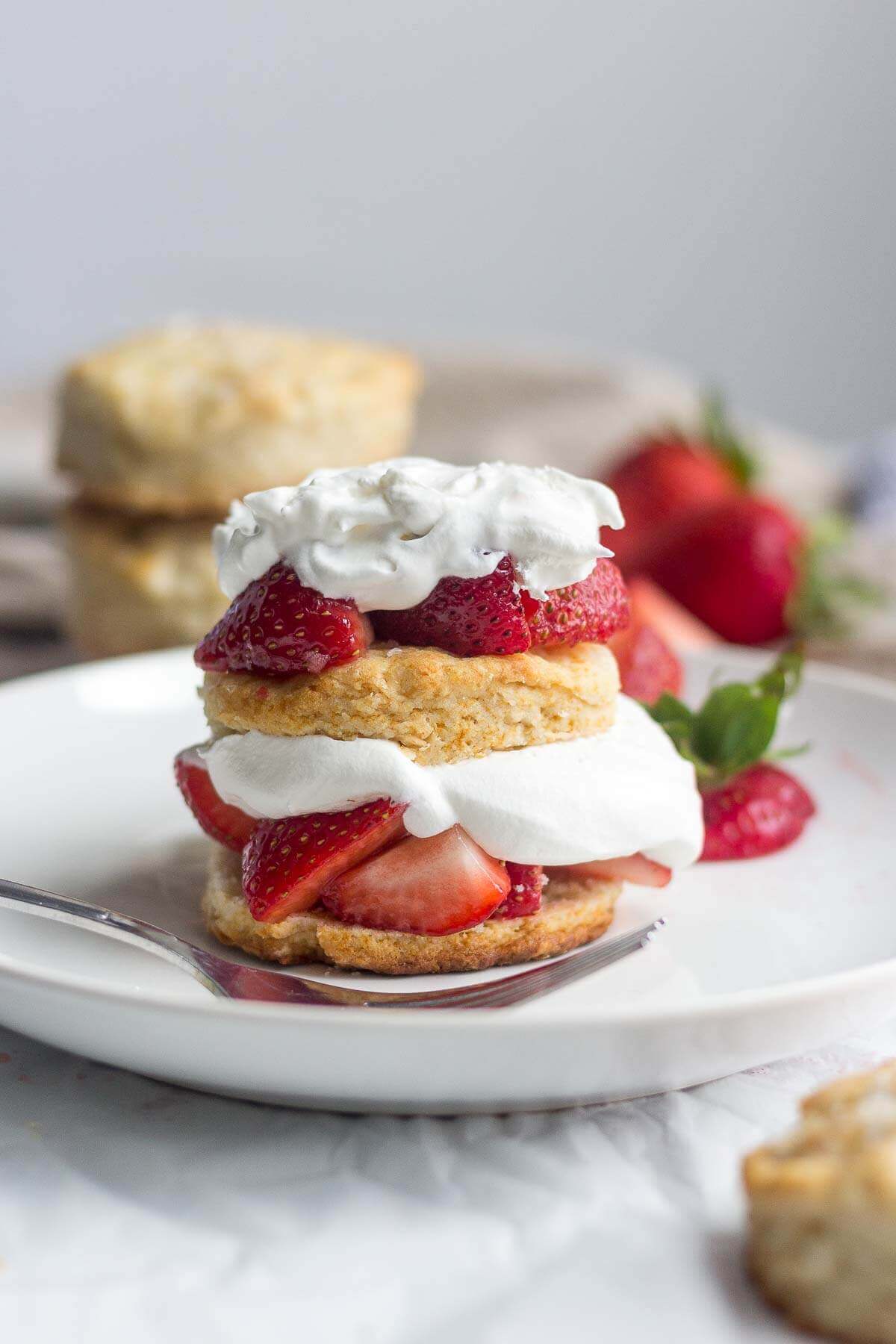 I'm two days in to my first full week back after my Ireland trip and it's a little bit of a grind right now. I'm day dreaming about mountains, rivers, cliffs and beaches and my computer isn't seeming quite as appealing as it needs to right now. Anyone know that feeling?!?? Who else wants to play hookie and fly back to Ireland?!
Things that are getting me through this week that Ireland didn't have: Kombucha, CHIPOTLE, workouts, our NEW house!
Yep, you heard that last one right. Zach and I are getting the keys to our very first home on Friday morning. Talk about a whirlwind of a year! We got engaged, went across the country and become home owners in the first half of the year. Stay tuned in the next couple of weeks for updates on all three. I've got wedding planning posts, Ireland details and the inside scoop on our hew house coming your way!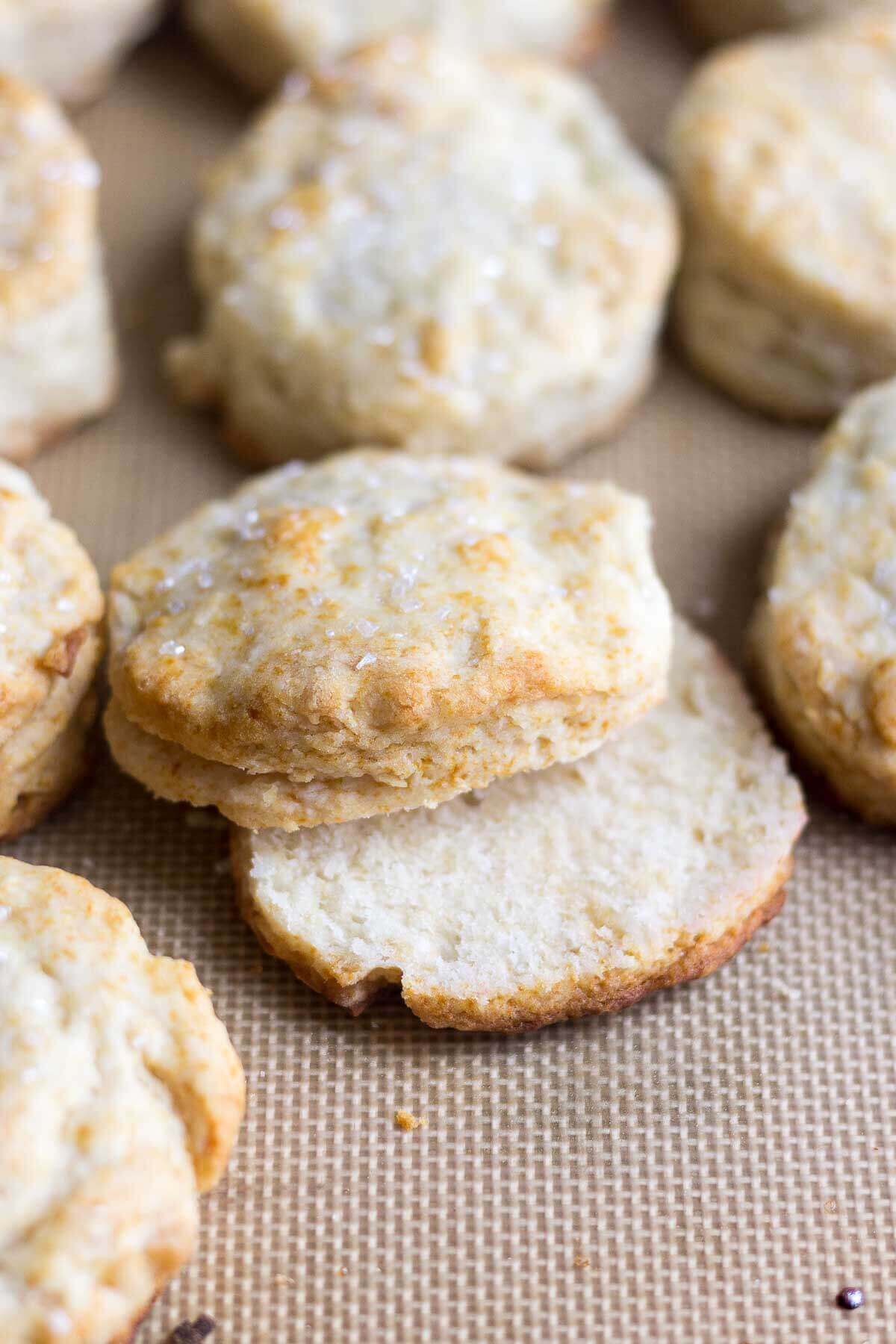 This all sounds really exciting (and it totally is!) but what comes with all of this change for me sometimes is a lot of anxiety. Change of any kind, including all the good change happening in my life, comes with uncertainty and unkown and that can be kinda scary.
Luckily, I have the best church fam and a message was shared two weeks ago on this exact subject. Zach and I were in Ireland at the time and I just listened to it today and it was exactly what I needed to hear. Funny how God knows exactly what we need to hear at the exact right time.
I'm envisioning all of the amazing things that come with all the change like new experiences, a new home and a hubby (?) and it instantly makes me excited. Change is a good thing!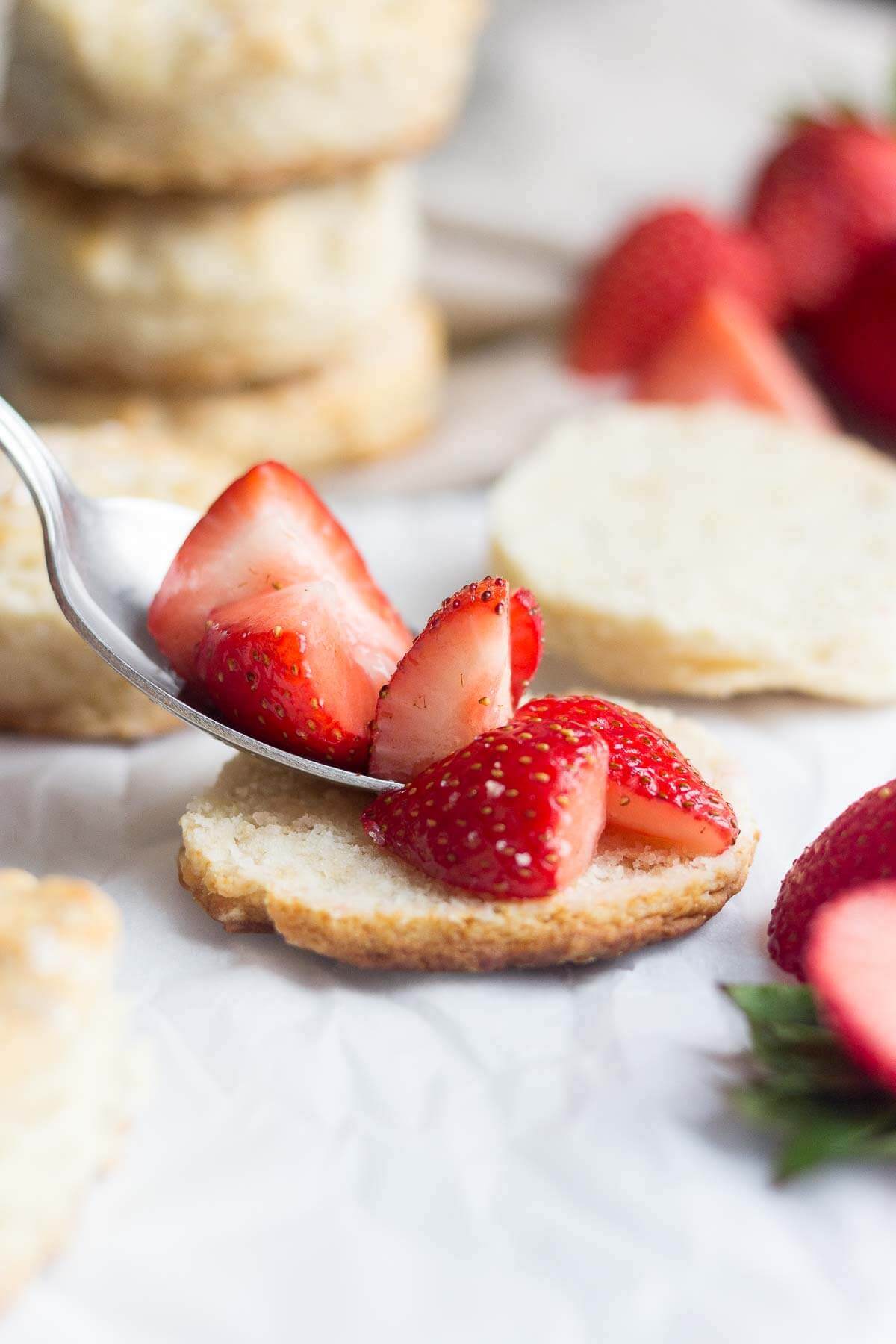 When we got back from our trip of a lifetime to Ireland I came back ready to make all the dessert. I scheduled posts out while we were gone so I could truly rest and enjoy the experience so I was pretty excited to get back to what I love to do!
I was inspired by Sally's Strawberry Shortcake and I knew I wanted to make my own version with this skinny strawberry shortcake.
Growing up our go-to summer dessert was strawberry shortcake. The moment June hit I could count on a homemade (or bisquick version) of strawberry shortcake when we had cook outs or when family came over.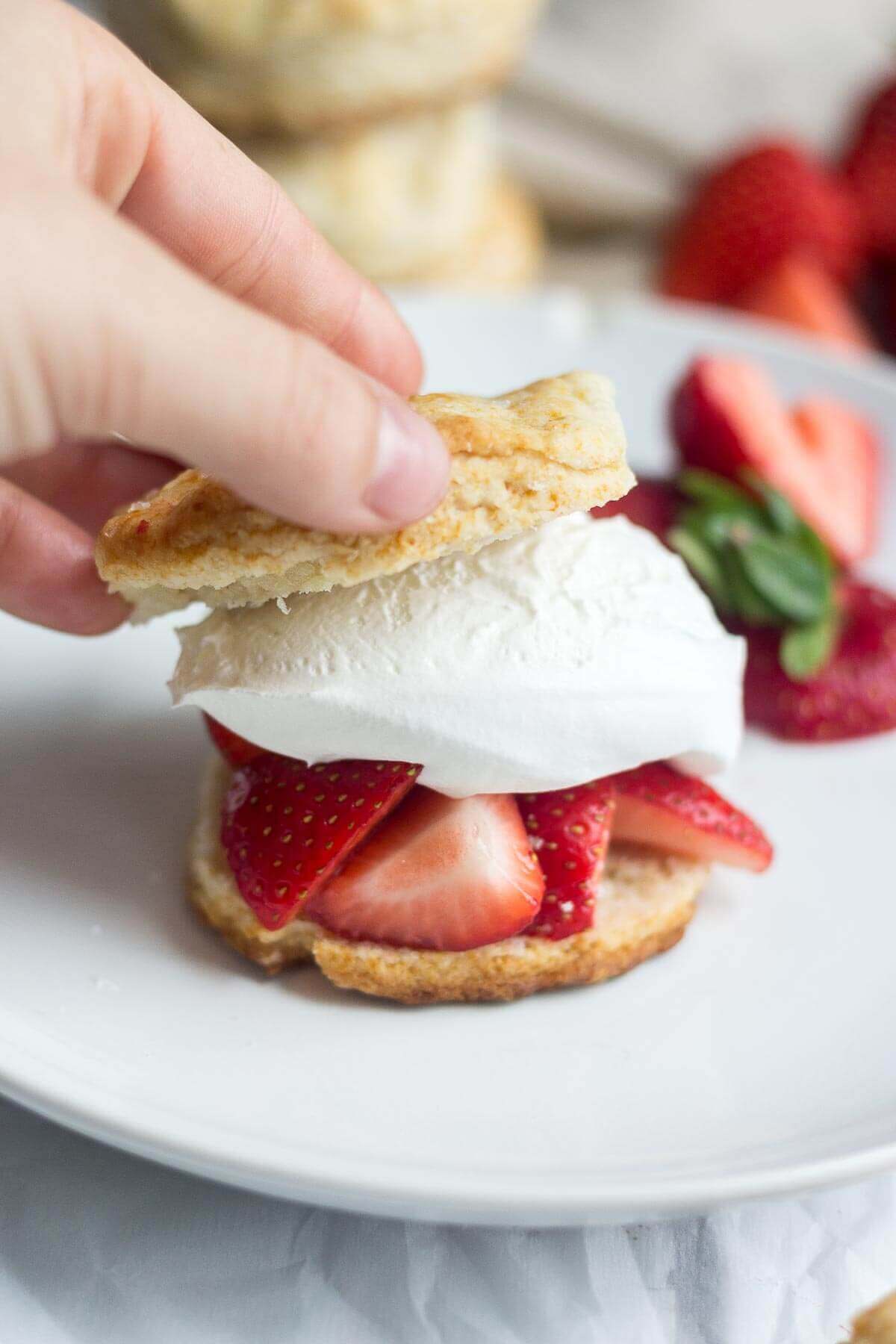 Strawberry shortcake is essentially a biscuit or cake-y texture of sorts (I prefer the biscuit version) that's topped with fresh strawberries and whipped cream. You can eat strawberry shortcake on a plate with a fork but my family and I much prefer it in a bowl with a spoon.
We love to pour a little milk on our strawberry shortcake to give it more moisture and dollop it with whipped cream. Anyone else do that?!
The reason strawberry shortcake is so easy is because you really only need to make the biscuit portion of the dessert and that is really simple. The rest is mixing strawberries and topping it with whipped cream. You can buy or make your own whipped cream, both are great options. To make it simple, I've outline the steps below!
How to make strawberry shortcake step by step:
Start by making the biscuit. Mix the flour, baking powder, and salt together in a large bowl. Whisk until combined. Add the cold coconut oil and cut into the dry ingredients with a pastry cutter . Don't worry, it should look like very coarse crumbs!
Next, you'll mix the wet ingredients together and add them to the flour mixture. Turn it out onto a surface, flatten to ¾ inch and cut into circles! Sprinkle with coarse sugar and bake for 10 mins. Wha la!
Top with strawberries and whipped cream and you have yourself some skinny strawberry shortcake!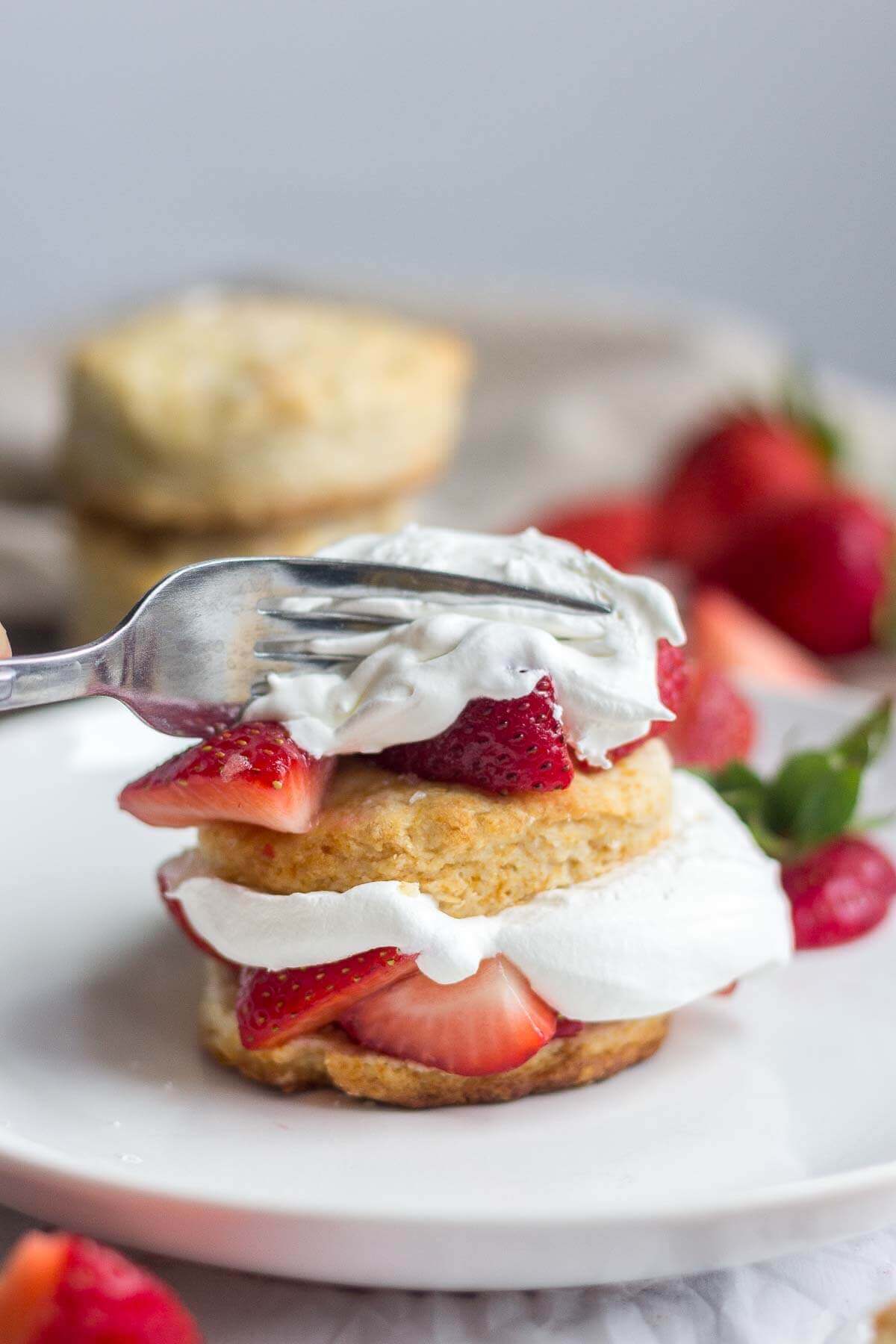 It's really that simple. I'm all about simple in the summer. Less time in the kitchen means more time sitting on patios with friends and family. (Fun fact: in Ireland they call all patios beer gardens).
Patio time is precious time in my book. Happy eating strawberry shortcake and happy summer everyone!☀️?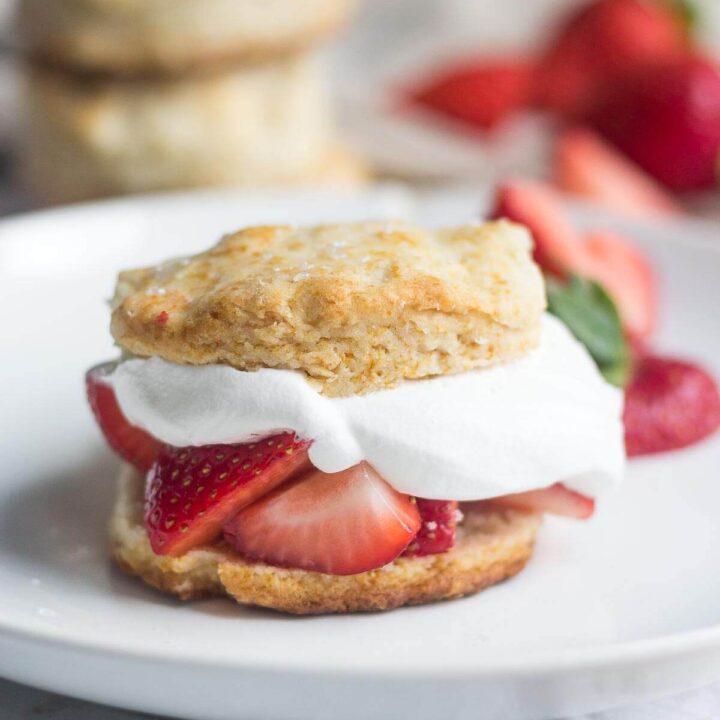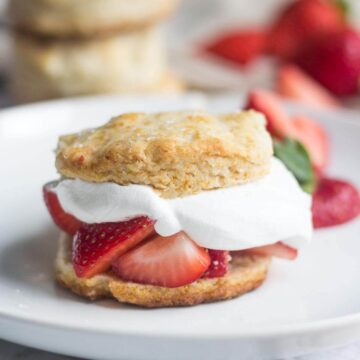 Ingredients
strawberries + whipped cream

2

cups

light cool whip or coconut whipped cream

7

cups

fresh strawberries

quartered

2

teaspoons

fresh lemon juice

3

tablespoons

honey

biscuits

3

cups

white whole wheat flour

2

Tablespoons

baking powder

1

teaspoon

salt

¼

cup

honey

or maple syrup for vegan option

¾

cup

coconut oil

chilled

1

cup

canned coconut milk

full fat

2

tablespoons

almond milk

coarse sugar

for sprinkling
Instructions
Make the Strawberry Filling.

In a large bowl, mix together the strawberries, honey and lemon juice. Cover and refrigerate until ready to use. Make

coconut whipped cream

, if using and refrigerate.

Make the biscuits: Preheat oven to 425°F. Mix the flour, baking powder, and salt together in a large bowl. Whisk until combined. Add the cold coconut oil and cut into the dry ingredients with a pastry cutter. Mix until coarse crumbs form.

In a medium bowl, mix coconut milk, honey and lemon juice together and pour over dry mixture. Stir everything together until just combined, being careful not to overwork the dough. You may need to use your hands to mix everything together. The dough will be very crumbly. Turn the dough out onto a work surface and gently form it in a ball using your hands and flatten to ¾ in thick. Cut dough into 3-inch circles then re-roll any scraps until you have about 12-15 biscuits.

Arrange on a baking sheet lined with parchment paper or a silat mat. Make sure the edges of each biscuit are touching. See picture above for example.

Brush the tops with 2 Tablespoons almond milk and sprinkle with coarse sugar. Bake for 13-15 minutes, turning the pan half way through. Remove from the oven and allow to cool on the baking sheet for at least 15 minutes.

To serve, cut the biscuits in half and layer with strawberries and whipped cream. Biscuits can be stored in the freezer for up to 3 months.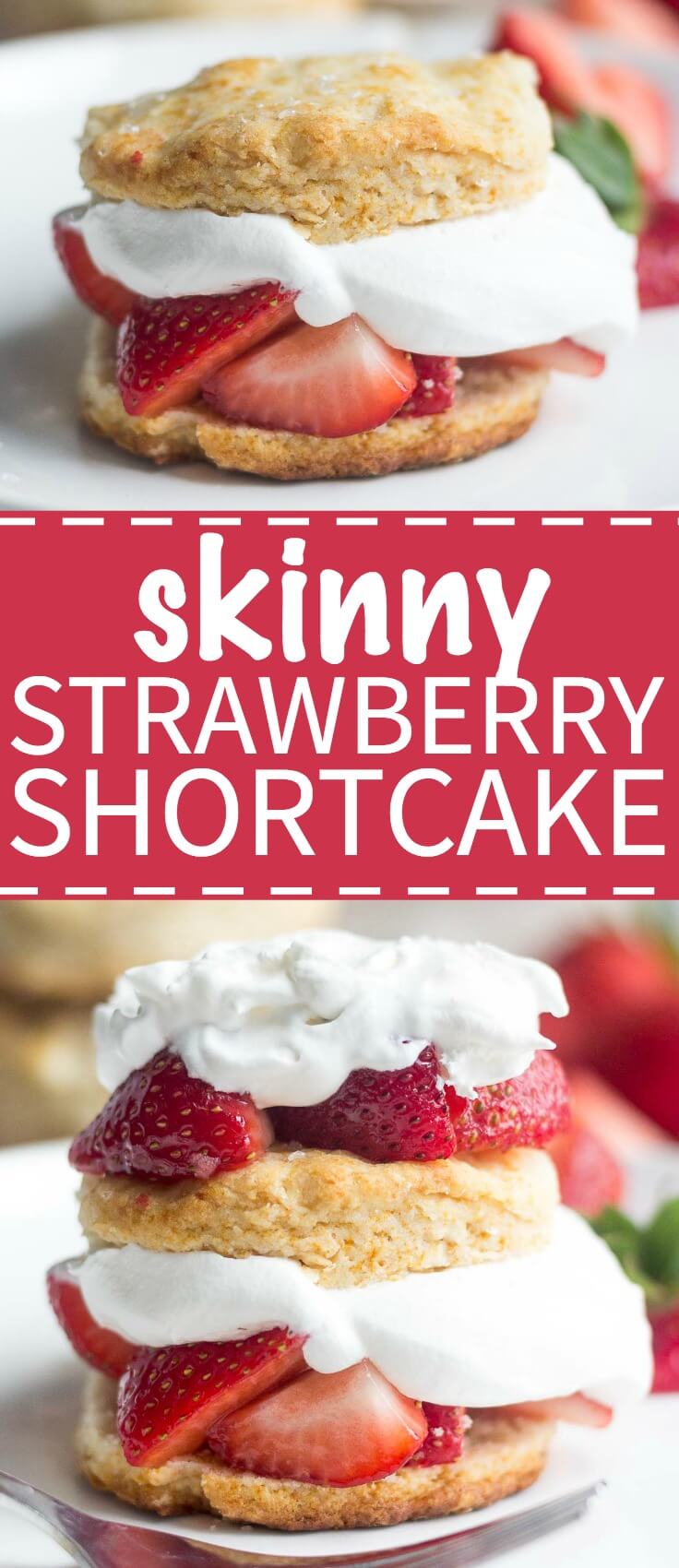 DID YOU MAKE THIS RECIPE!? SNAP A PIC AND TAG @WHAT_MOLLYMADE AND USE #WHATMOLLYMADE!
Here are a couple of items I used to make today's recipe:
Donut Biscuit Cutter
, Mixing Bowls
Some of the links above are affiliate links, which pays me a small commission for my referral at no extra cost to you! Thank you for supporting What Molly Made!