This comprehensive post will teach you everything you need to know about seed cycling for hormones and fertility! Read on to learn what seeds to use, how to store them, who should seed cycle, why it works and how to incorporate it into your daily routine!
I want to note, I am not a doctor and this is not medical advice, this is just what I do and what I've learned. All of this information has come from my Functional Nurse Practitioner and Dr. Jolene Brighten.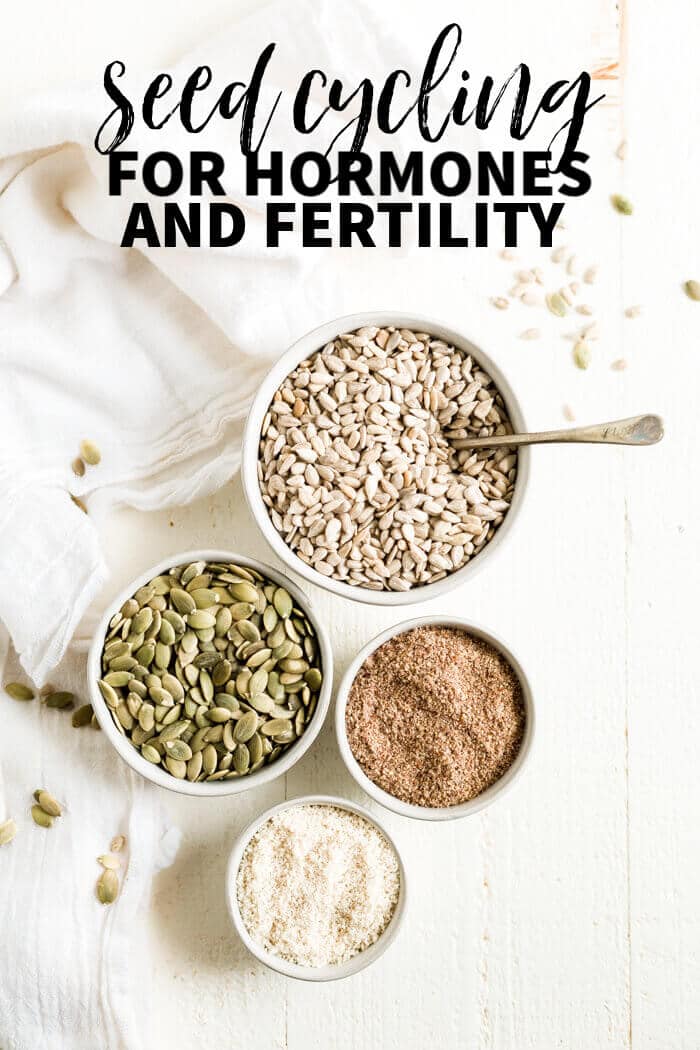 Jump to:
What is seed cycling?
Seed cycling is the practice of eating specific seeds at certain points in your menstrual cycle to help promote the healthy balance of estrogen and progesterone to regulate cycles, increase fertility, and ease PMS symptoms and other symptoms as a result of hormonal imbalances.
I first learned about seed cycling when I took Dr. Jolene Brighten's course last spring for balancing hormones after coming off birth control. Since then I've seen a functional NP after I was diagnosed with PCOS and learned a lot more from her!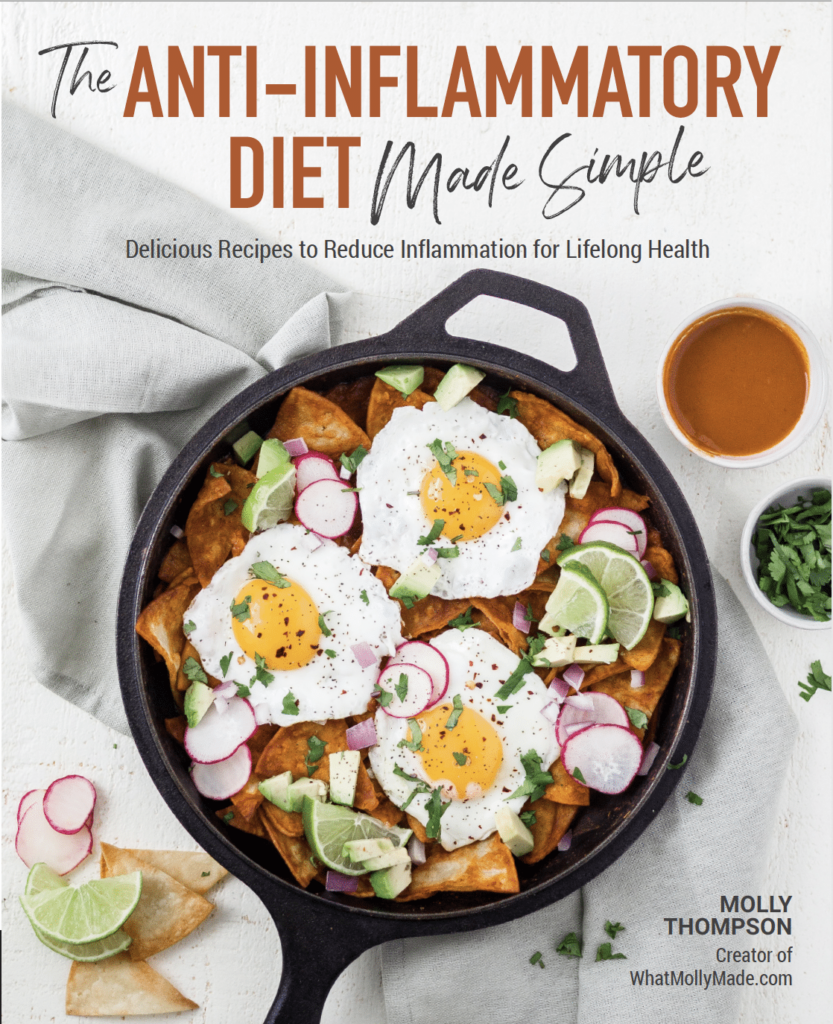 MY PCOS-FRIENDLY COOKBOOK IS AVAILABLE FOR PRE-ORDER!
This book is full of 100+ simple, gluten free, dairy free recipes for reducing inflammation and healing PCOS from the inside out. Ships to your door on July 13!
Who should seed cycle?
Seed cycling is great for any woman at any stage of life! In my opinion, I've seen a lot of women do it who struggle with things like PCOS and PMS symptoms as well as those trying to conceive. Dr. Brighten says it's especially good for women who are in the process of coming off hormonal birth control to help get their natural cycles back.
"I've seen women struggling with symptoms of PMS, polycystic ovary syndrome (PCOS), post-birth control syndrome (PBCS), irregular periods, acne, and breast tenderness benefit from adding seed cycling to their routine." - Dr. Brighten

How does seed cycling work?
Seed cycling works by eating certain seeds during two phases of your cycle: the follicular phase and the luteal phase to help promote healthy hormone levels.
The follicular phase (days 1-14): this phase is generally the first 14 days of your cycle when estrogen is high. It starts the day your period starts and goes through the day leading up to ovulation. Your estrogen is rising as an egg matures and gets ready for ovulation. Seed cycling helps promote healthy levels of estrogen during this phase.
The luteal phase (days 15-28): this phase is generally the last 14 days of your cycle when progesterone is on the rise. These are the days after ovulation leading up to the start of your period. Your body is prepping for the egg to be fertilized while progesterone increases. Seed cycling helps promote healthy levels of progesterone.

What seeds you need
Days 1-14: 1 tablespoon of pumpkin seeds and 1 tablespoon of freshly ground flax seed.
Days 15-28: 1 tablespoon sunflower seeds and 1 tablespoon of freshly ground sesame seeds (The "S" seeds!)
So the four seeds you'll need are: pumpkin seeds, flax seeds, sunflower seeds and sesame seeds.
Pumpkin and flax seeds can help naturally increase estrogen product while simultaneously providing fiber to help healthy estrogen metabolism. It's a great way to balance estrogen levels with creating estrogen dominance. It doesn't not contribute to estrogen dominance. Read more from Dr. Brighten to learn more.
Sunflower and sesame seeds contain lignans and essential fatty acids that support progesterone and hormones in the second half of our cycle.
According to Dr. Brighten, "Research has shown these lignans to be beneficial in improving estrogen and progesterone rations, preventing heart disease, and can even support healthy bones."

What if my cycle isn't 28 days?
Don't worry if you don't have a 28 day cycles because a lot of women don't! You can adjust these days based on your cycle length. So if your cycle is 30 days, you'll do 15 and 15. Or if your cycle is 32 you'll do 16 and 16.
Also, if you're tracking your ovulation with your temp or ovulation strips, just start the sunflower and sesame seeds the day after you ovulate.
Does seed cycling help irregular periods?
If you're experiencing really irregular cycles (like I was!??‍♀️) or if you're pre or post-menopausal you can still really benefit from seed cycling.
Follow the moon cycles for either situation. It's not a coincidence that the moon cycles are 28 days! Start your day 1 seeds the first day of the new moon then switch 14 days later. The next 14 days will be the waxing moon leading up to the full moon. Then repeat again when the new moon starts again!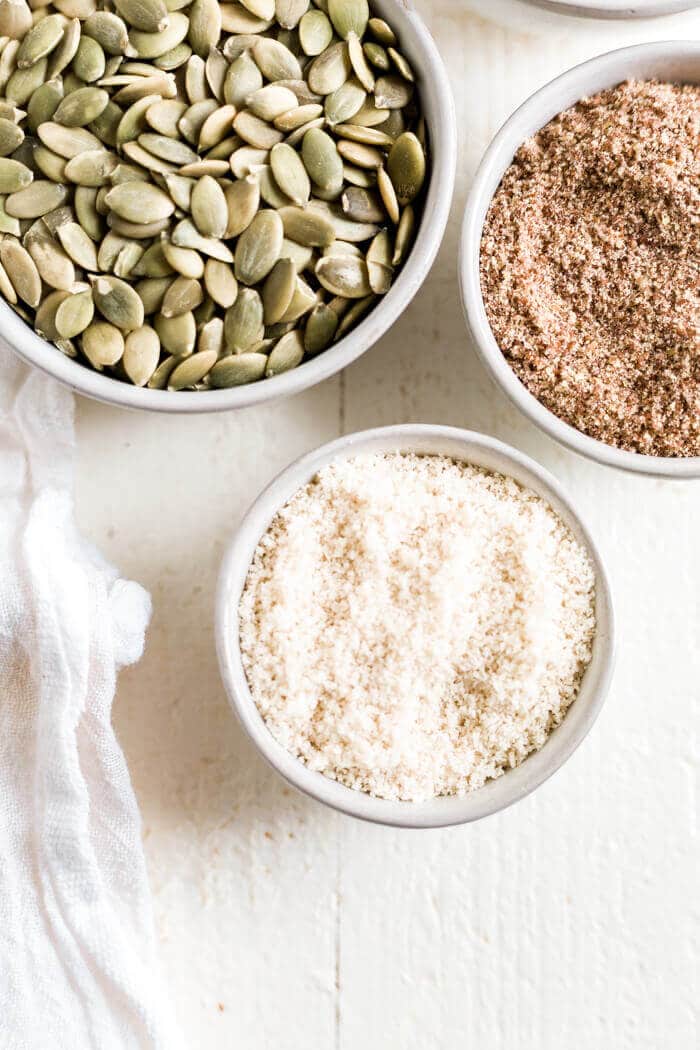 Do seeds have to be ground for seed cycling?
The real benefits from the seeds come from the oils they produce. Because of that, small seeds have to be ground or they won't be able to release those oils in our systems. You can eat the pumpkin and sunflower seeds without grinding them, but the sesame and flax seeds need to be ground.
Make sure to buy the whole sesame and flax seeds and grind them yourself before eating them.
How to grind the seeds: use a coffee grinder to ground them. You can get one on Amazon really cheap!
Where to buy seeds for seed cycling
As I mentioned, you should buy all of your seeds whole! Then you'll grind the necessary ones yourself to extract the fresh oils. Try to buy the highest quality seeds that are organic. My favorite place to buy my seeds is Thrive Market. Use this link to sign up for Thrive Market and get 25% off your first order and free shipping for 30 days. (It's where we buy all our healthy pantry staples!)
You can also buy all of the seeds organic on Amazon: Pumpkin Seeds, Sunflower Seeds, Flax Seeds, Sesame Seeds.
Although it will cost a bit (around $50) to buy all the seeds and get started, you'll have them for months! It's totally worth it.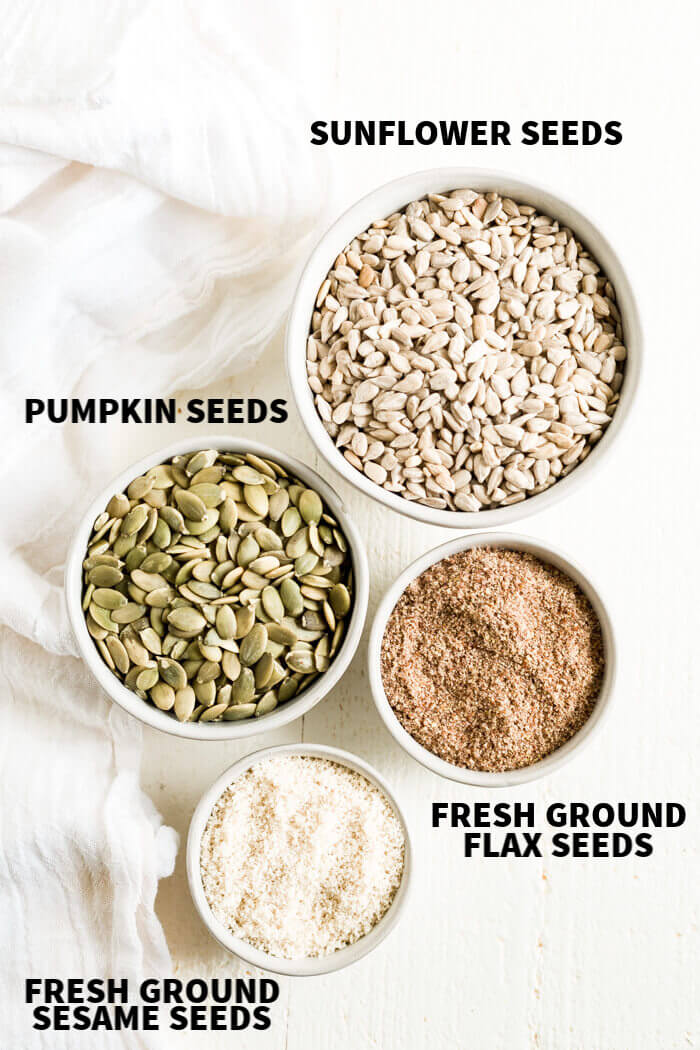 When do I start seed cycling?
The best time to start cycling your seeds is on the first day of your cycle (the day you start your period). However, you could start seed cycling mid-cycle right after ovulation. When in doubt, start on the first day of your next period!
How long should you seed cycle?
I noticed the benefits of seed cycling the first month I did it! I noticed a longer luteal phase (second half), less acne and less PMS symptoms. You'll want to give it a full month to notice any difference, but Dr. Brighten notes she's seen women who notice differences after 3 months.
Seed cycling can't ever hurt you so it's good to do seed cycling forever, if you want! It's a great thing to add into your everyday routine!

How to incorporate seeds into your everyday routine
I know it may seem overwhelming at first, but I promise it's so easy to include in your routine! If you do it enough it will just become a habit! Once you buy the seeds and make sure you have a grinder, you're all set!
My favorite way to eat the seed: I mix the seeds with a tablespoon or two of cashew/almond butter and eat them with a sliced apple.
You could also add the seeds to your morning smoothie or add them to a yummy salad like this shaved brussel sprout salad.
I like to keep it really simple when it comes to seed cycling or I find I won't stick with it. I don't like searching for seed cycling recipes because they're too complicated. Eating them with an apple or adding them to something else I'm already eating is the best way for me!
How to store seeds
The best way to store seeds is in an air-tight glass container in the fridge. Depending on where you are in your cycle, you can grind the sesame or flax seeds at the beginning of the week then store them in the fridge for the week and repeat the process next Sunday/Monday.
This is what my schedule looks like: grind sesame/flax seeds on Monday and store in fridge with the rest of the seeds. Eat an apple with nut butter mixed with the seeds for breakfast or a snack. That's it!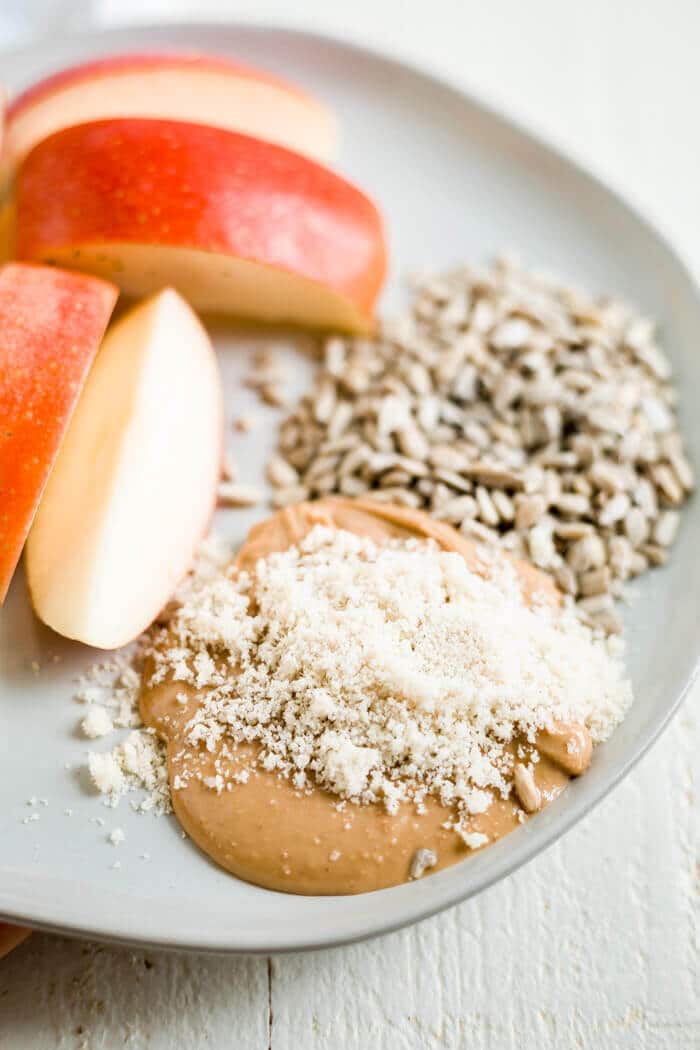 You'll probably want to track your cycle (which you should be doing anyway!) to help keep track of where you are in your cycle. My favorite app is called Clue and it's free to download!
I hope this answers every seed cycling question you had! If not, please leave a comment here, send me an email or message me on Instagram to ask more!