These soft and chewy ginger cookies are stuffed with a little salted caramel and baked to perfection. They're a great holiday recipe to add to your Christmas cookie collection.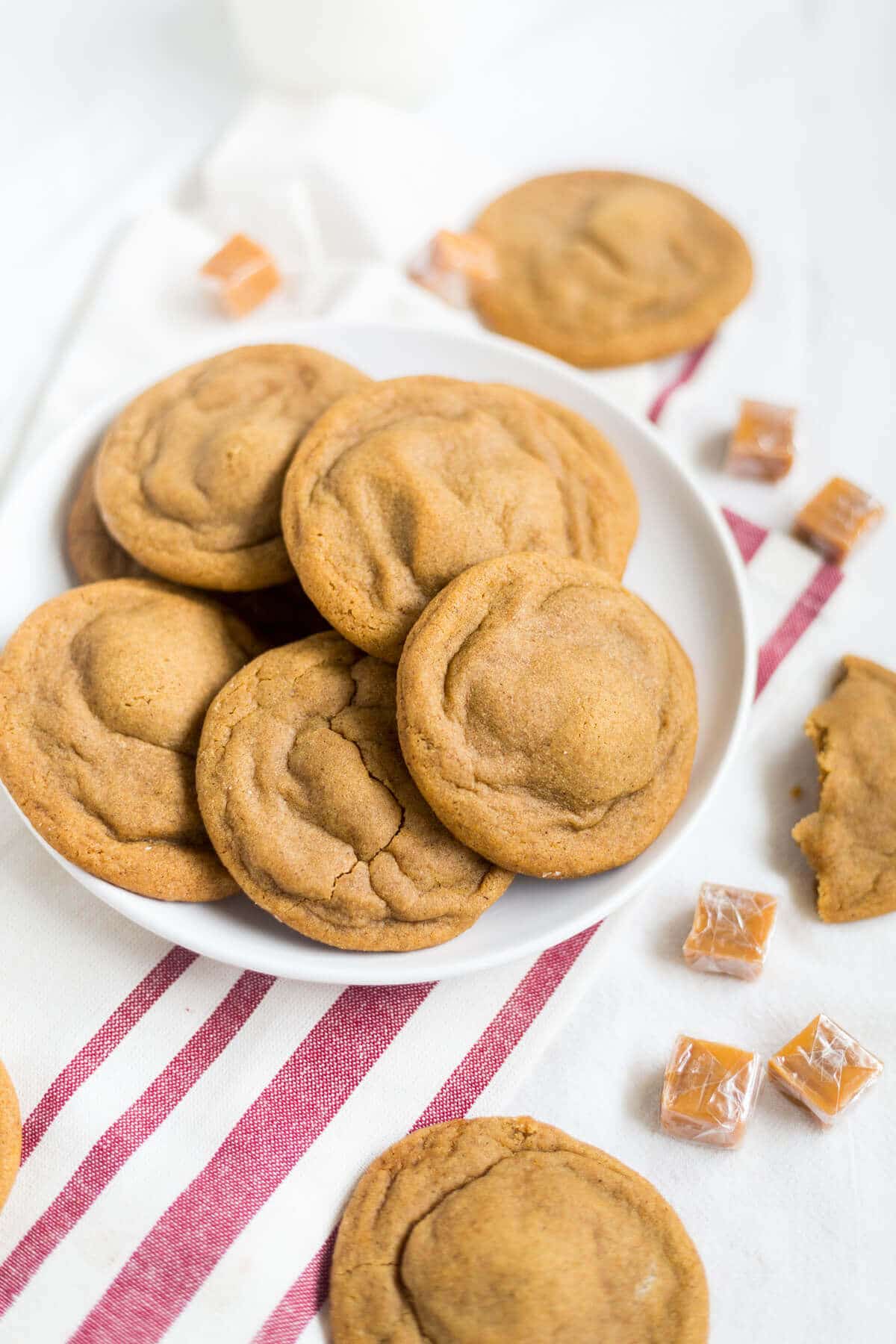 We're here, day 2 of WMM Christmas Cookie Week.
Side note: I'm not loving the name of this whole cookie week thing. I know this is the third year of doing this full week of new Christmas cookies but I"m really thinking the name could get a makeover. Any ideas for next year?! Here are my ideas so far:
Cookie Extravaganza
Christmas Cookie Countdown (alliteration, people)
That's all I got. Send help.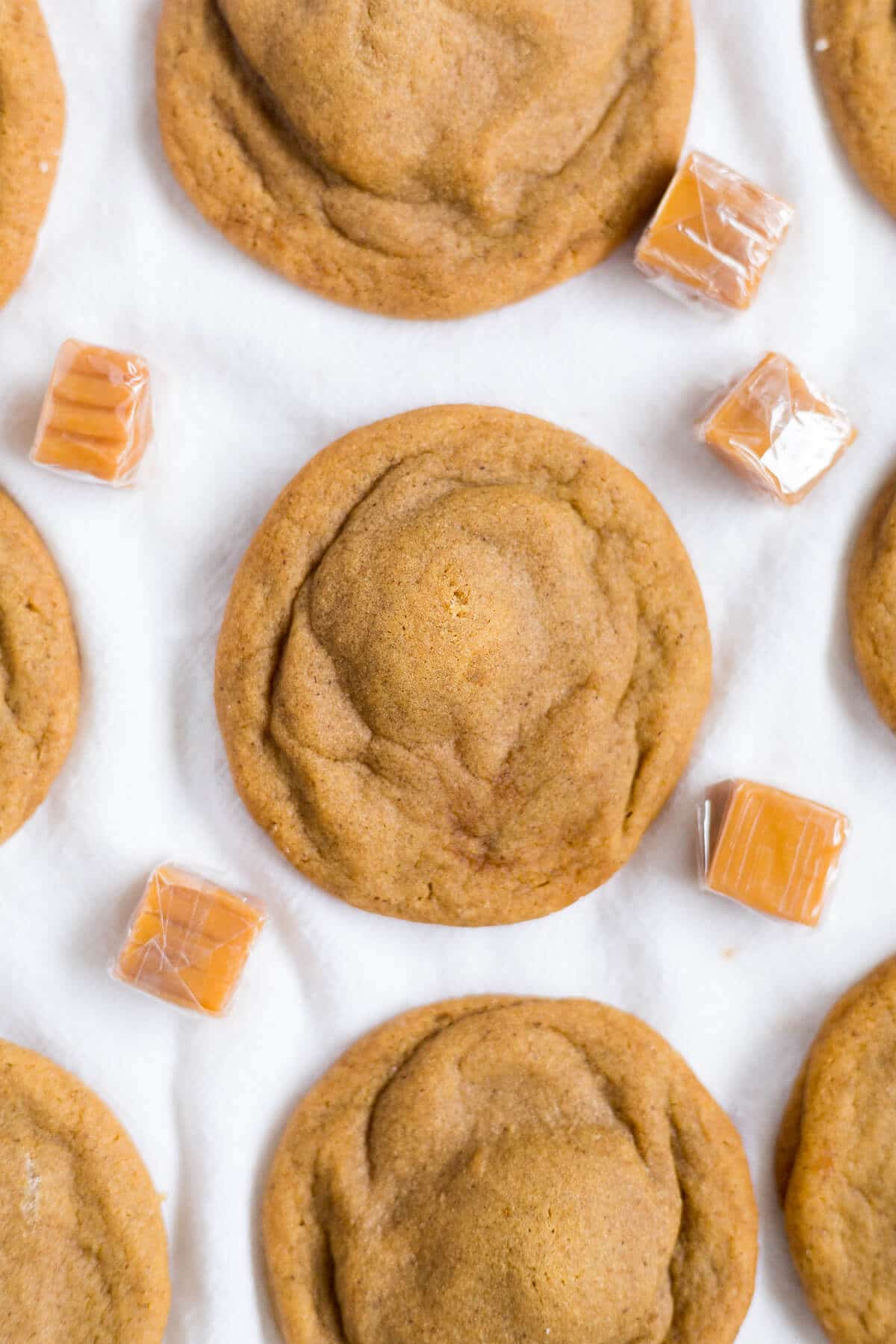 For now, Christmas cookie week it is. And we've found ourselves on day 2 of 7 straight days of new Christmas cookie recipes. That means we have one under our belt (melting moments sandwich cookies) and we have five more to look forward to.
Thanks goodness for cookies. And Christmas. And everything they represent. I just love this time of year.
I'm doing everything in my power to make my life like a real life Hallmark movie. So far I've watched no less than 12 Hallmark movies since Thanksgiving. For my math people that's more than one movie a day. Totallyyy normal.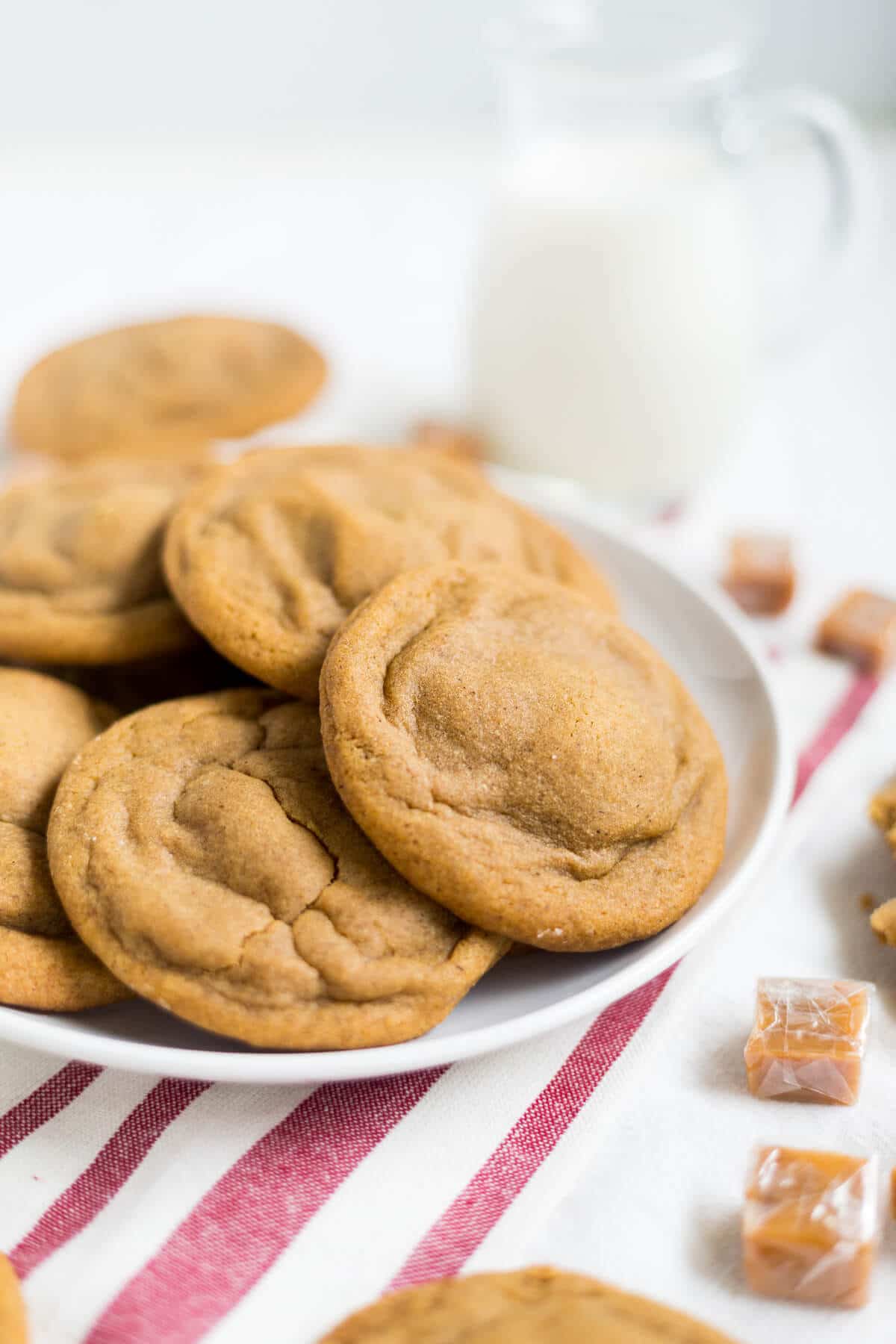 The whole baking Christmas cookies like a mad woman only adds to the Hallmark lifestyle I'm going for. And these salted caramel ginger cookies really embody everything Christmas is to me. Warm and gooey cookies and filled with holiday spices and flavors.
In these ginger cookies you'll find some classic ginger cookie flavors: ginger (duh), cinnamon and molasses.
Last year during cookie week I published giant ginger cookies and they quickly became a Christmas staple for me. Those cookies are HUGE and so good. This year I wanted to scale them back a bit and add a fun twist, which is how these salted caramel ginger cookies came to be.
They're a classic ginger cookie stuffed with a soft and chewy caramel. They bake and spread in the oven and the caramel melts and makes the inside all gooey. Stuffing cookies with things is a favorite past-time of mine. For example, salted caramel brown butter cookies.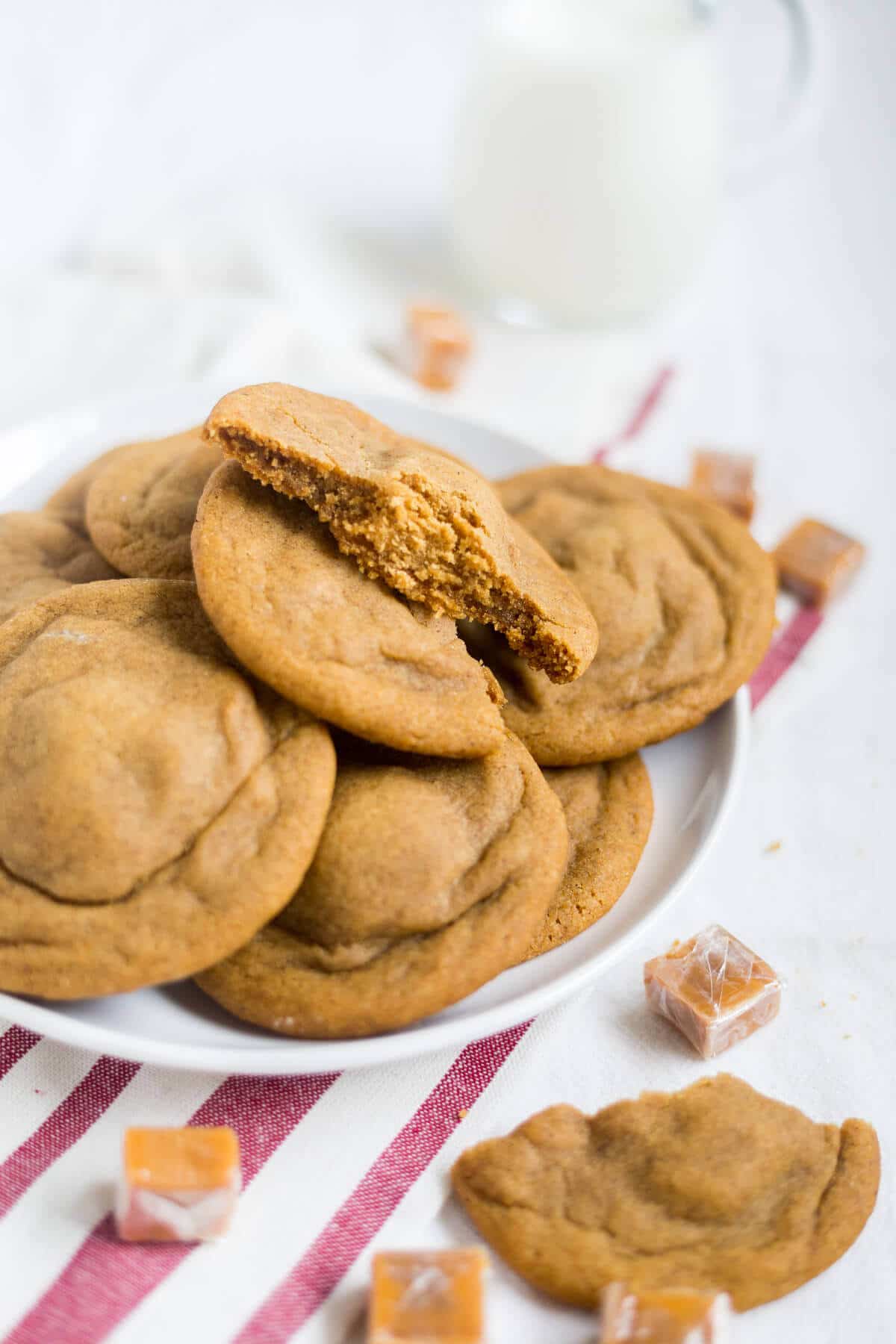 How to Stuff Caramel into these Ginger Cookies:
Caramel inside a cookie can seem tricky or intimidating. But it's actually super easy! It's just one extra step in the dough making process.
To stuff caramel into these ginger cookies you'll make the cookie dough as directed and roll the dough into smaller balls. Once they're rolled you'll press you're them into half of the balls to create a small indent.
After that, unwrap the caramels and place them into the indent you created. Take another (non-indented) cookie dough ball and place it on top of the caramel. Roll the dough out again to create an even ball. Then you have a little caramel inside the dough!
Place on the baking sheet and throw them in the oven. Ten minutes later you have a gooey caramel-filled ginger cookie.
So easy!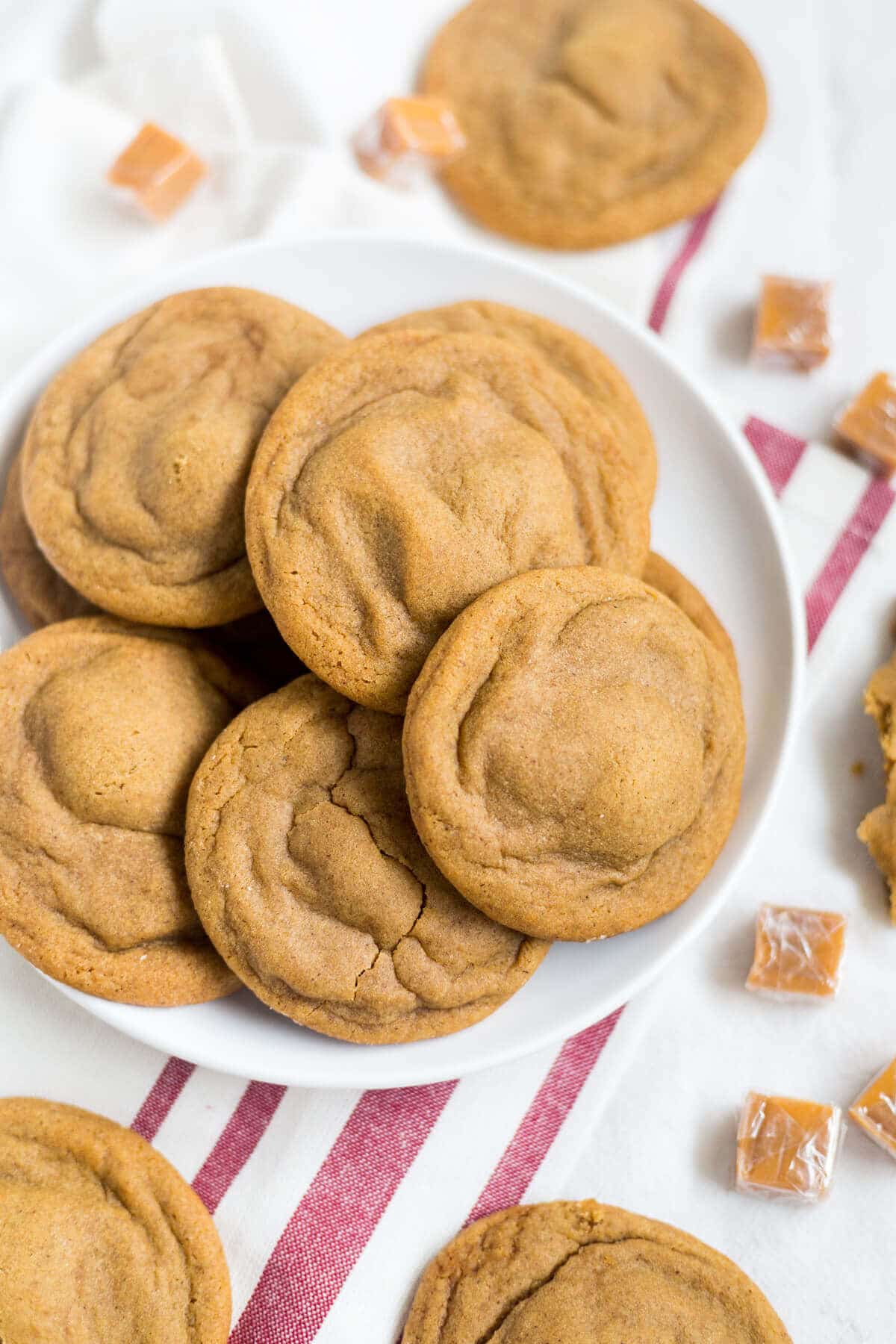 I absolutely love the combination of caramel and ginger in these ginger cookies. They're the perfect consistency and flavor and the flavors work so well together. You could make the giant ginger cookies and these cookies and surprise your friends and family. They won't know which one is which and they'll be surprised when they take a bite. That's my kind of game.
In case you missed yesterday's recipe, you can find the melting moments on my site. And don't forget to sign up for my newsletter to get my top 6 cookie baking tips. These are the tips I use to make sure every cookie turns out perfect every time! Just in time for cookie season:)
Happy Holidays!!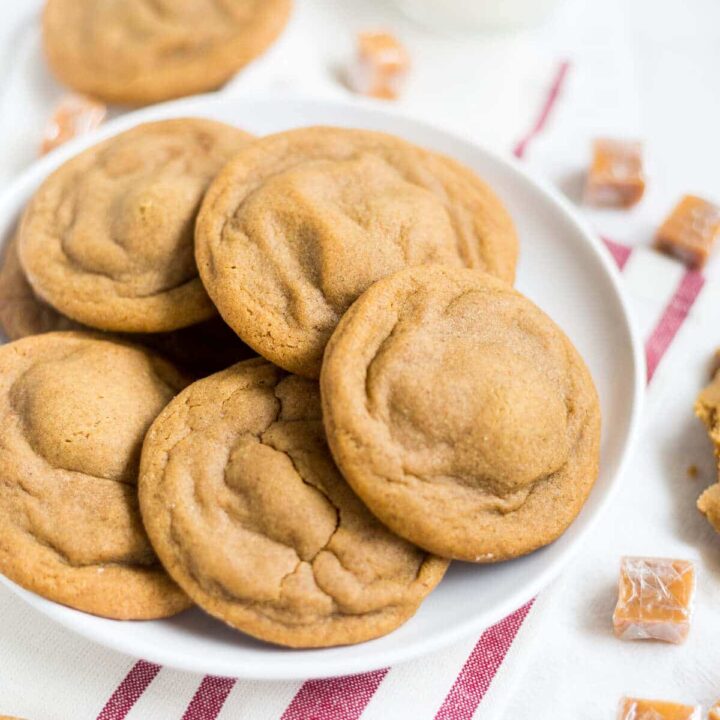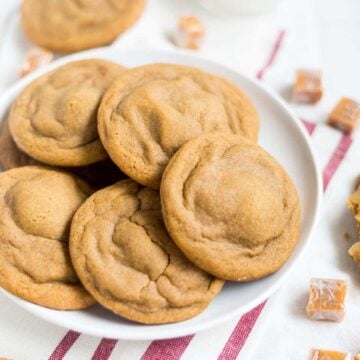 Ingredients
2 1/4

cups

all purpose flour

1

teaspoons

baking soda

1 3/4

teaspoons

ground ginger

3/4

teaspoons

cinnamon

1/2

teaspoon

ground cloves

1/2

teaspoon

salt

3/4

cups

shortening

1

cups

granulated sugar

1

eggs

1/4

cup

molasses

24

soft and chewy caramels
Instructions
Preheat the oven to 350°(F) and line a large baking sheet with parchment paper.

In a medium bowl stir together the flour, baking soda, ginger, cinnamon, cloves and salt and set aside.

In a large mixing bowl or stand mixer beat the shortening with an electric mixer on medium speed to soften, about 1 minute. Add sugar gradually and beat until mixed, about 2 minutes, scraping down the edges with a rubber spatula occasionally.

Beat in the egg o and then beat in the molasses until combined.

Add dry ingredients to wet ingredients gradually, beating well after each addition.

Scoop the dough using a 2 tablespoons and roll gently, repeating until all the dough is formed into balls. Place an unwrapped caramel in the middle of one cookie dough ball and use another to place on top. Roll together in palms of hand to make one large cookie. Roll them into the coarse sugar and place 3-4 inches apart on the prepared cookie sheet.

Bake for 11-13 minutes or until the cookies are light brown and puffed, being careful not to over bake.

Allow to cool on the sheet for a couple of minutes then transfer to racks to cool completely. Store in an airtight container at room temperature for 3-5 days.

Make Ahead Tip: Prepare dough and freeze in an airtight container for up to 3 months. Baked cookies also freeze well with the same method.